Electric scooters are some of the most versatile pieces of machinery that you could use for commuting and having fun on the weekends.
Choosing scooters as your main (or even secondary) means of transportation has many benefits, including a reduced carbon footprint, cost of transportation, and even improved personal health, so you need to take your time and choose a good brand that you can rely on.
In this article, you will get to know about Anyhill electric scooters.
Electric Wheelers is reader-supported. Although we independently research and test products, we may receive a commission on purchases made from our chosen links. Read more…
About Anyhill Scooters
Anyhill is an electric scooter brand that is dedicated and passionate about its products and aims to sell its customers products that they can trust and rely on. The company's goal is to become the best and most customer-centric brand in the market.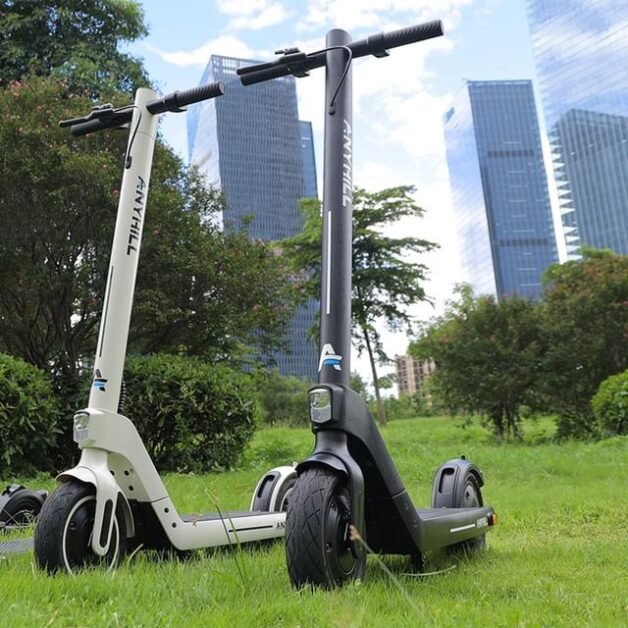 When Was Anyhill Scooters Founded?
The company was established in 2017 by a group of experienced, passionate industry designers and engineers. The company's major focus was to create and provide ideal electric transportation for its global customers, promoting a fun-to-ride, environmentally friendly, and traffic-free means of transportation.
Anyhill has a dedicated team of engineers, global members, and a reliable team of customer service representatives ready to answer your questions at any moment. More importantly, Anyhill believes quality products and inspection will help them sell high-performance, reliable scooters that make your life more fun.
To Whom Are Anyhill Scooters?
Anyhill aimed to transform urban personal mobility by making it less expensive, greener, and more reliable. The company created three electric scooter models, including the UM-1 (designed to be cost-effective), the UM-2 (designed to tackle any road conditions in an urban setting), and the UM-3 (designed to be a fun ride for kids).
There are many e-scooter enthusiasts, which is why Anyhill plans to create convenient, affordable, and environmentally friendly forms of transportation. The company plans on releasing its newest model in 2022. The model features user-friendly models that meet various outdoor needs.
Where to Buy Anyhill Electric Scooters?
Anyhill scooters are available in the United States. The shipping is free in 48 contiguous states. If you want the scooter to be shipped to Alaska or Hawaii, you must pay a $150 shipping fee.
You can buy Anyhill scooters from their official store and also on Amazon.
Anyhill Electric Scooter Selection
As mentioned earlier, Anyhill has three scooter models, with the fourth one set to come into production in 2022.
They have the UM-1, UM-2, and UM-3, two of them meant for adults and the third one designed for kids. Let's dive in and find their specifications, pros, and cons.
Anyhill UM-1 Electric Scooter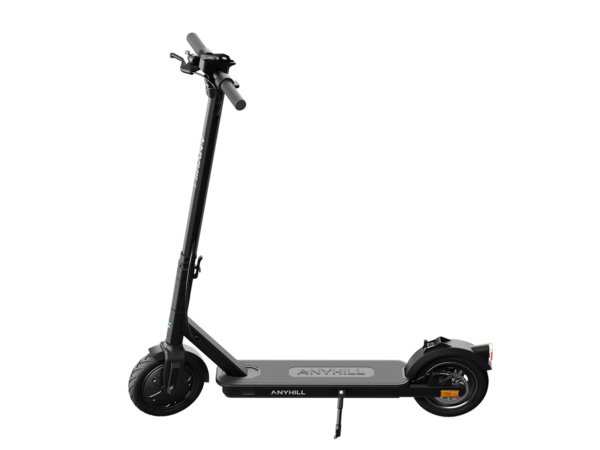 MSRP: $699
The UM-1 has a front hub motor that peaks at 650W but is rated 350W.
It has a 36 volts, 7.8Ah Lithium-ion battery made by LG, a 16 to 20 miles maximum range, and a16mph top speed. Additionally, it has a 4 to 5-hour charge time that's pretty short, making it perfect for people who commute regularly.
It weighs 29 pounds and has a 15% hill climb. The scooter can support a 220 to 250-pound maximum load and is designed for first-time adult riders.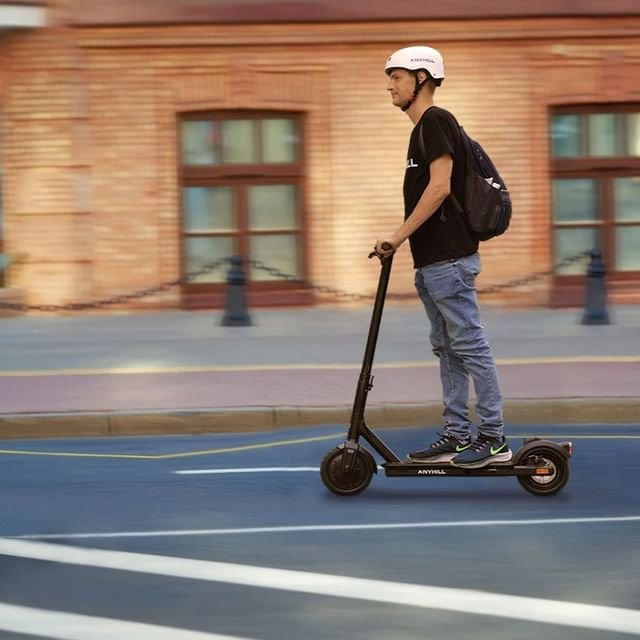 The scooter has an IP54 water resistance rating (an expected standard rating for most scooters), meaning that it is protected from water sprays coming from any direction.
However, the UM-1 doesn't have any off-road capabilities. Its 8.5-inch pneumatic tires are designed for urban terrain, making them unreliable when off-roading. Additionally, it needs better cable management since the cables protrude from the electric scooter's frame.
Anyhill UM-2 Electric Scooter
MSRP: $999
The UM-2 is designed to be driven on smooth surfaces in urban terrain. The scooter is great for first-time riders since it has nippy acceleration and great braking performance.
The scooter has 10-inch pneumatic tires that offer great shock-absorbing qualities. However, it doesn't offer great off-road capabilities.
The scooter has a high-quality Lithium-ion detachable battery designed by LG and extremely powerful brakes that provide sufficient stopping power. The scooter has a 24-mile range and a 19mph top speed sufficient for most riders.
It also has responsive acceleration and effective lights that help guide your way at night.
Unfortunately, the UM-2 has no suspension system. At the same time, pneumatic tires do a great job of absorbing shocks caused by smaller bumps.
It doesn't do the entire ride justice, especially on bumpy terrain. Additionally, its one-click folding mechanism isn't as effective as advertised.
The UM-2 is great as a first-time scooter.
Anyhill UM-3 Kids Electric Scooter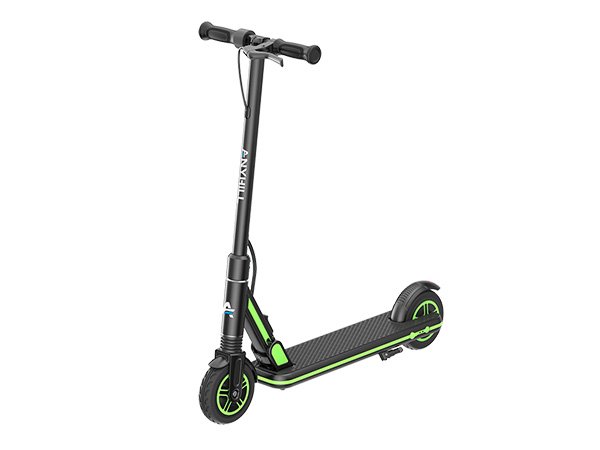 MSRP: $369
The UM-3 is designed for kids, producing less acceleration, and is small in size.
Anyhill's UM-3 has a 24-volts 2.49 Ah battery and motor that provides 150W of power. The e-scooter has a 3.8-mile maximum range and a 9.3mph top speed. The scooter has a short 2.5 to 3-hour charging time.
It also has 6-inch solid tires and weighs 16.5 pounds.
The UM-3 is great for kids because of its small size and low speed. It makes the children less likely to get involved in major accidents resulting in serious injury.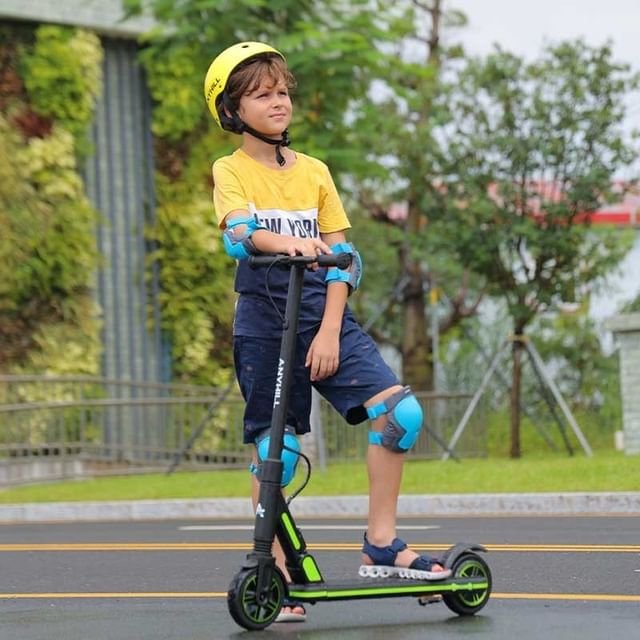 The UM-3 has an IP54 waterproof rating. Kids can play with the scooter in wet conditions. However, they should be careful not to submerge it in water.
One of the major cons is the scooter's short 3.8-mile range. It would be great if the scooter could go longer distances allowing the kids to play with it longer before charging.
Also, it has no suspension or pneumatic tires that can absorb any shock when riding.
Anyhill Accessories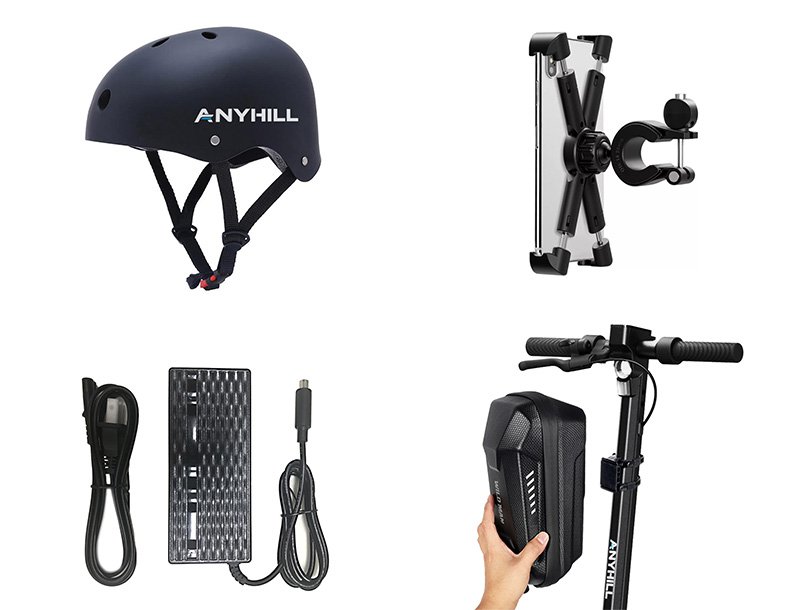 Anyhill offers many different accessories, including
battery charger
detachable battery for their UM-2 scooter
safety protection helmet
universal mobile phone holder designed for scooters
and a rainproof casing bag.
All these products are important and serve their purpose. However, you should take your time and prioritize your needs before making a purchase.
For instance, you should begin by purchasing a safety helmet and charger before anything else. Doing this ensures that you are better protected on the roads, and your scooter is always charged.
Anyhill Warranty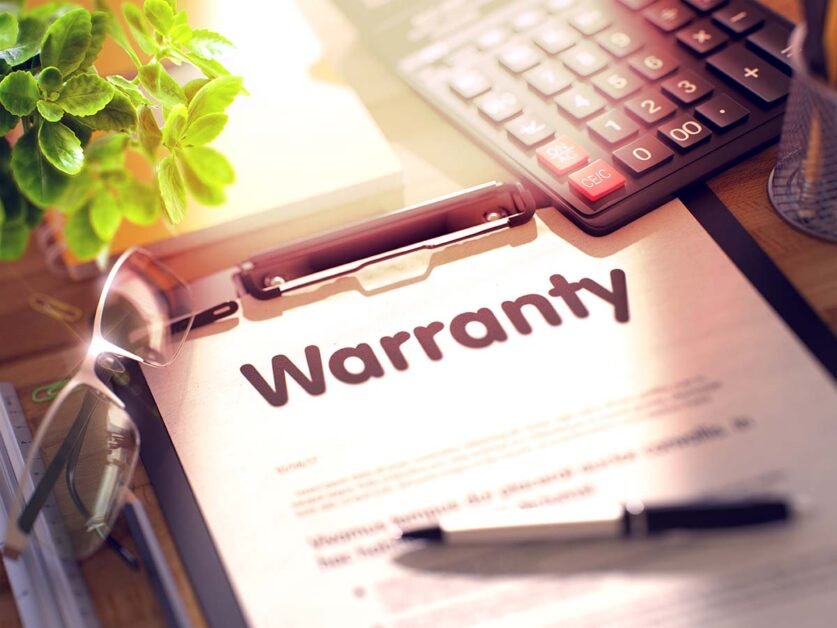 Anyhill is dedicated to quality customer service. They have a limited warranty for their products for any major defects in workmanship or material under normal use for up to a year.
Remember that the warranty doesn't cover the repair of button consoles, lights, frames, nuts, bolts, and similar components. It also doesn't cover failure or damage due to normal use, aging, wear and tear, negligence, improper care during shipping, etc.
You should retain your original purchase receipt to become qualified for a warranty in case of any defects.
Conclusion – Are Anyhill Scooters Worth It?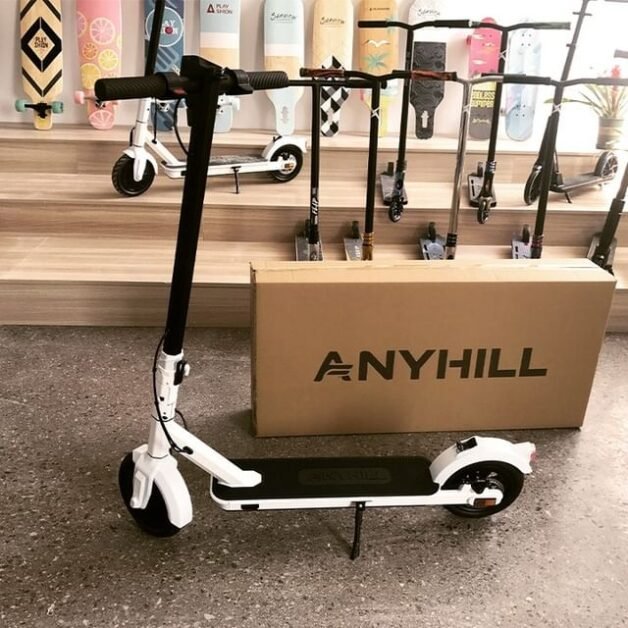 Anyhill scooters are great for individuals who want to try out electric scooters and aren't ready to invest in an expensive scooter yet.
They have good features. However, they pale compared to other more sophisticated scooters.
That said, they provide a performance of below average. They have a sufficient carrying capacity, a short charging time, and a quite short range. Buy Anyhill scooters if you are making your first steps in the world of electric scooters.