Shengmilo was created by a group of biking enthusiasts of various ages, backgrounds, and industries who strongly desire a better riding experience. The group's shared love for cycling shaped the company, morphing it into what it is today.
Shengmilo is innovative and looks to incorporate technological advancements to create better and more reliable e-bikes.
Shengmilo MX03 fat tire electric mountain bike is one of the company's best-selling e-bikes.
Read on to find out every detail of this 1,000W electric bike.
Electric Wheelers is reader-supported. Although we independently research and test products, we may receive a commission on purchases made from our chosen links. Read more…
Shengmilo Overview
The company is located in Guangdong, China. It has made numerous sales globally and has exported its e-bikes to more than 80 countries globally, including Europe, Japan, North America, and Southeast Asia.
The company is committed to developing new-generation green technology travel options to create improved lifestyles and become an industry leader in the eBike niche.
Shengmilo E-Bike Selection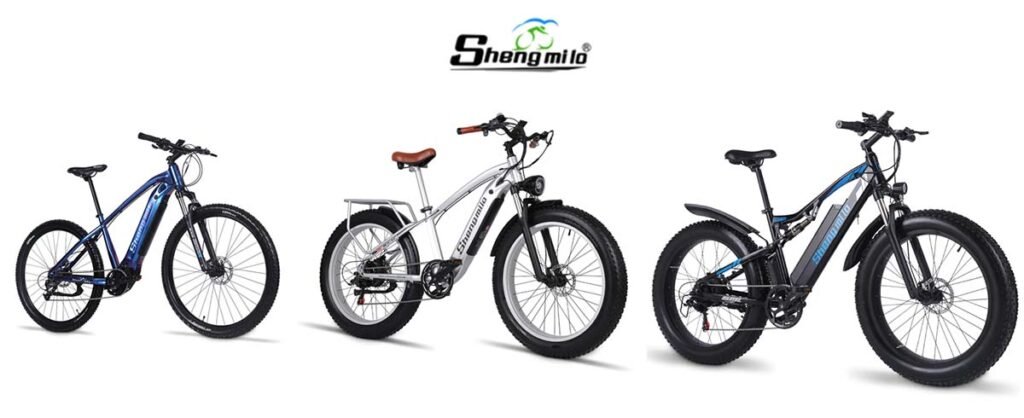 Shengmilo has a wide variety of e-bikes in its selection. Basically, they have a model for every type of terrain and every type of rider:
In this review, we focus on the Shengmilo MX03 e-MTB.
Shengmilo MX03 Specs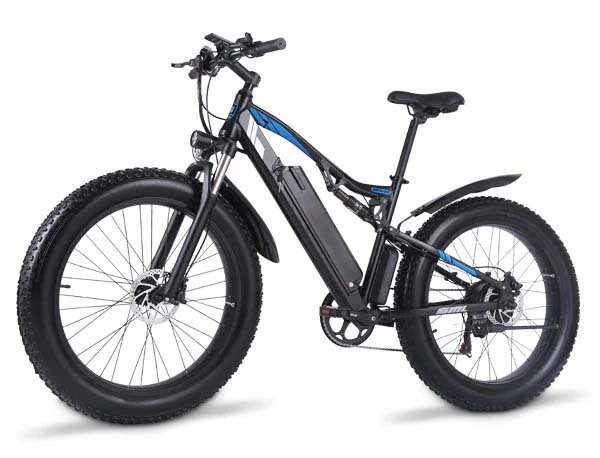 General
| | |
| --- | --- |
| Bike Name | Shengmilo MX03 |
| Availability | Europe, UK |
| Warranty | 6 Months for Electronics, 12 Months for the Frame |
Electronics
| | |
| --- | --- |
| Motor Type | Rear-Hub Drive |
| Motor Power | 1,000W |
| Top Speed | 24 mph (39km/h) |
| Battery | 48V 17 Ah (816Wh) |
| Charge Time | 7 hours |
| Range | up to 55 miles (89 km) |
| Display | Waterproof LCD |
Bike Components
| | |
| --- | --- |
| Dimensions | 73″ x 41″ x 27″ (185 x 104 x 69 cm) |
| Frame Material | Aluminum Alloy |
| Frame Size | One Size |
| Frame Type | Step-Over |
| Frame Colors | Black |
| Fork | Fork Suspension + Center Shock Absorber |
| Gearing | 1×7-Speed Shimano Tourney |
| Brakes | Hydraulic Disc |
| Wheel Size | 26″ |
| Tires | 26″ x 4″ Fat Tires |
| Additional Features | Front Light, Kickstand |
| Weight | 71 lbs (32 kg) |
| Weight Capacity | 400 lbs (180 kg) |
Shengmilo MX03 Performance
Motor and Speed
Shengmilo designs their motor to last longer. This is an essential feature for individuals searching for durable bikes since you can replace most other parts of the bike relatively quickly compared to the motor. Additionally, the company designed its bike's motor to provide ultimate speed and torque.
Shengmilo's ebike has an upgraded 1,000-watt brushless geared hub motor. It's fitted with a unique inner ring that enables better heat dissipation and high-temperature resistance. The ring helps minimize the motor magnet's attenuation speed, guaranteeing the motor's more extended life.
The motor has an adaptive power supply and variable frequency speed control system that maintains horsepower in high-speed and light load operations.
The bike produces 95Nm of torque and a top speed of 24mph, which is relatively fast.
Hill Climbing
One great way to gauge your electric bike's motor's ability is by observing how well they handle hills.
Generally, bikes that can tackle steep hills effortlessly have stronger motors that help transport heavier loads. This is vital if you live in hilly terrain. You wouldn't want to purchase a bike that can't handle your location's terrain.
The MX03 can tackle hilly terrains up to a 35˚ maximum gradient. This is quite impressive. However, it's not surprising because they use a well-designed motor.
As mentioned above, the motor produces 95Nm of torque, which is quite impressive. The bike can handle hilly inclines in most urban cities or off-roading.
Battery and Range
Shengmilo MX03 comes with a 48V 17Ah which can power your e-bike for 24 to 37 miles in throttle mode and about 55 miles in pedaling mode.
The MX03 utilizes a 100% automobile industry power cell, making the bike's battery: 
more reliable
stronger
safer for discharge & charging
have longer battery life.
The battery is removable and has two charging methods. You can remove the battery and charge it in the office or at home. You can also charge the battery while it's mounted on the bike.
It takes about 7-8 hours to fully charge the battery.
Braking and Gearing
Braking and gearing are the most vital features when it comes to transportation. Shengmilo has got you covered in this area.
The e-bike has a rear and front hydraulic brake system that dissipates heat and provides better braking. The brakes act together to provide a steady and stable braking experience to boost your safety.
Also, the bike has a 7-speed Shimano transmission you can seamlessly choose between to provide more or less speed as desired.
The gear's design is meant to provide you with a smooth ride experience and a wide range of speeds to help you worry less and enjoy the ride more.
Ride Quality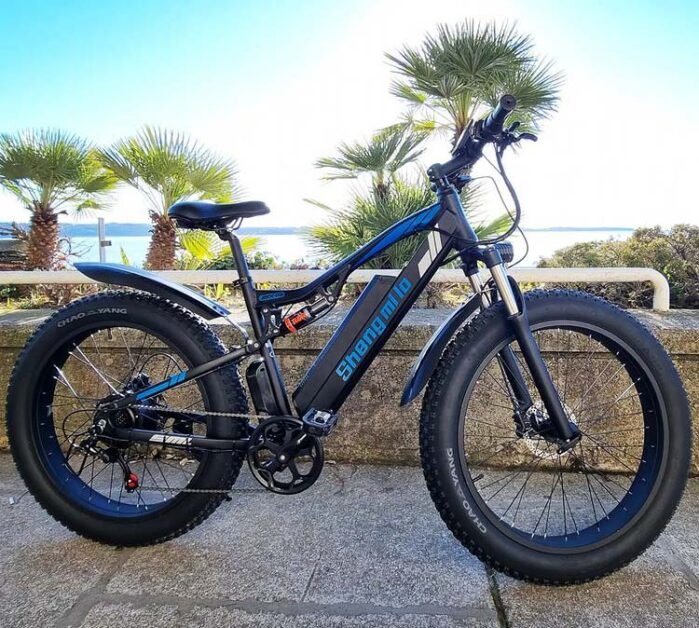 We tested Shengmilo's MX03 and found it to be as advertised.
The bike was:
great with hills
had an outstanding performance
long-lasting battery
reliable motor.
The e-bike had dependable assist modes and exceptional power conservation. Additionally, removing and switching the batteries come in handy when testing the e-bike over long distances.
Related: Discussion in EBR Forum
Shengmilo MX03 Features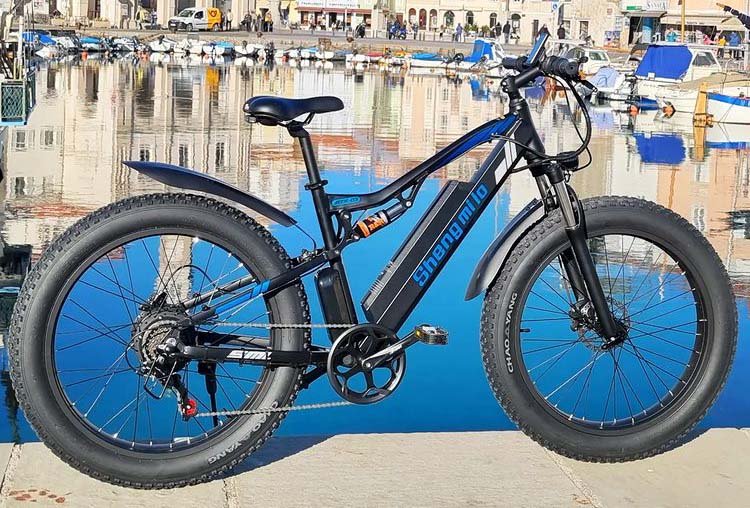 Frame and Geometry
Shegmilo uses an aluminum alloy frame on their MX03 e-bike.
The alloy is sturdy, lightweight, and designed to last. This is perfect for individuals who want bikes that can handle some weight, are easily portable, and are durable.
Also, The bike has amazing routing, meaning most wires are hidden and pass within its frame.
The bike has an elegant and concise appearance created from its creative geometric design. Shengmilo designed their MX03 uniquely to reduce wind resistance and make it easier to handle, especially when riding on snow, jungle trails, city roads, off-road hills, etc.
Recommended Rider Height: 5'3″ – 6'4″ (165cm – 200cm)
Bike Weight: 71 lbs (32 kg)
Payload Capacity: 400 lbs (180 kg)
Suspensions
Buying a bike with the right suspension type is essential, especially if you plan on using it for off-road purposes. The MX03 is no different.
Shegmilo equips their e-bike with dual suspensions. It has a front fork coil suspension and a center shock absorber. The suspensions are made from lightweight materials but provide terrific shock absorption capabilities.
The bike's shock-absorbing capabilities are practical and can be relied on in any terrain. It has a rebound and lock function suitable for all types of terrain.
The rear suspension is vital during off-roading activities. The suspensions filter out most bumpy road surfaces, allowing you to ride your e-bike more comfortably.
Wheels and Tires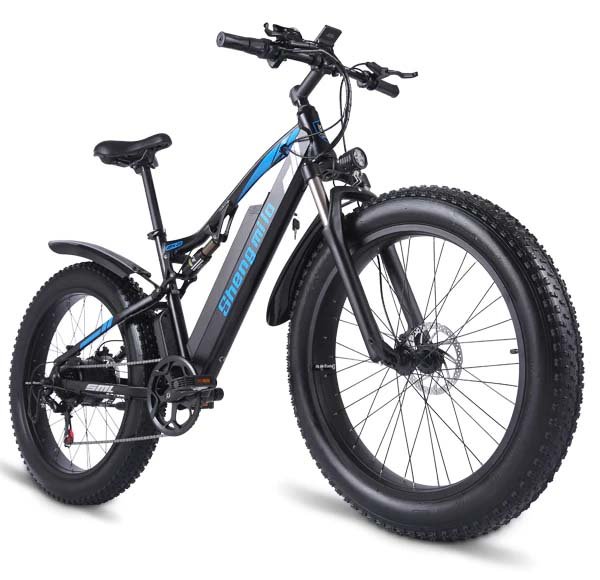 The bike has wide 26×4-inch mountain tires. These tires are designed to give riders better resistance when riding and during impact.
The tires can reduce the bumps and absorb the shock, especially when off-road riding in the mountains.
Additionally, the tires can help riders travel over diverse terrain. Riders can traverse through sand and snow better than those using regular tires.
The tires provide extra traction and grip, which help you pedal over various terrain.
Cockpit
The bike has an aluminum alloy handlebar housing the gadgets and controllers. The handlebar is comfortable to hold, is placed at the right height, and is light enough to control quickly, especially on sharp turns.
On the handlebar, you can find a functional display, intelligent shifter, and user-friendly button on the handlebar. The MX03 is easy to control and use. You only need to push one button to control the bike and adjust the gears.
By the way, the display is waterproof. The screen shows various information like:
speed
battery capacity
mileage
assistance mode
This is valuable information for the rider, and the LCD's waterproof nature is an added advantage.
Additionally, the bike has an adjustable seat, which is quite comfortable.
Shengmilo MX03 Review Conclusions
There are many electric bikes to choose from, and getting one that fits your needs is often quite challenging.
However, Shengmilo's MX03 electric bike's design is perfect for individuals looking for a reliable, durable, fast, and strong bike they can use for commuting or having fun.
Additionally, the bike has a strong motor and a great design. Riding the e-bike is easy and comfortable. Have fun riding the MX03.