In recent years, electric bikes have become increasingly popular, and it's not hard to see why. They provide an eco-friendly and cost-effective alternative to traditional modes of transportation, while also offering a convenient and fun way to explore your surroundings.
However, many think that electric bikes are very expensive and they cannot afford to buy them. Although it's partially true that ebikes may cost much more than traditional bicycles, there are models that cost less than $1000.
We've compiled a list of the 10 best ebikes under $1000 to help you find the perfect one for your needs.
Whether you're a city commuter or a weekend adventurer, there's sure to be an option on this list that suits you. So, without further ado, let's dive into the world of affordable electric bikes and see what they have to offer!
Electric Wheelers is reader-supported. Although we independently research and test products, we may receive a commission on purchases made from our chosen links. Read more…
10 Best Budget Electric Bikes Under $1000
Lectric XP 3.0 – Best Value Electric Bike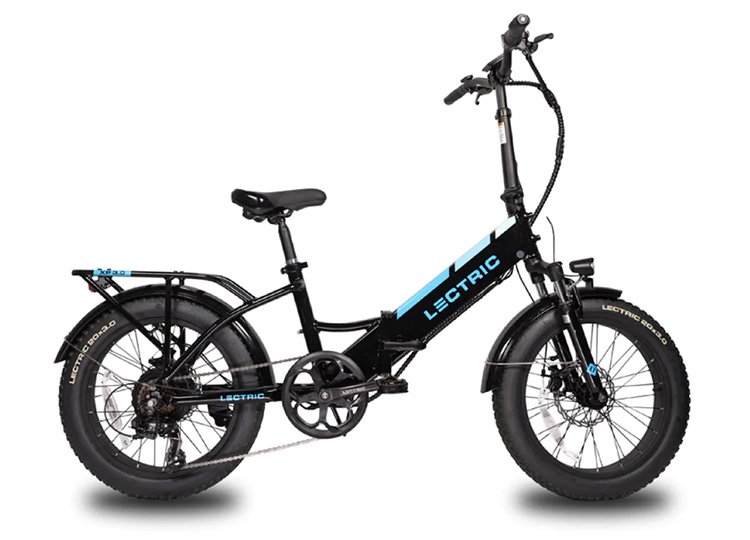 Motor: 500W | Top Speed: 28 mph | Weight: 64 lbs | Max Payload: 330 lbs | Battery: 499Wh | Range: 45 miles
Lectric is one of the most popular e-bike brands in the USA and the Lectric  XP 3.0 series is their best electric bike for the money. 
The Lectric XP 3.0 is a foldable e-bike that comes in two different frame designs. You can either get it as a step-over or a step-through.
This $999 e-bike comes with a 500W motor that peaks at 1,000W and a 10.4Ah standard battery that can last about 45 miles on a single charge. Lectric XP 3.0 is definitely one of the best 500W e-bikes under $1000.
The Lectric XP 3.0 is also lightweight which makes it easy to transport and perfect for commuting or going on adventures. The bike is sturdy and made of durable components so you can count on riding this bike for a long time. 
KBO Hurricane 2.0 – One of the Best Cheap Electric Bike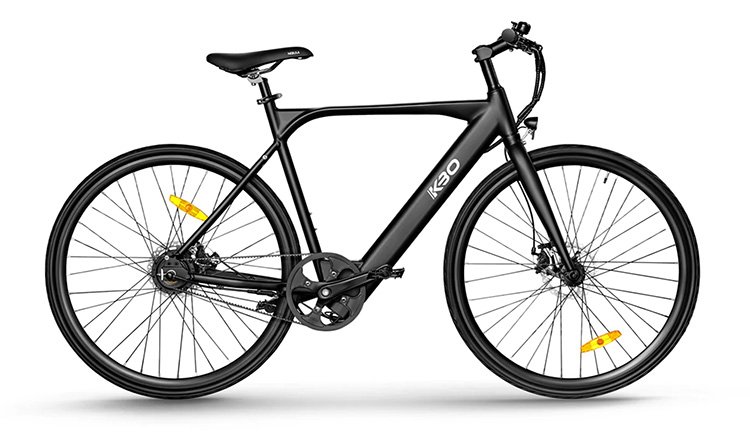 Motor: 350W | Top Speed: 20 mph | Weight: 36 lbs | Max Payload: 275 lbs | Battery: 378Wh | Range: 18~53 miles
Although a young brand, KBO has a wide range of quality e-bikes, ranging from cargo to commuter bikes.
With just a weight of 36 lbs and a price of $899, the Hurricane 2.0 is their lightest and cheapest bike. It can be carried up and down the stairs easily. So the bike suits you even if you live in the apartment.
The Hurricane 2.0 has a simple and sleek design with its battery tucked into the down tube that you would almost mistake for a traditional bike at first glance.
The Hurricane comes with 700C road bike tires that have a narrow design to reduce resistance. So the ebike is great for fast commutes in urban environments.
Ride1UP Turris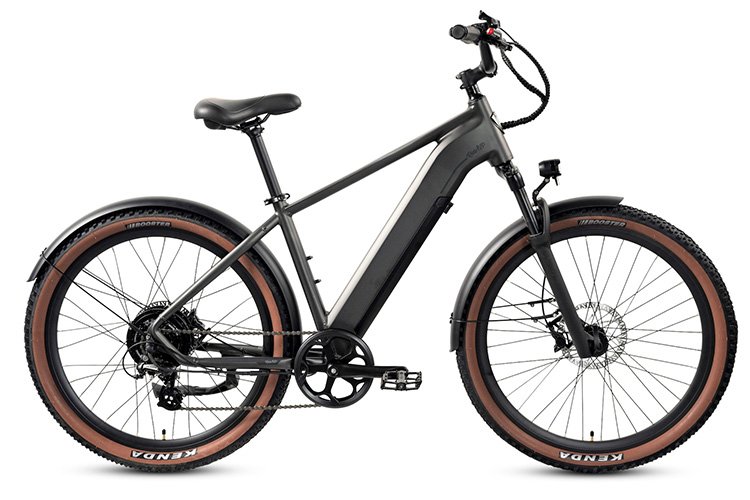 Motor: 750W | Top Speed: 28 mph | Weight: 55 lbs | Max Payload: 300 lbs | Battery: 614Wh | Range: 25-45 miles
The Turris is a class 3 e-bike that you can get either as a step-through (ST) or a step-over (XR) bike. It sports a 7-speed drivetrain which gives you more torque and makes climbing hills easier.
The Turris has a sturdy 6061 alloy frame that is durable and can carry a payload of up to 300 lbs even though the bike weighs just 55 lbs. 
The e-bike uses a 750W motor powered by a 48V 12.8Ah battery that can last up to 45 miles on a single charge depending on your weight, the terrain, and the level of pedal assist. 
Although the bike costs a little over $1,000, it has so many great features that the extra $90 is totally worth it and makes it still one of the best affordable electric bike.
Starrynite Mars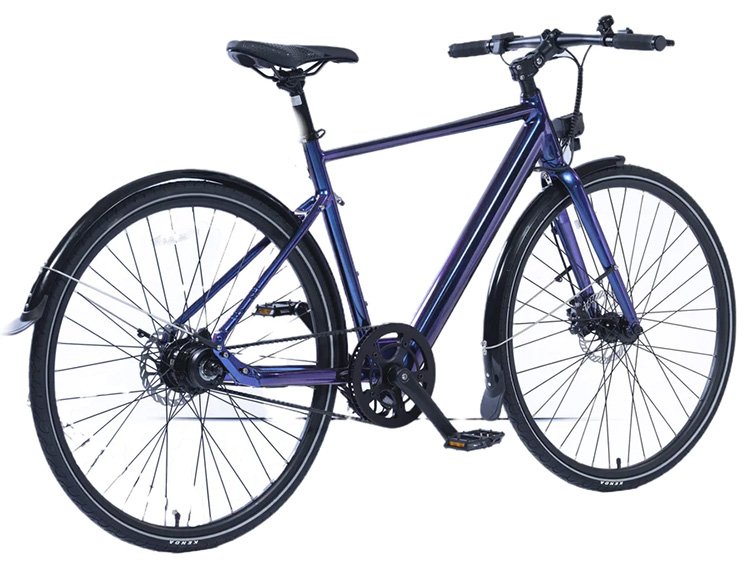 Motor: 250W | Top Speed: 15.5 mph | Weight: 33 lbs | Max Payload: N/A | Battery: 280Wh | Range: 44 miles
The Starrynite Mars is a super light e-bike that weighs just about 33 lbs and has a sleek design. It uses hydraulic disc brakes which are rarely seen on bikes that are less than $1,000. The hydraulic brakes give the e-bike great stopping power and make it easier to control.
The Mars also uses the belt drive system which is often seen only on expensive models. It requires less maintenance and makes for smoother riding. 
The Mars is a very quiet bike due to its belt drive system, thin puncture-resistant tires, and 250W hub motor.
The normal price of Starrynite Mars is actually more than $1,000 but it is often sold at a discount so you can easily get it for less than $1,000.
Ecotric Cheetah
One of the Best Fat Tire Electric Bikes Under $1000
Motor: 500W | Top Speed: 20 mph | Weight: 60 lbs | Max Payload: 265 lbs | Battery: 600Wh | Range: 35 miles
Ecotric is a well-known brand for cheap but quality e-bikes. Their Ecotric Cheetah is a stylish foldable e-bike that is very easy to store and transport. 
The Cheetah has fat tires that provide stability on rough roads and gives a good balance. It sports a 500W rear hub motor powered by a 48V 12.5Ah removable battery which can last about 35 miles. 
This Ecotric model comes with a 7-speed drivetrain and uses a twist throttle which is commonly found on motorcycles. So if you're familiar with motorcycles, you'll adapt easily to Ecotric Cheetah. 
The Cheetah also has an LCD that is easy to use and very detailed. It has 5 levels of pedal assist with different speed ranges and maxes out at 20 mph.
Buzz Cerrana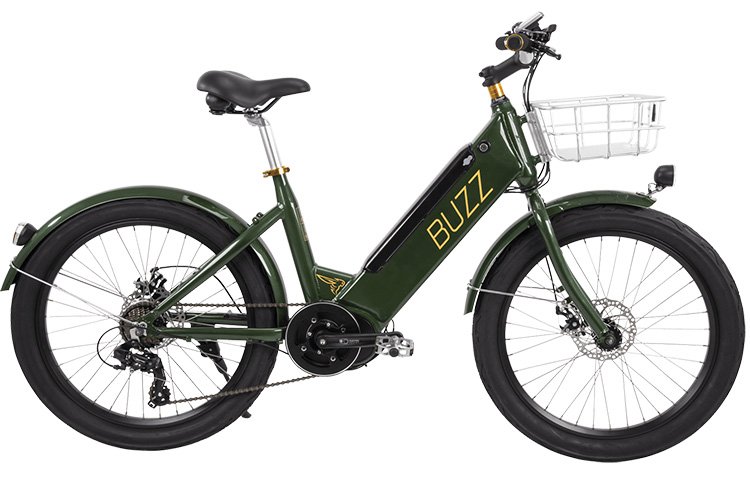 Motor: 350W | Top Speed: 20 mph | Weight: 57 lbs | Max Payload: N/A | Battery: 36V | Range: 40 miles
The Buzz Cerana is a 7-speed e-bike with a relaxed frame geometry like that of cruiser bikes. This makes it comfortable and relaxing to ride. The bike frame has a step-through design that is sturdy and has a whopping 10-year warranty. 
Although cheap, it uses a mid-drive motor and a torque sensor which are renowned for their high performance. To get this on an entry-level bike is a big deal. 
The Buzz Cerana comes with a 350W motor and peaks at 500W. The battery can be locked to keep it safe and can be removed for charging. 
The Cerana also comes with a secured front basket, has front and rear lights, and it is very easy to control. 
For an e-bike that is less than $1,000, the Cerana outperforms.
Fiido M1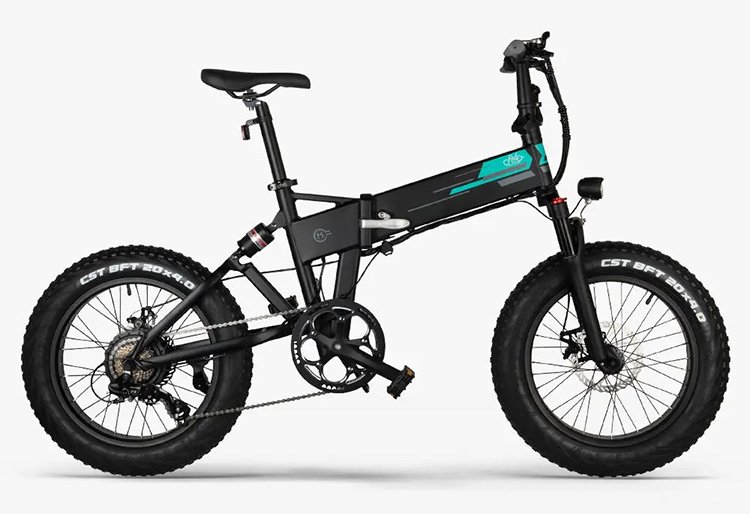 Motor: 250W | Top Speed: 18 mph | Weight: 55 lbs | Max Payload: 264 lbs | Battery: 450Wh | Range: 45 miles
Fiido is a well-known folding bike manufacturer and the Fiido M1 is their cheapest e-bike. The M1 is easy to fold and the 450Wh Li-ion battery can be effortlessly removed for charging after the bike is folded. 
The M1 comes with a 7-speed drivetrain and a 250W brushless motor that makes riding smooth and easy.
It also comes with front and rear suspension and fat tires. The full suspension and shock absorber makes riding on rough terrain and bumpy roads very easy. This makes the M1 a suitable e-bike for off-road cycling. The 20 by 4 inches fat tires also provide stability and balance.
The 36V 12.5Ah battery lasts about 40 miles on a single charge and with pedal assist the M1 maxes out at about 18.6 mph speed.
Himiway Pony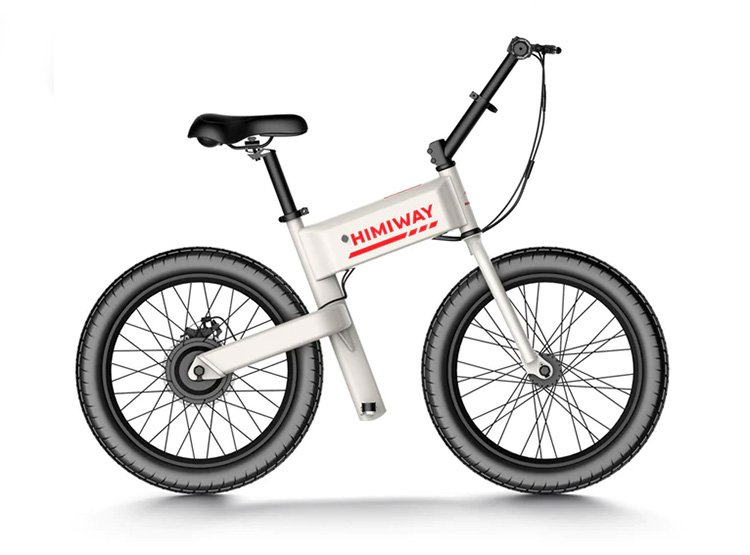 Motor: 300W | Top Speed: 16 mph | Weight: 35 lbs | Max Payload: 240 lbs | Battery: 360Wh | Range: 20 miles
The Himiway Pony is the cheapest e-bike on this list. However, this is arguable if it is an ebike since it lacks features like pedals, chains, and gears, that most e-bikes have. 
Without these features, the Pony in its design looks more like a scooter. With a weight of just 35 lbs, the Pony is one of the lightest e-bikes. It can be easily carried and transported.  
The Pony comes with a 300W hub motor and rear disc brakes which function adequately and smoothly. It uses a 36V battery that you can get either with a 5Ah or 10Ah capacity and maxes out at 16 mph speed. 
With its small frame, lightweight and fewer features, the Himiway Pony is probably the smallest e-bike for adults.
Schwinn Healy Ridge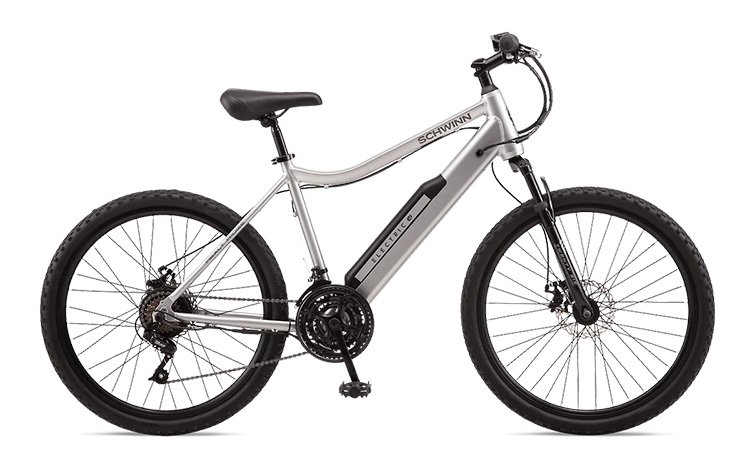 Motor: 250W | Top Speed: 20 mph | Weight: 62 lbs | Max Payload: 200 lbs | Battery: 280Wh | Range: 25 miles
Schwinn has built bikes for over 100 years since it was founded in 1895. They are a well-known brand in the USA with a good reputation. Usually, their bikes can be easily bought on Amazon and Walmart. 
The Schwinn Healy Ridge is a mountain e-bike that can be obtained with 24" or 26" wheels. With its sturdy frame and tires, and fork suspension, it is suitable for trails and performs well on bumpy roads. 
The Healy Ridge sports a 250W motor and an 18-speed drivetrain that makes for efficiency and ease over a variety of terrains. 
The 24" wheels model lasts about 20 miles on a single charge and maxes at a speed of 16 mph while the 26" model lasts for about 25 miles and maxes at 20 mph.
Huffy Everett +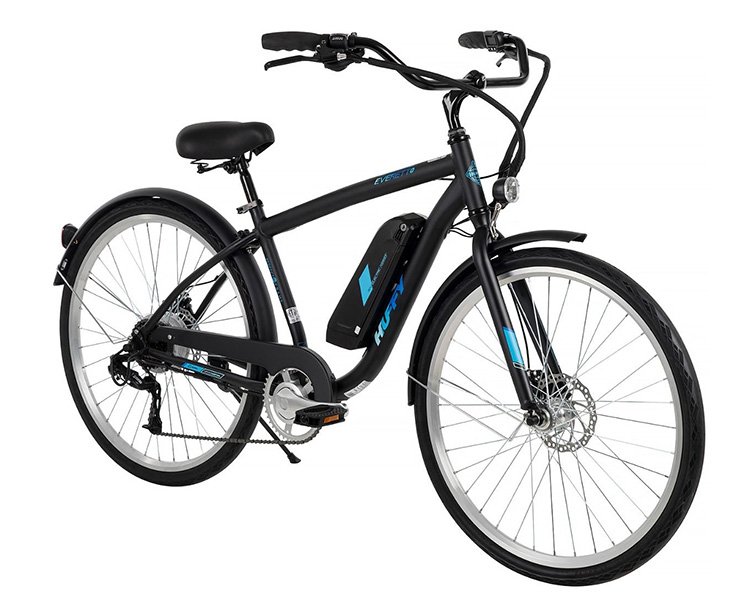 Motor: 350W | Top Speed: 20 mph | Weight: N/A | Max Payload: 250 lbs | Battery: N/A | Range: 25 miles
Huffy makes durable bikes at affordable prices for casual riders and the Huffy Everett + is one of their cheapest models. 
The Everett has both men's and women's designs and comes with a 350W rear hub motor and dual disc brakes. It has a 36V 7.8Ah battery and lasts about 25 miles on a single charge. With pedal assist, you can get to a speed of 20 mph. 
It sports a high-performance drivetrain of 7-speed and has 3 levels of pedal assist so you have lots of control over your speed and riding is easier.  
The LCD on the handlebar is detailed and displays important information like battery level, assist level and speed.
Great E-Bikes That Didn't Make to the List
If you have a little bit more to invest, we suggest also considering value e-bikes that cost slightly over $1,000. They all come from trusted brands and often have higher-quality components. Hence the higher price.
Wing Bikes Freedom 2 – Unique design, smart theft defense, only $100 over 1000 (Read our full review)
Velowave Ghost – 500W motor, hydraulic suspension, fat tires, throttle on demand (Read our Velowave bikes overview)
Electric Bike Company Model J – moped-style frame, up to 150 mile range, 10-year warranty (Read our Electric Bike Company overview)
Velotric Thunder – Torque sensor, 25mph top speed, 52-mile max range.
Senada Archon – 1000W all-terrain e-bike, up to 65-mile range, 21-speed Shimano gearing (Read our full review)
Magicycle Cruiser – All terrain commuter bike, fat tires, full fenders, 750W motor (Read our full review)
Co-op Cycles CTY e1.1 – Well-trusted ebike by REI, 250W Bafang motor, hydraulic brakes.
Rad Power Bikes RadRunner 2 – popular brand, 750W motor, 45-mile range, throttle on demand.
Conclusion On ebikes under 1000
Electric bikes under $1000 offer an excellent opportunity to experience the joys of eco-friendly transportation without breaking the bank. From sleek city commuters to rugged off-road machines, there is a wide range of options available on the market today.
With the 10 best e-bikes under 1000 presented in this post, we hope to have helped you narrow down your choices and find the right bike for you.