If you've been following us, you know we're all about electric rides—from bikes to scooters. So when I got the chance to take an electric motorcycle for a spin, you bet I was on board.
Meet the Super Soco TC: it's not your typical motorcycle but an electric moped. You don't even need a motorcycle license to ride it, just a regular driver's license will do.
I may not have a Super Soco parked in my garage, but I managed to rent one and dedicate a full day to see what it's all about. Here's my no-frills, honest take on what it's like to ride the Super Soco TC.
Overview
First of all, I don't own this bike and this is also not a sponsored post. I rented this bike in Tallinn, Estonia from ELMO Rent and paid for it like a regular customer.
I picked up the cafe racer moped from one of their self-service rental points. You can easily unlock the bike with a mobile phone. Just need to make an account before and add your credit card and driver's license info. 
Since there is an off-season for such two-wheelers, the discounted price for the whole day was just €12.5.
My Video Review
Want to see the Super Soco TC in action? Check out my day with this electric moped right here.
From zipping through city streets to testing its limits, this video gives you a front-row seat to my ride. Hit play to get a real feel for what it's like behind the handlebars!
Super Soco TC Specs
General
| | |
| --- | --- |
| Brand | Super Soco |
| Model | TC |
| Model Year | 2020 |
Electronics
| | |
| --- | --- |
| Motor | 1,900W Bosch |
| Max Torque | 150 Nm |
| Top Speed | 28 mph (45 km/h) |
| Battery | 60V 30Ah (1,800 Wh) |
| Max Range | 40 mi (60 km) |
Dimensions
| | |
| --- | --- |
| Length | 75.8 in (1,926 mm) |
| Width | 28 in (710 mm) |
| Height | 43.3 in (1,100 mm) |
| Wheelbase | 51.4 in (1,305 mm) |
| Clearance | 7.8 in (198 mm) |
| Seat Height | 30.6 in (776 mm) |
| Wheel Size | 17 in |
| Tires Size | 110/70 – 17 |
Performance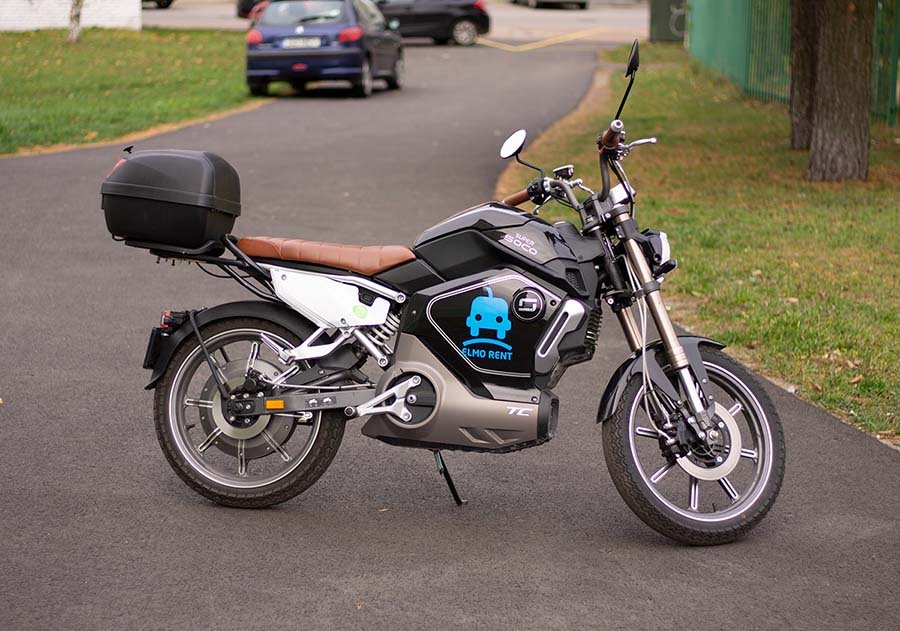 How fast is Super Soco TC?
The Super Soco TC is engineered for the urban commuter, boasting a Bosch 1,900W rear hub electric motor that capably propels you to a top speed of 28 mph (45 kph).
While this may not sound impressive to the speed enthusiast, it's the perfect sweet spot for city traffic and tight street navigation, ensuring you can keep pace with urban flow without overwhelming you with unnecessary power.
Not only is this motor size reflective of the Super Soco TC's design purpose, but its placement in the rear hub also contributes to a lower center of gravity, which can enhance handling and stability — essential factors when weaving through congested cityscapes.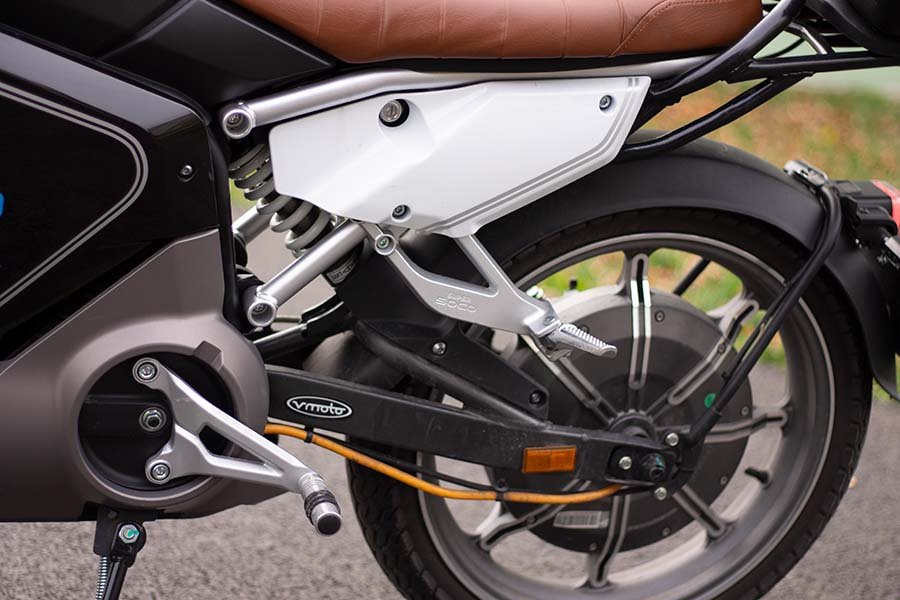 However, if your travel needs extend beyond the city limits and demand more speed and vigor, the Super Soco TC Max steps up as a compelling alternative.
This variant is a bona fide electric motorcycle with the grunt to hit 60 mph (90 km/h), providing a bridge between a nimble city moped and a highway-ready motorbike. It's an option for those who are looking for an all-electric ride without compromising on the thrill of speed or the need for broader commuting capabilities.
Hill Climbing Capabilities
Navigating the cityscape often means facing the unexpected challenge of steep inclines. In my experience with the Super Soco TC, it's evident that hill climbing is not the forte of its 1,900W motor.
While the motor performs admirably on flat surfaces, maintaining a brisk and steady pace, it shows a noticeable decline in power on steeper gradients.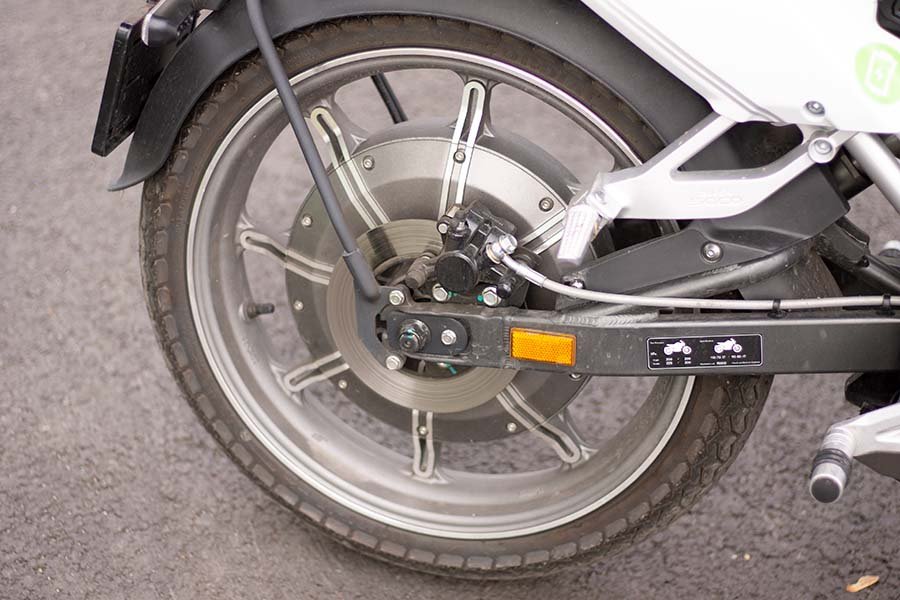 On moderate hills, the Super Soco TC maintains a decent climb, but it's on the sharper inclines where the motor's limitations become apparent.
You might find the speedometer ticking down as the motor grapples with gravity. This is a common characteristic of electric mopeds designed primarily for urban environments — they're built for efficiency and agility rather than raw uphill strength.
It's important to set the right expectations: If your daily route includes significant hills, you'll need to prepare for a more leisurely ascent and possibly seek alternative routes.
However, for the typical urban rider dealing with occasional slopes, the Super Soco TC still offers a reliable and eco-friendly ride, with the convenience of not requiring a full motorcycle license to operate.
For riders in particularly hilly areas or those seeking a bit more uphill vigor, the aforementioned Super Soco TC Max, with its more robust motor, might provide the additional power needed to tackle those challenging ascents with greater ease.
Battery & Range
The maximum range of this electric cafe racer is about 40 miles or 60 km. It is probably possible in power level 1.
As you can see, on the right side of the handlebar, there are 3 power levels. If you switch from 1 to 3, you can see from the display that an estimated range decreases significantly.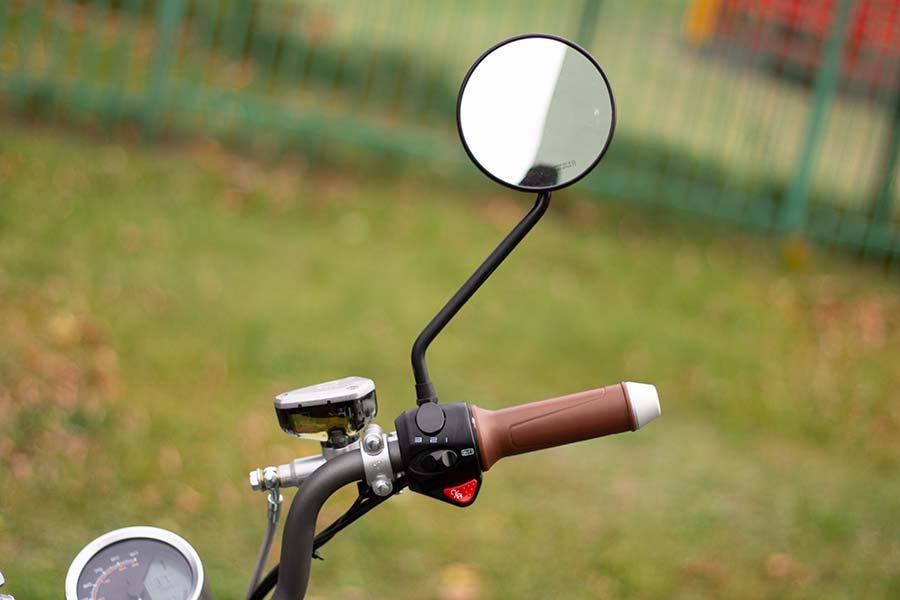 Also, I am not very sure how accurate it is. When I started my ride, the remaining range was 77 km. After I changed to power mode 2 – the range decreased to 60 km and in power mode 3 it showed the remaining range of 45km.
After covering a distance of 20 kilometers, mostly in power level 3, the remaining range was indicated as 15 km on mode 3 and 25 km on mode 1.
I must admit that I had a passenger on the back of my bike for about 10 kilometers, so that definitely took a lot of battery energy.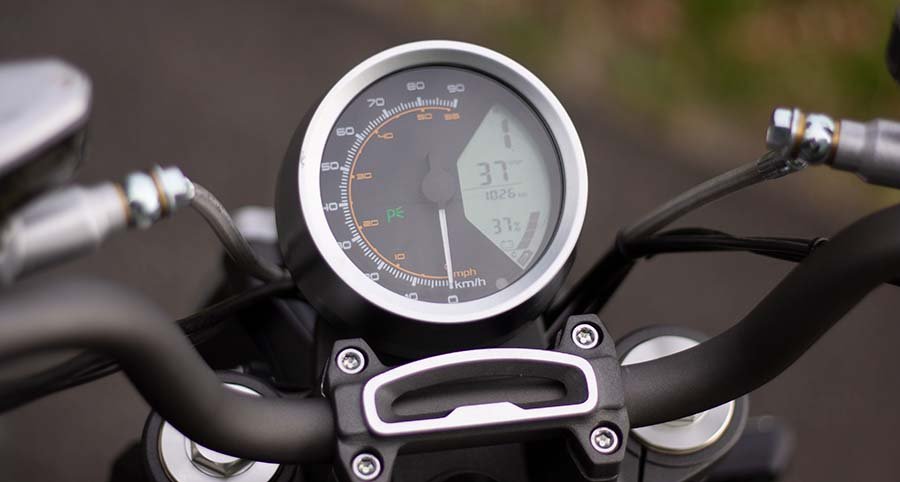 How to prolong the range of Super Soco TC?
To enhance your riding experience and manage expectations regarding the Super Soco TC's range, here are a few tips:
Ride Efficiency: Stick to lower power levels for conserving battery life, especially if you're not in a hurry or cruising through areas where high speed isn't necessary.
Consistent Speed: Try to maintain a steady pace, as frequent stops and starts can consume more power.
Battery Care: Regularly check your battery's health and ensure it's fully charged before long rides. Also, store the battery properly if you're not planning to use the bike for an extended period.
Weight Management: Extra weight can drain the battery quicker. Travel light when you can, and be aware that additional cargo or a passenger will reduce your range.
Terrain Awareness: Plan your route with the terrain in mind. Flatter routes will maximize the bike's range, while hilly terrain will require more power and reduce range.
By understanding these nuances, riders can better manage the Super Soco TC's range, ensuring that each journey is both enjoyable and within the bike's electric capacity.
How to charge Super Soco TC?
Charging the Super Soco TC couldn't be more straightforward. The convenience of being able to simply plug the bike into a standard wall outlet is a significant plus, making it accessible to riders who may not have specialized charging setups.
A full charge takes approximately 4 hours, which means you can easily top up the battery overnight or even during a workday, ensuring your bike is ready to go when you need it.
Additionally, the bike's battery is removable, providing the flexibility to charge it indoors at home or the office, which is a boon for city dwellers who might not have dedicated parking with charging capabilities.
This feature is particularly useful in urban environments, where outdoor electrical access can be scarce. Not only does this make the Super Soco TC an excellent commuter vehicle, but it also alleviates one of the biggest concerns potential riders might have: charging logistics.
Ride Quality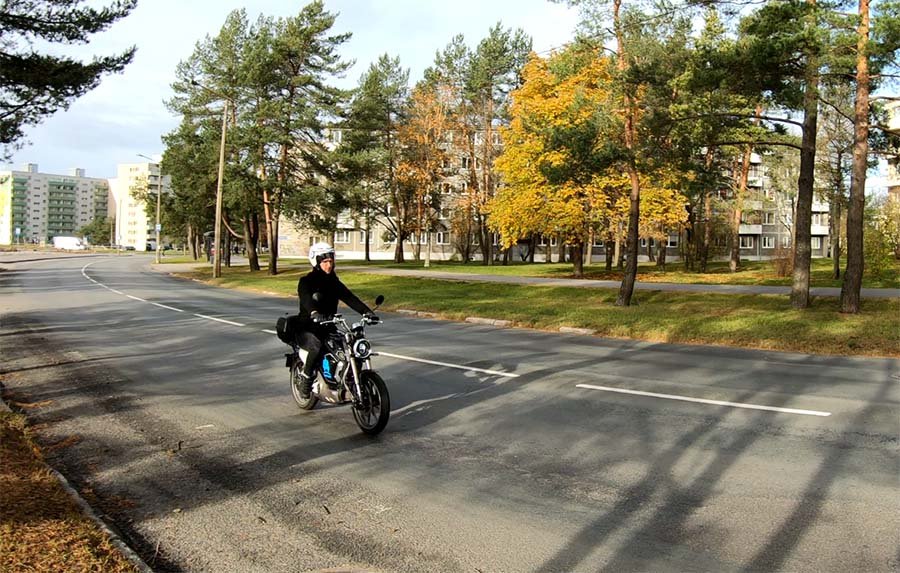 There's something truly special about gliding through the streets on the Super Soco TC. Imagine cruising without the rumble and roar of a traditional scooter – just the hush of the wind as your companion. That silence is golden.
Gone are the days of the grating scooter clatter. Now, passersby do a double take, surprised by the bike's quiet presence. It's a motorcycle in looks but a whisper on wheels.
The ride? It's smooth sailing. Light as a feather, the TC handles like a dream. No gears, no fuss, just pure ease. It's a cinch to maneuver, making even the newest riders feel like pros.
I also like that Super Soco TC is totally automatic. There are no gears.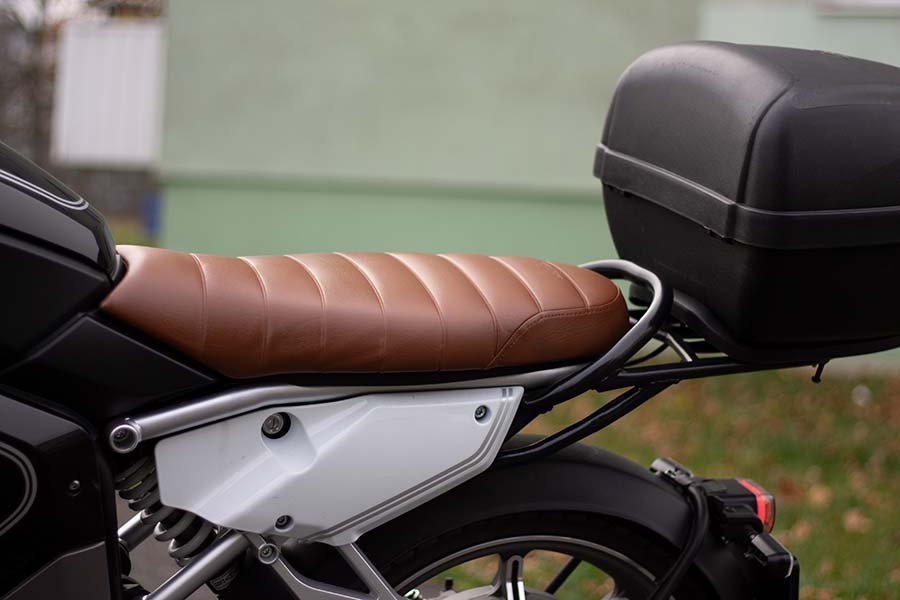 A quick note about riding with a passenger. The bike easily fits 2 riders but when going uphill, the max speed is really low. On a flat surface, we almost got 50 kph but on a small hill, the speed decreased to as low as 20 kph.
Sure, if you crave the thrill of high-speed gears, the Super Soco TC might not rev your engine. But for the city slicker? It's a gem. It outpaces bicycles in a sprint, laughs at gas prices, and respects Mother Earth.
But, as with all things, it's not perfect. Let's talk downsides.
Super Soco TC Cons
Low Power
Power, or the lack thereof, stands out as the Super Soco TC's main drawback.
The modest motor feels the strain on steeper inclines, making it clear that hills aren't this bike's best friends. If your daily route involves a fair share of uphill battles, the TC's performance might leave you wanting more oomph.
It's a smooth operator on flat terrain, but for those living in areas where the streets slope skyward, this could be a deal-breaker.
Costly Maintenance
It is not really a con, since everything that moves, needs some care.
If you want to buy Super Soco just to save money, note that it still needs maintenance. I talked to one guy who has owned this bike for a while.
Since the bike doesn't have any engine braking, the only way to slow down is by using the brakes. After 3,000 miles both brake discs and brake pads were worn out and needed to be changed. It can cost you over $200.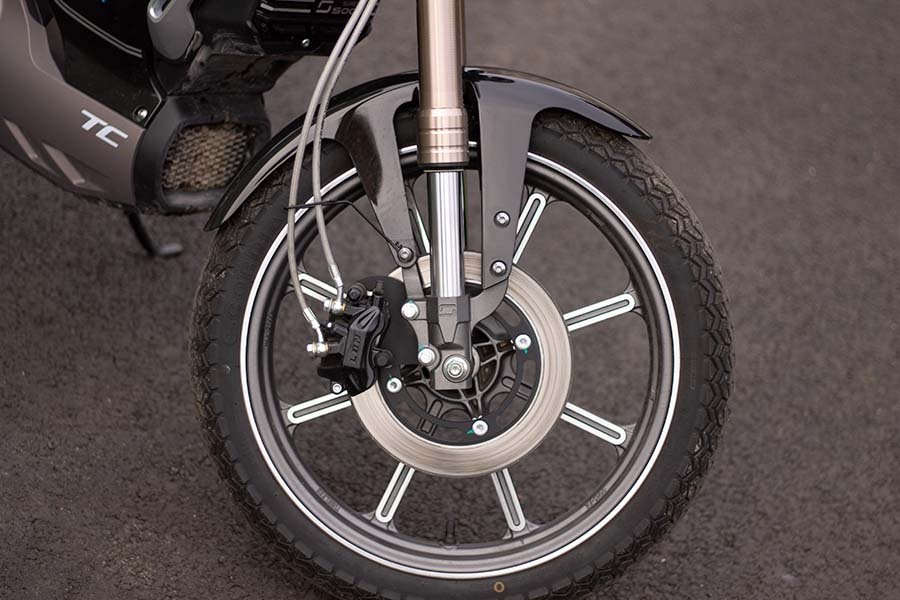 Also, there are regular services after every 1-2,000 miles too, if you want to keep the warranty. Those services will also cost you over $100.
So if you just buy the electric moped just to save money, remember that there are other costs besides fuel too.
Price and Availability
In 2020, interest spiked among American consumers eager to find ways to import this Chinese-manufactured bike to the USA. However, based on my research, the Super Soco TC isn't still available in the States.
There seems to be a Super Soco retailer in the USA but they don't sell TC or TC Max. I don't know why. There might be some regulatory compliance.
However, I found several online stores that sell the bike in Canada for about $4,000. Also, the Super Soco TC is available in several places in the UK. Here's a list of dealers I found from the Super Soco UK site.
Additionally, the bike is also available in different EU countries. You can get it for as low as €3,000.
Conclusion – Is Super Soco TC Worth It?
To sum this all up, I really liked riding with it. I am not sure if I want to own it but if I can just pick it up from the corner of the street for a couple of bucks, I will definitely use it again.
I think it is great for short commutes. On a warm and shiny day, I would easily prefer such an electric commuter over a car.
For the eco-conscious urbanite or the casual rider, it's a delightful alternative that promises to add a bit of joy to the everyday hustle.