Apollo's journey in reshaping short-distance travel reflects a deep understanding of modern commuting needs. Recognizing that over 80% of global trips are less than 10 kilometers, Apollo has been committed to transforming these daily commutes into more convenient, eco-friendly, and enjoyable experiences.
Breaking free from the limitations of traditional and shared electric scooters, Apollo has emerged as a pioneer in the e-scooter market with a focus on high-quality, reliable vehicles.
In this post, we'll introduce you to the entire range of Apollo scooters. While I haven't personally ridden every model, my extensive knowledge and insights, combined with a deep dive into their specifications and various expert reviews, will guide you through what makes each Apollo scooter unique.
Whether you're a daily commuter or an electric scooter enthusiast, this overview aims to bring you closer to finding an Apollo scooter that's perfect for your short-distance travels.
Electric Wheelers is reader-supported. Although we independently research and test products, we may receive a commission on purchases made from our chosen links. Read more…
About Apollo Scooters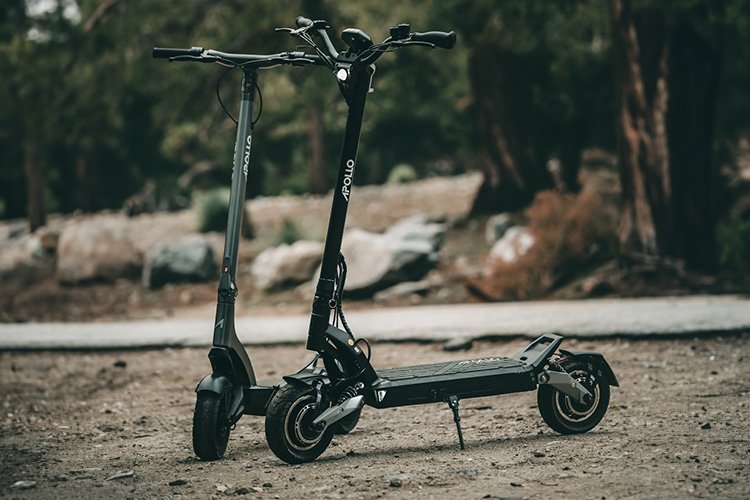 Homepage | Instagram | Facebook | Youtube
When was Apollo Scooters Founded?
Apollo Scooters was founded in 2018, marking the collaborative venture of two forward-thinking individuals previously engaged with the luxury brand L'Oreal.
Their shared vision was clear: to address the burgeoning demand for personal micro-mobility solutions that complement public transit systems.
Leveraging advanced technologies that surpassed the capabilities available to early scooter pioneers, the company rapidly established its foothold in the market.
This pivotal year marked the beginning of what is now a remarkable chapter in the evolution of urban mobility, firmly establishing Apollo Scooters as a key player in the industry.
Who are the Founders of Apollo Scooters?
Apollo Scooters is the brainchild of Christopher Heathcote-Rey and Maciek Piskorz.
Chris is a Marketing and Finance graduate of the Sauder School of Business & HEC Paris. He founded Apollo Scooters with Maciek, who is a gifted scholar who achieved direct entry into the Sauder School of Business.
They founded an electric scooter company after they both had a short spell working in the luxury products division of the L'Oreal Group in Montreal, Quebec, Canada.
Where are Apollo Scooters Located?
The headquarters of Apollo Scooters is in Montreal, Canada.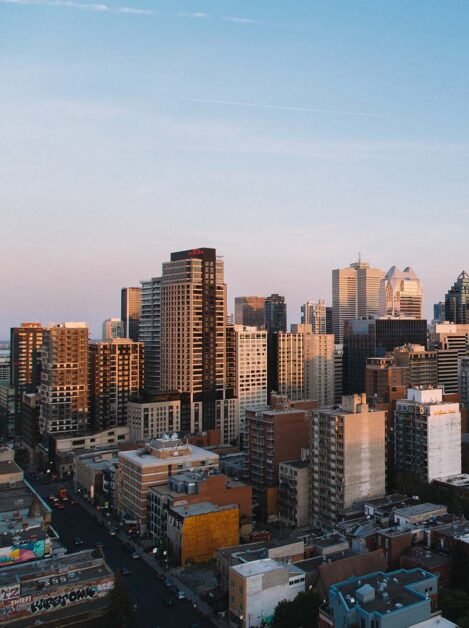 Each and every scooter is designed, developed, and tested in Montreal. The centralized manufacturing facility is vital to maintaining the build quality riders have come to expect of electric scooters from Apollo.
All quality control tests, including a 5,000 km road test, are also conducted within the headquarters to uphold the company's strict quality standards and keep production costs low.
That is how Apollo manages to deliver high-end scooters at affordable prices.
Where can you buy Apollo Scooters?
Apollo Scooters are readily accessible to a global audience, with dedicated online shops serving customers in the USA and Canada.
For residents in these countries, purchasing directly from Apollo USA or Apollo Canada offers the most straightforward and convenient option.
Beyond North America, Apollo has strategically expanded its reach by partnering with various retailers across the globe. These partnerships enable easy access to Apollo scooters in regions including Australia, the United Kingdom, and various countries in Europe, catering to a diverse international customer base.
To find the nearest retailer explore the full list of authorized Apollo distributors.
Apollo Electric Scooter Models
Currently, Apollo has 6 different electric scooter models in its selection. Below, there's a quick breakdown of the main specs of each model. After that, there's an extensive overview of each Apollo electric scooter.
| | | | | | | |
| --- | --- | --- | --- | --- | --- | --- |
| | Apollo Air 2023 | Apollo City Single Motor | Apollo City Dual Motor | Apollo Ghost | Apollo Phantom 2023 | Apollo Pro |
| Motor | 500W | 500W | 2 x 500W | 2 x 1000W | 2 x 1,200W | 2 x 1,200W |
| Top Speed | 21 mph | 27 mph | 32 mph | 34 mph | 41 mph | 44 mph |
| Battery | 36V 15Ah | 48V 20Ah | 48V 20Ah | 52V 18.2Ah | 52V 23.4Ah | 52V 30Ah |
| Range | Up to 34 miles | Up to 40 miles | Up to 43 miles | Up to 39 miles | Up to 40 miles | Up to 62 miles |
| Tires | 10″ Pneumatic | 10″ Pneumatic | 10″ Pneumatic | 10″ Pneumatic | 10″ Pneumatic | 12″ Pneumatic |
| Suspension | Front fork | Triple Spring | Triple Spring | Dual Spring | Quadruple Spring | front hydraulic, rear rubber absorber |
| Brakes | Front drum + regen | Dual drum + regen | Dual drum + regen | Dual Mechanical Disc | Hydraulic Disc | Dual drum + regen |
| Weight | 35.8 lbs | 57 lbs | 65 lbs | 64 lbs | 77 lbs | 93 lbs |
| Max Payload | 220 lbs | 220 lbs | 265 lbs | 300 lbs | 300 lbs | 330 lbs |
| Price | $949 | $1,399 | $1,699 | From $1,599 | $2,199 | $3,599 |
Apollo Air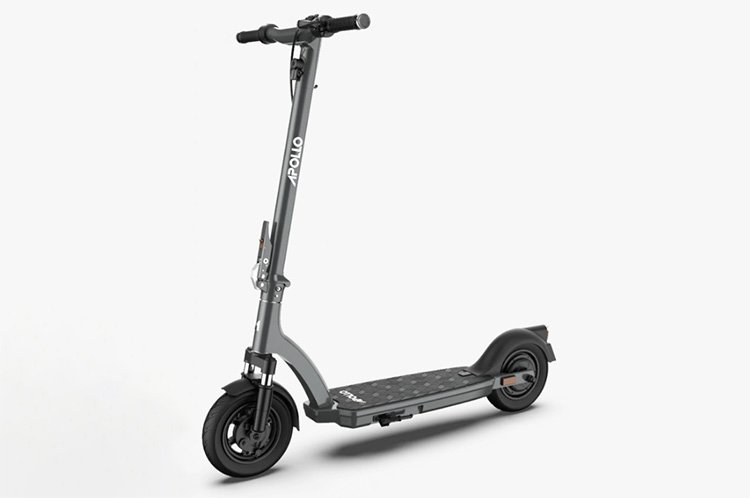 The Apollo Air electric scooter emerges as a prominent choice in the micro-mobility sector, offering a blend of efficiency, convenience, and performance.
Priced at $949, it aims to cater to urban commuters and e-scooter enthusiasts looking for a reliable daily ride.
Key Specifications and Features
Motor Power: 500W, providing sufficient thrust for city commuting and handling moderate inclines.
Battery: 36V 15Ah, 540Wh
Speed and Range: A top speed of 21 mph and a maximum range of approximately 34 miles, ideal for city commuting and short trips.
Braking System: The front drum and regenerative braking system, ensure reliable and safe stops.
Build and Portability: Crafted from durable aluminum, it weighs around 36 lbs. The scooter folds down easily, although the extended handlebars might pose a slight inconvenience in compact spaces.
Suspension: Front dual suspension system, enhancing ride comfort over varied terrains.
Warranty: A 10,000 km frame warranty and a 12-month warranty against manufacturing defects.
User Experiences
A Reddit user, paulnogas, highlighted the Apollo Air's practicality for city commuting in Toronto, appreciating its quality build, effective folding mechanism, and impressive battery life. However, he noted the slightly bulky nature when folded, and the weight which can be challenging for regular carrying.
A reviewer from Ride Review echoed these sentiments, praising the scooter's seamless city navigation, the comfort provided by the suspension system, and the convenience of its folding mechanism. Yet, they also pointed out its lengthy battery charging time and the need for a brighter headlight for night rides.
Target Audience
The Apollo Air is designed for urban commuters and those seeking a reliable, eco-friendly alternative for short to medium-distance travels.
It perfectly suits individuals who require a blend of performance and portability in a scooter, but don't mind the slightly heavier build for the added features.
Price and Value
At $949, the Apollo Air offers good value for its price, considering its robust build, comprehensive warranty, and range of features.
It stands out as a cost-effective option for those seeking a durable, feature-rich scooter for daily commuting and city exploration.
Conclusion
The Apollo Air electric scooter, with its thoughtful design and robust features, is an excellent choice for city dwellers and eco-conscious commuters.
While it requires some considerations regarding portability and charging time, its advantages in terms of performance, safety, and ride comfort make it a worthy investment in the realm of urban micro-mobility.
Apollo City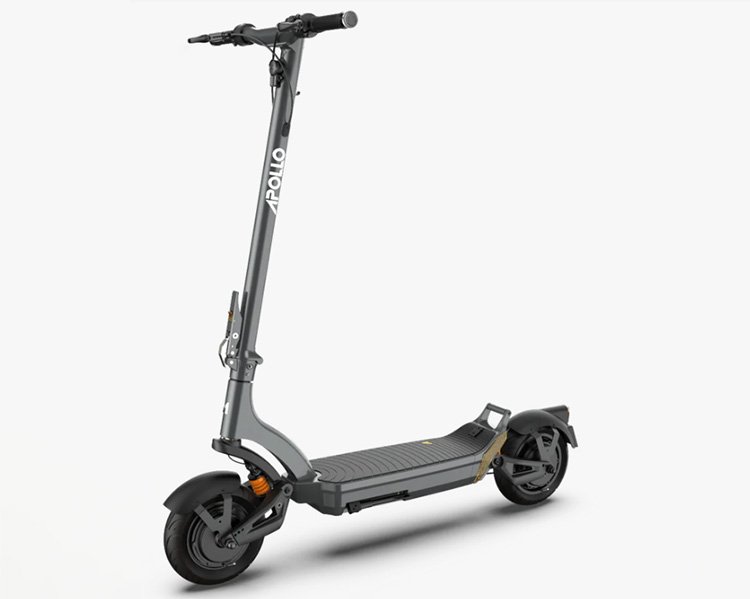 Apollo City has cemented its place as a versatile and powerful option for urban commuters and recreational riders. It comes in two variants – a single-motor version and a dual-motor version – each tailored to different rider needs.
Key Specifications and Features
Motor Power: 500W or 2 x 500W
Battery: 48V 20Ah, 960Wh
Speed and Range: Single-motor version can go up to 27 mph, while the dual-motor version speeds up to 32 mph. Range is up to 40 miles for both.
Braking System: Both versions have dual drum brakes and an additional regenerative brake.
Suspension: Triple spring suspensions
User Experiences
Reddit User Eriks0n highlighted the scooter's sturdy build and powerful motor. He notes its suitability for long commutes and recreational use. He also says that the suspension handles urban terrains well, though the scooter's dimensions can affect its stability on rougher paths. He especially likes the new folding latch because of its reliability.
Mike Prospero from Tom's Guide emphasizes the scooter's aptitude for handling long commutes and smoothly navigating deteriorating urban infrastructure.
The inclusion of turn signals enhances safety in traffic, although the arrangement of these signals could be improved. The Apollo City's performance in terms of speed and handling road imperfections is commended, providing a comfortable and efficient ride.
Target Audience
The Apollo City is designed for urban dwellers who require a reliable and efficient mode of transportation for daily commuting or leisure rides.
The single-motor version appeals to those prioritizing cost-effectiveness and sufficient power for regular city routes. In contrast, the dual-motor variant caters to riders seeking extra power and speed, perhaps for longer commutes or more varied terrain.
Price and Value for Money
At $1,399 for the single motor and $1,699 for the dual motor, the Apollo City isn't the cheapest option on the market, but it justifies its price with robust features, build quality, and performance.
Single Motor Version: Offers a balanced package for daily commuting. However, if budget constraints are a primary concern, potential buyers might consider the Apollo Air, priced at $949, as a more affordable yet capable alternative.
Dual Motor Version: For those requiring something more potent than the Apollo Air, this version makes sense. It provides significantly more power and speed, making it worth the extra investment for the right user.
Personal Take
For customers considering the single-motor version of Apollo City, it's worth weighing the cost-benefit ratio. The Apollo Air could save you a few hundred dollars and still serve adequately for daily commuting needs.
However, if you're in the market for a scooter that offers more than what the Apollo Air can deliver, particularly in terms of power and speed, the dual motor version of the Apollo City is a commendable choice. Its superior performance and enhanced features make the additional investment worthwhile for enthusiasts and power users.
Apollo Ghost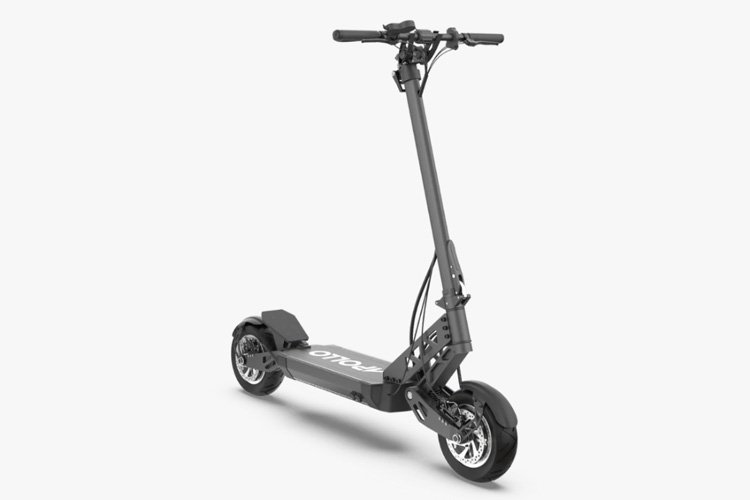 The Apollo Ghost electric scooter, priced at $1,599, stands as a testament to the power and build quality in the world of electric scooters.
Main Specifications and Features:
Dual Motor System: With two 1,000-watt motors, the Ghost offers substantial acceleration and power. The dual-motor setup allows it to reach higher speeds and handle steeper inclines with ease.
Top Speed: 34 mph.
Battery and Range: The battery life allows for a range that generally falls just under 20 miles, influenced by factors such as speed, road conditions, and rider weight. The standard recharge time is 12 hours, but a fast charger available for $99 can reduce this by half.
Design and Build: The scooter boasts a sleek, sturdy design with a focus on durability. It is equipped with IP54 water resistance, which is lower than other Apollo scooters.
Safety and Comfort: Enhanced by a dual-spring suspension system and 10-inch pneumatic tires, the ride is comfortable even on rough terrains. The inclusion of effective disc brakes adds to the safety aspect.
Portability and Weight: Weighing 64 pounds, the Ghost is on the heavier side, which might affect its portability. However, it does fold down for easier storage.
Additional Features: It includes built-in taillights, visibility lights, a bell, and is equipped with both Eco and Turbo modes for varied riding experiences.
User Experience
Julian Chokkattu from Wired notes the scooter's impressive power and speed, underscoring the thrilling acceleration capabilities, with a jump from 0 to 25 mph in just about six seconds. This power, while exhilarating, can be a bit overwhelming, especially for less experienced riders.
Despite its robust performance, the ride is remarkably comfortable. The Ghost does an excellent job at smoothing out bumps and handling uneven surfaces, attributed to its well-designed suspension system.
However, Julian points out some practical challenges: the scooter's weight, at 64 pounds, can be a concern for those who need to carry it regularly.
Additionally, he mentions that the display could benefit from being brighter, enhancing visibility during sunny days.
Overall, Julian's experience paints a picture of a powerful and comfortable scooter, albeit with considerations for its weight and display visibility.
Price and Value for Money
At $1,599, the Apollo Ghost is quite in the middle bracket for electric scooters. However, its build quality, power, and features like the dual motor system justify the price for the right user.
For those who don't need extreme power or have more urban, low-speed use cases, a more cost-effective model might be preferable (Apollo Air or City for example).
The high performance and build quality of the Ghost make it a worthy investment for the right audience, especially those seeking an exhilarating and reliable ride.
Apollo Phantom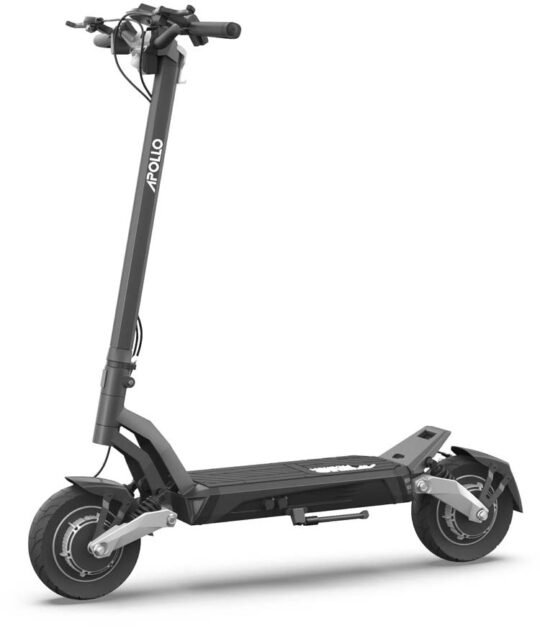 Main Specs:
Motor: Dual motor 2 x 1,200W
Battery: 52V 23.4Ah, 1,216Wh
Top Speed: 41 mph
Range: Up to 40 miles
Build: Robust construction with 300 lbs weight limit
Tires: 10″ tires suitable for various terrains
Brakes: Effective and reliable hydraulic disc brakes
Additional Features: Advanced lighting system, IP54 water resistance, mobile app integration
User Experience
Electric Scooter Insider told about The Apollo Phantom V3 that it's like an F1 car on two wheels, offering a thrilling and dynamic riding experience. Key highlights include the new MACH1 controller, which significantly enhances performance and the unique regen brake paddle, adding an innovative aspect to the braking experience.
Despite its advanced features, they also brought out minor drawbacks of the Phantom, such as the poorly-fitted rubber around the regen and throttle paddles and its power-to-price ratio compared to some competitors.
But overall they praised its overall handling and quality build.
Target Audience:
The Apollo Phantom is ideal for enthusiasts who prioritize performance and advanced features in their electric scooters.
It suits riders who are looking for more than just a commuting tool – those who desire a blend of speed, agility, and high-end functionality.
The scooter's build and design cater to a wide range of users, including taller and heavier riders, making it a versatile choice for a diverse user base.
Price and Value for Money:
Priced at $2,199, the Apollo Phantom V3 sits at the higher end of the electric scooter market. While it may not be the absolute leader in raw power when compared to similarly priced scooters, its balanced performance, handling agility, and build quality make it a noteworthy contender.
For those seeking an all-around premium scooter experience, with less emphasis on outright speed and more on overall ride quality and experience, the Phantom presents a compelling case.
However, for individuals focused solely on maximum power or on a tighter budget, there might be alternative options that better suit their specific needs.
Apollo Pro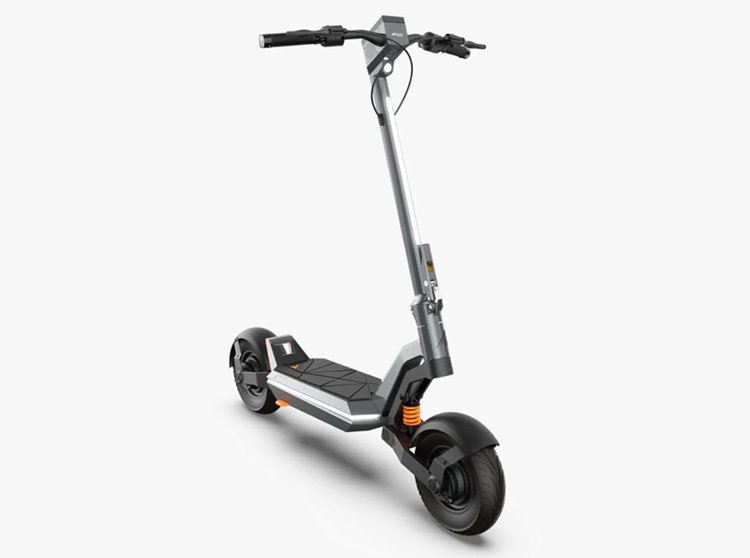 The Apollo Pro stands as a distinguished entity in the realm of high-power electric scooters, offering a combination of advanced design, performance, and user-centric features.
With a price tag of $3,999, it is the most expensive electric scooter Apollo has ever had. It's tailored for electric scooter enthusiasts who demand excellence and a refined experience in micro-mobility.
Key Specifications and Features
2 x 1,200W Dual Motors: Offering speeds up to 44 mph, exceeding expectations with a tested speed of around 75 km/h (46 mph).
Battery: 52V 30Ah, equating to 1,560 Wh capacity, ensuring an extended range of up to 62 miles.
Wheels: Equipped with big 12" self-healing tires, coupled with a plush suspension system for a stable ride.
Braking System: Maintenance-free drum brakes with effective regenerative braking, adding to the scooter's reliability and safety.
Lighting: 360-degree wraparound LED lighting, enhancing visibility and safety during night rides.
Connectivity and Display: Basic on-board dot matrix display and a sophisticated mobile app offering detailed information and customization.
Additional Features: Includes a quad-lock system for phone mounting and wireless phone charging, offering convenience and tech integration.
User Experience
Micah Toll's review from Electrek sheds light on the Apollo Pro's unique attributes. He notes the scooter's impressive power and speed, and more significantly, its well-thought-out design and comfortable handling.
The regenerative braking system is especially appreciated for its effectiveness. The scooter's build quality and the integration of the mobile app are key highlights, adding to its practicality and user experience.
Toll commends the scooter's stability and intuitive ride feel, likening it to that of an e-bike. However, he acknowledges the high price point, positioning it as a premium offering in the market.
Target Audience
The Apollo Pro is explicitly designed for serious scooter enthusiasts and everyday commuters who value design, comfort, and performance over sheer speed and power.
It's ideal for those seeking a dependable, high-end scooter for extensive daily use or for riders who prioritize a polished and technologically advanced riding experience.
Price and Value
Priced at $3,999, the Apollo Pro is certainly in the premium segment of electric scooters. This price reflects its sophisticated design, advanced technological features, and premium build quality.
While not competing on raw power alone, its value lies in its overall design, user-friendly interface, and integrated technology, making it a worthwhile investment for the targeted audience.
For dedicated scooter riders and commuters, the Apollo Pro offers an unparalleled experience that justifies its premium pricing.
Reservation of New 2024-Year Models
Apollo Scooters is gearing up to launch two exciting new models in 2024, the Apollo Explore and Apollo Go, with reservations already open.
The Apollo Explore 2024 is touted as a bold revolution in e-scooters, blending innovation and versatility. It features a groundbreaking DualDeck Platform and a Quick-Swap Battery, reshaping the e-scooter experience.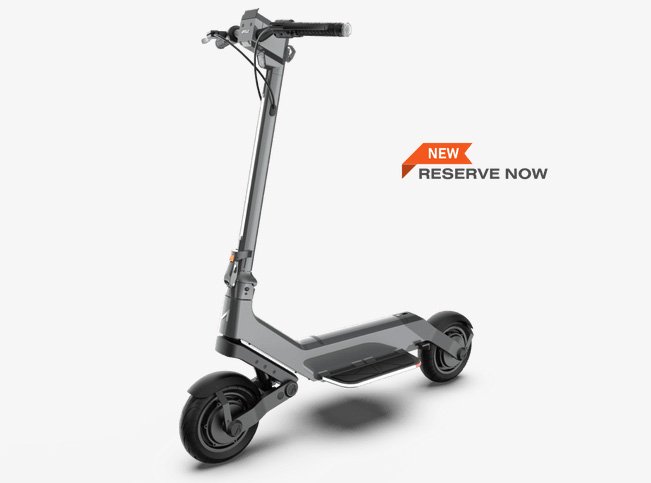 The model is powered by a 52V battery with Samsung 40T21700 Cells, supporting dual motors and offering both in/out charging.
Its sleek unibody design is crafted from aircraft-grade aluminum, and it boasts a portable, slim profile with foldable features for easy storage and transport.
The Explore also includes dynamic 360° RGB lighting, a built-in speaker for an audio experience, and a Power RBS (Regenerative Braking System) for efficient stopping power. It's expected to deliver in Q2 of 2024, starting at $1,699 USD.
---
The Apollo Go, set to be delivered in Q1 of 2024 and starting at $1,299 USD, is designed as a compact yet powerful commuter scooter.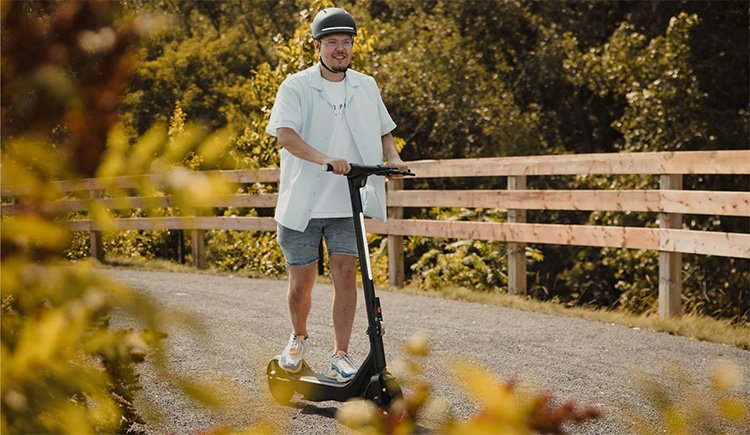 It features dual 350W motors with a peak output of 1420W, a 36V 15Ah battery with 21700 cells for up to 30 miles range, and 9-inch self-healing tires for smooth rides.
The Go also incorporates advanced features like 360-Degree COB Lighting, a Unibody Frame, and the ability to use your phone as a display. It's designed for safety and convenience, with intuitive turn signals and a regen brake throttle for controlled stops.
Both models represent Apollo's commitment to innovative design and functionality, offering riders advanced features and a unique riding experience.
Apollo Scooter Accessories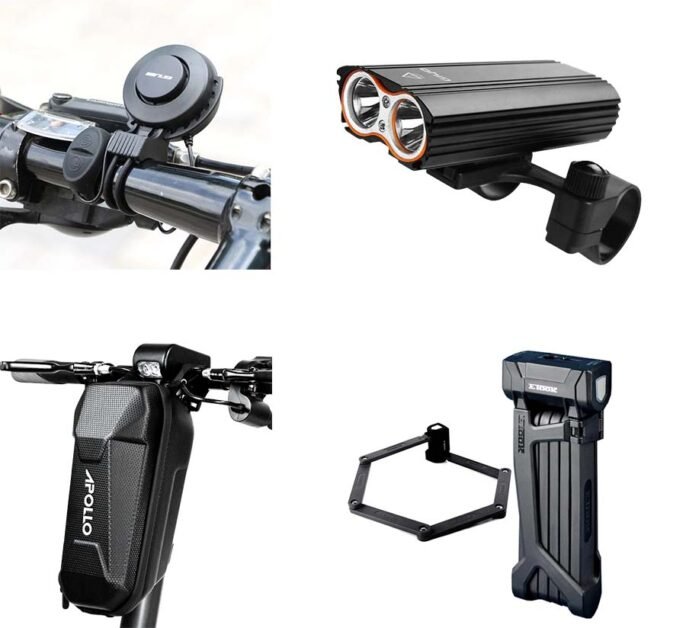 Aside from top-quality rides, Apollo is also a one-stop shop for electric scooter essentials that make your scooter safer, more practical, and more fun. You can kit out your scooter with:
Headlight – This 2,500-lumen LED headlamp features a rechargeable battery housed inside a waterproof aluminum casing and comes in three light modes: high-beam, mid-beam, and low-beam.
Folding lock – This 900 mm-long folding lock allows you to secure your scooter to a post or bike rack and can resist saw, drill, and cutter attacks.
Scooter horn – This is essential while driving on highways and is loud enough to be heard in traffic. It is waterproof and USB rechargeable.
Phone holder – An aluminum alloy holder that is fully adjustable and rotatable. It lets you mount your phone conveniently for quick and easy operations on the go.
Apollo bag – A waterproof scooter bag that provides extra storage and attaches to the stem using velcro straps.
Concluding Thoughts on Apollo Scooters: Innovating Urban Mobility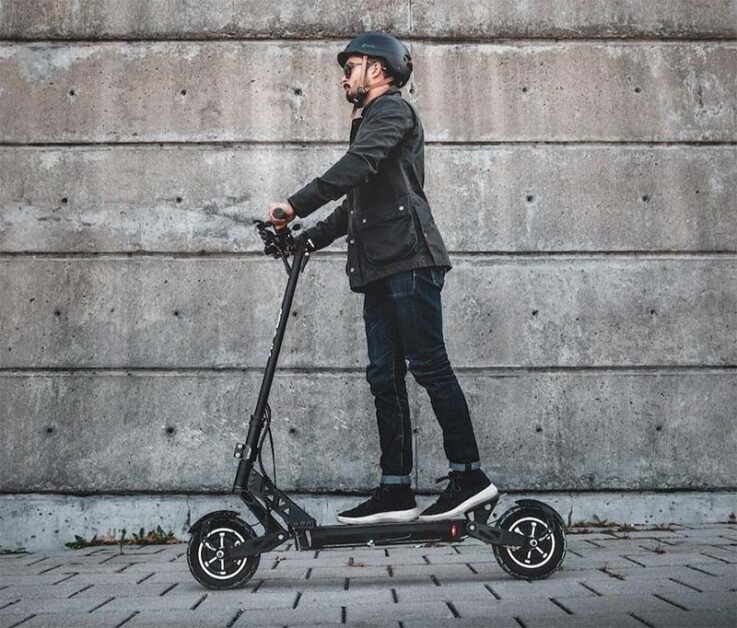 As we've delved into the world of Apollo scooters, it's evident that Apollo stands at the forefront of revolutionizing urban mobility.
With a diverse range of models like the Apollo Air, Phantom, and Pro, each scooter caters to different needs and preferences, from the casual urban commuter to the adrenaline-seeking enthusiast.
In conclusion, whether it's value for money, cutting-edge technology, or specialized performance, Apollo scooters offer a compelling choice for a wide spectrum of riders. Their continued innovation and customer-focused approach make them a noteworthy brand in the rapidly evolving landscape of electric scooters and urban transportation.