Aventon is a fast-growing e-bike brand that manufactures comfortable, dependable bikes that provide a good riding experience.
Aventon's first bike was the Pace 500. However, they constantly release upgraded versions of the same bike. While writing this article, the Pace 500.3 is just released.
The Pace 350 is quite similar to Pace 500, and you can best describe the former as the latter's smaller brother.
Let's dive in and explore more about the two e-bikes and what sets them apart.
Electric Wheelers is reader-supported. Although we independently research and test products, we may receive a commission on purchases made from our chosen links. Read more…
Aventon Pace 500 Versus Pace 350: Head-to-Head Comparison

| | | |
| --- | --- | --- |
| Pace 500 | | Pace 350 |
| | General | |
| Class 3 | E-Bike Class | Class 2 |
| USA | Availability | USA |
| 2 Years | Warranty | 2 Years |
| | | |
| | Electronics | |
| Rear-hub | Motor Type | Rear-hub |
| 500W | Motor Power | 350W |
| 28 mph | Top Speed | 20 mph |
| 48V 12.8Ah (614Wh) | Battery | 36V 11.6Ah (417Wh) |
| Up to 60 miles | Range | Up to 40 miles |
| | | |
| | Bike Details | |
| 6061 aluminum alloy | Frame Material | 6061 aluminum alloy |
| Regular/Large | Frame Size | Regular/Large |
| Step-over, step-thru | Frame Type | Step-over |
| 5'3″ – 6'4″ | Recommended Height | 5'3" – 6'4″ |
| Green, Black | Frame Colors | Gray, Black |
| Rigid | Fork | Rigid |
| 8-speed Shimano Altus | Gearing | 7-speed Shimano Tourney |
| Hydraulic disc | Brakes | Mechanical disc |
| 27.5-inches | Wheel Size | 27.5-inches |
| 27.5″ x 2.1″ | Tires | 27.5″ x 2.2″ |
| 52 lbs | Weight | 49 lbs |
| 300 lbs | Weight Capacity | 300 lbs |
| IPX4 | IP Rating | IPX4 |
Aventon Pace 500 vs 350: Performance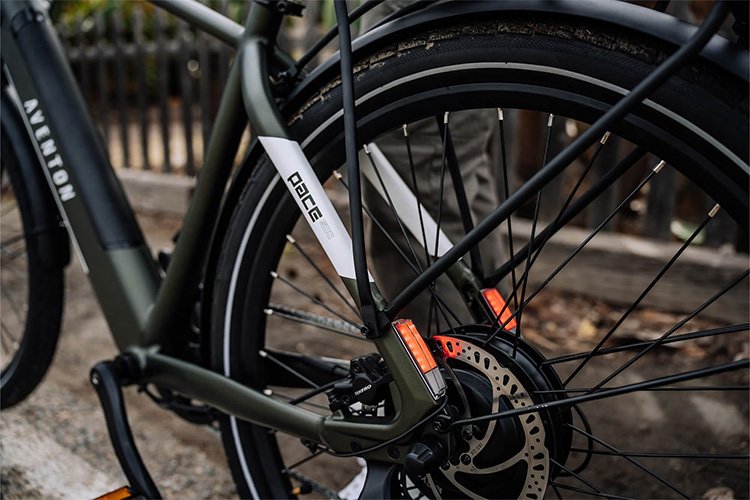 Motor Power and Speed
The Pace 500 has a 500W 48V  brushless hub motor, while the Pace 350 has a 350W 36V hub motor (that's where the names come from).
Additionally, the Pace 500 has a torque sensor that converts mechanical torque to create an electrical signal. The torque sensor measures how much force you apply to the pedals to determine how much power the motor should provide. The torque sensor provides an experience that's close to conventional bikes.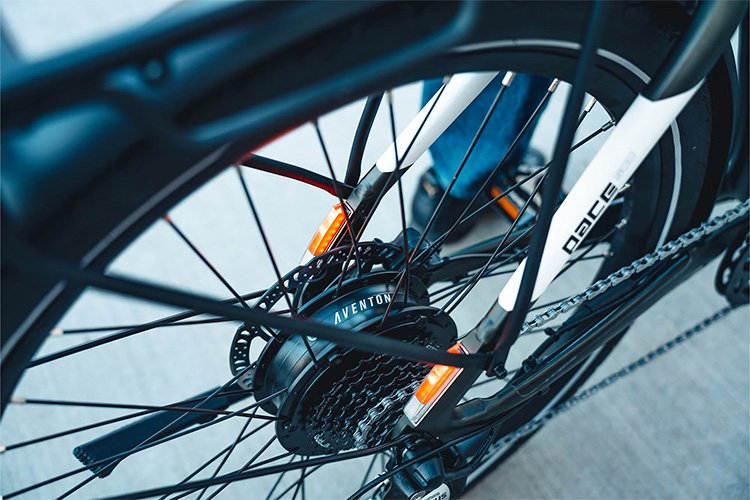 The Pace 350 has a cadence sensor that detects when the rider is pedaling. The sensor then conveys this information to the controller allowing it to supply power to the motor up to the limit set up in the display. Cadence sensors provide riders with consistent power, are easy to use, and provide flexibility when cruising, allowing riders to go faster.
Read more: Differences Between Torque and Cadence Sensors
Also, the Pace 500 has a 28mph top speed, while the Pace 350 has a 20mph top speed. Both e-bikes have pedal assist and throttle, allowing riders to enjoy relaxed rides using the throttle. The e-bikes are designed to provide riders with as much or as little help as required allowing them to have an engaging or relaxing experience.
Battery and Range
The Pace 350 has an internal removable 36V 11.6Ah Lithium-ion battery that powers the bike for up to 40 miles. Alternatively, the Pace 500 has a similar removable battery but with a more energy capacity of 48V 12.8Ah. The Pace 500 has a range of up to 60 miles.
So Aventon Pace 500 bigger battery than Pace 350 and therefore Pace 500 provides a longer range.
Additionally, the 350 has four pedal-assist levels that riders can choose from. The Pace 500 has five riding modes: eco, tour, sport, and turbo.
Riders can choose the eco pedal assist mode to travel further because it consumes less power. They can also choose the turbo mode if they want to travel faster. However, this mode consumes more power meaning the maximum range they can travel will reduce.
Braking
The Pace 500 has a hydraulic braking system, while the Pace 350 has mechanical disc brakes. These two braking systems are quite similar, except hydraulic brakes are much more sophisticated, more expensive, and more efficient.
Hydraulic disc brakes provide better braking power than mechanical disc brakes and have other perks like increased effectiveness and stability. These brakes are perfect for the Pace 500 since it is more powerful and has a higher top speed, requiring a more efficient braking system.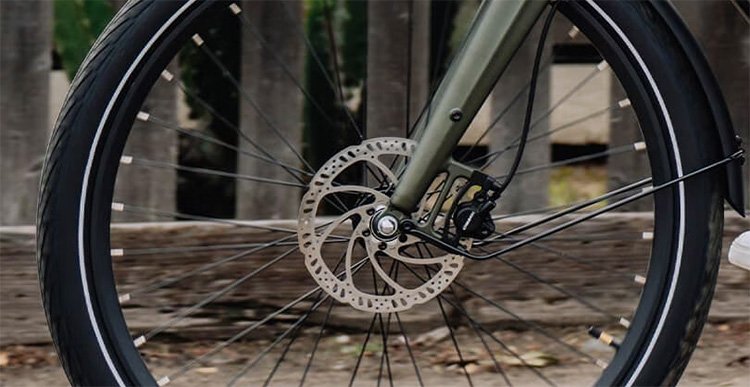 Hydraulic disc brakes use hydraulic fluid that provides quick and more efficient stopping power. The brakes offer better braking power and are perfect for riders who want an e-bike they can use for daily commutes in moderate to heavy traffic.
They could also be better for individuals who live in regions that experience consistently poor weather. They are more sensitive, providing riders with better control during operation.
Mechanical disc brakes work through a cable that pulls on the calipers when the rider pulls the brake lever. These brakes are more affordable, require low maintenance, and are cheaper to replace than hydraulic disc brakes. However, they are less effective and require riders to pull harder on the brake levers for more effectiveness.
Gearing System
Aventon's Pace 350 has a 7-speed rear derailleur, while the Pace 500 has an 8-speed variant. The seven and 8-speed derailleurs are sufficient for most riders. The gearing system has fewer gears, making the bike's build less complicated.
Overall, both gearing systems provide similar performance. However, it's worth mentioning that Pace 350 has a Shimano Tourney derailleur, which is the most low-end component Shimano offers. On the other hand, Pace 500 is equipped with Shimano Altus, which is a bit higher quality alternative.
Aventon Pace 350 vs 500: Other Features
Frame and Geometry
The Pace 350 and 500 have the same 6061 Single-Butted Aluminum Alloy frame styled in an upright position with cruiser-style handlebars.
Both e-bikes can withstand riders who weigh 300 lbs, and their geometry allows riders to look forward with minimal strain on their neck effortlessly. This allows them to focus on having a fun ride than struggling to get comfortable.
The two bikes fit riders between 5'3" and 6'4", providing a better riding experience for riders at or slightly below the median height. Both bikes have plush and comfortable saddles that are much wider and more cushioned than standard saddles.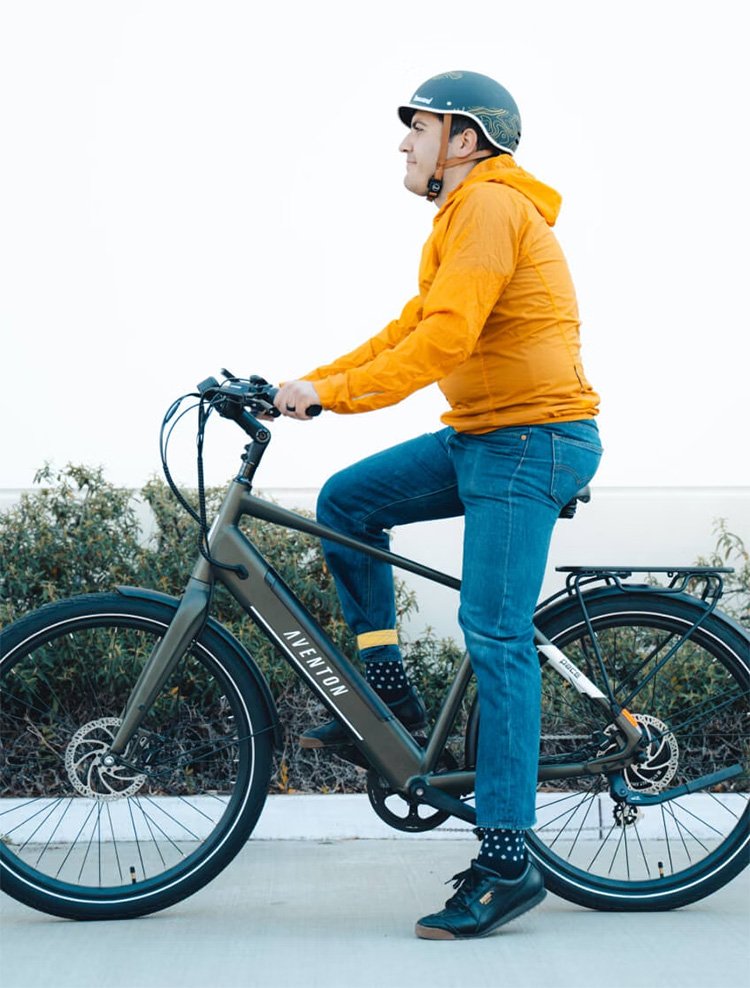 The bikes have slightly swept-back handlebars that help maintain comfortable positions when riding. Their design allows riders to relax their elbows, keep them down, and minimize any strain they may experience when riding regular bikes.
Both bikes have a display system in the center of the handlebar. It shows your speed, distance covered, battery level, etc., helping you get more confident about riding your bike during the day or at night.
Read also: Aventon Pace 500 vs Aventon Level
Additionally, the e-bike has soft and ergonomic grips that provide a good riding experience. The grips lock in place to minimize unwanted movements and prevent them from sliding off.
Finally, both bikes have a kickstand (which isn't exactly a comfort feature) that's reliable and easy to use. You can balance the bike on the kickstand, so you don't have to worry about bending and picking it up whenever you want to resume your ride.
Wheels and Tires
Both bikes have 27.5-inch wheels. Also, both have double wall aluminum 36h front & rear rims, and puncture-resistant tires that increase durability and safety.
You could ride the bike in different terrains. However, we wouldn't advise using it on extremely rugged surfaces since it could damage the tires. Also, the tires have reflective walls that improve your visibility when riding in traffic, especially at night.
Price
Aventon's Pace 350 is priced at $1199, while the Pace 500 is priced at $1600, which is reasonable for an e-bike with these features.
The e-bikes have good-quality builds, provide outstanding performance, and are worth their price tags. You only need to assess your needs and determine which of the two bikes will suit you best.
Aventon Pace 500 vs Pace 350: Which One to Get?
Both bikes are phenomenal cruiser bikes that are comfortable to ride. They provide their riders with fun and stylish riding experiences without breaking the bank. Riders can use either bike to cruise around the neighborhood and discover new paved bike trails. These bikes allow riders to go the extra mile effortlessly.
However, if you live in hilly terrain, opt for the Aventon Pace 500 because of its more powerful motor. The Pace 500 is more powerful and capable of handling a few more degrees of inclines than the Pace 350. Also, the Pace 500 provides a longer range and is equipped with higher-quality components.
That being said, if you are on a limited budget, you can't go wrong with a Pace 350 either. It's also a quality e-bike from a trusted brand.
Whichever model you choose, we are sure you would love it.