Rainy days don't have to put a damper on your electric scooter adventures. With the right electric scooter designed to tackle wet conditions, you can enjoy the thrill of riding while staying dry and safe.
In this article, we've compiled a comprehensive list of the 11 best electric scooters that can conquer rain-soaked streets. So, gear up and get ready to explore our top picks that will turn rainy days into exciting opportunities for electric scooter fun!
Electric Wheelers is reader-supported. Although we independently research and test products, we may receive a commission on purchases made from our chosen links. Read more…
Choosing an Electric Scooter for Rainy Weather: Key Factors to Consider
When selecting an electric scooter that can handle rainy conditions, there are several crucial factors to keep in mind in addition to general e-scooter choosing tips.
First and foremost is the waterproof rating. Look for scooters with a high IP (Ingress Protection) rating to ensure they can withstand heavy rain showers without compromising the electrical components.
Additionally, pay attention to the scooter's tire grip and traction. Opt for scooters equipped with all-terrain or specifically designed rain tires that provide excellent grip on wet surfaces. It will minimize the risk of skidding or sliding.
Another essential consideration is battery protection. Look for scooters with well-sealed battery compartments or waterproof battery enclosures to safeguard against water damage.
Finally, prioritize scooters with adequate lighting and visibility features, such as bright LED headlights and taillights. It will enhance your visibility to other motorists and pedestrians even in rainy and low-light conditions.
By considering these factors, you can ensure that your electric scooter is well-prepared to handle rainy weather with confidence and reliability.
Read more: How to Ride Electric Scooter in the Rain?
11 Best Rain Resistant Electric Scooters
We have made thorough research and here are the 11 best electric scooters for riding in the rain.
These scooters are not entirely waterproof. But they have a decent water-resistance rating.
Emove Cruiser
One of the most waterproof e-scooter ever built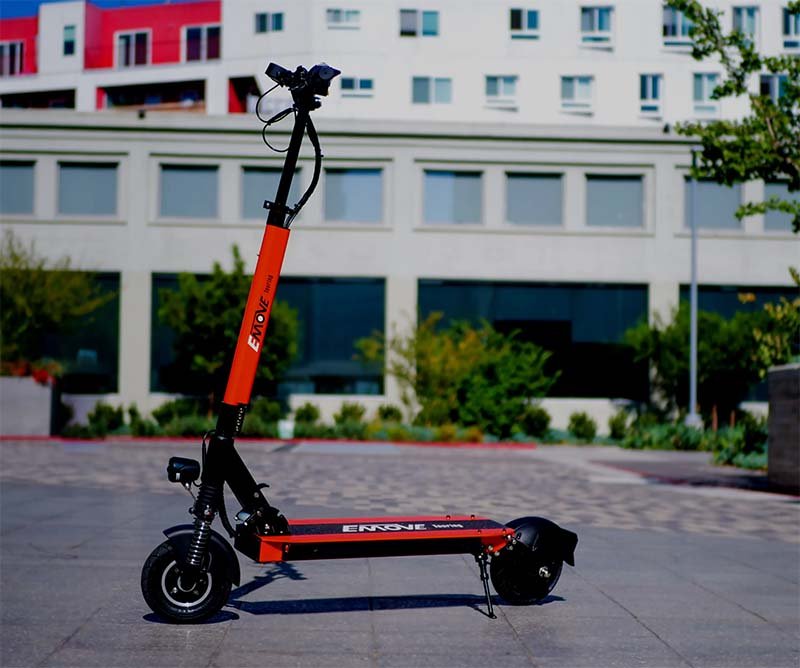 MSRP: $1,399 Voro Motors
The Emove Cruiser is rated as the most waterproof scooter globally.
It has an IPX6 protection rating and provides a fantastic mix of portability, value, and range. The scooter still performs excellently after washing with no issues.
The Emove cruiser has 10-inch, tubeless, pneumatic tires that are incredibly durable. Pneumatic tires perform much better than solid tires on a wet surface.
Related: Emove Cruiser Full Review
It has a wide 23.1 by 7.7-inch deck space where most riders can rest their feet comfortably. The deck is slip-proof. Plus, the scooter has fenders, so it's totally safe to ride in the rain.
When it comes to performance, Emove Cruiser isn't bad there either.
It has a 600W rear-drive motor with a 25mph (40km/h) top speed. Also, the Cruiser has a top-quality build with a massive battery providing a 50-mile range.
Apollo City 2022
Upgraded version of the popular commuter scooter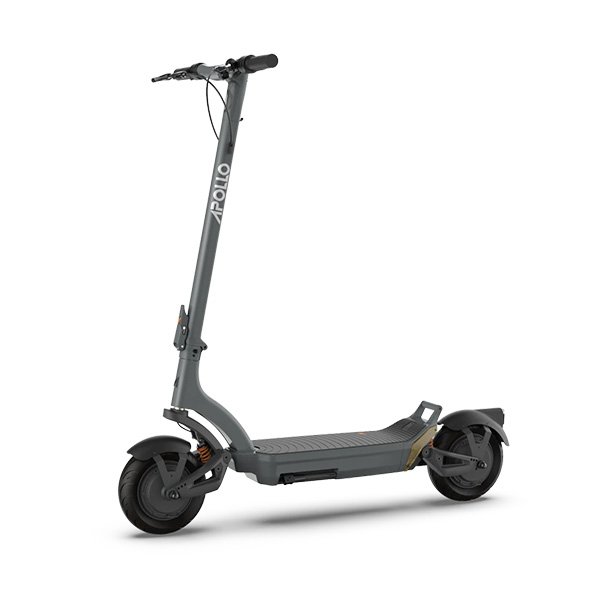 MSRP: From $1,399 Apollo Scooters
The new Apollo City 2022 has a fantastic design with an IP56 water resistance rating, meaning the scooter stays protected in any direction from dust and high-pressure water jets.
The scooter has a triple suspension system with a double shock option, providing an incredibly comfortable ride.
Apollo City 2022 comes with 8.5-inch self-healing pneumatic tires with gel lines sealing any puncture instantly.
It also has an integrated display and an in-app control feature, allowing post-ride analytics, advanced settings, and turn-by-turn navigation.
It has a 19-inch deck built with high-quality materials ensuring it can withstand the test of time.
Niu KQi2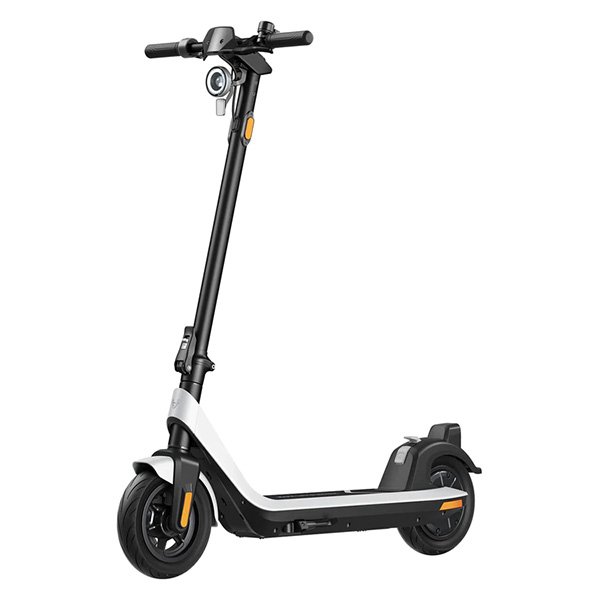 MSRP: $599 Niu
The Niu KQi2 was launched in the spring of 2022 by Niu Technology.
The scooter has IP54 water resistance, meaning it's protected from dust and water sprays from any direction.
It has an expansive 6.7-inch by 23.6-inch wide deck, providing enough space to place your feet and enjoy a comfortable ride. Also, the deck is covered with grip tape, which can be easily replaced if needed.
Related: Niu KQi2 Pro Full Review
The scooter has an LED display providing various information like speed, range, battery power, etc. Additionally, if you connect the NIU app via Bluetooth, you can read different ride statistics.
The scooter has 10-inch inflatable tires with enhanced grip and shock absorption capabilities.
The NIU KQi2 doesn't have a suspension. However, pneumatic tires do a great job of absorbing shock.
Pure Air Pro 2nd Gen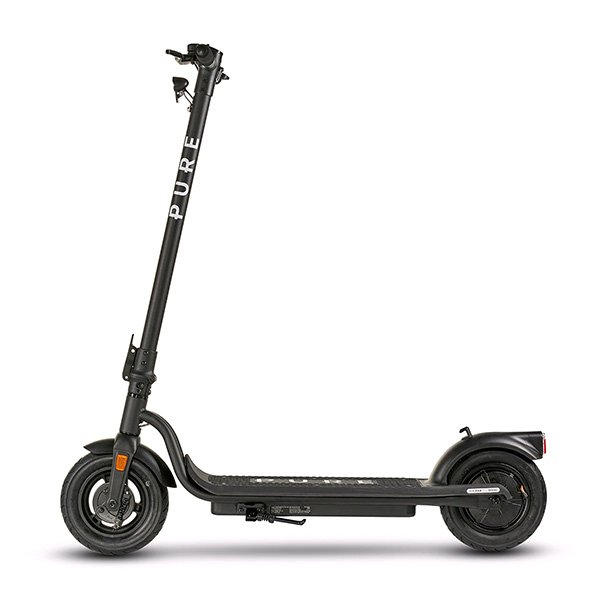 MSRP: £599 Pure Electric
The Pre Air Pro has an IP-65 rating, meaning that it's completely dust-proof.
It's also protected from any angle against low-pressure water jets, making it dependable during rainy conditions.
The scooter also has 10-inch air-filled tires with adequate shock-absorbing capabilities.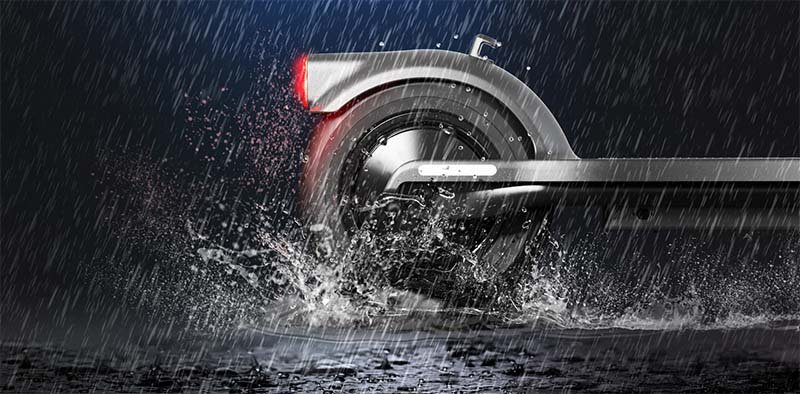 The Air Pro has a backlit display integrated into the handlebar and allows you to monitor various aspects of your ride, including the battery level, speed, mileage, etc.
The scooter has a reinforced chassis and a grippy deck, providing better stability and reliability during rainy conditions.
Fluid VISTA
MSRP: $1,499 Fluid Freeride
Fluid VISTA has an IPX5 waterproof rating, protecting it from dust and water projected from a nozzle.
The scooter has solid tires but the tire pattern is suitable for wet conditions too. The tires are pretty versatile and can adapt to various terrains. Additionally, they are stab-proof and non-slip, perfect for wet weather conditions.
The scooter's deck has a unique material offering excellent grip making it reliable when riding in wet weather conditions. Additionally, Fluid Vista has no-splash front and rear mudguards.
The scooters have an intelligent LED headlight providing enough light, which is helpful at night.
The scooter has an LCD screen providing essential information like your speed, remaining charge, range, etc.
Ninebot KickScooter MAX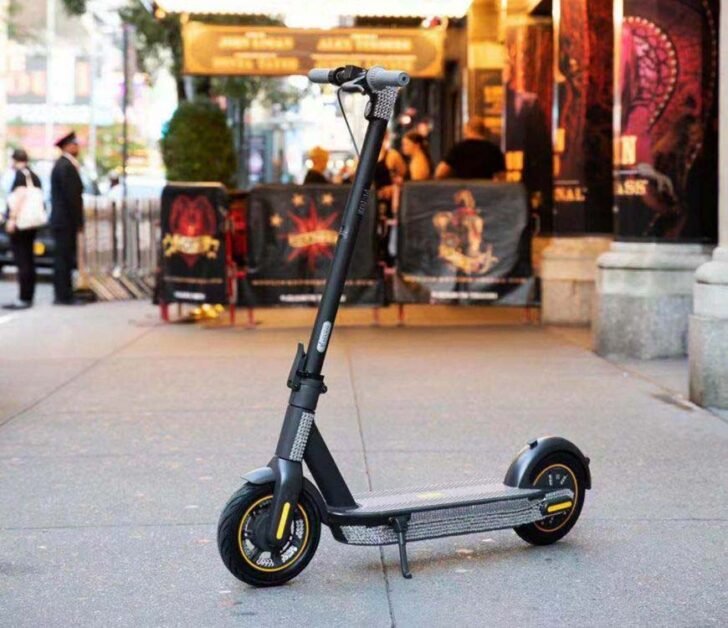 MSRP: $699 Segway
The Ninebot has an IPX5 water resistance rating, meaning the scooter can withstand high-pressure sprays of water.
It has 10″ pneumatic self-healing tires that can withstand several punctures without deflating, preventing potential tire replacement.
The scooter has a 7″ spacious platform that can accommodate even very big adults. Also, the deck is equipped with an anti-slip design with an increased contact friction feature for better rider safety. It's especially useful in wet conditions.
Related: Ninebot Max Full Review
The scooter has front LED lights meant to light your way and can be connected to an iOS or Android app for a customizable experience and riding stats.
Ninebot Max has a 40-mile range and an 18.6-mile top speed.
Turboant X7 Pro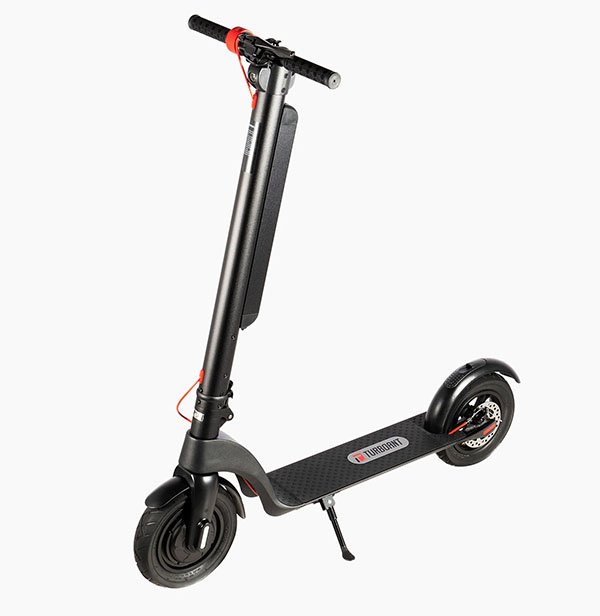 MSRP: $550 Turboant
The Turboant X7 Pro has an IPX4 waterproof rating. As such, the scooter can withstand water splashes from any direction. However, it would be best not to expose it to high-pressure water jets.
The scooter has a spacious 18″ x 5.7″ deck you can stand on comfortably and withstand a 275-pound maximum load. The deck also has an anti-slip feature for a safer ride in wet conditions.
Related: TurboAnt X7 Pro Full Review
Its 10-inch pneumatic tires provide excellent shock absorption and give added riding comfort.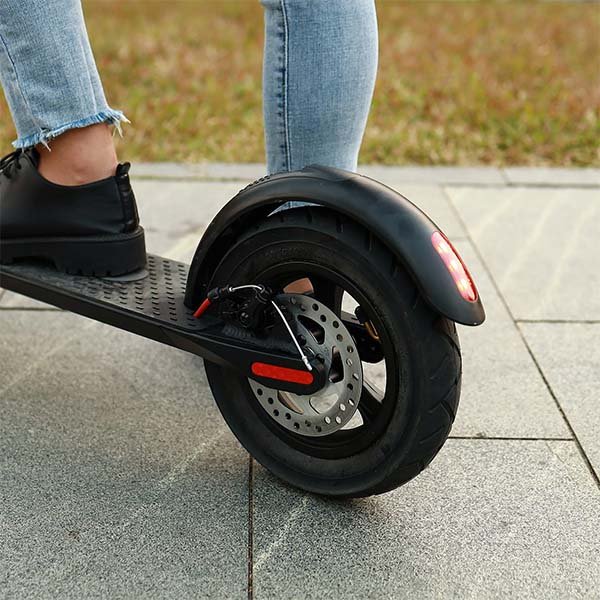 The X7 Pro has a 30-mile maximum range and a powerful 350W motor providing a 20 mph top speed. It also has 3W LED lights which can provide adequate illumination at night.
Kaabo Wolf Warrior GT
Off-road e-scooter with IPX5 waterproof rating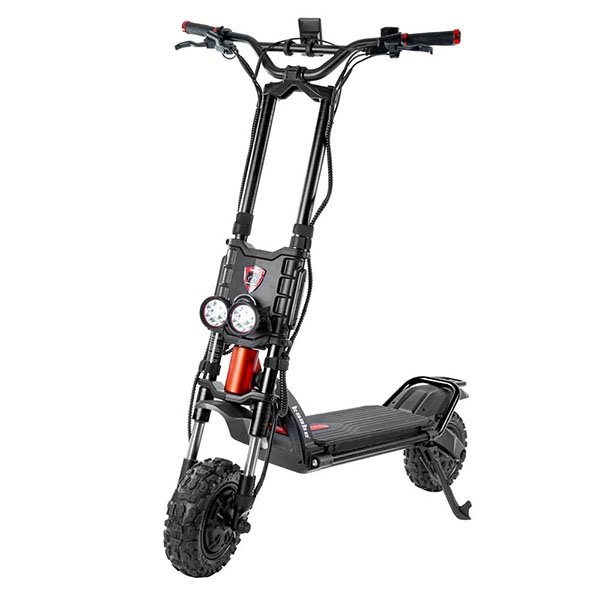 MSRP: $3,500 Fluid Freeride
Compared to Wolf Warrior 11, there have been major improvements in the build quality, resulting in a better IP rating.
The Kaabo Wolf Warrior GT has an IPX5 waterproof rating, meaning that it can handle quite heavy rain.
The scooter has excellent handling and can be driven across all terrains. It has a front hydraulic system, rear suspension, and 11-inch tubeless pneumatic off-road tires.
The Kaabo's deck is huge. Also, it's covered with a rubber mat, which provides a nice grip.
It has a 51mph (80 km/h) top speed and a 79-mile range (127 km).
GoTrax GXL V2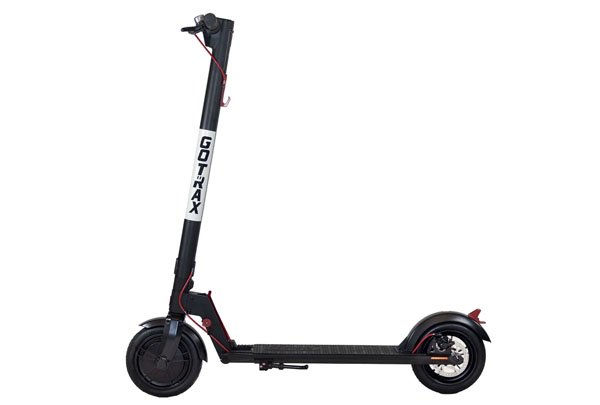 MSRP: $399 Gotrax
The GXL V2 has an IP54 rating, meaning the scooter stays protected from dust and water spray in all directions.
The scooter has 8.5-inch air-filled tires providing adequate shock-absorbing capabilities. It also has a digital display showing various information like battery life, speed, headlights, and cruise control.
Related: Gotrax GXL v2 Full Review
The scooter provides 18.6 x 6 inches of space to stand comfortably. This is quite generous for such a small scooter. The deck has an anti-slip rubber coating, ensuring you enjoy a comfortable ride even in rainy conditions.
Xiaomi Electric Scooter 3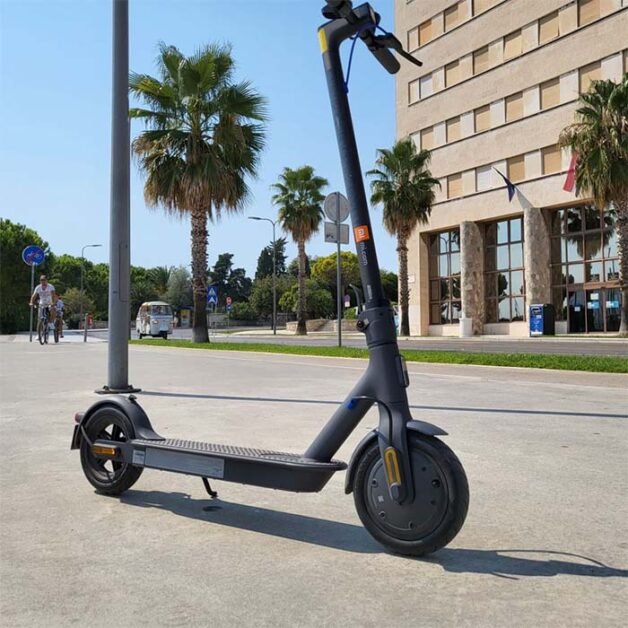 Xiaomi Electric Scooter 3 has an IP65 rating, meaning it's protected against water sprays from any direction. However, you shouldn't immerse it in water for extended periods. Additionally, you should clean it as soon as you are out of the rain.
The scooter has an integrated display to create a unified, visually integrated, and clean look. It also has a Xiaomi home app with functions like scooter locking, firmware upgrades, personalized settings, and riding data.
Related: Xiaomi Electric Scooter 3 Review
It also has air-filled 8.5-inch tires that are considered small but provide a smooth riding experience.
The scooter also has a slim 5.5-inch deck considered compact but is big enough to fit both feet comfortably.
Kaabo Mantis V2
MSRP: $1,199 Fluid Freeride
Mantis V2 has an IPX5 water-resistance rating, meaning the scooter is water-resistant, protecting it from splashes.
The scooter has a sizable deck despite its compact design. The deck is 20 by 8.25 inches, made from dependable materials, and provides enough room to place your feet comfortably.
Mantis V2 comes with 10-inch pneumatic tires providing sufficient shock absorption capabilities. Front and rear spring suspensions add even more comfort.
The scooter has an easily usable screen and super-simple controls adding to an enjoyable ride. It is a comfortable ride suitable for teens and adults that want to commute.
Finally, it has bright LED lights providing reliable visual assistance and extended mudguards to protect you and the scooter from splashes.
Conclusion
Don't let a little rain discourage you from enjoying the freedom and convenience of electric scooter rides.
By investing in one of the top 11 electric scooters designed for riding in the rain, you can confidently embrace wet weather adventures without compromising your safety or comfort.