We know that cargo e-bikes are the future of transportation. So it's no wonder you are searching for the best electric cargo bike.
We have gone through the whole list of electric bike brands, picked out models for carrying cargo, and rated them by weight capacity, comfort, price, and performance.
In this post, we'll share our research to help you find the best electric cargo bikes for hauling things or family adventures.
Electric Wheelers is reader-supported. Although we independently research and test products, we may receive a commission on purchases made from our chosen links. Read more…
8 Best Cargo e-Bikes
Rad Power Bikes RadWagon 4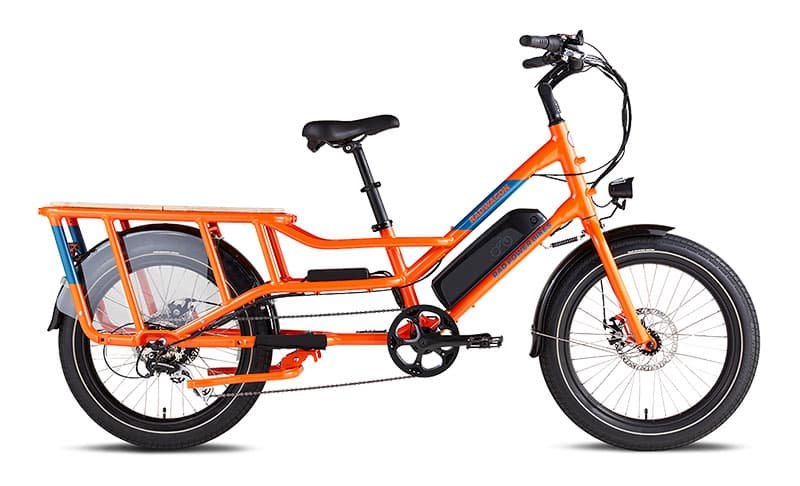 Check Price from Rad Power Bikes
This electric cargo bike is the most affordable option that's perfect for first-time buyers.
The cargo bike has smaller and fatter tires designed by the company and provides an awesome riding experience. The electric cargo bike has a throttle that comes in handy when you have to move the bike, cargo, or baby quickly around the city.
The bike has a 350-pound load capacity and can be easily maneuvered even when loaded up because of its low center of gravity.
Additionally, it has a powerful 750W motor that can support the bike's maximum weight capacity and good batteries that can power it for 45 miles on a single charge.
Finally, it has an all-weather stopping ability ensuring all passengers stop efficiently when riding in rainy or sunny weather.
Aventon Abound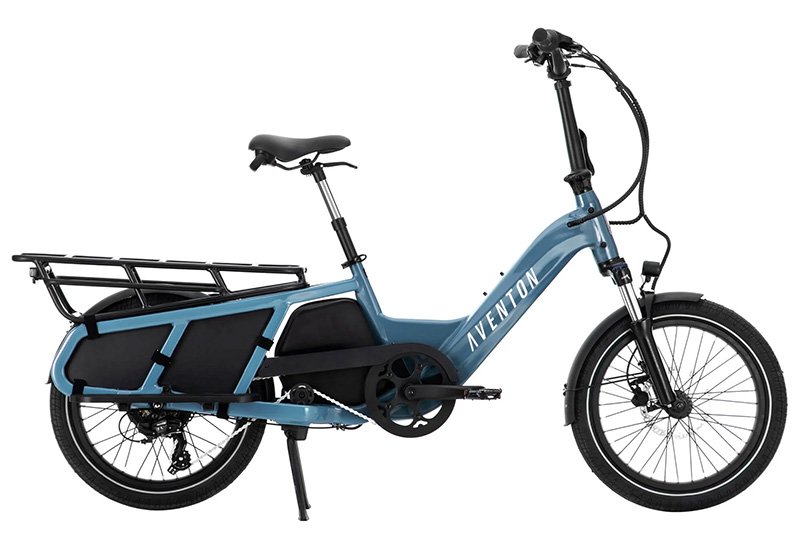 Aventon Abound is Aventon's first-ever cargo electric bike. Although it's their first, it looks really versatile and practical.
The cargo bike has a spacious rear rack, where you can easily put groceries or haul other cargo. Additionally, you can comfortably haul your kids on the rear rack. There's plenty of room for that and the bike also has footboards, so your passengers rest their legs. However, keep in mind that the rear rack has a payload capacity of 143 lbs.
Another practical aspect of Aventon Abound is the storage bag. You probably didn't see it at first. It's located between the rear wheel and the seat post. It's very convenient to put your personal items there while riding the bike.
And there's more. For easier storage, the bike has a folding handlebar. So by pulling down the seat and folding down the handlebar, you significantly shrink the height of the bike.
In the performance area, Aventon Abouns is no slack either. It has a 750W motor with a top speed of 20 mph. Since the e-bike also has a throttle, it classifies as a class 2 e-bike. Additionally, Aventon Abound has a range of up to 50 miles.
Lectric XPremium (+Cargo Package)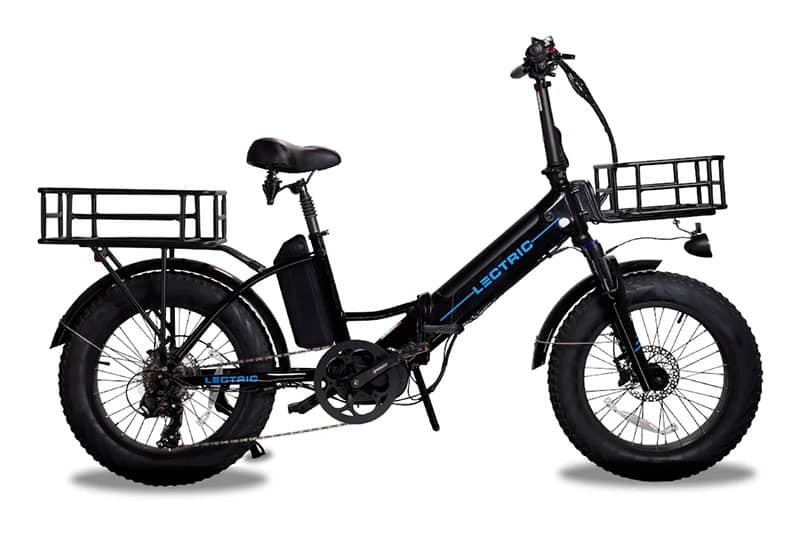 Check Price from Lectric Bikes
This electric cargo bike provides a good riding experience. The bike has a mid-drive motor that provides 800W of peak and 500W of continuous power to the rider intuitively, allowing them to tackle rough terrain and hills effortlessly.
Lectric XPremium has a foldable design accommodating a dual-battery system that doubles the range.
Additionally, the bike comes with seven gears that riders can tap into effortlessly and use for the perfect situation.
Also, the bike has a dynamic torque sensor that measures how hard or fast you peddle to increase the motor's responsiveness.
The bike has a 330-pound load capacity and dual batteries with a 1,000Wh combined capacity for a 100-mile maximum range on a single charge.
Blix Packa Genie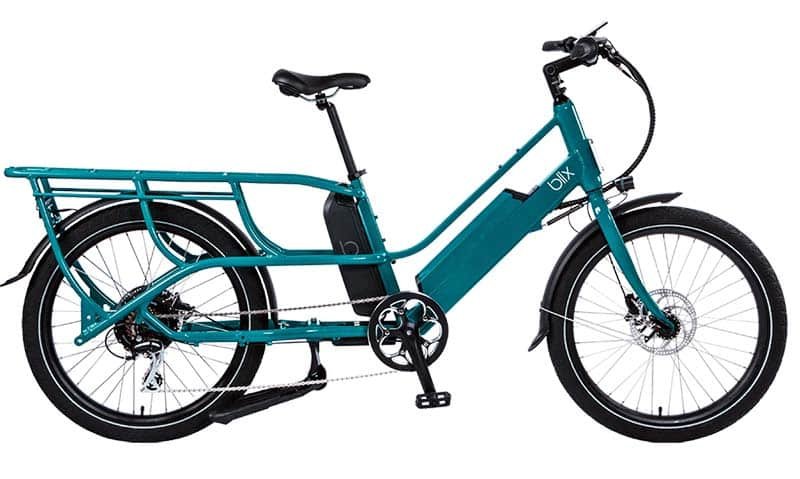 The Packa is a high-performance electric bike designed with single and dual battery options for shorter or longer ranges depending on the rider's preference.
The bike has a reliable power capacity due to its powerful 750W hub motor. It can reach 80 miles on a single charge when using dual batteries.
The Packa has efficient hydraulic brakes and can fit a wide range of riders. Blix designed their bike to create a lowered center of gravity for easy handling and a satisfying cycling experience.
The bike can carry over 200 pounds of cargo in varying combinations and is fit for individuals between 5'1" and 6'3".
Urban Arrow Family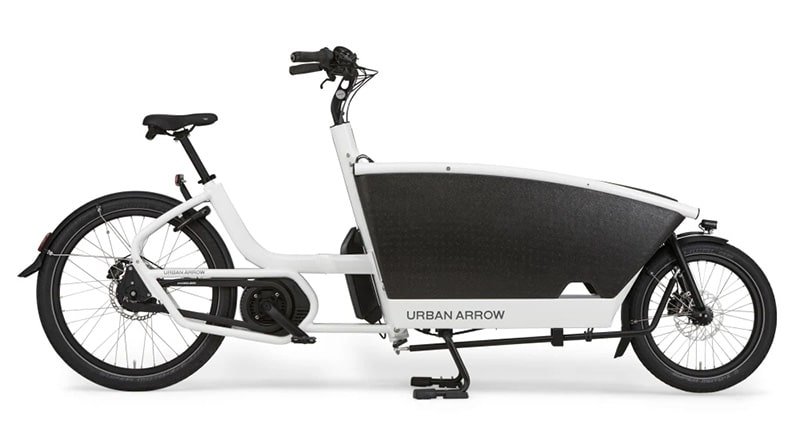 MSRP: $5,200 Urban Arrow
Urban Arrow designed its electric cargo bike to transport children safely. The manufacturers lowered the bike's center of gravity, making it sturdier and easier to control.
Additionally, the bike has an adjustable and sturdy three-point belt designed to make the ride safer. Also, it has an expanded polypropylene box that protects the occupants from any accidents.
The bike can carry four passengers and has a 50-km range. Riding the bike is super easy since it's extremely agile. It also has a 250 kg maximum weight and a 25 km/h maximum speed. This makes it the perfect bike for family weekends of fun.
Yuba Spice Curry
MSRP: $5,199 Yuba Bikes
The Yuba Spice Curry's design makes it easy to ride for cyclists under 6' tall. The bike has a low center of gravity that facilitates a smooth riding experience when riding with adults, kids, or gear. The bike has a unique frame design that makes it easier for riders to maneuver corners.
Also, Yuba equips its bike with a cargo-specific motor strong enough to handle 400 pounds of weight and an efficient battery that can power the bike for up to 60 miles on a single charge.
The electric cargo bike is perfect for individuals that are between 5' to 6'5" tall.
Surly Big Easy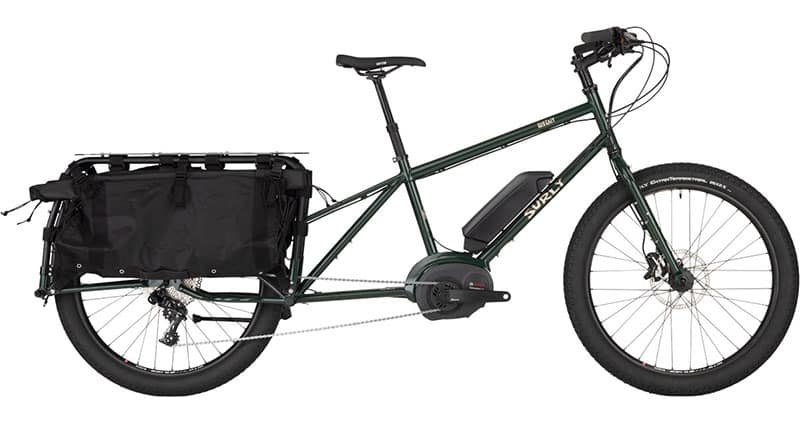 MSRP: $5,249 Surly Bikes
Surly's Big Easy bike is a long-tail, e-cargo bike designed for hauling cargo.
The bike is comfortable to ride and feels like a regular bike. It has an increased stand-over height clearance making it easy to share rides with friends and family members.
Big Easy has dependable Tektro Orion brakes providing efficient stopping power. The bike is also fitted with the powerful Bosch Performance CX drive unit (20 km/h) and a damping headset that helps the rider have a smooth riding experience, especially when carrying heavy loads.
Additionally, the bike has dual batteries that riders can engage for an increased range. It also has large tires designed to provide sufficient grip even in rough terrain.
Pedego Stretch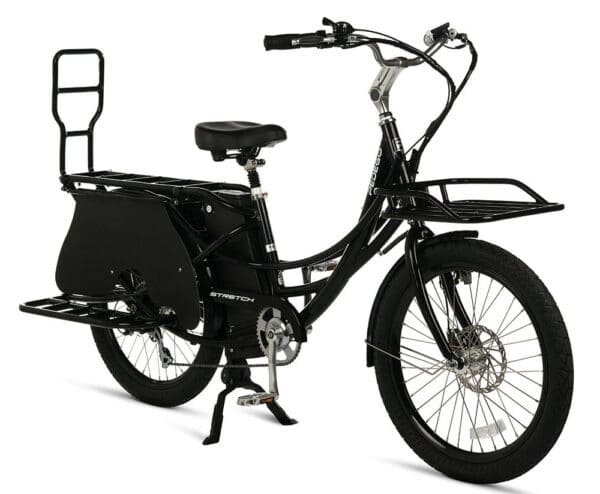 MSRP: $4,295 Pedego
Pedego Stretch's 500W motor provides enough acceleration and power to haul 400 pounds of cargo, including children, adults, and other accessories.
The bike is dependable, performs well, and has useful accessories riders can use to carry various forms of cargo.
Pendego Stretch is easy to ride due to its low center of gravity, making it perfect for transporting delicate cargo. It also has a powerful battery that can power it for 76 miles on a single charge.
It's designed with durable, high-quality materials and has a 5-year warranty.
Final Words On Best Electric Cargo Bikes
Electric cargo bikes are one of the many electric bike types. They have become an increasingly popular and eco-friendly mode of transportation for heavy hauling. The top 8 e-cargo bikes listed in this post all come from a respected e-bike brand. These cargo bike models have powerful motors, ample cargo space, and comfortable and ergonomic designs.
So, choose your favorite model, hop on, and start pedaling towards a greener and more enjoyable future.