Electric Wheelers is reader-supported. Although we independently research and test products, we may receive a commission on purchases made from our chosen links.
Getting around is fun, especially when you're riding a good electric scooter. Electric scooters are practical means of transportation, plus they are easily foldable and packable, making them the go-to solution for most riders.
While many companies have come up with different versions of electric scooters, selecting the best types of electric scooters can be tough, especially when you're buying one for the first time. That is why we've come up with a list of the best cheap electric scooters you can trust. Read on to find out more.
Table of Contents
Best Electric Scooter Under $300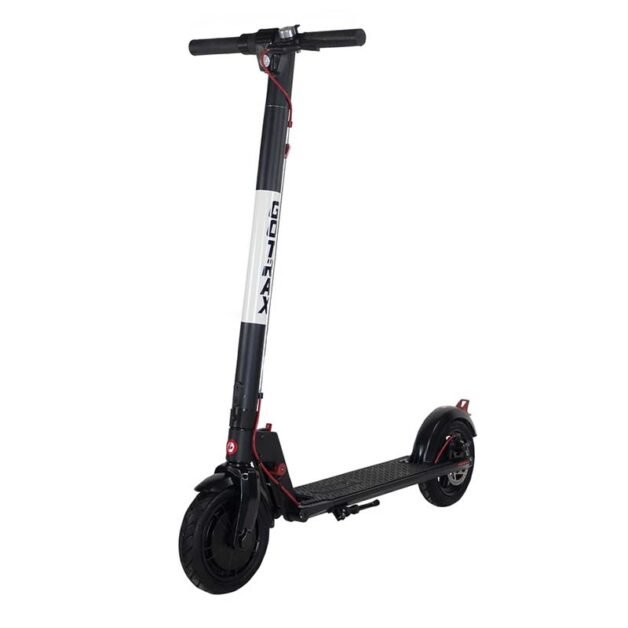 Gotrax GXL V2
One of the best, affordable e-scooter you can find in the market.
The Gotrax GXL electric scooter is beginner-friendly, has a decent top speed, a sturdy built, and is well rounded for maximum rider comfort. In addition to that, the scooter is reliable, durable, and inexpensive.
This means that you could purchase it and use it for extended periods without having to worry about any mechanical or performance issues. The Gotrax GXL V2 outperforms its price tag, placing it among the best-selling e-scooters currently on the market. It has a 15.5 MPH top speed and an 8.5″ tire size.
Related: Gotrax GXL V2 Full Review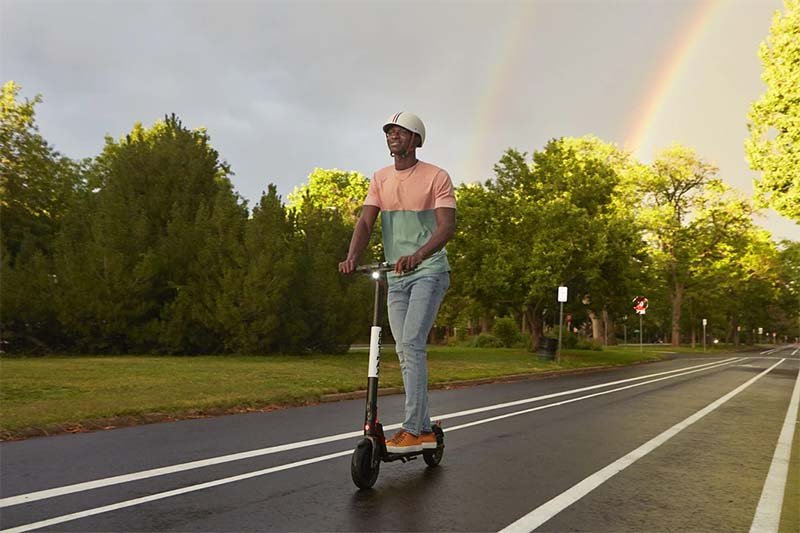 Gotrax GXL V2 Pros
Easy assembly
Solid build quality
Easy to fold and unfold
Very affordable
Gotrax GXL V2 Cons
Some Amazon customers have stated the poor customer service
No rear light
Lack of performance when on higher end of payload capacity
---
Segway Ninebot ES1L
Sleek design and easily portable e-scooter.
The Segway Ninebot has a seamless design that displays superior craftsmanship. Its body is manufactured with aerospace-grade aluminum alloy with a fine-powder body paint that provides great anti-corrosion properties and a smooth surface texture. In addition to that, it has black body paint with a dash of orange that gives it a confident look.
The scooter has a 12.4-mile range with a 12.4 MPH top speed and an ultra-light 24.3-pound body weight. The e-scooter also has a flat-free elastic tire with a new inner support tire tech that makes the ride more comfortable. Purchasing the Segway Ninebot e-scooter assures you of extra stability and portability.
Related: Segway ES1L Full Review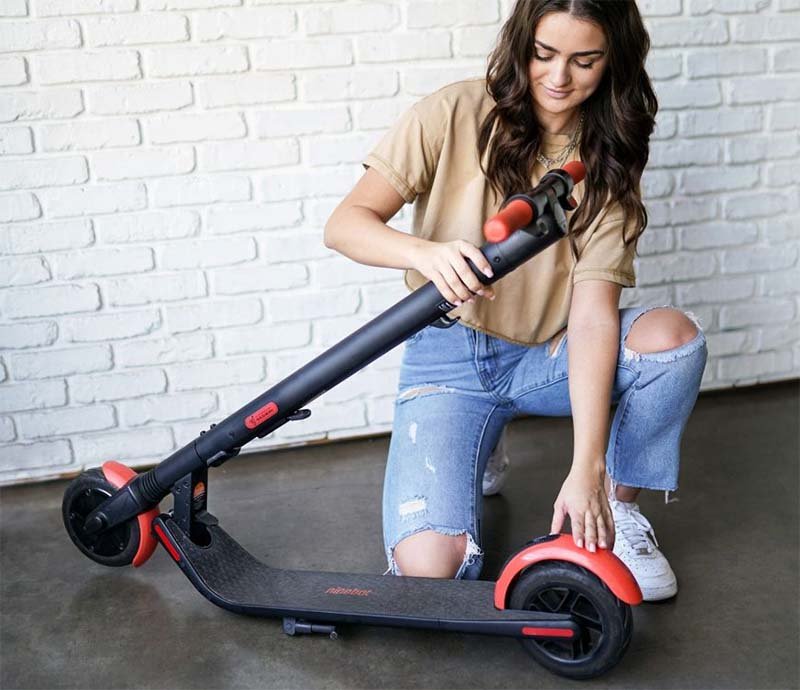 Segway Ninebot ES1L Pros
Lightweight
Great price
Easily portable
Segway Ninebot ES1L Cons
Long charging time (6 hours)
Deck is touching the ground after bumps
Hard to access display button when riding
---
Best Electric Scooter Under $500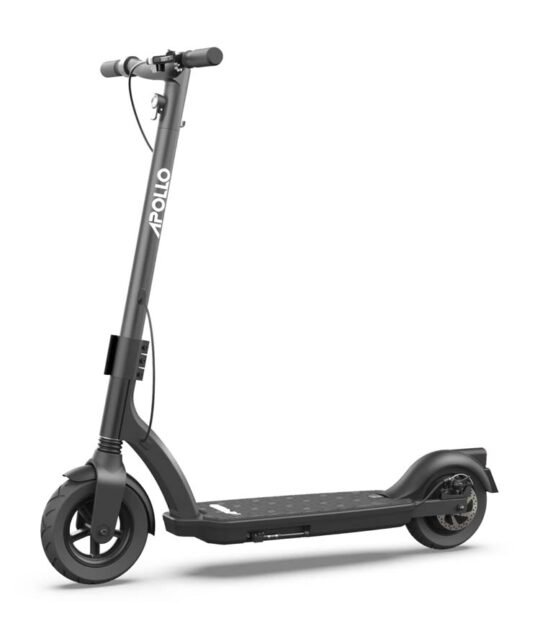 Apollo Air
Inexpensive but reliable electric scooter.
The Apollo Air is a 15MPH top-speed, single motor e-scooter that has a 12-mile range. The scooter weighs 35 pounds with a 220-pound maximum load. In addition to that, the scooter has a front suspension and a rear disc brake for better stopping power.
The Apollo Air proves that great things come in small packages. The brand leverages expert designs to produce better comfort, stability, and safety only found in expensive scooters. The Apollo air provides unmatched build quality at a lower price, making it perfect for beginners and buyers looking to purchase inexpensive but reliable scooters.
Related: Apollo Air Full Review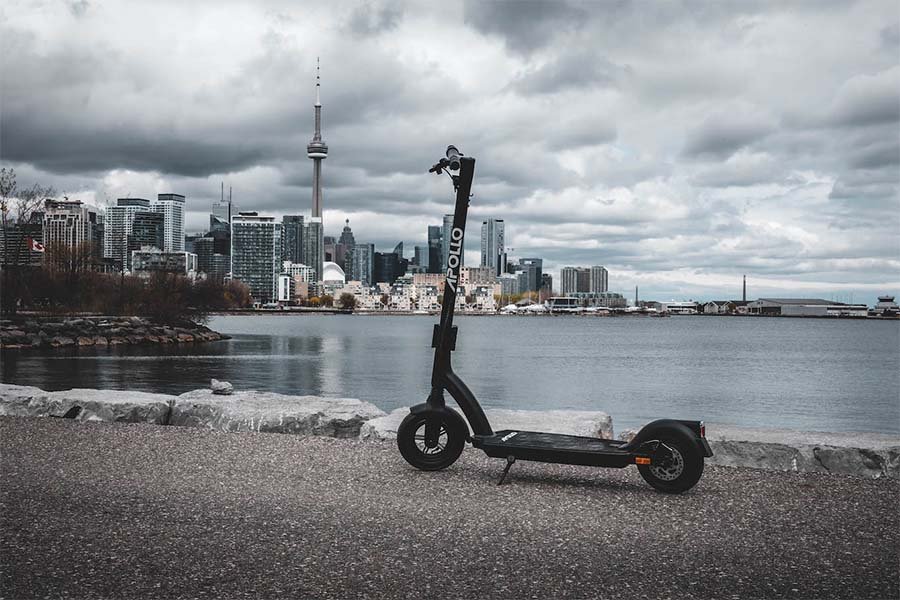 Apollo Air Pros
Good handling, good stability
Beginner-friendly
Easy to change rear tire because of rear split rim
Apollo Air Cons
Too dim display on bright days
Only one brake
---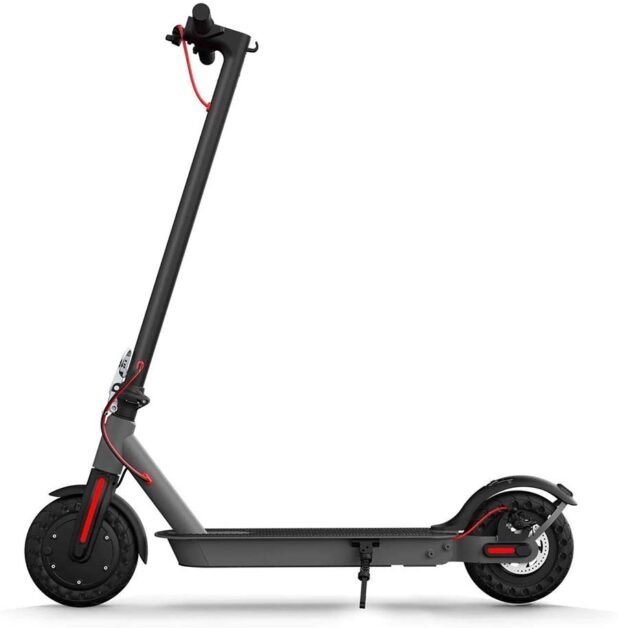 Hiboy S2
One of the best electric scooters in its price range.
The Hiboy S2 is the best series to start with if it's your first time purchasing a scooter. The e-scooter has an in-built long-range battery with great rear suspension for better reliability and comfort. The Hiboy has great acceleration, good power for its size, and an effective dual braking system.
The Hiboy electric scooter has a 17-mile range, weighs 36 pounds, has a 350W hub motor, and two-speed modes. The e-scooter is foldable, durable, and lightweight, making it great compared to its competitors. In addition to that, the laptop has a wide platform and 10″ rubber tires for better performance.
Related: Hiboy S2 Full Review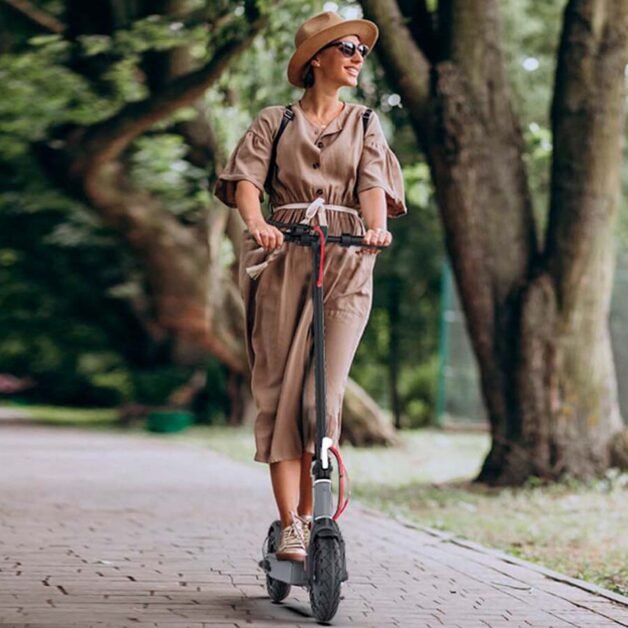 Hiboy S2 Pros
Optional seat available
Water-resistant (IP54)
Bluetooth connectivity
20 mph top speed
Hiboy S2 Cons
Bad ride quality on bumpy road
Long charging time (6 hours)
---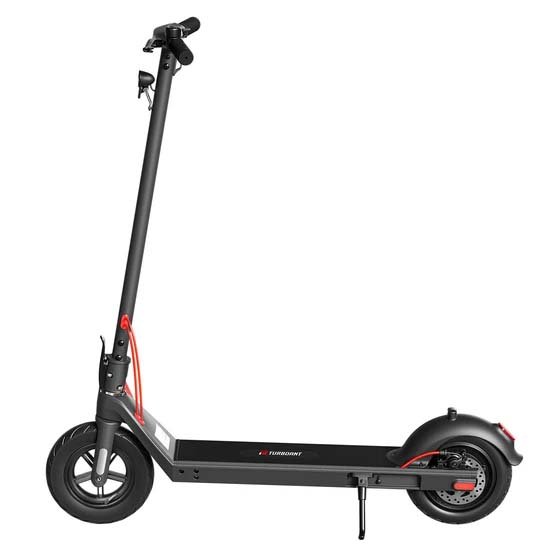 TurboAnt M10
Simple yet comfortable commuter e-scooter.
The TurboAnt M10 has a portable and foldable design that's great for commuting. The e-scooter's simple design and structure make it ultra-light and easy to use. The e-scooter provides great stability and comfort. In addition to that, it has three-speed modes to choose from and cruise control for maximum rider comfort.
The M10 has an 18-mile range, 20MPH top speed, a 15-degree climbing capacity, and a 220-pound maximum load. It folds in three easy steps, is easily portable, and has a powerful 350 W motor that rapidly accelerates steep slopes. It also has 10″ inflatable tires that absorb shock to provide a smooth, comfortable, and stable ride.
Related: TurboAnt M10 Full Review
TurboAnt M10 Pros
20 mph top speed
Good ride quality
10″ air-filled tires
Water-resistant (IP54)
Cruise control
TurboAnt M10 Cons
Not the best brake lever positioning for taller riders
No suspension
No stand-still start
---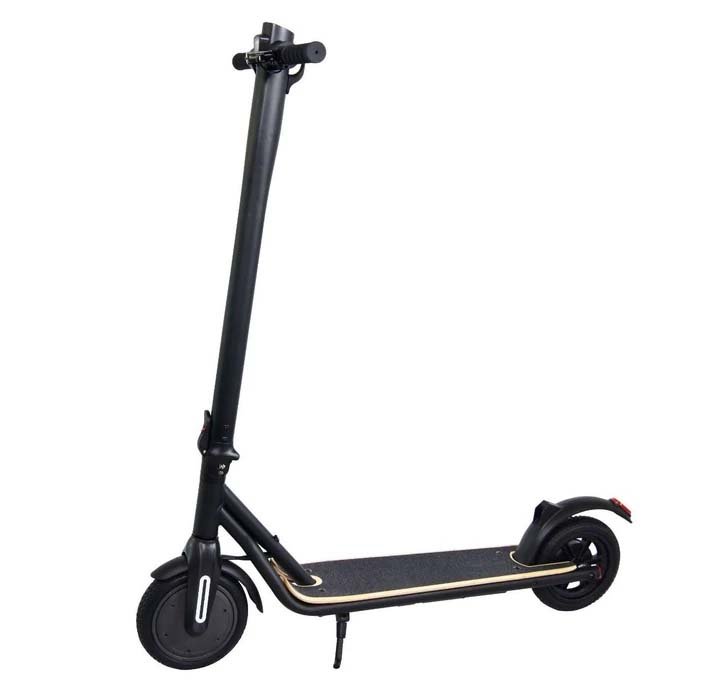 Fluid CityRider
Lightweight and portable city commuter.
The Fluid CityRider is a lightweight, durable scooter that's perfect for inner-city commuting. The CityRider weighs 28 pounds, is portable, inexpensive, and great for all persons looking to purchase easily portable scooters, perfect for an inner-city commute.
The scooter has a 350 W motor, a 36 Volt 10 Ah Li-Ion battery, an 18MPH top speed, and a 15-mile range. In addition to that, the e-scooter is built with safety in mind bearing integrated turn signals, rear and front LED lighting, a rear step-on brake, and a rear drum brake and lateral reflectors.
Plus, it has never-flat tires with a honeycomb design meant to absorb any shock and make your ride as smooth as possible.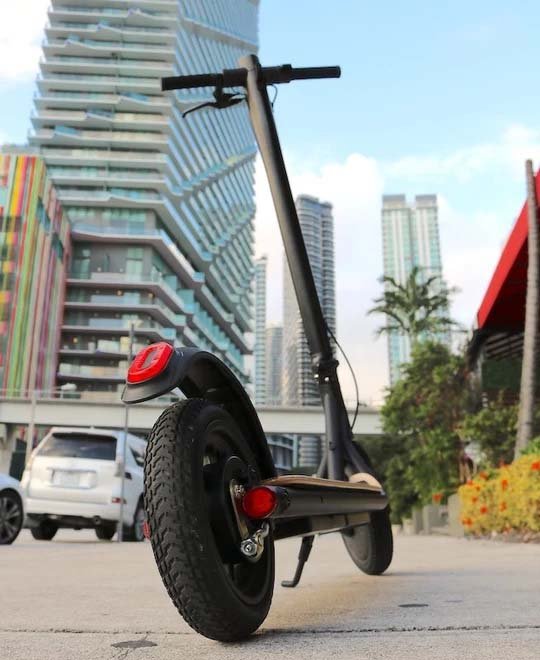 Fluid CityRider Pros
Strong frame
Good top speed (18 mph)
Fast charging
Fluid CityRider Cons
Lack of performance on hills
Not water-resistant
---
Best Electric Scooter Under $1,000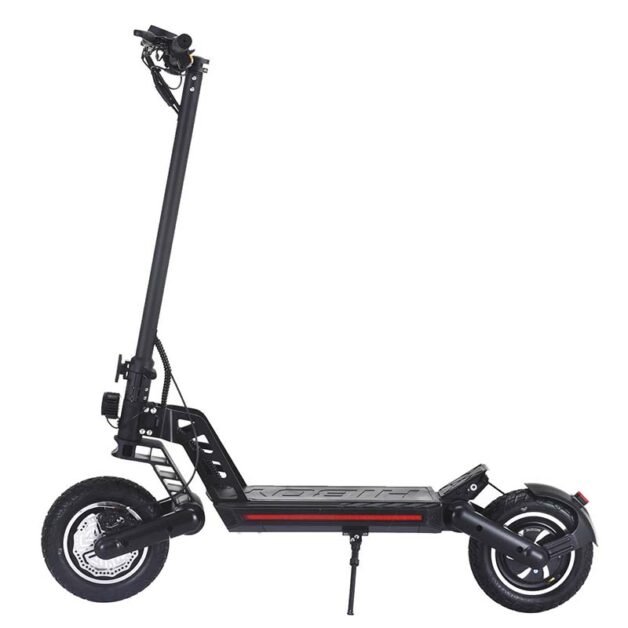 Hiboy Titan
25-mph electric scooter with reasonable price.
The Hiboy Titan is an amazing e-scooter with 10″ pneumatic tires, a 25MPH top speed, and a 28-mile range. The scooter is designed to conquer urban jungles and provide an efficient and dependable means of transportation for riders commuting in hilly environments.
The e-scooter weighs 50 pounds and can carry a 286-pound maximum load. It has a 25-degree maximum climb slope and a double-disc braking system designed to provide efficient braking power.
It also has a wide platform for easier ridding, plus an efficient rear and front shock absorption system that ensures maximum comfort. The Titan folds in one quick step, which is quite convenient.
Related: Hiboy Titan Pro Full Review
Hiboy Titan Pros
Large deck
Great stopping power
Good ride quality thanks to suspensions
Hiboy Titan Cons
No locking mechanism when folded
Heavy
Squeaky brakes
---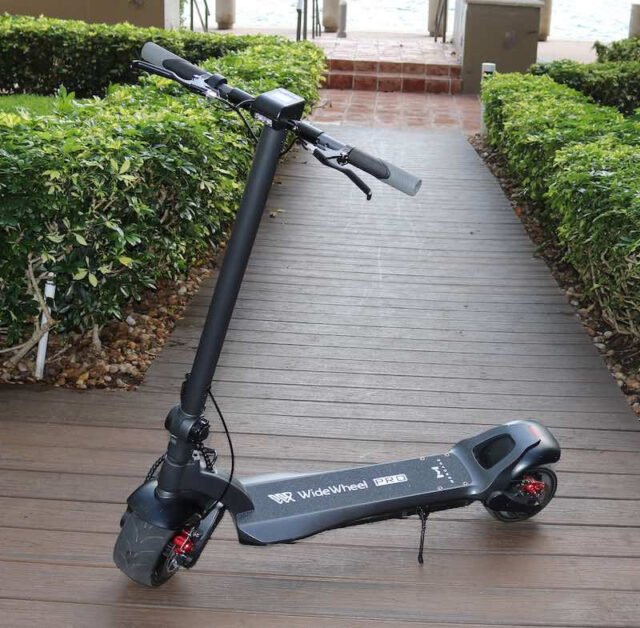 Mercane WideWheel Pro
Only dual-motor electric scooter in the list.
The Mercane WideWheel Pro has a 26MPH top speed, a 30-mile range, and a 48V 15Ah battery. The e-scooter weighs about 54 pounds with a reinforced design and is equipped with a larger battery, better display, and dual brakes for effective deceleration.
The Mercane WideWheel Pro's dual motors deliver enough torque that improves its acceleration and helps you tackle up to 30-degree hill inclines easily. In addition to that, the Mercane WideWheel Pro has airless tires, better suspension, and folds into a nice, compact shape for better transportation.
The Mercane WideWheel Pro provides the best experience by delivering better comfort, increased safety, and more functionality, making it one of the best affordable scooters you could purchase.
Related: WideWheel Pro Full Review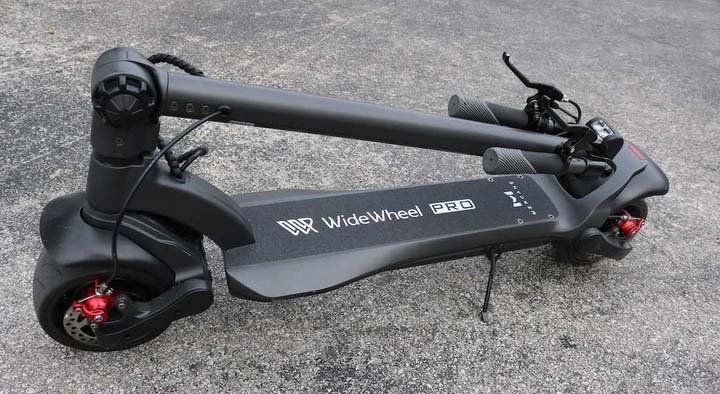 WideWheel PRO Pros
Dual motors
Compact folding mechanism
Great hill climbing ability
Water-resistant (IP54)
WideWheel PRO Cons
Stiff suspension system
Solid tires (lack of ride quality)
Not the best maneuverability
---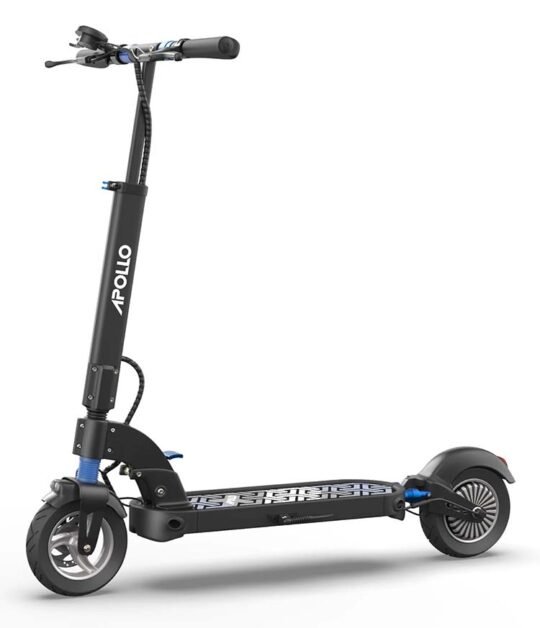 Apollo City
Electric scooter with a nice balance between power and portability.
The Apollo City has a single motor that provides enough power to give the low-cost electric scooter a 25MPH top speed.
The e-scooter has a 28-mile range, weighs 39 pounds, and has a maximum 265 pounds carrying capacity. In addition to that, the e-scooter has an effective dual suspension system that helps you experience smoother rides.
The Apollo City is the ultimate form of transportation for city dwellers. It provides the perfect combination of power and portability. For instance, it is small enough to fit under the desk but robust enough to conquer most hills. The scooter is adaptable to most terrains and can be relied on for safety at all times.
Related: Apollo City Full Review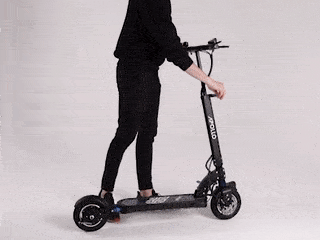 Apollo City Pros
Great price/quality ratio
Compact and portable design
Water-resistant (IP54)
Apollo City Cons
Not the best lighting for ridint at night
Loose handlebar mechanism
Uncomfortable finger throttle
---
Segway Ninebot Max
Affordable electric scooter with great performance.
The Ninebot Max is a tried, tested, and proven budget electric scooter with great performance. The scooter has an excellent range for scooters in its class, world-class design and construction, pre-slimmed pneumatic tires (tubeless), and relatively quick acceleration.
The e-scooter has built-in LED lights, 10″ pneumatic tires, an 18MPH top speed, and a 40.4-mile range. In addition to that, the Ninebot Max's powerful motor can tackle up to 20-degree hill gradients, is water-resistant, and has fast charging. The cheap e-scooter is strong and provides the rider with better operational efficiency and rider experience.
Related: Segway Ninebot MAX Full Review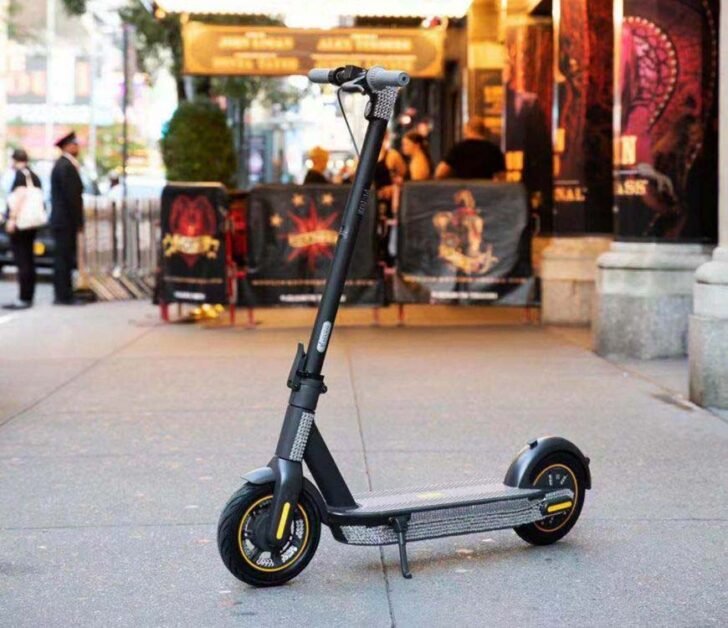 Segway Ninebot MAX Pros
Great range
Strong build-quality
Cruise control
Segway Ninebot MAX Cons
Not the best acceleration
No stand-still start
Quite heavy
No suspension
---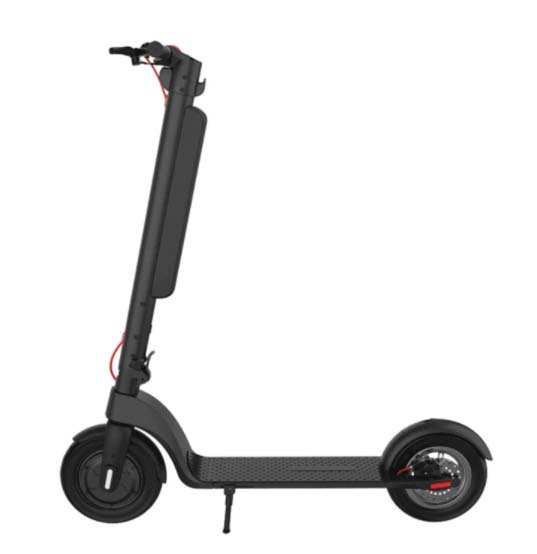 TurboAnt X7 Pro
An electric scooter that is small but as efficient as an ant.
The X7 Pro works as efficiently as an ant would. It's rather small and light but capable of giving you the best performance you could ever get from most e-scooters. What's better, the low-cost electric scooter costs about half of what you'd pay for most other e-scooters in the market that provide similar results.
The e-scooter has a smooth acceleration, a removable battery pack, and a terrific design. In addition to that, it is also lightweight, portable, and has a decent 20MPH top speed with a 30-mile range. It can handle 275 pounds of load, has a six-hour fast charge, LED lighting, and a triple braking system.
Related: Turboant X7 Pro Full Review
TurboAnt X7 Pro Pros
Removable battery
Long range
Fast charging
TurboAnt X7 Pro Cons
Deck could be wider
No suspension
Difficult to disable cruise control
---
Summary – Which is the Best Affordable Electric Scooter?
Buying a good electric scooter depends on personal preferences. However, there are some common features that most people expect their scooter to have. For instance, the scooter must provide reasonably good performance for the price and be efficient and reliable.
However, if you were in the market and looking to purchase the best affordable electric scooter, you can not go wrong if picking one from the list below:
Gotrax GXL V2
Segway Ninebot ES1L
Apollo Air
Hiboy S2
TurboAnt M10
Fluid CityRider
Hiboy Titan
Mercane WideWheel Pro
Apollo City
Segway Ninebot MAX
TurboAnt X7 Pro
FAQs
Are Cheap Electric Scooters Worth Buying?
Generally, buying a scooter is worth it; however, purchasing a cheap scooter could be disastrous, especially if you buy the wrong scooter. Thus, it would help if you carefully do your research and buy one that's durable, efficient, and also cheap.
Is it Possible to Get an Electric Scooter Under $100?
There are some electric scooters for kids that you can get from Amazon for less than $100. We are pretty sure that you won't find an adult electric scooter under 200 dollars. Let us know in the comments if we are wrong!
What are the Main Differences Between a Cheap and an Expensive Electric Scooter?
Apart from the price tag, pro scooters are made to last. They are manufactured with high-quality materials that can withstand lots of stress, tricks, and more.
Often, cheap e-scooters have a less effective design and are manufactured with cheap materials that aren't likely to last. However, you could also find a cheap scooter that's still reliable and provides the best performance.
How Much does it Cost to Maintain an Electric Scooter?
Maintaining your electric scooter could cost you nothing if you use it carefully. However, it could cost you considerably more if you do performance riding. Thus, you may have to change your battery later on; however, this could cost you between 50 and 1000 dollars and happen after about five years.
Are Cheap Electric Scooters Safe?
Cheap electric scooters can be safe; however, you have to ensure that the electric scooter has enough safety features to protect you and keep you safe.
Of 18 fatal crashes studied by researchers at the University of North Carolina, researchers found out that 16 of those crashes involved cars that hit scooter riders. Thus, you also have to be careful with how you use your scooter to avoid being hurt.