RadRover 6 Plus from Rad Power Bikes and Aventon Aventure are both extremely popular choices among fat tire commuter e-bikes. Both electric bikes have all the bells and whistles, so it is totally understandable that you are struggling with which model to buy.
In this post, we'll compare the main features of both electric bikes to help you to decide which electric bike is best for you.
Electric Wheelers is reader-supported. Although we independently research and test products, we may receive a commission on purchases made from our chosen links. Read more…
RadRover 6 Plus vs Aventon Aventure: Head-to-Head Comparison
Choosing an electric bike is hard. There's no doubt that both Aventon and Rad Power Bikes are extremely popular among e-bike fans. The fact that there have been several new versions of both bikes is a pretty significant indicator.
Here is a head-to-head comparison of RadRover 6 Plus and Aventon Aventure 2.
| | | |
| --- | --- | --- |
| RadRover 6 Plus | | Aventon Aventure 2 |
| | General | |
| Class 2 | E-Bike Class | Class 3 |
| USA | Availability | USA |
| 1 Year | Warranty | 2 Years |
| | | |
| | Electronics | |
| Rear-hub | Motor Type | Rear-hub |
| 750W | Motor Power | 750W |
| 20 mph | Top Speed | 28 mph |
| 48V 14Ah (672Wh) | Battery | 48V 15Ah (720Wh) |
| Up to 45 miles | Range | Up to 60 miles |
| | | |
| | Bike Details | |
| 77″ x 45.7″ | Dimensions | N/A |
| 6061 aluminum alloy | Frame Material | 6061 aluminum alloy |
| One size | Frame Size | Regular/large |
| Step-over, step-thru | Frame Type | Step-over, step-thru |
| 5'2″ – 6'2″ | Recommended Height | 4'11" – 6'4″ |
| White, gray | Frame Colors | Gray, green |
| Spring fork, 60mm travel | Fork | Suspension fork, 80mm travel |
| 1×7-speed Shimano Altus | Gearing | 1×8-speed Shimano Altus |
| Hydraulic disc | Brakes | Hydraulic disc |
| 26-inches | Wheel Size | 26-inches |
| 26″ x 4″ | Tires | 26″ x 4″ |
| 72.5 lbs | Weight | 77 lbs |
| 275 lbs | Weight Capacity | 400 lbs |
| N/A | IP Rating | IPX4 |
Aventon Aventure vs RadRover 6 Plus: Performance
Motor Power and Speed
Although both bikes have a rear hub motor of 750W, they have different top speeds. Aventon Aventure is a class 3 e-bike with a top assisted speed of 28 mph (20 mph with throttle) and RadRover 6 Plus is a class 2 e-bike with a top speed of 20 mph.
Another difference in this area is the throttle. Yes, both e-bikes have a throttle on demand but they work differently. The Aventure has a thumb throttle, while the RadRover has a twist throttle. It's just a personal preference but it's something you can consider.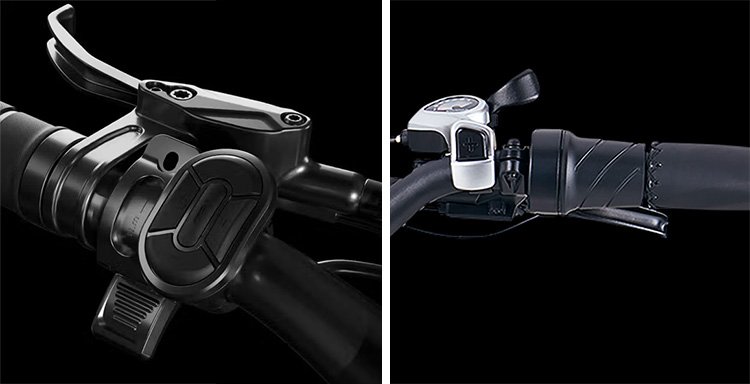 Another big difference is that the Aventure comes with a torque sensor, but RadRover 6 Plus comes with a cadence sensor. Learn about the differences between torque and cadence sensors.
In terms of hill climbing, both e-bikes are doing well. However, it seems that Aventon Aventure is slightly more capable. Bikes were tested on the same hill and Aventure covered the distance slightly faster.
Battery and Range
Aventon Aventure has a 15 Ah battery versus a 14 Ah battery of RadRover 6 Plus. Both batteries are detachable.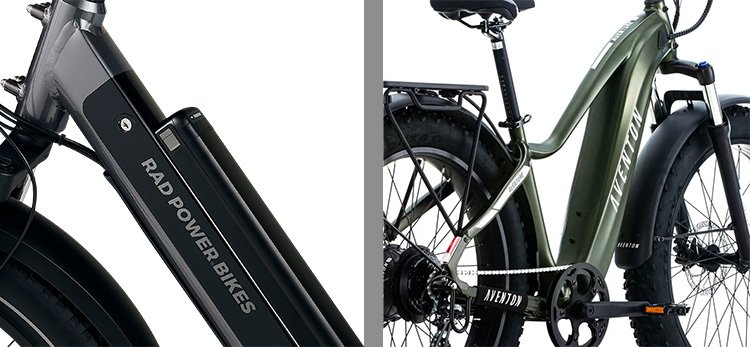 In the real-life range test, both bikes were tested in pedal-assist level 1 and pedal-assist level 5.
In PAS 1:
RadRover 6 Plus covered 50.49 miles with an average speed of 11 mph.
Aventon Aventure covered 53.72 miles with an average speed of also 11 mph.
So the difference is not much. But the 1 extra amp-hour still gives a slight advantage.
In PAS 5:
RadRover 6 Plus covered 28.47 miles with an average speed of 18 mph.
Aventon Aventure covered 24.3 miles with an average speed of 21 mph.
Here, RadRover clearly managed a better result. However, note the difference in average speed.
Braking
Both bikes have the best type of brakes that e-bikes can have – hydraulic disc brakes. During the braking test, we discovered that although the Aventure is slightly heavier, the brakes are a bit more efficient.
In the braking test, both bikes were riding at 20 mph on dry asphalt and the rider tried to stop as quickly as possible.
Aventon Aventure managed to stop within 11 feet and 1 inch on average.
RadRover 6 Plus managed to stop within 15 feet and 4 inches on average.
Gearing System
Both e-bikes are equipped with Shimano Altus derailleur. However, the RadRover comes with a 7-speed system, while the Aventure comes with an 8-speed system.
Overall, the difference is extremely small. Since the Aventure has a higher top speed in pedal assistance, it needs one extra gear to keep up with the speed. But there is hardly any difference in terms of ride comfort.
RadRover 6 Plus vs Aventon Aventure: Other Features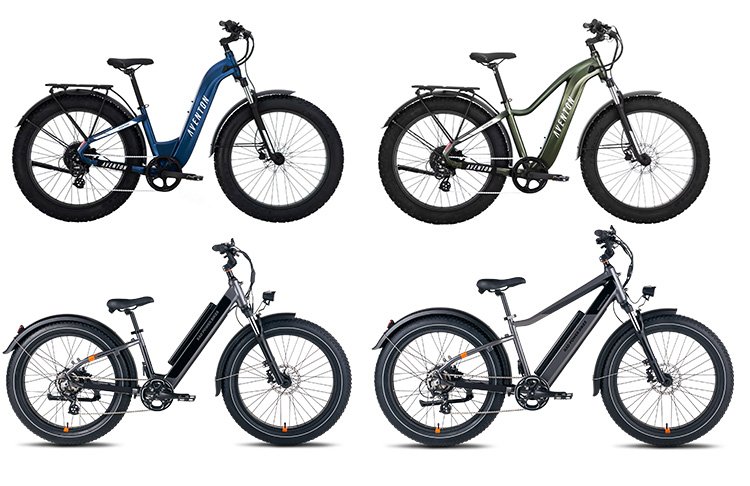 Frame and Geometry
Both e-bikes are made of aluminum alloy. Weighing about 77 pounds, Aventon Aventure is slightly heavier than RadRover 6 Plus (72.5 pounds). However, there is a huge difference in weight capacity.
We have no good method of testing it, so we have to rely on the data provided by manufacturers. The RadRover 6 can withstand a payload of 275 pounds, which is quite standard. Aventon Aventure, on the other hand, can withstand up to 400 lbs of payload.
Aventon Aventure has 2 Frame Sizes
Both electric bikes have 2 frame styles – step-through and step-over. So both brands provide enough versatility. However, Aventon provides even more versatility.
While the RadRover 6 comes only in one frame size, the Aventon Aventure has 2 different frame sizes in option – regular and large. It means the Aventure can fit a wider range of people.
Wheels and Tires
In this area, we have nothing to point out in particular. Both e-bikes have 26-inch wheels and on top of that, they have 4-inch fat tires.
Both bikes are built for all-terrain riding. You can ride with these tires in urban environments as well as on rough surfaces.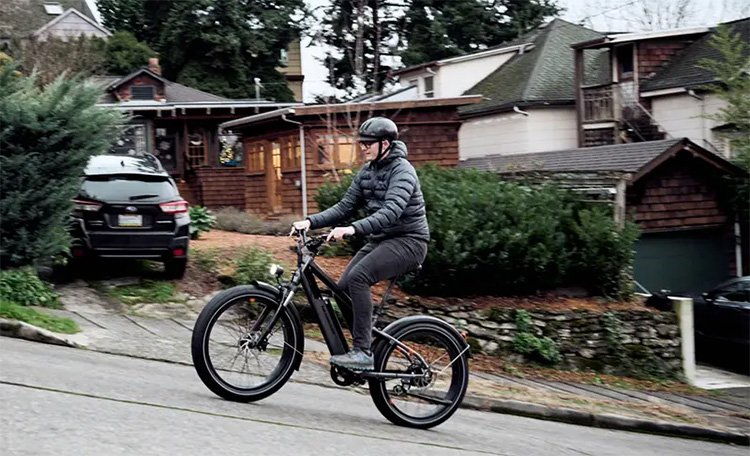 Additional Features
Both, RadRover 6 Plus and Aventon Aventure are equipped with nice accessories for safe and comfortable commuting. They have full fenders for cleaner rides and front and rear lights for safety in the dark.
However, one minor difference here is that Aventon Aventure has the rear rack at the base price. If you want to see a rack on your RadRover, you must pay a little extra.
Price
And lastly, let's compare the price tags of these two all-terrain electric bikes. For most of us, the price of an electric bike is a pretty important factor to consider.
At the time of writing, Aventon Aventure costs $1,899 regardless of the type or size of the frame. The normal price of Rad Power Bikes RadRover 6 Plus is $2,099. However, both companies do sales from time to time. For example, it seems that currently, you can get the step-over version of the RadRover 6 for just $1,799.
Therefore, I definitely recommend taking a closer look at current prices.
Aventon Aventure or RadRover 6 Plus: Which One to Get?
To sum it up, I can assure you that you can't go wrong with either model. Both e-bikes are well-built and come from reputable USA brands. However, if I have to pick one, I'd choose Aventon Aventure.
Aventon Aventure has a higher top speed, which would come essential on longer commutes. And the additional power doesn't come at the expense of the range. Also, Aventon bikes have a longer warranty. And finally, the base price of Aventon Aventure is slightly cheaper than RadRover 6 Plus.