With all the craze surrounding e-skateboards, most people, including adults and youths, don't want to be left behind, and it's understandable.
E-skateboards are fun, almost perfect for commuting, eco-friendly, and cheap to power and maintain. However, most of the best e-skateboards are relatively expensive, but you can still find cheap, high-quality alternatives because of an ever-increasingly competitive market.
Electric Wheelers is reader-supported. Although we independently research and test products, we may receive a commission on purchases made from our chosen links. Read more…
What is Considered a Cheap Electric Skateboard?
There are many skateboards available on the market, but, you probably want the cheapest, highest quality skateboard available.
This is understandable since no one would be comfortable investing too much money in a low-quality electric skateboard. That's why we've researched, reviewed, and compared 15 of the best cheap e-skateboards for adults so that you don't have to.
Electric skateboards usually cost between $200 to $6,000.
Related: How Much is an Electric Skateboard
Cheap is relative to the buyer. For instance, some buyers may find prices under $1,000 cheap. Others will be looking to purchase the best cheap adult skateboards under $500, which is understandable since you shouldn't have to sell your kidney to have fun.
Keep reading to find some of the best adult skateboards you can purchase cheaply and enjoy riding.
Best Electric Skateboards Under $200
1. Voyager Neutrino
Have fun and cruise across town on a Bluetooth remote-controlled Voyager Neutrino going 12.5mph speeds.
The Voyager Neutrino travels up to 7 miles on a single charge, is compact, super portable, and has a cool design. The e-skateboard is designed with two riding modes, including expert and beginner. The Bluetooth control device also shows the battery life of both the remote and e-skateboard.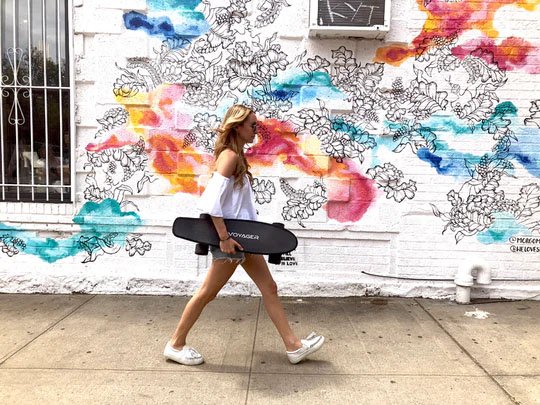 The Voyager Neutrino's 350 Watt brushless powerful motor is built into its wheels and provides enough power to handle 15˚ inclines. It weighs 9.5 pounds, has a maximum weight capacity of 176 pounds, and is perfect for beginners.
The e-skateboard has a fiberglass deck material, is water-resistant, and is designed for riding on the street.
GET 15% OFF with a coupon code EWHEELERS
2. Blitzart Mini Flash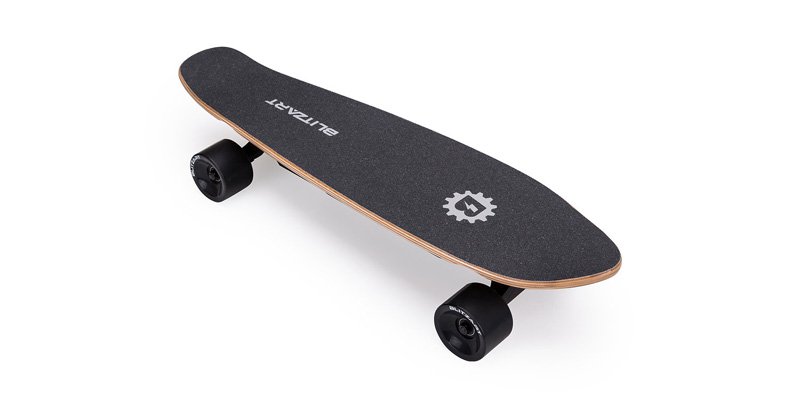 This is the best e-skateboard under $200 and has amazing value in function and performance.
The small skateboard has a 250-Watt motor, providing enough power to reach 12mph speeds. Its range, 8 miles on a single charge, is quite impressive for the board in this price range. Plus, it has a pretty quick charge time of 2.5 hours.
Blitzart Mini Flash has a well-designed remote control with a good grip and well-placed buttons.
The skateboard also has a fully functional kick push. It also has a 270-pound maximum load, weighs 9 pounds, and has an electric braking system.
It's highly portable and has two-speed modes that cater to beginners and experts.
Best Electric Longboards Under $300
3. Blitzart Hurricane
The Hurricane is one of the best e-skateboards for beginners. It's fast, portable, and can help riders traverse decent distances.
The e-skateboard has a 350-Watt motor that can reach 17mph speeds. It has an eight-mile range suitable for its price range. It's one of the best cheap e-skateboards for adults because of its competitive price, lightweight design, and portability.
The Hurricane has a pretty good riding experience, including braking, handling, and acceleration.
It's the perfect skateboard for both experts and beginners. The skateboard has a three-hour charging time, can handle a 250-pound maximum load, and weighs 13 pounds.
It's also equipped with a regenerative braking system making it easier for riders to stop.
4. Hiboy S11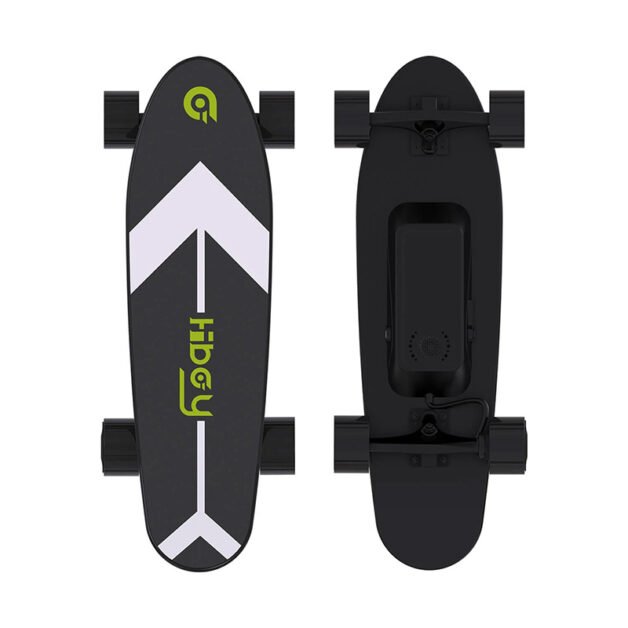 The Hiboy S11 has a 12.4 mph speed with a 6.2-mile range.
It's a great budget electric skateboard for beginners and is designed with various riding modes that gradually increase the speed until it peaks at 12.4 mph.
The S11 is pretty slim and weighs 7.94 lbs, making it convenient for people who want a portable solution for commuting purposes. It's easy to carry, light enough, and fits most backpacks.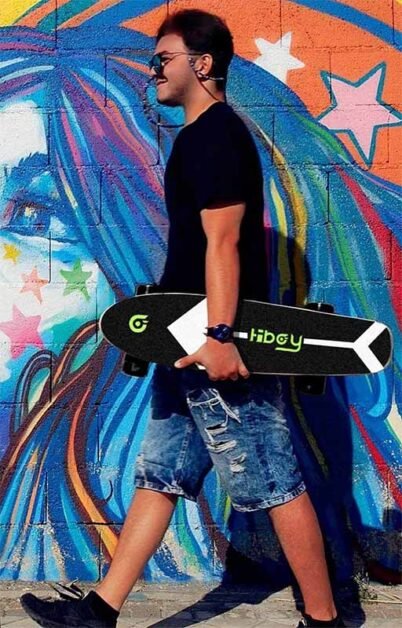 It has a relatively short range for a single charge. However, it may be effective for individuals going on short commutes or using the e-skateboard for fun.
The e-skateboard has a 250W motor and a 12 months warranty, which is great considering its price.
5. RazorX Cruiser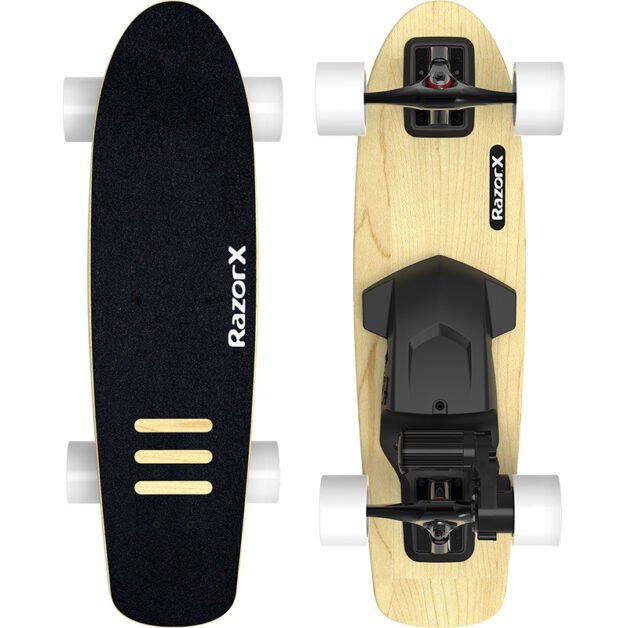 The RazorX Cruiser is a high-quality, high-performance e-skateboard powered by a rear-wheel electric motor. The e-board is controlled by a digital, wireless, handheld remote.
The skateboard has variable speed control that eases you out of and into the action allowing you to decrease or increase your speed using the control stick.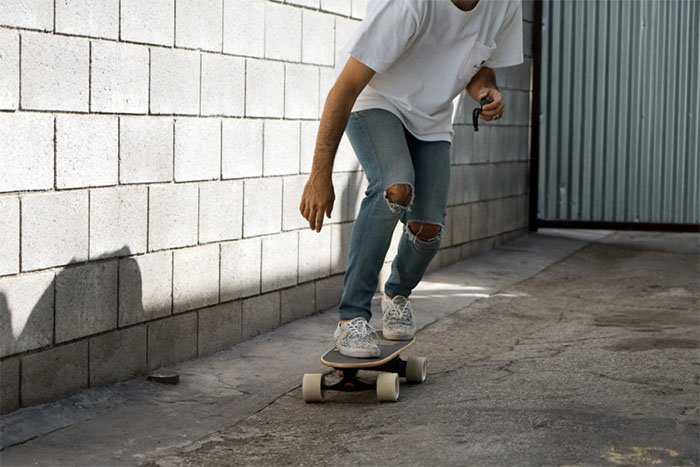 It has a 125W kick-to-start hub motor, a rechargeable battery, and an LED indicator that displays the battery. The skateboard has a 10mph top speed and a 6.6-mile range.
It has a lightweight deck that provides an amazing, responsive ride and is perfect for cruising. Additional features include enhanced stability, minimal alignment issues, and ground-gripping wheels.
Best Affordable Electric Skateboard Under $400
6. Meepo Shuffle (V4)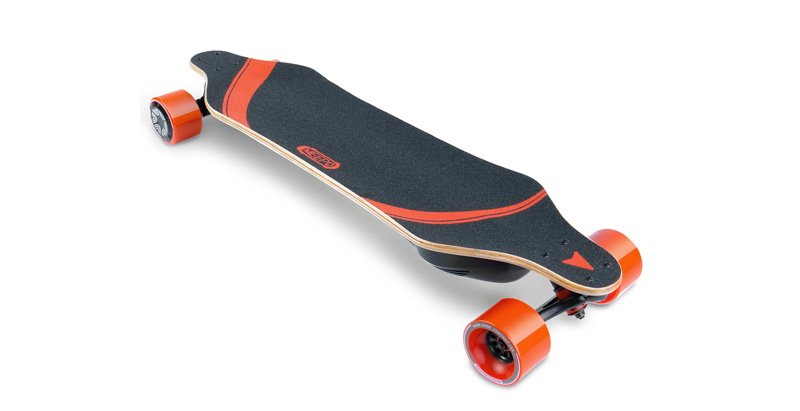 The Meepo Shuffle (V4) has a 29mph top speed, an 11-mile range, and a 30-min charge when using a fast charger. Plus, it's beginner-friendly. It offers an Amazon value for money since it's pretty powerful and has a flared edge that makes the ride extremely comfortable.
It's great for children and beginners that want to buy their first skateboard since it's easy to ride and learn. It's also great for commuters and individuals that want to have fun.
Additionally, it's quite cheap and offers some great features.
7. Hiboy S22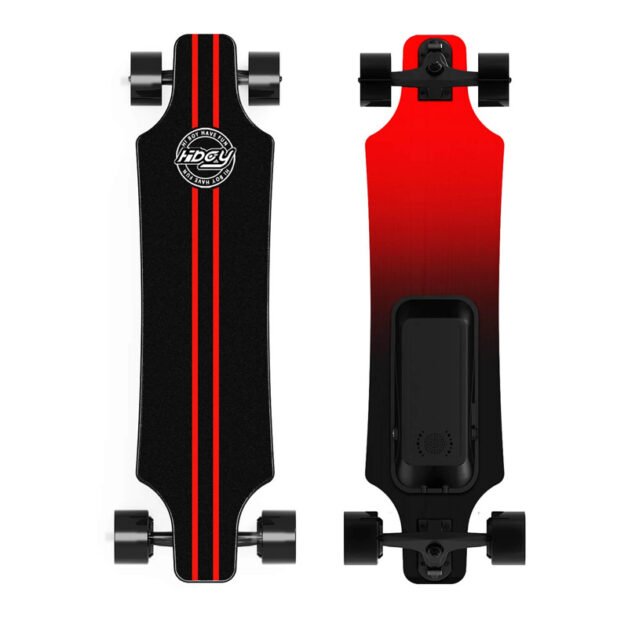 The Hiboy S22 has a 7-layered maple deck making it authentic, strong, and capable of supporting a 220-pound load.
The electric skateboard weighs 16.5 pounds and has 2 brushless motors that (combined) produce a top speed of 24mph, which is good for the price. The Hiboy S22 has a 12.5-mile range that's good for casual commuters and skaters alike.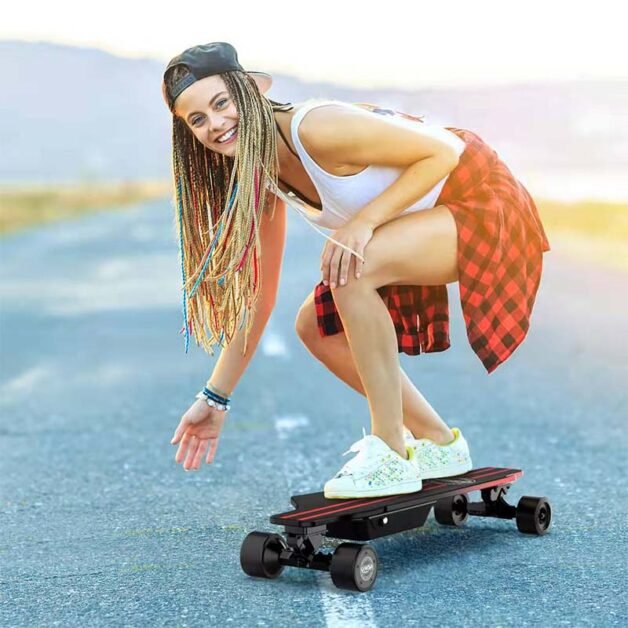 The Hiboy has a rapid 2-hour charging time that makes it convenient for urban riders that commute distances shorter than 11 miles. While the skateboard is super lightweight and portable, it doesn't provide off-road capabilities.
8. GPad Blade
The GPad Blade electric skateboard, hailing from the innovative Nordic brand GPAD, offers a fresh take on urban mobility. Merging traditional longboard aesthetics with modern e-board functionalities, it stands out in the crowded market.
Its battery, seamlessly integrated into the deck, showcases a blend of design ingenuity and technological advancement. With a dual-motor system that can switch between front and rear-wheel drive, riders are promised versatility on the go.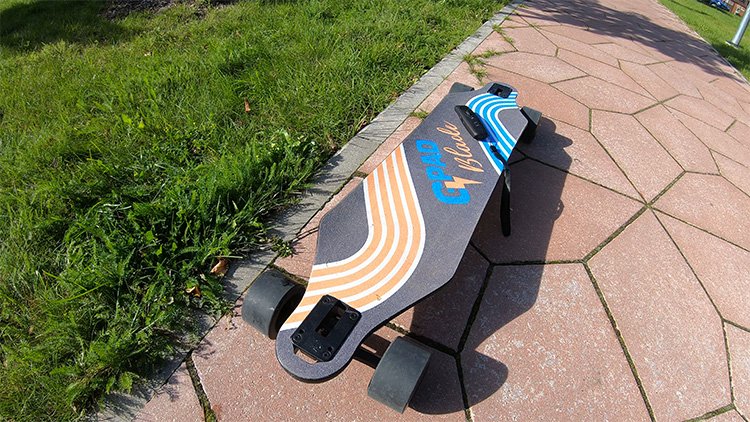 Weighing just 6.5 kg and boasting a top speed of 30 km/h, the GPad Blade is both a practical commuter tool and a testament to affordable electric skateboarding excellence.
Best Budget Electric Skateboards Under $500
9. Skatebolt Tornado II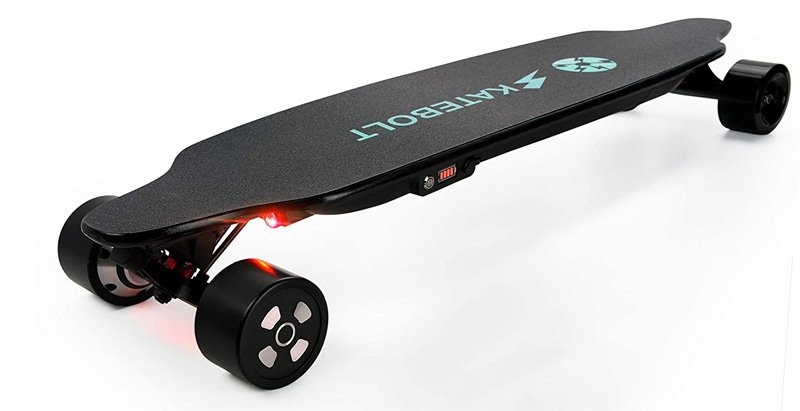 The Skatebolt Tornado II has a pretty good range, perfect for recreational and commuting purposes.
In addition, it has a sleek design that makes the board seem more expensive than it is. The skateboard has a 24-mile range and a 26mph top speed, which is outstanding for a board in its category.
The board is also pretty responsive, easy to operate, and has safety lights designed to help riders see better at night.
Plus, it has a battery indicator riders use to monitor the battery's charge. It has dual 500W motors, weighs 20 pounds, has regenerative braking, and can handle a 280-pound maximum load. The charging time is about 2-3 hours.
10. Meepo Mini 2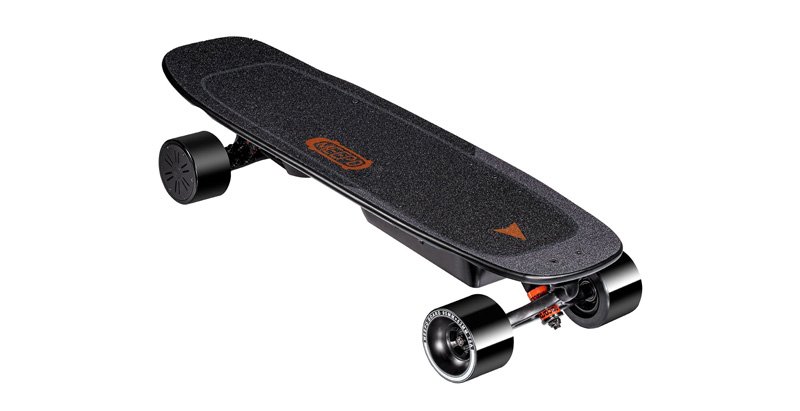 The Meepo Mini 2 has a 24mph top speed with an 11-mile range. It takes about 2 hours to recharge the battery.
The skateboard has a 9-inch deck made of maple. The e-board weighs 16 pounds.
It's easy to turn, portable, and has a dip-dish design that makes riders locked in and secure, making it great for beginners.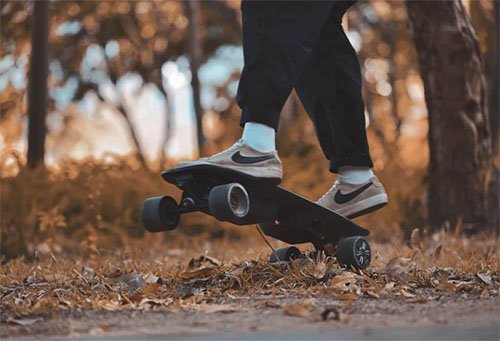 The Meepo Mini 2 is designed to be used on the street and has a 30% hill grade. It's splash resistant and has regenerative braking.
The e-skateboard's remote is designed to show the board and remote's battery level, haptic, and speedometer through its LED display. It has two hub motors that allow riders to kick-push it whenever it runs out of power.
11. Backfire G2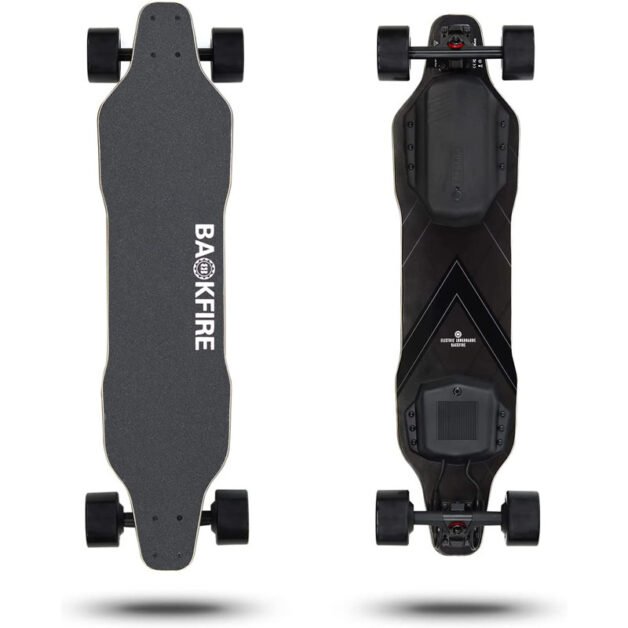 The Backfire G2 has an amazing range, great top speed, and safety features. The e-skateboard is great for both beginner and expert skateboarders alike.
It has dual 250W motors and can go up to 12.5-mile distances with a 24mph top speed. The primary drawback with the Backfire G2 is its low carrying capacity- 165 pounds.
Besides that, the e-skateboard has a cool design and a 37-inch flexible deck that makes turning easier.
The e-skateboard weighs 14.5 pounds, has a 96MM wheel size, regenerative braking system, and takes 3.5 hours to charge fully. It's affordable, has an IP55 waterproof rating, and has smooth acceleration and braking.
12. Teamgee H5 Blade
The Teamgee H5 Blade e-skateboard is a great-value budget skateboard and one of Amazon's best-rated products because of its great performance.
The e-skateboard has a 20 mph top speed and a 10-mile range on a single charge. The battery takes up to two hours to charge fully. It has dual 380W motors that provide enough power to carry riders weighing 200 pounds.
The skateboard is pretty slim and lifted. You can hardly see the battery and motor on the underside. It's perfect for people that want setups that don't stand out.
It weighs 13.7 pounds, has a regenerative braking system and urethane wheels that provide amazing grip. Its 37″ deck length is perfect for riding comfortably.
Best Electric Skateboards Under $1,000
13. WowGo 2S Max
The WowGo 2S has a 28 mph top speed and a marketed 14-mile range. It has a fiberglass + bamboo deck that's comfortable to ride on. The e-board has a minimalistic design that looks amazing.
It carries over 154 pounds and provides an excellent riding experience. It accelerates and decelerates smoothly and shoots to the top speed effortlessly, especially when you put it in turbo mode.
It's got smooth and comfortable braking and is pretty stable even at the top speed. At no point will you wobble because the flexible deck helps absorb any shock and vibrations, making the experience extremely smooth.
Finally, it has an excellently designed remote that's ergometric and shows critical information like your skateboard's battery percentage.
14. Exway Flex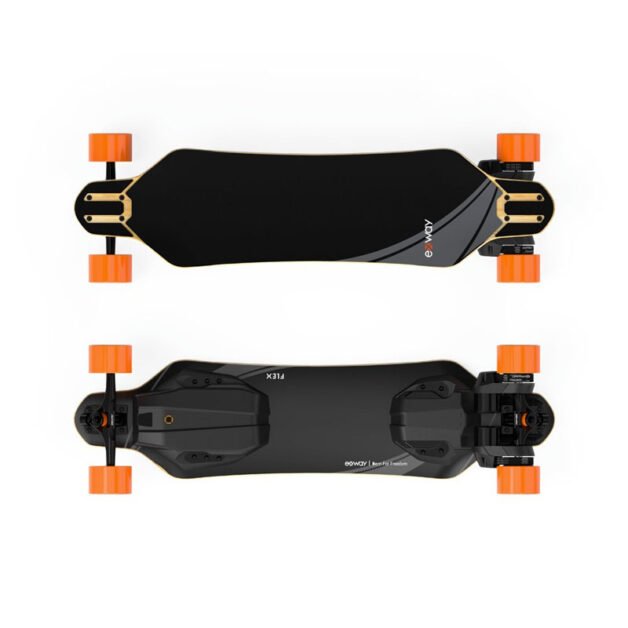 The Exway Flex is a budget e-skateboard with premium features. It has a 25mph top speed, a 20-mile range, a comfortable deck, and a mobile app. Riders can use the mobile app to customize their skateboard's performance whenever necessary. Plus, it has swappable motor options.
Exway Flex's deck is pretty flexible. It's made of a bamboo and fiberglass composite that creates a flexible but tough deck that can handle tight turns and vibrations.
It also has a good braking system that brings you to a complete stop in 3 to 5 meters if you are at full speed. It provides a good overall riding experience, which is good for most people.
15. Backfire Zealot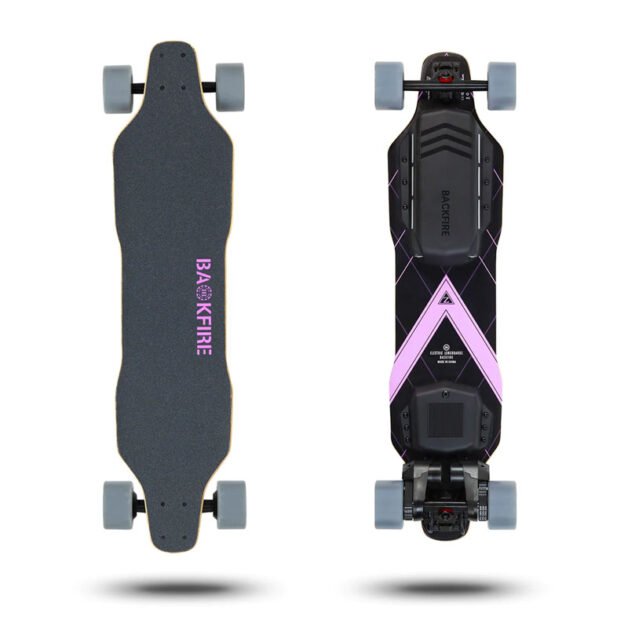 The Backfire Zealot has a 24-mile range with a 30mph top speed. It also has a 50.4V battery with a 346Wh capacity. It's designed with two 850W belt motors and a composite deck covered with ABS plastic for protection. Also, it has polyurethane tires designed to last longer and provide sufficient grip.
The skateboard also has one of the best after-sales services. They offer a limited warranty covering manufacture defects for 180 days after purchase. However, this excludes wear and tear parts like wheels, bearings, and grips.
It has a 30% hill grade and weighs 18.7 pounds making it relatively portable.
16. Verreal RS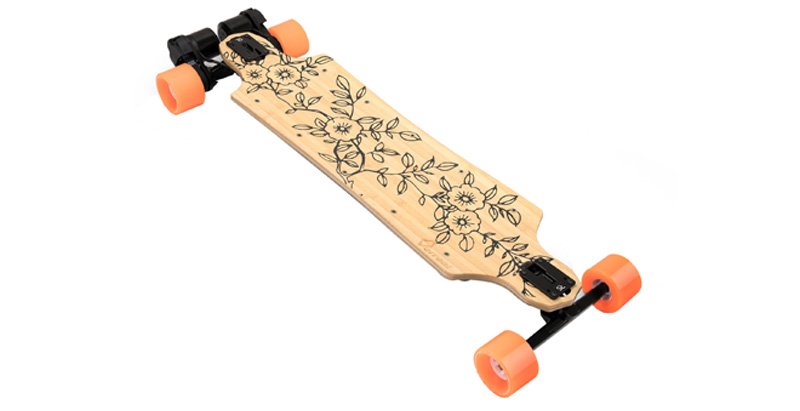 Verreal RS has two 1500W motors powered with varying battery configurations and offers an amazing power to cost ratio.
The belt-driven skateboard has large cutouts on the debt to provide space for big pneumatic tires. The space also enables the Verreal RS to be paired with numerous wheel combinations fit for various terrains.
Verreal RS has a 25mph top speed and can reach a range of 31 miles. It also has smooth but powerful acceleration. You'll have to brace yourself when taking off because of how strong the e-skateboard motors are. That said, the skateboard has an effective braking system.
How to Choose Between Affordable Electric Skateboards?
You need to pay attention to certain features when choosing between affordable e-skateboards. Some features include the motor and battery, weight capacity, build quality, customer support, warranty, etc.
Motor and Battery
Electric skateboards are propelled using a motor powered by a battery. Most of them allow riders to use the skateboard when the motor's deactivated, essentially turning it into a traditional skateboard. You'll notice some terms when discussing motors, including "hub," which refers to motor positioning that allows users to kick the skateboard like they would traditional variants.
In addition, there are brushed and brushless motors. Brushed motors are great for off-road experiences or locations with uneven terrain. Brushed motors are easier to build. However, they require more maintenance compared to brushless motors. Various models also have single and dual motors, affecting the skateboard's power and speed.
The motors also have varying power ratings from 250 to 6,000 watts.
The motor with more wattage is usually capable to handle more payload. Also, the stronger the motor, the easier is to handle inclines.
As mentioned before, motors are powered by batteries, and there are several types of batteries available.
Often, the battery's voltage determined the skateboard's range and torque. The battery's current (measured in Amperes) also determines the skateboard's speed and range when measured in Ah (ampere-hours).
Good batteries are usually expensive. Often cheap e-boards don't provide as much mileage as the expensive ones.
When choosing an electric skateboard, make sure the battery provides enough range for you.
Build Quality
Often, electric skateboards are exposed to rough conditions. Therefore, it's only proper to purchase a good quality electric skateboard that can withstand falls, rough trails, bumpy terrain, dangerous obstacles, etc.
The manufacturer should make your electric skateboard from strong materials like aluminum, maple, Ceramic, ABS plastic, wood, etc.
The materials should also be flexible and able to absorb impact and vibrations. Most manufacturers use wood sandwiched between other materials because wood is strong and flexible.
The skateboard should also have powerful motors and a good battery to handle your weight. Lastly, it should be wide enough for you to ride comfortably.
Weight Capacity
As mentioned before, the electric skateboard should be sturdy enough to handle your weight. You should purchase one that has good batteries that have enough juice to carry you for long distances.
You must assess the skateboard's range compared to your weight and stated maximum carrying capacity. Choosing one with a bigger range but smaller carrying capacity affects its range if you are over the weight limit.
Warranty
It's important to select electric skateboards with a good warranty (or possibly an extended warranty). It may look expensive but will come in handy later on if the skateboard is damaged.
Otherwise, you'll have to pay for repairs out-of-pocket, which could be expensive. Plus, products with warranties are often better than those without. It shows the company's confidence in its product.
Customer Support
There are chances that your board may develop various complications. At this time, you may want to talk to a customer representative concerning the issues.
The chances are that you won't be able to get in touch with companies that have poor customer support, which could lead to lots of frustrations. Prevent the issue earlier on by choosing electric skateboards with effective customer support.
Can You Get a Cheap Electric Skateboard Under $100?
It's pretty hard to find a cheap electric skateboard for under $100. However, if you are lucky, you might find something below $100. Such skateboards are often made with cheaper materials, have a shorter range, and have low performance compared to more expensive models.
That said, cheap skateboards are perfect for children and beginners. They can be bought by individuals that want to assess whether they are really into skateboards or if it's a passing fancy.
Conclusion – Is it Worth Getting a Budget Electric Skateboard?
Buying a budget electric skateboard is worth it if you know what you are looking for. For instance, if you are an expert (or have read our blogs on electric skateboards), you are familiar with what it takes to make a good electric skateboard. You'll need to look at the features and compare them with the price.
However, it would be best if you did not compromise too much on the price. For instance, purchasing a very cheap skateboard means that your skateboard will have a short-range or poor construction.
Thus, you need to find the sweet spot where you don't have to spend too much money, and your skateboard has adequate high-quality features.
Electric skateboards listed above have proven to be of good quality yet affordable.