Electric bikes have become quite common, and the increasing types of brands available make it challenging for buyers to determine the best bike that suits their needs. This review provides more information about Heybike's Tyson, an innovative, sleek, foldable e-bike produced in several colors.
The Tyson is one of the best e-bikes in its category, and it won the Best Of CES (2023). The CES is a tech event and proving ground for various technologies, including e-bikes, AI, etc.
The Tyson's notable features include a 48V 15Ah battery and a 750W brushless geared motor. The e-bike has a 55-mile maximum range and a 400-pound maximum load. Additionally, the Tyson has a class 3 e-bike rating.
Keep reading to learn more about Heybike's Tyson and whether it is right for you.
Electric Wheelers is reader-supported. Although we independently research and test products, we may receive a commission on purchases made from our chosen links. Read more…
Heybike Tyson Review
Motor: 750W | Top Speed: 28 mph | Max Payload: 400 lbs | Battery: 720Wh | Max Range: 55 miles
Heybike is a relatively new ebike brand founded in 2021. However, the company serves already over 80,000 riders around the world.
The goal of the company is to make bike riding more efficient and convenient for everyone. There are several models in Heybike's range to provide a solution for all kinds of use.
But now, let's concentrate on one of their newest models – Heybike Tyson.
Heybike Tyson Performance
750W Motor
The Tyson has a 750W motor that can speed up the bike up to 28 mph. The bike comes with a cadence sensor and the acceleration is quite aggressive.
Actually, the Tyson is a class 2 bike out of the box, which means the speed is limited to 20 mph. However, you can easily unlock the speed from the display and change the bike to a class 3 e-bike. It's a nice feature since different areas have different e-bike laws.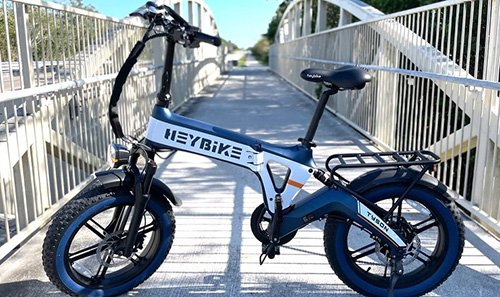 Testing the e-bike on a straight path provided speeds close to those advertised. We hit 27mph and 28 for a split second on throttle only with pedal assist 5. We tried to pedal and add some speed. However, we experienced some ghost pedaling, so it's hard to reach higher than 28 mph speed. But 28 mph is already a pretty high speed for a bicycle.
Additionally, we did a hill test for the bike. If the incline is really steep, you might have to help the motor by pedaling since the speed gets very low on throttle only. However, providing some extra boost with pedal assist allowed us to climb the hill less effortlessly.
720Wh Battery
The Tyson's 720Wh battery gives it a 55-mile range, sufficient for most riders. It has a charging port for charging the battery while mounted on the e-bike. Alternatively, you could remove the battery and charge it separately.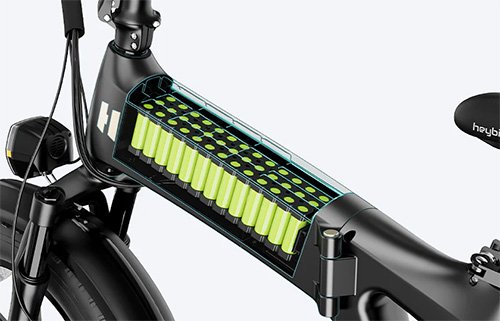 The battery's 55-mile range makes the Tyson perfect for individuals searching for a reliable bike for commuting to work or running errands. Additionally, you could buy an extra battery if you plan on going on longer trips.
The charging time of the battery is pretty fast. It can be charged within 4-5 hours.
Hydraulic Disc Brakes
The Tyson has RSX hydraulic disc brakes, which is a definite improvement over most bikes in this category. Most similar e-bikes have mechanical disc brakes that are not as effective. The bike's hydraulic brakes make them the perfect fit for riders that want reliable stopping power, especially when riding in traffic.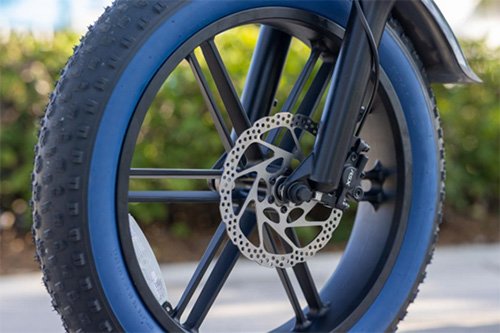 The bike's braking works efficiently with no squicks and squeals. Its 180mm rotors provide sufficient surface area for the brakes to act upon. The rotors allow the bike to quickly lock onto the rear wheel, allowing riders to stop more efficiently.
7-Speed Shimano Gearing
The Tyson's 7-speed Shimano gearing features a front chain paired with seven rear cogs. These allow riders to shift between seven different gears. The 7-speed Shimano gearing is standard among most entry-level e-bikes and provides average performance.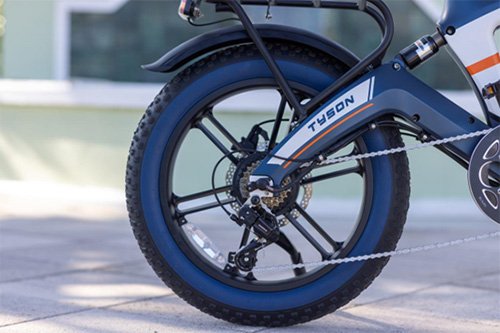 Regardless, the gears have sufficient ratios to choose from, and commuters prefer them since they save time and money. However, as we told you before, the 7th gear doesn't provide enough traction to ride faster than 28 mph.
Heybike Tyson Design and Features
Frame and Geometry
Heybike's Tyson is made from magnesium alloy that is lighter and stronger than aluminum, although it's less stiff. However, the frame is still a bit heavy, bringing Tyson's total weight to around 77 pounds.

The bike's weight makes it hard for users to carry it over long distances. So if you need to bring up the bike for several flights of stairs, it's quite of a training.
The folding step-over frame of Tyson provides users an upright riding position. So riding with a Tyson is not particularly burdensome on the back.
Additionally, you can adjust the seats and handlebars to get more comfortable and enjoy your rides even more. The Tyson has a recommended height of 5'3" to 6'3".
Compact Design
Heybike Tyson is a folding ebike. Its folding mechanism is incredible. The design makes it easier for users to store and transport it. Although the bike is quite heavy and big, the folding mechanism makes it compact. You can easily transport the bike in the trunk of the car.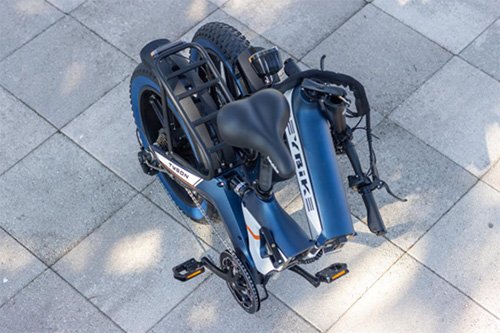 The folding process of the e-bike is pretty straightforward. All you need to do is push the brass button on top of the primary latch on the body and flip out the black lever. Next, you should slide down the switch and release the lever to fold down the down tube and handlebars.
Adjustable Handlebar
The Tyson has an adjustable handlebar that you can modify and adapt to your size. Also, you can make necessary changes to the bike depending on where you want to ride it or let your friend make the required adjustments when testing it or going on an errand.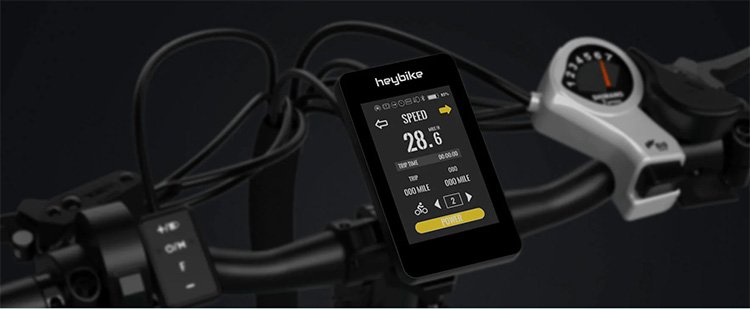 The bike has a smart TFT display providing vital information like the rider's battery level, speed, and other essential data. Heybike also equipped Tyson's handlebars with a Shimano shifter, a thumb throttle, blinkers, lights, a horn, power assist, power, and cruise control buttons.
Dual-Suspensions
The Tyson has front and rear suspension (full suspension). The front fork hydraulic suspension is pretty good. Although the rear one is somewhat low-end, the bike worked well on bumpy terrain. The suspension system provides a smooth riding experience.
However, the downside of the full suspension is that the bike becomes less agile. Regardless, the suspension suits riders, making the ride feel more comfortable.
Wheels and Tires
The Tyson has mag wheels, a functional feature because riders won't have to worry about maintaining the spokes.
Additionally, it has 4-inch-wide tires that improve the bike's stability and add to its shock-absorption capabilities. The tires are good for riding in rough terrain. However, we don't recommend doing this for riders who want to make their tires last longer.
Lights
Heybike's Tyson has bright LED headlights for added security and visibility. The headlight is perfect for nighttime commutes. The lights receive power from the battery. However, this doesn't affect the mileage because they use minimal power.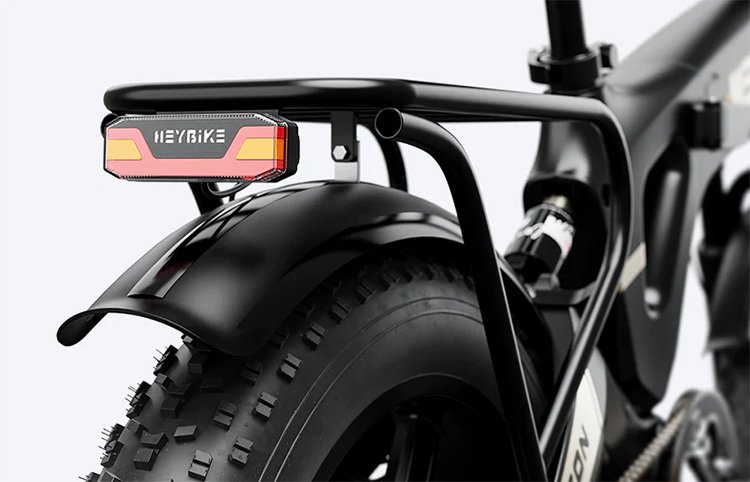 Additionally, the Tyson has a rear brake light that includes turn signals. Riders can activate the turn sign without moving their hand from the handlebars, which is safe, hassle-free, and effective.
The brake light helps keep you safe at night by activating whenever you engage the brakes. However, the downside is that the turn signals are too close together, which may confuse other road users when activated.
Full Fenders and a Rear Rack Adds Practicality
The Tyson has full fenders and a rear rack for added practicality. When riding in wet conditions, the fenders protect the rider from mud, water, and debris. The rear rack adds a secure place where riders can store their cargo in transit.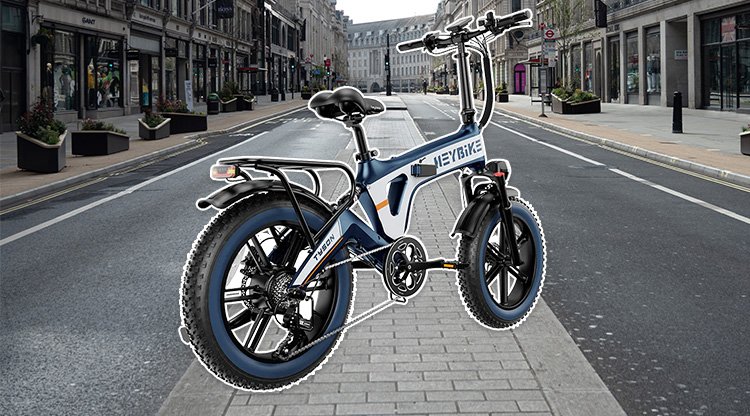 The bike's rear rack has a solid build, making it perfect for carrying cargo. Additionally, there are many other mounting points, which allow you to install saddlebags, panniers, and baskets.
App Connectivity
In addition to all those features already mentioned, Heybike Tyson connects to the app.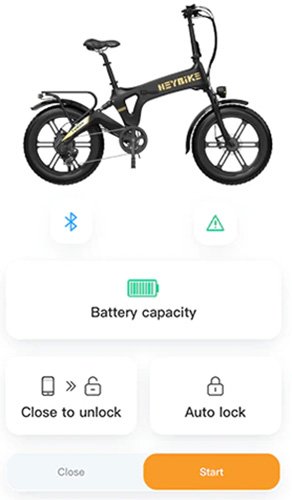 You can use the app to lock your bike and see how much battery is left.
Additionally, for extra fees, you can monitor different cool data from the app. For example, you can see statistics of your previous rides, how many calories you have burned, and how much CO2 you have saved.
Heybike Tyson Review Conclusions
The Tyson is a reliable e-bike with sufficient power, functionality, and comfort. The e-bike provides a practical approach to urban riding, and its foldable design makes it perfect for riders with small storage spaces.
The Tyson has an impressive range, a punchy motor, and dual suspension, perfect for commuters searching for efficient and comfortable e-bikes. The e-bike's integrated lights and blinkers provide better visibility and added safety, especially when riding at night.
Overall, it is an excellent e-bike for the price.
Heybike Tyson Specs
General
| | |
| --- | --- |
| Bike Name | Heybike Tyson |
| E-Bike Class | Class 2/Class 3 |
| Availability | United States |
| Warranty | 1 Year |
Electronics
| | |
| --- | --- |
| Motor Type | Rear-Hub Drive |
| Motor Power | 750W |
| Top Speed | 28 mph |
| Battery | 48V 15Ah (720 Wh) |
| Charge Time | 4-5 hours |
| Range | Up to 55 miles |
| Display | Colored TFT |
Bike Details
| | |
| --- | --- |
| Dimensions | 68.9″ x 24.4″ x 46.9″ |
| Folded Dimensions | 38.2″ x 24.4″ x 36.2″ |
| Frame Material | Magnesium Alloy |
| Frame Size | One Size |
| Frame Type | Step-Over, Folding |
| Frame Colors | Black, Blue, Green |
| Fork | Hydraulic suspension fork |
| Rear Suspension | Yes |
| Gearing | 1×7-Speed |
| Brakes | Hydraulic Disc |
| Wheel Size | 20″ |
| Tires | 20″ x 4″ Tires |
| Additional Features | Lights, fenders, rear rack |
| Weight | 77 lbs |
| Weight Capacity | 400 lbs |