The NIU BQi-C3 Pro is an awesome bike with an unconventional U-shaped frame and a contrasting white and red color frame. It is comfortable and has a playful design that you have to check out.
NIU is one of the biggest manufacturers of seated electric scooters. The company wants a claim on the electric scooters and e-bike market. The BQi-C3 is new and has an exciting combination of design and parts, plus a reasonably respectable components list, all of which come at a reasonable price.
Electric Wheelers is reader-supported. Although we independently research and test products, we may receive a commission on purchases made from our chosen links. Read more…
NIU BQi e-Bike Review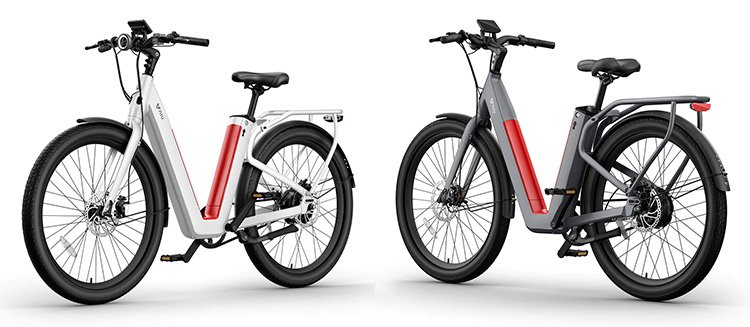 Motor: 500W | Top Speed: 28 mph | Max Payload: 287 lbs | Battery: 920Wh | Max Range: 90 miles
NIU Electric Bike Performance
Motor and Speed
NIU BQi-C3 has great performance and lots of excellent features. For instance, the bike can reach a 28-mph top speed, making it a great commuter bike. This is awesome for North American riders where this kind of speed is completely legal in most states.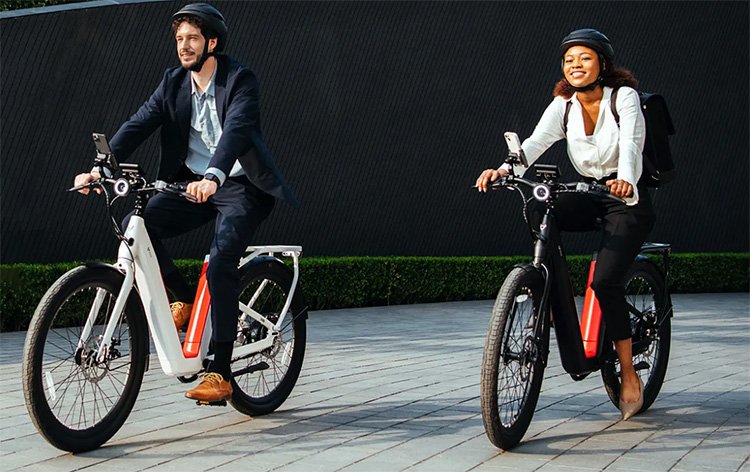 The bike's ability to keep up with different vehicle speeds makes it an excellent addition to individuals looking for cheaper transportation.
The bike's 500-watt motor (750W peak) provides sufficient torque that helps riders gain speed quickly. The Bafang hub motor offers reliable acceleration and makes it easier for riders to navigate traffic.
Twin Batteries and Range
The BQi-C3 has dual batteries designed to provide a better range. We did tests for the batteries to evaluate their performance, considering their claim on the bike's 60-90-mile range. We did this test on a single battery because of the distance our riders would take to do the test and doubled the results.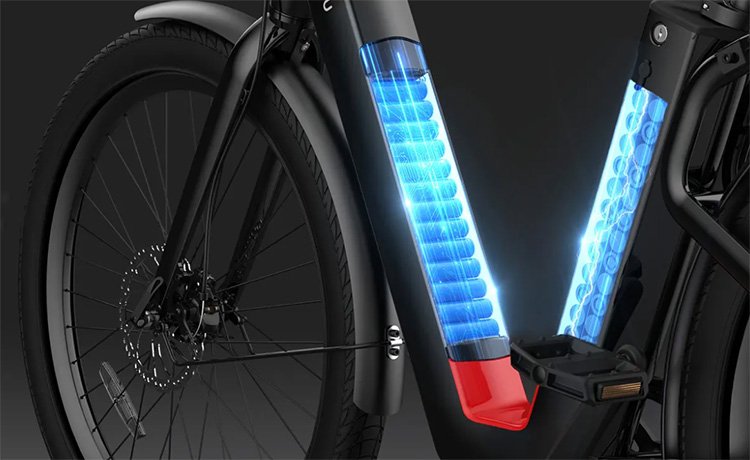 Testing the bike's single battery with a PAS 3 (maximum assist setting) propelled the bike for 29 miles. So with 2 batteries, the range would have been 58 miles. It's quite impressive mileage for a maximum assistance level.
Testing the bike on PAS 1 assistance provided a 48-mile range, which, when doubled, resulted in 96 miles, which was a great result for a few reasons.
For starters, it validated NIU's claims and aligned with the advertised range, which is relatively rare.
Additionally, this range in miles makes it easy for riders to travel long distances on single trips, which is impressive.
It also meant that individuals traveling short distances would go many days before recharging their batteries.
Lastly, the batteries have a patented BMS (Battery Management System) with 14 types of protection. The batteries have firmware that increases their safety, including temperature protection, overcharge protection, etc. Also, the bike provides separate charge readings, perfect for users who want to read their battery percentage accurately.
Mechanical Disc Brakes
The NIU e-bike comes with mechanical disc brakes.
We did a brake test to determine the reaction typical riders are exposed to in surprise situations requiring them to brake suddenly. We accelerated to the speed of 20 mph and hit the brakes.
The BQi-C3 demonstrated a 21'9" stopping distance. However, it was slower than average commuter e-bikes. It's because mechanical brakes are less responsive than hydraulic disc brakes.
But still, the bike provides decent braking performance, especially when you factor in its top speed and carrying capacity. It would do better with hydraulic brakes, but it would increase the overall cost of the bike. So it's a compromise for saving on costs.
Single-Speed Gearing with Gates Carbon Belt
Unlike most commuter e-bikes, the BQi-C3 has a state-of-the-art Gates Carbon Drive instead of a chain. The belt doesn't require any lubricant and is longer-lasting.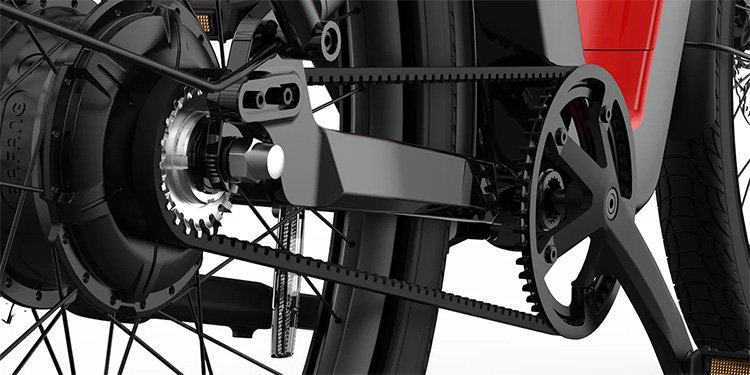 However, there is one big compromise that comes with a belt drive. The e-bike has only one gear since the belt drive can't have a regular gearing system with a derailleur. Also, you can't have internal gearing since the motor has already taken its place.
It's not a big issue. But you must consider that the first pedal strokes might be harder and it may be hard to pedal fast enough to keep the top speed.
The deep step-through frame and Gates Carbon Drive make the BQi-C3 a safe, effective, and unique bike for most riders. This design is easier to operate since it doesn't require riders to shift.
NIU E-Bike Design and Features

Frame
The frame of the bike is made of durable aluminum alloy. It weighs 70 lbs and can withstand a payload of up to 287 lbs. The extra-low step-through design gives the bike kind of odd look. But at the same time, it makes it quite unique. Thanks to the low step-thru frame, the BQi-C3 is a perfect ebike for seniors.
The BQi-C3 Pro has water-resistant wiring that is perfect for individuals riding in wet environments. The whole bike has a water-resistant rating of IP45. But the battery is as good as IP67 and the motor IP65. The bike's water-proof design ensures the user rides smoothly even when exposed to water splashes and dust.
Additionally, the bike has an adjustable handlebar angle and adjustable seat, so you can set the bike to your own liking.
Color Display with USB Ports
The e-bike's cockpit has a general layout design and a unique colored display. The display has a custom NIU interface with a clean layout that looks high-tech and easy to read.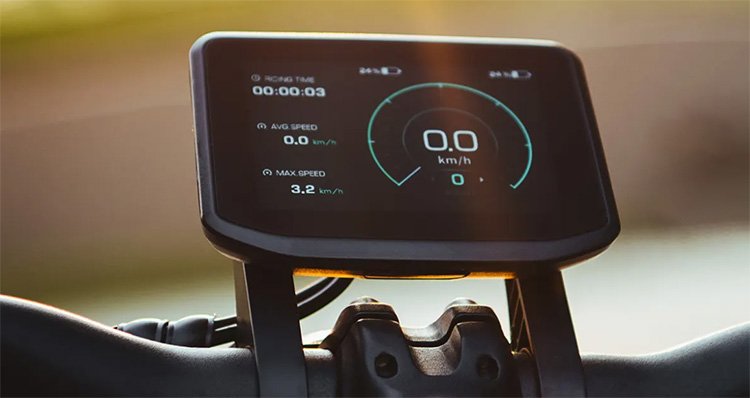 The bike's TFT display is bright and smart, making it easy for riders to see the distance traveled, speed, battery level, trip time, and more.
27.5-Inch Wheels and Puncture-Resistant Tires
The BQi-C3 has 27.5-inch tires reinforced with a 1.5mm KEVLAR ARAMID FIBER for excellent puncture resistance. The tires are nimble and have predictable maneuverability. The bike turns a bit wide when riding at slower speeds. However, this doesn't feel too much out of character.
Lastly, the tires have an innovative tread design suitable for individuals riding around the city.
Lights
The e-bike has an iconic front day-time halo running headlight NIU uses for all their electric scooters and a rear integrated tail light with brake light.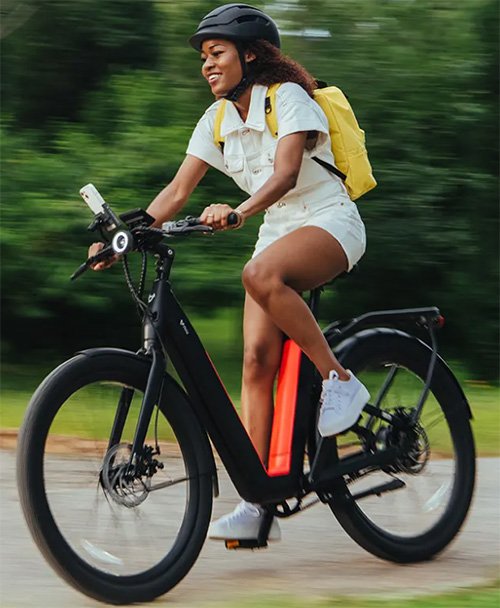 While the light is bright and great for recreational riding at night, users are advised to equip a more reliable and improved handlebar light if they prefer frequent night riding.
Full Fenders and Rear Rack
The bike has a very good water-resistance rating, so it has full fenders to protect against water splashes when riding in the rain or on wet surfaces.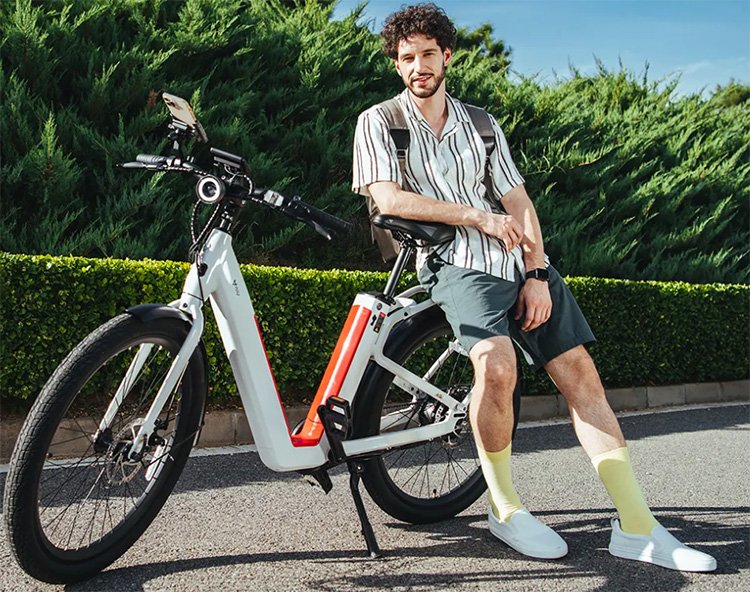 The fenders cover the rider from water and mud and prevent the droplets from splashing into essential components, including the bike's motor and battery.
Additionally, the bike has a rear rack designed for carrying extra cargo when riding across long distances.
NIU BQi-C3 Review Conclusions
This e-bike proved to be a reliable commuter during our test. Its design and features took some time to understand and get used to. However, we discovered that they are fantastic and are well integrated into the bike for a better riding experience.
The e-bike is safe, functional, and easy to maintain.
A glance at the BQi-C3 confirms NIU's success regarding the visual appeal, safety, and making a statement. The bike requires low maintenance due to its Gates Carbon Belt. However, it could benefit from installing hydraulic brakes. Regardless, the mechanical brakes are also sufficient.
NIU BQi-C3 Pro Specs
General
| | |
| --- | --- |
| Bike Name | NIU BQi-C3 Pro |
| E-Bike Class | Class 3 |
| Availability | United States |
| Warranty | 2 Years |
Electronics
| | |
| --- | --- |
| Motor Type | Rear-Hub Drive |
| Motor Power | 500W |
| Top Speed | 28 mph |
| Battery | 920Wh |
| Range | Up to 90 miles |
| Display | TFT |
Bike Details
| | |
| --- | --- |
| Dimensions | 74.02″ x 41.14″ |
| Frame Material | Aluminum Alloy |
| Frame Size | One Size |
| Frame Type | Step-Through |
| Recommended Rider Height | One-size-fit-all |
| Frame Colors | Gray, white, black |
| Fork | Rigid |
| Rear Suspension | – |
| Gearing | Single-speed |
| Brakes | Mechanical Disc |
| Wheel Size | 27.5″ |
| Tires | 27.5″ x 2.4″ |
| Weight | 70.5 lbs |
| Weight Capacity | 287 lbs |