Let's talk about the Himiway Cobra e-bike – this isn't your average ride. You know how most e-bikes are all about getting you to work or helping you zip around town? Well, the Cobra's got a different playground in mind: the great outdoors.
Himiway built this beast for those of us who get our kicks off the beaten path. It's all about fun and adventure on trails where the pavement ends.
So, if you're itching to swap city streets for mountain paths, you're going to want to hear about what the Cobra brings to the table—and yeah, we'll definitely chat about any downsides, too.
Stick around and I'll give you the full scoop!
Electric Wheelers is reader-supported. Although we independently research and test products, we may receive a commission on purchases made from our chosen links. Read more…
Himiway Cobra Review – Performance

Motor: 750W | Top Speed: 28 mph | Torque: 86 Nm | Battery: 960Wh | Range: 60-80 miles
Motor and Speed
The Himiway Cobra has a 750W brushless motor, and we've seen several bikes with that motor. However, only a few are as tuned as the one Himiway has on their Cobra.
Unlike other e-bikes that simply fit the motor onto the frame, Himiway engineers have optimized the Cobra's powertrain for superior performance.
The result is a motor that delivers a robust 86Nm of torque, which means it has the grunt to tackle steep hills and rugged terrain with less strain on the system. It's not just about raw power, either; the way this motor delivers its energy is refined and responsive.
The redesigned motor stands out in its ability to dissipate heat efficiently. Overheating is a common issue for electric motors, especially when pushing the limits off-road, but the Cobra's motor maintains performance without the risk of overheating, ensuring both safety and longevity.
This innovation reflects a significant improvement over previous models and demonstrates Himiway's commitment to pushing the envelope in e-bike technology.
Moreover, the integration with the bike's control system shows a leap forward. The addition of a highly sensitive torque sensor means that the motor's response to your pedaling is almost instantaneous, making for a more intuitive and engaging ride.
The power feels like it's an extension of your own efforts, rather than a delayed afterthought. This is particularly noticeable when starting from a standstill or adjusting your effort on the fly – the motor adapts to your pedaling style in real time, offering a tailored power assist that feels personalized to each rider.
25 MPH Top Speed
In terms of speed, the Himiway Cobra isn't just about getting from point A to point B; it's about the experience of the ride.
The Cobra has 5 levels of pedal assistance (PAS). The PAS 1 assistance (the lowest) is sufficient and produces a maximum speed of 18 mph – the equivalent of a dead run.
On the other hand, the PAS 5 propels the bike to 25 mph, which makes the Class 3 by American standards. The bike's speed is perfect for off-roading enthusiasts and individuals living in hilly terrain.
Himiway Cobra has also a more expensive Pro version, which has a mid-drive motor. But we'll talk about that a little later.
Battery and Range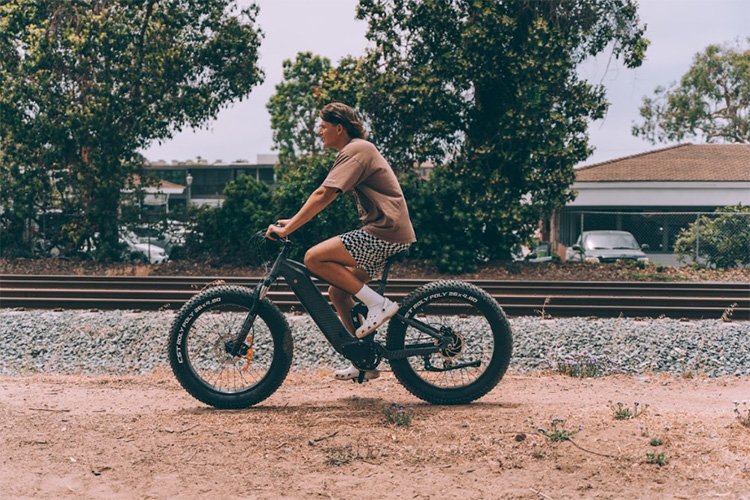 The Cobra comes with a 48V 20Ah Samsung or LG battery. It means the battery has 960Wh of energy capacity. On paper, the bike should provide a maximum range of 80 miles.
We all know that those manufacturer estimates are not always possible in real life. So, to draw some conclusions about the battery and range, we need some real-life data.
The bike was tested in two power settings: the PAS 2 and PAS 5, to determine its high-power short-range and low-power long-range riding.
The Cobra has a 65-mile range, with a 15 mph speed on the PAS 2 power setting, which is quite impressive.
On the PAS 5, the bike lasted 36 miles at 17 mph before losing power.
Although the real range is not as good as advertised, we can say that the range of Himiway Cobra is actually pretty good.
A 65-mile range at 15 mph is impressive and perfect for people looking to ride the bike over long distances at an average speed.
While the Cobra's range at the PAS 2 power setting is notable, its performance on the PAS 5 setting should not be overlooked.
Operating at this higher power mode demands significantly more from the battery, yet the Cobra admirably sustains a range that is remarkable for its class. At PAS 5, the bike deploys the full brunt of its motor's output, which translates into a more vigorous acceleration and the ability to tackle challenging terrains or inclines with ease.
This performance metric is critical for riders who value power and pace over protracted distances. It's particularly impressive when considering the energy exertion needed to maintain higher speeds.
For those who often find themselves on varied terrains or requiring swift, responsive power, the Cobra's battery proves not just adequate, but exemplary.
Moreover, the 960Wh energy capacity is a figure that not only rivals but in some cases, surpasses the competition, especially when you consider the energy-to-range efficiency it offers.
The versatility of having a high-capacity battery from a reputable manufacturer like Samsung or LG means reliability and a longer life span, reducing the frequency of charge cycles and potentially extending the overall life of the battery.
Himiway Cobra Hill Climbing
The hill climbing ability of the bike was tested on a relatively steep hill (12°, 1,760 feet long). Two tests were made – one using throttle only and another with pedaling in PAS 5 power mode.
In the throttle-only trial, the Himiway Cobra managed to maintain a consistent and powerful ascent, even in the face of the hill's daunting steep sections.
This is particularly noteworthy given the bike's substantial build, which can often be a hindrance in such conditions. The motor demonstrated impressive torque, powering the bike up the hill without requiring any pedaling assistance.
It was nice to see that the bike can tackle such challenges with ease, making it suitable for riders who prefer to rely solely on electric power.
The second trial, which involved pedaling in conjunction with PAS 5, transformed the climbing experience significantly.
The synergy between rider effort and the motor's thrust meant the Cobra didn't just climb — it soared up the incline with remarkable agility. This marked difference not only highlights the efficiency of the pedal-assist system but also speaks to the dynamic range of riding experiences the Cobra is capable of delivering.
In this mode, the bike's response to pedaling is almost immediate, with the motor augmenting the rider's power to conquer the hill with less effort and higher speed.
This combination of human and electric power might not only make for a quicker climb but also offer a more engaging riding experience. It's a critical feature for those who face hilly commutes or enjoy exploring varied terrains, as it assures that the bike can accommodate and even excel in challenging topographies.
Hydraulic Brakes
Earlier, when I was riding with Himiway Cruiser, I remember my thoughts about its brakes. They were decent, but I felt like I wanted just a bit more oomph when it came to stopping power.
Well, Himiway must have heard my thoughts because, on the Cobra, they've stepped it up – big time.
Now, we're talking about Tektro HD-E350 hydraulic brakes.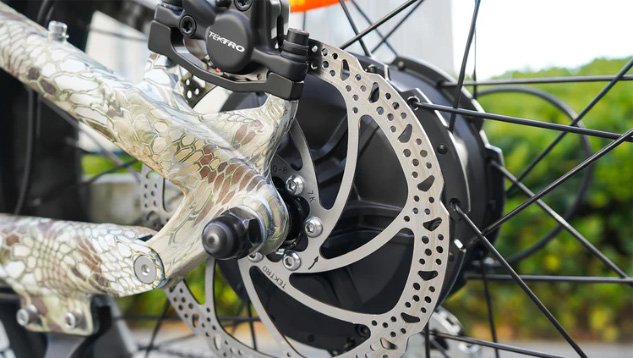 Picture this: you're cruising along, wind in your hair, and a squirrel decides to play chicken with your front tire. With these upgraded brakes, you've got two-piston calipers clamping down on 180mm rotors that bring you to a smooth, controlled stop without the abrupt jerkiness you might expect.
And, let me tell you, during the tests, when we ramped it up to 20 mph and had to drop anchor, the Cobra came to a halt in just 17 feet and 9 inches. That's less distance than a typical car takes at that speed!
It's a solid performance that offers peace of mind, especially considering the bike tips the scales at a hefty 88 pounds.
However, here's a little food for thought: Given its weight, could the Cobra benefit from even beefier brakes?
Imagine it with quad-piston calipers – the kind you see on serious mountain bikes designed to stop on a dime on a steep downhill. Now that could take the braking from 'pretty good' to 'downright stellar'.
But don't get me wrong, what we've got here with the two-piston setup is no slouch. It gives you the confidence to ride harder, knowing you can stop quicker.
And that, my friend, changes the whole vibe of your ride. It's not just about the 'go'; it's also about the 'whoa'. With these upgrades, the Himiway Cobra is a bike that's got plenty of both."
7-Speed Derailleur
The Himiway Cobra is equipped with a 7-Speed Shimano Altus drivetrain, a reliable companion to the e-bike's robust electric system.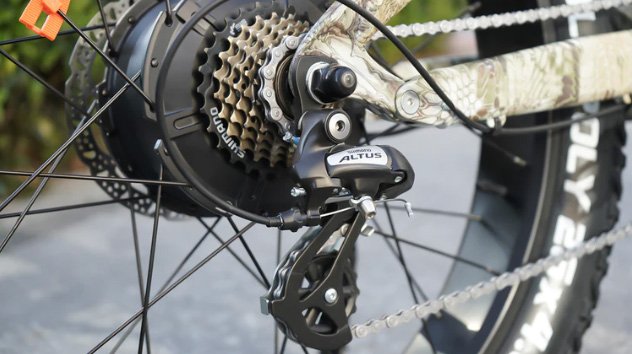 While the Altus sits at the entry-level of Shimano's lineup, it brings dependable performance to the table, offering a satisfying balance between cost and functionality.
The gear range is well-suited to the varied demands of e-bike riding, providing enough versatility for climbs and comfortable cruising.
Shifting is straightforward and user-friendly, making it accessible even for those new to gear-shifting on e-bikes. It complements the electric assist by providing riders with the flexibility to manually fine-tune their riding experience, especially in situations where motor assistance is less needed or when preserving battery life is a priority.
Himiway Cobra Design and Features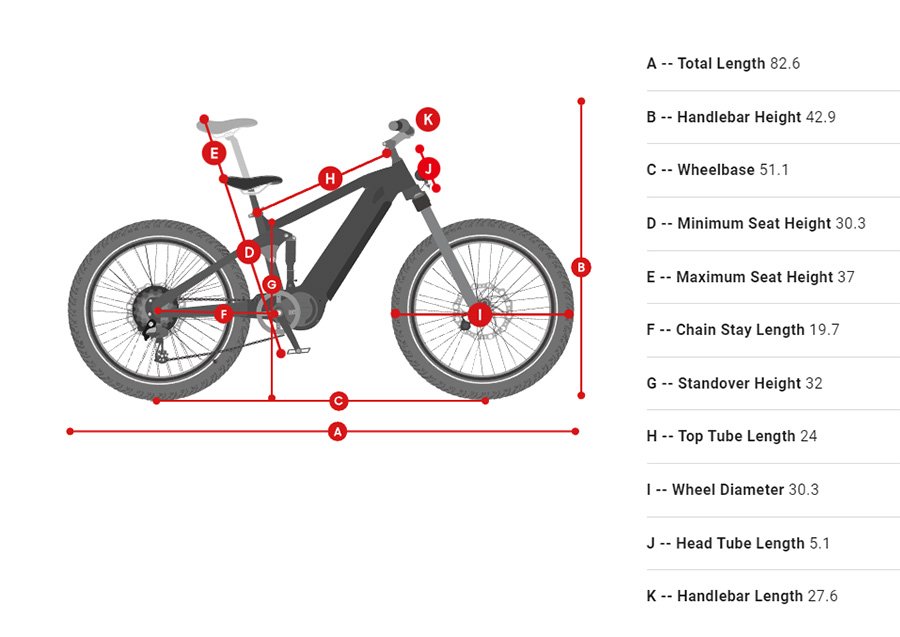 Frame and Geometry
In terms of size, the Himiway Cobra is huge. It weighs 88 pounds. Also, the bike is very long. It's 4-6 inches longer than other similar mountain bikes.
Additionally, the Cobra has a 32-inches stand-over height. So it's not comfortable for shorter riders. On the other hand, it has a high payload capacity and fits perfectly for tall riders.
The recommended rider height is 5′4″-6′4″.
Himiway designed the Cobra from aluminum with a simple diamond frame. The aluminum material has a high tensile strength, making it durable. The bike is perfect for off-roading adventures on rough and rocky terrain without the fear of causing structural damage.
One of the most notable features of this e-bike is its full suspension frame. All other Himiway e-bikes come with a hardtail frame.
Full Suspensions
The Himiway Cobra has full suspension with a four-bar linkage. Such design is commonly found in higher-end mountain bikes, renowned for its ability to maintain rear wheel traction while smoothing out bumps and reducing the impact of rough terrain.
This system excels in providing a stable ride, even when navigating over obstacles or through challenging trails.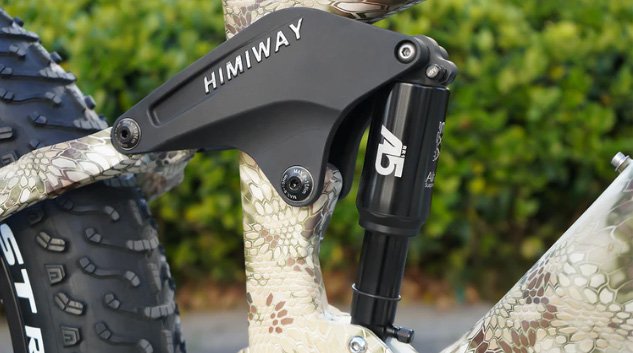 At first, I was initially skeptical about Himiway Cobra being the company's first bike with a full suspension and the lack of experience in that area.
However, they proved us wrong. Especially since designing a full-suspension bike at this price point is challenging.
What sets the Himiway's suspension apart is its ability to offer a plush ride without compromising the pedaling efficiency – often a challenge with budget-friendly full-suspension setups.
The shock absorption properties are tuned to handle the additional weight of an e-bike, ensuring that both comfort and control are maintained. Riders will notice less fatigue on long rides and better handling when the path gets uneven.
In testing, the suspension provided ample support and rebound on muddy terrains, where traction and control are paramount.
Its performance indicates that Himiway has put considerable effort into achieving a balance between cost and quality, giving riders access to a level of comfort and capability that is usually reserved for more expensive models.
Wheels and Tires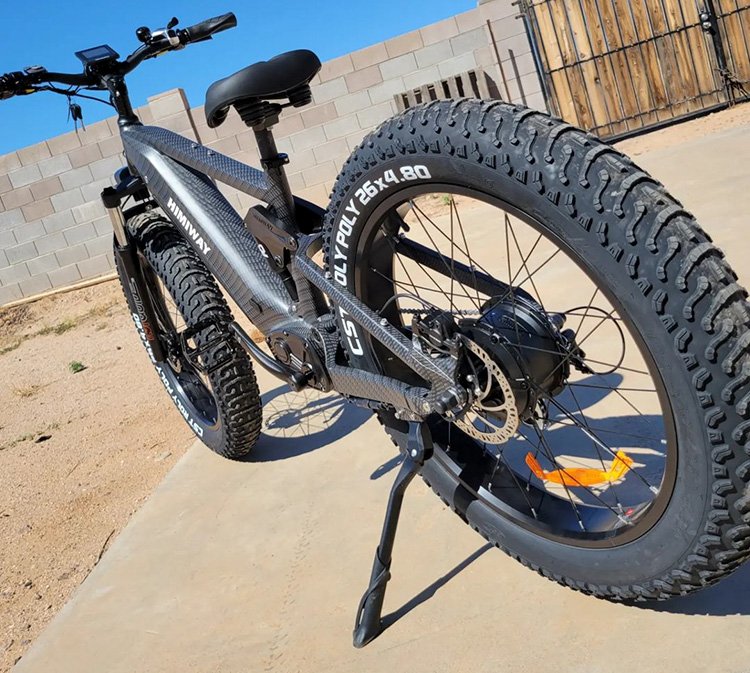 The fat tires are one feature that makes the Himiway perfect for off-road enthusiasts. The bike has 26-inch x 4.8-inch CST fat tires that maintain traction on all terrains except an icy sheet.
These tires feature a deep tread pattern, which is critical for gripping loose surfaces such as sand, gravel, and mud. Moreover, the volume of air within these large tires allows them to operate at lower pressures, which can be fine-tuned to absorb shocks even more effectively, further cushioning the ride.
The bike is perfect for riding on rough terrain like rocky mountain roads.
Cockpit
The Cobra has a fairly standard cockpit among electric bikes. It comes with:
LCD display
overbar shifter
MTB-style riser bars
Ergonomic brake-levers
Thumb throttle on the left
Leather grips.
These faux leather grips are standard for all Himiway bikes. They are pretty comfortable for cruiser/commuter-type bikes. However, they aren't the best for off-roading.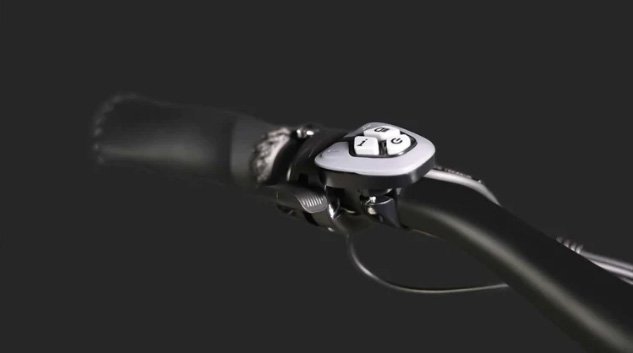 When off-roading, you need a steady and firm grip. But these grips can easily be twisted. And it's something you don't want to experience when riding on rough terrain. So, we recommend changing these grips to the ones meant for off-road bikes.
The LCD provides vital information like your speed, power, mileage, etc. It also provides information on battery capacity and pedal assist level. You can set your speedometer to average, current, and max speed.
Additionally, the LCD has an odometer, wattmeter, and a USB charging port for your phone.
The saddle is very comfortable and it should work well for most people.
The Ride Quality of Himiway Cobra
The Himiway Cobra provides excellent ride quality. If you are going to ride with it on pavements and on light dirt roads, then the full suspensions and fat tire make the ride really smooth.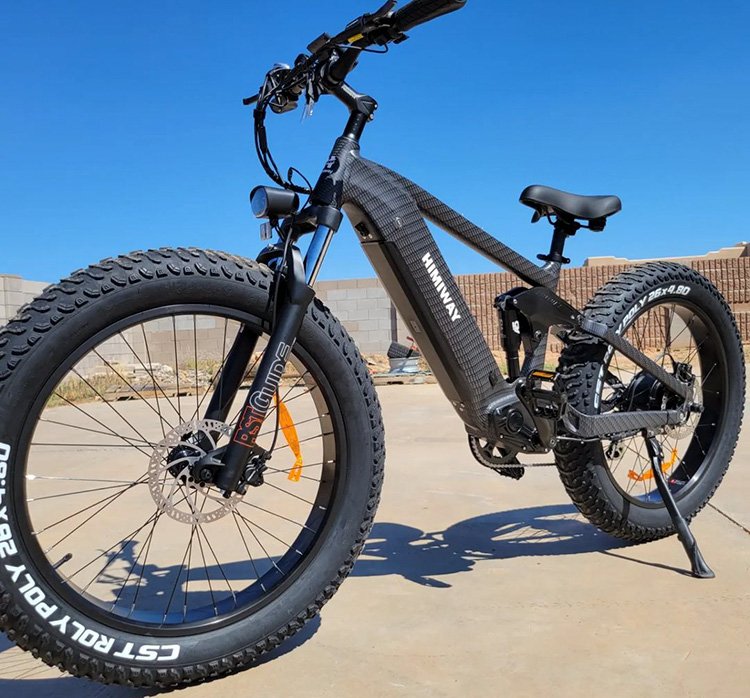 On the other hand, it ain't bad at all on a more technical terrain as well. Although the steering may be a bit slow due to the wide tires, it has very good handling.
Since the suspensions are not the highest quality, you may feel a bit harder chatter at high speed if the road is extra bumpy. However, the system works and feels stable and stiff.
Himiway Cobra vs Cobra Pro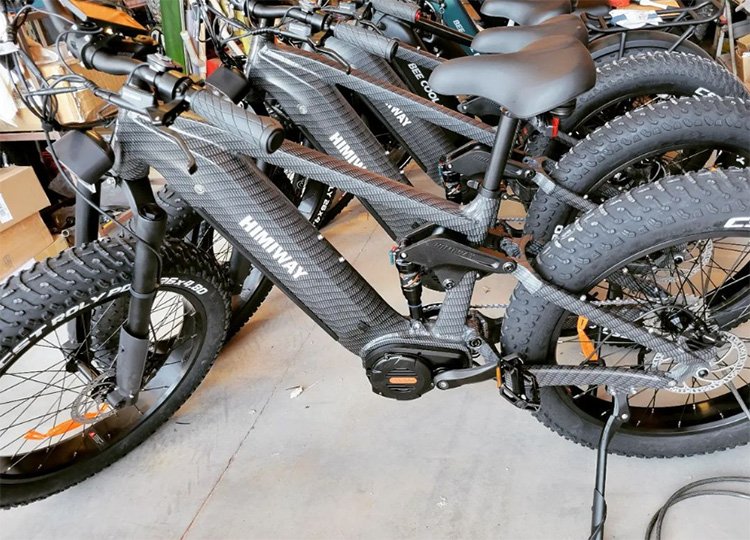 If you're in the market for a beefier version of the Himiway Cobra, the Cobra Pro might just be your ticket to an upgraded experience.
This model swaps out the standard Cobra's hub motor for a robust Bafang mid-drive unit, unleashing a formidable 1,000 watts of power complemented by a staggering 160 Nm of torque for those demanding climbs and challenging terrains.
Shifting gears—quite literally—the Cobra Pro offers a 10-speed drivetrain, giving you a broader range to tackle tougher trails compared to the 7-speed setup on its counterpart.
And for those who count every bump and dip on the trails, the Pro version takes it up a notch with an advanced suspension system that promises a smoother ride, even on the most technical of trails.
So, for the avid MTB enthusiast who craves a machine that's as technical as the paths they explore, the Cobra Pro stands out as the go-to choice.
Himiway Cobra Review Conclusions
In wrapping up our journey with the Himiway Cobra, it's clear that this e-bike stands as a testament to how electric bikes can seamlessly blend power, performance, and practicality. From the finely tuned 750W motor to the robust battery that reliably carries you across vast distances, the Cobra doesn't just meet expectations—it often exceeds them.
Whether you're a commuter, an adventure seeker, or an e-bike enthusiast, the Himiway Cobra series promises an electrifying ride that's hard to match.
It embodies the spirit of e-biking with its smart features and solid build—challenging the limits of what we expect from our two-wheeled companions and inviting riders to explore further, climb higher, and ride harder.
As we close this review, it's safe to say that the Himiway Cobra rides into the horizon as a standout choice for anyone looking to invest in their next e-biking adventure.
Himiway Cobra Specs
General
| | |
| --- | --- |
| Bike Name | Himiway Cobra |
| E-Bike Class | Class 3 |
| Availability | United States, Europe |
| Warranty | 2 Years |
Electronics
| | |
| --- | --- |
| Motor Type | Rear-Hub Drive |
| Motor Power | 750W |
| Torque | 86 Nm |
| Top Speed | 28 mph |
| Battery | 48V 20Ah (960Wh), Samsung/LG |
| Charge Time | 7 Hours |
| Range | 60-80 miles |
| Display | LCD Display with USB Charging |
Bike Components
| | |
| --- | --- |
| Dimensions | 82.6″ x 42.9″ |
| Frame Material | Aluminum Alloy |
| Frame Size | One Size |
| Frame Type | Step-Over |
| Recommended Rider Height | 5'4″ – 6'4″ |
| Frame Colors | Gray, Camo |
| Fork | Front Suspension Fork with Lockout and Adjustment |
| Rear Shock | Four-Bar Linkage Suspension |
| Gearing | 1×7-Speed Shimano Altus |
| Brakes | Front and Rear Hydraulic Disc |
| Wheel Size | 26″ |
| Tires | 26″ x 4.8″ CST Fat Tires |
| Weight | 88 lbs |
| Weight Capacity | 400 lbs |