The Himiway Cobra isn't the typical e-bike sold by consumer-direct companies.
Himiway designed the Cobra ebike for off-road adventures rather than for errand running, commuting, etc.
The bike is perfect for individuals looking to have fun away from paved roads. But what are the main pros of Himiway Cobra and does it have any major shortcomings? Read more to find out!
Electric Wheelers is reader-supported. Although we independently research and test products, we may receive a commission on purchases made from our chosen links. Read more…
Himiway Cobra Review – Performance

Motor: 750W | Top Speed: 28 mph | Torque: 86 Nm | Battery: 960Wh | Range: 60-80 miles
Motor and Speed
The Himiway Cobra has a 750W brushless motor, and we've seen several bikes with that motor. However, only a few are as tuned as the one Himiway has on their Cobra.
The motor delivers 86 Nm of torque, which is quite powerful and rates as one of the highest figures recorded in the electric bike world.
Thanks to the high torque, the Cobra has pretty quick acceleration and is extremely aggressive.
The Cobra has 5 levels of pedal assistance (PAS). The Cobra's PAS 1 assistance (the lowest) is sufficient and produces a maximum speed of 18 mph – the equivalent of a dead run.
On the other hand, the PAS 5 propels the bike to 28 mph, which makes the Class 3 by American standards.
The bike's speed is perfect for off-roading enthusiasts and individuals living in hilly terrain. Despite having a hub motor, the Cobra has a torque sensor with an immediate response, going a long way to improve its performance.
Himiway Cobra has also a more expensive Pro version, which has a mid-drive motor. But we'll talk about that a little later.
Related: Himiway Launched 3 New E-Bikes for 2023
Battery and Range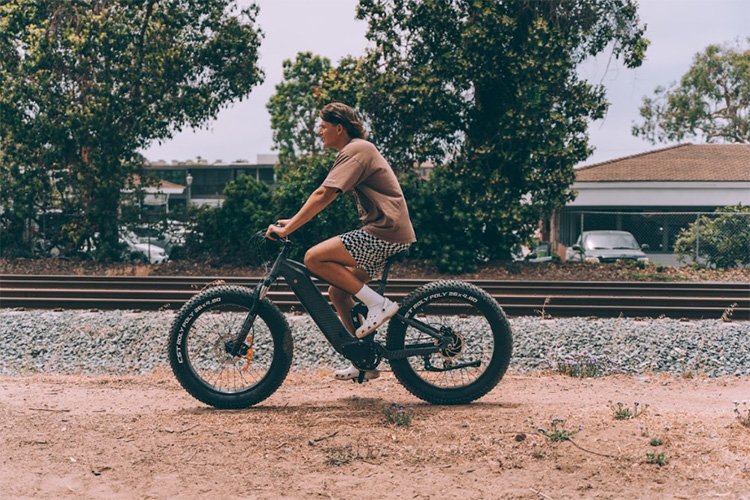 The Himiway's battery performs well and has a good range. The bike was tested in two power settings: the PAS 2 and PAS 5, to determine its high-power short-range and low-power long-range riding.
The Cobra has a 65-mile range, with a 15 mph speed on the PAS 2 power setting, which is quite impressive.
On the PAS 5, the bike lasted 36 miles at 17 mph before losing power.
Both ranges are impressive. However, the PAS 2 range test produced better results.
A 65-mile range at 15 mph is impressive and perfect for people looking to ride the bike over long distances at an average speed.
You shouldn't ignore the bike's performance when using the PAS 5 power setting. The performance is impressive, considering the amount of power the Cobra uses to produce such results.
Simply put, the Himiway Cobra's battery and range are impressive and perfect for most users looking for an efficient electric bike.
Himiway Cobra Hill Climbing
The hill climbing ability of the bike was tested on a relatively steep hill (12°, 1,760 feet long). Two tests were made – throttle only, and with PAS 5.
With throttle only, without any pedaling, the bike covered the whole distance quite easily. Although the bike is heavy, and the hill has some very steep sections, the motor has enough torque for that.
With the help of pedaling and the 5th assistance level, the bike was just flying.
Hydraulic Brakes
The Himiway has hydraulic brakes upgraded from the previous model's (Himiway Cruiser) mechanical disc brakes.
The Cobra comes with Tektro HD-E350 hydraulic brakes with two-piston calipers and 180mm rotors on both wheels.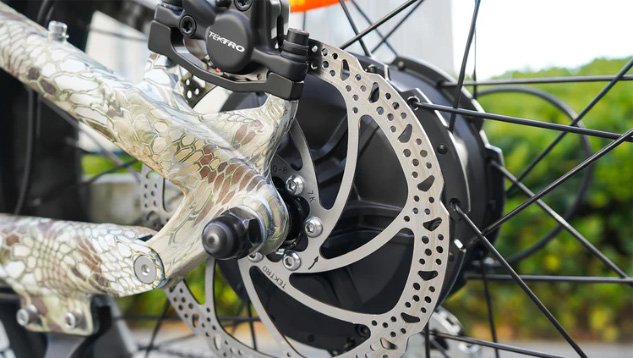 Those brakes provided an impressive performance (better than the mechanical disc brakes). However, the results show that the 88-pound bike may benefit from more powerful quad-piston brakes.
Tests showed that the bike stops at a distance of 17 ft 9 inches at 20 mph. It's a pretty good result.
7-Speed Derailleur
The Cobra has a 7-speed Shimano Altus derailleur with a single chainring at the front and seven cogs at the back.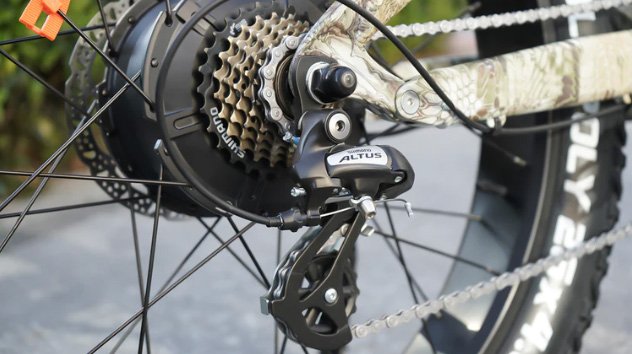 The Cobra's seven-speed system provides an efficient riding experience and a versatile range of gear options with minimal complexity in use and maintenance.
The gear system provides adequate acceleration, perfect for individuals who prefer off-roading adventures.
The gear system is efficient and adequate, making it easier for riders to tackle hills and ride down the hillside. Additionally, the gear system is easy to maintain and repair, especially for conversant DIYers.
Himiway Cobra Design and Features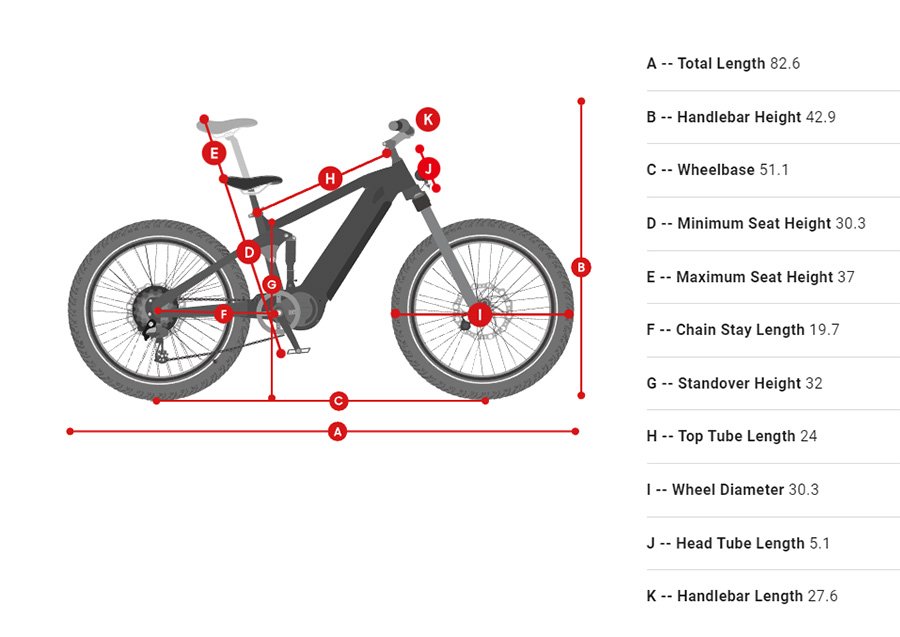 Frame and Geometry
In terms of size, the Himiway Cobra is huge. It weighs 88 pounds. Also, the bike is very long. It's 4-6 inches longer than other similar mountain bikes.
Additionally, the Cobra has a 32-inches stand-over height. So it's not comfortable for shorter riders. On the other hand, it has a high payload capacity and fits perfectly for tall riders.
The recommended rider height is 5′4″-6′4″.
Himiway designed the Cobra from aluminum with a simple diamond frame. The aluminum material has a high tensile strength, making it durable.
The bike is perfect for off-roading adventures on rough and rocky terrain without the fear of causing structural damage.
One of the most notable features of this e-bike is its full suspension frame. All other Himiway e-bikes come with a hardtail frame.
Full Suspensions
The Himiway Cobra has full suspension with a four-bar linkage. We were surprised at how well the bike rides.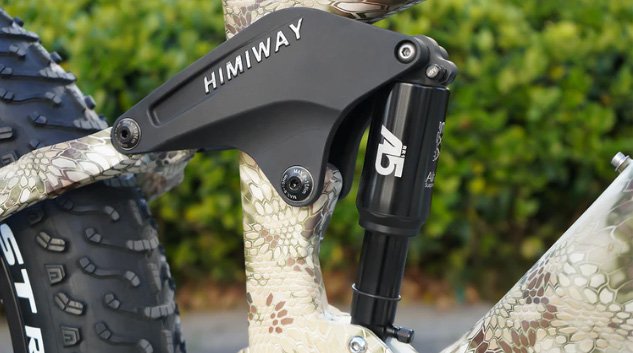 At first, we were initially skeptical. Our skepticism was rooted in the Himiway Cobra being the company's first bike with a full suspension, and the lack of experience in that area.
However, they proved us wrong. Especially since designing a full-suspension bike at this price point is challenging.
Usually, affordable full-suspension bikes don't have very good performance. But Himiway Cobra is performing really well on difficult muddy terrains.
Wheels and Tires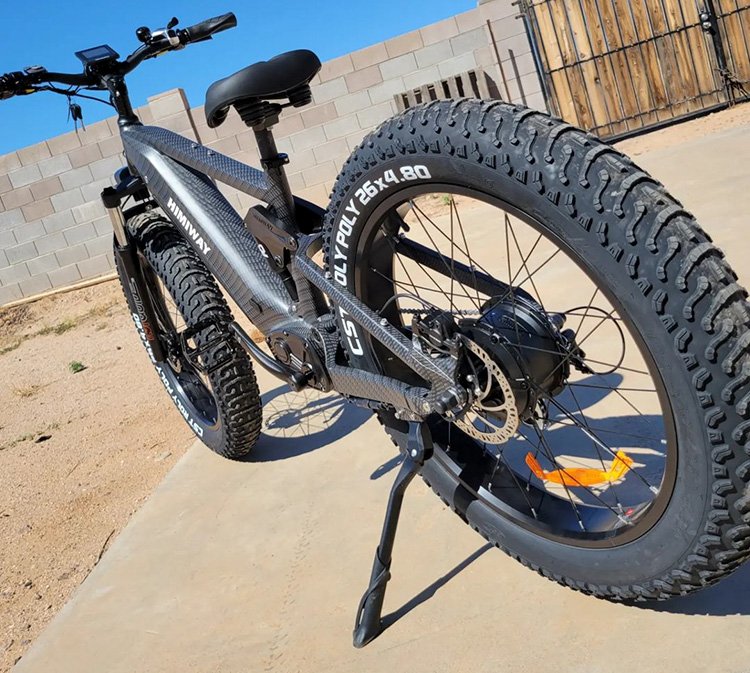 The fat tires are one feature that makes the Himiway perfect for off-road enthusiasts.
The bike has 26-inch x 4.8-inch CST fat tires that maintain traction on all terrains except an icy sheet.
The bike is perfect for riding on rough terrain like rocky mountain roads. Additionally, the bike's fat tires provide additional shock absorption when riding on a bumpy road.
Cockpit
The Cobra has a fairly standard cockpit among electric bikes. It comes with:
LCD display
overbar shifter
MTB-style riser bars
Ergonomic brake-levers
Thumb throttle on the left
Leather grips.
These faux leather grips are standard for all Himiway bikes. They are pretty comfortable for cruiser/commuter-type bikes. However, they aren't suitable for off-roading.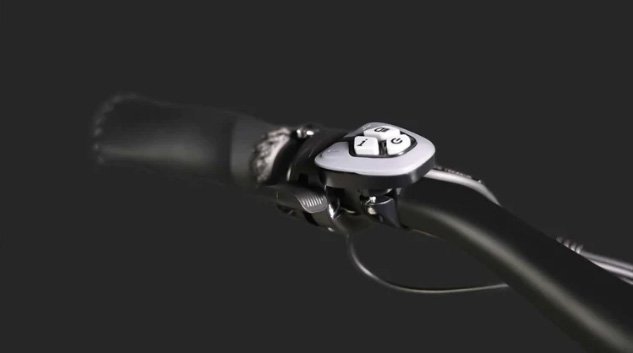 When off-roading, you need a steady and firm grip. But these grips can easily be twisted. And it's something you don't want to experience when riding on rough terrain.
So, we recommend changing these grips to the ones meant for off-road bikes.
The LCD provides vital information like your speed, power, mileage, etc. It also provides information on battery capacity and pedal assist level. You can set your speedometer to average, current, and max speed.
Additionally, the LCD has an odometer, wattmeter, and a USB charging port for your phone.
The saddle is very comfortable and it should work well for most people.
The Ride Quality of Himiway Cobra
The Himiway Cobra provides excellent ride quality. If you are going to ride with it on pavements and on light dirt roads, then the full suspensions and fat tire make the ride really smooth.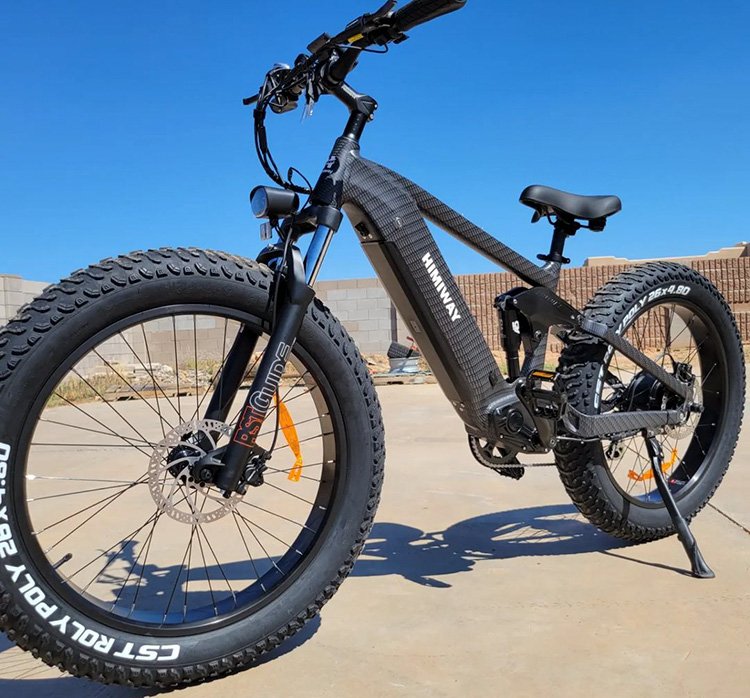 On the other hand, it ain't bad at all on a more technical terrain as well. Although the steering is maybe a bit slow due to the wide tires, it has very good handling.
Since the suspensions are not the highest quality, you may feel a bit harder chatter at high speed if the road is extra-bumpy. However, the system works and feels stable and stiff.
Himiway Cobra vs Cobra Pro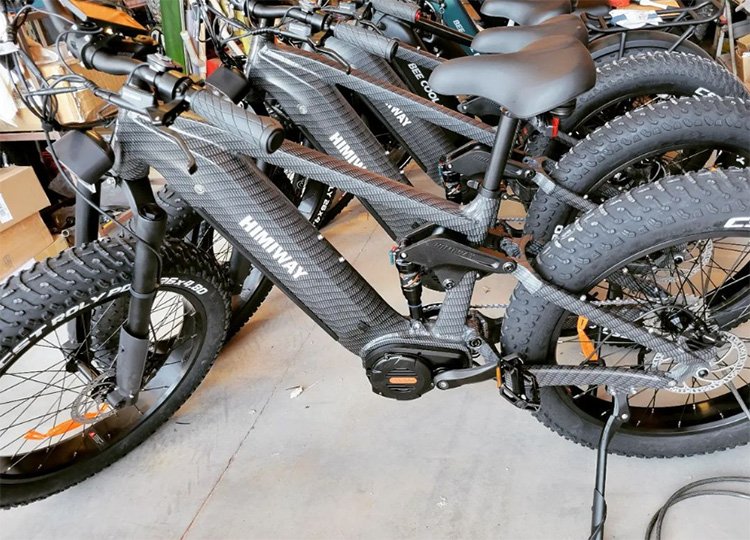 The Himiway Cobra Pro comes with a Bafang mid-drive motor instead of the hub motor of the standard Cobra.
The Bafang M620 motor provides 1,000 watts of power and a huge amount of torque (160 Nm).
Additionally, the Cobra Pro has 10 gears instead of the 7 on the non-pro version. It provides even more variety on harder terrains.
And there's more. Cobra Pro has a more advanced suspension system. So if you are an experienced MTB rider and enjoy more technical trails you should consider the Cobra Pro.
Himiway Cobra Review Conclusions
The Himiway Cobra is a great bike for individuals looking for an affordable e-bike for off-roading adventures.
Although it's Himiway's first full-suspension bike, it's done very well and definitely deserves every penny of its price.
Himiway Cobra Specs
General
| | |
| --- | --- |
| Bike Name | Himiway Cobra |
| E-Bike Class | Class 3 |
| Availability | United States, Europe |
| Warranty | 2 Years |
Electronics
| | |
| --- | --- |
| Motor Type | Rear-Hub Drive |
| Motor Power | 750W |
| Torque | 86 Nm |
| Top Speed | 28 mph |
| Battery | 48V 20Ah (960Wh), Samsung/LG |
| Charge Time | 7 Hours |
| Range | 60-80 miles |
| Display | LCD Display with USB Charging |
Bike Components
| | |
| --- | --- |
| Dimensions | 82.6″ x 42.9″ |
| Frame Material | Aluminum Alloy |
| Frame Size | One Size |
| Frame Type | Step-Over |
| Recommended Rider Height | 5'4″ – 6'4″ |
| Frame Colors | Gray, Camo |
| Fork | Front Suspension Fork with Lockout and Adjustment |
| Rear Shock | Four-Bar Linkage Suspension |
| Gearing | 1×7-Speed Shimano Altus |
| Brakes | Front and Rear Hydraulic Disc |
| Wheel Size | 26″ |
| Tires | 26″ x 4.8″ CST Fat Tires |
| Weight | 88 lbs |
| Weight Capacity | 400 lbs |