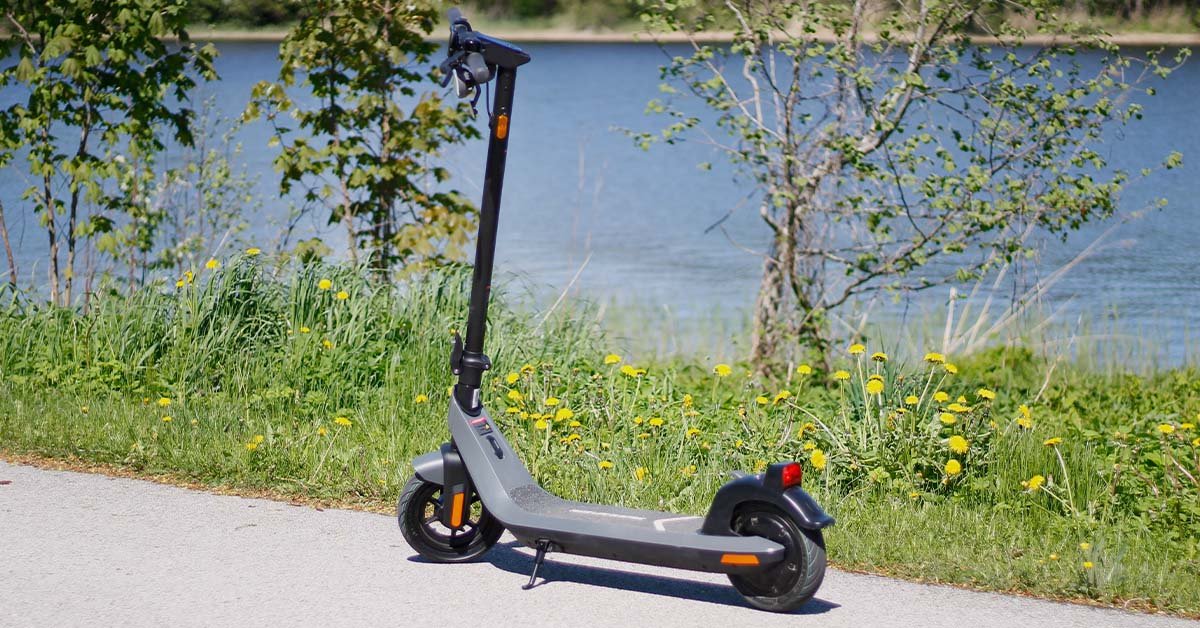 Niu KQi2 Pro electric scooter is the successor of the company's first electric kick scooter KQi3. It is already thought the KQi2 could become a serious competitor to popular Xiaomi and Segway scooters.

Could the Niu KQi2 be the best electric scooter under $500 currently available? In this review, we are going to find out!
Electric Wheelers is reader-supported. Although we independently research and test products, we may receive a commission on purchases made from our chosen links. Read more…
Although NIU Technology may not be very famous in the US, they are actually one of the most experienced electric scooter manufacturers in the world.

However, they have been focused on seated e-scooters so far and just recently entered the field of electric kick scooters.
The NIU KQi2 Pro is a commuter scooter. If the distance of your daily commute is up to 25 km (16 miles), this scooter would be a strong choice.

It's designed for people who are at least 14 years of age and weigh up to 100 kg (220 lbs).

Since the scooter doesn't have suspensions, it is mostly meant for the urban environment.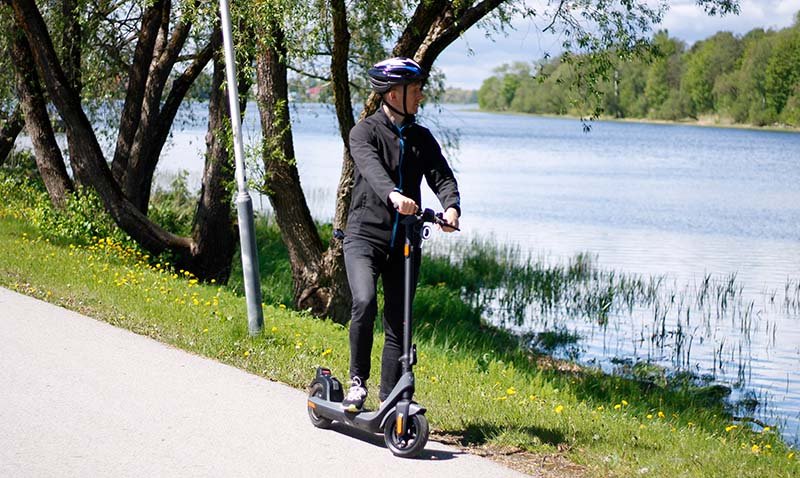 | | |
| --- | --- |
| Motor | 300W Rear Hub Motor |
| Top Speed | 25 km/h (EU Model) / 17.4 mph (US Model) |
| Battery | 365 Wh |
| Max Range | 40 km / 24.9 miles |
| Recharge Time | 7 hours |
| Brakes | Front Drum + Rear Electric + Regenerative Braking |
| Suspension | – |
| Weight | 18.42 kg / 40.6 lbs |
| Weight Capacity | 100 kg / 220 lbs |
| Tires | 10″ Pneumatic Tubeless Tires |
| Lights | Front & Rear LED Lights |
| Hill Grade | 15% (~9 Degrees) |
| Dimensions | 117 x 116 x 54 cm (46.1″ x 48″ x 20.5″) |
| Folded Dimension | 117 x 50 x 54 cm (46.1″ x 19.8″ x 20.5″) |
| IP Rating | IP54 |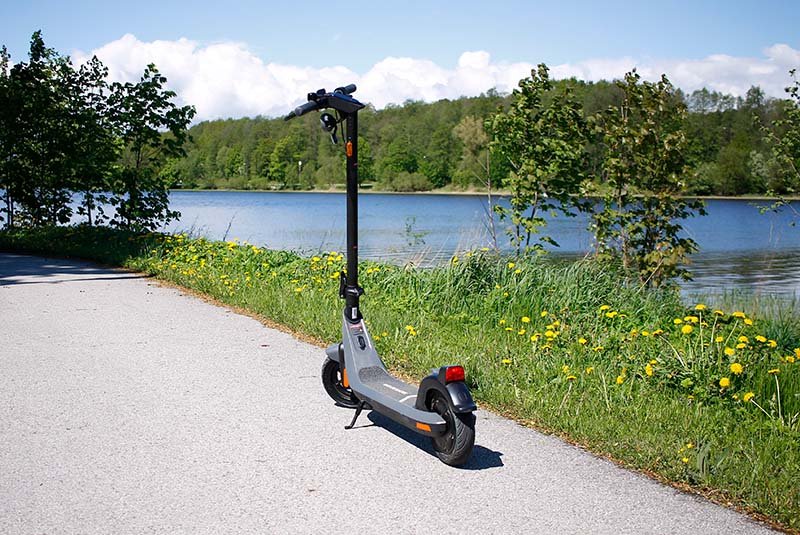 The Niu KQi2 Pro electric scooter is equipped with a 300W rear hub motor. However, the peak power of the motor is 600W.

The acceleration of Niu KQi2 is very smooth and gradual.

The top speed is 25 km/h for European models and 17.4 mph for US models. However, the top speed of the same scooter is limited to 20 km/h if you buy it from Germany.
I have an EU model and I weigh about 90 kg (198 lbs). The scooter reached 25 km/h speed quite easily.
I am pretty sure the scooter has enough power to go even faster. The top speed is limited to these numbers to be legal by the law.

For me, the top speed of 25km/h for such a commuter scooter is exactly right. It's faster than bicycles, but not so fast as to become dangerous to pedestrians.

One cool feature is that you can set your own speed limit below the scooter's maximum. It can be done using Niu's app. So, if you let your kid ride the electric scooter, it may be useful to limit the speed for safety concerns.
Related: NIU KQi3 Review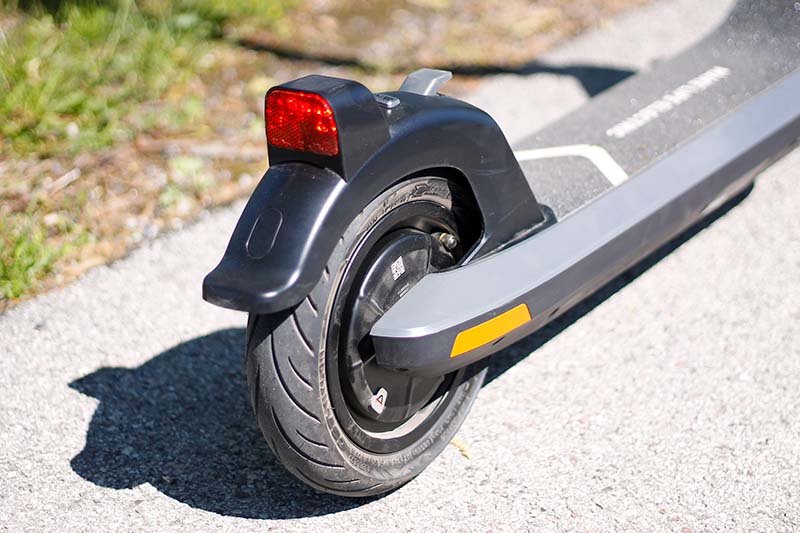 The KQi2 has a battery of 365 Wh of energy capacity. Niu claims that the maximum range is 40 km. In real life, you should never assume to get that result. Manufacturer range tests are usually made in ideal conditions, which you rarely see in reality.

In my first range test, I used the top performance mode and managed to ride 25 km (15.5 miles). It's actually a better result than most other scooters in this price range.

Then I discovered that there is an energy recovery setting in the app.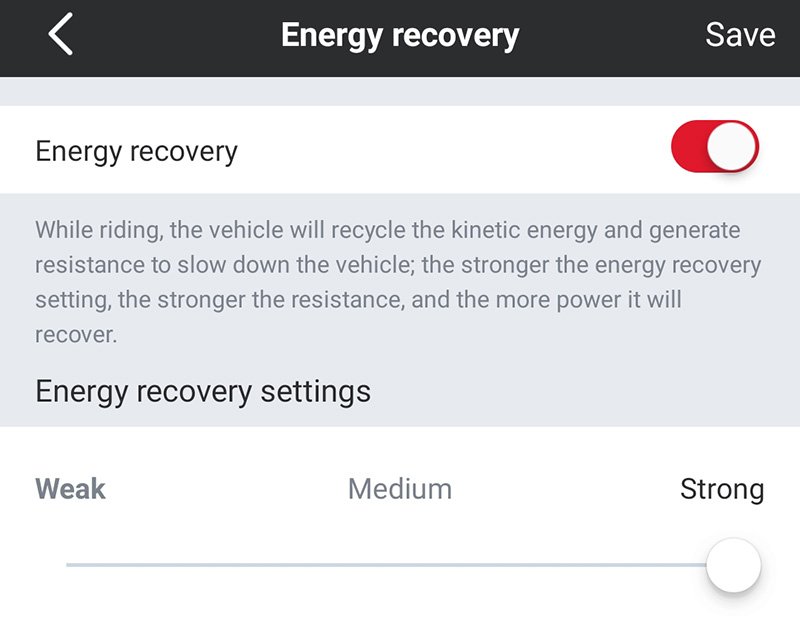 I recharged the battery (took about 7 hours) and plan to go for another range test. This time I will set the energy recovery setting to 'strong'. I will let you know the results as soon as I have finished the test.
The official hill grade of NIU KQi2 is 15%. It means that the scooter should be able to tackle hills up to 9 degrees.

I tested the hill-climbing capabilities of KQi2 on the bridge ramp. I'm not sure what was the exact hill grade but it was quite steep.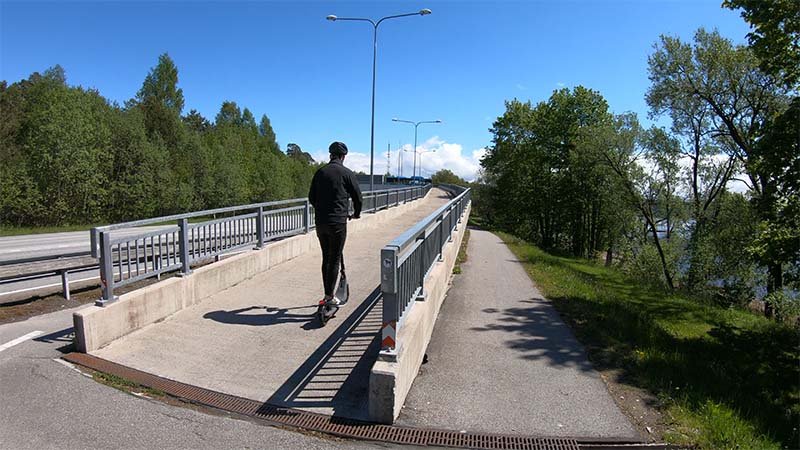 Surprisingly, the scooter managed to climb this incline very easily. The top speed on this bridge ramp was 20 km/h (12.5 mph).
The scooter comes with a drum brake at the front and an electric brake at the rear. Both brakes are activated from the single brake lever on the left side of the handlebar. These double brakes provide great stopping power. At the same time, braking is really smooth.
Both brakes have an anti-skid feature. Also, the brakes are designed so you would never fly over the handlebars in case of strong braking.
Additionally, the scooter has regenerative braking. It converts the friction from your brakes into energy to propel you forward. Basically, it's the same technology used in modern sports cars.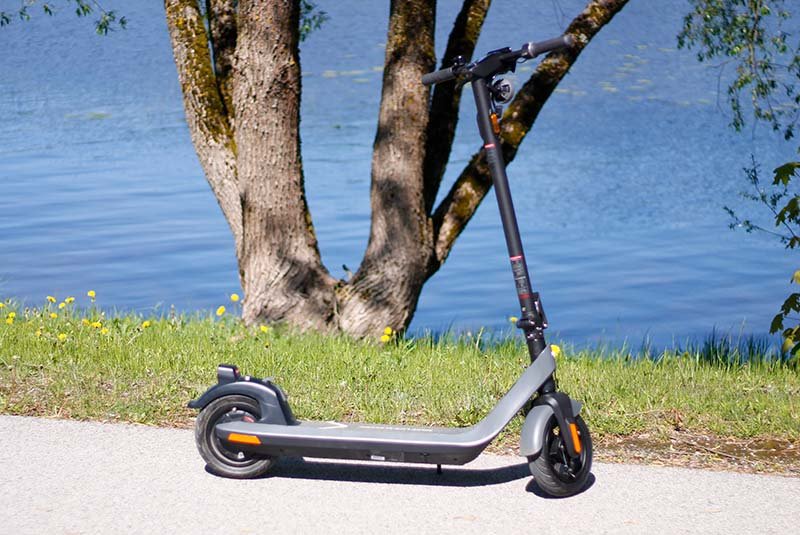 The frame of the scooter is made from aerospace-grade aluminum. It seems very solid and durable. At the same time, the scooter weighs just 18 kg (41 lbs) and can withstand riders up to 100 kg (220 lbs).

Also, all the wiring is integrated into the frame. It makes the overall look very neat and stylish.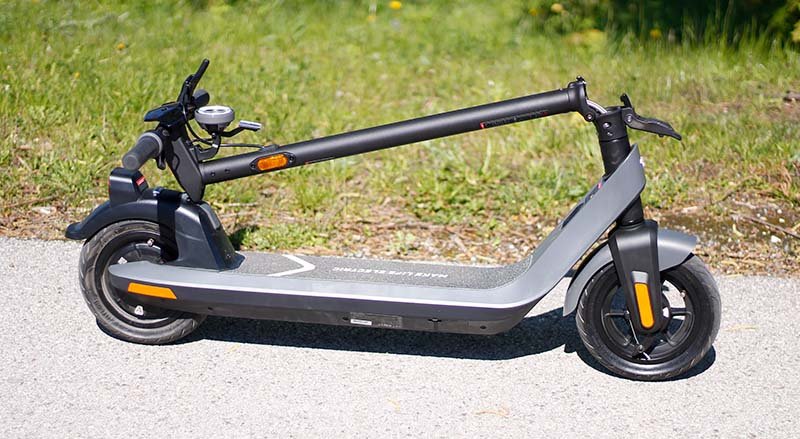 On the scale of portability, the Niu KQi2 is rather portable. As mentioned above, the weight of the scooter is 18 kg (41 lbs). It means that it's light enough to carry for a couple of flights of stairs.

Although the handlebars are not folding, the scooter can still easily fit into the trunk of most cars.

The folding mechanism of KQi2 seems very good. There is no stem wobbling when riding.

It takes just a couple of seconds to fold or unfold the scooter. Also, there is a locking mechanism at the rear, so it's easier to carry the scooter.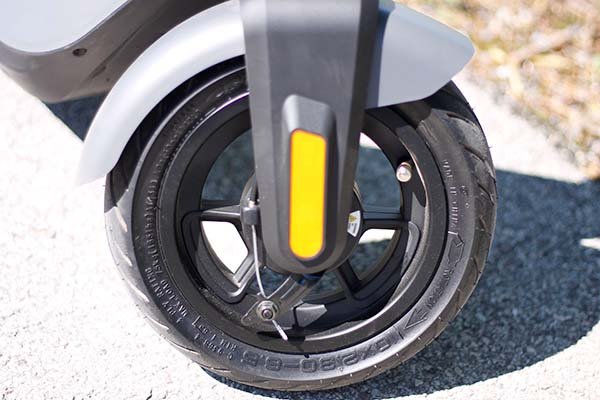 Niu KQi2 Pro comes with 10-inch wheels. Most cheap electric scooters have smaller wheels than 10 inches. So, KQi2 is definitely a step up here.

Also, the scooter has tubeless pneumatic tires. These tires provide much better ride quality than solid tires. Although the scooter doesn't have a suspension, pneumatic tires help to absorb some bumps on the road.
If you lower the tire pressure to the lower limit, you can increase the ride quality even more.
However, don't expect to have a great ride experience if going on an extra bumpy road. I tried to ride on a cobblestone road and got a quite awful brain massage.
The Niu kick scooter comes with a nice grip tape installed on a deck. It feels like sandpaper and provides a good grip even if your shoe soles are a bit wet. In addition to that, Niu has provided one spare grip tape.

The deck itself is 16 cm (6.3″) wide, which is about the average in this price class. For me, there was plenty of room to comfortably accommodate my feet. It's even possible to place your feet next to each other.
On the left, you can find a brake lever and a bell, and a thumb accelerator on the right. In the middle, there is a super-sleek LED dashboard.

The display is bright enough even under direct sunlight. You can read there the current speed, battery level, and speed mode. However, I wish I could see the trip meter from the display as well.

The width of the handlebar is 54 cm (21.3″). It's a bit wider compared with other similar scooters in its class. Also, on the right side, there is enough room to install the phone mount.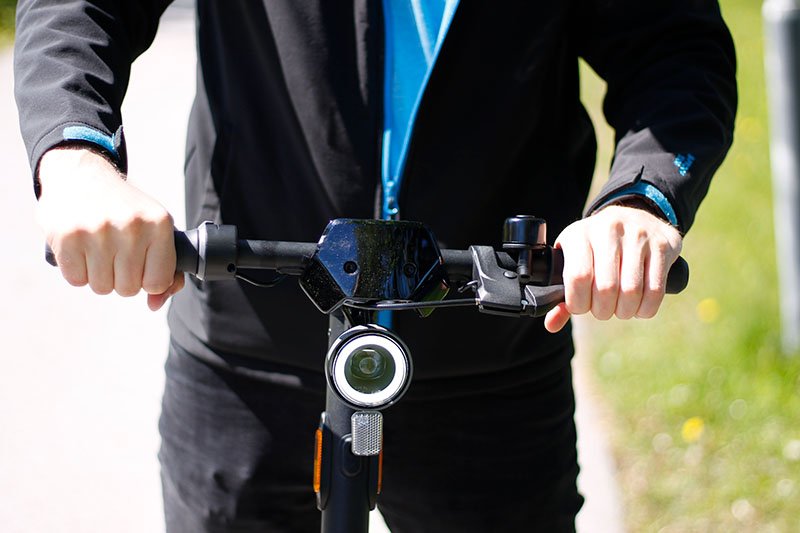 If NIU KQi2 electric scooter is approaching you, the stylish halo front light is probably one of the first things you notice. It's always turned on. Inside this halo light, there is a proper night light as well. It provides enough lighting to be able to ride in the dark.

Additionally, there is red rear light with a brake light feature. Plus, there are reflectors on the side and front. So, Niu has done a pretty good job in the lighting area.
The Niu KQi2 Pro electric scooter comes with IP54 water-resistant rating. It means that the scooter is protected from low-pressure spray. This kind of water resistance level is often referred to as splashproof. So that means, that Niu KQi2 is definitely not waterproof.

Although we have listed this scooter on the list of rain-resistant scooters, you should still try to avoid riding in the heavy rain. Braking distance is much longer in wet weather.

However, if you are extra careful and don't ride through the puddles, riding in the light rain is not forbidden.
Does NIU Electric Kick Scooters Have an App?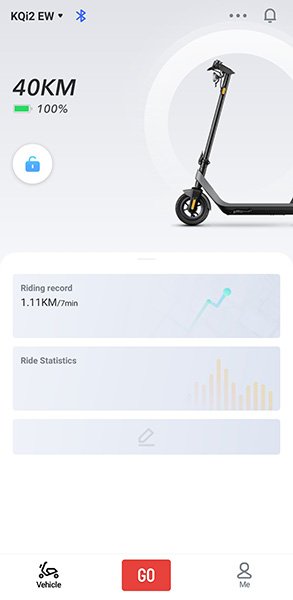 The Niu electric kick scooter app is available in App Store and Google Play. The scooter connects to the app via Bluetooth.

In the NIU app, you can see ride statistics and change some settings of the scooter. Also, thanks to the app, the scooter can be updated over the air.
The Niu KQi2 comes with a really strong warranty. The most expensive parts of the scooter are covered with a 2-year warranty. It's really exceptional since most other manufacturers provide only a 1-year warranty at best. It's not rare if some parts like the battery are covered only for 6 months.

If Niu can have such a good warranty policy, it definitely shows their confidence in the quality of their scooters.
Since Xiaomi is one of the most popular electric scooter brands and NIU just started with electric kick scooters, we decided to make an in-depth comparison between them.

We compared acceleration, stopping power, range, and much more to see which scooter is better.
NIU KQi2 Pro Review Conclusions
To sum it up, I can easily say that NIU KQi2 Pro is an excellent electric kick scooter. It has everything to become the most popular electric scooter in its class:
If you are looking for a trustworthy commuter scooter, you can definitely consider NIU KQi2.