Usually, Engwe makes fat tire e-bikes with folding frames. However, Engwe P26 is a little different, featuring an exciting design but without a folding mechanism and with street tires.
Engwe designed their P26 for urban commuters who want a light e-bike for their daily commutes. 
In this Engwe P26 review, we are going to figure out what this Chinese e-bike is capable of. Keep reading!
Electric Wheelers is reader-supported. Although we independently research and test products, we may receive a commission on purchases made from our chosen links. Read more…
Engwe P26 Review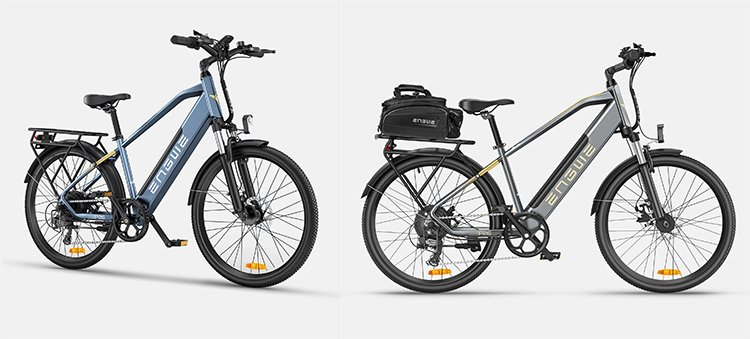 Engwe P26 is a commuter e-bike that is designed for flat surfaces. It's the company's first bike that doesn't have a folding frame. However, it has other practical features like fenders, lights, a rear rack, a front suspension, and much more.
Due to the different legal requirements, the EU version and the US version of the bike have slight differences. For example, the US version has a more powerful motor and a slightly bigger battery. But we will cover all this in more depth in the following paragraphs.
Engwe P26 Pros and Cons
Engwe P26 Performance
Motor and Speed
The P26 has a 250W brushless geared hub motor with 500W peak power. This is typical of most e-bikes in a similar category. Engwe claims their motor has 40Nm of torque, making it perfect for city commutes.
The motor is smaller than Engwe's first bikes (EP-2 Pro, Engine Pro). However, we tested it and found it quite efficient for its size, as long as you keep to relatively flat terrain.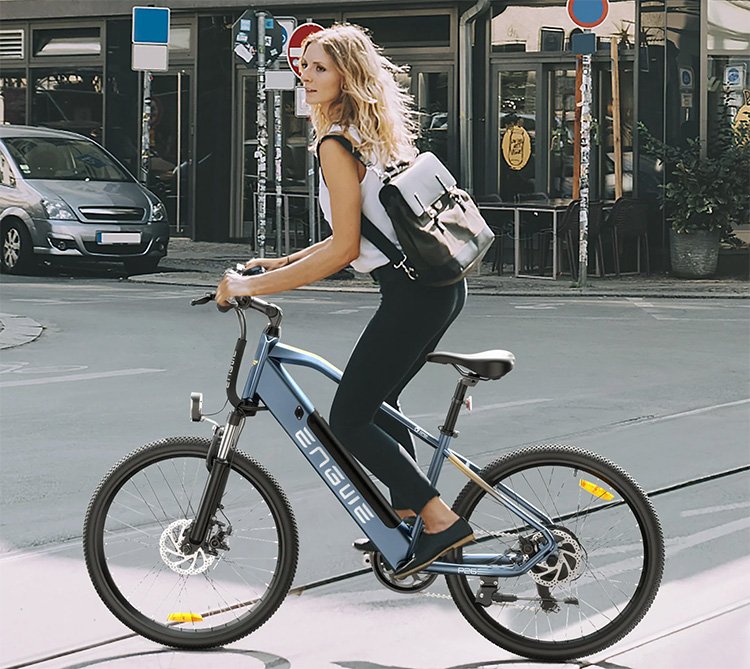 The US variant is livelier, featuring a 500W motor with 800W peak power.
The EU version of Engwe P26 has a 25 km/h top speed. Actually, the motor is capable of going faster but the speed is limited to comply with legal requirements. However, you can unlock the speed limiter in case you are in a private area or it is allowed to go faster in your area.
In the United States, e-bike laws are less strict. Therefore, the motor of the US version has more power, and a higher top speed (18.6 mph).
Hill Climbing
The P26 is capable of climbing hills up to 7 degrees, which is less efficient than most other e-bikes. Thus, the bike is sufficient for commuters living in relatively flat terrain.
We tested the bike in bumpy terrain and found it a bit wanting. The rear wheel kept bumping up, making the bike lose traction.
Battery and Range
The P26 has a 36V 17Ah battery that provides a 100 km range. The US variant has a 48V 13.6Ah battery with an 86-mile range. Please note that this kind of range is possible in the pedal-assistant mode and not in throttle-only mode.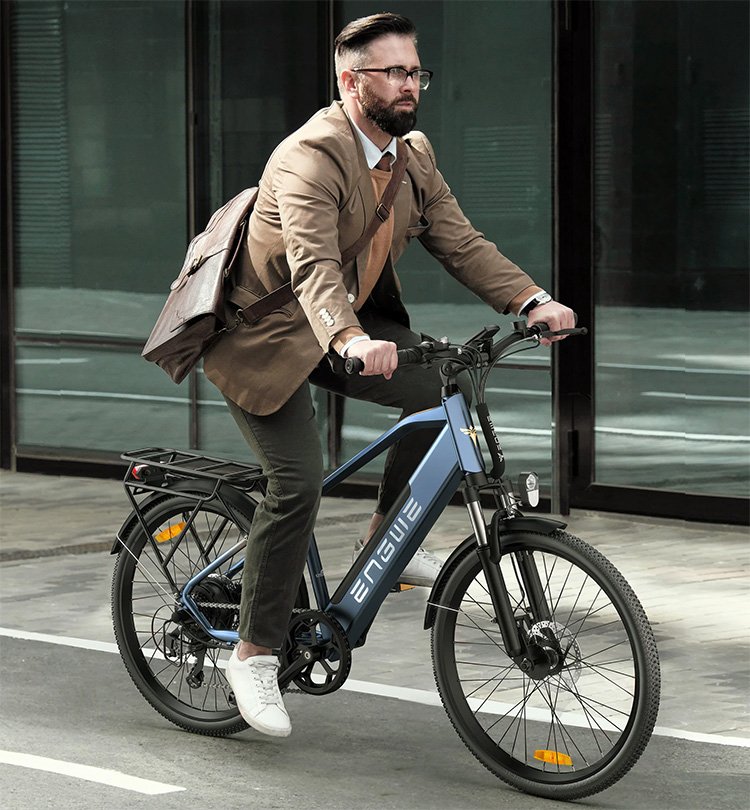 The e-bike has a built-in battery that users can charge while installed on the bike. Alternatively, the battery is removable, which is helpful to users who want to charge the battery away from the bike.
One advantage of a removable battery is buying one or two extra batteries and increasing your range. If one battery dies, you just take another and double the range.
The battery has a keylock feature that secures the battery to the frame reducing the chances of theft. Note that the battery is quite heavy, and you should be prepared if you remove it from the bike when charging or carrying an extra battery when commuting.
Mechanical Disc Brakes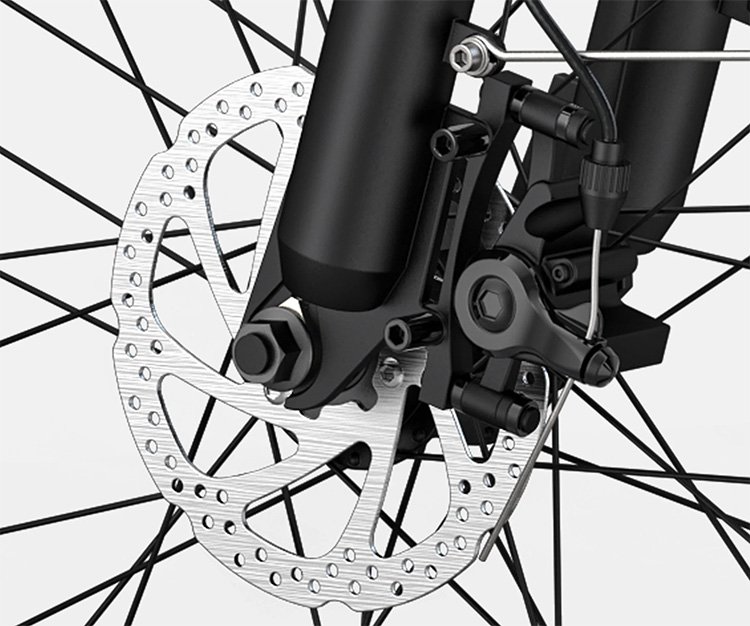 The bike comes with quite standard 160mm mechanical disc brakes. It provides reliable braking ability.
The brakes are efficient enough to give you quick stopping power. However, they aren't high-performing brakes. Thus, you should be careful not to put yourself in a position where you must quickly stop over a very short distance.
Engwe P26 Design and Features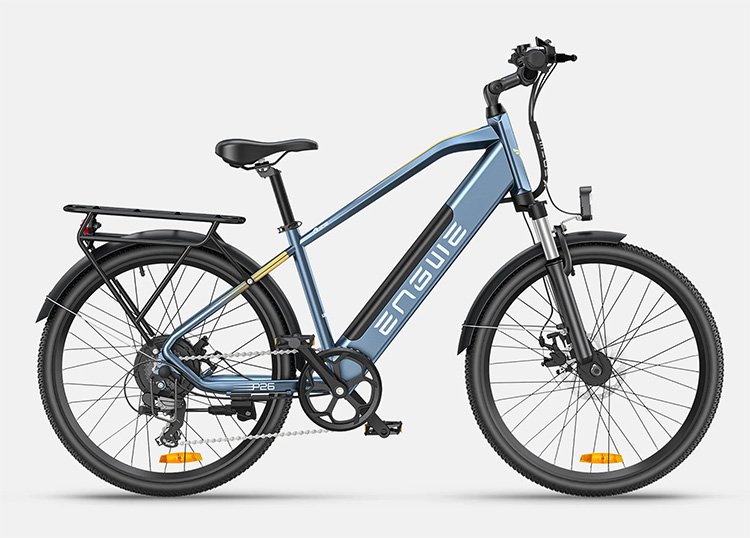 Frame
The bike's 6061 aluminum alloy frame has a unique design, making its front end taller than the rear. The bike combines frames where the front end looks like a downhill bike, and the back end resembles a mixture of trekking and a hardtail bike. This is advantageous, especially because Engwe designed the P26 for city commutes.
The bike's frame design is good because it allows riders to adjust the seat to fit various heights, allowing better posture. Additionally, you can adjust the handlebar to make it taller or shorter, depending on your height. You can also lean the handlebars forward or backward to get more comfortable.
The P26 has aluminum pedals with a suitable surface that you can comfortably step on without sliding. Lastly, the e-bike has a solid kickstand to balance it when parked.
Front Suspension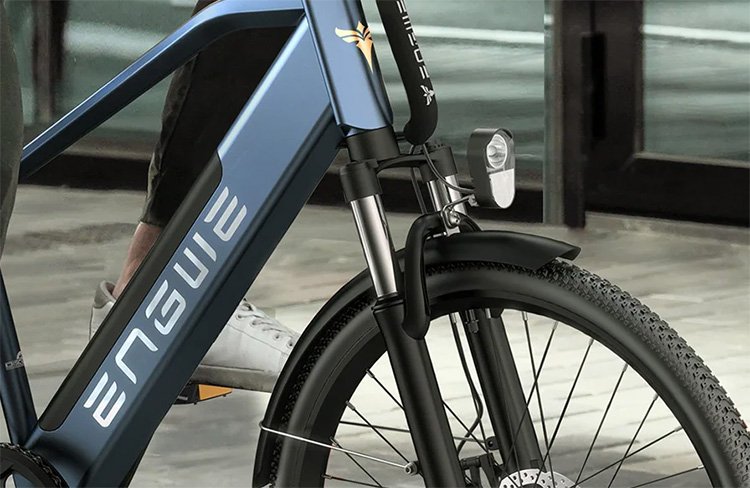 The P26 has a nice front suspension that works effectively when riding the bike over rough surfaces. However, I found the bike a bit uncomfortable when riding over bumpy terrain.
Regardless, Engwe designed their e-bike for urban terrain (most of which is smooth), and it would not be reasonable to judge it for its off-roading capabilities.
Portability
The bike weighs 26 kg (57 pounds), which is about the same as C20 Pro and much lighter than EP-2 Pro.
However, its unfoldable design makes it challenging for users to transport it by car or store the e-bike in tight spaces.
Wheels and Tires
The P26 rolls easily with its 26-inch wheels. The tires are 1.95 inches wide that provide enough traction when riding on various terrain. However, you shouldn't ride the bike on highly slippery roads or extremely bumpy places because Engwe designed these tires for relatively smooth urban areas.
Engwe's first e-bikes were all with 20-inch wheels and fat tires. Now, the P26 is the second e-bike with 26-inch wheels (Engwe X26 also has 26-inch wheels). So we definitely see the trend here.
Free Accessories
Lights – The bike comes with lights that you can use to help you navigate at night. The lights are powerful enough to light your way at night and help show your presence to other road users.
Fenders – Engwe's P26 comes with metallic fenders to protect riders from mud and dirt when riding in dirty or wet conditions. Also, the fenders protect the bike's onboard electrical components from water damage caused by splashes.
Rear rack – The bike has a rear rack that riders can use to carry various cargo. You can also use the rear rack as a passenger seat when riding with a friend. Note that the bike has a 100 kg carrying capacity. So the rear rack is most likely not suitable for carrying another adult.
Engwe P26 Review Conclusions
Engwes P26 e-bike has relatively good ride quality, primarily because of its frame design and adjustment options. The model has good stability and is comfortable because you have a good riding position.
The bike's brakes and front suspension are quite efficient. However, you should choose another e-bike to go off-roading.
So if you live in a relatively flat area and looking for an affordable e-bike for everyday commutes, Engwe P26 might be a good option. It's a great commuter bike priced relatively well.
Engwe P26 Specs
General
| | |
| --- | --- |
| Bike Name | Engwe P26 |
| E-Bike Class | Class 2 |
| Availability | United States, Europe, UK |
| Warranty | 12 Months |
Electronics
| | |
| --- | --- |
| Motor Type | Rear-Hub Drive |
| Motor Power | 250W in EU / 500W in US |
| Top Speed | 25 km/h in EU / 18.6 mph in US |
| Battery | 36V 17Ah (612Wh) in EU / 48 13.6Ah (653Wh) in US |
| Charge Time | 6 hours |
| Range | 100km / 86 miles (with low PAS) |
| Display | Engwe LCD Display |
Bike Details
| | |
| --- | --- |
| Dimensions | 173 x 112 cm / 66 x 44 in |
| Frame Material | Aluminum Alloy |
| Frame Size | One Size |
| Frame Type | Step-Over |
| Frame Colors | Gray, Blue |
| Fork | Shock-absorbing fork, mechanical lock |
| Gearing | 1×7-Speed Shimano Tourney |
| Brakes | Mechanical Disc |
| Wheel Size | 26″ |
| Tires | 26″ x 1.95″ |
| Additional Features | Front Light, Brake Light, Rear Rack, Fenders |
| Weight | 26.2 kg / 57.8 lbs |
| Weight Capacity | 100 kg / 220 lbs |