The KBO Ranger is a class 3 e-bike that comes with a lot of expectations. The e-bike punches above its weight, and most consider it a worthy investment.
Generally, the bike provides a 35-mile range on throttle only and a 22mph speed without pedaling. It has a 400-pound payload capacity and a 750-watt motor suitable for carrying heavy loads.
Keep reading to learn more about the KBO Ranger.
Electric Wheelers is reader-supported. Although we independently research and test products, we may receive a commission on purchases made from our chosen links. Read more…
KBO Ranger Review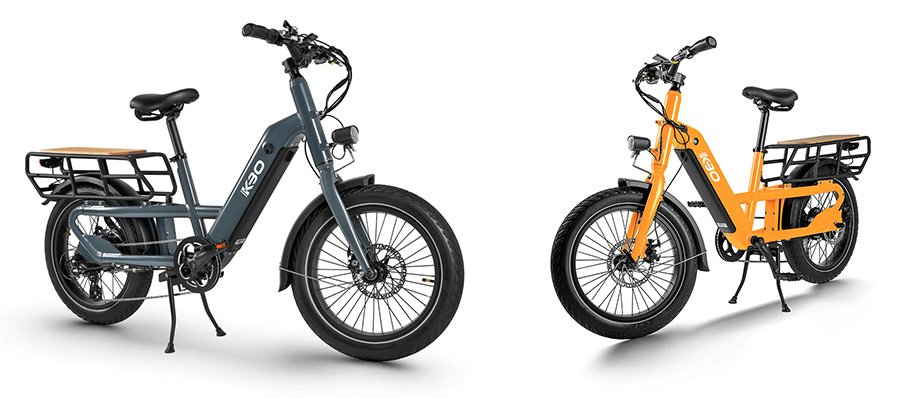 Motor: 750W | Top Speed: 28 mph | Max Payload: 400 lbs | Battery: 840Wh | Max Range: 60 miles
GET $50 OFF with a special discount code: WHEELERS
KBO Ranger Performance
Motor and Speed
The Ranger is powered by a continuous 750W geared rear hub motor (brushless) capable of carrying up to 400 pounds of cargo. The motor can handle class 3 speeds and power the e-bike up to 28mph with pedal assist and 22mph on throttle only.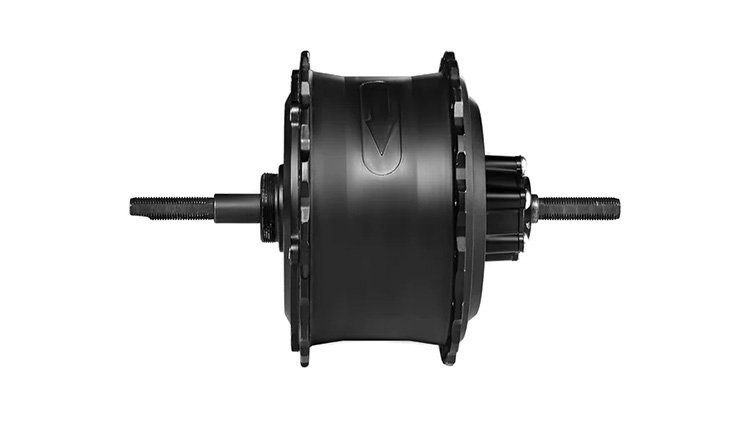 The bike has five pedal-assist modes and a walk mode that is handy when pushing the bike around when carrying a load. The e-bike has a right-hand twist throttle and a smooth and efficient power delivery motor.
It also has an ergonomic half-twist throttle that you could use when you are tired of peddling and want to take a break. All you have to do is gently twist the throttle on the right to accelerate.
Battery and Range
The Ranger has a 17.5Ah LG/Samsung Lithium-ion battery with 900 complete charge cycles. The battery has an 840Wh capacity, providing a 60-mile range on a single charge with pedaling and 35 miles per charge on throttle only.
But you should note that factors like the incline, rider's weight, cargo weight, and pedal assist levels affect the battery's range. However, the bike's removable battery means you can buy an extra battery and replace it with the primary once depleted to go even further.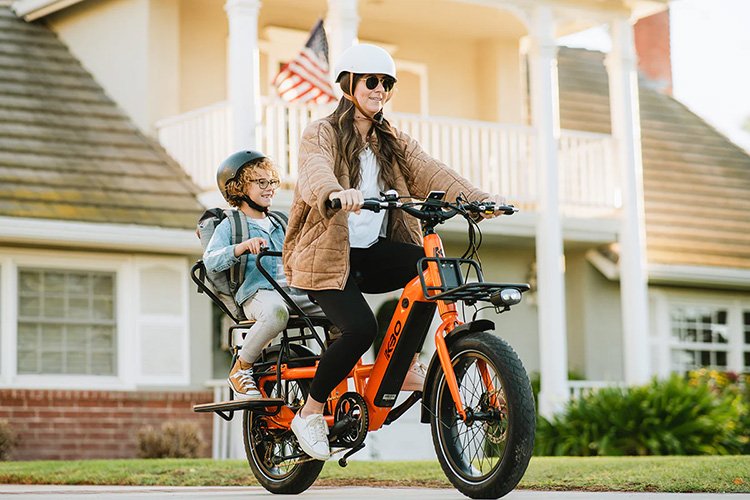 The bike's remaining battery charge is indicated on the LCD display. Additionally, the bike has a 48V three-amp smart, quick charger capable of fully charging the battery in 5 hours. This makes the Ranger convenient for individuals who want a commuter bike.
Mechanical Disc Brakes
The Ranger has 180mm front and rear disc rotors providing sufficient braking power. These brakes are reliable and perform well in wet or muddy conditions.
However, mechanical brakes are not as good as hydraulic brakes. You can stop the bike, but it may take a little longer than with hydraulic brakes. Also, with mechanical brakes, you may hear squeaking noise when braking.
Shimano Altus Gearing
This type of gearing is commonly incorporated with entry-level mountain bikes and designed to provide consistent shifting performance reliably.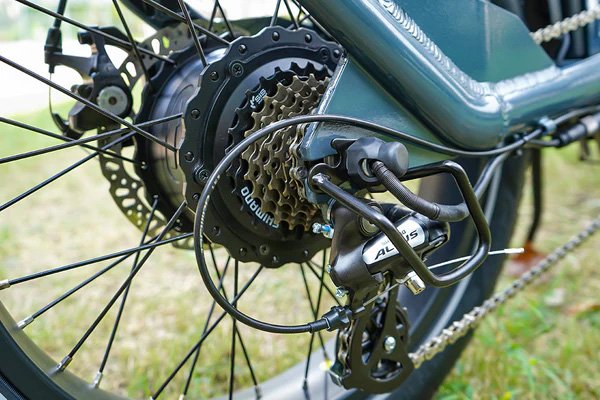 The gearing is considered entry-level but is adequate for commuters and recreational riders. The gearing doesn't have advanced features. However, it is reliable and functional.
KBO Ranger Design and Features
Frame
The Ranger has a strong frame that can accommodate various types of cargo up to 400 pounds. The 6061 aluminum frame is favorable for an e-bike because of its affordability, lightweight nature, and tensile strength.
The frame can withstand the impacts and stresses of riding the bike, including carrying cargo. Additionally, its relatively lightweight nature (compared with other cargo e-bikes) reduces the bike's overall weight making it easier for riders to maneuver and handle it.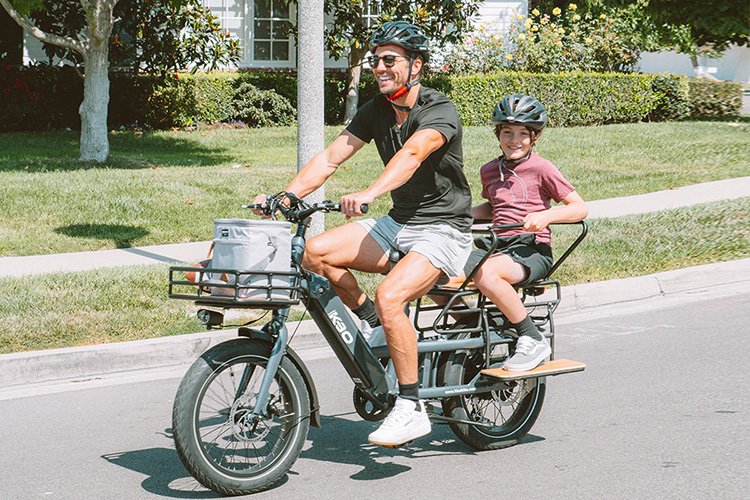 Additionally, the frame is stiff, contributing to the bike's responsive handling and power transfer. It is also corrosion-resistant, adding to the bike's durability and longevity when exposed to various environmental conditions.
On top of the frame, you can find a durable and comfortable adjustable saddle that reduces any impact felt when riding on bumpy roads. Riders can adjust their posture by moving the saddle up, down, back, or forth to improve their comfort.
Cargo Capacity
The Ranger has a significant cargo-carrying capacity. It has a 400-pound cargo capacity with a wood-topped rear rack that measures 19.7" by 7.9".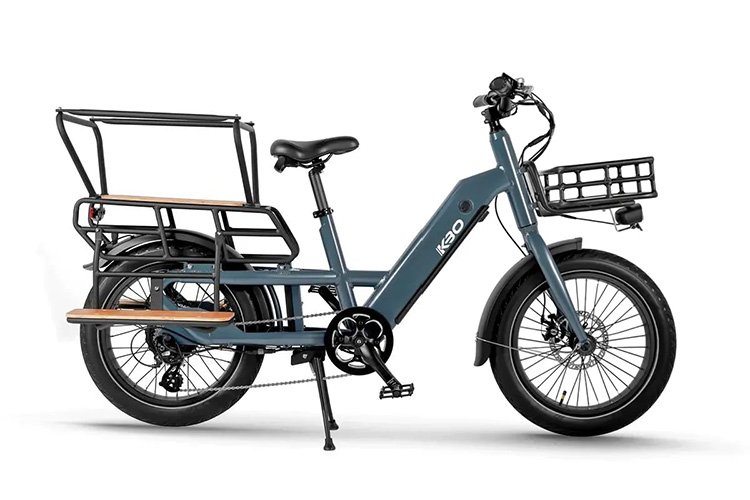 Additionally, the bike has running boards that have wooden toppers. The panels provide riders with foot support and could act as extra places to carry some cargo. It also has a front mount with four bolts on the bike's frame for an additional rack.
Wheels and Tires
The Ranger has 20" by 3" fat tires perfect for riding over almost any surface. The tires have a medium tread pattern that offers sufficient traction and enough air volume for a smooth ride.
Its 20" rims are small but sufficient for individuals using the bike for commutes. Also, small 20-inch wheels are very common among cargo electric bikes.
Center Stand
The Ranger's center kickstand perfectly fits its purpose. The center stand is made from durable and sturdy rust-resistant aluminum alloy that keeps the bike balanced whenever you want to load it with cargo.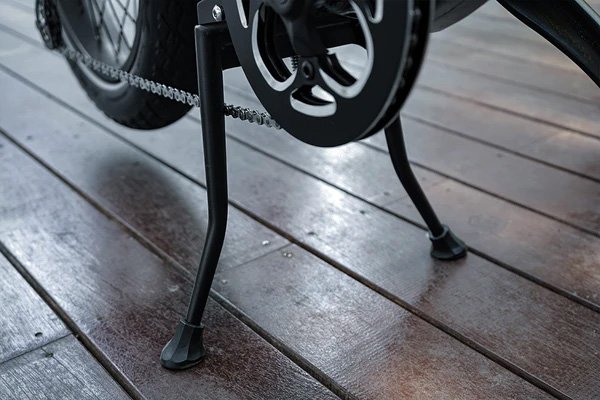 The center stand reduces instances where you must pick it up whenever it falls. This is an essential feature considering the Ranger's nature as a cargo bike.
Other Features
The bike has full fenders and all necessary hardware on both the rear and front. The resilient fenders help keep you clean and dry, especially when riding in wet conditions.
The Ranger also has an LCD backlight display that provides vital information to help you track your riding conditions. These include a charge indicator, an odometer, a speedometer, a pedal-assist level, a trip odometer, and other features.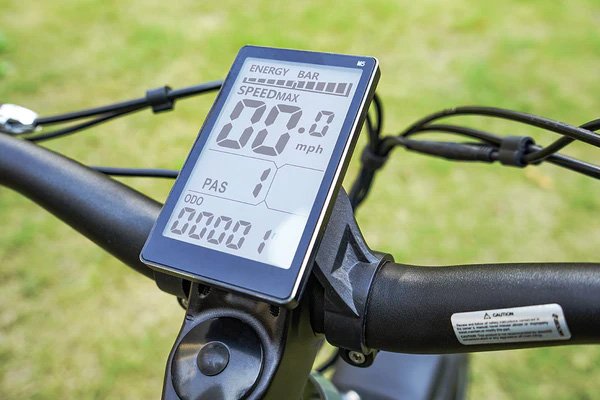 Additionally, the Ranger has a 48V headlight that you can turn on by pressing and holding the "UP" button for three seconds. The light makes it easier for riders to ride the Ranger at night.
It also has an integrated LED rear light powered by the battery pack. The rear LED light activates when you apply the brakes and immediately illuminates to alert other road users whenever you want to slow down or stop.
KBO Ranger Review Conclusions
The KBO's price tag makes it hard for potential customers not to like it. It is an excellent e-bike that doesn't break the bank. The bike is perfect for individuals searching for a cargo bike that ticks several boxes similar to other e-bikes in a similar niche.
Read also: Overview of All KBO eBikes
The Ranger looks and feels like a top-quality bike with great features like its cargo-carrying capacity and maneuverability. It is an entry-level e-bike with few premium specs. However, it is an excellent bike that will suit your lifestyle.
KBO Ranger Specs
General
| | |
| --- | --- |
| Bike Name | KBO Ranger |
| E-Bike Class | Class 3 |
| Availability | United States |
| Warranty | 2 Years |
Electronics
| | |
| --- | --- |
| Motor Type | Rear-Hub Drive |
| Motor Power | 750W |
| Top Speed | 28 mph |
| Battery | 48V 17.5Ah (840Wh) LG |
| Range | Up to 60 miles |
| Display | LCD |
Bike Details
| | |
| --- | --- |
| Dimensions | 69″ x 53″ |
| Frame Material | Aluminum Alloy |
| Frame Size | One Size |
| Frame Type | Step-Through, Cargo |
| Recommended Rider Height | 4'11″ – 6'3″ |
| Frame Colors | Gray, Orange |
| Fork | Rigid |
| Rear Suspension | – |
| Gearing | 1×7-Speed Shimano Altus |
| Brakes | Mechanical Disc |
| Wheel Size | 20″ |
| Tires | 20″ x 3″ Fat Tires |
| Weight | 77 lbs |
| Weight Capacity | 400 lbs |
GET $50 OFF with a special discount code: WHEELERS