KBO Compact is another folding electric bike by the company. Actually, it's an upgraded version of the previous folding e-bike KBO Flip.
In this KBO Compact review, we will take a closer look at this practical electric bike. Also, you will learn what are the main differences with KBO's previous folding bike.
Electric Wheelers is reader-supported. Although we independently research and test products, we may receive a commission on purchases made from our chosen links. Read more…
Table of Contents
KBO Compact Review

Motor: 750W | Top Speed: 20 mph | Max Payload: 350 lbs | Battery: 749Wh | Max Range: 55 miles
KBO Compact Performance
750W Hub Motor
KBO's Compact has a powerful 750W geared hub motor (brushless) that produces 80Nm of torque. When you push the throttle, the motor delivers sufficient power, allowing riders to reach cruising speeds in a few seconds. The bike's motor makes it easy for riders to tackle most inclines effortlessly.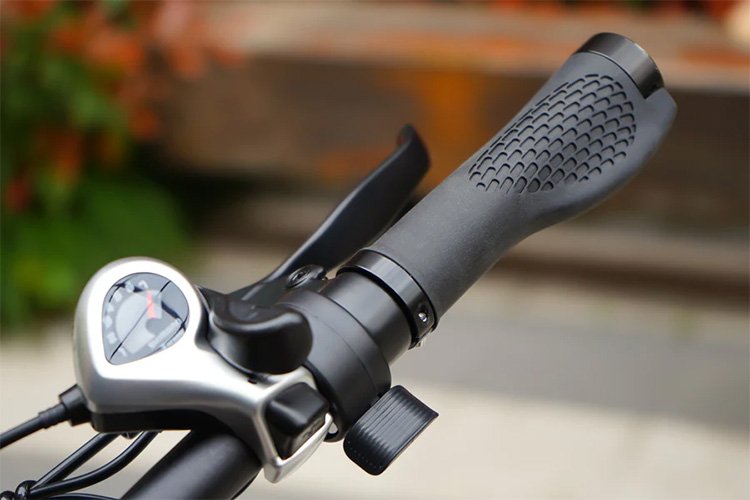 The e-bike has a smart thumb throttle instead of the twist throttle usually found on KBO e-bikes. The design of the thumb throttle minimizes any accidents arising from accidental acceleration.
The Compact has a 20mph top speed without pedaling, which increases with pedal assist. The e-bike's speed falls within the limit of most legal e-bikes in the US and other regions. The compact has a sensitive cadence and speed sensor designed to increase performance.
15.6Ah Removable Battery
KBO's Compact has a 48V 15.6Ah lithium-ion battery, which means it has 748.8 Wh of energy capacity. It provides up to a 55-mile range with pedal assist and a 40-mile range on throttle only. However, the rider's weight, terrain, and cargo may affect the e-bike's range.
KBO has promised that the battery will last at least 900 charge cycles. So if you charge the battery every other day, it will serve you for at least 5 years with no problems.
7-Speed Shimano Tourney Gearing
The Compact has a 7-speed Shimano Tourney derailleur. You should know that it's the cheapest system in Shimano's selection. But still, it gets the work done if you don't press hard on the pedals while switching gears.
Regardless, it provides value for money, and many e-bike manufacturers trust it. The bike's gearing system allows riders to have a good riding experience, like changing gears to adapt to various terrain on demand.
Mechanical Disc Brakes
KBO's Compact has front and rear 180mm mechanical disc brakes that provide riders with sufficient stopping power in dry and wet conditions.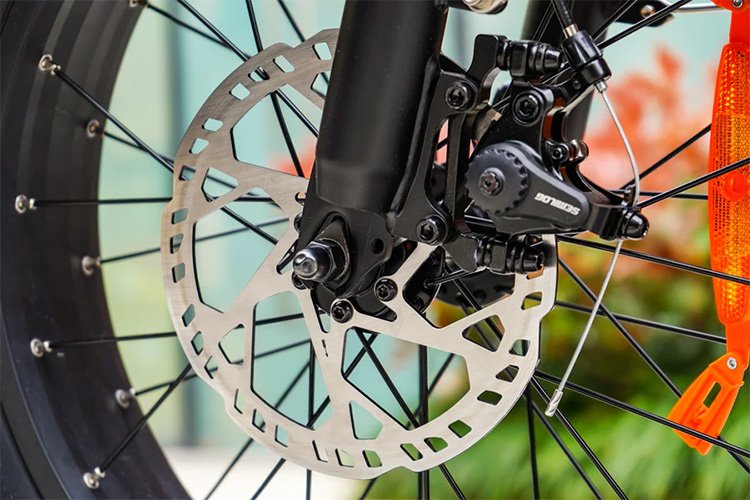 The e-bike's brakes aren't as good as hydraulic variants, and riders should take some time to study how they work to use them more effectively. For instance, riders should leave space between themselves and other road users to allow ample stopping time.
KBO Compact Features
Frame and Geometry
The Compact e-bike arrives 90% assembled, and KBO provides customers with all the tools to assemble it. They also provide buyers with a comprehensive assembly video to help with the assembly. Assembling the e-bike is easy and can take novices less than 20 minutes.
The dimensions of the e-bike are 67.7″ by 23″ by 46.4″ when unfolded and 37″x16.5″x31.8″ when folded.
KBO made the frame of the Compact with a 6061 aluminum, a 165mm forged alloy crank, and alloy pedals with reflectors.
The e-bike weighs 68.3 pounds and has a 350-pound carrying capacity. Additionally, it has an enhanced comfort saddle with an extra wide design perfect for riding in rough terrain and extended adventures.
Adjustable Handlebar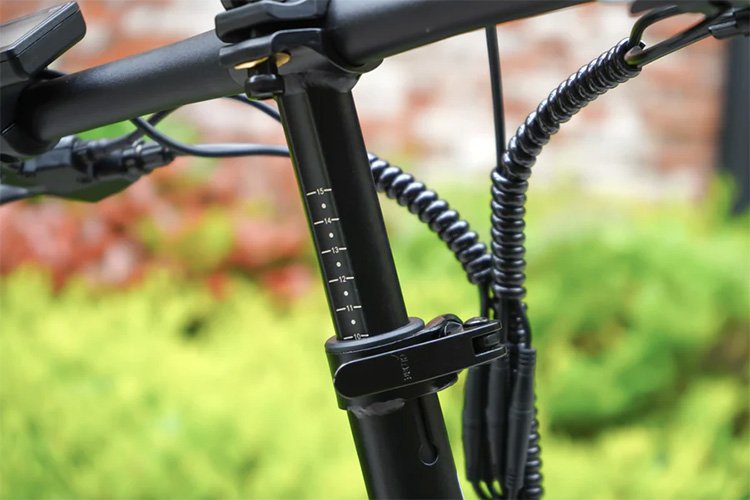 The Compact has an adjustable upright handlebar that riders can adjust inwards or outwards to fit their preferences. For instance, riders can adjust it to an upright position for better visibility or slant backward for added comfort when leisurely riding.
On the handlebar, you can find:
two brake levers
a thumb throttle
gear switching buttons
a bell
and a display.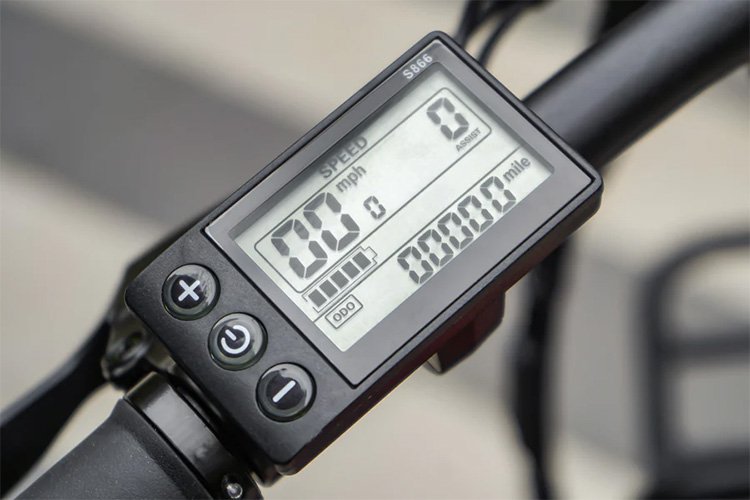 The multifunctional LCD display shows you vital information like speed, PAS level, and battery capacity.
Foldable Step-Thru Frame
Most folding e-bikes have a high-step frame. But the KBO Compact has a foldable step-through frame for riders with various mobility issues. Compared to KBO Flip (another folding e-bike), the Compact is much easier for riders to get on and off.
KBO designed this e-bike for people of average height, i.e., 5'2" to 6'3". Smaller people, including children, may find the bike uncomfortable.
The foldable, step-thru frame makes the Compact quite versatile. The bike unfolds easily and quickly, making it easy to fit in cars for transportation. The KBO's Compact has two quick-release clamps that riders can release when folding the e-bike. Riders can remove the clamp to unfold the bike and line it up with the wheels before riding.
The foldable design uses less storage space, and riders can easily store it in apartments. KBO designed its Compact to provide performance, utility, and comfort whenever and wherever the rider goes.
Wheels and Tires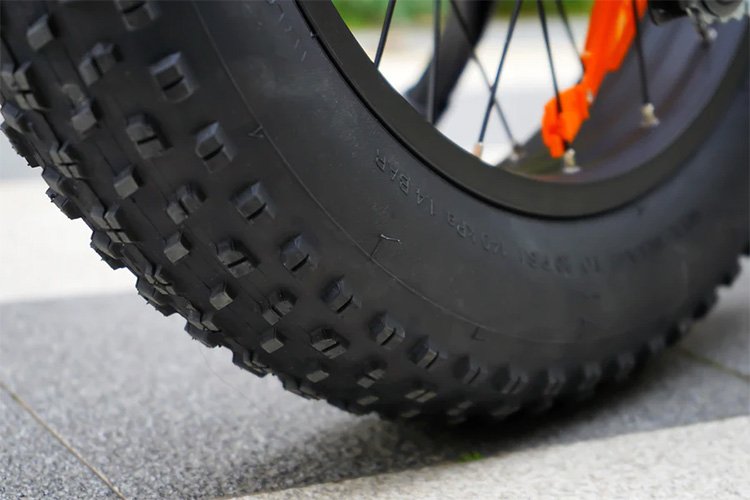 The Compact has 20-inch by 4-inch puncture-resistant tires designed for outdoor adventure. The e-bike's tires are long-lasting and provide a relatively good riding experience.
The bike has spoked wheels designed with 13G stainless steel for increased durability and dependability.
Lockable Front Suspension
KBO's Compact e-bike has front suspension for increased shock absorption and comfort. The suspension allows riders to ride over broken pavement, and most other terrain easily. The bike's suspension provides enough comfort, especially when combined with the bike's big tires.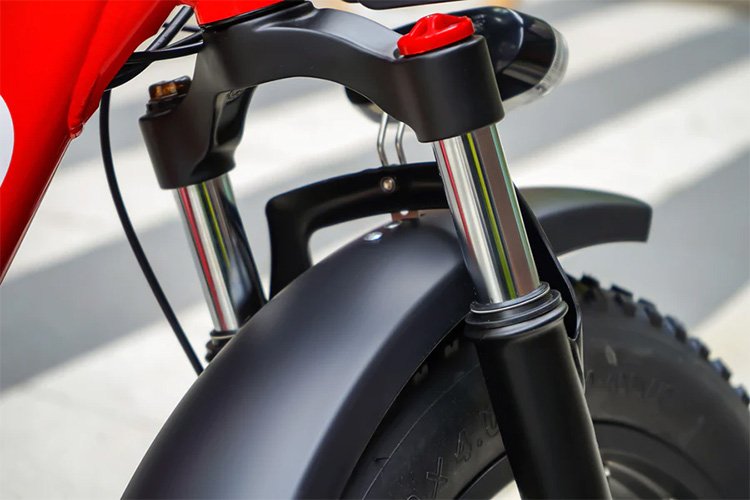 The lockable front suspension minimizes energy loss and gives riders a better experience when tackling long uphill climbs with smooth surfaces or riding on paced surfaces. However, taking the bike for extreme off-road adventures is not advisable. 
Practical Utility Bike
KBO's Compact is easy to transport because of its folding frame. It is also easy to store in tight spaces, making it the perfect e-bike for people living in apartments.
Also, the Compact has a rear rack designed to increase its load-carrying capacity and stability. If you need more cargo capacity, you can purchase many other cargo options like extra front and rear baskets and pannier bags.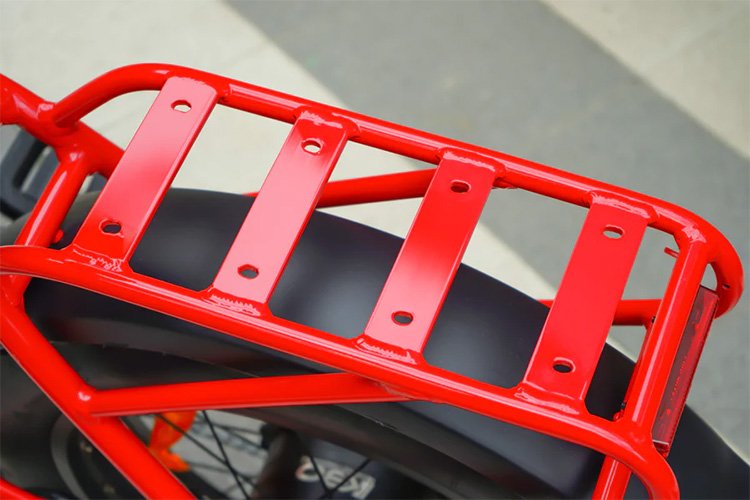 Additionally, it has fenders at a base price to protect riders from mud and water splashes. Also, the customers get a 16-in-1 repair toolkit to fix the e-bike in case it breaks down.
An LED headlight adds even more practicality to the bike. It will illuminate your way in the dark and a rear light will increase your visibility and warn other road users of your presence at night.
KBO Compact vs KBO Flip
Some of you may think that why KBO made another folding electric bike if they already had one. It's exactly what I was thinking. But after looking at the Compact more closely, it was clear that these bikes have some clear differences.

More Comfortable Frame Style
The most significant difference is the frame style. The Compact has a low step-through frame, while the Flip has a mid-step-through frame. The first one is much easier to get on and off, which makes the bike more suitable for people with joint problems or mobility issues.
Improved Performance
The new KBO Compact has slightly better performance. Both bikes have 15.6Ah batteries. But the battery of the Compact has 48 Volts, while the Flip has 36 Volts. It means the Compact has 33% more energy capacity (748.8Wh vs 561.6Wh).
Also, the Compact has a more powerful motor and more torque (750W/80Nm vs 500W/60Nm).
Related: Full Review of KBO Flip
Other Details
KBO Compact has much better payload capacity. It can withstand a payload of up to 350 lbs, while the Flip can hold only 275 lbs of payload. On the other hand, the Flip weighs less than the Compact (57 lbs vs 68.3 lbs). So the KBO Flip is easier to handle and transport.
Another difference is the tire size. Both bikes have 20-inch wheels. But the Compact has slightly wider tires.
KBO Compact Review Conclusions
KBO Compact is perfect for individuals searching for a foldable cargo bike that they can easily store or transport in their vehicle. The e-bike is perfect for people living in urban settings in relatively flat terrain. 
It has a quite powerful motor and reasonable range. It's a good utility e-bike for running errands. KBO offers free shipping and a two-year warranty, which definitely indicates that the company trusts its quality.
Read also: Overview of All KBO eBikes
KBO Compact Specs
General
| | |
| --- | --- |
| Bike Name | KBO Compact |
| E-Bike Class | Class 2 |
| Availability | United States |
| Warranty | 2 Years |
Electronics
| | |
| --- | --- |
| Motor Type | Rear-Hub Drive |
| Motor Power | 750W |
| Top Speed | 20 mph |
| Battery | 48V 15.6Ah (748.8 Wh) |
| Charge Time | 7 hours |
| Range | Up to 55 km |
| Display | LCD |
Bike Details
| | |
| --- | --- |
| Dimensions | 67.7″ x 46.4″ x 23″ |
| Folded Dimensions | 37″ x 31.8″ x 16.5″ |
| Frame Material | Aluminum Alloy |
| Frame Size | One Size |
| Frame Type | Low-Step, Folding |
| Frame Colors | Red, Grey |
| Fork | Suspension fork, mechanical lock |
| Gearing | 1×7-Speed Shimano Tourney |
| Brakes | Mechanical Disc |
| Wheel Size | 20″ |
| Tires | 20″ x 4″ Chaoyang Tires |
| Additional Features | Front Light, Kickstand, Reflectors |
| Weight | 68.3 lbs |
| Weight Capacity | 350 lbs |