E-bikes have many great features, making them an excellent option for most buyers, which is why their use has significantly increased. Most e-bike brands now opt to use e-bikes in their daily activities, and recent variants have evolved in looks and functionality to meet increased demand.
The KBO Tornado fat tire e-bike looks impressive, and it's the perfect option for individuals looking for an exciting and unique bike for exercising and exploring offroad trails. This bike has generated a positive buzz in the biking community, and with good reason.
In this KBO Tornado review, we will take a closer look at this interesting electric bike and determine whether it's a good fit for you. Keep reading.
Electric Wheelers is reader-supported. Although we independently research and test products, we may receive a commission on purchases made from our chosen links. Read more…
KBO Tornado Review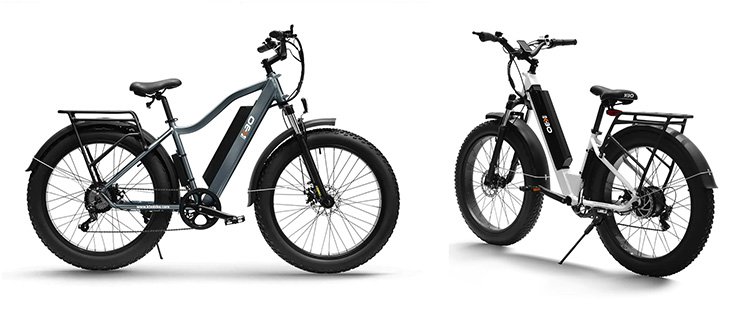 Motor: 750W | Top Speed: 25 mph | Max Payload: 350 lbs | Battery: 672Wh | Range: 30-45 miles
Get a $50 discount with our unique coupon code: WHEELERS
KBO Tornado Performance
Motor and Speed
The KBO Tornado has a powerful electric motor producing impressive speeds and power. The 750W brushless hub motor (geared) is located on the bike's rear wheel hub. The motor's location helps provide riders with a silent and smooth ride.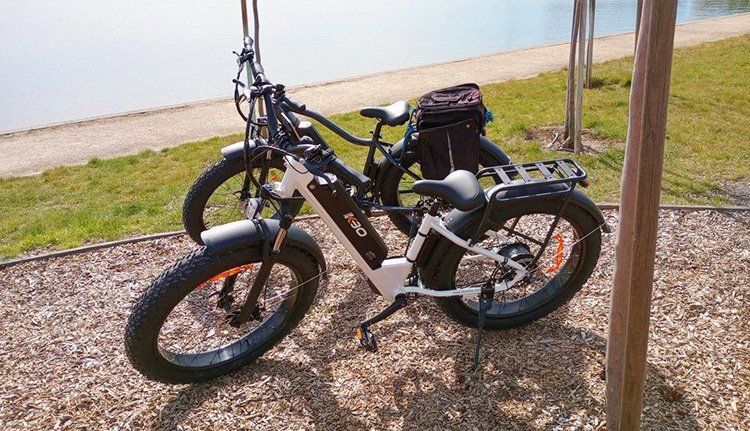 The motor provides fast acceleration allowing riders to get over obstacles quickly and delivers enough power transfer to tackle steep inclines and off-road trails. The Tornado has a 20mph top speed without pedaling. However, it can reach 25mph speeds with pedal assist.
We tested the bike and noticed its twist-throttle functions as advertised. The twist throttle worked perfectly, allowing the motor to kick in and provide sufficient acceleration.
Removable Battery and Range
The e-bike has a 48V 14Ah removable lithium-ion battery with LG/Samsung cells. The removable battery allows riders a 45-mile range without pedal assistance. However, you can increase it by purchasing and carrying an extra battery. Still, various factors affect the bike's range.
Related: E-Bike Batteries Explained
For instance, we tested the bike and noticed that the range as provided by the battery increases based on the rider's weight, incline, cargo weight, and pedal-assist levels. The LCD shows the bike's battery levels and mileage. The e-bike has a USB charging port for riders to charge their phone.
Mechanical Disc Brakes
The e-bike has mechanical 160mm rear and front disc brakes that provide enough stopping power even during the harshest conditions.
The bike's tires also play a massive role in its stopping power. Their fat tire design makes them perfect for stopping in various terrain, including snow, sand, and mud.
Shimano Gearing
The bike's 6-speed gear shift system allows riders to shift to larger cogs when tackling uphill climbs and downshift to smaller ones when riding at high speeds.
Choosing the right gear helps riders improve efficiency and riding experience under various riding conditions.
KBO Tornado Design and Features

2 Frame Types
The KBO Tornado comes in a step-through and step-over design.
The step-through design is significant for riders with mobility challenges, i.e., individuals who may experience difficulties getting onto the step-over version. Additionally, the step-through design is lighter. However, the step-over variant should be steadier by design.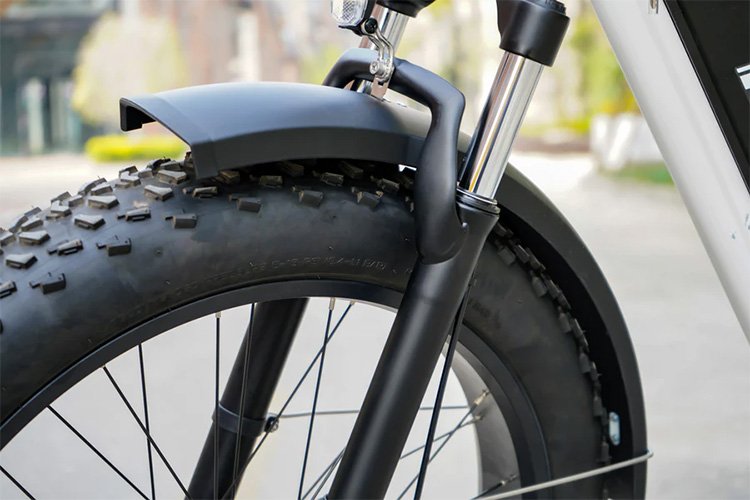 Additionally, the KBO Tornado has a lockable front suspension fork that provides added comfort when riding over double-track-type trails, fire roads, or broken pavement. Note that the bike doesn't have a rear suspension. However, its fat tires help absorb most shocks when riding over rough terrain.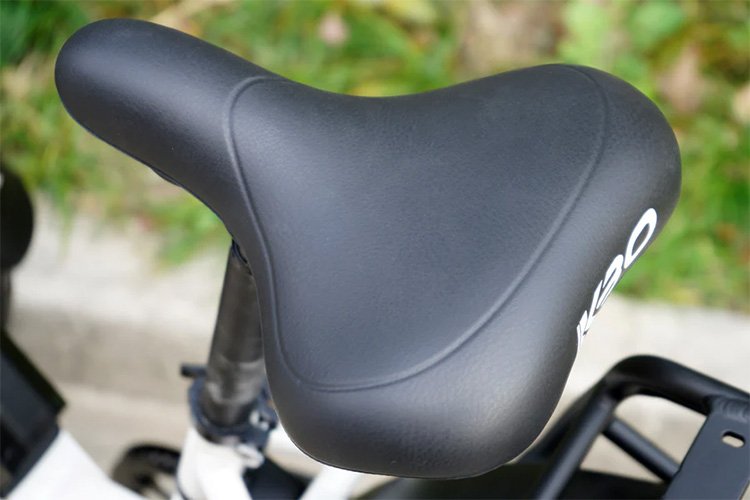 Also, the Tornado has a comfortable saddle that improves the rider's experience. The saddle is wide and ergonomic, reducing any possible issues they may experience with their back and butt. Additionally, it has a layer of padding that helps increase the rider's comfort when riding on various terrain.
26-Inch Fat Tires
The KBO Tornado has tough 26×4-inch fat tires, providing a better riding experience. The fat tires are sturdy, laced to wide rims, and wider hubs, enhancing their grip and making them stiff.
The tires help transform the Tornado into an all-season e-bike, allowing riders to use it on the sand, snow, dirt, mud, rocks, gravel, pavement, etc.
USB Charging Port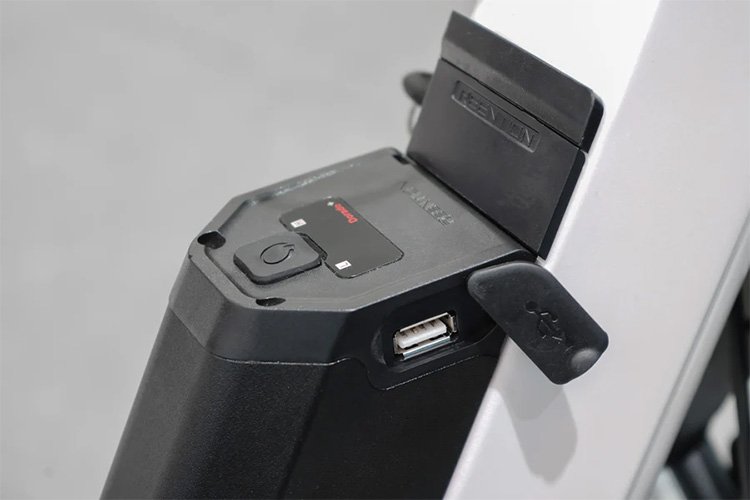 The Tornado has a USB charging port riders can use to charge their phone when it runs out of power. This is quite useful when off-roading, mainly because you need your phone to stay on in an emergency.
Charging your phone through the battery's USB port helps you stay connected throughout your adventure.
Digital Display
The Tornado has a digital multi-functional display that records and displays your riding statistics.
The display shows important information regarding your riding experience, including mileage, speed, timing, battery capacity, pedal assistance level, etc. The LCD is backlit, allowing riders to view vital information even in the dark.
Free Accessories Included

Full fenders
The Tornado has durable PVC full fenders that provide riders with sufficient protection from the elements.
The fenders are an excellent accessory considering how the weather can be unpredictable. The full fenders protect riders from water splashes, mud, and sleet and help keep their clothes dry and clean.
Front light
The KBO Tornado is equipped with a front light, which helps you out if you are stuck in the dark. However, the bike doesn't have a rear light. So if your commutes include riding often in the dark, you should buy additional lights for the bike.
Rear rack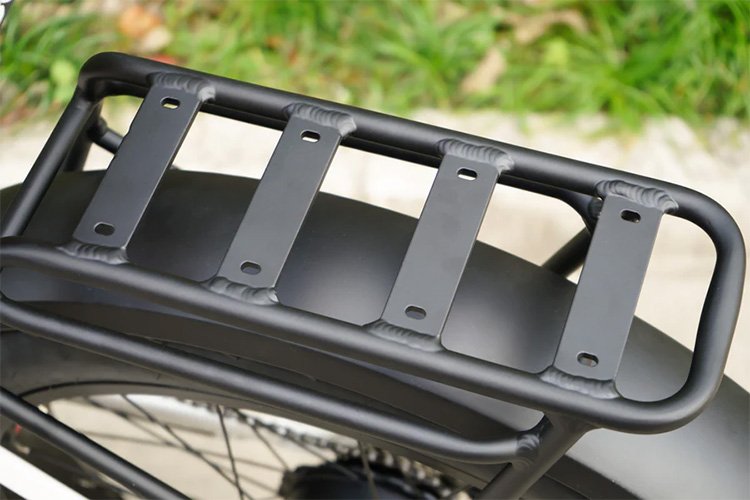 Additionally, the bike has a removable rear rack that can carry a maximum of 55 pounds of cargo. The rack is specially designed for the Tornado and is meant to improve your off-roading adventures or daily commutes.
You can use the rack to carry your essentials whether you plan to go to the woods or the office.
Repair toolkit
The Tornado comes with a free repair toolkit, perfect for repairing most problems you'll encounter with your bike.
The 16-in-1 repair kit design makes it smaller, allowing you to conveniently store it in a smaller space. Thus, it will be easy to carry in your bag or pocket.
It's compatible with all KBO bikes and features:
A spoke wrench
Hex key wrench
Socket hex wrench
Solid wrench
Socket extension rod
Philips screwdriver
Camping gear
The Tornado comes with a portable camping lamp that weighs 8 oz. You can compress the lamp to 1.5 inches, making it easier for storage.
The lamp has four modes- regular mode, lantern mode, flashlight, and reading mode, making it easier to adapt to various camping needs. Additionally, it has three brightness levels, suitable for diverse lighting needs. Also, it has a long-lasting in-built 1200mAh lithium battery for reliable performance.
Lastly, the bike has a portable trolley case with a 5-wheel design. The trolley is stable and has a 50-pound capacity. It is also portable, and its wheels can accommodate all directions by rotating 360 degrees.
You can fold and store the trolley in a narrow trunk gap, and the carrying case has pearl cotton padding protecting the power station from collisions. It provides long-lasting performance and can carry weights of 30kg+.
KBO Tornado Review Conclusions
The KBO Tornado is an excellent all-around bike for daily commutes and off-roading adventures. The bike comes 90% assembled, plus a comprehensive assembly video and tools, allowing you to complete it in less than 20 minutes. It's quick to assemble, even for amateurs, and you'll get to enjoy the bike as soon as you get it.
The Tornado has an impressive motor with good speeds, a great battery, and exciting features to improve rider comfort. Also, the bike can support a sufficient payload (350 pounds), and its fat tires are perfect for riding on various terrain.
It's excellent for people looking for durable bikes that can handle rough terrain.
Read also: Overview of All KBO eBikes
KBO Tornado Specs
General
| | |
| --- | --- |
| Bike Name | KBO Tornado |
| E-Bike Class | Class 3 |
| Availability | United States |
| Warranty | 2 Years |
Electronics
| | |
| --- | --- |
| Motor Type | Rear-Hub Drive |
| Motor Power | 750W |
| Top Speed | 25 mph |
| Battery | 48V 14Ah (672Wh), Samsung/LG with USB charging |
| Range | 30-45 miles |
| Display | LCD |
Bike Details
| | |
| --- | --- |
| Dimensions | 74.5″ x 48.8″ |
| Frame Material | Aluminum Alloy |
| Frame Size | One Size |
| Frame Type | Step-Over, Step-Thru |
| Recommended Rider Height | 5'3″ – 6'4″ |
| Frame Colors | Gray, White |
| Fork | Front Suspension (lockable) |
| Gearing | 1×6-Speed Shimano Tourney |
| Brakes | Front and Rear Mechanical Disc |
| Wheel Size | 26″ |
| Tires | 26″ x 4″ Fat Tires |
| Weight | 73 lbs |
| Weight Capacity | 350 lbs |