Electric Wheelers is reader-supported. Although we independently research and test products, we may receive a commission on purchases made from our chosen links.
Buying a dual-motor electric scooter is often the next step after falling in love with adventurous electric scooter rides.
As you get better and better at riding the machine, you find yourself outgrowing a regular single-motor scooter and start seeking more power.
What comes as a boon is dual motor electric scooters!
Great strength, rapid acceleration, amazing mileage, and high speeds are some highlights that make dual motor scooters take your riding to next level of awesomeness.
They can ride longer distances while providing more stability and thrill at the same time.
How did we choose?
We gathered together a bunch of electric scooters with 2 motors.
Then we read the user feedback, comments, and reviews.
Finally, we made research to find out which of those scooters are most popular in search engines.
Scroll down to get your hands on some of the best dual-motor electric scooters that are all you need for some adventurous riding!
Related: Electric Scooter Motors Explained
Dualtron Thunder
MSRP: $3,699
Where to Buy:
Voromotors – Get 7% off with a Coupon Code – EWHEELERS
No matter how rough is the terrain you are riding on, the Dualtron Thunder can withstand it without trouble.
The extraordinarily powerful dual motor electric scooter is marked by the best-in-class build quality and is amazingly sturdy.
Related: Dualtron Thunder Full Review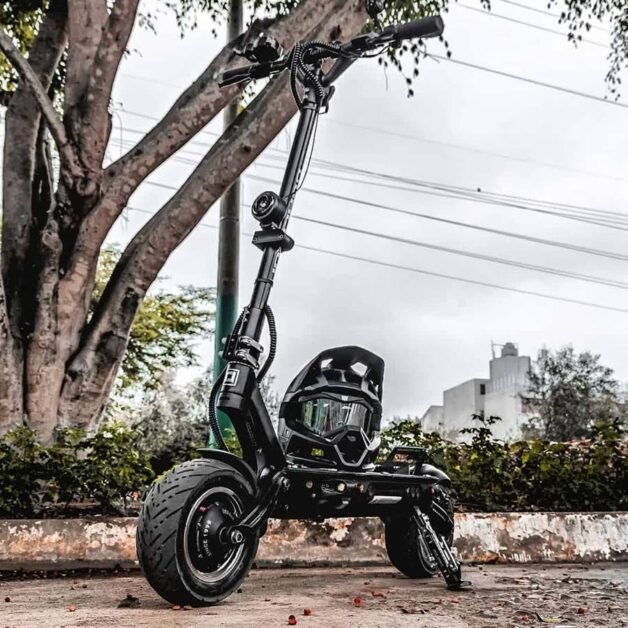 The 60V 35Ah LG-3,500 cells battery offers a top range of 75 miles in a single charge, while the 5,400W max output dual hub motor system lets you go up to speeds of 50 mph or more.
The smooth riding experience is all thanks to the hydraulic brakes with ABS and 3-step variable suspension, which justifies the high price for the Dualtron Thunder even better. Additionally, it has 11-inch wheels, which give you extra stability.
It comes with an aviation-grade aluminum alloy frame and weighs 95 pounds.
Motor – 2 x 2,700W
Top speed – 50mph
Max range – 75 miles
11″ pneumatic tires
Rubber cartridge dual suspensions
NUTT hydraulic brakes
---
Hiboy Titan Pro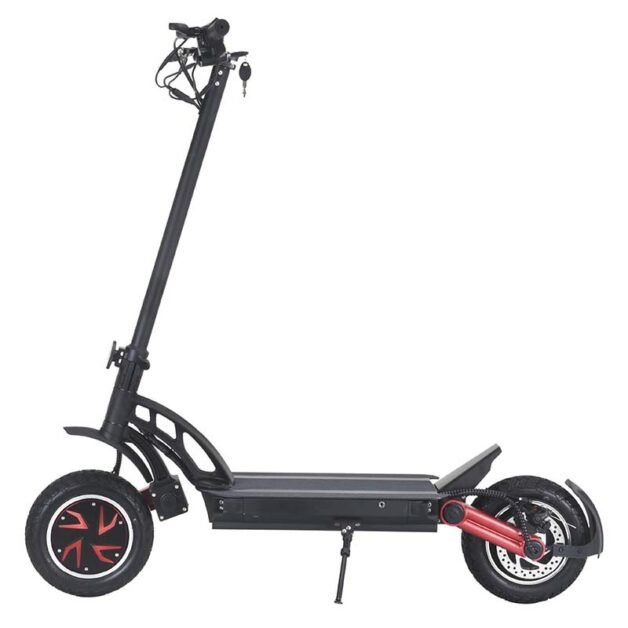 Hiboy Titan Pro is one of the most affordable choices that has a total power of more than 2,000 watts.
Powered by dual 1,200-watt electric motors, Titan Pro can reach a top speed of 32 mph. It is not the fastest electric scooter but it is more than enough to offer you adrenaline and fun.
The energy capacity of the battery is not the strongest part of Titan Pro. However, it can still cover about 40 miles if riding economically.
Related: Hiboy Titan Pro Full Review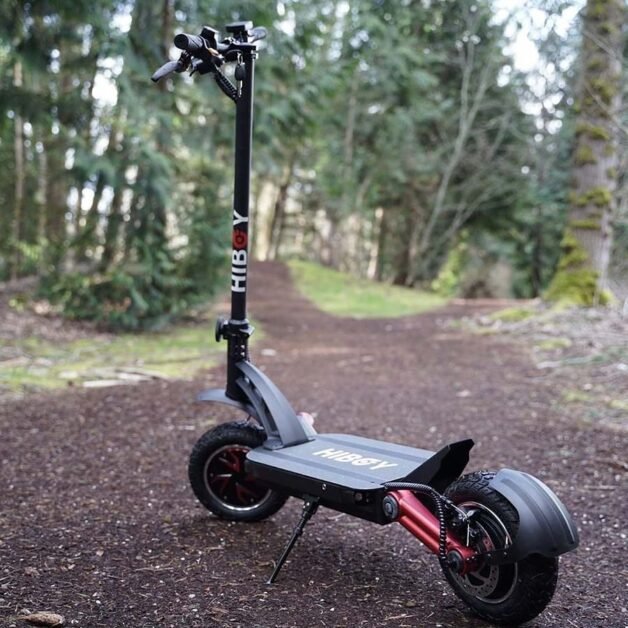 Additionally, the scooter has a great suspension system. It has shock absorbers in front and rear, which ensures smooth and reliable ride quality.
Also, Titan Pro has an IP55 water-resistance rating. It is better than most other scooters on the list.
It doesn't mean you can submerge it under the water but some occasional puddles don't hurt your scooter.
Motor – 2 x 1,200W
Top speed – 32mph
Max range – 40 miles
10″ pneumatic tires
IP55 water-resistance rating
---
Kaabo Mantis 8 Pro
Lightweight, portable, and foldable
MSRP: $1,999
Where to Buy:
Voro Motors – Get 7% off with a Coupon Code – EWHEELERS
Powered by two 800W motors and a 1,176Wh battery, the Kaabo Mantis 8 Pro is for those who are looking for long-distance riding on difficult terrains. When choosing an Eco mode, you can easily get the range of 40 miles.
The brushless motors make the acceleration on this model extra smooth and also let you choose between two riding modes to go for a speed that suits you. It can go up to a top speed of 33 mph and let the rider go on up to 30 degree inclined surfaces.
Related: Kaabo Mantis Pro Full Review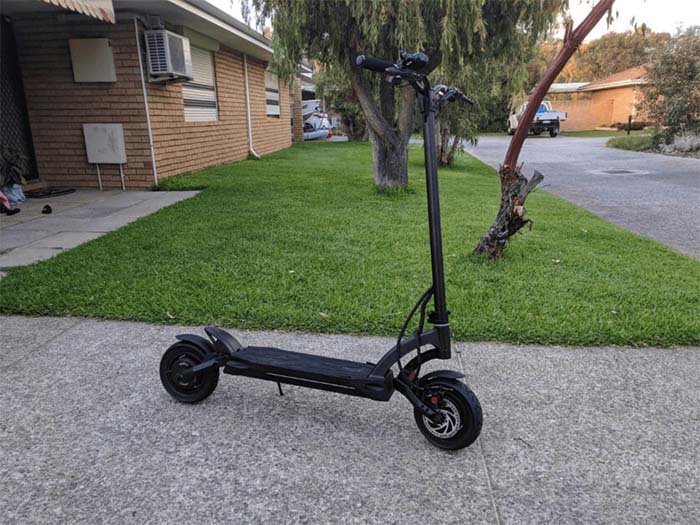 This dual-motor electric scooter features a front and rear suspension and 8 x 3-inch tubeless tires that are durable and super stable. Thanks to those features you never have to feel the bumps in the route.
The scooter weighs around 60 lbs and is amazingly portable.
Not to forget, it has got semi-hydraulic brakes that are very easy to engage.
However, it doesn't have an IP rating and you must avoid riding it in wet weather.
Motor – 2 x 1,000W
Top speed – 45mph
Different battery sizes available
Zoom hydraulic brakes
330 lbs max weight
---
Kaabo Wolf Warrior 11
MSRP: $2,999
Where to Buy:
Voro Motors – Get 7% off with a Coupon Code – EWHEELERS
The super powerful and fast twin 1,200W brushless motors on the Kaabo Wolf Warrior 11 make this scooter a heavy-duty off-road performer.
The fast charge battery lets you ride for around 70 miles in eco mode and 50 miles in the sport mode on medium terrain. It boasts a top speed of 50 mph. It also has a hill-climbing power higher than most models out there.
Related: Wolf Warrior 11 Full Review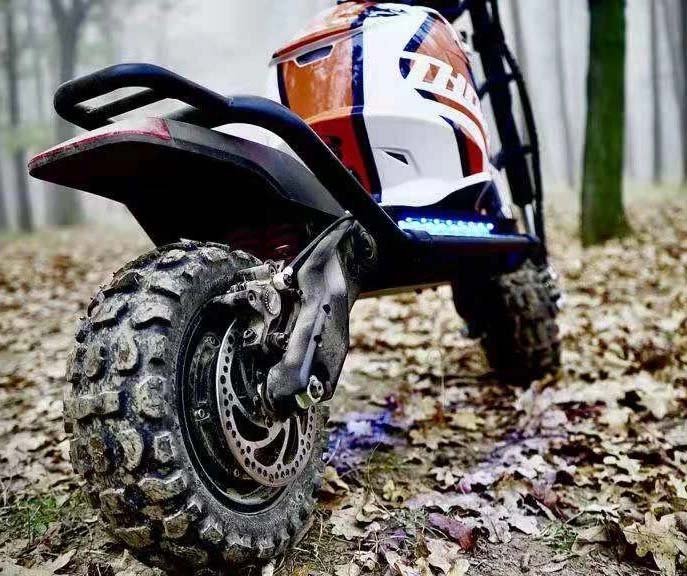 Wolf Warrior comes with heavy all-terrain tires, and amazingly responsive hydraulic brakes, along with switchable ABS brakes on the rear end.
The fully foldable dual-motor scooter weighs 101 lbs. However, the weight might make it a little less portable and suitable for only serious off-road riders. Although heavy-duty construction plus the hydraulic shock absorbers give you extra stability.
Motor – 2 x 1,200W
Top speed – 50mph
Max range – 70 miles in eco mode
450 lbs max weight
IPX4 water-resistance
---
Dualtron X2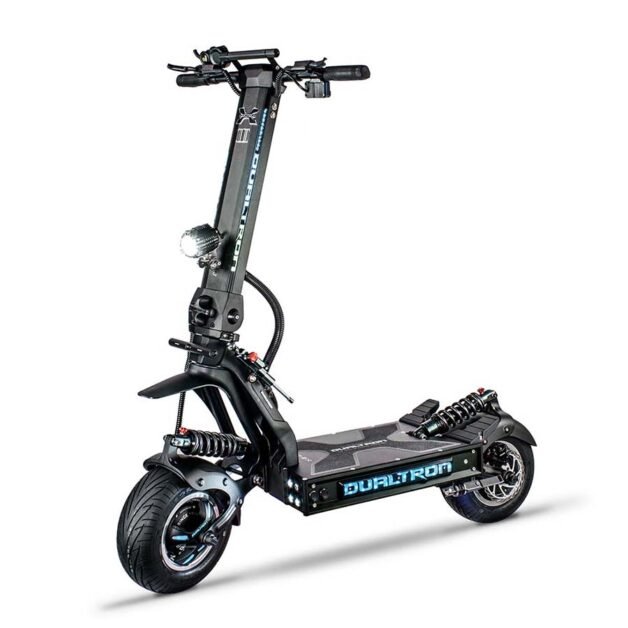 MSRP: $6,490
Where to Buy:
Voro Motors – Get 7% off with a Coupon Code – EWHEELERS
Thanks to its 8,300W BLDC dual hub motor, the scooter can reach over 67 mph for its top speeds. While the 3,024Wh main battery is coupled up with a 192Wh stem battery, the maximum mileage remains to be around 93 miles. The scooter has a climbing grade of up to 35 degrees
The Dualtron X2 is one of the fastest Dualtron scooters to hit the streets ever.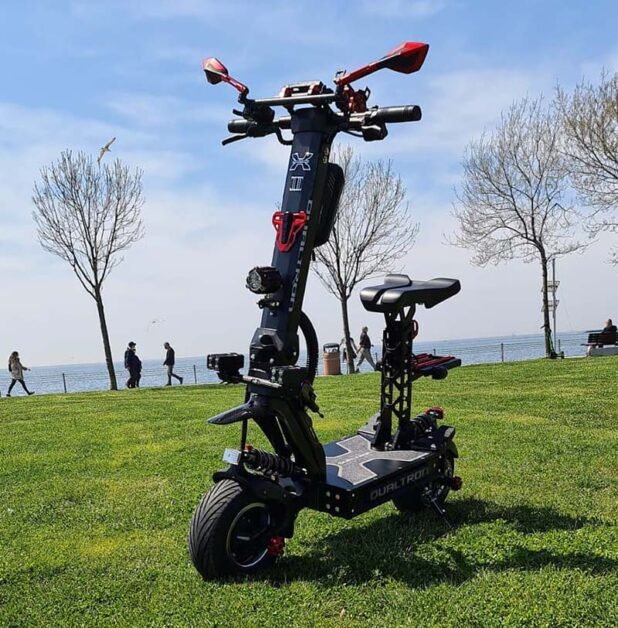 The X2 features a super-efficient 18 step hydraulic suspension system to ensure a safe and smooth riding experience. An adjustable damper makes it quite a comfortable scooter for one and all.
As a nice bonus, this dual-motor scooter also features an electric horn.
Dualtron X2 is perfect for rough terrains and city riding. It weighs about 145 pounds which adds stability even more.
Motor – 2 x 4,150W
Top speed – 68mph
Max range – 93 miles
13″ pneumatic tires
330 lbs max weight
---
Nanrobot D6+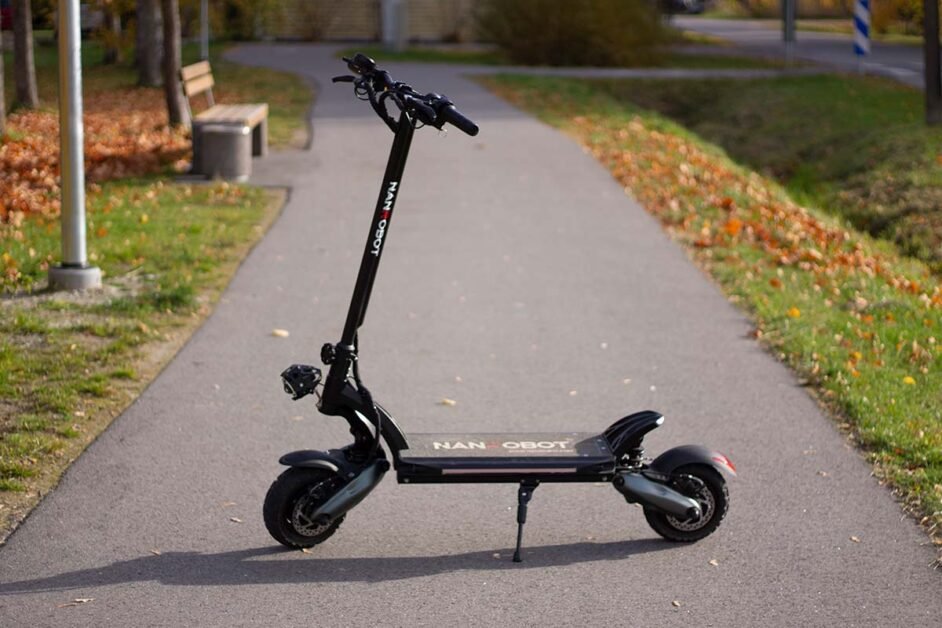 MSRP: $1,599
Where to Buy: Nanrobot Official Store
Powerful twin 1,000W motors bring out an amazing hill-climbing capacity and high speed.
The professional-grade scooter comes with heavy-duty, all-terrain tires, as well as hydraulic disc brakes on the front and rear. That makes it a truly safe dual motor electric scooter.
It can deliver speeds of up to 40 mph while traveling around 40 miles on a single charge.
Related: Nanrobot D6+ Full Review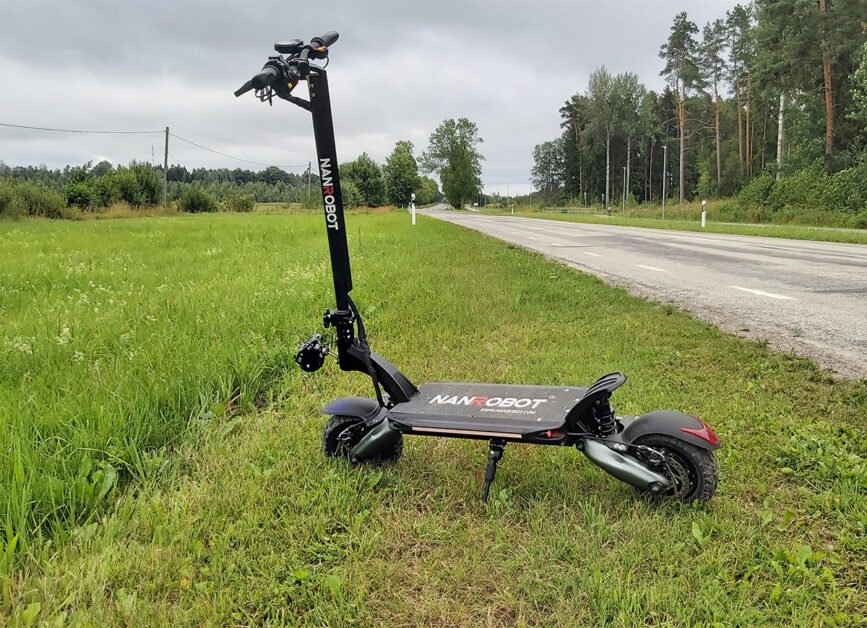 You are going to love its large 10″ off-road tires and a super comfortable riding experience ensured by front and rear suspension that works great on rough roads.
The super-fast e-scooter with a 52V 26Ah Lithium battery is perfect for long trips, adventure tours, and off-road riding.
Another must-mention is its lean steer system that makes the scooter great for teenagers too.
---
WideWheel Pro
The lightest dual-motor electric scooter on the list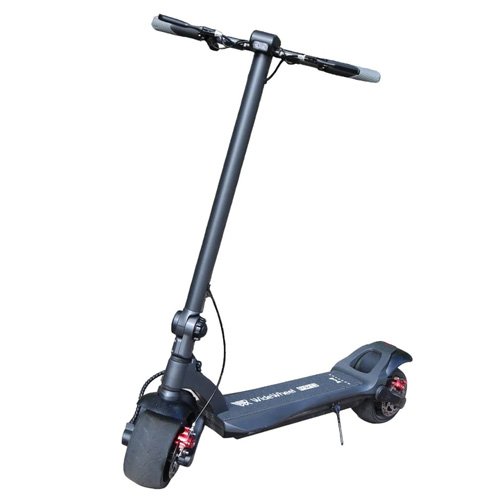 MSRP: $1,269
Where to Buy: FluidFreeRide
A high-end electric scooter coming in a budget-friendly deal, the WideWheel Pro by Mercane is a must-mention on this list.
The gorgeous beast features two 500W motors that deliver a combined peak power of 1600W together. You are going to love its top speed of 26 mph. It lets you enjoy the wind while going for a smooth riding experience at the same time.
Related: WideWheel PRO Full Review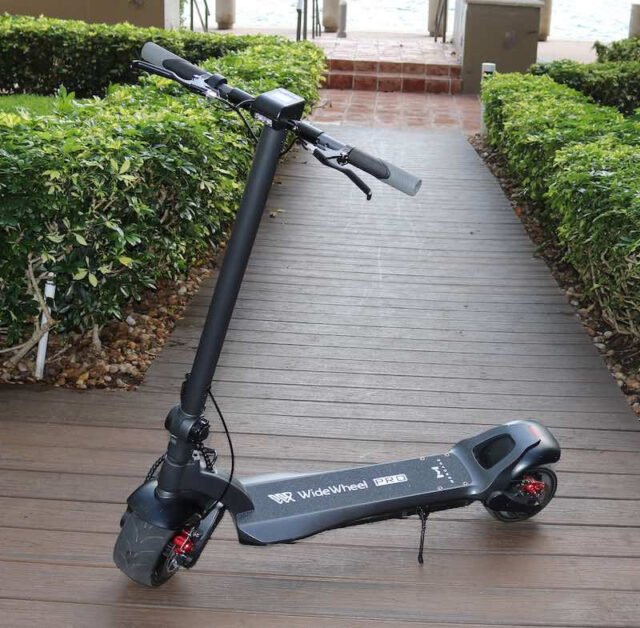 Its extra-wide wheels make sure you never lose balance and the scooter can easily handle rough terrains as well as inclined surfaces.
A 720Wh Lithium-ion battery powers the dual-motor scooter traveling up to 30 miles per charge.
Plus, it is equipped with an impressive front and rear spring suspension.
---
Apollo Phantom
MSRP: $2,099
Where to Buy: Apollo Scooters
The Apollo Phantom is laced with some of the most extraordinary features out there that make it a true leader.
Its thumb throttle is incredibly smooth to use with the quadruple spring suspension.
Apollo Phantom comes with great construction and a large deck plate to suit all sizes of riders.
Its unique hex-shaped display is loaded with information, including the remaining mileage. By the way, the mileage is calculated depending on how much throttle the rider is using.
Related: Apollo Phantom Full Review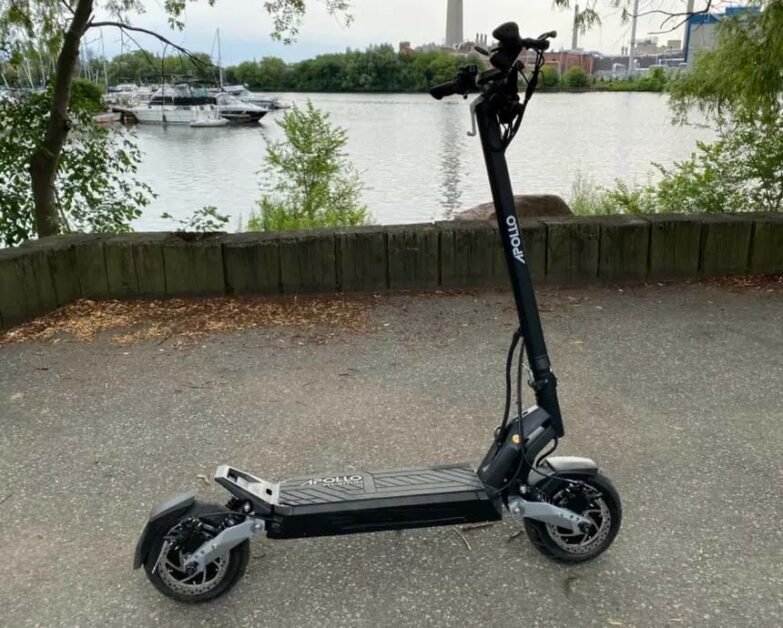 It comes with a high-mounted front light that almost no other scooter has. Phantom also has the brightest turn indicators.
The dual brushless motors of 1,200W each push the rider to a top speed of 38mph. 1,216Wh will last for long distances. To be more specific, the battery offers a respectable range of 40 miles.
Additionally, the scooter has mechanical as well as hydraulic brakes, which give you great stopping power.
---
Zero 11X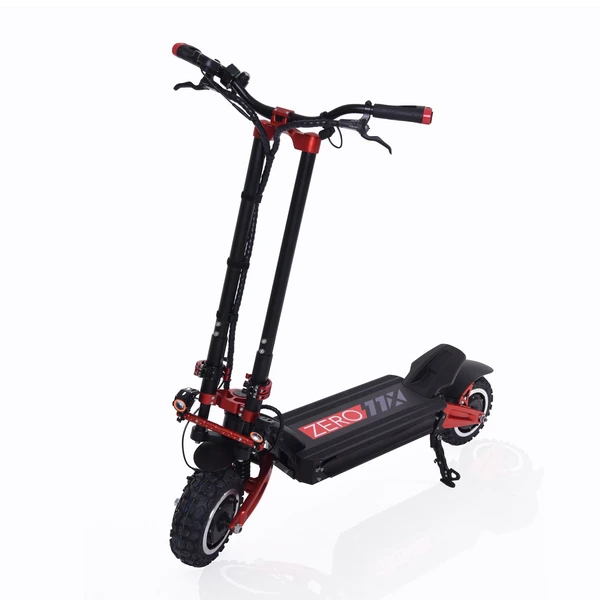 MSRP: $3,699
Where to Buy: REV Rides – GET $50 OFF with Coupon Code – e-wheelers50
Those who are all about riding at the fastest speeds are going to fall in love with the Zero 11X.
Its two 1,600W motors surely give it immense power. Delivering a maximum speed of over 60 mph, this dual-motor e-scooter is one of the best out there.
Not only the speed, but it also comes with an excellent range and can travel over 90 miles in a single charge. The great range comes from a huge 2,304Wh LG battery.
The dual suspension and dual handlebar contribute to a safer ride. Large 11-inch front and rear tires make this e-scooter a great buy for all your off-road riding adventures.
However, the scooter is not specifically designed for wet weather riding, so make sure to be careful about that.
---
Inokim OxO
MSRP: $2,599
Where to Buy: FluidFreeRide
The great expertise and experience of Inokim in crafting electric scooters reaches new heights with their OxO model.
The scooter totally stands out from the crowd when it comes to its world-class build quality. I also must mention its remarkable dual suspension.
Related: Inokim OxO Full Review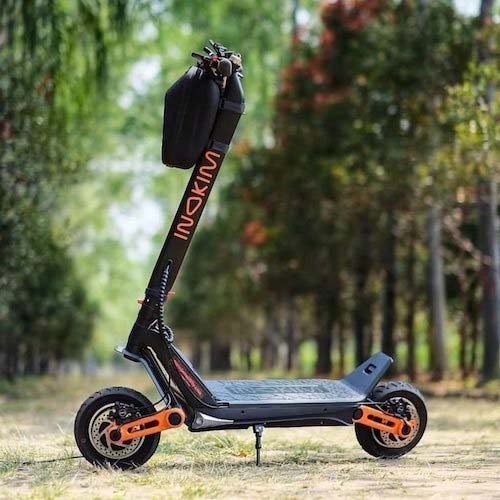 The machine will have you riding for hours because it has a nice battery of 1,536Wh and a range of up to 68 miles.
With its 1,300W dual brushless gearless motor, it delivers a top speed of 40 mph.
Apart from its sheer power, it also comes with unbelievable stopping power with its front and rear disk brakes.
What makes the scooter perfect for off-road and urban riding is its balance and outstanding stability. However, some may find it a bit heavy and less portable with a weight of around 74 pounds.
---
Varla Eagle One
MSRP: $1,599
Where to Buy: Varla Scooter
While coming with 3 gears, it lets you switch between single and dual-motor modes. An Eco button helps you to preserve the battery significantly.
Its dual-spring suspension, a huge deck with entrance, and twin hydraulic brakes make it give a tough competition to other similar models out there. The brand equips Varla scooters with some extra gear, including 3 grip tapes, a spare internal tube, elbow pads, knee pads, and wrist guards.
Maintain a market value of around 1,600 dollars, the Varla scooter offers some extraordinary features:
10-inch pneumatic tires
Twin 1,000-watt brushless motors
Top Speed: 40 mph
Super efficient 52-volt, 18.2Ah (646Wh) lithium-Ion battery
Range: 40 miles in a single charge
Weight: 77 lbs
Payload Capacity: Up to 727 lbs
---
Speedway 5
MSRP: $1,599
Where to Buy: MinimotorsUSA
If going for a super strong model is your priority, the Speedway 5 with its fast speed and increased range is something you must check out.
It has a marvelous BLDC dual hub motor of 3600 watts. While it's not recommended for beginners to ride faster than 25 mph, this dual-motor scooter can go over 40 mph.
It comes with a range of over 70 miles. This is possible thanks to the 1,404Wh battery, which comes with a quick-charging option. With it, you to fully charge the battery in just a matter of 4 hours.
The scooter has got disc brakes with regenerative electric brake and an efficient dual air spring suspension to ensure rider's safety.
Although it's priced around 2,000 dollars, users are totally satisfied with the value they get from this.
---
Conclusion
There surely is a huge variety of dual motor electric scooters out there, and the right choice totally depends on your specific needs.
In a nutshell, make sure you choose the scooter that fits your riding terrain, weather conditions and travel distances the best.
Before you make a purchase, consider what you are going to use the scooter for, the frequency of riding in a week, the kind of streets you are riding on, the mileage of your regular commute, and more!
If you are looking for a powerful dual-motor electric scooter, you wouldn't regret choosing one from the above list.