People have different ideas about why they need a bike. Along with regular bikes' convenience and low maintenance, some cyclists opt for electric bikes for their portability.
Magicycle is an innovative e-bike brand that has taken the cycling industry by storm with its different e-bike models. At the beginning of 2023, they launched their first full-suspension ebike Magicycle Deer.
In this Magicycle Deer review, we dive deep into this SUV e-bike and figure out for whom it is built. Keep reading!
Electric Wheelers is reader-supported. Although we independently research and test products, we may receive a commission on purchases made from our chosen links. Read more…
Magicycle Deer Performance

Motor: 750W | Top Speed: 28 mph | Torque: 96 Nm | Battery: 1,040Wh | Range: 60-80 miles
Motor and Speed
The Magicycle Deer has a high-powered, high-torque electric motor that offers exceptional performance and is designed to provide riders with an optimal riding experience.
The Magicycle Deer motor has a 750W that produces 96 Nm of torque, which is ideal for outdoor adventures. It provides a smooth and reliable ride even on off-road terrain.
The Magicycle Deer's performance is impressive when it comes to top speeds. It can reach speeds of up to 28 mph (45 km/h), making it a class 3 e-bike.
28 mph is the maximum assisted speed an e-bike can have in most countries.
Its impressive acceleration, responsive brakes, and smooth ride make it an excellent choice for those looking for a high-performance electric bike.
Magicycle Deer is a great electric mountain bike that has four-speed modes. Toggling between different modes, you can limit the speed from 15 mph to 45 km/h.
This allows riders to adjust the speed as per their requirement and terrain. The speed modes allow riders to customize their riding experience to match their skill level.
Hill Climbing
Magicycle Deer is an incredibly capable electric bike for hill climbing.
Its powerful motor, large battery, and torque-sensing pedal-assist system of 96 Nm ensure you can quickly and easily climb steep hills with minimal effort.
Its low center of gravity makes it highly maneuverable and stable, even on the most challenging trails.
Battery and Range
The Magicycle Deer is an electric bicycle that offers exceptional specs when it comes to battery life.
This bike is powered by a 52V 20Ah high-quality lithium-ion cell battery which provides a range of up to 80 miles on a single charge. However, the real range depends on the terrain and other factors.
The battery is removable, allowing you to charge easily in your home, office, or on the go. The battery also offers a long life span, with a battery lasting up to 1,000 charge cycles. Additionally, you can buy a spare battery from Magicycle and go for extra-long rides.
This means you can rely on your Magicycle Deer for thousands of miles of travel.
The battery also features a battery management system that helps protect the battery from over-discharge, and other issues, meaning you can get the most out of your battery life.
With the Magicycle Deer, you can easily move long distances and enjoy a smooth and comfortable ride.
Hydraulic Brakes
Magicycle Deer hydraulic brakes are a powerful and efficient brake system that provides superior stopping power.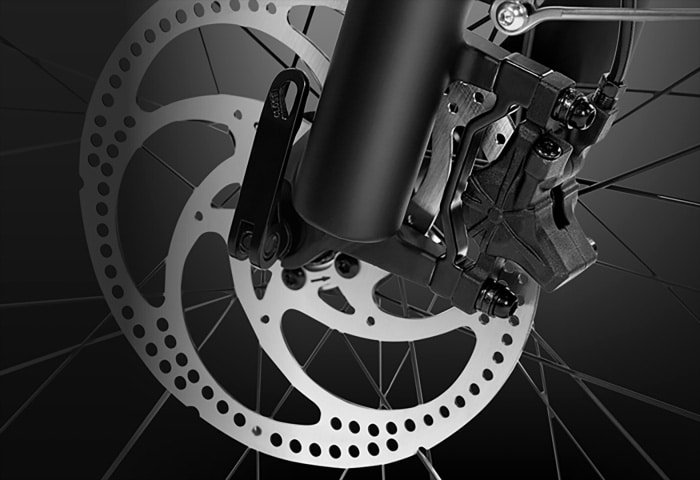 The hydraulic system with 180mm rotors is designed to provide a smooth, consistent braking force, allowing for a safe and secure stop in any situation.
The brakes use a unique hydraulic system, which utilizes a single-piston caliper and a dual-piston master cylinder for maximum braking power.
The unique design of the caliper allows for a more even distribution of the braking force, resulting in a smoother and more efficient braking experience.
The brakes are also designed to be lightweight and durable, making them ideal for both city and mountain bike riders.
7-Speed Gearing System
Its 7-speed gearing system provides adequate performance. It allows riders to switch between gears to efficiently tackle any terrain.
The gear system is easy to use, allowing riders to quickly and easily adjust their speed to fit any terrain and get the most out of their rides.
Magicycle Deer Design and Features
Frame
The Magicycle Deer is a stylish, comfortable bike for urban commuting and leisure. Its 18-inch frame is crafted from durable aluminum alloy that is both lightweight and strong.
The bike comes in two different frame types: step-through and step-over.

The classic step-through design allows riders to get on quickly and off the bike. The step-over design is for those who prefer a more traditional style.
The frame color is available in dawn yellow, space gray, and neon green, allowing riders to customize their bike to match their style.
The Magicycle Deer is designed to be one-size-fits-all, ensuring that anyone can enjoy the comfort and style of this bike.
Recommended Rider Heights: 5'5″ – 6'8″
Touring vs Off-Road Version
Magicycle Deer comes in two different model variations: Touring and Off-road versions.
Both versions have the same frame. But the Touring version comes with fenders and a rear rack, while the Off-road version comes without these accessories.

Since the off-road version has fewer accessories, it is slightly cheaper. Also, the off-road version is only available for the step-over frame.
Full Suspensions
The Magicycle Deer full-suspension bike is designed to provide a smooth and comfortable ride for all terrain.
Its frame is made of aluminum alloy and features a cleverly designed geometry to make it both lightweight and strong.
Its unique frame design features a full-suspension system, which offers both front and rear suspension to give riders a smoother ride.
Due to full suspensions and wide fat tires, it is an excellent choice for all types of terrain. Its full-suspension system helps to reduce vibrations, making for a much more comfortable ride.
Related: Magicycle Deer vs Giant Talon E+
Colored LCD Display
The Magicycle Deer's colored LCD is an excellent feature and a colorful way to track your ride stats.
It allows you to monitor your speed, distance, time, and calories burned and access menus for bike settings, navigation, and more.
You can customize your bike's look with colorful themes and dashboard display and choose from LED light colors.
Tires and Wheels
The Magicycle Deer features 26″ x 4″ tires and wheels designed for maximum grip and stability on all terrains.
The tires are made of a thick rubber compound, providing excellent traction and shock absorption for a smooth ride.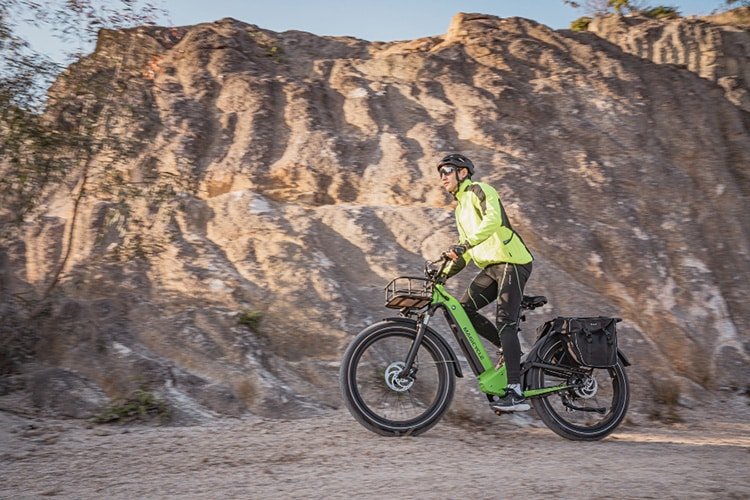 The wheels are double-walled aluminum alloy and feature a unique, stylish design. They are lightweight and strong, allowing for easier acceleration and braking.
Portability
Magicycle Deer is not an easily portable e-bike. On the contrary, it's a huge and heavy bike.
So it's not an exaggeration at all to call Magicycle Deer an E-SUV. It weighs over 90 pounds (~42 kg) and is even heavier than Himiway Cobra.
I wouldn't consider the excess weight as a con for this bike. Just keep in mind that you want to store it on the ground floor rather than towing it several flights of stairs.
Magicycle Deer Review Conclusions
Magicycle Deer is an electric bicycle that provides efficient and eco-friendly transportation.
Its wide selection of features and accessories make it an excellent recreational bike. Riding the Magicycle Deer is comfortable, and the bike is versatile enough to tackle any terrain.
Overall, the Magicycle Deer provides a great riding experience and is a great value for its price.
Magicycle Deer Specs
General
| | |
| --- | --- |
| Bike Name | Magicycle Deer Softail Full Suspension Electric Bike |
| E-Bike Class | Class 3 |
| Availability | United States |
| Warranty | 2 Years |
Electronics
| | |
| --- | --- |
| Motor Type | Rear-Hub Drive |
| Motor Power | 750W |
| Torque | 96 Nm |
| Top Speed | 28 mph |
| Battery | 52V 20Ah (1.040Wh), LG |
| Charge Time | 4-7 Hours |
| Range | 60-80 miles |
| Display | Colored LCD Display |
Bike Components
| | |
| --- | --- |
| Dimensions | 78.7″ x 45.3″ |
| Frame Material | Aluminum Alloy |
| Frame Size | One Size |
| Frame Type | Step-Over, Step-Through |
| Recommended Rider Height | 5'5″ – 6'8″ |
| Frame Colors | Green, Yellow, Gray |
| Fork | Front Suspension Fork with Hydraulic Lockout |
| Rear Shock | Rear Shock Absorber |
| Gearing | 1×7-Speed Shimano Altus |
| Brakes | Front and Rear Hydraulic Disc |
| Wheel Size | 26″ |
| Tires | 26″ x 4.″ Kenda Fat Tires |
| Weight | 92.3 lbs (41.9 kg) |
| Weight Capacity | 400 lbs |