In this Magicycle Ocelot Pro review, we take a closer look at this step-thru fat tire electric bike.
Magicycle's Ocelot Pro is a great bike with an impressive range and powerful motor. The Ocelot Pro has various features, including an adjustable seat and large tires, making it stand out among other ebikes. The bike is great for individuals looking for good ebikes to commute long distances.
Keep reading to learn more about Magicycle's Ocelot Pro and whether it's a great bike for you.
Electric Wheelers is reader-supported. Although we independently research and test products, we may receive a commission on purchases made from our chosen links. Read more…
Magicycle Ocelot Pro Review
To Whom?
The Ocelot Pro is durable, reliable, and perfect for experienced and beginner riders and could be perfect for individuals looking to commute to work or explore the great outdoors.
The bike is eco-friendly, energy-efficient, affordable, and innovative.
Magicycle Ocelot Pro Specs
General
| | |
| --- | --- |
| Bike Name | Magicycle Ocelot Pro |
| E-Bike Class | Class 2, Class 3 |
| Availability | United States |
| Warranty | 2 Years |
Electronics
| | |
| --- | --- |
| Motor Type | Rear-Hub Drive |
| Motor Power | 750W |
| Torque | 96 Nm |
| Top Speed | 28 mph |
| Battery | 52V 20 Ah (1,040Wh), LG |
| Charge Time | 4-7 Hours |
| Range | 60-80 Miles |
| Display | Full-Color LCD Display |
Bike Components
| | |
| --- | --- |
| Dimensions | 69.92″ x 45.52″ |
| Frame Material | Aluminum Alloy |
| Frame Size | One Size |
| Frame Type | Step-Through |
| Recommended Rider Height | 4'10″ – 6'2″ |
| Frame Colors | White, Green, Gray |
| Fork | Front Hydraulic Suspension Fork |
| Gearing | 1×7-Speed Shimano Altus |
| Brakes | Front and Rear Hydraulic Disc (Tektro) |
| Wheel Size | 20″ |
| Tires | 20″ x 4″ Fat Tires (Kenda) |
| Additional Features | Front Light, Rear Rack, Fenders, Repair Tool Kit |
| Weight | 73 lbs |
| Weight Capacity | 350 lbs |
Magicycle Ocelot Pro Performance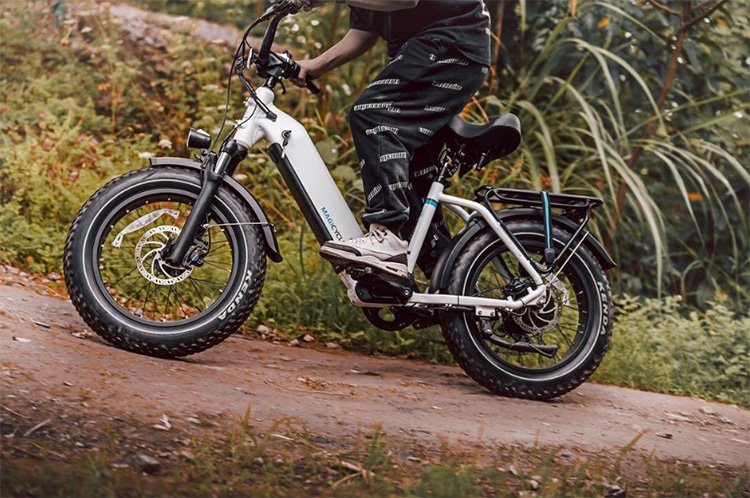 Motor and Speed
The Ocelot Pro has a powerful motor, producing 96Nm of torque. The motor is larger than that on the Magicycle Cruiser and gives the ebike a higher hill climb power. This feature makes the bike perfect for individuals looking for a powerful bike to explore the countryside on weekends.
The bike's powerful motor provides value for money, making it one of the best bikes in its category.
The 750W motor powers the bike for speeds of up to 28mph. The bike's speed makes it perfect for long commutes and individuals looking for a great bike to commute to work.
Additionally, the bike has an intelligent pedal assist, making it easy to use. The bike has a 12-magnet cadence sensor pedal assist, providing a responsive and smooth riding experience.
The feature provides the rider with a smooth riding experience, making it easier to reach their destination without over-exerting themselves.
Battery and Range
Magicycle designs their ebike with a long-range 52V/20Ah lithium battery that gives the rider more than 70 miles of range.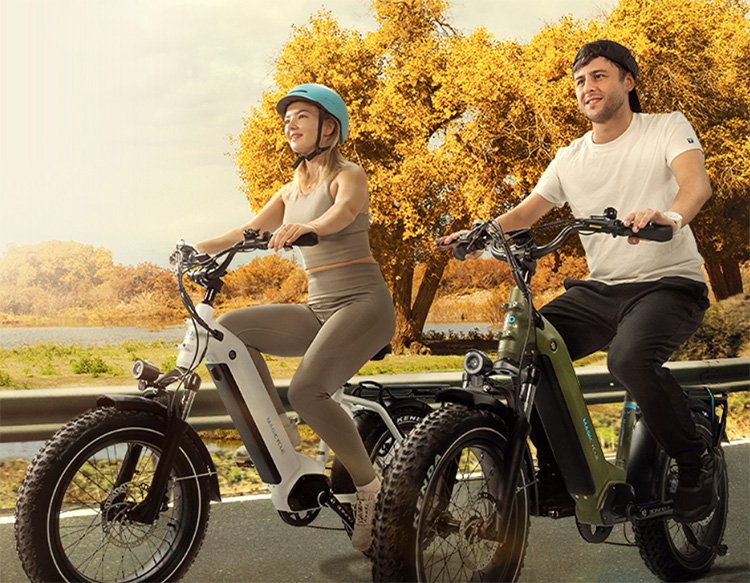 The powerful battery extends the area riders can cover with a single charge letting them confidently explore various areas. The bike has enough power to get you home even if you are fatigued.
The bike's battery makes it perfect for individuals looking for a reliable bike to explore the outdoors without worrying about running out of power.
The bike's battery is integrated into the frame and provides a longer range than most bikes in its category. Additionally, it takes a short time (4-7 hours) to charge the battery because of the Ocelot Pro's fast charger.
The fast charger has an active cooling system and fan preventing it from overheating.
Its charging time is 30% higher than other similar chargers, making the bike more convenient for riders planning to use it daily. For instance, you could ride the bike to work, leave it to charge for 5 hours, and it's ready for another trip.
Braking
The Ocelot Pro has hydraulic disc brakes that are more efficient and perform better than mechanical variants.
The braking system eliminates friction and provides a powerful and responsive braking force. For instance, riders can use two fingers to engage the brake when going downhill at full speed.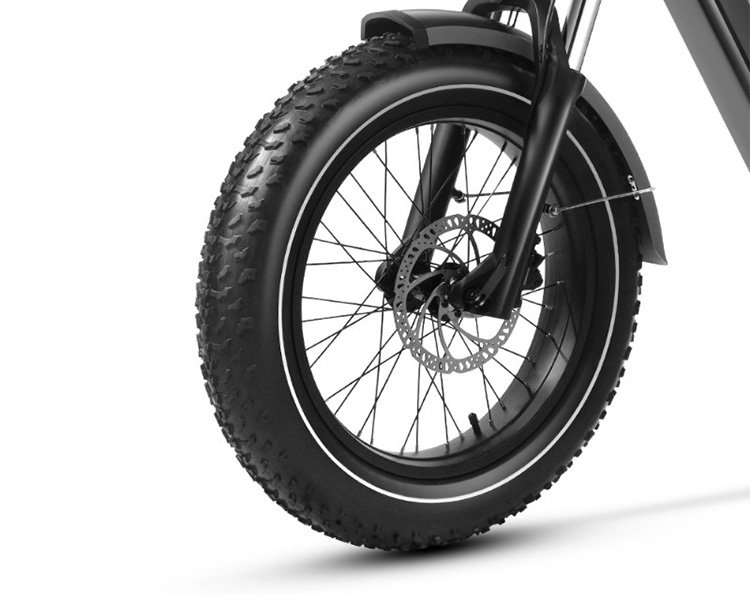 The bike's brakes are quite efficient and necessary considering its speed. Its brakes come in handy for individuals riding the bike in traffic or crowded areas.
The brakes help reduce instances where an accident may happen, making the rider more confident, especially when emergency braking is necessary.
Shimano 7-Speed Gearing
The Ocelot Pro has Shimano 7-speed gearing, so you could make paddling easier when going uphill.
The transmission provides smooth shifts and helps riders quickly adjust speeds depending on the terrain. It helps the rider experience a smoother ride and is perfect for individuals using the bike for long commutes or off-road adventures.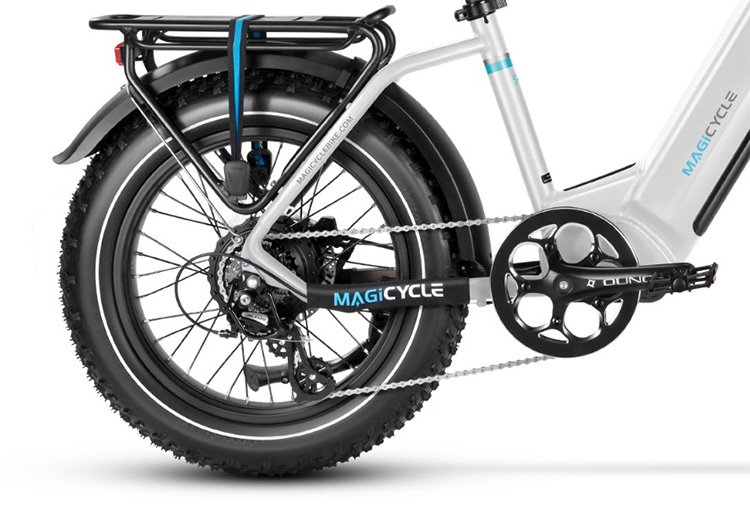 The Shimano Tourney 7-speed gearing isn't the best in the market, but it's quite functional, considering the ebike's price tag.
Magicycle Ocelot Pro Features

Frame and Geometry
Magicyle designed their Ocelot Pro following the CFS (Comfort Frame System) formula.
The design helps make a strong, durable, and efficient bike that riders can use for years. For instance, the bike's downtube is 4.5mm thick. It's 1.5mm thicker than other bikes within its category, making it more durable.
The bike's frame helps riders experience stability and safety, especially when going downhill or braking. Additionally, it has a double-layered cavity, making it more rigid.
The geometry of the bike makes riding comfortable, no matter how long the ride is.
The Ocelot Pro has a 20-inch frame, which is smaller than their cruiser. However, the frame's step-through design makes it easier for individuals to get off or on the bike. This is vital for beginners, older citizens, and riders that want to get off in case of an impending accident.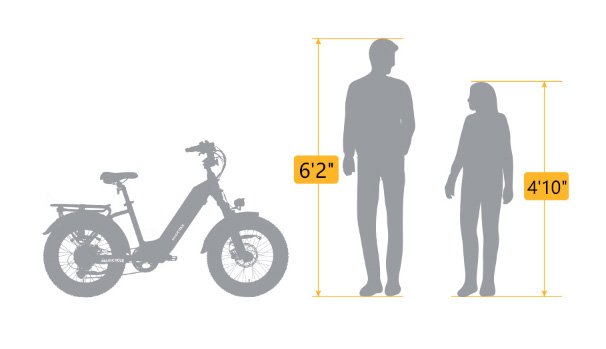 Riders don't have to bend over when holding the bike's handlebars. Instead, they can sit upright, creating a healthier and more comfortable riding experience.
The Ocelot Pro's butterfly handlebar (compared to regular bikes' straight handlebar variants) is more comfortable and friendly to the rider's back.
Front Fork Suspension
Magicycle's Ocelot Pro has a hydraulic front suspension system that's more efficient and reliable.
The hydraulic front suspension makes rides more comfortable, especially on rough and rocky terrain. The system reduces bumps, creating a positive riding experience for beginners and individuals new to offroading.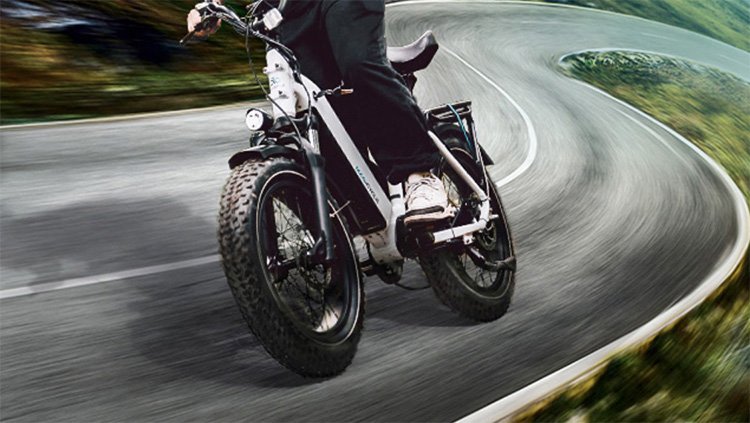 The bike's front hydraulic suspension creates a healthier riding experience since the system absorbs all shock reducing the chances of transferring it to the rider.
The system makes it easier for riders to control the bike, especially when riding downhill, reducing potential accidents. It also makes the Ocelot Pro perfect for older citizens with potential back problems.
Wheels and Tires
The Ocelot Pro has 20×4.0″ Kenda tires providing various benefits, including increased contact area. This increases traction, making it perfect for bike riders to tackle hilly terrain or soft surfaces like sand and snow.
The bike's fat tires make the bike more stable and easier to control.
The wheels also provide a shock-absorbing capacity. The wheels absorb bumps along the road, providing riders with a better experience.
The tires are perfect for off-roading enthusiasts looking to explore unforgiving terrain.
LCD Display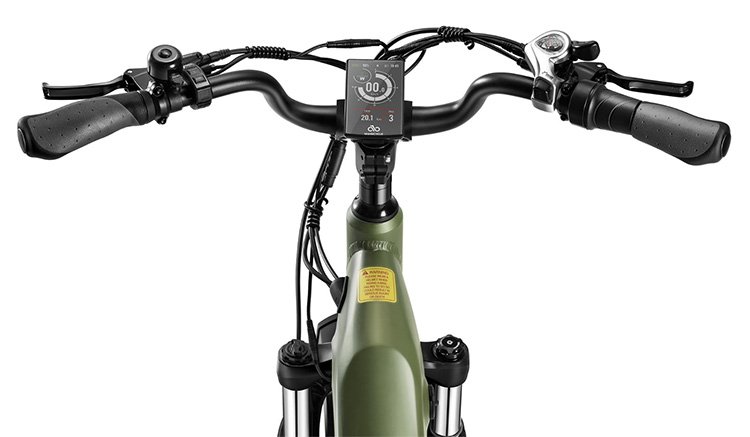 The Ocelot Pro has a full-color, multifunctional LCD providing riders with various information, including:
power output
mileage
speed
remaining battery percentage
Pedal Assist (PAS) level.
The screen is water-resistant and has an integrated USB charging port that comes in handy when going on adventurous off-road trips.
The bike's high-quality LCD is bright and easy to read, making it perfect for bike riders during the daytime.
Another added advantage is that riders can customize the screen.
Magicycle Ocelot Pro Review Conclusions
Magicycle has made unprecedented progress since it started and still aims to make the best, most reliable, high-quality ebikes for its customers.
The company aims to improve from past shortcomings to create better and more reliable products. The company provides a 24-hour service, ensuring it efficiently and quickly handles all customer issues.
Magicycle's Ocelot Pro is perfect for individuals searching for reliable and durable ebikes. The bike is great for commuting and off-road adventures.
Also, it has lots of features and is suitable for experienced and beginner riders. We can definitely see the value for the money this bike provides.