Gyroor is a well-known manufacturer of different electric vehicles. However, hoverboards have been their main focus for a long time.
Gyroor G11 off-road hoverboard is one of their recent releases. It has a nice top speed and a reasonable playing time.
In this review, we are going to find out to whom this gadget is built for? Can you really offroad with it? And what are its main features?
Electric Wheelers is reader-supported. Although we independently research and test products, we may receive a commission on purchases made from our chosen links. Read more…
Gyroor G11 Overview
Gyroor G11 Pros and Cons
Who Should Buy Gyroor G11 Hoverboard?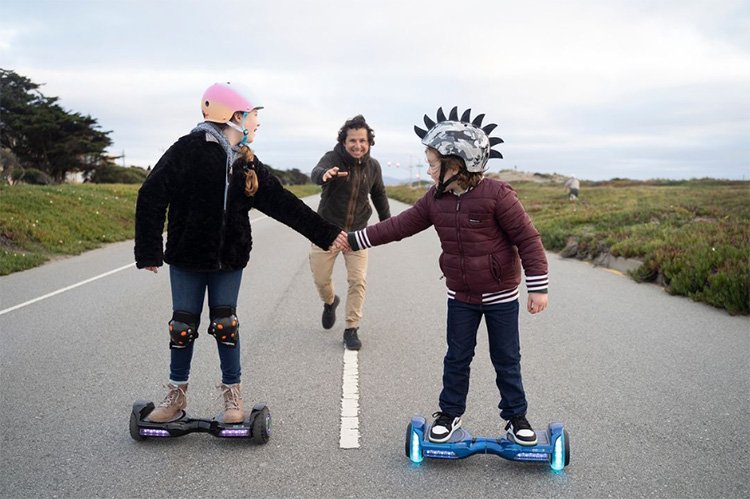 The Gyroor G11 hoverboard is a popular and versatile self-balancing scooter that is built for riders of all ages and abilities. Since it has a payload capacity of up to 220 pounds (100 kg), it really is suitable for adults too.
The G11 is a great option for commuters, students, and anyone else who wants a fun and exciting way to get around.
For students, the hoverboard is a fun and exciting way to get around campus. Also, a hoverboard can be a perfect toy for children, who just want to have fun.
Where to Buy Gyroor Hoverboards?
Gyroor is a global brand that supplies its electric vehicles in over 64 countries. The most convenient place to buy yourself a Gyroor hoverboard is:
Gyroor G11 Specs
| | |
| --- | --- |
| Motor | 2x250W Dual Motors |
| Top Speed | 7.5 mph (12 km/h) |
| Battery | 36V 2Ah (72 Wh) |
| Max Range | 7.5 miles (12 km) |
| Charging Time | 2h |
| Hill Grade | 30° |
| Wheel Size | 6.5-inch Wheels |
| Weight | 20 lbs (9 kg) |
| Max Load | 220 lbs (100 kg) |
| Min Load | 44 lbs (20kg) |
| Dimensions | 25×8.9×9.3 inches (630x225x235 mm) |
| IP Rating | IP54 |
| Traversable Terrain | Pavement, Packed Dirt |
| Warranty | 6 Months for Battery, 1 Year for the Rest |
Gyroor G11 Review – Performance
2x250W Motors | 7.5 mph Top Speed | 72 Wh Battery | 7.5-Mile Range
Motors and Speed
The Gyroor G11 hoverboard is equipped with dual 250W hub motors, which provide plenty of speed and acceleration. The motors are located inside both wheels. So in total, the G11 hoverboard has a motor power of 500 watts.
Motors allow the hoverboard to reach speeds of up to 7.5 mph (12km/h) and provide a smooth and stable ride, even on rough terrain.
The motors are durable and reliable, so you can count on the hoverboard to provide a great ride every time.
Battery and Range
The Gyroor G11 hoverboard comes with a long-lasting lithium-ion battery that has in total of 72 watt-hours of energy capacity.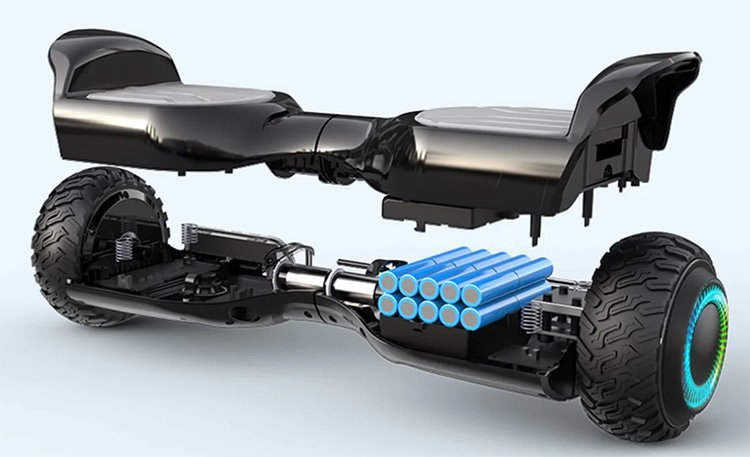 The battery provides up to 7.5 miles (12 km) of range on a single charge. It means, if you ride for 1 hour at the hoverboard's top speed, the battery can last for 1 hour. It takes about 2-3 hours to fully charge the battery.
So, the playtime of the G11 is not so long. But fortunately, the recharge time is also quite short.
The battery is also designed to be safe and reliable, with multiple safety features to prevent overcharging and other potential issues.
Is Gyroor G11 Off-Road Hoverboard?
Although Gyroor claims that G11 is an off-road hoverboard, we wouldn't classify it as so.
It has enough power to tackle some obstacles and ride on an uneven dirt road but if the terrain is very rough, the ride quality is rather poor.
It's best to ride the G11 on smooth pavement or sidewalk.
Check Price from:
Gyroor G11 Design and Features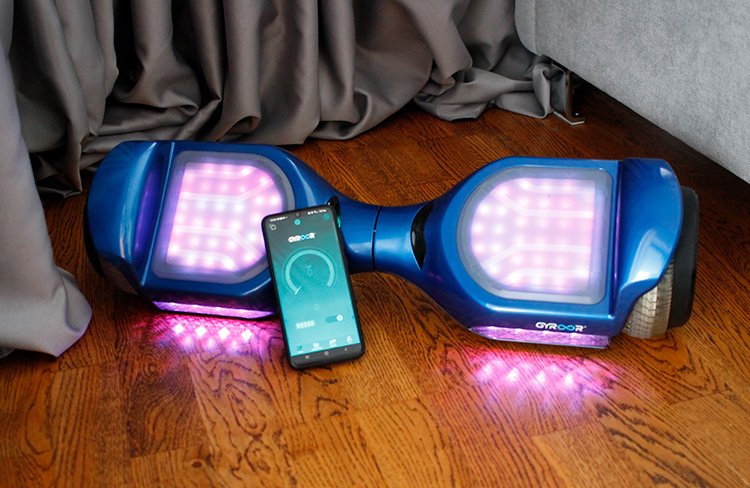 Build Quality
The Gyroor G11 hoverboard is known for its high-quality construction and durable design. The hoverboard is made of strong and lightweight materials, and it has been rigorously tested to ensure it can withstand everyday use.
One of the standout features of the G11 is its durable frame, which is made of high-strength aluminum alloy.
The frame is designed to be lightweight, yet strong enough to support riders up to 220 pounds (100 kg). There is also a minimum weight limit for the hoverboard, which is 44 lbs (20 kg). This makes the G11 a good choice for kids and most adults.
The G11 also has durable, non-slip footpads that provide a secure grip, even when the hoverboard is going at full speed. Footpads are made of high-quality materials, and it has been tested to ensure they can withstand the wear and tear of everyday use.
Portability
Hoverboards are usually quite lightweight and small, so they are easily portable. The same goes for Gyroor G11.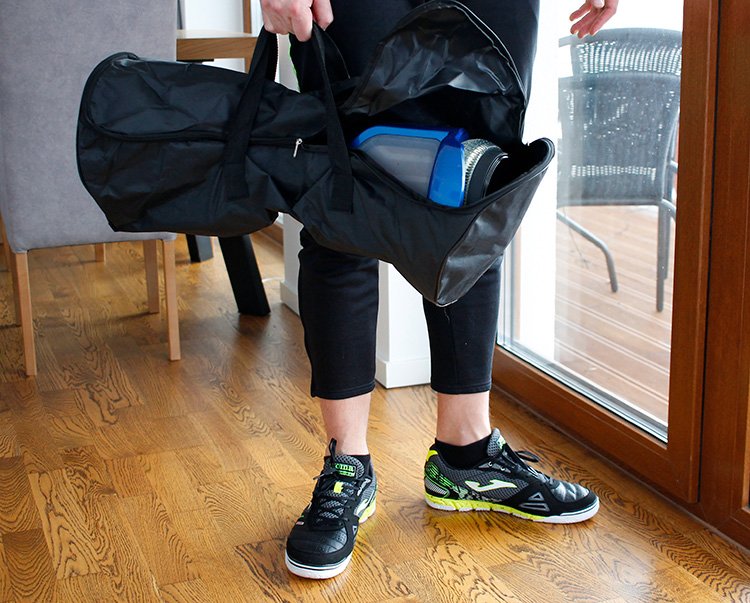 The G11 is also easy to carry, so you can take it on public transportation or store it in a closet when you're not using it.
The hoverboard comes with a convenient carrying bag to make it even more portable.
6.5″ Rubber Wheels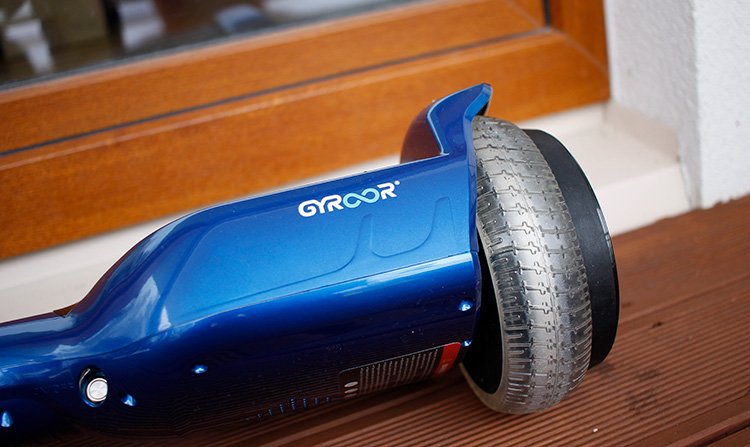 In addition to its strong frame, the G11 also has 6.5-inch rubber tires that provide a smooth ride, even on rough terrain.
The tires are puncture-resistant, so you don't have to worry about getting a flat while you're out and about.
Gyroor G11 App
The G11 hoverboard comes with its own app, which allows you to customize and control your hoverboard from your smartphone. The app is available for both iOS and Android devices, and it is easy to use.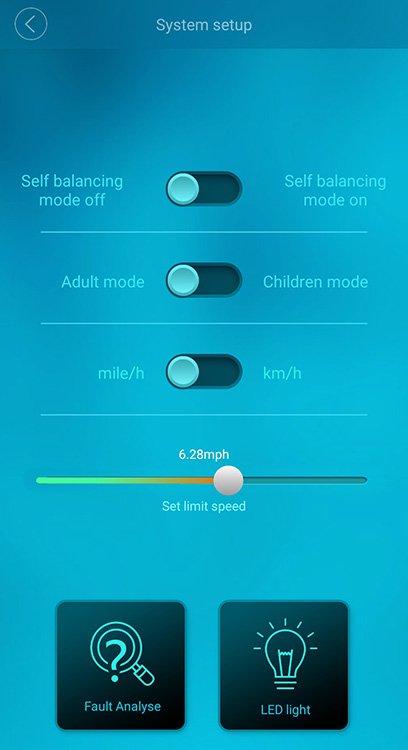 With the app, you can customize the hoverboard's settings. For instance, you can adjust the speed of the hoverboard, as well as LED lights and other features. Also, you can toggle between children and adult mode.
In addition to its customization and monitoring features, the G11 app also provides access to helpful tutorials and user manuals. This makes it easy to learn how to use your hoverboard, and it provides valuable information that can help you get the most out of your G11.
LED Lights
The Gyroor G11 hoverboard is equipped with LED lights that make it easy to see, even at night.
These lights are located on the front and back of the hoverboard, and they provide a bright and colorful display that is sure to turn heads.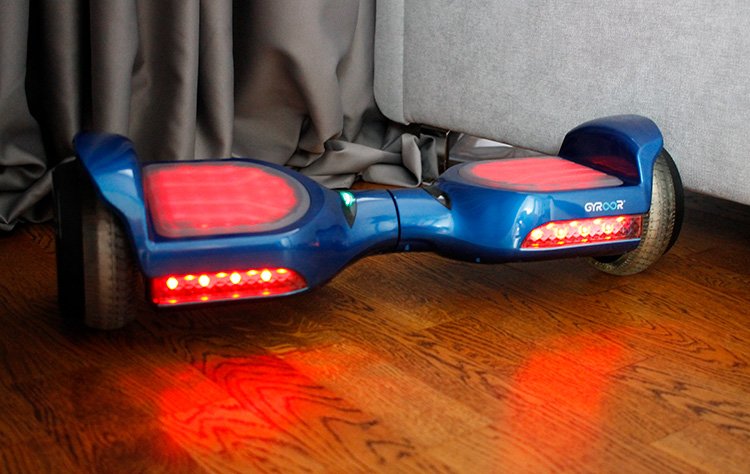 With the Gyroor G11 app, you can choose from a variety of different colors and patterns, allowing you to personalize your hoverboard and make it truly unique.
This is a fun and exciting feature that allows you to express your personality and style through your hoverboard.
Music Speakers
The Gyroor G11 has built-in music speakers that allow you to listen to your favorite tunes while you ride. These speakers are located on the bottom of the hoverboard, and they provide clear and powerful sound.
To play music through the hoverboard, just connect your smartphone to the hoverboard via Bluetooth.
Are Gyroor Hoverboards Safe?
Many parents are concerned about whether hoverboards are safe. Although the concern is fully justified, Gyroor hoverboards are rather safe.
Gyroor G11 hoverboard comes with a UL2272 certificate. It means that the product has been thoroughly tested and meets all safety standards.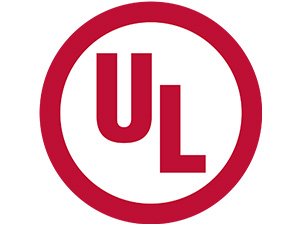 Additionally, the battery of Gyroor G11 has a safety feature that protects the product from overcharging.
Gyroor G11 Warranty
Gyroor G11 comes with a 6-month warranty for the battery and a 1-year warranty for the rest of the hoverboard.
Please note that the warranty is only valid for factory defects. If you ride through deep puddles or the device stops working after being dropped, the warranty doesn't help you.
Gyroor G5 vs G11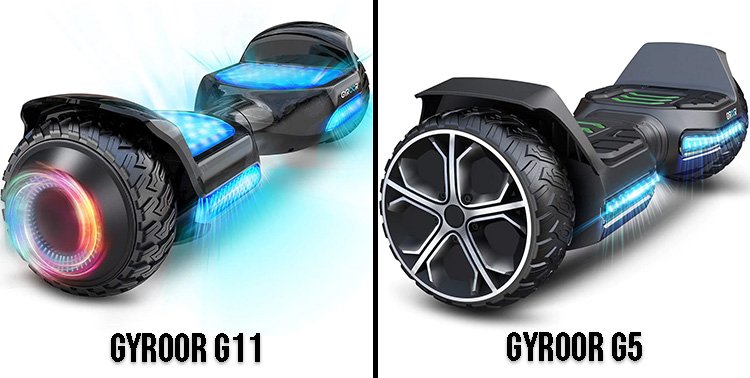 Gyroor G11 and G5 are very similar. Both have wheels of the same size and the same LED lights. Also, the typical range is about the same.
However, they have some notable differences too.
The battery of Gyroor G5 has twice as much energy capacity as G11. Also, the G5 has a little bit more power. Thanks to that, the G5 is capable to withstand 45 lbs (20 kg) more payload. A bigger motor is also useful when off-roading.
So the G5 has some minor advantages, but it also costs a bit more.
Gyroor G11 Review Conclusions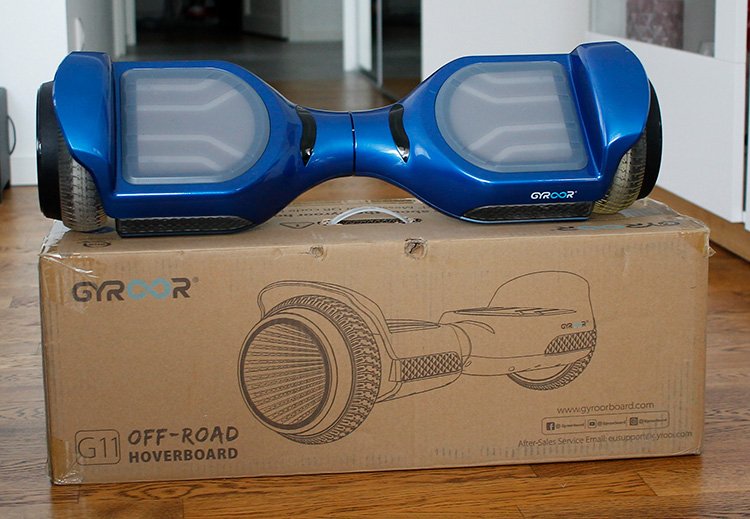 Overall, the Gyroor G11 hoverboard is a well-built and durable self-balancing scooter that is designed to last.
Its strong frame, puncture-resistant tires, and non-slip footpad make it a great choice for riders who want a hoverboard that can withstand the rigors of everyday use.