Are you searching for a reliable e-bike to supplement your transportation needs?
The RadRover 6 Plus is Rad Power Bikes' most recent flagship model, and it comes with various cool features, including a new motor with more torque and a new battery pack.
Keep reading to learn about the RadRover 6 Plus and why it would be a great bike.
Electric Wheelers is reader-supported. Although we independently research and test products, we may receive a commission on purchases made from our chosen links. Read more…
RadRover 6 Plus Review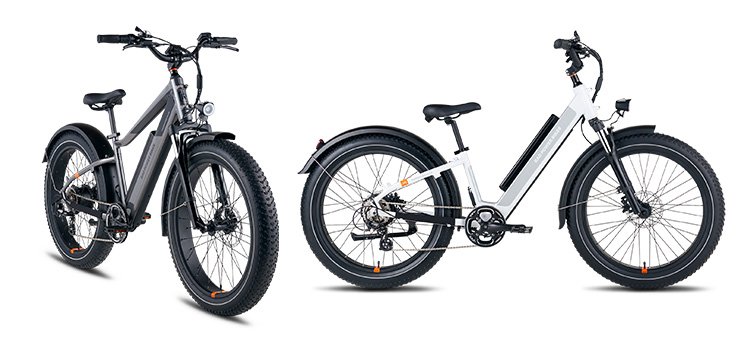 Motor: 750W | Top Speed: 20 mph | Max Payload: 275 lbs | Battery: 672Wh | Range: Up to 45 miles
RadRover 6 Plus Performance
New Motor With More Torque
The RadRover 6 Plus has a new motor that provides more torque. Added torque on electric bikes represents their hill climbing ability. The RadRover 6 Plus' new motor helps riders climb hills 25 times faster than they would with previous models.
The bike was tested on a steep incline and it performed as advertised.
The RadRover 6 Plus has a 750W rear hub motor similar to the company's previous models. It provides a maximum assisted speed of 20 mph, which makes it a class 2 e-bike.
The difference is that the motor engages more smoothly and precisely lines up with the rider's pedal stroke. The motor matches the rider's speed at an excellent rate that feels natural when you step down on the pedal.
RadRover 6 Plus Hill Climbing
During the hill climbing test, the RadRover 6 Plus was tested on throttle only and on the maximum pedal assist. We noticed that it quickly got up to speed on the throttle-only mode. However, it slowed to 10mph at the steepest part of the hill.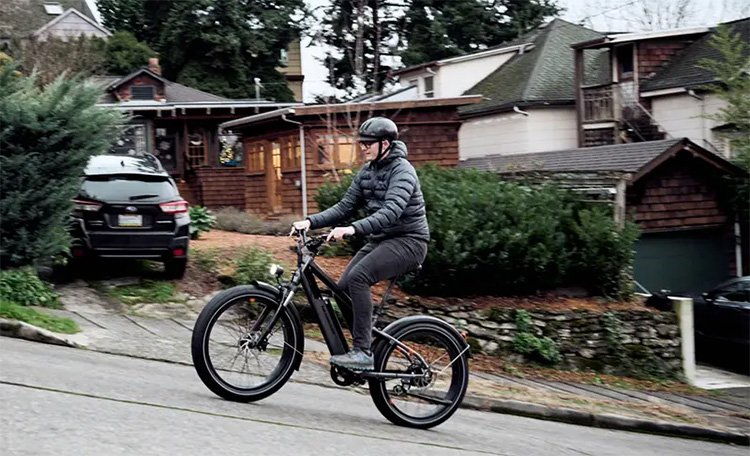 The RadRover 6 Plus performed better on the second test, which involved a hill climb with maximum pedal assistance. It came up to speed quickly and held on when climbing the steepest part of the hill. Additionally, it produced and maintained a much higher speed than observed in the previous test.
Also, we noticed that the e-bike doesn't over-exert itself when tackling challenging terrain. This helps keep the battery safe from being drained and the motor overheating, making it last longer.
Read also: Best USA-Based E-Bike Brands
New Battery Pack
This bike has a new 48V 14Ah battery pack that has a similar capacity to previous RadRover e-bikes. However, it has a unique design. The battery pack is slimmer, feels nicer to hold, and has rails on the side, making it easier to hold.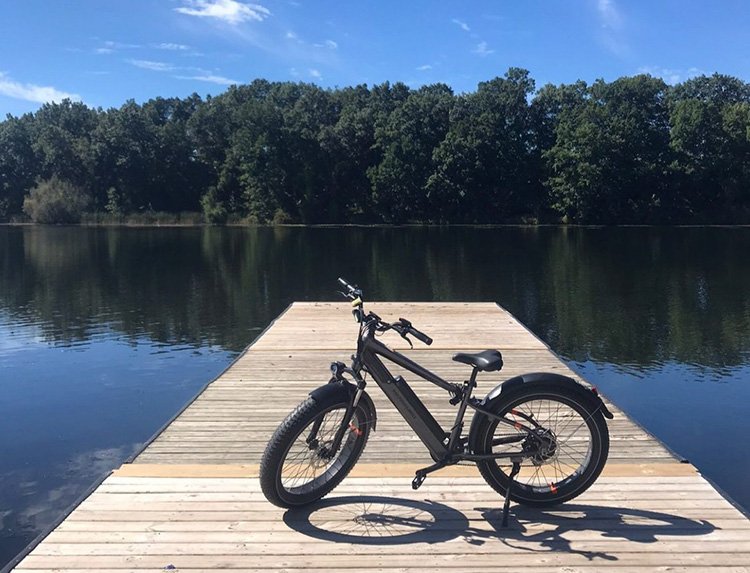 Additionally, Rad Power Bikes designed the battery partly with aluminum extruded material making its case solid and durable.
The battery is semi-integrated and fits nicely onto its frame. The range of the bike was tested on the lowest and highest pedal assist level to get its proper range.
The highest pedal assist level provided a 28.7-mile (average speed of 18 mph), while the lowest pedal assist level produced a 50.49-mile range at an average speed of 11 mph.
Hydraulic Disc Brakes
The RadRover 6 Plus has hydraulic disc brakes with 180 mm rotors at the front and rear. Hydraulic disc brakes are perfect for this bike since its capable of high speeds. The RadRover 6 Plus is also heavy (70 lbs) and may require a longer stopping distance. However, the hydraulic disc brakes are more effective, allowing it to stop on time.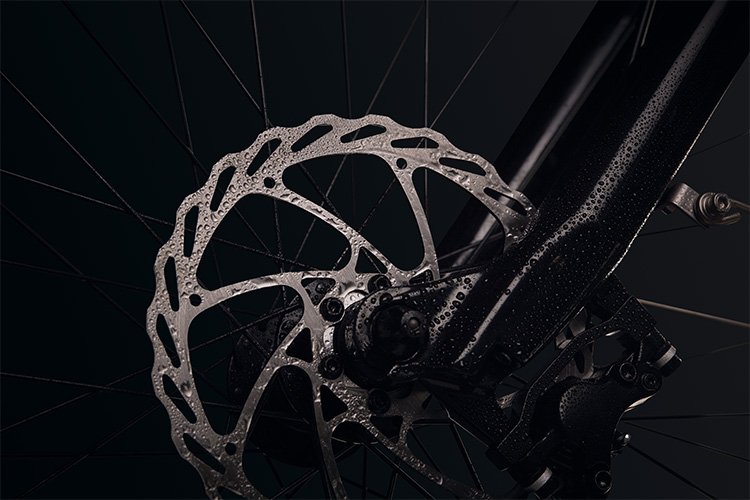 The brakes of RadRover 6 Plus were tested with a speed of 20 mph. We noticed that the hydraulic disc brakes really bite hard onto the rotors creating decent stopping power.
It took an average of 15 feet and four inches to stop from a 20mph top speed. This is pretty decent, considering its weight. We advise you to give yourself some proper stopping distance, especially when riding your bike at top speeds.
Shimano Altus Gearing System
The e-bike has an efficient 7-speed Shimano Altus drivetrain that's quite effective when shifting.
During the hill climbing test, the rider didn't have to shift that much, and the drivetrain helped him maintain a good cadence and ensure that there was not too much stress on the motor.
RadRover 6 Plus Design and Features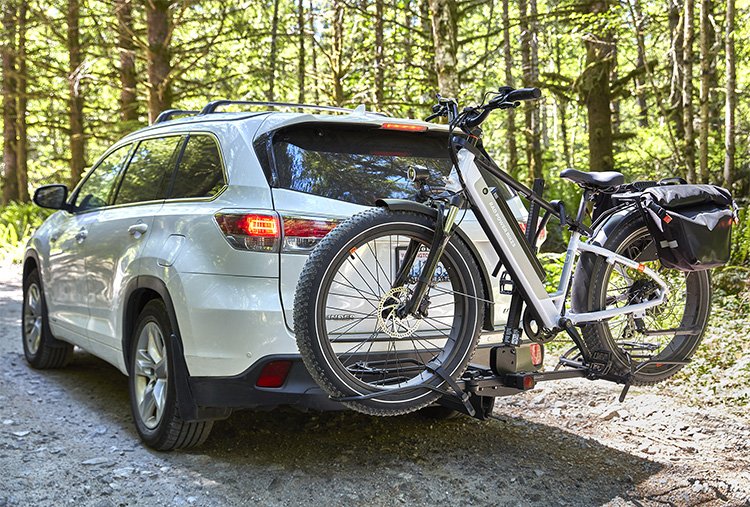 Frame and Build-Quality
The RadRover 6 Plus has two frame types – step-over and step-through. Its frame is durable and made from 6061 aluminum alloy. The RadRover 6 Plus has a 30" standover height, a 27-inch to 36.6-inch maximum seat height, and a 45.7" handlebar height.
The high step is perfect for people with a leg inseam between 30.5" and 36.5". People who have a leg inseam of more than 36.5" may find it hard to get full leg extension when peddling.
The step-through version is perfect for people with a leg inseam between 25 and 33.5 inches. Those who have it 33.5+ inches may find it hard to peddle comfortably.
Related: RadRover 6 Plus vs Aventon Aventure
Cockpit
The RadRover 6 Plus has a dual display that makes it easier for riders to get vital information about their ride. The display allows riders to see more information simultaneously. The left display shows battery life and assists level, while the center display shows speed, mileage, and time.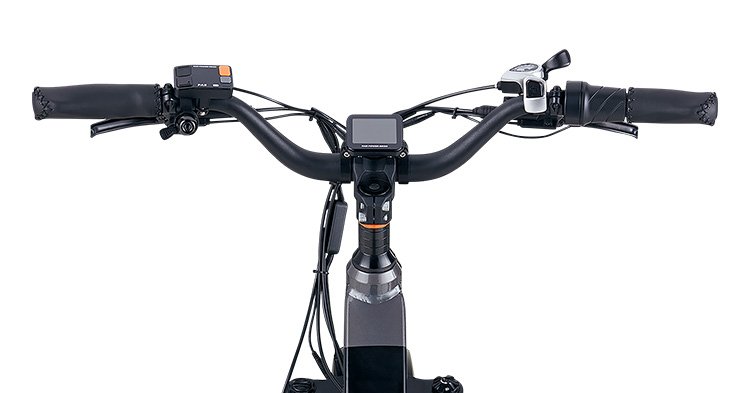 Everything else attached to the cockpit is what you are used to, except for faux leather ergonomic grips. Other items include a grip-twist throttle and a 7-speed thumb shifter.
Additionally, you have two hydraulic brake levers on either side of the 700mm handlebar with a 4" sweep. The handlebar is comfortable and has a bell to alert other road users when you come by.
Additionally, it has an ergonomic saddle with a lifting handle that riders can adjust to get more comfortable.
Ride Comfort
It has an RST spring fork with a lockout and preload adjustment. The bike's suspension fork is great for off-road riding, especially with its 26 by 4-inch puncture-resistant fat tires and black, 12-gauge, stainless steel spokes.
The fat tires provide a wide variety of air pressures to run. For instance, you could run less pressure for some off-riad fun or more pressure for on-road riding.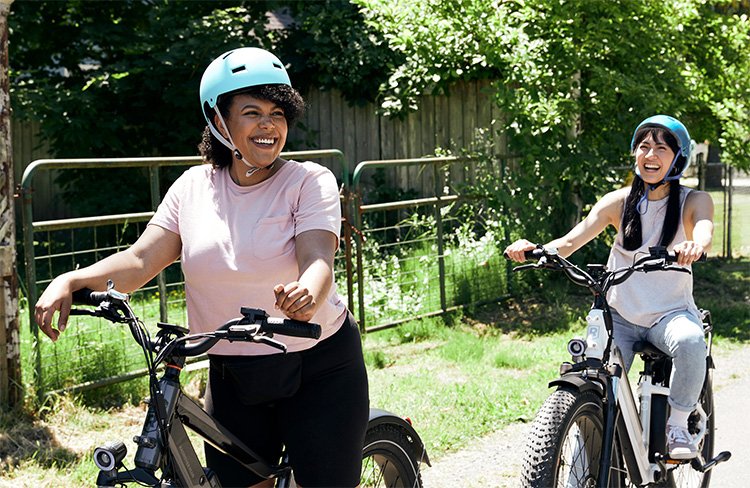 The RadRover 6 Plus e-bike has new lights, including embedded rear lights that are attached to its fender.
Rad Power redesigned the RadRover 6 Plus' frame to fit a wider height range. It also has an adjustable seat, a good feature that allows people with varying heights to enjoy a comfortable ride on the RadRover 6 Plus. 
RadRover 6 Plus Review Conclusions
The RadRover 6 Plus e-bike is a comfortable ride. The e-bike provides riders with a satisfying riding experience.
However, one thing Rad Power Bikes should change on their RadRover 6 Plus is the left display screen since it's hard to see the displayed information during the day.
Regardless, the RadRover 6 Plus is a perfect e-bike with many exciting features.
RadRover 6 Plus Specs
General
| | |
| --- | --- |
| Bike Name | Rad Power Bikes RadRover 6 Plus |
| E-Bike Class | Class |
| Availability | United States |
| Warranty | 1 Year |
Electronics
| | |
| --- | --- |
| Motor Type | Rear-Hub Drive |
| Motor Power | 750W |
| Top Speed | 20 mph |
| Battery | 48V 14Ah (672Wh) |
| Range | Up to 45 miles |
| Display | LCD screen + control panel |
Bike Details
| | | |
| --- | --- | --- |
| Dimensions | | 77″ x 45.7″ |
| Frame Material | | Aluminum Alloy |
| Frame Size | | One Size |
| Frame Type | | Step-Over, Step-Thru |
| Recommended Rider Height | | 5'2″ – 6'2″ |
| Frame Colors | | White, gray |
| Fork | | Front spring (60mm travel) |
| Gearing | | 1×7-Speed Shimano Altus |
| Brakes | | Front and Rear Hydraulic Disc |
| Wheel Size | | 26″ |
| Tires | | 26″ x 4″ Fat Tires |
| Weight | | 72.5 lbs |
| Weight Capacity | | 275 lbs |