In the ever-evolving world of electric bikes, Rad Power Bikes has emerged as a frontrunner, offering a diverse range of e-bikes tailored to various needs and lifestyles. From urban commuters to off-road adventurers, there's a Rad model designed just for you.
This comprehensive guide dives deep into the brand's offerings, highlighting the unique features, advantages, and distinctions of each model. Whether you're a seasoned e-bike enthusiast or just beginning your journey, this article provides invaluable insights into the world of Rad Power Bikes.
So, gear up and read on to discover the perfect e-bike that awaits you!
Electric Wheelers is reader-supported. Although we independently research and test products, we may receive a commission on purchases made from our chosen links. Read more…
Rad Power Bikes Overview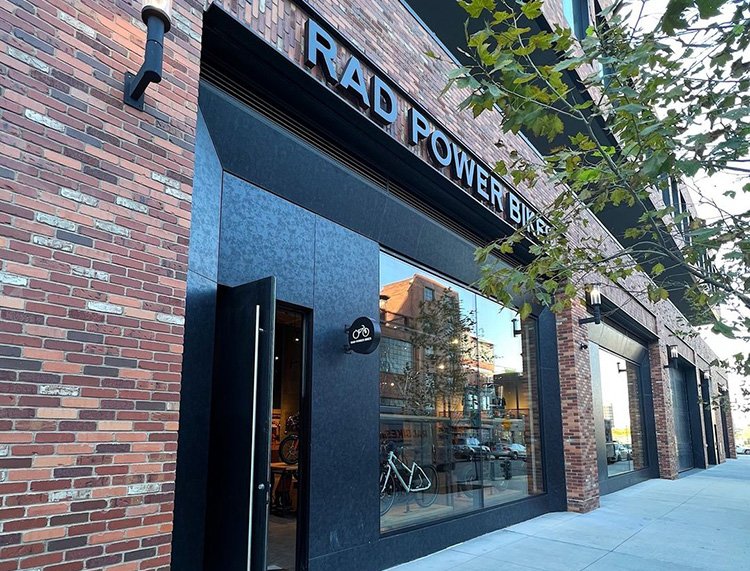 Instagram | Facebook | Website
Rad Power Bikes, a pioneering name in the electric bike industry, was founded in 2007 in Northern California.
The brainchild of Mike Radenbaugh, the company began its journey in his parents' garage, where Mike, as a teenager, soldered electronic parts onto an old bicycle to create a battery-powered ride, aptly named "The Frankenbike."
This innovation led to the birth of Rad Power Bikes. Over the years, with the collaboration of Mike's childhood friend, Ty Collins, the company introduced various models, each designed to cater to specific user needs.
Today, with over 600,000 riders worldwide, Rad Power Bikes stands as a testament to innovation, dedication, and a vision to redefine transportation.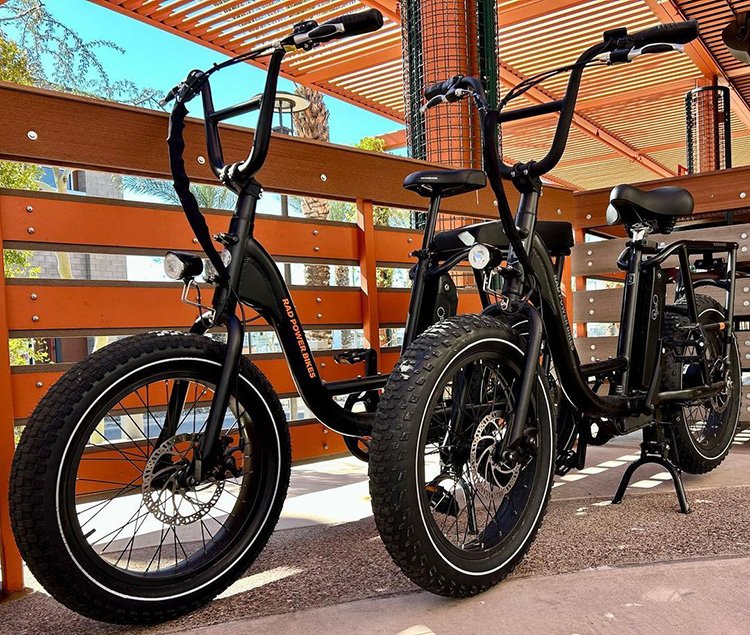 All Rad models are Class 2 e-bikes
All Rad Power Bikes models fall under the Class 2 e-bike category. This means they come equipped with a throttle and can achieve speeds up to 20 mph (except RadTrike, which can go up to 16 mph).
The pedal-assist feature, combined with the throttle, offers riders versatility. Whether commuting or exploring trails, Rad ensures a consistent, user-friendly experience across its range.
Differences between Plus and non-Plus models
Rad Power Bikes offers both "Plus" and standard models.
The "Plus" models typically boast advanced features, such as LCD displays, premium headlights, and enhanced components. In contrast, the standard versions offer a more basic setup, often with LED displays and fewer add-ons.
While both provide a solid e-bike experience, the "Plus" models cater to those seeking extra amenities and a more refined ride.
Rad Power Bikes Reviews
Rad Power Bikes have e-bike models in 4 different categories:
City/commuter
Off-road
Folding
Cargo/utility
Now, let's take a look at each model individually.
RadRover 6 Plus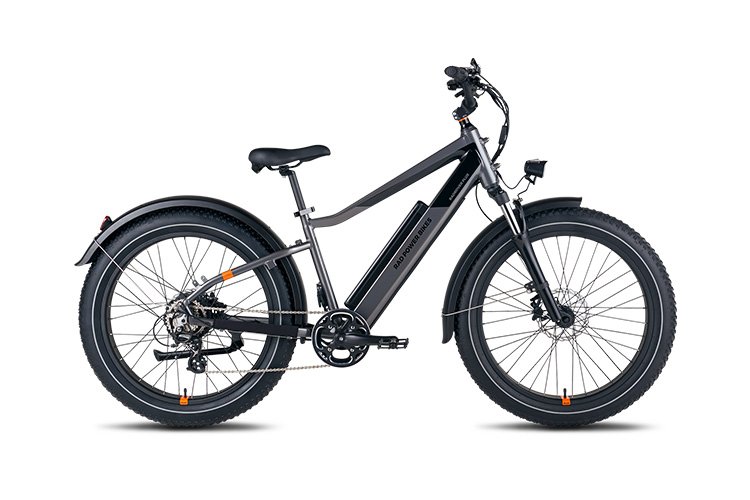 The RadRover 6 Plus stands out in Rad Power Bikes' lineup as a premier fat tire e-bike. Designed for diverse terrains, it effortlessly transitions from urban streets to rugged trails.
Customers can choose between a traditional step-over frame or a more accessible step-through design, catering to various rider preferences and needs.
Its robust 750W geared hub motor delivers unmatched power, ensuring riders conquer any hill. Riders can tailor their experience using the 5-level pedal assist and the convenient twist-grip throttle.
Related: RadRover 6 Plus Full Review
The 14 amp-hour battery not only promises an impressive range but also boasts a semi-integrated design, adding to the bike's aesthetic appeal.
Safety is paramount with its hydraulic disc brakes, guaranteeing swift and reliable stops. The bike's puncture-resistant tires, combined with an adjustable suspension fork, ensure both comfort and durability on bumpy rides.
In essence, the RadRover 6 Plus encapsulates style, power, and resilience, making it a top choice for e-bike enthusiasts.
RadRunner 2
The RadRunner 2 is a testament to Rad Power Bikes' commitment to versatility and innovation. This model is uniquely designed to cater to both casual riders and those seeking a more moped-like experience.
With its adjustable seat, riders can achieve full leg extension, ensuring a comfortable ride. What sets the RadRunner 2 apart is its status as the only single-speed offering in the lineup. While this means tackling hills might require a bit more throttle or higher pedal assist, the simplicity it brings is unmatched. There's no complex gearing or shifter, just straightforward riding.
Its BMX-style handlebars can be adjusted for rider preference, adding to its adaptability. The RadRunner 2 is often viewed as the most versatile and fun-to-ride model, boasting impressive cargo capabilities without compromising on agility. Its compact design, combined with its customization options, makes it a standout choice for urban adventurers and those seeking a blend of style and function.
By the way, the RadRunner 2 is most affordable bike model in Rad's selection.
RadRunner Plus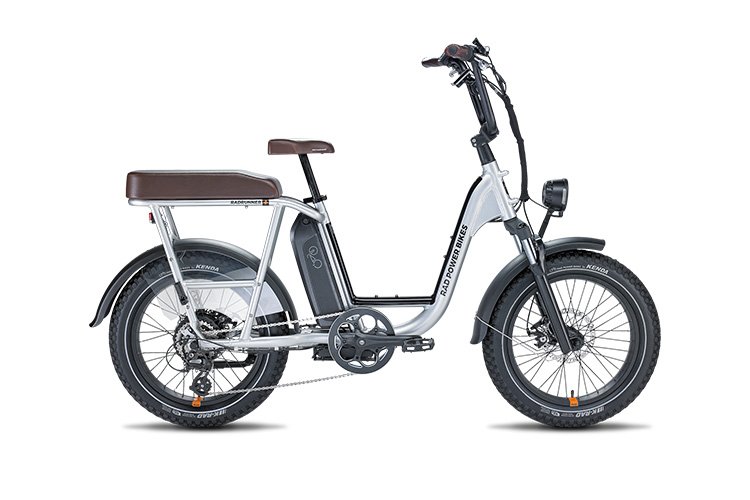 The RadRunner Plus builds upon the foundation set by the RadRunner 2, enhancing the riding experience with several premium features.
While it retains the core design elements of the RadRunner 2, the Plus model introduces an LCD display, offering riders a detailed view of speed, wattage, and other vital metrics, a significant upgrade from the LED display of its predecessor.
Additionally, the RadRunner Plus is equipped with premium headlights and a front suspension fork, ensuring smoother rides on uneven terrains.
One of the most notable additions is the passenger package, which comes pre-installed. This package includes a rear seat, wheel guards, and pegs, emphasizing the bike's versatility.
Furthermore, the RadRunner Plus diverges from the single-speed design of the RadRunner 2 by offering a seven-speed system, providing riders with more flexibility in various terrains.
In essence, the RadRunner Plus takes the best of the RadRunner 2 and adds layers of comfort, functionality, and versatility, making it a top choice for those willing to invest a bit more for enhanced features.
RadRunner 3 Plus
The RadRunner 3 Plus is a testament to Rad Power Bikes' commitment to innovation and refinement. While it shares foundational elements with the RadRunner 2 and RadRunner Plus, it introduces several advancements that set it apart.
The RadRunner 3 Plus boasts Tektro hydraulic disc brakes, ensuring superior stopping power and safety. It also features dual LCD displays, providing riders with comprehensive ride data at a glance.
One of its standout features is the integrated 14 amp-hour battery, ensuring longer rides and fewer charging intervals.
Related: RadRunner 2 vs RadRunner Plus vs RadRunner 3 Plus Comparison
Unlike the RadRunner 2's single-speed system, the 3 Plus offers a seven-speed shifting mechanism, coupled with a front suspension fork for enhanced comfort.
The saddle has been redesigned for improved comfort, addressing feedback from earlier models. The rear rack is more robust, with increased weight-carrying capacity and integrated pannier bars.
Additionally, the RadRunner 3 Plus boasts a motor with 10% greater hill-climbing capability.
While it retains many features from the RadRunner Plus, such as the seven-speed system, it omits the premium headlight and passenger package.
In essence, the RadRunner 3 Plus is a blend of the best features of its predecessors, further enhanced for the discerning e-bike enthusiast.
RadWagon 4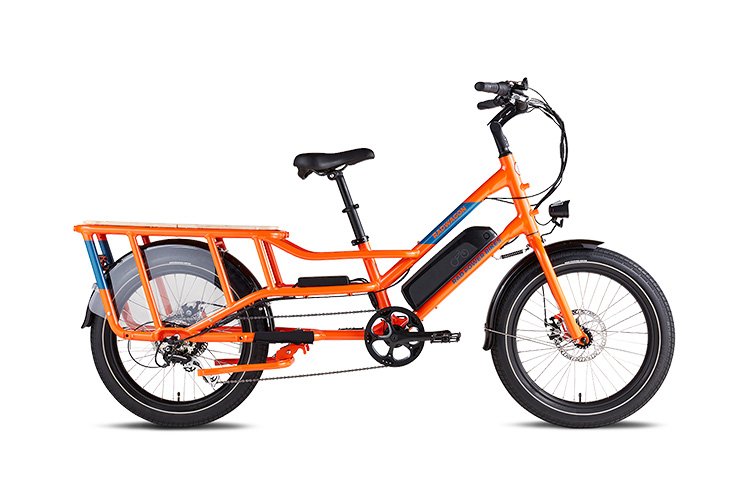 The RadWagon 4 stands out as Rad Power Bikes' flagship cargo e-bike, designed with both functionality and family in mind. This model is built to handle a variety of tasks, from daily commutes to grocery runs or even ferrying kids around.
Its elongated frame is purposefully crafted to accommodate larger cargo loads or even two children, making it a favorite among families.
The RadWagon 4 is equipped with a powerful motor, ensuring that even with a full load, riders can navigate hilly terrains with ease. Its sturdy construction is complemented by a set of puncture-resistant tires, ensuring durability and longevity.
For those who prioritize safety, the bike comes with integrated lights and reflective sidewall stripes on the tires.
One of its most notable features is the customizable cargo area, allowing riders to add baskets or seats as needed. The RadWagon 4 isn't just about utility; it's about providing a reliable, eco-friendly alternative for urban transportation and family adventures.
RadExpand 5
The RadExpand 5 is Rad Power Bikes' answer to those seeking portability without compromising on performance.
This folding electric bike is designed for riders on the go, offering a compact solution for urban dwellers, RVers, or those with limited storage space.
Despite its smaller stature, the RadExpand 5 doesn't skimp on features. It boasts fat tires, ensuring a smooth ride even on rougher terrains. While it lacks a front suspension, adjusting the tire pressure can provide added comfort for off-road adventures.
A standout feature is its folding BMX-style handlebars, a unique touch differing from typical folding bike designs.
The LED display, akin to the one on the RadRunner 2, provides essential ride information. Additionally, the rear rack is a practical addition, with options to attach baskets for cargo.
In essence, the RadExpand 5 is a blend of convenience and capability, making it an excellent choice for those needing a bike that's as adaptable as they are.
RadCity 5 Plus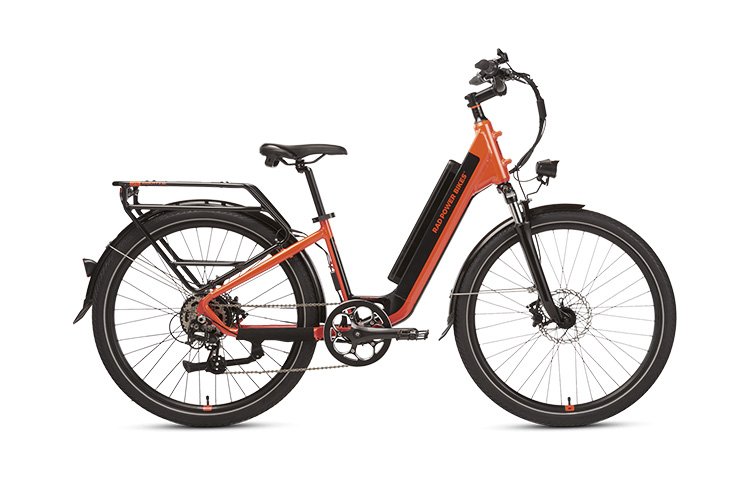 The RadCity 5 is tailored for city riders. This model combines sleek design with functionality. Its frame is available in both step-over and step-through options, catering to a range of rider preferences.
The bike is powered by a robust motor, ensuring smooth rides even on hilly terrains. One of its standout features is the integrated LCD display, offering riders a detailed insight into their journey metrics.
Hydraulic disc brakes ensure reliable stopping power, crucial for bustling city environments. The RadCity 5 Plus also boasts a front suspension, providing added comfort on uneven city streets. Its adjustable stem allows riders to find their perfect fit, enhancing the overall riding experience.
With its blend of style, comfort, and urban adaptability, the RadCity 5 Plus is an ideal choice for those seeking a reliable city e-bike.
RadTrike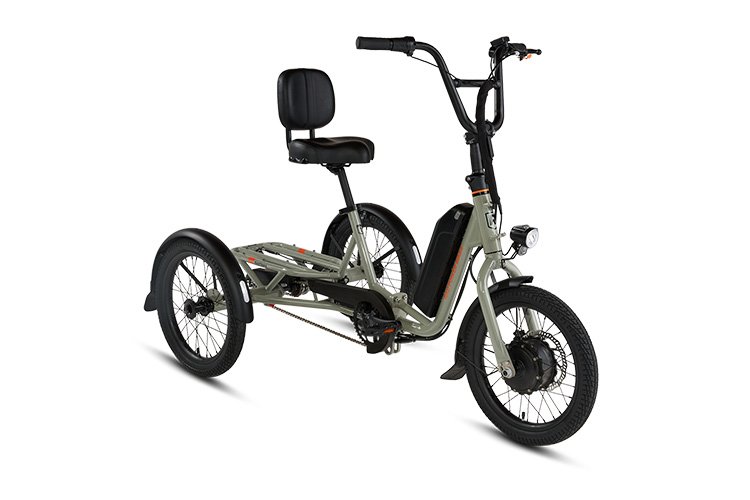 The RadTrike is Rad Power Bikes' innovative take on the classic tricycle, reimagined for the modern age with electric capabilities.
Designed with stability in mind, its three-wheel structure offers riders a unique balance, making it especially appealing to those who prioritize safety and comfort.
The trike is equipped with a potent motor, ensuring that even with its distinct design, riders won't compromise on speed or power.
RadTrike is the only Rad model which can reverse. Also, the top speed is 14 mph.
A spacious rear cargo basket is a standout feature, perfect for grocery runs or carrying essentials. The RadTrike also boasts an easy-to-read LCD display, keeping riders informed about their trip details.
Its low-step frame design ensures easy mounting and dismounting, making it accessible for riders of all ages.
With its combination of traditional design and modern e-bike technology, the RadTrike offers a blend of nostalgia and innovation, perfect for those looking for a unique riding experience.
Rad Power Bikes Accessories
Rad Power Bikes doesn't just stop at crafting top-tier e-bikes; they also offer a diverse range of accessories to enhance the riding experience.
Whether you're looking to customize your bike for urban commuting, off-road adventures, or family outings, there's an accessory tailored for your needs.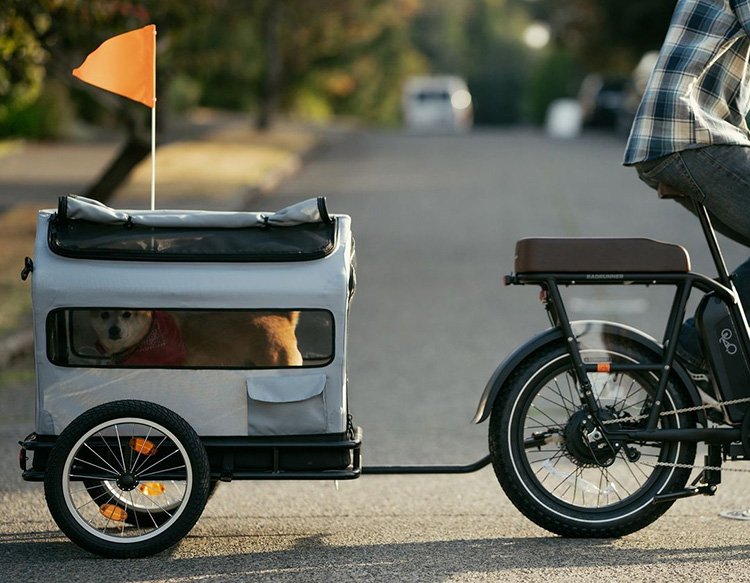 From sturdy cargo baskets and passenger packages to advanced lighting systems and protective gear, every accessory is designed with the same attention to detail as their e-bikes.
The brand also offers unique additions like the infamous tote, making transportation even more convenient.
These accessories not only boost functionality but also ensure safety and comfort, allowing riders to personalize their bikes to fit their lifestyle perfectly.
Conclusion: Why are Rad Power Bikes So Popular?
Rad Power Bikes has rapidly risen to prominence in the e-bike industry, and there are clear reasons for its soaring popularity.
First and foremost, the brand offers a diverse range of models, catering to various riding preferences, from urban commuting to off-road adventures. Each bike is meticulously designed, blending aesthetics with functionality. The option to customize with a plethora of accessories means riders can tailor their e-bike to their unique needs.
Moreover, the brand's commitment to affordability without compromising on quality has made e-biking accessible to a broader audience. Their consistent innovation, evident in the distinctions between models and the introduction of features like Class 2 e-bike specifications, keeps them at the forefront of the industry.
In essence, Rad Power Bikes has mastered the art of delivering high-quality, versatile e-bikes at a price point that resonates with many, making them a go-to choice for both novices and seasoned e-bike enthusiasts.