The Senada Roamer is a fairly-priced full-suspension folding electric bike. It has an aluminum alloy frame and delivers enough performance for both on and off-road terrain. It is an excellent choice for anyone looking for a full-sized bike with great portability features.
This bike, furthermore, comes with many different accessories such as a kickstand, front and rear suspensions, and a rear rack.
In this review, we'll look closely at the performance of the bike, and all vital features making this bike an ideal choice for most agile riders.
Electric Wheelers is reader-supported. Although we independently research and test products, we may receive a commission on purchases made from our chosen links. Read more…
Table of Contents
Senada Roamer Review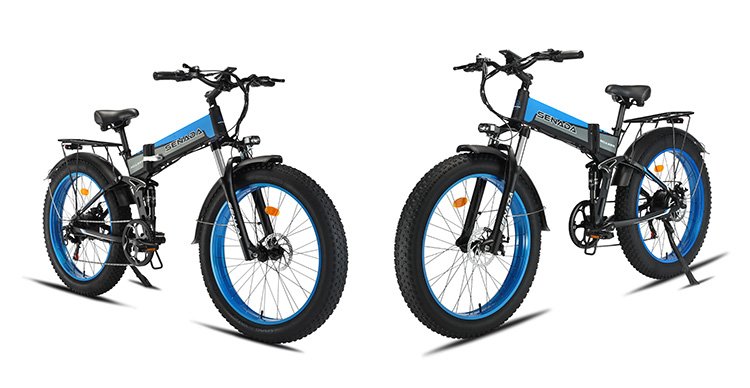 Motor: 1,000W | Top Speed: 28 mph | Max Payload: 330 lbs | Battery: 672Wh | Max Range: 55 miles
Senada Roamer Performance
Motor and Speed
The Senada Roamer electric bike's advanced motor is silent but powerful. It has a 1,000-watt rear hub motor that provides up to 28 mph of top speed (both throttle and pedal assistance).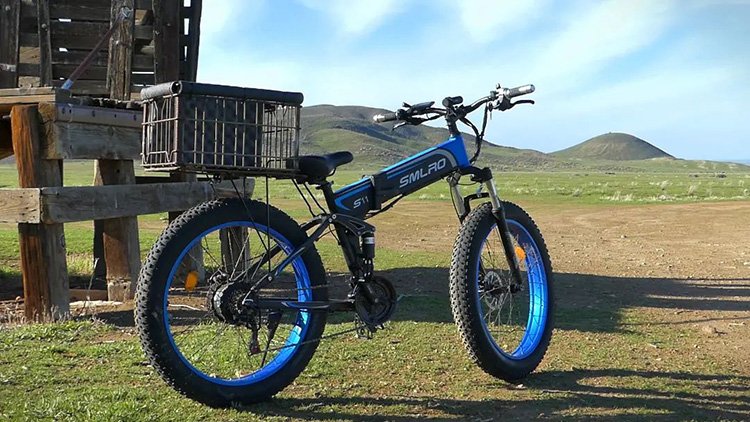 It also features a half-twist throttle to decide your ride speed. The 5-speed pedal assist mechanism can help you choose how much energy to put out.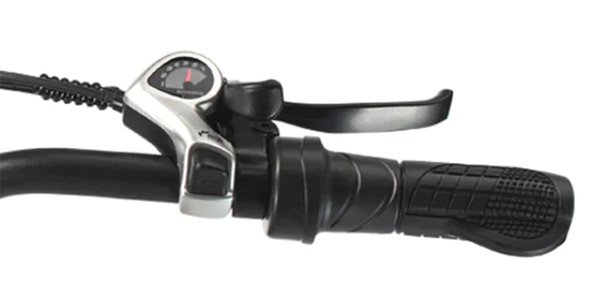 On several occasions, the bike might hesitate to accelerate smoothly after turning it on with the throttle only. But then, it will progress smoothly after the speed is over 5mph.
Battery and Range
The Senada Roamer electric bike is powered by a 48V 14Ah removable battery. It provides 30 miles of range in pure electric mode and up to 55 miles of range in pedal-assist mode. This range is suitable for leisurely rides or short commutes.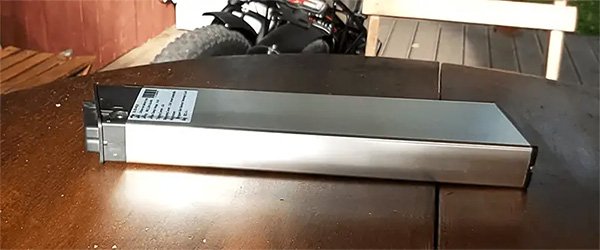 The large battery can fully charge in about 5-7 hours, allowing you to get back on the road quickly. Also, it is lockable with a key to keep it safe in the frame while you leave your bike unattended.
Mechanical Disc Brakes
The Senada Roamer electric bike has mechanical disc brakes. Mechanical disc brakes are usually used in lower price e-bikes. They are not as smooth and efficient as hydraulic brakes but they will have enough stopping power.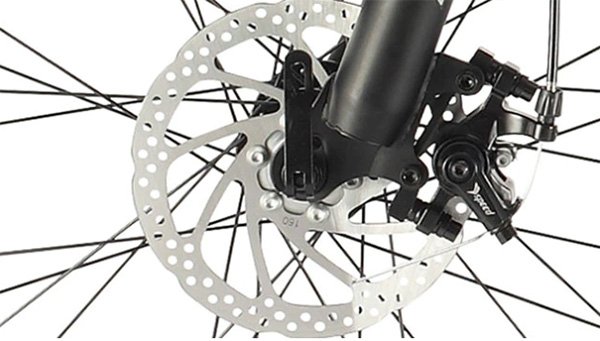 One of the main drawbacks of mechanical disc brakes is the squeaky noise if the brakes are dirty or wet.
The 180 mm front and rear rotors, however, are made from stainless steel, making them resistant to rust and corrosion. They provide accuracy and stability when braking in slippery conditions.
7-Speed Shimano Gearing
The Roamer's electric bike has a 7-speed Shimano gearing system that allows riders to take on any terrain, including challenging trails, tough climbs, and steep descents.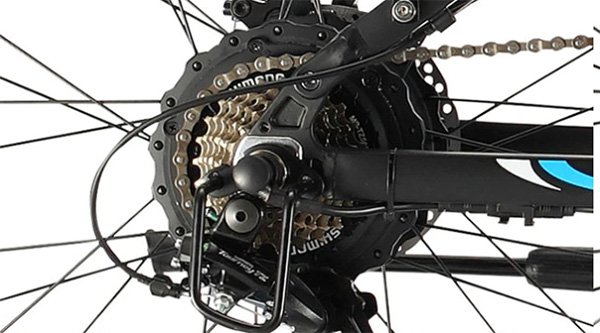 The combination of Shimano gears and electric power makes this bike incredibly versatile. Thanks to the seven gears, you can adjust how much effort you put in while pedaling, ensuring your journey remains comfortable. It will also guarantee an enjoyable ride for all levels of riders.
Senada Roamer Design and Features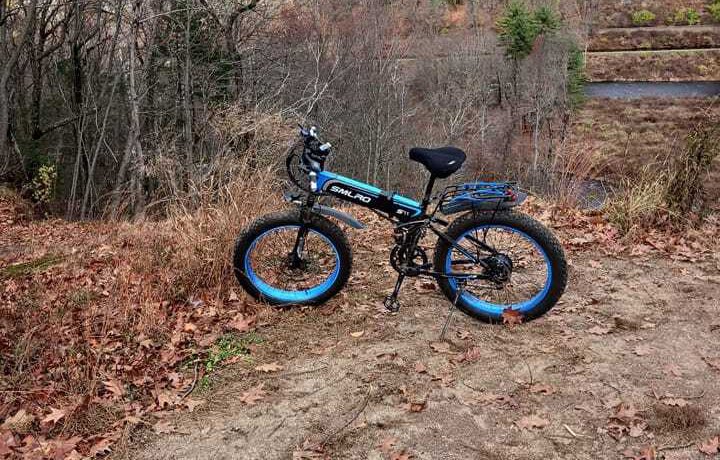 Frame and Geometry
The Senada Roamer's frame is made from lightweight aluminum alloy. Aluminium is a strong and durable material that can withstand daily use stress and corrosion.
The geometry allows for comfortable riding for teens and adults. The ergonomic 28-inch (720mm) long handlebars will help reduce strain on the wrists and hands while riding.
In addition, the 33.9" (86cm) standover height, 41.3" (105cm) handlebar height, and 35.4"~41.3" ( 90~105cm) seat height allow comfortable riding position for 5.10" to 6.6" cyclists.
The maximum weight capacity of this bike is impressive. It can manage about 330 pounds (150 kg) which is enough for almost everyone in the family.
Portability and Folding Mechanism
First, this bike is 69 pounds (31 kg). So, it can be challenging if you have to carry it for a long time or distance. But, it is convenient and an excellent choice for on-the-go commuters, whether in the city or nature.
This folding lock mechanism allows smooth opening and folding positions. It is easy to learn, taking a few seconds to fold or unfold the bike. Furthermore, the frame locks firmly into place when folded, ensuring it is secure during transportation or storage.
Read also: Best Folding Electric Bikes
The folding width is 28.7" (73cm), height is 40.9" (104cm), and length is 44.9" (114cm). This allows you to fit the bike in most car trunks during long trips without issue. But even then, you might still have to use extra straps to wrap the bike and hold it to a firm position after folding it. It does not hold itself with the available mechanism.
Also, if you need to store the e-bike during winter, the folding mechanism allows you to store the bike in your closet. Therefore, you don't need to rent a storage room.
Full Suspensions
The unique feature of the Senada Roamer bike is the rear suspension which is uncommon in most folding bikes. This e-bike comes with adjustable front and rear steel suspension, allowing you to customize your ride for optimal comfort in different terrain. Also, the yoke will provide additional clearance for the rear wheel to allow a compact suspension design.
The dual-suspension design will reduce vibration and shock, ensuring a smooth ride on bumpy or uneven surfaces. The Roamer can tackle rough trails without compromising safety.
Unfortunately, the rear suspension can feel stiffer than an ordinary electric bike. Also, you might notice the front fork flexing whenever you brake.
Wheels and Tires
Most folding e-bikes come with 20-inch wheels to provide easier folding and transportation.
However, the Senada Roamer comes with 26" wheels and 4″ fat Chaoyang tires that have unique rubber compounds for unbeatable traction. Also, they provide an excellent blend of design, performance, and style.
The high-quality tires, low-profile construction, optimized tread pattern, and large side knobs (4.0 inches) ensure grip on loose and rough terrain.
The rims are painted and not anodized. This is a disadvantage because the paint will gradually wear out, exposing the rim to chalking, corrosion, and abrasion.
Cockpit
The Senada Roamer has a cockpit with user comfort in mind and an incredible cycling experience. The ergonomic design allows you to focus on the ride instead of worrying about your position on the bike.
The 720 mm long handlebar has an easy-to-read LCD digital display showing necessary information such as speed, battery level, pedal assist power, and trip distance at a glance. The intuitive button layout on the display will also simplify most operations.
There is an ergonomic half-twist throttle integrated into the handlebar. Half-twist throttles are usually the best because they are comfortable, easy to use, and safer than full-twist throttles.
The adjustable aluminum stem and handlebar will allow you to tune the bike to fit your body size and ensure superior control over hilly or longer descents. Also, the saddle is wide, soft, and comfortable, allowing you to ride for long hours without feeling any vibrations or rattles.
Other features on the handlebar include a light controller which allows you to switch the front lights on/off and a horn button. The gear shifter and alloy levers with motor cutoff switch are also placed on the handlebar to control the brake mechanism.
Additional Features
The Senada Roamer is a great choice if you are looking for a robust electric bike with many additional features.
The rear rack is constructed from durable aluminum and built for long-term use when carrying heavy loads. But then, it can be challenging to install it in the first place because you will have to bend the attachment arms keenly to fit on the screw holes.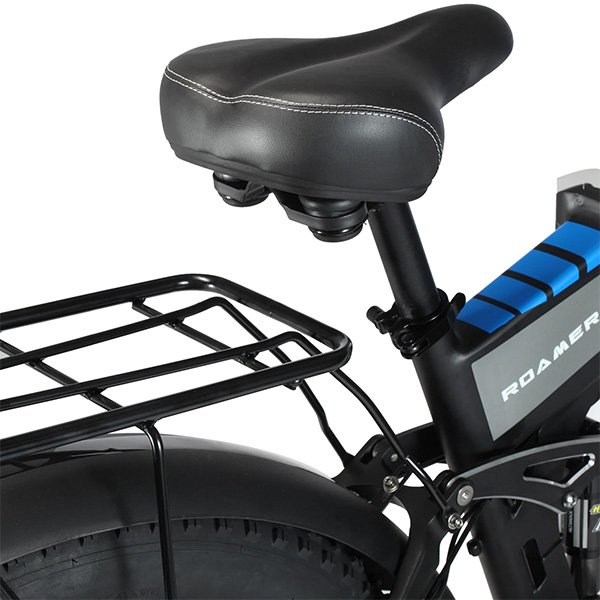 It is fitted with medium-quality fenders that will still ensure protection from mud and dirty water while riding in rainy or muddy conditions. But you need to secure the fenders firmly because they flex a lot.
The front light provides visibility in low light conditions and adds extra safety when commuting in the dark or poor weather. But you might have to install rear lights for additional safety.
Like other bikes, there is a kickstand to help pivot the bike upright after parking.
Senada Roamer Review Conclusions
The Senada Roamer is a tall bicycle that balances performance and comfort. It has a powerful motor that can go several miles without worrying about running out of power. With its responsive mechanical brakes, lightweight aluminum frame, and smooth shifting, you will enjoy years of comfortable riding experience.
Read also: Overview of All Senada eBikes
Overall, the Senada Roamer electric bike is an excellent choice for riders looking for a reliable, affordable, and practical urban bike that guarantees value for the money.
Senada Roamer Specs
General
| | |
| --- | --- |
| Bike Name | Senada Roamer |
| E-Bike Class | Class 3 |
| Availability | United States |
| Warranty | 2 Years (1 Year Battery) |
Electronics
| | |
| --- | --- |
| Motor Type | Rear-Hub Drive |
| Motor Power | 1,000W |
| Top Speed | 28 mph |
| Battery | 48V 14 Ah (672 Wh) |
| Charge Time | 7 hours |
| Range | Up to 55 km |
| Display | LCD |
Bike Details
| | |
| --- | --- |
| Dimensions | 76.4″ x 41.3″ x 28.7″ |
| Folded Dimensions | 44.9″ x 40.9″ x 28.7″ |
| Frame Material | Aluminum Alloy |
| Frame Size | One Size |
| Frame Type | Mid-Step, Folding |
| Frame Colors | Black/Blue |
| Fork | Suspension fork, mechanical lock |
| Rear Shock | Oil Spring Shock HLT100 |
| Gearing | 1×7-Speed Shimano Tourney |
| Brakes | Mechanical Disc |
| Wheel Size | 26″ |
| Tires | 26″ x 4″ Chaoyang Fat Tires |
| Additional Features | Front Light, Kickstand, Reflectors |
| Weight | 69 lbs |
| Weight Capacity | 330 lbs |