The Senada Saber is an amazing e-bike for people who want an all-terrain experience, including adventures in sandy beaches and relatively dense forests.
The Saber has all the amazing features you'd want in an all-terrain e-bike, including a 1000W motor providing 95Nm of torque, a 48V 15Ah lithium battery, and a dependable gear shift system.
In this Senada Saber review, we take a closer look at each aspect of the bike, so you could make an informed buying decision.
Electric Wheelers is reader-supported. Although we independently research and test products, we may receive a commission on purchases made from our chosen links. Read more…
Table of Contents
Senada Saber Review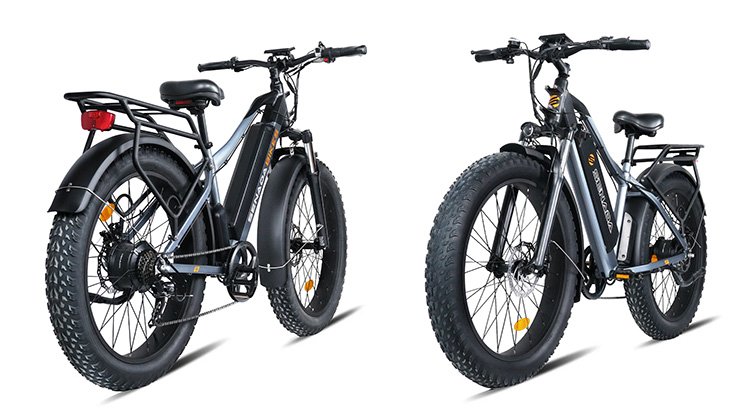 Motor: 1,000W | Top Speed: 28 mph | Max Payload: 330 lbs | Battery: 720Wh | Max Range: 55 miles
Senada Saber Performance
1000W Bafang Motor
Senada's Saber e-bike has a 1000W upgraded geared hub motor (brushless), providing continuous power and up to 95Nm of torque.
The bike's high-speed motor is effective for riders who want to cover various types of rugged terrain. However, it is perfect for riders who want a cruising bike.
The Saber's Bafang motor works well and powers the bike to 28mph top speeds, which makes the bike a class 3 ebike. However, the Senada's new controller for their Saber e-bike variant can boost these speeds to around 34mph.
Note that the e-bike is heavy, affecting the initial power output. However, riders will notice better speeds once it fully powers up.
Speed Test Results
The bike was tested on different pedal-assistant levels.
PAS1: 6.5 mph – it was pretty hard to pedal.
PAS2: 12 mph
PAS3: 18 mph
PAS4: 25 mph
PAS5: 26.5 mph
In our throttle-only test, we remained at the 5th speed level and managed to get a 26 mph top speed. So according to the e-bike classification system, the bike is not street-legal. So keep that in mind.
Also, we did a hill test on PAS4 and noticed the e-bike's impressive performance. The e-bike performed quite well on our 7-degree gradient hill test. The 1000W motor kicks in to give the e-bike average speeds of between 13-20mph, depending on how steep the hill is.
720Wh Battery
The Senada Saber has a removable, upgraded lithium-ion Dorado battery (48V 15Ah) with a 720Wh capacity. The battery is lockable, keeping it safe when parked in open locations.
The battery will provide a range of up to 55 miles. On throttle-only, the maximum mileage is about 25 miles. Of course, it depends on different factors like the rider's weight and type of terrain.
Senada offers buyers a 1-year warranty and an extra prorated warranty for the second year of using the original battery.
Mechanical Disc Brakes
We did a brake test on the Saber by coasting to 29 mph speeds and engaging the brakes. The brakes worked well. However, they could be better.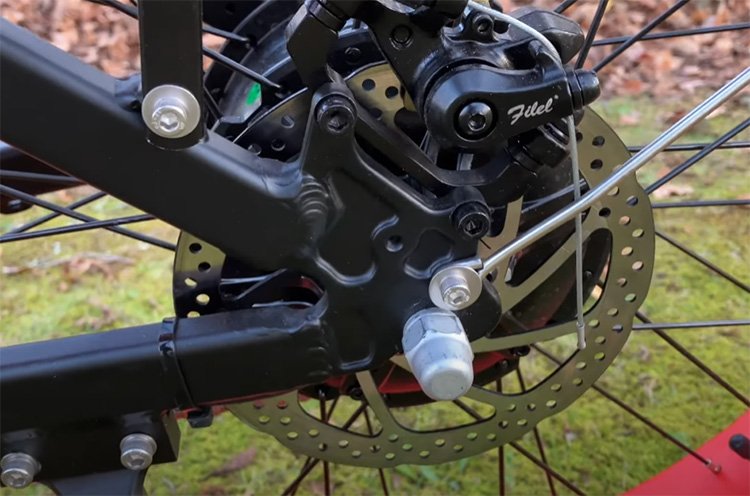 The e-bike is quite heavy and also pretty fast. So it takes some time to stop the bike if you are riding at top speed. Hydraulic brakes would be better but then it would be hard to keep the price this low.
We suggest getting familiar with the brakes and then there would be no problems.
7-Speed Shimano Tourney Gearing
The Saber has a 7-speed Shimano Tourney, an entry-level gearing device for commuting and recreational bicycles.
This gearing device is popular among most entry-level bikes but isn't as effective as other more advanced variants.
Regardless, it is a great choice for Senada's Saber because the manufacturer intends that riders to use the bike for recreational rides.
Senada Saber Design and Features
Frame
The Senada Saber looks amazing, especially because of its bright colors. It has a solid design with an old-style frame.
The Saber has a great build quality for increased durability. However, its frame is relatively heavy, causing the bike to weigh 78 pounds. This makes the e-bike slow when starting, but its speed builds up after some time.
The bike has good cable management. However, Senada could have done a better job and tied them down more tightly.
The bike's saddle-to-stem distance is 25.6" while its seat height is 31.9" to 41.3", making it perfect for big and tall riders.
The e-bike has 24 by 4-inch fat tires that are good for riding in smooth or rough terrain.
Mozo Suspension Fork
Senada's Saber has an adjustable front suspension with 110mm travel and a lockout. The suspension fork helps riders handle various types of terrain and riding styles.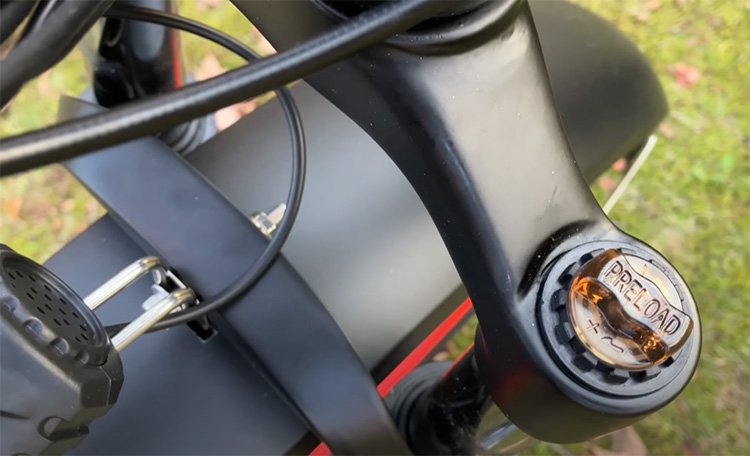 The bike's suspension provides reliable support and improves use when carrying cargo on its front rack, especially when combined with its fat tires.
Cockpit
The bike's cockpit includes a twist-throttle, a control panel with an up-down mode, and a simple non-colored LCD display that's pretty easy to read even in the sun.
The LCD has a big display and shows vital information, including the bike's battery capacity, odometer, speedometer, and pedal assist level. It also displays the wattmeter that shows the motor's power output.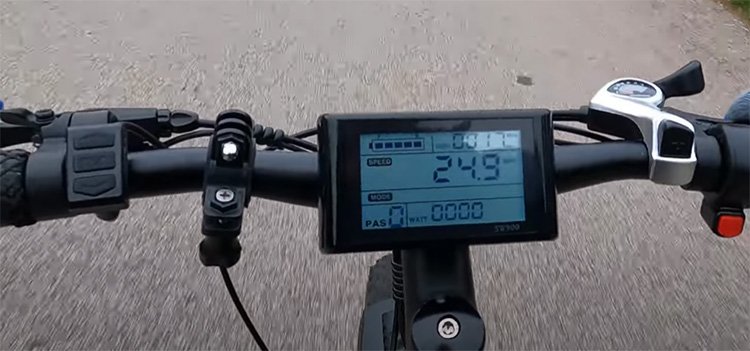 You can also find an integrated bell from the handlebar that riders can use to warn other pedestrians when riding in crowded places. Additionally, there's a kill switch next to the throttle that riders may use to turn off the motor in emergency situations.
Senada's Saber e-bike has a comfortable saddle that goes well with the bike's beefed-up design.
Generally, the bike's cockpit has a pretty comfortable feel and can provide a good riding experience for experienced riders and individuals who don't mind the design. However, the steering may feel heavy and stiff, especially for beginners.
Additional Features
The Saber's additional features include a front light that provides sufficient lighting when riding at night for increased safety and efficiency. There is also a rear light attached to the rear rack.
It also has a rear rack, making it easier to strap your cargo. The e-bike has fenders to protect riders from dirt and splashes from water and mud.
Senada Saber Review Conclusions
The Senada Saber is a cool-looking bike with an awesome design and great features. The e-bike has a powerful motor; however, riders should expect its power to build as it gains momentum.
The ebike is great for individuals who want a short-run, fast, lumbering e-bike cruiser with interesting features and a fun-to-ride experience.
Read also: Overview of All Senada e-Bikes
Senada Saber Specs
General
| | |
| --- | --- |
| Bike Name | Senada Saber |
| E-Bike Class | Class 3 |
| Availability | United States |
| Warranty | 2 Years (battery 1 year) |
Electronics
| | |
| --- | --- |
| Motor Type | Rear-Hub Drive |
| Motor Power | 1,000W |
| Top Speed | 28 mph |
| Battery | 48V 15Ah (720Wh) |
| Range | Up to 57 miles |
| Display | LCD |
Bike Details
| | |
| --- | --- |
| Dimensions | 75.6″ x 42.5″ |
| Frame Material | Aluminum Alloy |
| Frame Size | One Size |
| Frame Type | Step-Over |
| Recommended Rider Height | 5'6″ – 6'5″ |
| Frame Colors | Gray, green |
| Fork | Front Suspension |
| Rear Suspension | – |
| Gearing | 7-Speed Shimano Tourney |
| Brakes | Mechanical Disc |
| Wheel Size | 26″ |
| Tires | 26″ x 4″ Fat Tires |
| Weight | 78 lbs |
| Weight Capacity | 330 lbs |