The Velotric Discover 1 is a good e-bike that falls somewhere in between a cruiser and a commuter bike. It's like a commuter in terms of performance but feel like a cruiser in terms of comfort.
The bike combines positive aspects from both categories to create a versatile e-bike perfect for both riding conditions.
This review provides a detailed analysis of Velotric Discover 1's performance and features.
Electric Wheelers is reader-supported. Although we independently research and test products, we may receive a commission on purchases made from our chosen links. Read more…
Velotric Discover Review

Motor: 500W | Top Speed: 25 mph | Max Payload: 440 lbs | Battery: 691Wh | Max Range: 65 miles
Velotric Discover Performance
500W Motor
The Discover 1 is a class-2 e-bike with a 500W rear hub electric motor. It can speed up the bike up to 25 mph. Velotric claims that the motor can produce 65 Nm of torque. This means the motor should have enough torque and wattage for riders to climb most hills without exerting too much.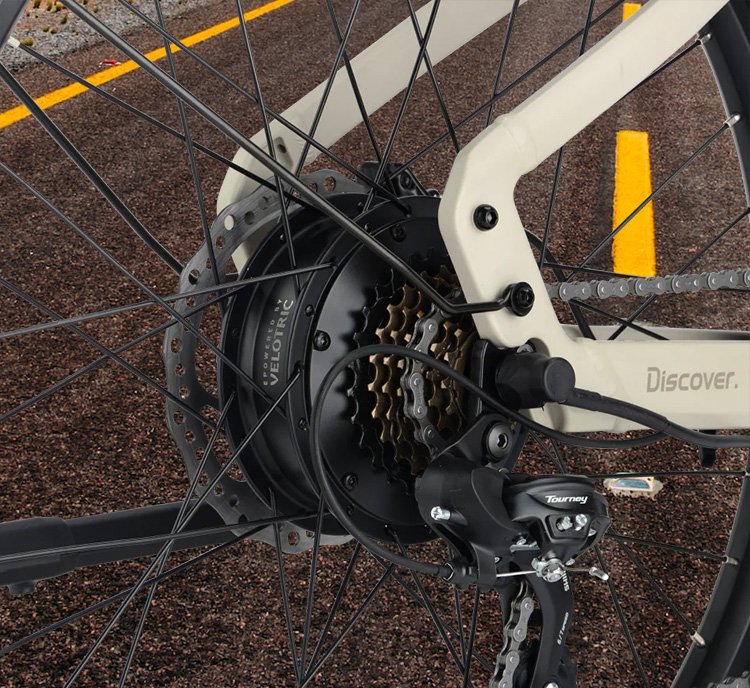 However, you may probably notice that 500-watt motors are pretty standard, with some e-bikes reaching 750-watt motors.
That being said, we understand that not all motors are created equal, and some could work better despite their specifications. As such, we tested the bike on a steep hill to determine if the Discover 1's motor delivers. The test was done on a quarter-mile stretch with 12 to 15% gradients. We made two trips where one was on throttle only while the other was on pedal assist.
Results of the Hill Test
On throttle only, the Discover 1 had slower acceleration than we were used to when testing other e-bikes. However, this could also be perfect for individuals who don't prefer extremely fast e-bikes. The bike lost a lot of speed while climbing the hill, and we lost most of the speed. Regardless, it did get us up the hill.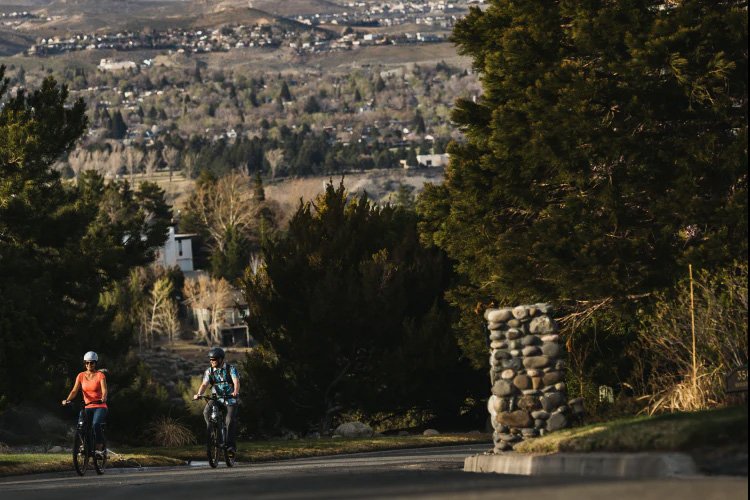 The bike has 3 pedal assist levels. Our tests on the same hill provided faster acceleration than throttle only and decent cadence on the pedal assist.
The bike provided stable performance and felt smooth once engaged. Our impressions were that the Discover 1 wasn't the fastest bike. However, it performed decently on both tests.
65-Mile Maximum Range
The Velotric Discover 1 has a relatively big battery. The company states that the Discover 1 can provide a 65-mile range on a single charge. So, we tested the bike to determine whether this was correct and conducted a range test with the lowest and highest pedal assist levels.
These two tests provided a true real-world range by the Discover 1's battery. The pedal assist level three provided a 33-mile range at 18 mph. The second test provided better results as the bike reached 52 miles at 12 mph. These results showed that the Discover 1 does hold on to a charge, and the battery is well-integrated into the bike's frame.
Shimano Tourney Gearing
This e-bike has a Shimano Tourney gearing system that provides efficient and reliable performance. The gearing system is designed by Shimano and tailored for electric bikes. It ensures seamless, comfortable, smooth gearshifts, enhancing the rider's overall experience. The gearing has a wide option of gear ratios, enabling the riders to tackle various climbs and terrains easily.
Hydraulic Disc Brakes
The Discover 1 has hydraulic disc brakes providing riders with great performance and sufficient stopping power. Additionally, these brakes are precise, helping boost the rider's safety and increasing their control when riding the bike.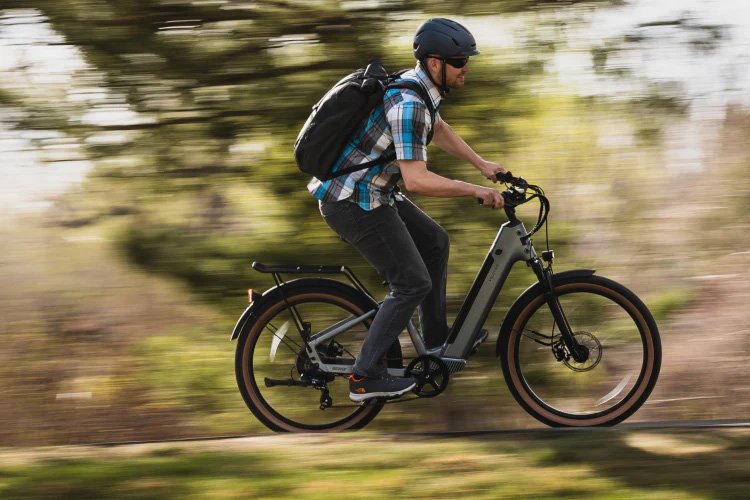 Hydraulic disc brakes are the best compared to other variants because they provide a consistent and responsive braking performance. Their design uses hydraulic fluid to transmit force when the brakes are applied.
The brakes are durable and require minimal maintenance, making them reliable for commuters and off-roaders.
Velotric Discover Design and Features
Frame and Geometry
The Discover has a sleek design with a 6061-alloy frame that feel's sturdy. The bike comes in two frame styles – high-step and low-step.
When we tested the step-thru variant, we didn't notice any flexing, which is good news considering it doesn't have a top tube providing additional support.
Recommended rider height for step-through frame: 5'1" – 6'4"
Recommended rider height for step-over frame: 5'6" – 6'9"
The Discover 1's design also advocates a comfortable riding position that helps the rider stay upright. Additionally, the handlebar's design allows riders to rest their wrists in a neutral position for extended periods without having to readjust them.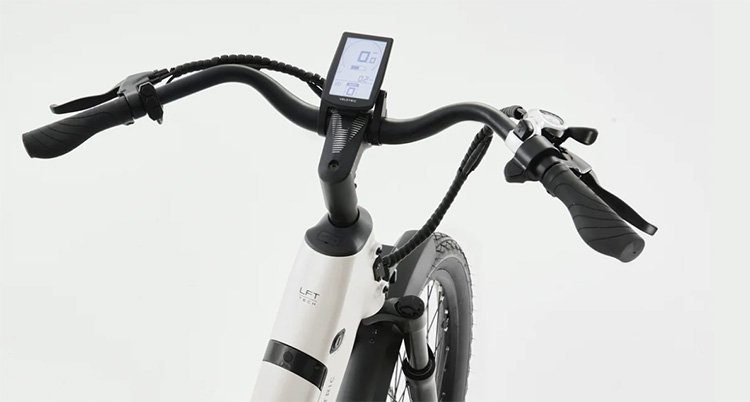 The Discover 1's handlebars set the bike apart from other e-bikes. For starters, it has a back sweep and an upsweep designed to help riders have a comfortable experience over long rides. The design allows riders to stay upright, preventing them from feeling sore whenever they have to ride for long distances.
Suspension Fork
The Velotric Discover 1 has a 65mm spring suspension fork designed to absorb various bumps in the road and smoothen the ride. Regardless, the bike's suspension felt flimsier than the other parts. 
That said, the fork is not much of an issue if you mostly ride in urban environment. And riders who want to try some off-roading or feel more comfortable could fix it as a DIY project or take it to a professional.
Wheels and Tires
The Velotric Discover has unbranded 26" by 2.4" tires wide enough to provide sufficient traction. The tires are easy for most riders to balance, and their large air volume makes them easy to ride on rough roads and cracked sidewalks. 
We didn't experience any flat tires during our tests, proving that properly inflating the tires each day before use could provide sufficient performance.
Lights
The Discover has integrated head and tail lights designed to provide sufficient illumination when traveling in the dark. The headlight is relatively bright, especially considering its size. 
However, it provides enough light to make riders feel slightly safer when riding their bike in the dark. Additionally, the taillight illuminates when braking, which warns other road users and keeps the rider safe, especially at night.
Additional Features
The e-bike also has fairly standard components, including brake levers, lock-on ergonomic grips, and a bell. The bike has a perfectly sized display, properly positioned on the handlebar. The display shows all the vital information, including speed, battery life, mileage, and assist level.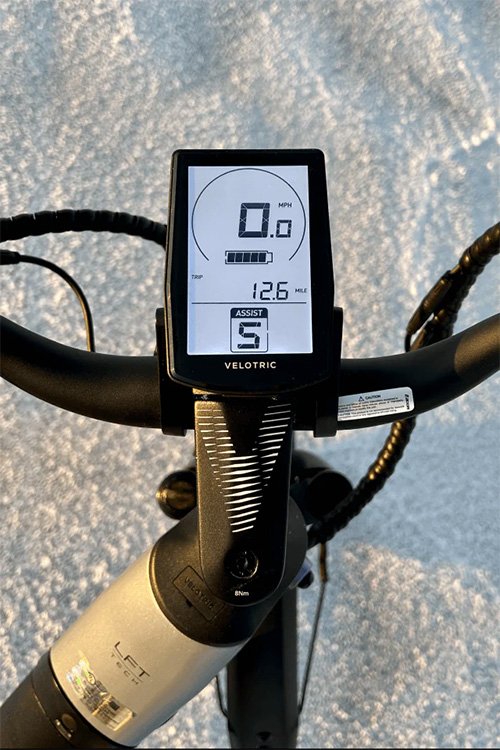 The bike's display is connected to the bike's stem. The stem has a cool design and fits Velotric's V logo. The Discovery 1's cockpit design provides proper cable management, especially for the amount of cables the bike has. The bike's cockpit design makes it look sleeker than other bikes within its category.
Additionally, the e-bike has a 55-pound storage capacity on the rack and full fenders, which are perfect for commuters. You could use the storage rack to store your property while on the go, and the fenders may come in handy when traveling in rainy weather.
Velotric Discover Review Conclusions
This e-bike blurs the lines between cruisers and commuters, and after thorough tests, we discovered that the bike performed exceedingly well in battery life.
Additionally, the bike maintained good speeds on flat ground but seemed to struggle a little on steeper hills. Regardless, its Shimano gearing was useful because it allowed us to crank in a higher gear whenever it slowed down without peddling too hard.
Additionally, the Discover 1's price point is quite fair for a bike in its category. However, it would be good if Velotric added some high-quality components like a better fork suspension to improve the ride quality and performance.
This bike is perfect for an individual searching for a perfect cruiser or commuter e-bike who doesn't want to be tied down by either.
Velotric Discover Specs
General
| | |
| --- | --- |
| Bike Name | Velotric Discover 1 |
| E-Bike Class | Class 2/Class 3 |
| Availability | United States |
| Warranty | 2 Years |
Electronics
| | |
| --- | --- |
| Motor Type | Rear-Hub Drive |
| Motor Power | 500W |
| Top Speed | 25 mph |
| Battery | 48V 14.4Ah (691 Wh) |
| Charge Time | 5-6 hours |
| Range | Up to 65 miles |
| Display | 3.5″ Backlit LCD |
Bike Details
| | |
| --- | --- |
| Dimensions | 71.7″ x 40.2″ |
| Frame Material | Aluminum Alloy |
| Frame Size | One Size |
| Frame Type | Step-Over, Step-Through, Cruiser/Commuter |
| Frame Colors | Blue, Green, Silver, Cyan, Yellow, Gray |
| Fork | Spring suspension fork (65mm travel) |
| Gearing | 1×7-Speed Shimano Tourney |
| Brakes | Hydraulic Disc |
| Wheel Size | 26″ |
| Tires | 26″ x 2.5″ Tires |
| Additional Features | Lights, fenders, rear rack |
| Weight | 65 lbs |
| Weight Capacity | 440 lbs |