In this Velowave Prado review, you will be going to find out all the pros and cons of this commuter step-through e-bike and whether it's a good fit for you or not.
The Velowave S is the perfect ebike for individuals searching for a commuter bike. The bike has a large battery and a powerful motor that can take you anywhere, including the office, grocery store, or long bike rides. The bike has all features that riders need to enjoy a comfortable ride and is most definitely worth its price.
Electric Wheelers is reader-supported. Although we independently research and test products, we may receive a commission on purchases made from our chosen links. Read more…
Velowave Prado Review
Velowave designed their bike for adults and incorporated amazing features to make the rider experience an excellent ride.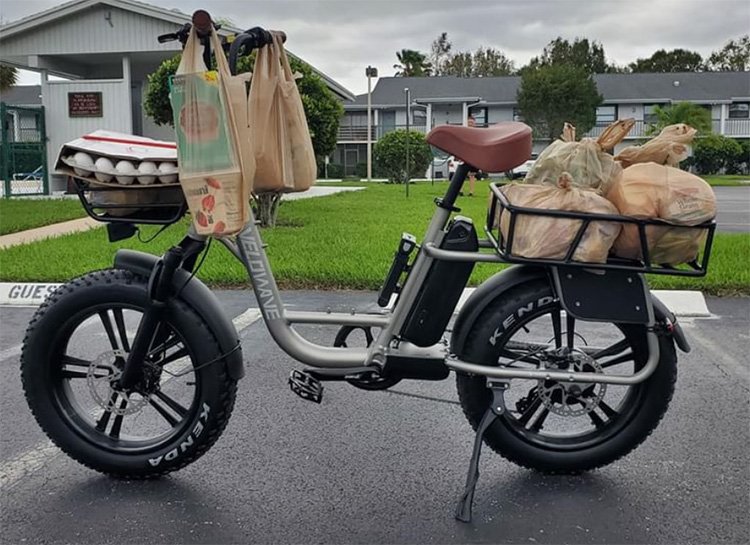 The bike has a rear cargo rack for carrying items during errands and a powerful motor to handle the weight. It also has fat tires to handle tricky terrain and a wide saddle to make riders comfortable.
It's perfect for individuals who need a bike to commute to work, run errands to the store, or go for a weekend ride.
Where to Buy Velowave e-Bikes?
Velowave sells its e-bikes only in North America. Basically, there are two channels where you can buy Velowave bikes:
The prices seem to be the same in each shop. If you buy the bike from Velowave there would be free shipping.
Check Price From
Velowave Prado Specs
General
| | |
| --- | --- |
| Bike Name | Velowave Prado S |
| E-Bike Class | Class 2, Class 3 |
| Availability | United States |
| Warranty | 1 Year |
Electronics
| | |
| --- | --- |
| Motor Type | Rear-Hub Drive |
| Motor Power | 750W Bafang |
| Torque | 55 Nm |
| Top Speed | 28mph |
| Battery | 48V 15 Ah (720Wh), LG Cells |
| Charge Time | 8 Hours (4 Hours to 80%) |
| Range | 25 Miles by Throttle, 40 Miles by Pedaling |
| Display | Multifunctional Color-Screen Display |
Bike Components
| | |
| --- | --- |
| Dimensions | 70.47″ x 46.85″ |
| Frame Material | Aluminum Alloy |
| Frame Size | One Size |
| Frame Type | Step-Through |
| Recommended Rider Height | 5'4″ – 6'2″ |
| Frame Colors | Silver, Red, Black |
| Fork | Front Hydraulic Suspension Fork |
| Gearing | 1×7-Speed Shimano Tourney |
| Brakes | Front and Rear Hydraulic Disc |
| Wheel Size | 20″ |
| Tires | 20″ x 4″ Fat Tires |
| Additional Features | Front Light, Front and Rear Rack, Fenders |
| Weight | 77.2 lbs |
| Weight Capacity | 330 lbs |
Velowave Prado S Performance
Motor and Speed
Velowave equipped their Prado S with a powerful 750W motor producing 55Nm of torque. The Bafang geared rear hub motor makes the Prado one of the most powerful step-through ebikes with comparatively high hill climb abilities.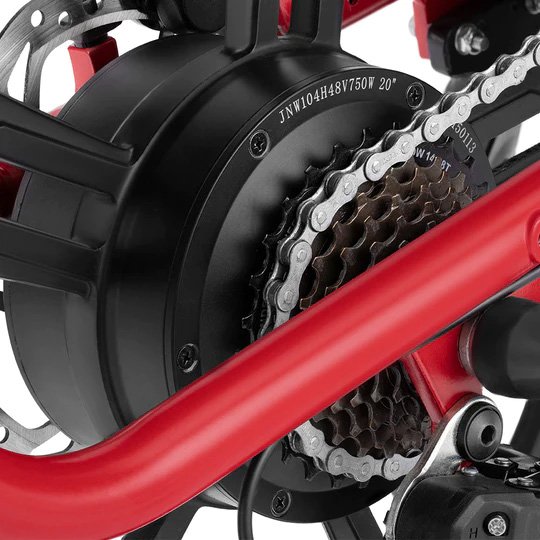 Riders can get maximum speed and power by using the pedal-assist system (5-level) equipped with a cadence sensor. Also, the rider can use the thumb throttle to ride the bike without pedaling.
The bike's motor can bring the bike to speeds of 20mph with the thumb throttle, and 28+ mph with peddle assist mode.
Battery and Range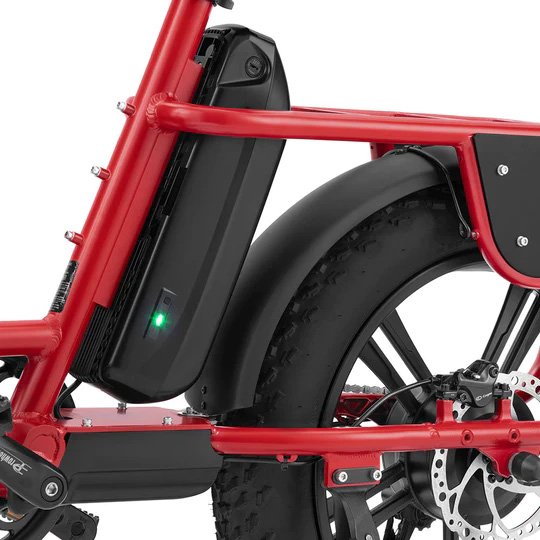 The ebike has an LG battery (48V 15Ah) that gives the bike a range of up to 45 miles.
While all other Velowave bikes have batteries in their down tube, the battery of the Prado is located behind the seat post.
The battery is removable, so you can charge it in your house or office while leaving the bike itself in the storage room.
Additionally, the battery of Velowave Prado is water resistant. So if you get caught in the rain while riding the bike, it's not the end of the world.
Hydraulic Disc Brakes
Hydraulic brakes are considered the best in the industry. Velowave made a wise decision to equip their Prado S with hydraulic disc brakes, especially because of its powerful motor and high top speed.
The braking system of the bike is capable of effective and smooth braking under various conditions.
To stop the bike, you just have to lightly apply the brake lever. Also, these brakes don't make any squeaky noise.
7-Speed Shimano Tourney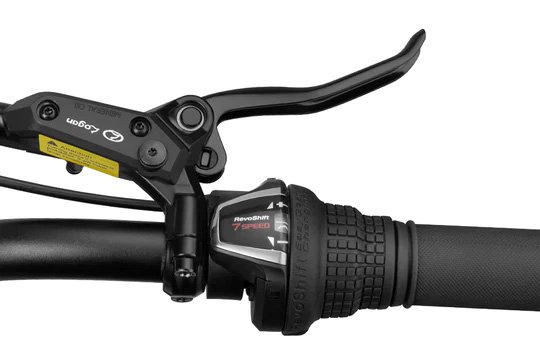 The derailleur is essential if there are hills on your commute. For easier climbing, you want to switch to the lower gear.
Velowave equips their Prado S with a 7-Speed Shimano Tourney, which isn't the best in the market. However, it provides sufficient functionality for the bike's price range.
The drivetrain provides smooth shifts, helping riders adjust their speeds for varying road sections.
Velowave Prado Design and Features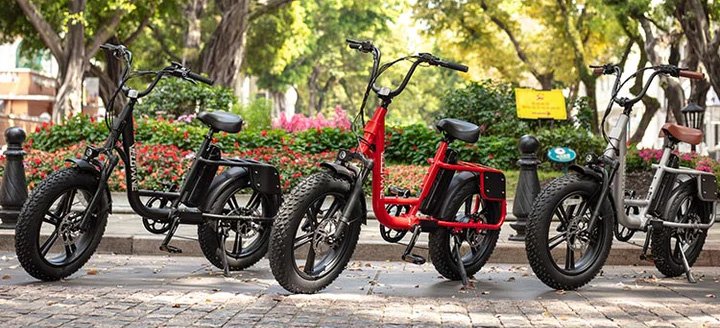 Frame and Geometry
The bike is made from aluminum (6061), making it sturdy, durable, and able to withstand rigorous use.
The Velowave Prado S has a low step-through design that is perfect for adults and older adults.
The design makes it easier for beginner riders and individuals with mobility issues to climb on without exerting themselves. Also, the comes with high and wide handlebars to improve the rider's control.
The Prado S has fenders to protect you from dirt and mud. You can customize it with graffiti or stickers to make it unique. It's also designed in three classic matt colors and has a DIY space for the rear rack.
Additionally, its low step-through design makes it perfect for individuals to jump off in case of an impending accident. Individuals (especially beginners learning to ride a bike) can easily get off when they are about to hit something.
Hydraulic Suspension Fork
The Prado S provides a smooth riding experience because of its front hydraulic suspension fork and fat tires.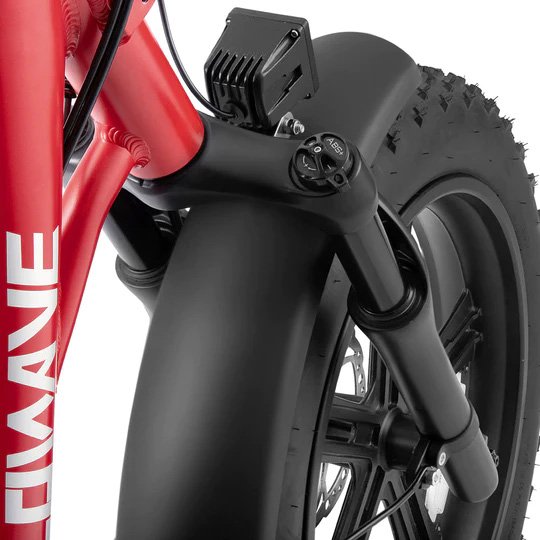 The hydraulic suspension fork reduces vibrations, improving the rider's experience and comfort. Riders will barely experience an uncomfortable ride when commuting through bumpy roads.
The bike is more comfortable and stable than other bikes within its price range. Increased stability helps improve safety since the rider has more control over handling.
Wheels and Tires
Velowave's Prado S has 20 by 4.0-inch fat tires (Kenda brand) mounted on rigid blade rims.
The tires provide many benefits, including more surface area for increased contact, which increases traction, making the bike more stable. This feature is important when applying brakes since it gives riders increased bike control.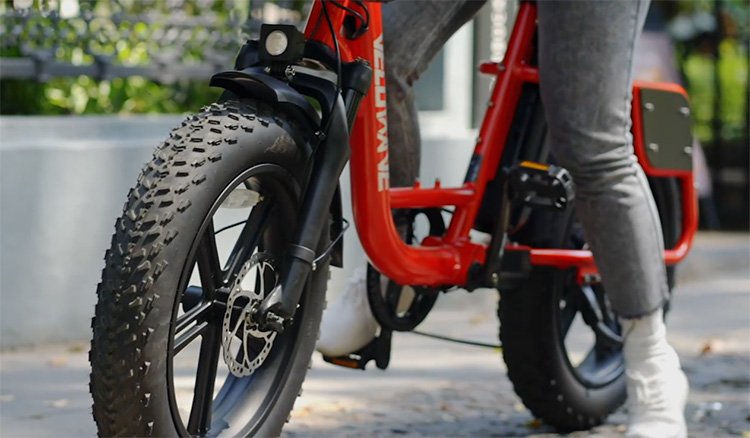 Additionally, the bike's fat tires provide added shock absorption and absorb bumps on the road, providing a better experience when riding through the countryside.
The tires are ideal for off-roading and perfect for riding through soft surfaces like snow or sand. Also, the bike's lade rims are more durable than regular ones.
Cockpit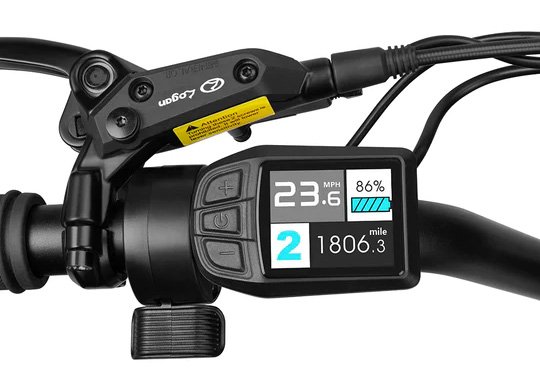 The bike has a simple cockpit with functional features to provide the rider with a comfortable riding experience.
For instance, the LCD provides information on the battery level, riding speed, power assist level, and mileage data. This information helps riders control and adjust their riding status for a better riding experience.
Generally, Velowave designed their bike's cockpit to be accessible and easy to use. Additionally, the bike has a thumb throttle control that most riders consider a safer option.
The thumb throttle gives riders more control over their speeds and is perfect to use by inexperienced riders or older adults.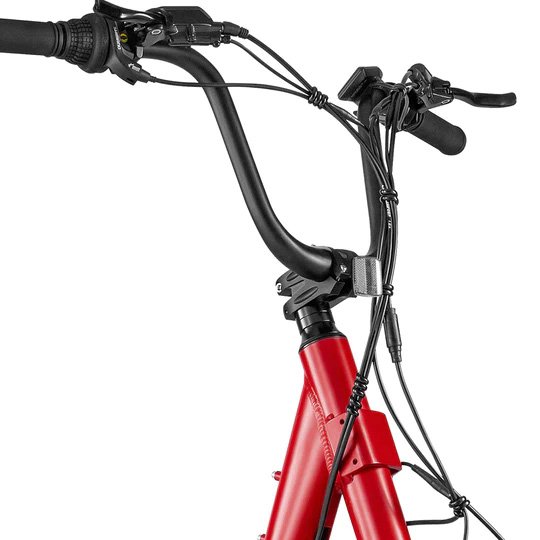 Additionally, the bike has a great handlebar with a swept-back design. The handlebars provide riders with a neutral twist position, creating an upright posture most riders find comfortable.
The handlebars make it easier for riders to see what's ahead of them when riding, which is perfect for commuters.
Optional Accessories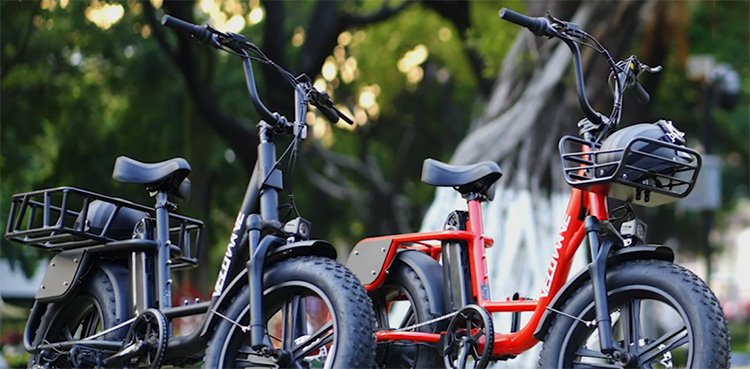 The Velowave Prado S has optional accessories you could purchase for more money.
When purchasing the Velowave Prado, you can include front and rear baskets, which would make the bike more versatile.
You may buy these accessories if you use your bike to run errands or commute to work. For instance, you may purchase one basket if you carry items like a briefcase or laptop to work or two if you carry items from the store.
Velowave Prado Review Conclusions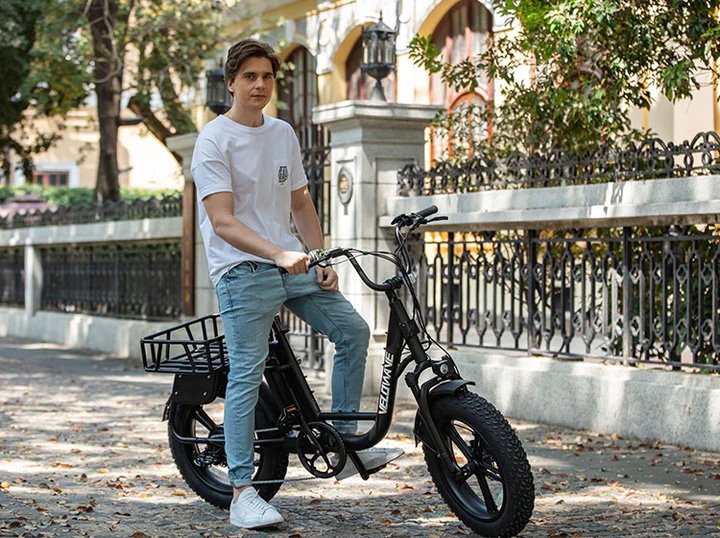 The Velowave Prado S is an excellent bike for commuters looking for the perfect bike to ride to work, run errands, or ride through the countryside.
It's a versatile ebike, perfect for urban and countryside riding experiences, and ranks better than most bikes within its price range. You should purchase this bike if you are searching for a reliable, durable, powerful bike for daily commutes.