This Velowave Ranger review provides information on the bike's performance, design, features, and optional accessories to help you make an informed purchase.
The Velowave Ranger is a fat tire e-bike that works efficiently in various terrain, including snow, sand, and mud. The e-bike is affordable and can be an excellent choice for individuals looking for reliable and inexpensive e-bikes.
Electric Wheelers is reader-supported. Although we independently research and test products, we may receive a commission on purchases made from our chosen links. Read more…
Velowave Ranger Performance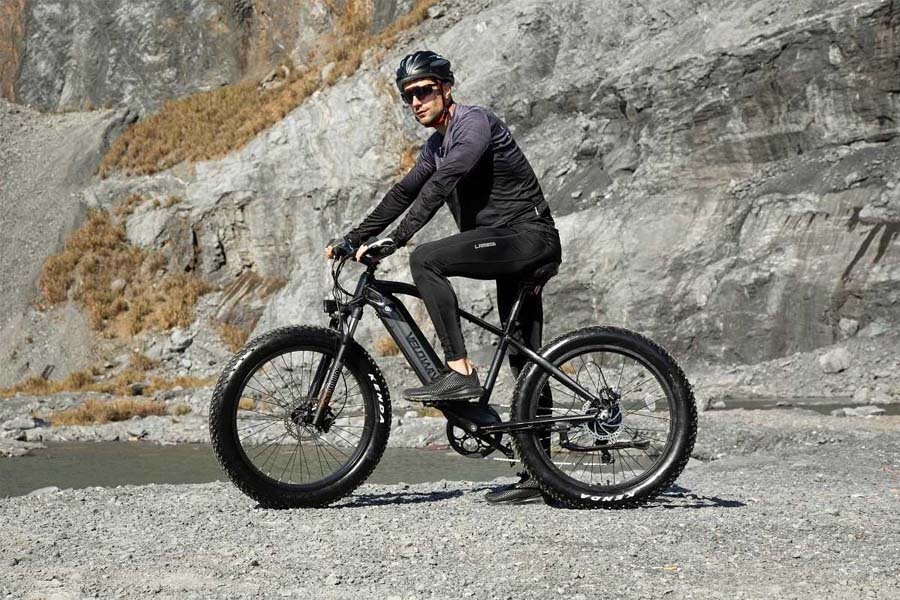 >> CHECK PRICE from Velowave Shop <<
Motor and Speed
The Velowave Ranger has an above-average motor you can rely on for daily commuting. Velowave equipped their Ranger with a high-speed Bafang geared hub motor with 750W of power. The motor produces 80 Nm of torque, which is enough to tackle most challenges requiring a powerful motor.
The motor is strong enough to power the bike through various terrain, including hill climbs, and accelerate effortlessly past obstacles.
You can choose between 3 different riding modes:
pedal-only
pedal assist
and throttle only.
Additionally, the bike has an in-built cadence sensor that increases torque depending on how hard you peddle.
The electric bike has a limited top speed of 20mph while using the throttle only. However, riders can achieve speeds of up to 28mph on the pedal assist.
Velowave designed the bike for less strenuous activities like weekend cycling, daily commutes, and running errands. The motor does add some weight to the bike's construction; however, it has a quick response and optimal power.
Hill Climbing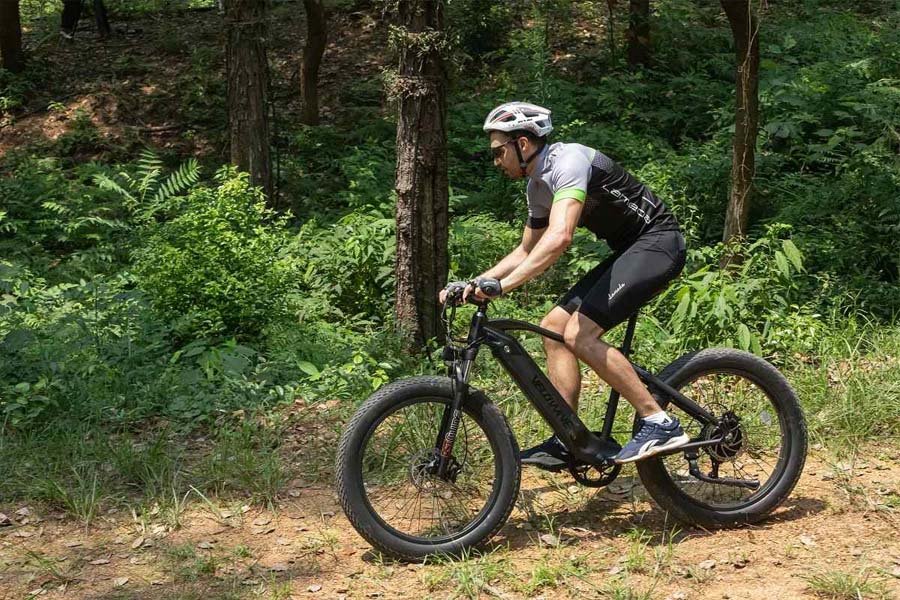 While the Velowave Ranger ebike is great for off-roading and hilly terrain, it's inefficient when tackling steep hills.
Reasons for this may include the bike's motor and weight and the rider's weight. Thus, you could try the bike's ability to climb various hills (especially with pedal assist). However, the results would not be as expected with more expensive brands.
Battery and Range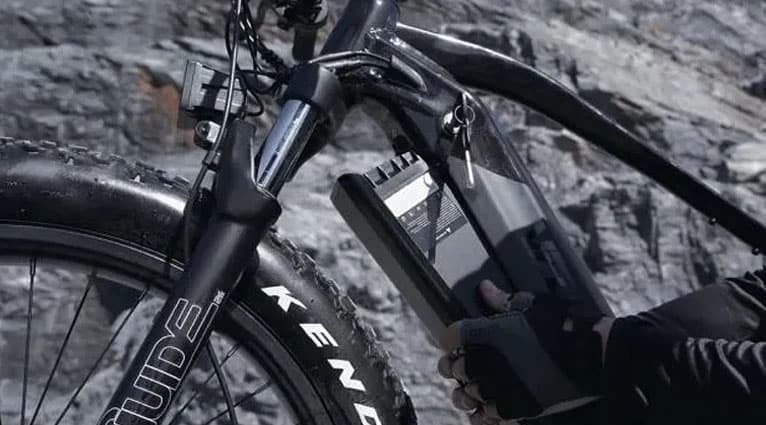 The Velowave Ranger has a big, removable, 48-volt 15Ah, waterproof battery that feels heavy and big.
However, the great thing is that it can be locked onto the bike with a key, reducing incidents where the battery falls off, or someone tries to steal it.
Additionally, the battery is quite powerful and can power the bike efficiently, especially with pedal assist.
Velowave states on their website that the bike has a 25 to 40-mile range on a single charge. However, the 40-mile range can only be achieved with pedal assist. The range covered on a single charge also depends on the rider's weight.
Braking and Gearing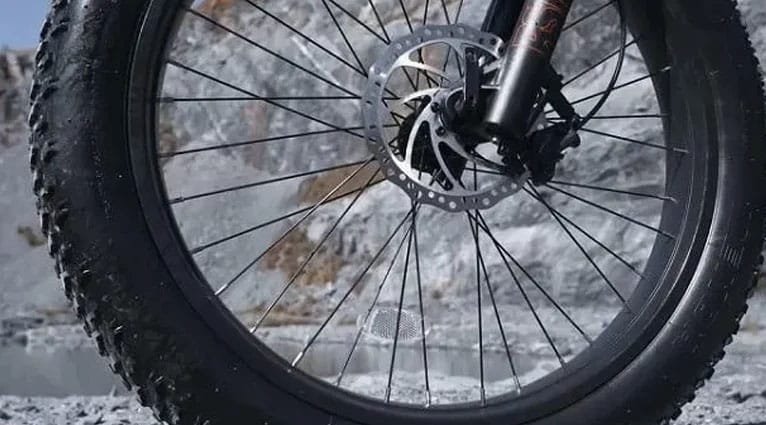 The Velowave Ranger has a hydraulic braking system with disc brakes, which is rarely seen on other electric bike brands in the same price range.
The hydraulic brakes are effective and can slow the bike to a halt within a short distance. Additionally, the ebike has a combination of rear and front contours with large disc brakes making it easy to brake in varying situations.
While most other brakes squeak and provide an unsteady braking experience, the Ranger's brakes are pretty consistent and provide a smooth experience when decelerating. The hydraulic brakes aren't only good for stopping. You can also use them to slow your descent when going downhill.
The Ranger has a smooth 7-speed gear system riders can use to adjust their speeds.
However, one thing to note when changing gears is the rider's inability to see the gears on the handlebar control.
The rotating device displays numbers that are too small for the rider to see, and the surface is too reflective, forcing you to lean forward and concentrate.
Velowave Ranger Design and Features

Frame and Geometry
The Ranger is 76.3" long and 42.5" high, which is suitable for most adults and can be challenging for your children to ride. The bike has a 30.2" standover height, optimal when stopping or getting on.
However, it does have an 18.1" reach that forces the cyclist to lean forward when riding the bike, which is a bit challenging for riders using the bike for long commutes. The bike is perfect for individuals that are 5'6" and above.
Velowave built the ranger's body with aluminum, making it solid and sturdy. As such, riders can take the bike off-road without fear of its body falling apart. Additionally, the bike has excellent cable management.
The cables are passed through the bike's hollow frame, and those that are visible are adequately managed and securely tied. You can ride the bike in various terrains and weather conditions.
Suspension
Velowave designed their Ranger with an adjustable front hydraulic fork. It allows users to switch between softness and maximum stability within seconds using a lockout dial. Additionally, riders can reduce the bike's preload stiffness and make it easy to ride in rough terrain.
The Ranger doesn't have a rear suspension. However, you probably won't notice any difference because of its fat tires.
The fat tires act as shock absorbers and take in any impact from uneven trails. Still, the bike does feel a little heavier than regular bikes but outmatches them when riding off the trail.
Wheels and Tires
The Ranger has a 46.6" wheelbase and comes with 26" x 4" fat tires. Velowave designed the tire with anti-skid properties and wear resistance.
Additionally, the tires are adaptable to sand, snow, and various other terrains. The design provides you with different off-roading capabilities and a fun riding experience.
As mentioned above, the bike's fat tires also smoothen the ride, especially when riding in rough terrain. The fat tires act as shock absorbers, lessening any impact the rider would have felt when riding through rugged terrain. This helps create better and more fun riding experiences.
Cockpit
The bike's cockpit contains a twist mechanism for changing gears and a color screen that provides information like your:
speed
distance traveled
current charge
and the pedal-assist mode.
Additionally, the bike has a thumb throttle that riders can use to adjust their acceleration.
We noticed that the bike didn't come equipped with a bell. However, you could purchase one and add it yourself if you plan on using the ebike for commuting.
Lastly, the bike has a reliable headlight that can light your way when it's dark. However, it lacks a functional brake light. Instead, it has a reflective panel.
Optional Accessories
The Velowave Ranger doesn't come with various accessories commonly found on regular bikes, including fenders or a back rack. However, you can buy these accessories on their website on an as-needed basis.
You could buy many optional accessories along with your ebike, including
mirrors,
bags,
baskets,
back rack,
fenders,
air pumps,
and bottle cages.
Velowave Ranger Review Conclusions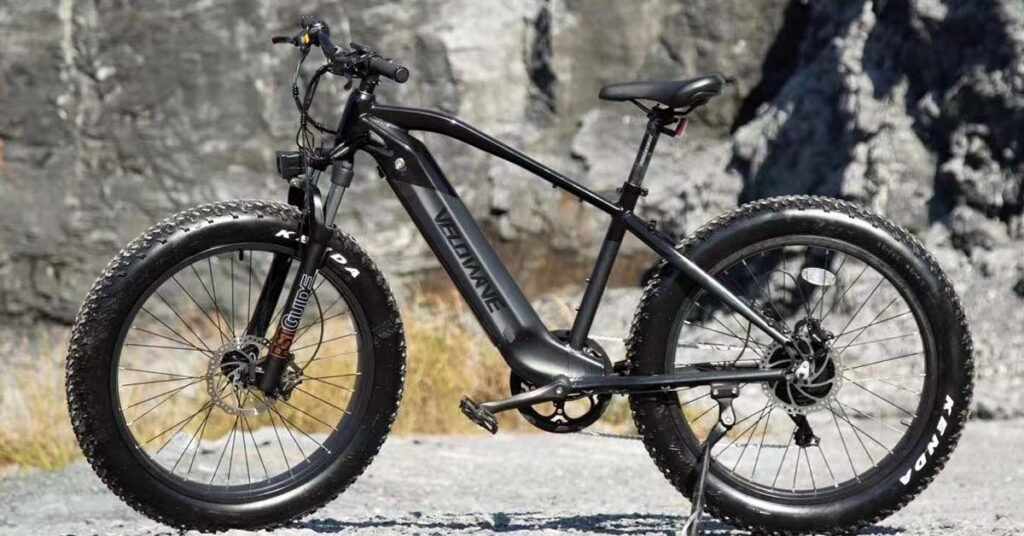 Velowave bikes don't seem like e-bikes when looking at them from a distance, except for the fat tires and big battery. Plus, they don't look fancy or expensive. However, they are pretty reliable and provide competitive performance for their price. The bike's motor produces decent torque, while the brakes provide sufficient stopping power.
The bike's fat tires make it perfect for a weekend of off-road fun and street riding, and all you need to do is add some accessories like bottle holders and bags, and you are good to go.
The bike comes pre-assembled. However, the assembly process is relatively simple, and Velowave provides a complete manual to guide you through the process.
Velowave Ranger Specs
General
| | |
| --- | --- |
| Bike Name | Velowave Ranger |
| E-Bike Class | Class 2, Class 3 |
| Availability | United States |
| Warranty | 2 years for frame, 1 year for electronics |
Electronics
| | |
| --- | --- |
| Motor Type | Rear-Hub Drive |
| Motor Power | 750W Bafang |
| Torque | 80 Nm |
| Top Speed | 20 mph (throttle), 28mph (pedal-assistance) |
| Battery | 48V 15 Ah (720Wh) |
| Charge Time | 8 Hours |
| Range | 25-40 Miles |
| Display | Multifunctional Color-Screen Display |
Bike Components
| | |
| --- | --- |
| Dimensions | 76.3″ x 42.5″ |
| Frame Material | Aluminum Alloy |
| Frame Size | One Size |
| Frame Type | Step Over |
| Recommended Rider Height | 5'6″ – 6'2″ |
| Frame Colors | Black, Silver |
| Fork | Front Hydraulic Suspension Fork, 75mm Travel |
| Gearing | 1×7-Speed Shimano Tourney |
| Brakes | Front and Rear Hydraulic Disc |
| Wheel Size | 26″ |
| Tires | 26″ x 4″ Fat Tires |
| Additional Features | Front Light, Reflectors (Optional Rack, Fenders) |
| Weight | 75 lbs |
| Weight Capacity | 300 lbs |