Introducing the Mearth GTS MAX, the crown jewel of Mearth's e-scooter line, hailing from Australia.
This top-tier, high-functioning foldable electric scooter is designed to provide an unparalleled riding experience. Whether navigating rugged landscapes or embarking on extended journeys, the Mearth GTS Max opens doors to endless opportunities!
Join us as we delve into the details of this exquisitely crafted Australian electric scooter.
Electric Wheelers is reader-supported. Although we independently research and test products, we may receive a commission on purchases made from our chosen links. Read more…
Mearth GTS MAX Performance
Motor and Speed
The Mearth GTS MAX is an off-road powerhouse with dual motors.
Seeking a thrilling, unobstructed ride? Want to conquer the streets? The Mearth GTS MAX's dual-motor design aligns with your riding style, offering remarkable off-road performance.
Equipped with two 1,200W motors, the GTS MAX can reach speeds of up to 70 km/h. However, to comply with Australia's public safety laws, the top speed is restricted to 25 km/h. The scooter's full power can be unleashed on private land.
The motor provides 3 riding modes:
Eco mode maximizes the scooter's range, while Sport+ mode allows riders to experience breathtaking acceleration and explore the scooter's top speed.
With its potent dual motors, the GTS Max excels at hill climbing, capable of tackling inclines up to 30%.
Battery and Range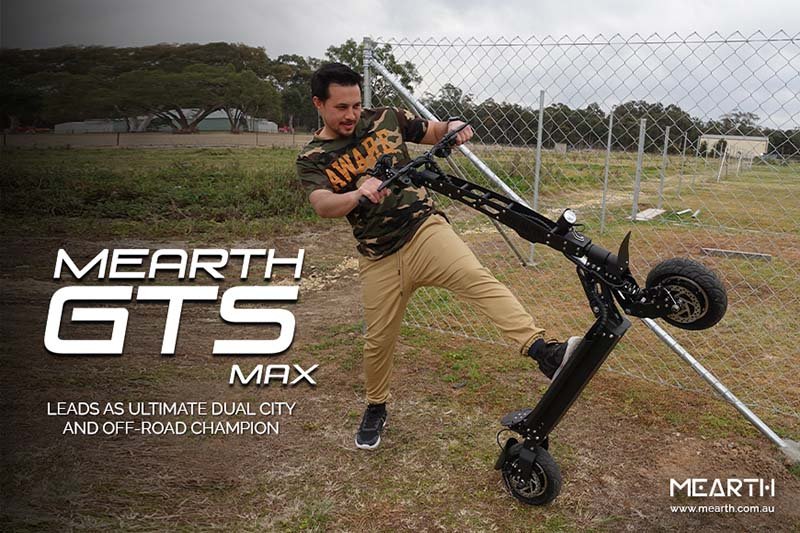 A collaboration between Mearth and LG has resulted in the Mearth GTS MAX, a scooter with extended range capabilities that outperforms many competitors.
Engineered for strength, speed, and versatility, the GTS MAX's robust battery ensures longevity.
With an energy capacity of 1,060 Wh, the battery can cover a distance of 70-100 km.
Featuring two charging ports, the battery can be fully recharged in 6 hours using two chargers or 12 hours with one.
Brakes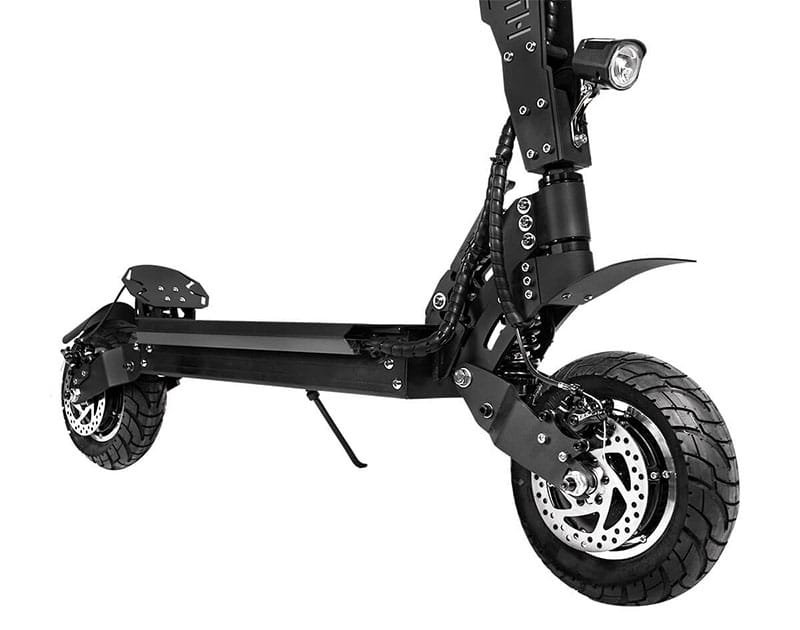 Safety is paramount with the GTS MAX, thanks to its powerful braking system.
The scooter's reliable disc brakes have been rigorously tested to meet the highest safety standards, ensuring rider protection.
Get a 10% Discount with Coupon Code: EW10
Design and Features
Build Quality
Constructed from premium materials and cutting-edge technology, the Mearth GTS MAX offers boundless on-and-off-road capabilities.
These top-tier electric scooters are audacious, sturdy, and eye-catching, with a design that's sure to attract attention.
Frame and Dimensions
The Mearth GTS Series, with its reinforced premium aluminum frame, is ready for your most adventurous rides.
The Mearth GTS MAX measures 121x59x128 cm and weighs just over 40 kg. Though substantial, its folding mechanism simplifies storage.
Its robust construction supports heavy riders, with a maximum payload of 150 kg. The scooter is not advised for those under 18.
Suspensions and Tires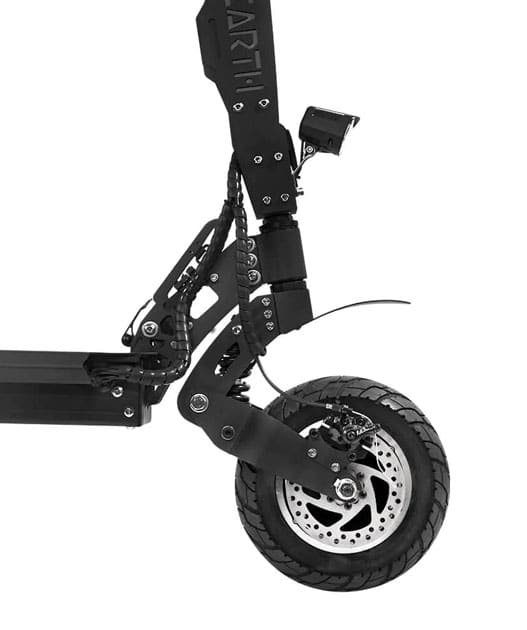 As an off-road specialist, the GTS Max features quality suspensions.
Dual suspensions and 10-inch pneumatic off-road tires ensure smooth rides on rocky or muddy surfaces.
Other Features
The scooter's solid lighting includes a bright LED headlight and red rear light with a brake light function, enhancing nighttime visibility.
Additionally, a seat can be added to the GTS MAX for a more comfortable ride.
Is Mearth GTS MAX Waterproof?
While not entirely waterproof, the Mearth GTS Max has an IP54 water-resistant rating, allowing for light rain exposure. However, dry conditions are recommended, and the scooter should be dried promptly if wet.
When riding in the rain, make sure to dry the scooter as soon as you get indoors.
Mearth GTS MAX Review Conclusions
The Mearth GTS MAX represents a significant advancement from its predecessor, the GTS.
This robust and potent scooter is ideal for off-road exploration.
Though not lightweight or highly portable, this is typical for dual-motor scooters and not a drawback.
For those in search of a durable, all-terrain scooter, the Mearth GTS Max stands as a compelling choice.
Get a 10% Discount with Coupon Code: EW10
Mearth GTS MAX Specs
| | |
| --- | --- |
| Motor | 2 x 1,200W Dual Drive |
| Top Speed | 70 km/h |
| Battery | 52V 20.4Ah (1,061 Wh) |
| Max Range | 70-100 km |
| Recharge Time | 6 hours (with 2 chargers) |
| Brakes | Disc Brakes |
| Suspension | Front & Rear Spring |
| Weight | 41 kg |
| Weight Capacity | 150 kg |
| Tires | 10″ Pneumatic Off-Road Tires |
| Lights | 1 LED Headlight, Rear Light + Brake Light Feature |
| Hill Grade | 30% |
| Dimensions | 121 x 59 x 128 cm |
| IP Rating | IP54 |