Mearth GTS MAX is a flagship model of the Australian e-scooter brand Mearth.
The Mearth GTS Max is a superior, high-performance foldable electric scooter that offers an unbeatable travel experience for its rider. From rough terrains to long-distance travel, the Mearth GTS Max propels unlimited possibilities!
In this Mearth GTS MAX review, we are taking a closer look at this premium-built Australian electric scooter.
Electric Wheelers is reader-supported. Although we independently research and test products, we may receive a commission on purchases made from our chosen links. Read more…
Mearth GTS MAX Performance
Motor and Speed
Mearth GTS MAX is a dual-motor off-road champion.
Going for a cool, unhampered ride? Do you want to be the champion of the road?  The Mearth GTS MAX dual-motor electric scooter matches your preferences as a rider, with its amazing off-road capabilities.
GTS MAX comes with dual 1,200W motors, which are able to produce a top speed of 70 km/h. However, the top speed is limited to 25 km/h to be in line with Australia's public safety regulations. You can use the full power of this e-scooter on private property.
The motor provides 3 riding modes:
In Eco mode, you can get the most range out of this scooter. While riding in Sport+ mode, you can feel an insane acceleration and test the top speed.
Thanks to the powerful dual motors, GTS Max is quite good at hill climbing. It can climb slopes of up to 30%.
Battery and Range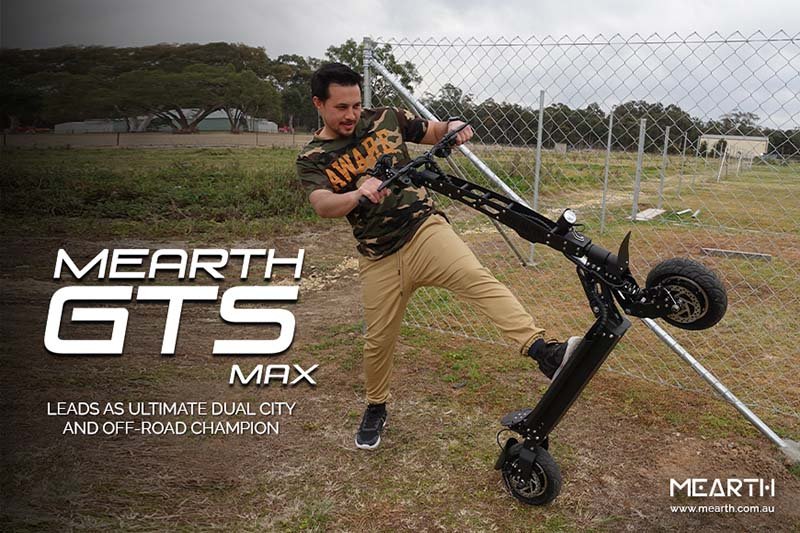 The Mearth GTS MAX was co-engineered by Mearth and LG, boasting of a longer range capability, and faring better over other major brands.
Designed for power, speed, and all-terrain capability, the GTS MAX is sturdy and has a powerful long-lasting battery. 
The battery has 1,060 Wh of energy capacity. It can provide 70-100 km of maximum range.
The scooter has two charging ports. If the battery gets completely empty, it takes about 6 hours to recharge with 2 chargers. With 1 charger, the recharge time is 12 hours.
Brakes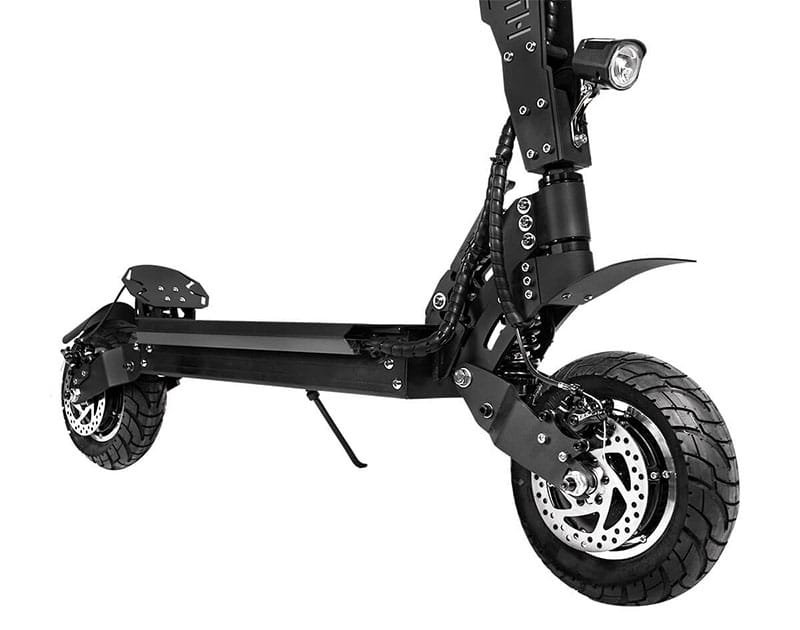 The GTS MAX has strong braking power to safeguard you on every trip you make.
Its dependable disc brake systems passed through the most stringent and highest industry standard and level of safety testing to ensure the rider's safety.
Get a 10% Discount with Coupon Code: EW10
Design and Features
Build Quality
The Mearth GTS MAX is made from high-quality materials and powerful technology to give riders endless capabilities on-and-off the road.
The GTS MAX top-of-the-line electric scooters are daring,  robust, and bold. Easily a crowd drawer, guaranteed to turn heads with its all-terrain design and dominant capabilities.
Frame and Dimensions
With an extra enhanced premium aluminum frame, the Mearth GTS Series is capable of matching your extreme riding adventures.
The dimensions of the Mearth GTS MAX are 121x59x128 cm. Also, it weighs a bit over 40 kg. So it is pretty big. You definitely don't want to carry it for a long time.
However, the folding mechanism helps to shrink the size, so it would be easier to store.
Thanks to the robust design, it can also carry heavy riders. The maximum payload capacity is 150 kg. Additionally, the scooter is not recommended for people under 18 years of age.
Suspensions and Tires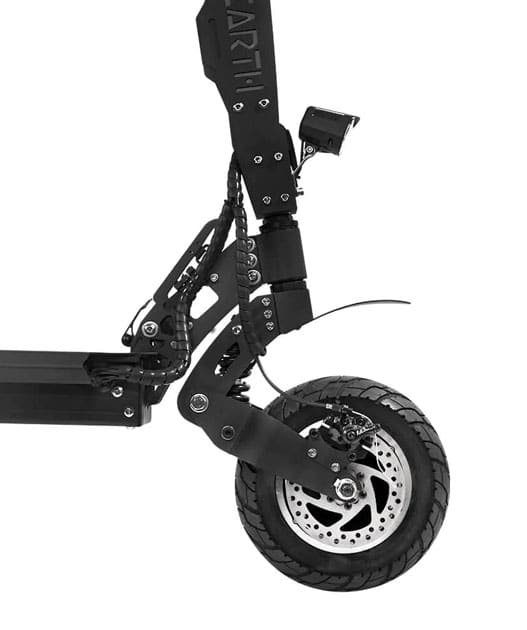 Since the scooter is marketed as an off-road king, it must have good suspensions.
GTS Max comes with dual suspensions, which make riding on uneven roads smooth.
Accompanying the 10-inch wheels with pneumatic off-road tires, you can easily ride on rocky paths or muddy trails.
Other Features
The scooter has quite solid lighting. It has a bright LED headlight and red rear light with a braking light feature. Definitely a useful feature for riding in the dark.
Additionally, there is a possibility to add a seat to your GTS MAX and make it a seated electric scooter.
Is Mearth GTS MAX Waterproof?
With some rare exceptions, no electric scooter is waterproof. However, many e-scooters are water-resistant.
Mearth GTS Max has an IP54 water-resistant rating. It means it can withstand some light rain. But is suggested to ride in dry conditions if possible.
However, when riding in the rain, make sure to dry the scooter as soon as you get indoors.
Mearth GTS MAX Review Conclusions
Mearth GTS MAX is definitely an upgrade to its previous version GTS.
The scooter is robust and powerful, which is exactly what you need for riding off-road trails.
The scooter is not lightweight and not so portable. But dual-motor scooters rarely are, so this is actually not a con.
If you are looking for a well-built strong scooter for all-terrain use, then Mearth GTS Max will be a solid option.
Get a 10% Discount with Coupon Code: EW10
Mearth GTS MAX Specs
| | |
| --- | --- |
| Motor | 2 x 1,200W Dual Drive |
| Top Speed | 70 km/h |
| Battery | 52V 20.4Ah (1,061 Wh) |
| Max Range | 70-100 km |
| Recharge Time | 6 hours (with 2 chargers) |
| Brakes | Disc Brakes |
| Suspension | Front & Rear Spring |
| Weight | 41 kg |
| Weight Capacity | 150 kg |
| Tires | 10″ Pneumatic Off-Road Tires |
| Lights | 1 LED Headlight, Rear Light + Brake Light Feature |
| Hill Grade | 30% |
| Dimensions | 121 x 59 x 128 cm |
| IP Rating | IP54 |