Maxfind is better known as a manufacturer of electric skateboards.
In 2022, they also launched their first series of electric scooters – Maxfind Glider G5.
In this Maxfind electric scooter review, we are going to find out everything about its performance, top speed, range, battery, features, etc.
Electric Wheelers is reader-supported. Although we independently research and test products, we may receive a commission on purchases made from our chosen links. Read more…
Maxfind E-Scooter Overview
Maxfind was founded in 2015 and is located in Shenzhen, China.
The company's primary focus is building better short-distance riding products used in personal micro-mobility. Its mission is to make commuting fun and easy. Maxfind makes constant breakthroughs and innovations on its products to build reliable, high-quality products.
The company uses recyclable materials and continuously improves its products to provide buyers with the best experience.
As of 2022, Maxfind has launched 3 products:
The products cover various application scenarios, including commuting, campus riding, outdoor exploration, and urban transportation.
Let's focus now on the Maxfind electric scooter.
Maxfind Glider G5 Performance
Speed and Acceleration
There are two types of Maxfind electric scooters: the Maxfind G5 and the Maxfind G5 Pro.
The Maxfind G5 has a single motor, while the G5 Pro is equipped with dual motors, which significantly affect speed and power.
So the Glider G5 has a 750W motor, while the Glider G5 Pro has two motors with a combined wattage of 1,500W. Motors have an intelligent dynamic distribution that improves control and produces 32Nm of torque combined.
The G5 Pro has significantly better acceleration than the G5. However, they are both better than average compared to other scooters in their division.
The Maxfinder G5 has a 22 mph top speed while the G5 Pro has a 25 mph top speed. The G5's top speed is still better than what standard scooters provide, but the G5 Pro electric scooter surpasses the limit because of the dual motors.
Hill Climbing
Most scooters can go uphill. However, some experience more difficulty than others.
Maxfinder's G5 and G5 Pro surpass the limits because their better-engineered motors produce amazing torque.
However, the combined torque from the G5 Pro's dual motors makes it better at hill climbing. The G5 Pro can manage a 35% hill climb, while the G5 can only manage a 25% hill climb.
Battery and Range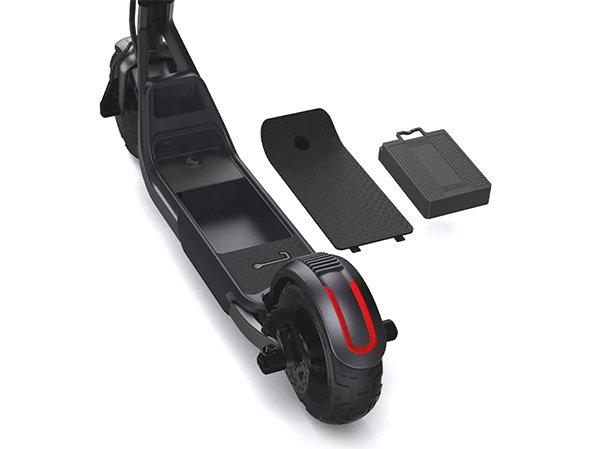 A lot of electric scooters come with unbranded batteries of unknown quality.
The G5 series is equipped with a quality Samsung power battery, which is definitely a step up. Additionally, the battery is crashproof and waterproof.
Like the motor, the battery has also 2 different configurations:
Standard Range
Long Range
Both versions come with a 48V battery. The Standard Range battery can power the scooter for 19 miles. If you choose the Long Range version, you can travel 36 miles on a single charge.
The battery's range is more than enough for most people who commute to work or enjoy a fun weekend.
The battery has a three-hour charge time, which is better than other scooters in a similar price range. It is perfect for individuals that are always on the go.
The G5 series' battery pack can be uninstalled in seconds and replaced with secondary batteries during your journey. This is a great inclusion in addition to the battery's reliable range.
It is convenient for people looking to enjoy a fun weekend but doesn't have the time to keep charging their scooter whenever it runs out. You only have to ensure that all batteries are charged before heading out.
To replace your battery, you'll need to open the rotary, switch the battery with a secondary battery, and lock the switch.
Brakes
Brakes are the most vital safety feature in any vehicle. Especially for an electric scooter that is allowed to ride on a sidewalk. The Maxfinder is no different, considering its speed.
The Maxfind G5 series has three types of braking:
mechanical disc brake
electronic brake
fender brake
The Maxfinder G5 series' brakes are quite effective and provide riders with various options depending on their current need.
For instance, riders can use the fender brake for a slow stop and the mechanical & electronic brake for a quick stop. This is useful in providing riders with a comfortable and safe riding experience.
Maxfind Glider Design and Features
Portability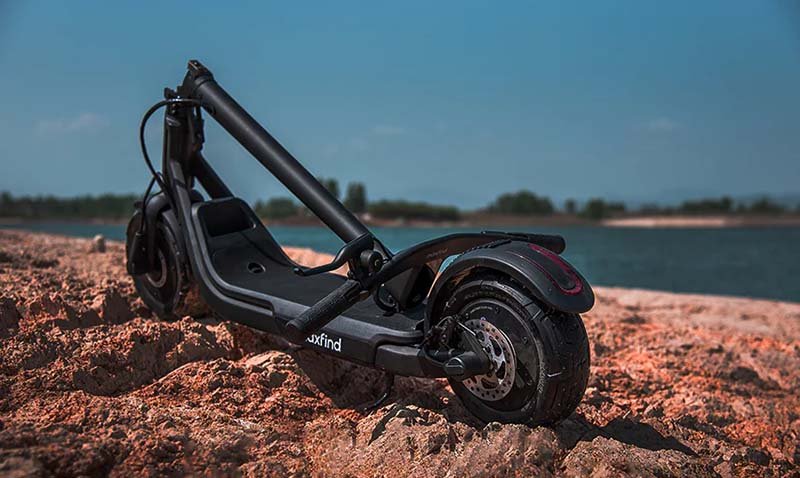 The Maxfinder G5 e-scooter series is 44 inches long and 44.5 inches tall when unfolded. When collapsed, you can reduce the height of the scooter to 20.9 inches. The G5 weighs 40 pounds, while the G5 Pro weighs 44 pounds, making them relatively light because of their aluminum frame.
However, you should note that they aren't the lightest scooters around. Transporting them by carrying yourself can become hectic.
But if you transport the scooter in the trunk of the car, you can consider it quite portable thanks to its folding mechanism. The scooter is also easy to store because of this feature.
Wheels and Tires
The wheels of the scooter determine your overall riding experience.
The Maxfinder G5 series has 10-inch inflatable wheels, which are wide, and suitable for all-terrain. The wheels are perfect for shock absorption, especially when riding through raised, uneven ground.
Plus, they produce less noise compared to non-inflatable variants.
The Maxfind Glider has great tires, but you should restrict them to urban terrain with minimal jagged rocks.
The Maxfind's pneumatic tires provide an easy driving experience because they have a good grip. However, be careful when riding the scooter off-road. Pneumatic tires are more prone to puncture than non-inflatable variants.
Deck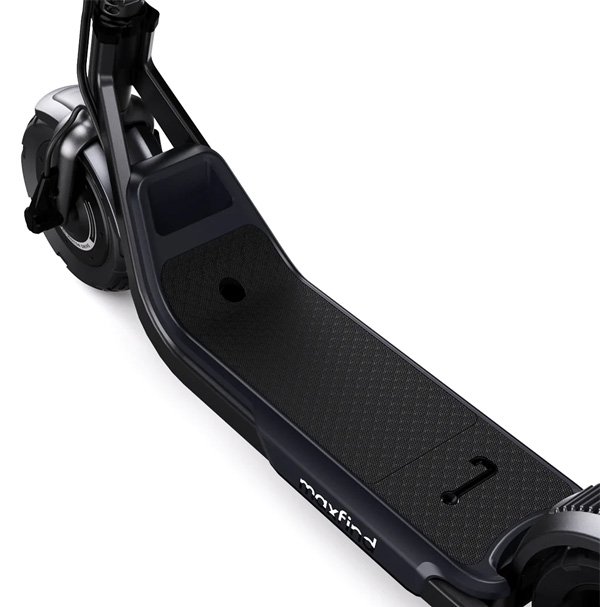 The Maxfinder G5 series has the latest design with sharp, clean, and beautiful lines that make the Glider look stunning.
The G5 is designed with an aviation-grade aluminum alloy, making the deck sturdy and dependable. The deck can handle a 265-pound load, which shows the design's reliability.
The G5's deck is 7 inches wide, allowing riders to rest their feet comfortably. Additionally, the deck is long enough that the rider can move a few inches to the front and back to make themselves more comfortable.
Handlebar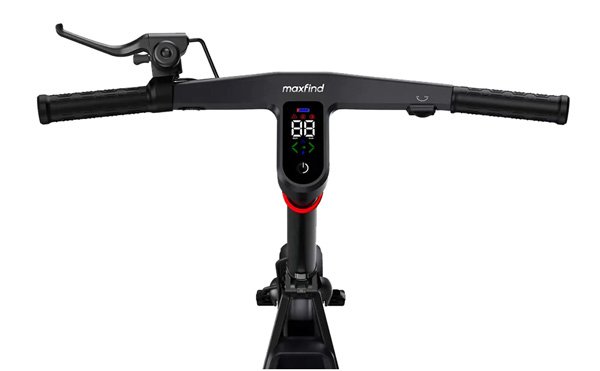 The G5 series has a U-shaped 22.8-inch wide handlebar that provides the ultimate grip.
The handlebars are easy to grip and are placed at an optimum height for most riders to hold comfortably. Additionally, the handlebar has a simplistic design and is equipped with only the features you need for a smooth and worry-free ride.
The U-shaped handlebar has:
rubber grips
LCD display
hall throttle
turn signal button
brake lever.
The controls are easy to use and conveniently placed.
App
The scooter can be also connected with a smartphone app. The app includes many useful features.
For example, you can see the location of the scooter from the app. Additionally, if someone moves your scooter, the app alerts you about that.
Also, you can find all the necessary ride statistics from the app, like past routes, battery status, average speed, and much more.
Lights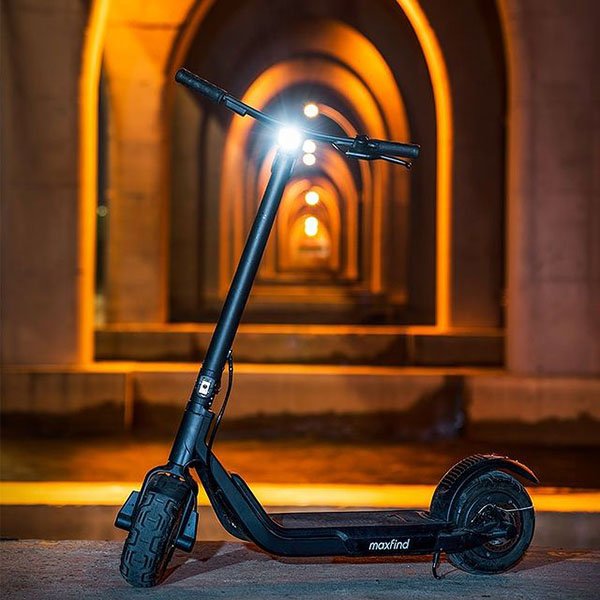 Your electric scooter should have important lighting common in most vehicles. The G5 has powerful spot LED headlights that help illuminate the way in the dark.
Additionally, the electric scooter has a U-shaped turn signal that riders can use to indicate which way they turn. The U-light also doubles as a braking signal.
The lights are designed to make riding the G5 safer for motorists and pedestrians.
Is Maxfind Glider Waterproof?
Although the Maxfind Glider is definitely not waterproof, it has a better water-resistance rating than most other electric scooters available on the market.
The Maxfinder Glider has an IP65 rating. This means the scooter is protected against high-pressure water jets from any direction. Don't submerge the scooter in water because it is not completely waterproof. However, it should not harm the scooter if it starts raining during the ride.
Ride Quality
We tested the Maxfinder G5 and G5 Pro and found them to have an amazing riding experience.
The scooters have great braking algorithm control and highly optimized acceleration. This means their brakes are highly reliable (keep in mind they have three brakes), and you can rely on their smooth and fast acceleration.
Additionally, the scooters have an automotive kinetic energy recovery system designed to provide longer ranges.
The scooter has three riding modes and a great design to make the rides extremely comfortable.
The dual motors on the G5 Pro provide great power and can be relied on to tackle most hill climbs in urban areas.
Where to Buy Maxfind Glider Scooter
Maxfind sells all its products directly to customers from its online shop.
They have local warehouses all over the world and even provide free worldwide shipping. It's something we don't see very often.
Maxfind Glider E-Scooter Review Conclusions
The Maxfinder Glider is intuitive, easy to use, and has no learning curve. Additionally, you can comfortably ride the scooter at night because of its powerful headlights, taillights, and turn signals. It produces enough torque, has a great design, and can be relied on for durability.
Maxfinder is an up-and-coming brand. They've created amazing products and plan on innovating on current products and creating many more. They've not yet become a global brand. However, their products are simple to use, elegant, and reliable. So they can easily compete with the big names.
Maxfind Glider G5 Specs
| | | | |
| --- | --- | --- | --- |
| Maxfind Glider G5 | | Maxfind Glider G5 Pro | |
| 750W | Motor | 2x750W | |
| 22 mph (35 km/h) | Top Speed | 25 mph (40 km/h) | |
| 48V 8.7Ah Samsung | Battery | 48V 8.7Ah Samsung | |
| 19 miles (30 km) | Max Range | 19 miles (30 km) | |
| 3 hours | Recharge Time | 3 hours | |
| Mechanical disc, Electronic, Fender Brake | Brakes | Mechanical disc, Electronic, Fender Brake | |
| – | Suspension | – | |
| 40 lbs (18 kg) | Weight | 44 lbs (20 kg) | |
| 265 lbs (120 kg) | Weight Capacity | 265 lbs (120 kg) | |
| 10″ Pneumatic | Tires | 10″ Pneumatic | |
| Front, Rear, Brake & Turn Lights | Lights | Front, Rear, Brake & Turn Lights | |
| 25% | Hill Grade | 35% | |
| 44 x 8.3 x 44.5 inches (112 x 21 x 113 cm) | Dimensions | 44 x 8.3 x 44.5 inches (112 x 21 x 113 cm) | |
| 44 x 8.3 x 20.9 inches (112 x 21 x 53 cm) | Folded Dimension | 44 x 8.3 x 20.9 inches (112 x 21 x 53 cm) | |
| IP65 | IP Rating | IP65 | |
| 1 year | Warranty | 1 year | |