This review focuses on two high-performance skateboards from the Wowgo Pioneer series.
The Pioneer Wowgo 4 and the Pioneer Wowgo X4 are the successors of the Wowgo Pioneer 3 and Wowgo Pioneer 3X, respectively.
In addition, this guide will cover Wowgo 4 and X4 performance, design, features, and ride quality.
Electric Wheelers is reader-supported. Although we independently research and test products, we may receive a commission on purchases made from our chosen links. Read more…
Wowgo Electric Skateboard Overview
Wowgo is a Chinese electric skateboard brand that was founded in 2017. They have warehouses worldwide, so they can serve customers globally.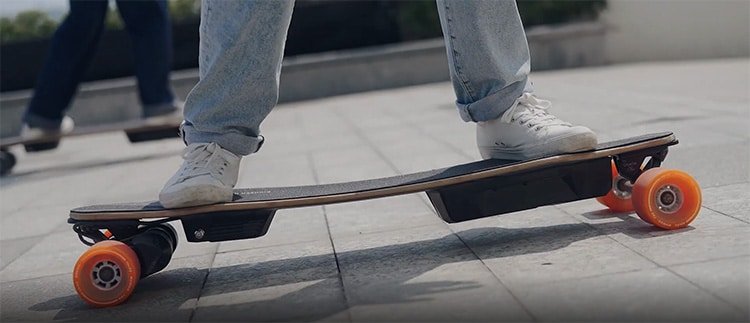 One of the main goals of WowGo is to provide top-quality products at the lowest price possible. Their first electric skateboard was called WowGo 1.
Today, WowGo has regular longboards, all-terrain skateboards, and mini shortboards in its selection. The Pioneer series is their newest.
Wowgo Pioneer 4 vs 4X
There are two boards in this series. The Wowgo Pioneer 4 and the Wowgo pioneer X4.
As much as these two electric skateboards might look similar physically, there are two differences you might have already noticed between them – particularly if you've had the chance to ride both.
Somewhat, the physical design of the Pioneer 4 and Pioneer X4 is similar – Incorporating 38.5″ Flexible Canadian maple wood + bamboo + glass fiber to ensure smooth rides. The performance is, however, something to take notice of.
The Wowgo Pioneer 4 uses 2*680W hub motors, while the Pioneer X4 uses 2*700W belt motors.
The hub motors in the Wowgo Pioneer 4 are slightly slower (in acceleration and braking) than the belt motors in Wowgo Pioneer X4. This is a slight difference of around 5%.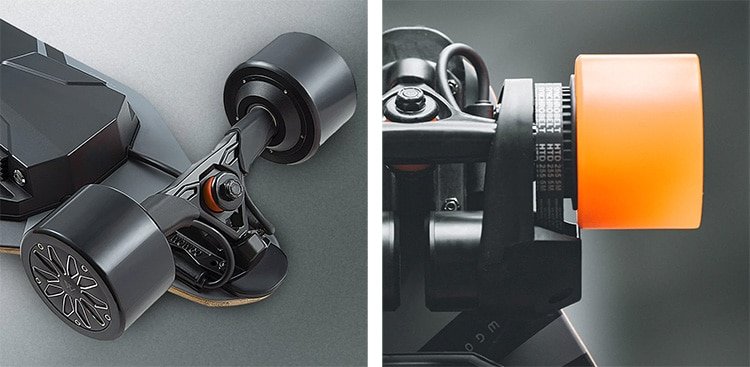 The belt motors of the Pioneer X4 should be your choice if you want better performance and better motor condensation.
The other difference to note is the weight. The Pioneer X4 weighs 8.5 kg, while the Pioneer 4 is slightly lighter, weighing about 8.2 kg.
Although with an insignificant difference of 300 grams, handling any of them won't be a significant issue.
Wowgo Pioneer Specs
| | | |
| --- | --- | --- |
| Wowgo Pioneer 4 | | Wowgo Pioneer 4X |
| 2x680W Hub Motors | Motor | 2x700W Belt Motors |
| 28 mph / 45 km/h | Top Speed | 28 mph / 45 km/h |
| 25-30% | Hill Grade | 25-30% |
| 345 Wh Samsung | Battery | 345 Wh Samsung |
| 22 miles / 35 km | Range | 22 miles / 35 km |
| 3.5-4 Hours | Charge Time | 3.5-4 Hours |
| 90mm Wheels and/or 105mm Cloudwheels | Wheels | 90mm Wheels and/or 105mm Cloudwheels |
| 980x285x148mm | Board Size | 980x285x148mm |
| Canadian Maple + Bamboo + Glass Fibre | Board Material | Canadian Maple + Bamboo + Glass Fibre |
| 23.4 lbs / 10.6 kg | Weight | 28.2 lbs / 12.8 kg |
| 330 lbs / 150 kg | Max Load | 330 lbs / 150 kg |
| OLED | Remote Display | OLED |
| 180 Days | Warranty | 180 Days |
Wowgo Pioneer Performance
The best skateboard is all about performance. Here are details about the braking system, motors, speed, acceleration, hill climb, and battery range.
Motor and Speed
As described above, Pioneer 4 has hub motors and Pioneer X4 has belt motors. Both motors are built by Hobbywing and both have about 1,400W of total power.
These motors are good because they give this skateboard enough torque, and strong but smooth braking power. Also, these motors make less noise compared to the previous Wowgo skateboard series.
The top speed of both Pioneers is approximately 28 mph (45 km/h).
There are four different speed modes on the Pioneer skateboards:
Mode 1 – up to 9 mph (15 km/h)
Mode 2 – up to 15 mph (24 km/h)
Mode 3 – up to 21 mph (34 km/h)
Turbo mode – up to 28 mph (45 km/h)
Hill Climbing
The climbing ability for both boards is excellent. They can climb inclines of about 25-30%. The 90mm and 105mm wheels also have a good grip on a hill.
The belt motors in the Wowgo Pioneer X4 boost their climbing performance up to maximum speeds without fail.
The hub version motors on the Pioneer 4 will also perform well on a hill, but it will not match the performance on the X4 version.
Braking
The Wowgo Pioneer 4 and X4 have a smooth and intuitive brake system, slowing down until they finally stop.
Even so, the belt version has sharper brakes than the hub version. So, be extra careful when braking at top speed because you risk falling off the board if you are at top speed.
Battery and Range
Both Pioneer series skateboards come with a 345Wh 8.0Ah Samsung battery positioned at the front of the deck.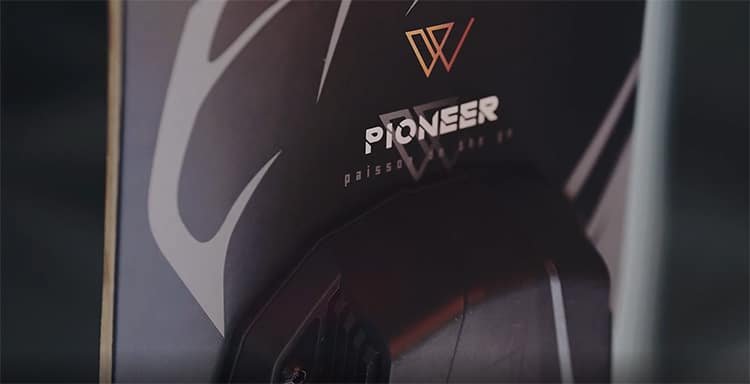 The battery is remarkably bigger (extended range) than their predecessor skateboards. It's an advantage because it increases the range, which is 21 miles (33 km), even with turbo mode on.
The battery's case is redesigned with a lockable charging port on the sides to protect the hole from dust, debris, or mud when riding.
Charging the skateboard's battery takes 3.5 to 4 hours using the recommended cable.
Wowgo Pioneer Design and Features
Deck
The deck is expansive enough (measuring 38.5×11.2 inches (98×28.5 cm) to enhance comfortability even when attempting a few tricks. You can also sit on the deck to do a few beginner tricks without worrying about falling.
In addition, the Wowgo Pioneer has a flexible and durable deck. Manufactured from Canadian maple wood + bamboo + glass fiber, these boards absorb shock excellently to allow you not to feel any rigidity while riding. Also, the boards are not bumpy, even when riding on an uneven surface.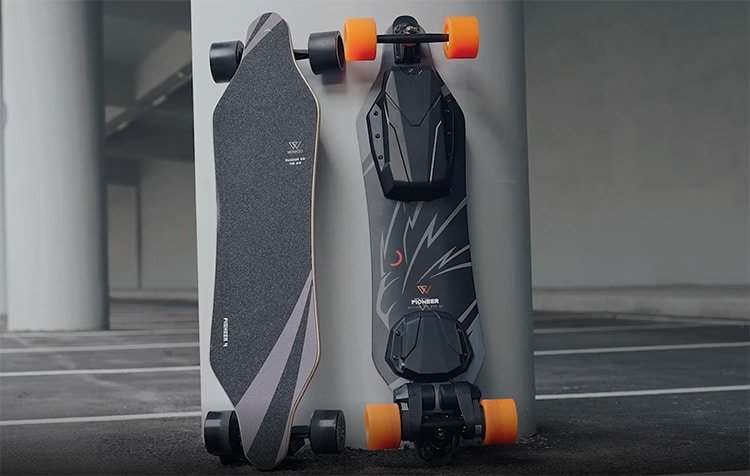 The other important thing you might notice with the Wowgo Pioneer 4 electric skateboard is the 15° concave design on the deck that keeps your feet stable while riding.
Remember that you can maneuver bends or learn tricks fast if your feet are stable and firmly grip the deck.
Trucks and Wheels
The Wowgo Pioneer wheel size measures a standard 90mm in diameter. However, you can include the 105mm Cloudwheels for an extra $100 before shipping. Also, they are available in two sleek colors: Black and orange.
Without a doubt, the urethane wheels are high quality, soft, and durable. You will enjoy riding your electric skateboard without worrying about purchasing replacement wheels any sooner.
The Cloudwheels are great for rough roads because they smoothen the riding experience.
If you like carving with an electric board, you should maintain the original 90mm urethane wheels installed in these electric boards. Conversely, the 105mm cloud wheels have a narrow contact patch, eliminating the carving experience.
The baseplate on the trucks is durably built with high-quality material, and the axle width is enough to keep you steady while riding, even at top speed.
The trucks use double barrel 95a, which are top quality to offer excellent stability at high speed.
Remote Control
The Wowgo Pioneer uses a similar remote control design and size to its predecessor.
The remote control fits perfectly on the hand and has a small LCD screen displaying important information like the speed you are covering and the remaining battery life (in percentage).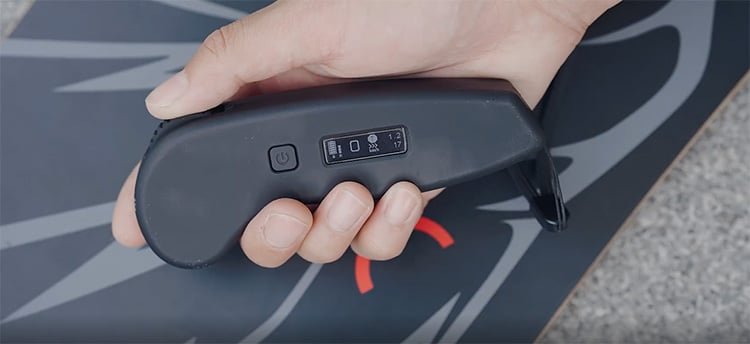 Also, there is a standby feature on the remote control to turn the skateboard on and off.
The remote control also has another trick. You can reverse the skateboard if you hit the power button twice to stop the skateboard and then start going backward.
Charge the remote with the cable that comes with the skateboard for efficient performance.
Portability
You can carry both of them without any doubts.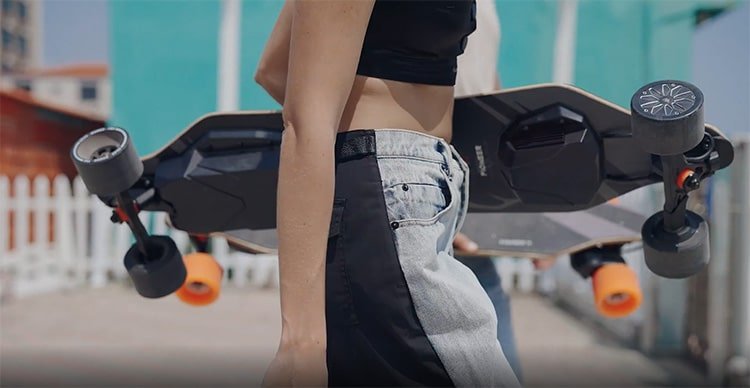 Both the Wowgo Pioneer 4 and X4 measure 98×28.5×14.8cm, which is fair enough for anyone who likes to carry their skateboard at some point.
However, Pioneer X4 is 300 grams heavier than Pioneer 4. The X4 weighs 18.7 lbs (8.5 kg), while Pioneer 4 weighs 18 lbs (8.2 kg). Also, you might notice that the rear side of the X4 skateboard is heavy because of the pulleys and belt position.
Both boards can support a maximum load of 330 lbs.
Wowgo Pioneer Ride Quality
From their flexible deck to their smooth braking system, you will enjoy riding the pioneer 4 and X4.
The hub version of the Pioneer 4 is ideal for a skater who enjoys sharp turns and curves because the trucks are stiffer.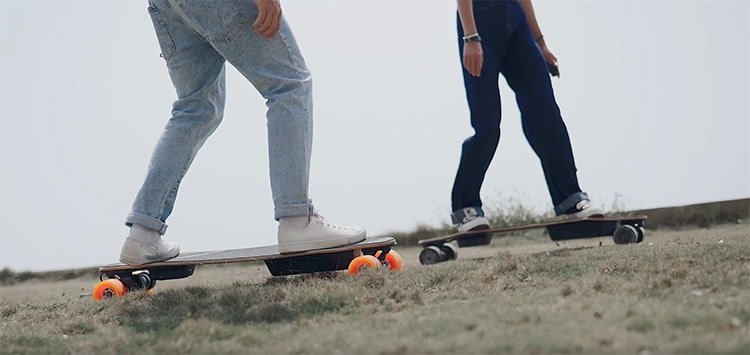 You can also replace the wheels with the Cloudwheels if you want to ride along rough terrain to enjoy a smooth and more ergonomic ride.
The Hobbywing ESC motors ensure you accurately control the Pioneer 4, avoiding accidents. As much as the Wowgo skateboards are not the most high-end, they are still worth the price.
Wowgo Pioneer Review Conclusion
Wowgo Pioneer skateboards are durable, convenient, modern, and safe for any rider as a beginner or expert.
A few reviews from riders who have already tried the Wowgo Pioneer series skateboards recommend the Pioneer 4 and X4 as the best for their competitive price tags.
Also, the Pioneer 4 and X4 are typically better improvements to the Wowgo 3 series skateboards.