Gyroor is your family mobility expert because it supplies hoverboards for kids, electric scooters for teens, and electric bike scooters for adults.
Additionally, the Gyroor brand takes the environment very seriously. So, it ensures using non-toxic e-vehicles with zero gas emissions to reduce chemical pollutants.
This review will look at the Gyroor brand and everything they offer riders. Also, we will help you pick the right accessory for yourself or your teenage kids.
Electric Wheelers is reader-supported. Although we independently research and test products, we may receive a commission on purchases made from our chosen links. Read more…
About Gyroor

The Gyroor brand is an old player in the industry. This US outdoor equipment shop started operations in 2014 by an ambitious innovator named Jason in the United States. However, Jason's idea of e-vehicles was born in 2012.
Through his efforts and resilience, Gyroor Company today understands what the market needs. These riding accessories ease mobility and improve lives.
Gyroor offers affordable, efficient, and lightweight riding e-vehicles for kids, teens, and adults.
Today, the Gyroor brand supplies among the best self-balancing electric scooters, e-bikes, and all-terrain off-road hoverboards in over 64 countries.
Gyroor Hoverboards
Gyroor Warrior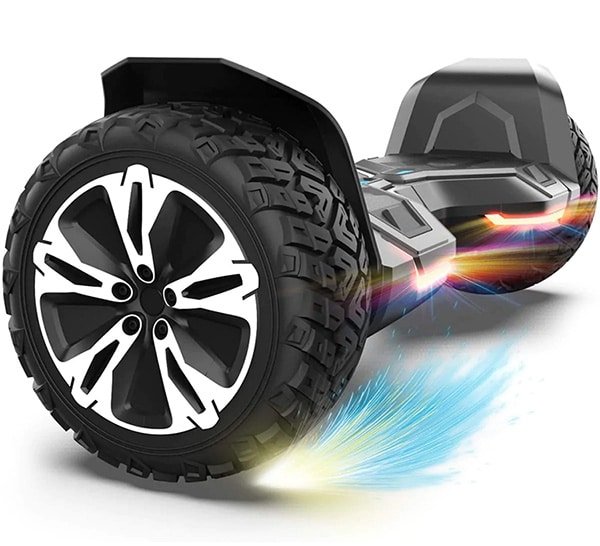 The G2 Warrior is an off-road all-terrain hoverboard from Gyroor's line of UL-certified hoverboards. It is a safe and harmless hoverboard for all level riders (8-12+ & adults).
This hoverboard has a durable aluminum construction which makes it lightweight and, at the same time, assures resilience and safety.
It uses two 350W motors and reaches a maximum speed of 9.9 mph. Also, it can overcome 30° hilly terrain without losing power.
The 8.5 inch/215 mm rubber solid tires with shock absorbers also endure and provide a steady grip and more stability while riding on dirt, grass, gravel, or wet surfaces.
In addition, this hoverboard is convenient because it only needs 1.5 to 2 hours to charge its 4.0Ah/36V lithium-Ion battery fully.
Music Speaker: Pro Music Speaker
Distance on Full Charge: 7.5~9.5 Miles
Max Load: 265 Pounds
Charging Voltage: AC100 to 240V/50-60Hz
Check Best Price From:
Gyroor F1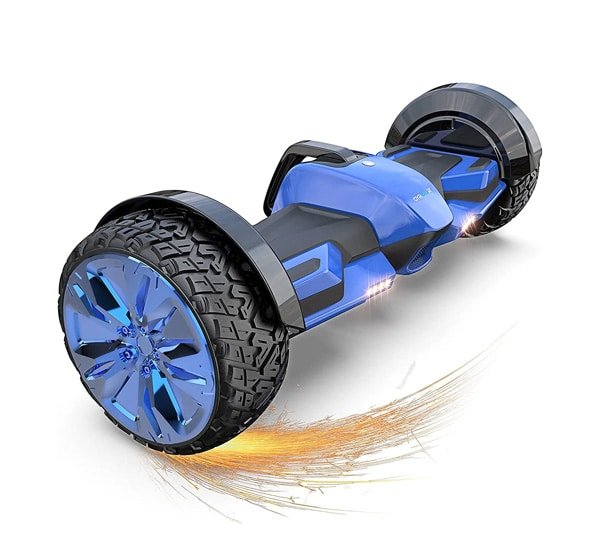 The Gyroor F1 Racing lightweight hoverboard is the fastest with a handle and a portable structure. The stylish handle allows your kids to carry it whenever they go outside.
With a 180Wh of battery capacity, the hoverboard can ride for up to 12.5 miles. It allows you to enjoy extended rides in the park or neighborhood.
Also, The Gyroor F1 has enough speed, reaching top speeds of 10-12 mph. These speeds are enough for kids aged 8-12 or adults. Additionally, there is an intelligent app where you can alternate between adult and child mode.
If you like to play a favorite jam while riding, this hoverboard has a built-in high-end music player which can connect to your mobile phone.
The 8.5'' solid off-road tires are perfect for riders who occasionally find themselves in rough terrain. In addition, the 700-watt hub motors (350W x 2) power allows this hoverboard to climb gradients up to 30° without losing strength.
Not forgetting the weight capacity, this hoverboard can support a rider weighing up to 136 kg/300 lbs.
Check Best Price From:
Gyroor G11
The Gyroor G11 flash-wheel hoverboard is a 500W (250W hub motors x 2) off-road all-terrain e-vehicle.
The 36V 2Ah battery has a total of 72Wh energy capacity, and you only need to charge it for 2-3 hours. It has a typical range of 3.75-7.95 miles (6-13 km) when fully charged.
Riding at night is safe thanks to the bright LED lights. Also, six colorful LED lights increase visual while playing music with the Bluetooth speakers.
The hoverboard has three different modes and a maximum speed of 7.9 mph (13.2 km/h). Designed for kids and adults, you can, at any moment, adjust the modes to fit your preferences.
The 6.5'' wheels allow smooth rides in sandy terrain or gravel.
Related: Gyroor G11 Full Review
Check Best Price From:
Gyroor Y1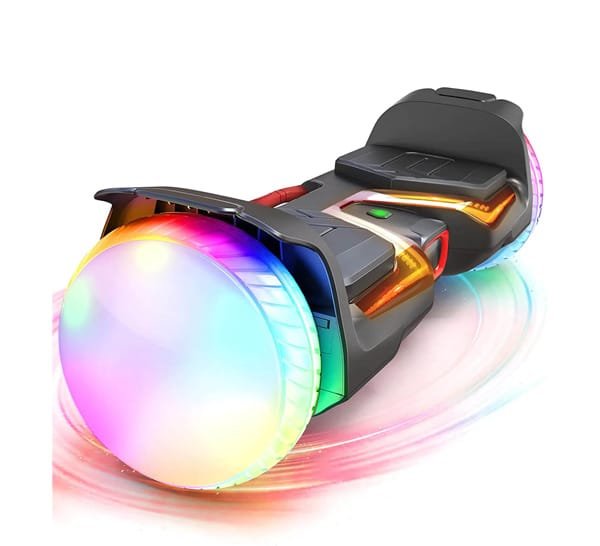 The Gyroor Hoverboard Y1 is ideal for 6-12-year-olds. The self-balancing system allows them to learn how to balance on the board in less than 10 minutes. Furthermore, it has a 7.95 mph (13 km/h) maximum speed, which is enough for kids.
The 6.5″ wheel size gives a rider ultimate comfort and a wonderful riding experience on rugged terrain. The dual 300W hub motors also allow this hoverboard to climb fair gradients without challenge.
This board can also support up to 265 lbs (120 kg) and still cover the 7.95 miles range because it is built from a sturdy aluminum frame.
Gyroor Hoverboard Y1 has a 92.5Wh battery capacity allowing kids to play music with the high-end Bluetooth monomer chamber speakers.
Check Best Price From:
Other Hoverboards in Gyroor Selection
Gyroor e-Bikes
Remember that all Gyroor products provide value for every family member. They are eco-friendly, durable, convenient, and energy-efficient.
Here are four adult eBikes to check out.
Gyroor C1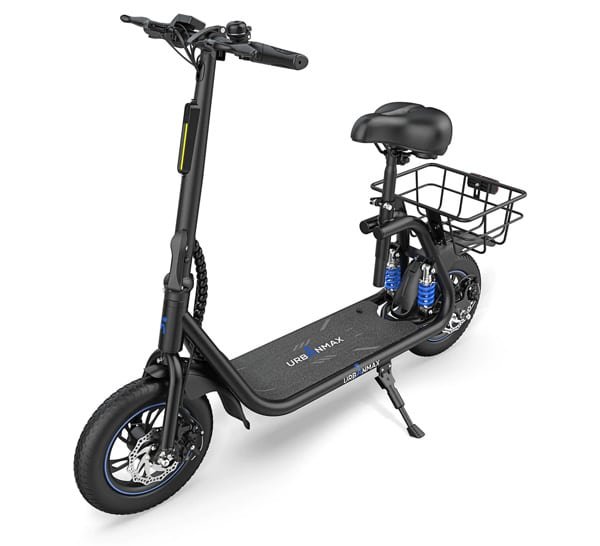 The Gyroor C1 electric bike scooter is stylish, convenient, non-pollutant, and has a cool design.
With this bike, you can go shopping, to school, or to the office without worry. While shopping, you can carry items with the medium-sized rear basket.
This bike can support a maximum load of 265 lbs. The seat is comfortable, and the dual shock absorbers are durable, allowing you to ride for a long period without getting tired.
Charging the bike's 360Wh battery takes approximately 5 hours. When the battery is full, you can manage a 20-25 miles maximum range.
Lastly, this bike reaches a speed of 18.6 mph and uses dual disc brakes to guarantee smooth braking, even at high speeds.
Lights: Head & Tail Light
Fits for Height: 4′9″ – 6′
Fits for Ages: 12+ years
Net Weight: 39.4 lbs
Check Best Price From:
Gyroor C2
The Gyroor C2 is a foldable and powerful eBike for adults. It is made for long-range travel and urban commuting. Also, it has a sturdy design, carrying weights of up to 265 lbs (120 kg).
Powered by a 450W brushless hub motor, this bike allows you to clock 18.6 mph with 20 miles of range.
Even at top speed, you should be fine with safety. This is because it has a reliable disc brake system with 14-inch pneumatic air-filled tires to absorb shock in rough terrain.
Lastly, the LED display shows you the speed limit according to the mode you set, the battery charging level, and the distance covered.
Check Best Price From:
Gyroor C3
Experience the delight of riding a lightweight foldable eBike powered by a 36V 10Ah lithium battery and 450W brushless hub motor.
The 360Wh battery allows you to travel 28 miles with speeds up to 19 mph. You can also climb hills with gradients of more than 10°.
For smooth rides on uneven terrain, the Gyroor C3 has dual disc brakes and sturdy shock absorbers with adjustable seat heights.
The geometric frames and accessories make it easy to fold and keep inside the trunk.
Check Best Price From:
Gyroor C5 Max
The Gyroor C5 Max is an all-terrain/off-road electric bike for adults not more than 220 lbs (100kg).
Featuring a 48V 12Ah removable large battery, this bike can cover 40 miles in electric form and 50 miles if you use pedal assist.
Gyroor has also included double shock absorbers for the front and rear to enhance the riding experience.
The seven-speed Shimano-designed system allows swift gear shifting on all surfaces. Also, this bike uses a dual-disc brake system, allowing you to stop smoothly in an emergency.
The 20×4-inch fat tires and 500W powerful motor is suitable for complex terrains like mountain, snow, beach, and gravel roads. This bike can also climb a 30° slope smoothly.
Check Best Price From:
Gyroor Electric Scooters
Gyroor E-Scooters for Kids
Gyroor H30 vs. Gyroor H40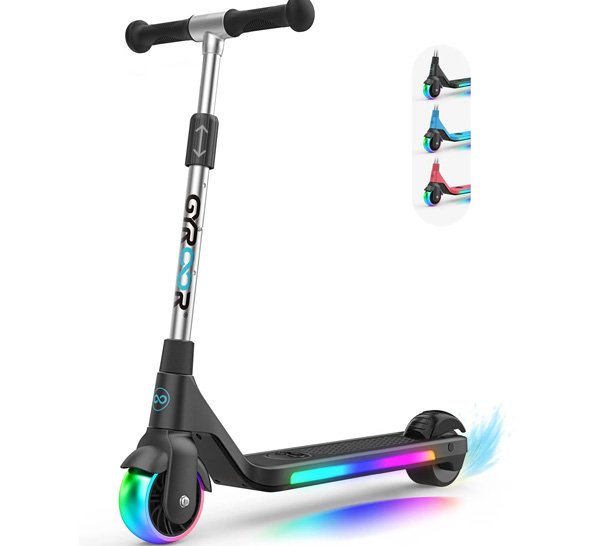 Motor
The Gyroor H30 electric kick scooter is designed for kids aged 6-12 years. It has an 80W motor that can accelerate to 6.3 mph (10 km/h).
The H40, on the contrary, is the best scooter for kids and teens between 12 and 15 years because of its powerful 200W motor that swiftly accelerates to 10 mph (15 km/h).
Battery
The H30 has a built-in 21.6V 2.5 Ah lithium battery, letting it travel about 6 miles. However, this cannot be compared to the 37V 2.5Ah rechargeable lithium-ion battery in the H40, which allows it to travel a maximum distance of 10 miles.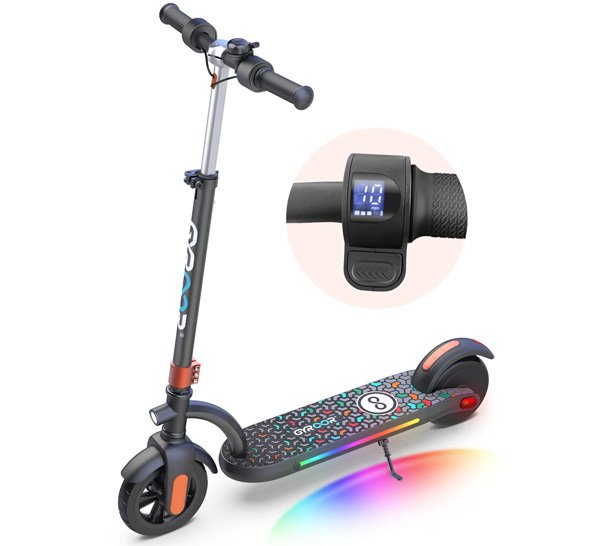 Height Adjustment and Maximum Load
A scooter should be easily adjusted for convenience and stability.
Luckily, the H30 has three adjustable height levels, including 27.5 inches, 30 inches, and 32.6 inches. This is enough to fit your kids as they grow taller. And the maximum load capacity is 110 Lbs (70Kgs).
The H40 has a height-adjustable handlebar of 35.4 inches, 37.4 inches, and 39.4 inches, which are perfect for teenage kids. The maximum load capacity is 177 lbs (80Kgs).
Wheels and Brake System
The Gyroor H30 has 3.5 inches of colorful front wheels, while the H40 has 6.5 inches of solid non-slip wheels.
For braking, the H30 and H40 use innovative designs that guarantee safety.
The H30 has a speed-control foot brake button on the scooter's deck and uses gravity sensors for smooth braking.
The H40 has a dual-brake system – an electronic brake button on the steering, and a rear anti-locking mechanical brake.
Check Best Price From:
Gyroor eScooters for Adults
Gyroor X8 vs Gyroor HR9 (foldable electric scooters)
Motor and Speed
The Gyroor X8 is a foldable adult e-scooter with a 500W upgraded motor. It has a sleek and lightweight design reaching up to 18.6 mph. You can switch the X8 to power-saving mode and preserve battery life when you are not in motion.
Conversely, the HR9 comes with a 380W brushless motor and also has an 18.6 mph top speed.
Battery and Charging Time
The X8 has a powerful 468 Wh36V 13Ah long-range Lithium battery which can last for 31 miles. It takes about 4.5 hours to fully charge.
On the other hand, the HR9 has a 360Wh (36V 10Ah) battery that can cover a full range of 20-25 miles. It takes about 3-5 hours to recharge.
These are enough distances to go shopping, to school or the office.
Handling, Safety, and Riding Experience
For riding experience, convenience, and stability, the Gyroor eScooters perform quite well.
Both scooters are lightweight and easy to fold. You can fold and carry them if you want to climb the stairs, fit in the trunk, have power loss, or malfunction.
The X8 has unique triple shock absorption and silicone pedal pads for a safe riding experience, while the HR9 has non-slip pedals that reduce vibration and prevent slipping.
The maximum load capacity for the X8 and HR9 eScooters is 265 Lbs (120 kg).
Furthermore, the X8 has an app control, which allows you to lock and unlock the scooter. Also, with the app, you can monitor speed and power, update firmware, and conveniently adjust the scooter's speed limit.
The HR9, however, does not have so many security features.
Wheels and Brake System
X8 eScooters come with 10-inch tires, while the HR9 has 8.5 inches of air-fill pneumatic tires. All these reduce shock whenever you hit a bump.
For braking, the X8 and HR9 both have electronic ABS combined with rear-wheel drum brakes. Additionally, both have brake lights & ultra-bright headlights to warn other motorists of your intentions.
Check Best Price From:
Conclusion
Gyroor brand has significantly made improvements in mobility. Incorporating new technologies and efficient accessibility, this company continuously makes mobility more enjoyable.
With a mission to create cutting-edge riding accessories, you will find the best e-bikes, hoverboards, and e-scooters from a wide selection of lightweight and high-quality products.