Skateboards are usually meant for smooth paved terrain. Not anymore!
E-board companies manufacture also e-boards for off-road riding. There are so many different all-terrain skateboards to choose from.
In this article, we have reviewed the best off-road electric skateboards to make it easier for you to choose.
In the end, there is a comprehensive guide about how to choose an off-road electric skateboard.
Electric Wheelers is reader-supported. Although we independently research and test products, we may receive a commission on purchases made from our chosen links. Read more…
Why Use an Off-Road Electric Skateboard?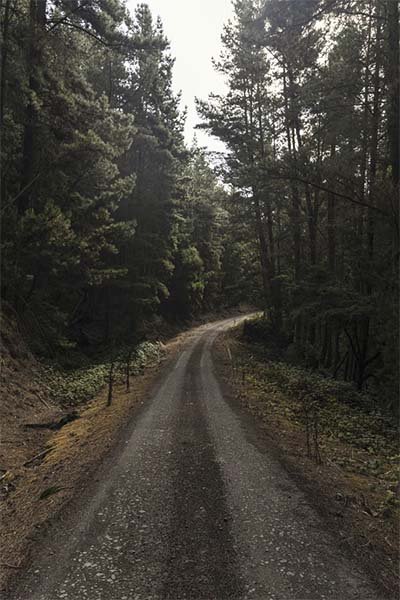 With a regular e-board, riding on sand, grass, or gravel is difficult but not impossible.
But, if you want more freedom when riding off-road, specifically the freedom to go fast and carve easily even on unforgiving terrain, you need an off-road electric skateboard.
Not only do they perform better on harsh terrains, but they're also built to withstand more punishment.
These e-boards have bigger motors, better wheels, dedicated suspension systems, and rugged builds.
If you have the hankering to veer off the paved path and carve the less-traveled one, you first need a good all-terrain/off-road electric skateboard.
Related: Electric Skateboard vs Electric Scooter
Pros of Off-Road Electric Skateboards
Most powerful motors.
Rideable on all terrain types.
Smoother city rides
Cons of Off-Road Electric Skateboards
Heavier than regular e-boards
Less mileage due to extra weight
Bulky and big in matter of size
Best Off-Road Electric Skateboards
Maxfind FF Plus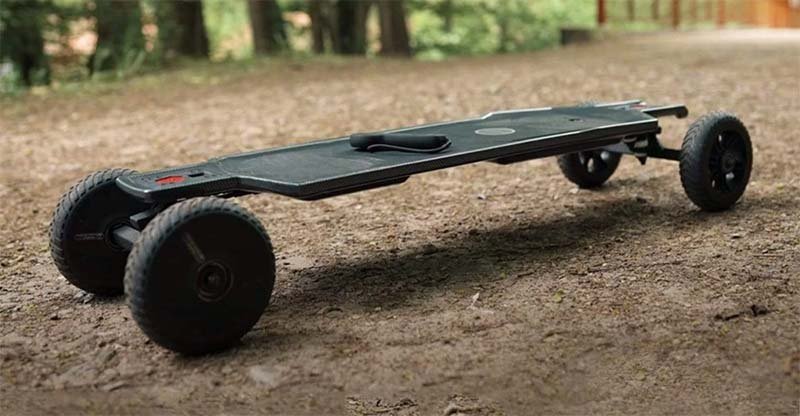 MSRP: $873
The Maxfind FF Plus is another sub-$1,000 AT e-board that acts as a high-performance electric skateboard.
It features 6.5-inch all-terrain wheels, 340mm double kingpin trucks, and a frosted deck, which combine to provide cushioning and stability when riding off-road.
Its payload capacity of 220 pounds belies its lightweight build. At 24 pounds, most riders can carry it comfortably when commuting.
It has a pair of 1,200W motors doing all the heavy lifting while a 5.2aH 10S2P battery provides the juice.
This setup affords you about 24 Nm of torque, which is enough to carry you up 35% inclines without losing speed.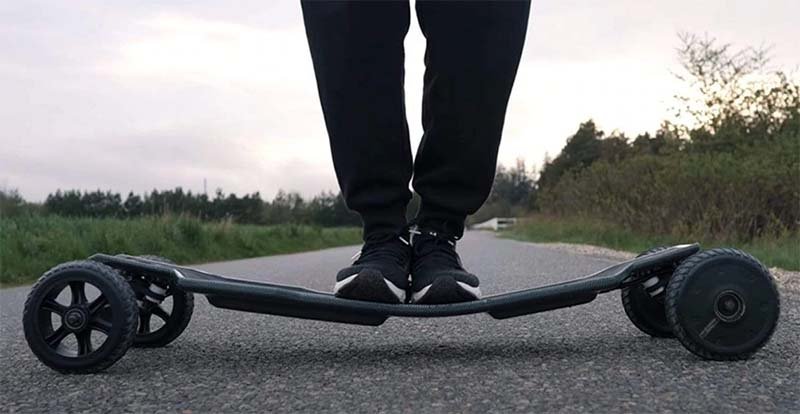 The integrated deck design is water-resistant (IP65), sleek, and stylish. The deck itself is a mix of fiberglass and super flex PPS.
These components result in a 24 MPH top speed and a maximum range of 10 miles.
However, the Maxfind FF Plus is available in long-range variants with bigger battery packs. This model charges within 3 hours using the provided UL 42V fast charger.
Top Speed – 24 mph
Range up to 10 miles
35% Hill Climb Ability
Weight – 24 lbs
Max Payload – 220 lbs
WowGo AT2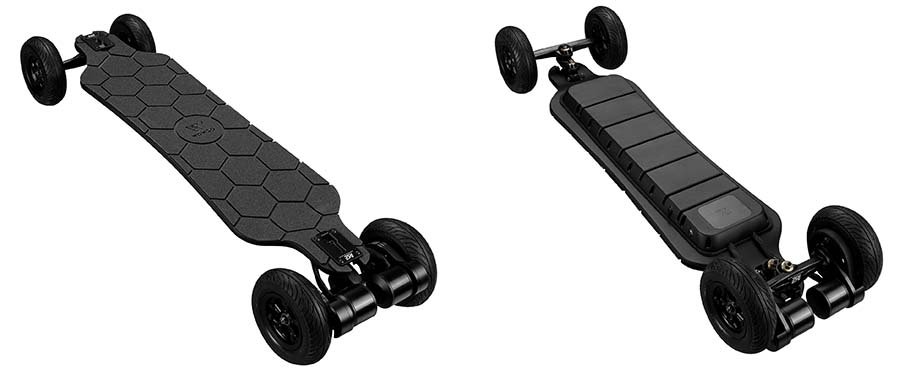 MSRP: $1,199
The WowGo AT2 features a 38-inch flexy deck (maple, bamboo, fiberglass), pneumatic wheels, and a dual kingpin truck configuration. These components are built to add stability and withstand rough riding, so this is one e-board you'll feel comfortable out in the wild.
The deck assumes a concave stance that helps with stability.
You'll see the carefully encased electronics and battery pack on its underside, which is a 10S4P lithium-ion battery. Some variants of this model have 11aH batteries, while others have 14aH batteries.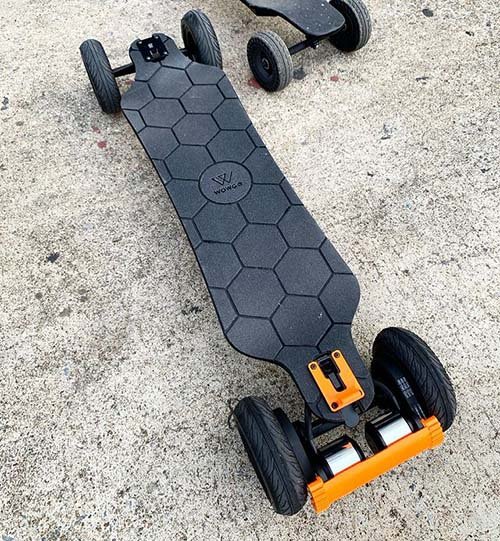 The battery, which takes 2 – 3 hours to charge, can deliver between 15 – 17 miles (the 11aH pack) or 18 – 20 miles of range (the 14aH pack) per charge.
Like many belt-driven e-boards, it has a dual-motor configuration consisting of two 1500w 6368 motors. Together, they deliver a top speed of 25 MPH and comfortably push the AT2 up 30% inclines.
Riders also love that it comes with Smart Turn On, a feature that turns on the board when the remote is switched on.
Top Speed – 25mph
Range up to 20 miles
30% Hill Climb Ability
Max Payload: 280 lbs
12-Month Warranty
Backfire Ranger X3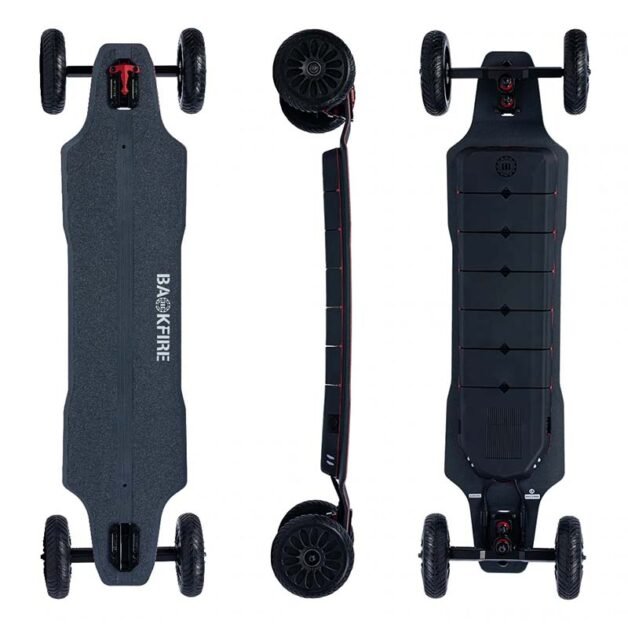 MSRP: $1,299
The Backfire Ranger X3's build includes double kingpin trucks at the front and rear, 6.5-inch honeycomb wheels, and a drop-down deck, which suggests that it is more than capable of going off-road.
That and the fact that its hub motors require little maintenance makes it one of the most durable options around.
Motors of Ranger X3 churn out a collective 3,000 watts of power and are powered by a 50.4V battery pack capable of 518 watt-hours.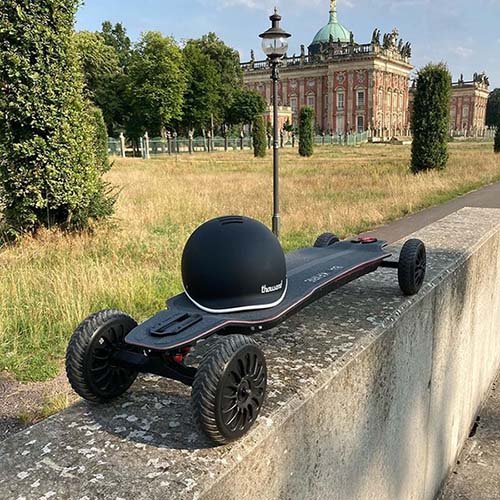 The deck has about four inches of ground clearance, which is why the Ranger X3 is no stranger to climbing grassy hills.
This no-nonsense build is coupled with reliable performance. The X3's top speed is 24 MPH, and it can run for up to 21 miles on a single charge. That's one of the longest ranges on an e-board!
Top Speed – 24mph
Range up to 21 miles
6.5″ Airless Rubber Tires
High Ground Clearance
OneWheel Pint
MSRP: $1,050
The Pint is a 27-inch-long e-board/hoverboard hybrid, a single-wheeled tech marvel known for its unrivaled ride comfort over different terrain.
Even though it is three wheels light, its single pneumatic wheel—a 10 × 4.5" (upgradable to 10 × 6")—more than makes up for it.
Grass, gravel, and rocky roads are all the same to the OneWheel Pint.
It runs on a high-torque 750w Hypercore™ brushless motor and stops on regenerative brakes. Unlike other e-boards, you don't need a remote to control the Pint. You lean forward to accelerate, lean back to brake, and lean side to side to make turns.
The Pint has a top speed of 16 MPH, and on a full charge, it can achieve 6 – 8 miles.
The wider wheel makes it easier to carve as it's more stable on the turn. Its compact size is a perk since it's fairly smaller than a regular e-skateboard. It's one of the few AT e-boards you can comfortably tuck under your arm when getting on the bus.
Top Speed – 16mph
Range up to 8 miles
Weight – 23 lbs
Wheel Size – 10.5″ x 4.5″/6″
Kaly NYC XL50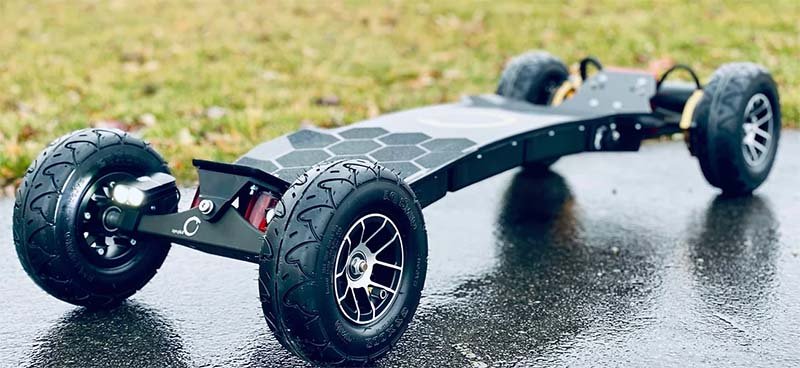 MSRP: $4,185
The Kaly NYC XL50 features 16-inch trucks and 7.9-inch (200mm) pneumatic tires, so it can access some pretty hardcore terrain.
You can get a stiffer deck if you want more speed and payload capacity (260 pounds), or you can get it with a special, bendy carving deck that can support up to 220 pounds.
Even though it's advertised for speed and carving, there's no questioning its ability to go off-road and speed up grassy inclines.
The engine is a pair of 190Kv 6385 motors that produce almost 10,000 watts of power (4,823 watts per motor). The motors are supplied by a 50.4aH Samsung battery pack with a 1,722Wh capacity.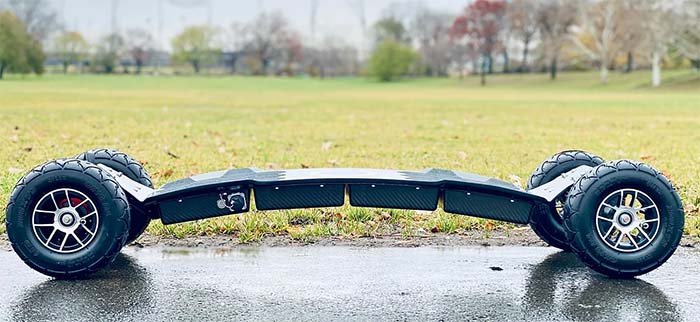 These premium components result in a high-performance e-board with a top speed of 38 MPH and an incredible 50-mile range.
The XL50 is an unrivaled long-distance traveler with a tough-as-nails build that justifies every single cent you'll spend on it.
Range up to 50 miles
Charging Time – 3 hours
40% Hill Climb Ability
Max Payload: up to 260 lbs
Bajaboard G4X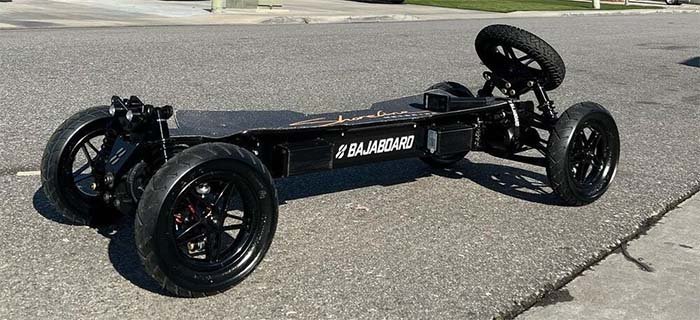 MSRP: $4,650
The Bajaboard G4X is a formidable AT e-board that is equipped with 10-inch (254mm) pneumatic tires, adjustable 55mm suspension (rebound & pre-load), and motors behind each wheel.
It's not only got mountains of torque but the ability to ride over the most unforgiving terrain.
The G4X features a removable composite deck with a bit of flex. This is a good deck if you intend to do a lot of carving.
Looking under the hood, we find four 63mm brushless motors (belt-drive), an alloy battery box that's either 550Wh or 900Wh in capacity, deck lights (optional), and a double-wishbone chassis. Together, these components add up to about 55 pounds.
The Bajaboard G4X has a top speed of 37 MPH and, depending on the size of the battery pack you choose, 13.5 to 21 miles of range (these batteries take 2 hours and 3.5 hours to charge, respectively).
Its quadruple motors also give it impressive hill-climbing (up to 45%) ability. Riders can opt for headlights and brake lights to make it safer at night.
Top Speed – 37mph
Range up to 21 miles
45% Hill Climb Ability
10″ Tires
Max Payload: 350 lbs
Weight: 55 lbs
Evolve Bamboo GTR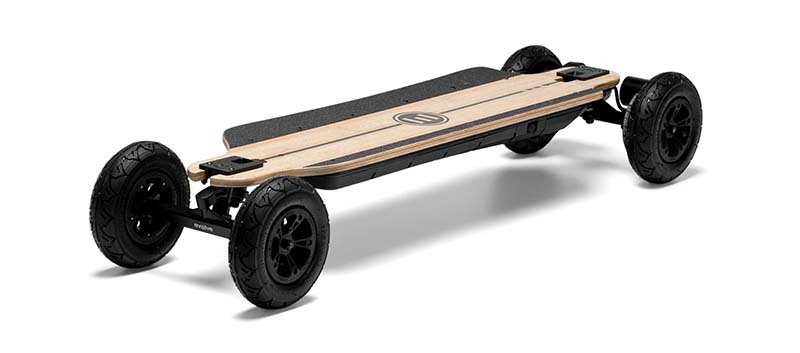 MSRP: $1,549
The Evolve Bamboo GTR is designed like a muscle car: a classic build with loads of power.
It's one of the few AT e-boards with multiple wheel options. Apart from the 7-inch all-terrain Evolve wheels, riders can also get 3.3-inch Orangatang Caguamas and 4.2-inch Abec 11(F1) wheels. These street wheels offer improved speed and performance, but the AT wheels offer unrivaled off-road performance.
The Bamboo GTR is powered by a couple of custom-made brushless motors with a total output of 3,000 watts.
Its bamboo/fiberglass deck has sufficient flex for tricksters and pro riders to get the most of the e-board.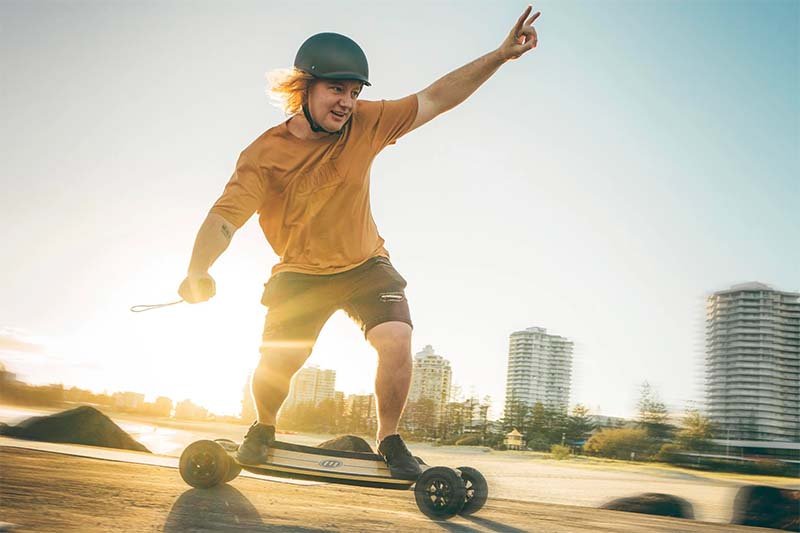 Step-less regenerative braking brings it to a smooth halt while recharging the 14aH Samsung battery, which typically takes 4 – 5 hours to recharge with the wall charger.
Its top speed is a decent 22 MPH, but that changes as the battery drains. It can accomplish up to 19 miles of range on a full battery while carrying a 220-pound payload.
In GTR mode, the motors can push the board up 25% inclines regardless of the terrain.
Top Speed – 22mph
Range up to 19 miles
30% Hill Climb Ability
Max Payload up to 220 lbs
Weight: 25 lbs
Lacroix Nazaré Supersport™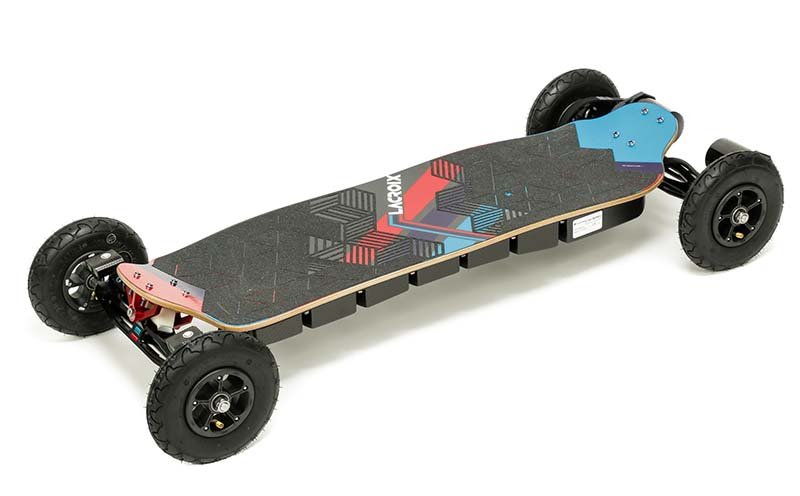 MSRP: $3,650
The Nazarè Supersport is a premium electric skateboard with one of the most impressive off-road performances seen in an e-board.
Thanks to 8-inch tires on MBS Rockstar 2 hubs, it rides on just about everything. It's a powerful performer on the road, one that features Hypertrucks that eliminate speed wobble and integrated 6003 bearings that cut down wheel wobble.
In other words, it is exceptionally stable whether you're riding on a designated racetrack or a country trail.
The Nazarè Supersport offers loads of high and low-end torque, which means it has more than enough power for challenging terrains and inclines even without gear ratios.
It has a powerful 18S4P battery to supply its 6839 (130kv) motors. This battery only takes 1.5 hours to charge using the 8-amp charger provided by the manufacturer.
The e-board is so fast that the manufacturer advises against pushing it to top speed unless you're fully clad in protective gear and riding in a controlled racing environment.
It offers 20 – 40 miles on a single charge depending on rider weight and riding style. It easily scales inclines of 40% and more in full performance mode.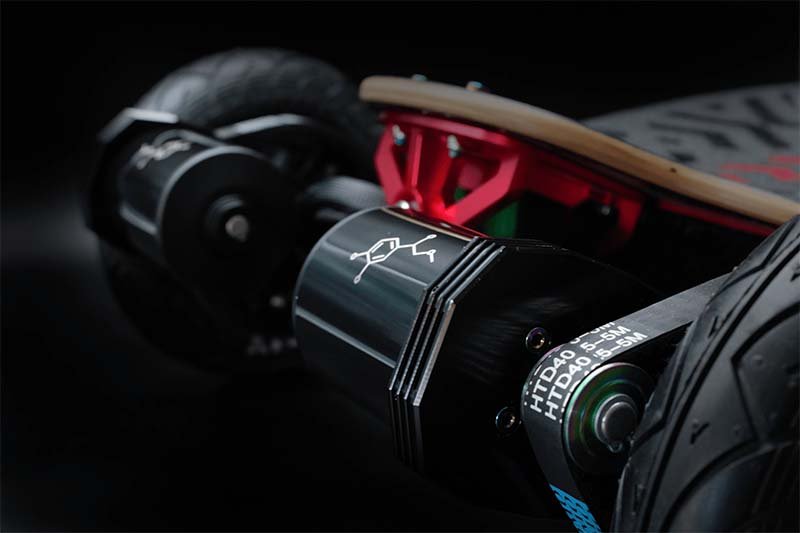 By all definitions, the Nazarè Supersport is an adept all-around electric e-board with a sturdy yet lightweight build and an unmatchable performance across the board.
Top Speed – More than you need
Range up to 40 miles
40% Hill Climb Ability
Weight – 41 lbs
Ownboard Bamboo AT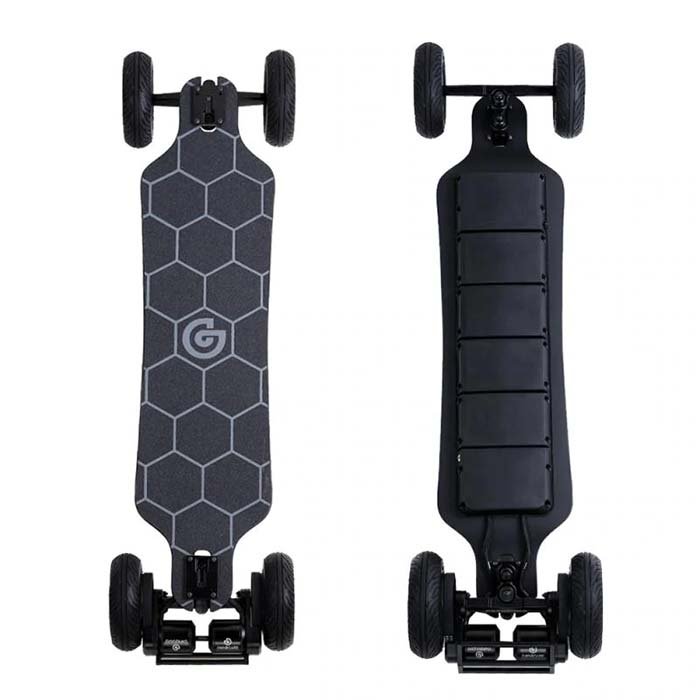 MSRP: $1,099
The Ownboard Bamboo is a relatively affordable AT e-board with a lightweight yet very reliable build. Even though it weighs just 24 pounds, it can support up to 220 pounds and go off-road with ease.
Riders can choose from three wheelsets: 6-inch solid honeycombs, 7-inch pneumatics, and 4.7-inch cloud wheels for stylish street riding. It conquers footpaths, grass, and dirt tracks quite comfortably.
Related: Is Riding Electric Skateboard a Good Exercise?
The Ownboard Bamboo features IP65 water resistance, so it is safe to ride (slowly) in wet conditions.
A pair of 306mm kingpin trucks facilitate agility and balance at speed and allow riders to turn on a dime.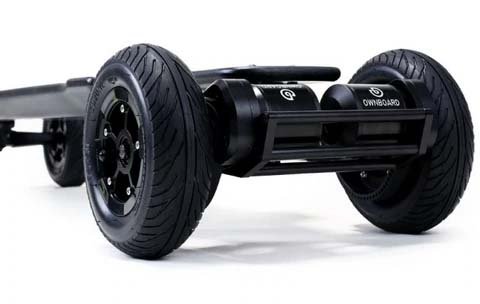 It features an OLED remote with three speed modes and a sensor that allows you to brake and accelerate smoothly.
Regenerative braking brings the dual 1500w motors to a comfortable stop while keeping the 14.5aH battery charged. Charging this battery with the provided 3-amp charger takes 4 – 5 hours.
With a top speed of 24 MPH and 19 miles of range per charge, the Ownboard Bamboo is a capable e-board for performers, commuters, and hobbyists alike.
Despite its high-quality build and being a full 39-inches, it weighs so little and is therefore highly portable and urban-friendly.
Top Speed – 24mph
Range up to 19 miles
30% Hill Climb Ability
Weight – 24 lbs
Max Payload – 220 lbs
Aeboard AT2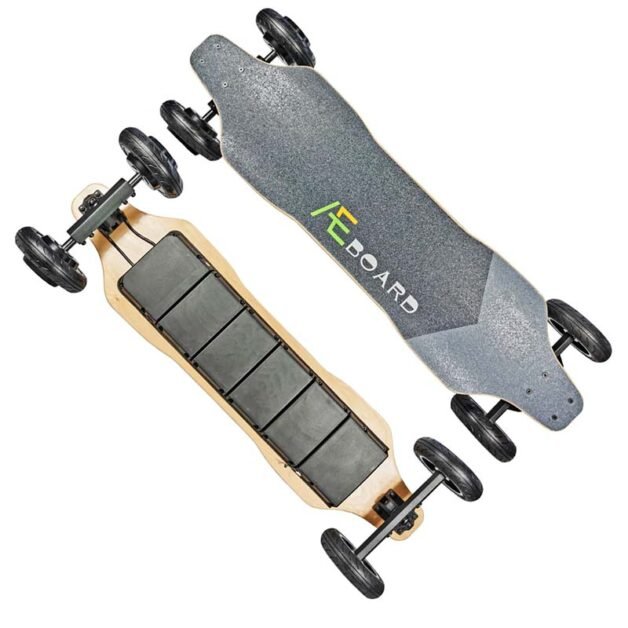 MSRP: $600
It sports 6-inch all-terrain wheels that you can swap with highway wheels, dual hub motors, and a 10S4P battery that supplies enough power to give it mountains of torque when needed.
This battery is also available in four variations: 8ah, 10ah, 14ah, and 16ah. The range depends not just on rider weight but battery capacity as well. It can achieve 8.4 – 36 miles on a single charge depending on the battery type.
Despite costing a fraction of what some premium e-boards go for, the Aeboard AT2 can go toe-to-toe with the best of them.
Its Canadian maple deck has some water resistance, but the manufacturer states that it reduces with use.

Even with 360w motors, it achieves a top speed of 23.6 MPH and can climb slopes of 25% – 30% gradients. Three riding modes provide comfort for different levels of experience, with the first level limiting the top speed to just under 10 MPH.
The 39-inch e-board has a payload capacity of 330 pounds.
It's an affordable option for riders that would like a premium experience without spending too much.
Top Speed – 23.6 mph
Range up to 36 miles
6″ Wheels
Up to 30% Hill Climbing Ability
Max Payload – 330 lbs
Halo Board Beast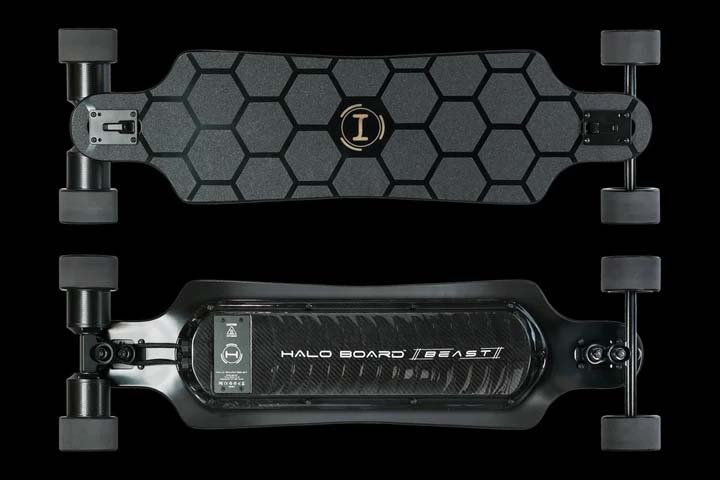 MSRP: $1,797
The Halo Beast board places a 37-inch deck, double kingpin trucks, and a long-range battery at your disposal. However, you might be disappointed that it ships out with 3.8-inch wheels.
These street wheels handle well enough, but it's a stretch to call them all-terrain wheels.
It measures a low-profile 4.5 inches in height, which offers enough ground clearance while keeping the COG low enough to carve.
The dual 12-inch aluminum kingpins keep it flexible and stable even with its 29-inch wheelbase.
Its noiseless direct-drive motors push out a total of 3200w, while its 10.4aH battery delivers an impressive 25 miles of range per charge.
For slightly over $1,200, this AT e-board gives you a 26 MPH top speed, an LCD remote, regenerative braking, torque-management systems, and a durable build.
The tires are swappable, so you can still turn this into a proper AT e-board if you get the 4.7-inch AT wheels (sold separately) to improve handling off-road.
Top Speed – 26 mph
Range up to 25 miles
3.8″ Wheels
25% Hill Climb Ability
Weight – 23 lbs
Max Payload – 286 lbs
How to Choose an Off-Road Electric Skateboard?

What are the main components of an all-terrain electric skateboard? And what are the main considerations when looking for an off-road electric skateboard?
Wheels and Tires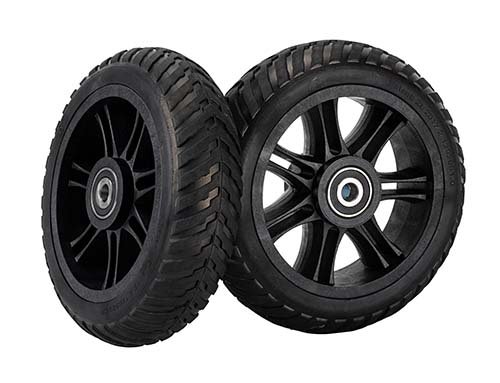 What is an ideal wheel size for an off-road e-skateboard?
In the world of skating, low-millimeter wheels (52 – 54mm) are more or less the standard when it comes to street riding. Larger wheels are useful for skating rough ground and getting up transitions fast.
Applying this principle to e-boards, you'll see that larger wheels are better for off-road riding.
The sweet spot for AT wheels lies between 85mm to 254mm. Pneumatic tires provide better damping, but solid tires are more durable. Wheel size greatly influences ride comfort, so the rougher the terrain, the larger the wheels are needed.
Suspensions
Suspension can boost ride comfort and make it slightly easier to maneuver rough roads. Not all e-boards have suspension systems, not even in the 1,000-dollar range.
The ones that come with a quality suspension, like one that supports rebound adjustments, usually cost thousands of dollars. If you have the budget for it, it's wise to invest in solid suspensions because they'll dramatically improve the ride quality and handling.
However, if your budget is tight, focus on getting decent pneumatic wheels as they have a significant damping effect.
Motor
Riding on rough terrain demands more torque, which means you must pay attention to the motor. Most e-skateboards have dual belt motors, which are okay performance-wise, but rather noisy.
A more modern option is the hub motor, which is quieter and runs cooler. Hub motors are generally easier to maintain too.
AT e-boards have to be powerful, but not necessarily fast. However, a decent option will give you the torque needed for steep inclines as well as fast performances.
Battery and Range
The range is an important consideration 9/10 times. Ideally, you want an electric skateboard that facilitates at least a few hours of continuous use—otherwise, you'll be heading home for a recharge long before you tire yourself out.
Keep in mind the battery size influences the weight of the board. Therefore, an e-board with a longer range comes with an inescapable compromise: extra weight.
Build Quality
Build quality is a prime concern when it comes to AT e-boards. These rough riders need to withstand extreme riding conditions, so their build must match that requirement.
Air-filled tires offer better ride quality even though they're less durable than solid rubber tires. Most decks have fiberglass in them, which allows a bit of flex for carving and turning quickly.
Stiffer boards are better for speed, whereas flexible boards are better suited for maneuverability.
Water and Dust Resistance
Preventing water and dust ingress can extend the lifespan of the e-boards electrical components. Unfortunately, only a select few boards feature high-end water resistance, and these tend to be expensive.
Ensure that the deck is safe from dust ingress because off-road riding is bound to kick up a lot of it.
As for water, it's advisable not to ride in wet conditions without a board that's at least IP65-rated. If you do get caught in the rain, ride slowly to avoid water splashes.
Why is an Off-Road Electric Skateboard More Expensive Than the Regular E-Skateboard?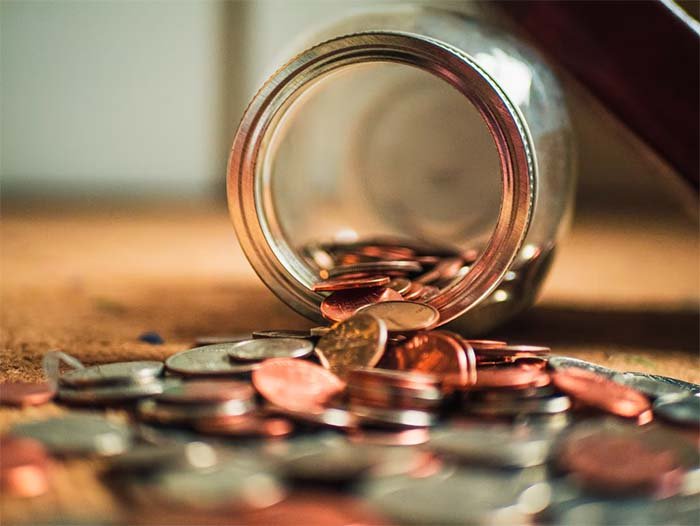 Off-road or all-terrain (AT) e-boards are generally bigger and more powerful. They have high torque motors, large wheels, reinforced decks, powerful trucks, and suspension.
Unlike street e-boards, electric skateboards feature more expensive components. It's not uncommon to find models with CNC-machined trucks and adjustable suspension.
AT e-boards also need to be more durable, and thus they feature highly specialized builds. That's why a quality off-road e-board costs significantly more than a regular e-board.
Related: How Much Does an Electric Skateboard Cost?
Other Considerations When Looking for an Off-Road Electric Skateboard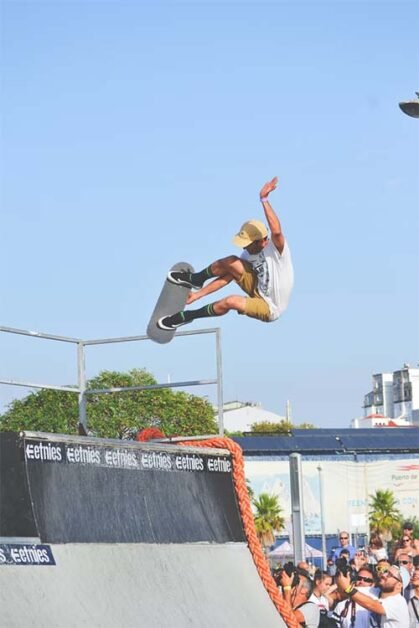 Your Riding Skills
The problem with e-boards is that they're not very beginner-friendly. If you can't ride a regular skateboard, the chances are good that you'll struggle to ride an electric one.
Boards require balance, and you can only learn that through practice. This is the reason behind the steep learning curve for riding an AT e-board. Even though most of them are designed to make riding easier, you still need to know the basics.
Safety Gear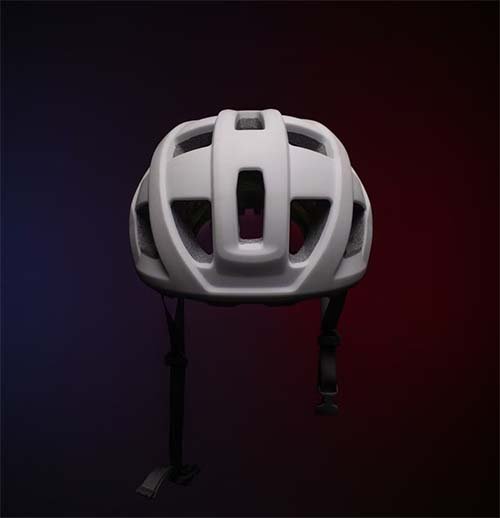 Electric skateboards, off-road or not, shouldn't be ridden without the appropriate safety gear.
These things are fast, faster than any human-powered bike or longboard you've been on. You need to protect more than just your head because a nasty fall at just 10 MPH is enough to break bones.
Safety gear includes helmets, knee pads, elbow pads, and kevlar-lined jackets to prevent asphalt burn if you slide on the road during a fall.
Check your state laws to establish whether you're allowed to ride an e-board without safety gear.
FAQs
What is an Off-Road Electric Skateboard?
Any e-board that's designed for skating on the rough ground may be considered an off-road electric skateboard. These typically have specialized components like large wheels, suspension, and heavy-duty trucks to withstand harsh terrain.
How Much is an Off-Road Electric Skateboard?
You can get a proper AT e-board for about $1,000. However, a few models under that price point are still excellent options. You can find some as cheap as $600 – $900, so it's not that hard to get something within your budget.
Where Can I Ride with Off-Road E-Skateboard?
Off-road e-boards are suitable for a wide range of terrain. They perform well against short grass, dirt tracks, gravel, and hard-packed ground.
You can legally ride an AT e-board on designated pathways in public spaces. This may be a walkway, bike path, or sidewalk, depending on the laws of your state.
What Maintenance is Required with All-Terrain Electric Skateboard?
Keep the bearings well oiled and minimize their exposure to water. If you hear the wheels making a scraping noise while you ride, that means you need to replace your bearings.
Connect the charger to the board before plugging it in. Always unplug the e-board when it is fully charged. Ensure that you charge the battery at least once a month.
Watch the tire pressure (minimum for AT is 35 psi) and wear and tear of the wheels.
Ensure the motor is never exposed to water.
Always check that nothing is loose after every ride. The vibrations can loosen up a few nuts and bolts, so it's a good idea to perform regular checks if you ride often.