Electric Wheelers is reader-supported. Although we independently research and test products, we may receive a commission on purchases made from our chosen links. Read more…
Are you planning to buy an electric scooter but you are confused about which one to buy?
Or have you selected the scooter Dualtron Thunder as your buy and you wish to know more about its features?
If so, then do not get more confused because we are right here at your service.
In this Dualtron Thunder review, we are taking a closer look at Dualtron Thunder electric scooter manufactured by Minimotors. By the end, we hope you'll be fully clear about buying it or not.
Dualtron Thunder Full Specs
Intro
| | |
| --- | --- |
| Make | MiniMotors |
| Model | Dualtron Thunder |
| Price | $3,699 |
| Suggested Use | City commutes, Off-Roading |
| Warranty | 1-Year Standard Warranty |
| Availability | United States, Europe |
| Model Year | 2018 |
Electronic Details
| | |
| --- | --- |
| Motor Type | BLDC Dual Hub |
| Motor Output | 2×2,700W, 5,400W Total |
| Battery Voltage | 60V |
| Battery Amp Hours | 35Ah |
| Battery Watt-Hours | 2,060Wh |
| Battery Chemistry | Lithium-Ion |
| Max Range | 75 miles |
| Charge Time | 20 hours with standard charger, 10 hours with 2 standard chargers, 5 hours with the fast charger |
| Top Speed | 50 mph |
| Acceleration 0-30mph | 4.5s |
| Display Type | EY3 Minimotors LCD Display |
Electric Scooter Details
| | |
| --- | --- |
| Total Weight | 95 lbs |
| Payload Capacity | 265 lbs |
| Deck Size | 11.8 inches wide |
| Dimensions | 49 x 24 x 48 inches |
| Folded Dimensions | 49 x 12.5 x 21 inches |
| Scooter Material | Aluminum Alloy Frame, Steel Shaft, Plastic Covers |
| Braking System | Hydraulic Disc with ABS, 160mm Rotors |
| Suspensions | 3-Step Variable Dual Suspensions |
| Wheel Size | 11 inches |
| Tires | 11″ x 4″ Tubeless |
Overview
The Dualtron Thunder electric scooter is huge. It includes:
Powerful motor
Huge battery system
Incredibly big wheels
Well built
Very fast
Durable construction.
The speed of the scooter is tremendously fast at 50 miles per hour. You know what, you can easily replace it with a motorcycle because of this.
In addition to this, the scooter comes with a lighting system and a brilliant instrument panel. So, if you can pay higher prices then a Dualtron Thunder scooter might be the perfect choice for you.
Get 7% off with a Coupon Code – EWHEELERS
Motor and Battery
If we talk about batteries and motor systems, then it is brilliant. The motor system of the scooter includes two brushless DC dual hub electric motors.
As they are brushless, they are advantageous in many ways like they offer better reliability, better torque, less noise, and lengthy lifespans. Those motors come with a peak power of 5400 watts and with 2400 watts of nominal power.
Now you must be wondering what's the difference between nominal and peak power? So let us tell you, nominal power is continuous whereas peak power is not, it's just for a brief period of time.
Two Charging Ports
The battery of the scooter is 35Ah which includes 3500 LG cells and 60 volts battery. It takes around 20 hours to completely charge using one standard charger.
Fortunately, the battery has 2 charging ports. And yes, you can use both of them at the same time. Therefore, you can fully charge your beast within 10 hours.
Also, make sure to use the original charger and keep the place dry and well ventilated. As it is a lithium battery, so for full safety, you must follow all the safety instructions given on it.
Speed and Range
As the Dualtron Thunder is a high-end scooter, you get to experience high speed and great range. The maximum speed of the scooter is 50 mph. However, in the United States 50 mph electric scooter is not allowed on the streets. The speed is limited to 15mph by using a speed limiting wire.
Now let's talk about range, which is really good! When the conditions are ideal, the Thunder can travel up to 75 miles.
There are various factors that significantly affect the range like weather, terrain, the weight of the rider, and other such conditions. Moreover, some reviews say that the most realistic range is between 40 miles to 50 miles.
Climbing with Dualtron Thunder
To go higher on slopes, the climbing grade is up to 25 degrees or 47%.
As you can see from the video, Dualtron can handle some climbing quite easily.
Nonetheless, it depends on the weight of the rider and the charging percentage of the scooter.
According to the manual, Dualtron should not be used on steep slopes. Also, you should not increase the speed when you are going down the hill because that can be dangerous.
Construction and Wheels
The construction and wheels of the Dualtron electric scooter are praiseworthy. We were serious when we said that the Dualtron scooter is a behemoth because it really is.
The deck of the Thunder scooter is wide, which helps to maintain stability when the speed is high.
If we talk about the frame and handles of the scooter, then they are made from an aviation-grade alloy of aluminum and the shaft is of steel.
Moreover, this scooter is sturdy and that is why it is not light in weight. It's heavy and weighs around 95 pounds. So you need to keep its weight in mind before taking it anywhere. It can handle about 265 pounds.
In addition to this, the mechanism of the scooter is spring-loaded which makes it quite convenient to store. To use it, all you need to do is to pull up on two levels and push down on handlebars.
Suspensions
It also has another cool feature known as 3 step variable suspension system.
To get a different experience on the ride, you just need to change the suspension module.
Besides, the scooter gives a different ride, as the cartridges of the scooter are made of firm rubber.
You know what, the Dualtron Thunder comes with inbuilt medium-level elasticity, and if you want you can add extra cartridges to it.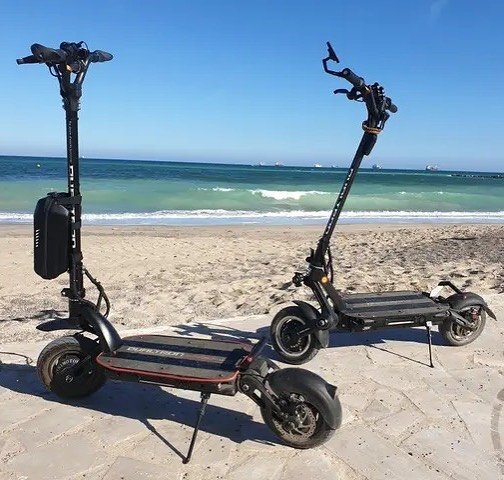 Removable Wheels
Now that we have talked about construction, let's now talk about wheels. The wheels are the most important part of a scooter. They affect how a scooter rides.
Most importantly, the wheels of the Thunder are removable which makes it easier for you to service the punctures and flats.
The measurement of these tubeless wheels is 11 inches. Because of this measurement, they can run on the rough path too but they are designed for smooth roads.
Hydraulic Brakes with ABS
The braking system of a scooter matters the most as they ensure the safety and stability of a rider.
If we talk about the length of the brake calipers, then they are really large, 160 mm. Also, Dualtron Thunder comes up with very unique ABS brakes. ABS brakes cause certain vibrations which makes them the most secure brakes.
So, to apply brakes, first, you need to use the rear brake and after that use both the front and rear brake together. Also, riders can turn off the ABS braking system if they want. They can adjust the strength of the brake as well from the instrument panel.
LCD Display
The LCD display is a new feature of the Dualtron Thunder scooter.
From the instrument panel, the rider can control and operate the scooter with cruise mode, start mode, ABS function, electronic brake and so many more.
Most importantly, if you're traveling for long distances and if you need to travel at a constant speed, then the cruise control mode is recommended. The instrument panel comes with an optional fingerprint sensor and wireless charging.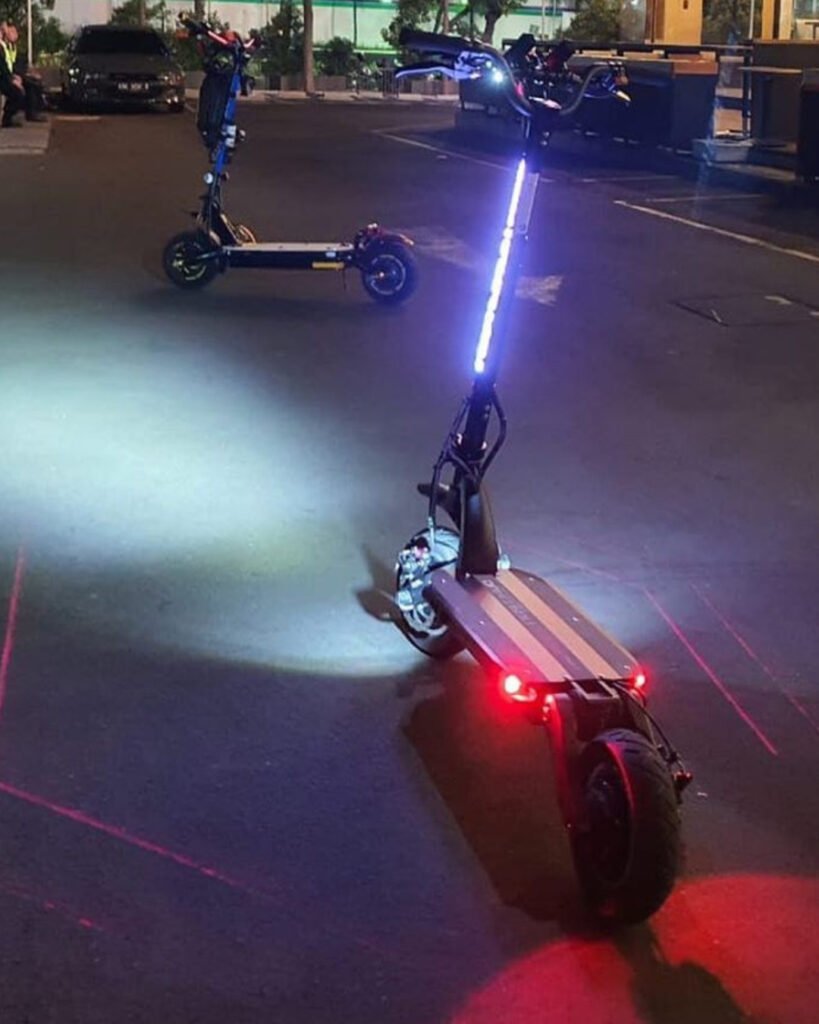 Downsides
Nothing is perfect, right? Everything has some flaws and shortcomings and what matters is how well you accept them. The same is the case with the Dualtron Thunder scooter.
The very main shortcoming of the scooter is its price. It costs around $4,000 which is pretty high.
So, if you're low on budget, then this is not the right choice for you. But, the price is totally worth the features it offers.
More affordable alternatives:
Dualtron Thunder Accessories
There are tons of different spare parts and accessories available in the Voro Motors store. I like their own saying that you can basically rebuild a new electric scooter with spare parts available in their shop.
Some accessories you might be interested in:
Dualtron Fingerprint Reader
Minimotors Fast Charger
Dualtron Upper Kiddy Bar
CarbonRevo Dualtron LED Deck Cover
Where to Buy Dualtron Thunder?
Voro Motors – Get 7% off with a Coupon Code – EWHEELERS
Final Verdict
All in all, it's a great scooter that is fully equipped with all the advanced features. The range, long-lasting construction, adjustable suspension, lighting, and motor options are just brilliant. The scooter has one of the most powerful motors.
Dualtron Thunder is for highly experienced riders who can take advantage of all the high features of the scooter.
Also, the riders who love riding at high speeds can fall in love with it quite easily.