Engwe X26 is another foldable electric bike by Engwe.
It's a hybrid bike that is a strange combination of so many different types of bikes:
folding bike
fat bike
mountain bike
downhill bike
commuter bike
In this Engwe X26 review, we take a closer look into this electric bike and figure out if it is really as good as it looks.
Electric Wheelers is reader-supported. Although we independently research and test products, we may receive a commission on purchases made from our chosen links. Read more…
Engwe X26 Review
Engwe X26 is the company's first bike with 26″ wheels. The previous models (Engine Pro, EP-2 Pro, and C20 Pro) all had 20-inch wheels. A couple of months after launching X26, Engwe released another 26-inch e-bike – Engwe P26.
Additionally, no previous Engwe bikes have had triple suspension. But is the suspension system good? We will get to that later.
Before we really dive in, let's take a look at the specs of Engwe X26.
Engwe X26 Specs
General
| | |
| --- | --- |
| Bike Name | Engwe X26 |
| E-Bike Class | Class 2, Class 3 |
| Availability | United States, Europe, UK |
| Warranty | 1 Year |
Electronics
| | |
| --- | --- |
| Motor Type | Rear-Hub Drive |
| Motor Power | 750W |
| Torque | 60 Nm |
| Top Speed | 31 mph (50 km/h) |
| Battery | 48V 19.2 Ah (922Wh) + 48V 10 Ah (480Wh) |
| Charge Time | 8 Hours |
| Range | 60 Miles |
| Display | Colored AMOLED Screen |
Bike Components
| | |
| --- | --- |
| Dimensions | 77″ x 51″ x 28″ (195 x 130 x 72 cm) |
| Folded Dimensions | 43″ x 47″ x 28″ (110 x 120 x 72 cm) |
| Frame Material | Aluminum Alloy |
| Frame Size | One Size |
| Frame Type | Folding |
| Recommended Rider Height | 5′7″ – 6′10″ (170-210 cm) |
| Frame Colors | Gray |
| Suspensions | Front Hydraulic Shock + Middle Mechanical Shock + Rear Air Shock |
| Gearing | 1×8-Speed Shimano Altus |
| Brakes | Front and Rear Hydraulic Disc (Logan) |
| Wheel Size | 26″ |
| Tires | 20″ x 4″ Fat Tires |
| Additional Features | Front Light, Rear Rack, Fenders, Back Seat |
| Weight | 90.4 lbs (41 kg) |
| Weight Capacity | 330 lbs (150 kg) |
Engwe X26 Pros and Cons
Engwe X26 Performance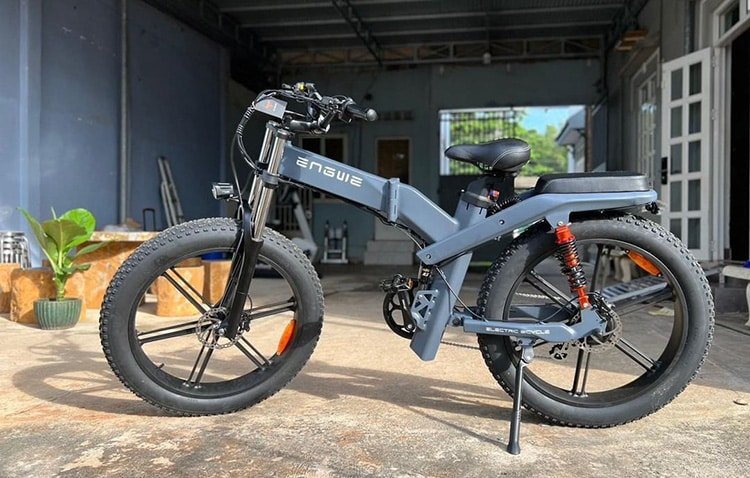 Motor and Speed
The Engwe X26's motor is one of its most notable features.
The bike's motor offers reliable and steady power at 750W. However, the peak power of the motor is 1,200W. The bike's electric motor is housed in the hub of the back wheel and provides 60Nm of torque.
When the speed limiter is turned off, the electric bike has a 31mph top speed (50km/h).
The bike has 5 different pedal-assist levels. Each of them gives you a different amount of assistance.
Hill Climbing
As mentioned, the Engwe X26 has an exceptionally powerful motor capable of producing 60Nm of torque.
Although the electric bike weighs 90 pounds, which is a lot, it's still able to climb inclines of 30 degrees. So, Engwe X26 is perfect for individuals looking to experience some off-road fun.
Dual Batteries and Range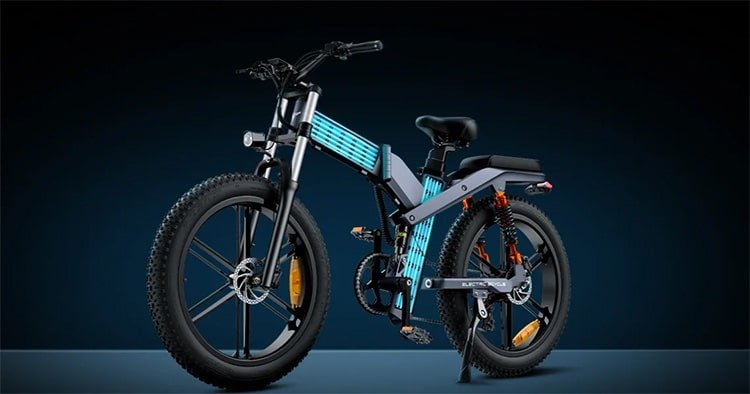 The Engwe X26 has dual batteries, which both are hidden. The main battery (48V 19Ah) is located in the seat post and the 2nd battery (48V 10Ah) is hidden inside the frame.
In total, Engwe X26 batteries have 1,373Wh of energy capacity.
However, the batteries are not connected to the system at the same time. There is a cable that has to be connected to whichever battery you want to use at the time.
The bike's onboard computer displays batter levels on a 5-part scale, and manufacturers estimate users weighing 60 kilograms can ride the bike for a 50-62 mile (80-100 km) range on flat terrain at 25km/h with pedal assist mode.
Using the throttle mode reduces the range to 31 miles (50 km). However, the batteries' removable feature makes it easy for riders to charge them at any power point or carry multiple batteries when planning to commute long distances.
Testing the bike yielded an 85km range on a fully charged battery with an average 25km/h speed on mountainous terrain.
Charging
There is a charging port below the saddle for charging the main battery. It takes about 8 hours to fully recharge it.
For charging the second battery, you must remove the battery. For that, you always have to fold the bike so you can take the battery out. You can charge the second battery while it's inside the frame.
Hydraulic Brakes
The Engwe X26 has rear and front hydraulic disc brakes. The bike's brakes work well and are effective, although they are not from a well-known brand (Logan).
Applying the front and rear disc brakes provides a 12m (39.4 ft.) stopping distance.
Since the bike is so heavy, it was a good idea to install hydraulic brakes on the bike. The brakes have enough stopping power, which ensures riders stop on time.
Shimano Altus 8-Speed Gearing
Although Shimano Altus is not the cheapest gearing system, it's still an entry-level option.
The Shimano Altus 8-speed gearing technology uses 15 and 13-tooth pulleys, allowing the 26 to manage effective gearing, 34-tooth sprockets, and wide ratio gearing. The bike has a smart cage pulley plate that looks better on the bike and provides more ground clearance.
Engwe X26 Design and Features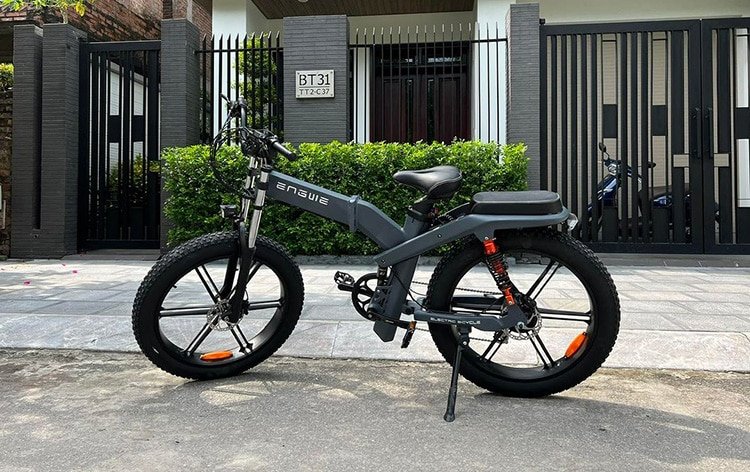 Frame
One thing that jumps out when observing the X26 is its massive size. Due to triple suspensions, dual batteries, and fat tires, the X26 is much heavier than other Engwe electric bikes.
The weight of the Engwe X26 is 91 lbs (41 kg).
The seat of the bike is very comfortable. At the rear, there is another saddle for a passenger. However, there are no footpegs.
The bike has an external cable routing like all other Engwe bikes. It's quite messy and doesn't look neat.
The handlebars and the seat of Engwe X26 are well adjustable. Although the bike has only one frame size, it is suitable for a wide variety of riders. However, it's not suitable for small people.
Recommended Rider Height: 5′7″ – 6′10″ (170-210 cm)
Triple Suspensions
The X26 has a triple suspension extending from its rear air shock, middle mechanical shock, and front hydraulic shock.
However, these suspensions look much fancier than they really are. If you look at the rear suspension, it seems like it has a lot of travel like downhill bikes. Actually, it has just about an inch of travel.
Also, the same goes for the middle shock. It has even less travel than the rear shocks. The front suspension has a bit more travel.
But still, the suspension system allows you to easily ride over the curbs and it soaks up easily.
Additionally, the suspension reduces any painful effects riders would have experienced on their back or lower back when riding over bumpy terrain.
Portability
Even though the bike is foldable, it's not easily portable. The bike is really heavy and you don't want to lift it.
Also, you need a very big car to be able to fit the folded bike into the trunk.
We think that the only reason why it has a foldable frame is that otherwise, you would not be able to remove the second battery.
One-Piece Wheels and Fat Tires
The 26X4-inch fat tires provide better grip because of their large contact area and are also skid resistant. They give users better control when riding through various elements, stop faster, and make it easier to take tight turns.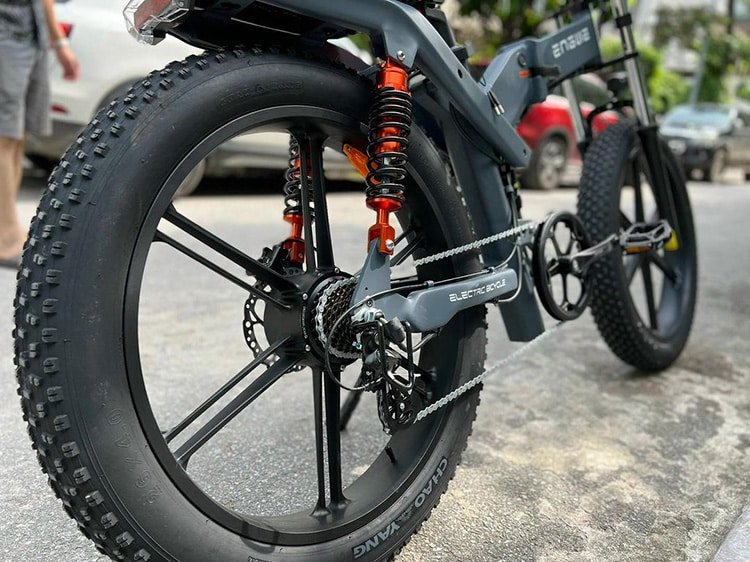 Additionally, the X26 has one-piece wheels, meaning its design incorporates the wheels' frame and spikes forming a single piece of metal.
This improves stability, maintenance, and durability, making them way better than traditional spoked wheels. Riders using the X26 are assured of a better riding experience with fewer chances of damaging the bike's wheels when riding over rough terrain.
Handlebar and Display
On the handlebar, you can find brake levers on both sides. On the left side, there is a throttle, an electronic horn, and display control buttons. And on the right, there is a switch for selecting a gear.
In the middle of the handlebar, there is a large, colored LCD showing vital information riders need to have a great experience.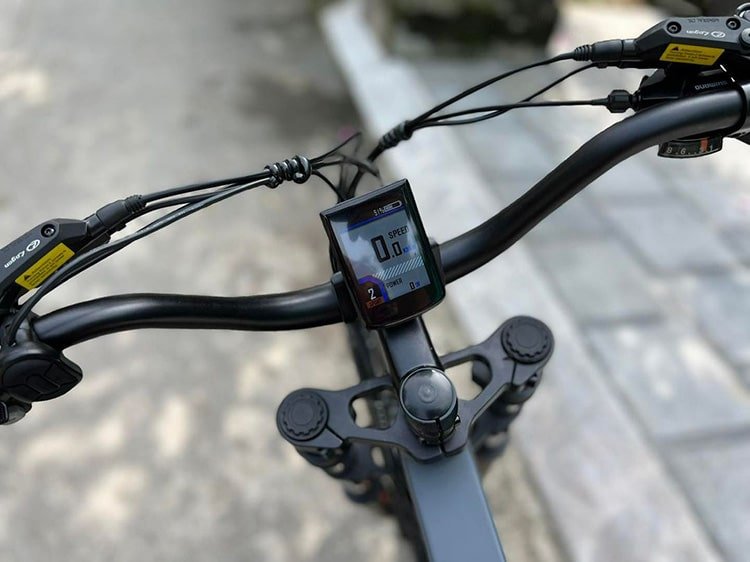 The screen shows the battery life, speed, riding mode, etc., clearly making it easy for riders to adjust various controls and monitor their ride for the perfect experience.
The display design is also thoughtful since riders don't have to scroll down the screen, which can be distracting, mainly because they share the road with other users.
The bike has high handlebars designed for tall riders. However, they are adjustable, as with most other parts, including the twist grip, button module placement, and saddle heights.
Lights
Additionally, the X26 has 48V 12W headlights that automatically turn on at night, which provide quite good illumination.
At the rear, there are 2 lights. One is behind the rider's seat and another is behind the rear seat. If you apply the brakes, the brake lights come on.
Engwe X26 Review Conclusions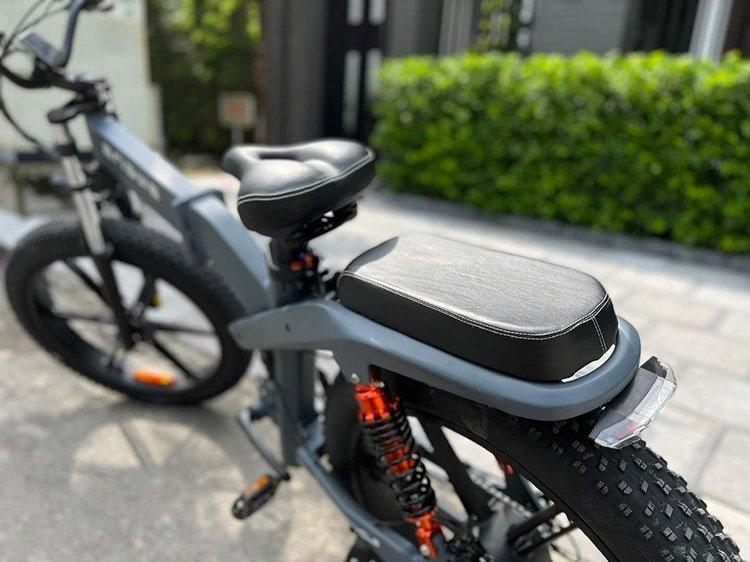 To sum it up, it's an interesting bike with a powerful motor and great range. Having a spare battery inside of the bike is a really cool idea. Also, fat tires make the ride comfort really good.
However, the bike is really heavy and without the help of the motor, it's barely rideable. Also, the triple suspension looks nice but in reality, it's quite a low-quality system.