Electric Wheelers is reader-supported. Although we independently research and test products, we may receive a commission on purchases made from our chosen links. Read more…
On-road or off-road, some hoverboards just don't know when to quit. I'm talking about the all-terrain types, of course. One minute you're gliding smoothly on the pavement; the next, you're on a wild trail exploring nature in the coolest way possible.
Just how good are off-road hoverboards at tackling harsh terrain?
What makes a hoverboard suitable for off-road adventuring?
Most importantly, where are these rugged hoverboards, and how can you buy them?
Well, this hoverboard buying guide contains all the answers to those questions.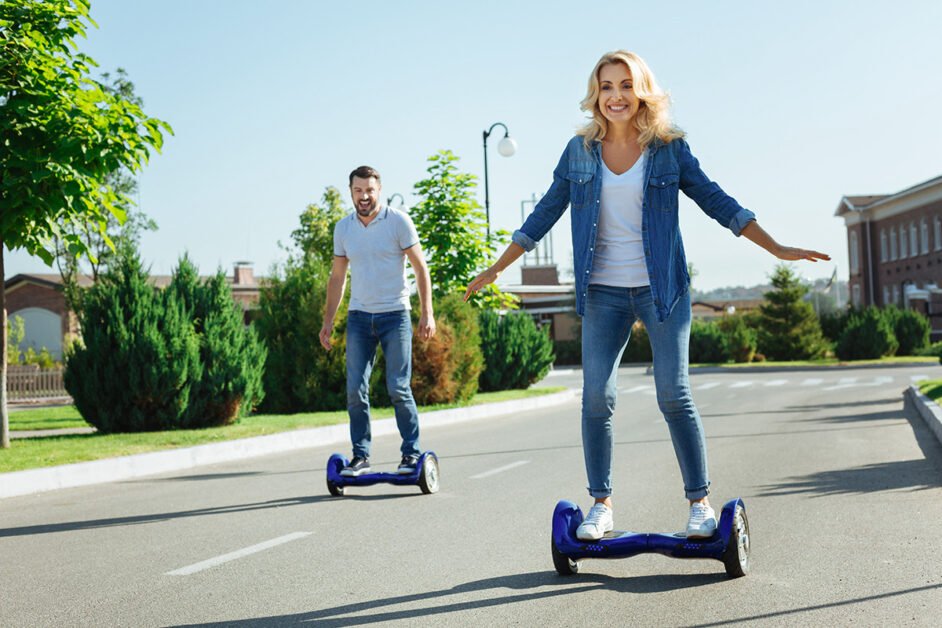 Best Off-Road Hoverboards
Halo Rover X
Perfect all-terrain hoverboard for all age groups (7 years and up)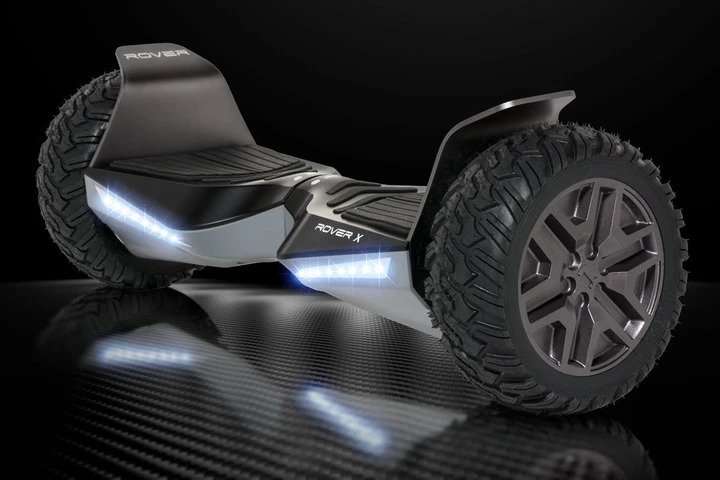 MSRP: $997 $497
Here's one of the highest-rated off-road hoverboards in the world. As it comes with three training modes-beginner, normal, and advanced- and Ride-Assist tech to keep it upright from the moment it powers on, the Halo Rover is one of the best options for absolute noobs.
It is powered by dual independent motors that are capable of generating 800 Watts of power-plenty of juice for climbing up hills and powering through uneven terrain. Of course, its rugged, all-terrain, anti-flat tires help a lot with maintaining a good grip when riding over obstacles.
Despite its adventurous design, the Halo Rover X packs several safety features, starting with two UL 2271 Certified fire-safe batteries. Protective aluminum wings keep them safe from impact and fall damage.
Best of all, you can blast music through the integrated Bluetooth speakers and keep track of its status through the Halo Rover custom app.
Motor: 800W
Top Speed: 10 mph
Hill Grade: Up to 20 Degrees
Battery: LG Lithium-Ion, UL 2271 Certification
Battery Runtime: Up to 2 hours
Range: Up to 10 miles
Charge Time: 2.5 hours
Tires: 8.5″ No-Puncture
Weight: 32 lbs
IP Rating: IPX4 Water-Resistant
Haloboard.com
---
Gyroor Warrior
Perfect kids' and adult hoverboard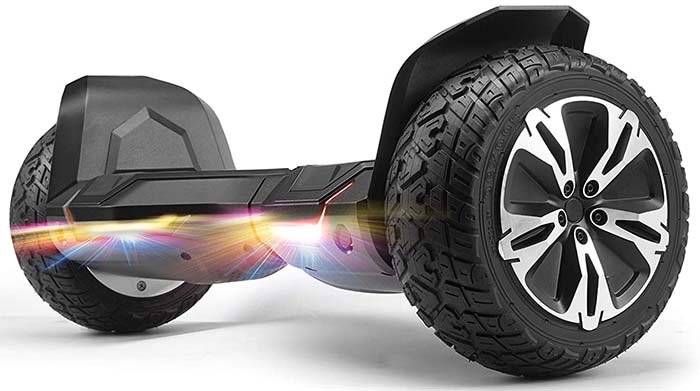 MSRP: $399
The self-balancing Gyroor Warrior can support up to 265 pounds. Its 8.5-inch all-terrain wheels adapt to a variety of road conditions, making this hoverboard a beast on and off the road.
Under the hood, a 700-Watt motor generates enough power to glide over grass, gravel, dirt, and even slick surfaces without losing traction. Its sturdy build makes it quite resistant to damage and gives you endless stability. In like manner, the pair of damping springs on the wheels keep you stable and comfortable no matter how rough the ride gets.
You can play music along the way through the built-in Bluetooth speaker. Also, you don't have to worry about the battery blowing up on you as it is UL 2272 Certified, just like its charger.
Motor: 700W
Top Speed: 10 mph
Hill Grade: Up to 30 Degrees
Range: Up to 9.5 miles
Charge Time: 2 hours
Tires: 8.5″
Weight: 30 lbs
Max Payload: 265 lbs
IP Rating: IP54
---
Swagtron T6 Off-Road Hoverboard
Best hoverboard for heavy adults
MSRP: $350
The Swagtron T6 is one of the most rugged off-road hoverboards in existence. Sporting 10-inch tubeless wheels with shock-absorbing, nylon-infused tires, there's nowhere the T6 can't go. These wheels have staggered shoulder blocks and rugged tread patterns that provide unrelenting traction on hills, rocks, and any obstacles on your trail.
Built to be splash and dirt-resistant, the big wheel hoverboard is uniquely equipped to handle wet and muddy trails. Its body is a durable combination of ABS plastic and aluminum, which studiously protects its internals. Believe it or not, it's strong enough to handle as much as 420 pounds!
Its powerful battery has a 12-mile range and can achieve a top speed of 12 MPH. What's more, whether you're rolling along on grass or powering through mud, its non-slip pedals will keep your grip secure even when climbing inclines as steep as 30-degrees.
Range: Up to 12 miles
Charge Time: 2-3 hours
Tires: 10″ Tubeless for All-Terrain Rides
Weight: 32 lbs
Max Payload: 420 lbs
Min Weight: 44 lbs
IP Rating: IPX4
---
EPIKGO Premiere
Best all-terrain hoverboard
MSRP: $800
With gyro sensors that continuously adjust the ride based on your weight and natural movements, off-road hoverboards don't get much better than the EPIKGO Premier, especially if you're all about fancy tech.
Featuring a robust build with ABS plastic chassis, aluminum fenders, and 8.5-inch solid rubber wheels, the EPIKGO Premier was made to ride rough. Its all-weather tires ride confidently over wet surfaces, gravel, mud, and grass, keeping you stable all through with the help of powerful suspensions.
Meanwhile, its dual 400W motors can power through all types of surfaces and carry you up inclines as steep as 30 degrees, to say nothing of its 4300mAh LG UL2271 Certified battery, which gives you up to 12 miles on a single 3-hour charge. This is one of the fastest accelerating boards in its class, capable of smooth, speedy rides and wireless entertainment, courtesy of its built-in Bluetooth 4.0 stereo speakers.
Motor: 800W
Battery: 159Wh LG, UL2271 Certification
Range: Up to 12 miles
Charge Time: 1-2 hours
Tires: 8.5″ All Weather, All Terrain
Hill Grade: Up to 30 degree
Weight: 26 lbs
Max Payload: 240 lbs
Min Weight: 44 lbs
IP Rating: IP65
---
Gotrax SRX PRO
Perfect outdoor hoverboard when on budget
MSRP: $230
If you're on a tight budget, the SRX Pro might be right up your alley. It is an all-terrain hoverboard with rugged 8.5-inch rubber tires, self-balancing abilities, Bluetooth speakers, and a gyroscope that keeps the foot pedals level with the ground at all times.
It is powered by two 235-Watt motors, which get its juice from a 36V battery. This combination gives you up to 7.5 miles of range at 7.4 MPH-all from a single charge. LED lights act as headlights when exploring dark environments, and wireless speakers allow you to blast your jams as you mosey on along the trail.
The SRX Pro has a practical design that features a durable outer casing, treaded foot pedals (for extra grip), and aluminum wheel covers for ample protection.
Motor: 470W
Top Speed: 7.4 mph
Range: Up to 7.5 miles
Tires: 8.5″ Rugged, Tough Rubber
Weight: 29 lbs
Max Payload: 220 lbs
---
Tomoloo V2 Eagle
Off-road self-balancing scooter
MSRP: $290
With a top speed of 9.3 MPH, the Tomoloo V2 Eagle is one of the speediest off-road hoverboards you can get your hands on today. Fitted with standard off-road wheels (8.5 inches), Bluetooth speakers, and LED lights, this is a true one-person adventure machine that will take you where the road doesn't reach, illuminate your way, and keep you musically entertained all the way.
Its powerful 700W brushless motor is resilient and easy to maintain. It can achieve maximum speeds of 9.3 MPH, climb up 20-degree inclines, and rotate 180 degrees at a push (well, step, really) of a button. Also, the LED lighting is RGB-compatible, giving you a wide array of colors to choose from.
Once you install the Tomoloo app, you can access features and stats like GPS, speed (mileage), LED light colors, and self-test diagnostics. The app also allows you to partake in hoverboard challenges and connect with friends.
Motor: Dual 350W
Top Speed: 9.3 mph
Battery: 155Wh (Chinese)
Range: Up to 7.5 miles
Charge Time: 2-3 hours
Tires: 8.5″
Hill Grade: 15-20 degrees
Weight: 22 lbs
Max Payload: 265 lbs
---
HTX Off-Road Hoverboard
All-terrain hoverboard with Bluetooth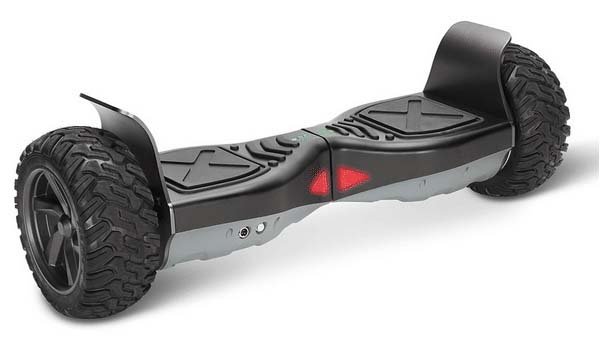 MSRP: $420 $290
Even though it is marketed for kids, the HTX, which has a weight capacity of 260 pounds, a top speed of 10 MPH, and rugged all-terrain wheels, is good enough for any adult with an adventurous streak.
On a single charge, you can get up to 12 miles of range on rough terrain, courtesy of the 8.5-inch off-road wheels. It has a balanced body with a tough exterior casing, grip-enhancing foot pedals, and Bluetooth speakers. Its UL2272 Certified electronics and battery keep you safe while charging and riding.
Speaking of charging, it only takes about 120 minutes to get a full charge, thanks to quick charge technology. The responsive hoverboard equips you with LED fender lights so that you can ride safely in the dark. It handles magnificently on and off-road and is perfect for both adults and kids.
Motor: Dual 350W
Top Speed: 10 mph
Range: Up to 8-12 miles
Charge Time: 2 hours
Tires: 8.5″
Hill Grade: 15 degrees
Max Payload: 260 lbs
Min Weight: 40 lbs
Hoverboards.com
---
OneWheel Pint
Best off-road one wheel hoverboard
MSRP: $950
The revolutionary OneWheel Pint is an innovative type of off-road hoverboard that will knock your socks off. This one-wheeled hoverboard measures 27 inches long, features a magnetic handle (dubbed Maghandle) that retracts into the body and uses underfoot sensors to detect your input.
It can go forward and backward with ease; all you need to do is lean in the direction you want to go. Like a skateboard, it stops on a dime when you kick up the front. A brushless Hypercore® motor gives it smooth power and torque, making it capable of up to 16 MPH, easily the highest top speed in our list.
It features a single 10.5-inch by 4.5-inch wheel in the center, which will go up inclines, run on grass, mud, gravel, and all other terrains you can think of. Its intelligent LED lights automatically orient themselves based on your direction of travel. Although a light bar on the foot-pad tells you stats like battery level and engagement, you can check these stats and more in the Onewheel app.
Motor: 750W
Top Speed: 16 mph
Battery: NMC Lithiom-Ion
Range: Up to 8 miles
Charge Time: 2 hours
Tire: 10.5″x4.5″
Weight: 23 lbs
Onewheel.com
---
How to Choose an Off-Road Hoverboard?
How do you find the right hoverboard for off-road riding? Some features are more important than others, especially when your priorities are durability, terrain readiness, range, and speed.
Here are the most important considerations when choosing a hoverboard for off-road riding.
Motor (Power)
You need a motor that produces at least 400W of power. That's on the lower end of the scale. Some high-end off-roaders have motors that can generate up to 1000W of power.
More importantly, you should consider the motor type. Brushless motors are your safest bet. They're easier to maintain and repair if they break down. They're also more durable.
Speed
Speed doesn't matter too much when it comes to off-road riding, but it's not an attribute you should ignore either. Aim for at least 7 MPH for the most exhilarating experience on and off the road.
Hill Climbing
Most hoverboards can climb 15-degree steeps. That's pretty standard as far as hill-climbing goes. If you want the most bang for your buck, narrow your options to boards that can climb up to 30-degree inclines.
Battery
The size of the battery is one of the factors that contribute to a hoverboard's range. Smaller batteries peter out much faster, so they're not ideal for long-distance exploration.
Also, keep in mind that the safest batteries are UL-certified. For your protection and that of the hoverboard, make sure you select only the models with certified batteries and chargers.
IP Water-Resistance Rating
Water resistance is a wonderful attribute for a hoverboard to possess, especially if you want to go off-trail. IP-rated boards are better protected from water permeation, and therefore, they're better equipped to ride in wet conditions.
Overall Build Quality
It goes without saying that your hoverboard should be of durable build to survive all types of terrain. Most of them feature ABS plastic cases and aluminum fenders, durable yet lightweight material.
Also, Bluetooth speakers are the norm these days, so don't settle for a board without one. LED lights and indicators give you the ability to ride in the dark and keep track of stuff like battery charging status and foot-pad engagement.
---
FAQs
How much does an off-road hoverboard cost?
Since off-road hoverboards usually have higher quality components, the price range is a little bit over the average. While you can get a solid entry-level hoverboard for about $100-200, the high-quality all-terrain hoverboard costs about $300-500. Some models can cost you even $1,000 or more.
What is the fastest off-road hoverboard?
While most high-end hoverboards go up to 10 miles per hour, Tomoloo V2 Eagle has a top speed of 15 mph.
Also, OneWheel Pint has a top speed of 16 mph. It is not a standard hoverboard but it's definitely one fast electric wheeler.
Can hoverboards go uphill?
Yes. Although you most likely need a bit more powerful hoverboard to climb steep hills. Most off-road hoverboards have a hill-climbing rating on their spec sheet. All-terrain hoverboards listed in this article are mostly capable of inclines of 15-20 degrees, some models even 30 degrees.
Can hoverboards go on grass?
If you have a proper hoverboard then yes. If you want to ride on the grass or gravel, you should look for hoverboards with bigger wheels. Off-road hoverboards usually have at least 8.5″ wide wheels. Hoverboards with smaller wheels than 8″ are meant for a smooth surface like sidewalks.