Electric Wheelers is reader-supported. Although we independently research and test products, we may receive a commission on purchases made from our chosen links. Read more…
Do you know what is super fun to ride? Hoverboards! If you are on this page, I can safely assume you are a thrill lover and seek adventure. After all, I wouldn't expect my nana to be reading this article because she'd be going- these dang kids and their dang speed demons (ha-ha, insert nana's voice).
Now, let's take a dive and look at everything you need to know about hoverboards and, most importantly, the top five fastest hoverboards currently in the market. Keep an eye out for a surprise bonus!
How Fast Can a Hoverboard Go?
All hoverboards are not the same quality. The speed of the hoverboard depends a lot on what type of hoverboard you have. Hoverboards for kids and beginners can go up to 4-5 mph, while top-end models for advanced adults can go up to 10 mph.
The average mid-range hoverboard max speed is usually around 6-8 mph.
In this article, we have gathered together those fast ones.
---
Top 5 Fastest Hoverboards
Swagtron Outlaw T6
12 mph hoverboard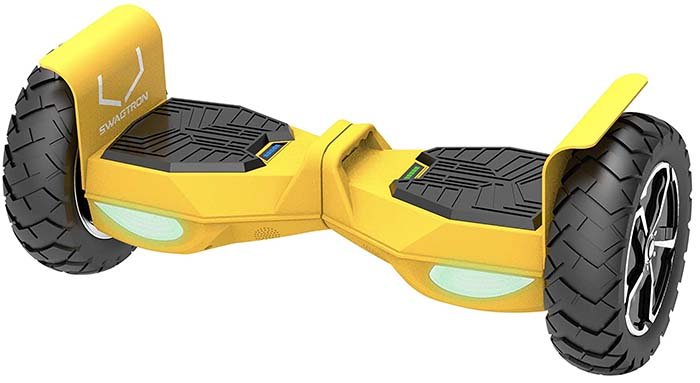 MSRP: $557
The Swagtron Outlaw T6 was and is a big name in the racing hoverboard industry, and it isn't a huge surprise since they make one of the fastest hoverboards on the market. The Swagtron Outlaw T6 has a 12mph top speed 10″, heavy-duty tires perfect for any terrain, and several other features.
This hoverboard features a UL2272 safety certification, a Sentry Shield Li-ion battery, and a management system that prevents the hoverboards from heating. It also features a Bluetooth speaker, an android and iOS app that allows you to check for speed, distance traveled, and battery life.
Also listed in: Best Off-Road Hoverboards
Motor: 600W
Top Speed: 12 mph
Range: 12 miles
10″ Off-Road Tires
Hill Grade: 30 degrees
Weight: 32 lbs
Max Payload: 420 lbs
---
Halo Rover X
10 mph hoverboard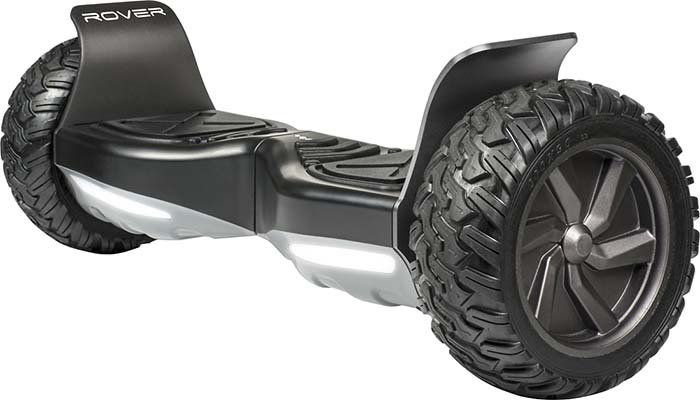 MSRP: $997 $497
The Halo Rover X is a 10mh racing hoverboard speed monster that stands out from other hoverboards currently in the market. The hoverboard has received lots of positive reviews, making it a trendsetter that you wouldn't want to miss out on. What sets it apart from the competition?
Apart from its speed, the Halo Rover X features all-terrain capabilities, indestructible tires, Bluetooth speakers, a mobile app, and training modes. It also has a fire-safe battery, ride assist tech, and powerful motors capable of handling various terrain inclines.
Motor: 2x400W
Top Speed: 10 mph
UL2271 Certified Battery
Range: Up to 10 miles
Charge Time: 2-3 hours
No-Puncture 8.5″ Tires
Weight: 32 lbs
Haloboard.com
---
Segway Ninebot S
One fast self-balancing electric transporter
MSRP: $540
The Segway Ninebot S has a different design compared to other hoverboards in this category. It is an easy-to-handle scooter that's become a favorite among individuals with mobility issues and everyday commuters.
But how fast does a Segway go? It has a 10 mph top speed, a 13.7 miles range, and several features that set it apart from its competition.
The hoverboard has a padded knee bar that provides you with better maneuverability and control, a self-balancing mechanism, and a lightweight frame for easy transportation. It also comes with a mobile app that allows you to configure and modify the hoverboard's safety features, alarms, and lights.
Motor: 2x400W
Top Speed: 10 mph
236Wh Battery
Avg. Range: 13 miles
Weight: 28 lbs
Min Payload: 88 lbs
Max Payload: 220 lbs
Height Recommendation: 4'3″ – 6'6″
Hill Grade: Up to 15 degrees
IP54 rated
---
Gyroor Warrior
One of the best value fast hoverboard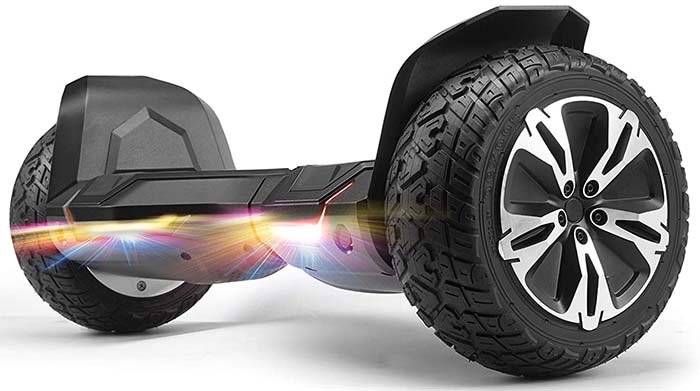 MSRP: $399
The Gyroor Warrior is the best-valued hoverboard and a great candidate for the fastest hoverboard. It's made with an aluminum frame designed to make it light, durable, and efficient. It has a pair of 8-inch tires designed for rough terrains, an efficient dual motor (350 watts) that pushes the hoverboard to 9.95mph, and a 9.5-mile range.
The hoverboard can make 30-degree climbs, takes 2 hours to charge, and comes with a spare battery. The Gyroor Warrior is waterproof, has a Bluetooth speaker, and a mobile app that you could use to switch between child and adult mode, control the speed, and the LED lights.
Motor: 2x350W
Top Speed: 10 mph
Range: Up to 9.5 miles
Charge Time: 2 hours
8.5″ Off-Road Tires
Weight: 30 lbs
Max Payload: 265 lbs
IP54 Water-Resistance Rating
---
Tomoloo V2 Eagle
9 mph hoverboard
MSRP: $290
The Tomoloo V2 Eagle is the best budget hoverboard that's got enough juice to compete with the best. It's a self-balancing scooter with a simplistic design, tough rubber wheels fit for most terrains, dual motors that provide a nine mph top speed, and the capability to do 20-degree climbs on inclines.
The hoverboard features a Bluetooth speaker, an app that you could use to monitor the Tomoloo V2 Eagle's battery and communicate with your friends, and LED lights that can be configured to pulse in colorful patterns. However, this hoverboard has a weak battery that drains too quickly (one hour while going the top speed) and takes a long to charge (3 hours).
Motor: 2 x 350W
Top Speed: 9.3 mph
Hill Climbing: 15-20 degrees
Range: Up to 9.3 miles
8.5″ Off-Road Tires
UL2272 Certification
---
One Bonus Pick
OneWheel+ XR
20 mph hoverboard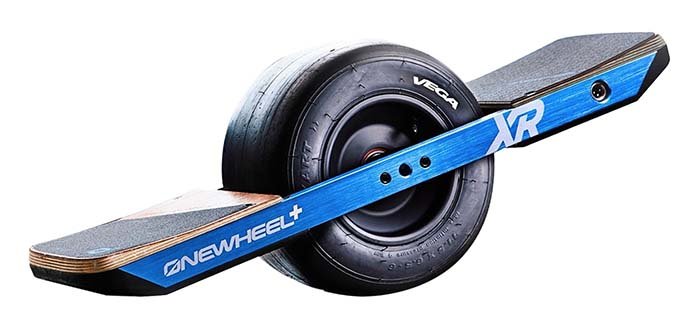 MSRP: $1,799
The OneWheel XR is not your typical hoverboard. It's much more expensive than the average hoverboard but offers lots of fun adventures. The range varies between 12 to 18 miles and the hoverboard top speed is a massive 19 mph.
Charging takes only 60 minutes to get a full charge on a hyper-charger and 110 minutes with a home charger. It has a 750 watts hub motor, an 11.5-inch by 6.5-inch tire, and a 30 degrees max-lean angle. Plus, it only weighs 27 pounds.
If you are looking for something more innovative and willing to pay more, then this could be it.
750W Hypercore® Hub Motor
Top Speed: 19 mph
NMC Battery
Range: Up to 18 miles
Charge Time: 1H with Hypercharger, 2H with Home Charger
11.5″ x 6.5″ Vega Tire
Weight: 27 lbs
OneWheel.com
---
Buying Guide: How to Choose a High-Speed Hoverboard?
What are the most important features when searching for a fast hoverboard? Let's take a look!
Motor
Your hoverboard's motor dictates how fast you'll be able to go on your hoverboard. Thus, it makes sense to assume that more efficient motors will provide you with more speed.
Since motors are located inside the wheels, the motor must be smaller than the wheel. So we can say that the bigger is the wheel, the bigger is the motor.
Wheels come in three sizes: a 10-inch with an air tube plus the 8 and 6 inches with solid rubber. If you are looking for a speedy hoverboard, you should mostly pick the one with at least 8-inches wide wheels.
However, you also must note that a huge motor doesn't necessarily mean that your hoverboard will go faster. You'll also have to consider your hoverboard's weight.
Battery
Your hoverboard's battery also plays a massive role with regard to speed. For instance, if you buy a hoverboard with a weak battery, then the chances are that you won't be able to reach the top speed.
If you do, you won't be able to maintain it over long distances. Therefore, it would be wise to ensure that you select a hoverboard with a battery with a shorter charging time and a more extended use time.
Tires
It would be a good idea to look for bigger, all-terrain tires capable of handling various terrain if speed isn't your thing. However, if you are more concerned about going faster, then you're probably better off taking your time and choosing more efficient tires.
You could go for lighter tires that are more aerodynamic. However, keep in mind that more lightweight tires don't always mean that you'll go faster. You'll have to find the most optimum balance between your hoverboard's tires, motor, build, and battery.
Build Quality
If you want to go faster, you have to ensure that your hoverboard's build design is aerodynamic. For instance, if a hoverboard has a boxy design, it could cause air resistance slowing down its speed.
You'll need to look for hoverboards that are aerodynamic. They should allow air to flow around them freely, which could reduce wind resistance, helping you move faster.
---
What Else Affects the Speed of the Hoverboard?
There are a couple of more factors besides the hoverboard itself that can strongly affect the speed of the hoverboard.
The Rider's Weight
The heavier a rider weighs, the slower their hoverboard will be. The motors work extra hard, especially when starting, to compensate for the extra load. However, the more experience you get, you'll begin to discover different ways to manipulate your weight to go even faster.
Type of Terrain
Bumpy terrains make you go slower, while flat and smooth terrains enable you to go faster. Thus, if you plan on going faster and testing your hoverboard's top speed, you'll need to choose a flat, smooth, and straight location that has few or no obstacles.
---
What Mistakes to Avoid?
If you want the best hoverboard, then you'll have to understand that it shouldn't be an impulse buy. You'll need to take your time, analyze your options, and get the best hoverboard that suits your needs. Here are a few questions you'll need to ask yourself to better understand which hoverboard would best suit your needs.
Do you need a fastest hoverboard in the world?
It's understandable to imagine that you need the fastest hoverboard to help you get to your desired location faster, but this couldn't be a good idea, especially if you aren't experienced enough.
Fast isn't always better. Most hoverboard speeds range from 6 mph to 12 mph, and most riders prefer an average speed of 7 to 9 mph. If you are a beginner hoverboard rider, your best bet would be to look for an inexpensive, durable hoverboard. You could use this for practice until you are experienced enough to handle more speed.
Don't pick an unknown brand
Choose a brand that's been tried, tested, and proven to be reliable. Newer brands in the market could try and reel you in by selling you their products at a lower price. However, this isn't always a good idea, and it could cost you in the long run.
Make your selection from the best brands that can provide you with better quality products that you could use for a long time. Plus, they are less likely to malfunction and cause you injury.
Don't increase your hoverboard speed on your own
It's never a good idea to try and improve products by yourself, especially if you have zero experience handling that particular product. You could end up damaging your hoverboard, injuring yourself, and voiding your warranty. The best step you could take would be to shop for a better, faster hoverboard from a well-known brand.
---
Conclusion
The hoverboards mentioned in this article are some of the fastest and most durable hoverboards you could ever find.
If you are a beginner, then reading this article could help you decide what hoverboard could be right for you. Therefore, please take your time and determine which of these hoverboards would suit you best. Have fun!
If you have a fast hoverboard that is not listed here, let us know in the comments.