Electric Wheelers is reader-supported. Although we independently research and test products, we may receive a commission on purchases made from our chosen links. Read more…
By the end of 2021, riding hoverboards will be usurped by real, consumer-grade flying ones.
It's hard to imagine that people will just ditch their ground rides, though, because the numbers suggest that more people, especially kids and teenagers, are using hoverboards for most of their short-distance trips.
Hoverboard companies make millions of dollars every month, pushing thousands of units out into the world.
So far, these nine are the highest-selling hoverboards on Amazon.
Where Did We Get Data?
We used the tool called Helium 10 to get real selling numbers from Amazon. This Chrome extension shows us:
Search volumes
Product monthly revenues
And lots of other Amazon-specific data
Helium 10 tool is built for professional Amazon sellers to help them make product research and find profitable product niches.
For us, electric vehicle enthusiasts, it's just interesting to find out, which hoverboards are actually bought from Amazon the most.
Every brand tells that they are best and their products are most popular but can we trust them?
Numbers never lie! Let's see which hoverboards are most popular on Amazon!
Related: Best-Selling Electric Scooters on Amazon
1.5 Million Monthly Searches for "Hoverboard"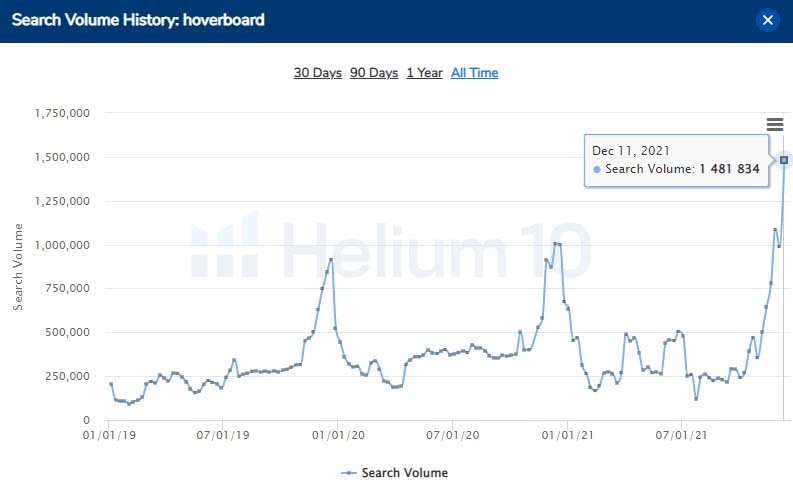 You can see the seasonality. Mostly, the monthly search volume for "hoverboard" on Amazon is about 250,000 to 400,000. But when Christmas is approaching, monthly search volume is popping over 1 million.
It's impressive how popular these self-balancing scooters have become. Every kid wishes to have a hoverboard and apparently millions will get one for Christmas.
Top 9 Amazon Best-Selling Hoverboards
#9 – TPS Power Sports Electric Hoverboard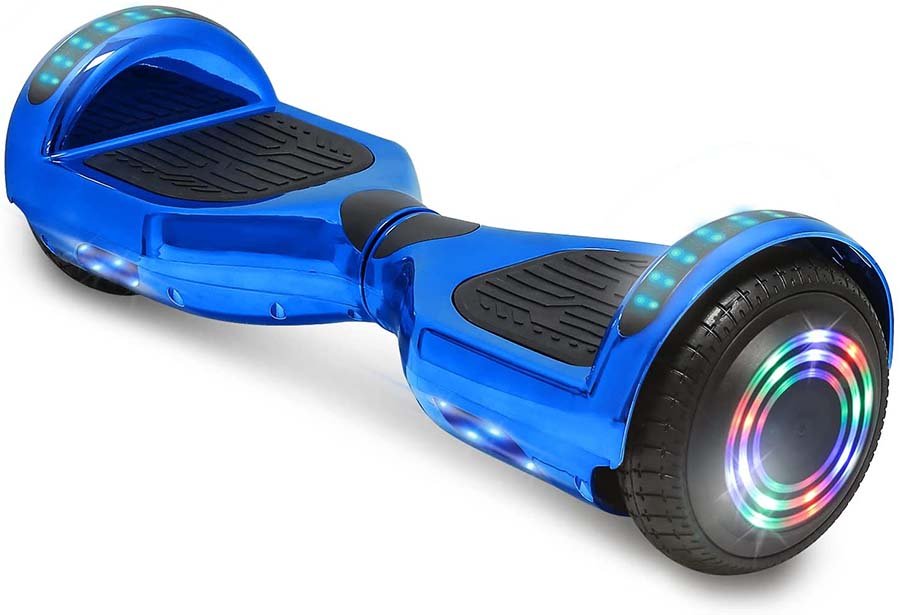 Monthly Revenue: $1,000,836
Units Sold in a Month: 9,267
The TPS Power Sports is a kids' electric hoverboard with a 90-minute ride time per charge. Suited for riders aged seven and older, it offers all the bells and whistles of an electric hoverboard (Bluetooth speakers, LED lights, self-balancing technology). Its 6.5″ wheels are ideal for smooth surfaces only.
TPS sells about 9,267 units of this hoverboard per month, generating an average monthly revenue of $1,000,836. It only costs a couple of hundred dollars, which explains why it sells so well despite its basic design and features.
---
#8 – Hover-1 Ultra Electric Self-Balancing Hoverboard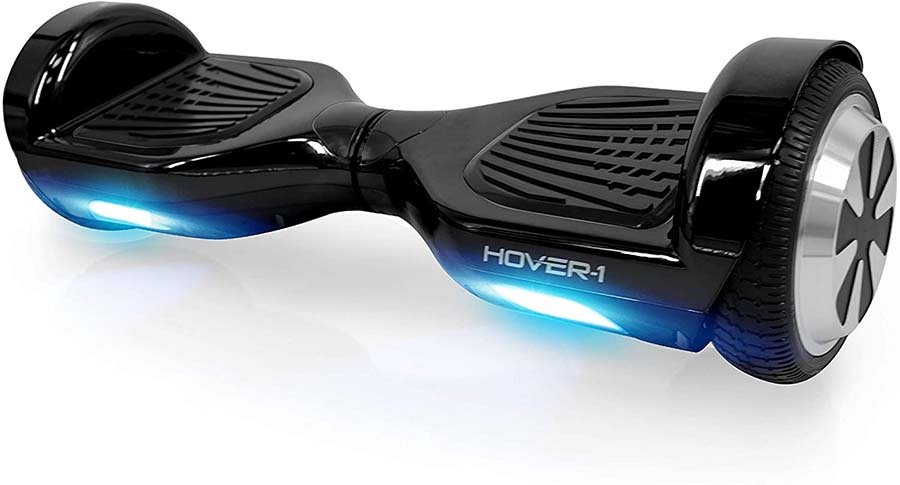 Monthly Revenue: $1,013,163
Units Sold in a Month: 5,629
The Hover-1 is one of the highest-selling entry-level hoverboards for kids and young adults. With the company moving about 5,629 units every month, Hover-1 sales generate an average monthly revenue of $1,013,163.
These impressive numbers are warranted as the Hover-1 offers good value for money, especially for starters.
It features a stylish self-balancing chassis riding on 6.5″ wheels. Bluetooth speakers and front-facing color LEDs feature prominently in its futuristic build. With a top speed of 7 MPH, however, it's clear that the Hover-1 is only for casual use.
---
#7 – Jetson Spin All Terrain Hoverboard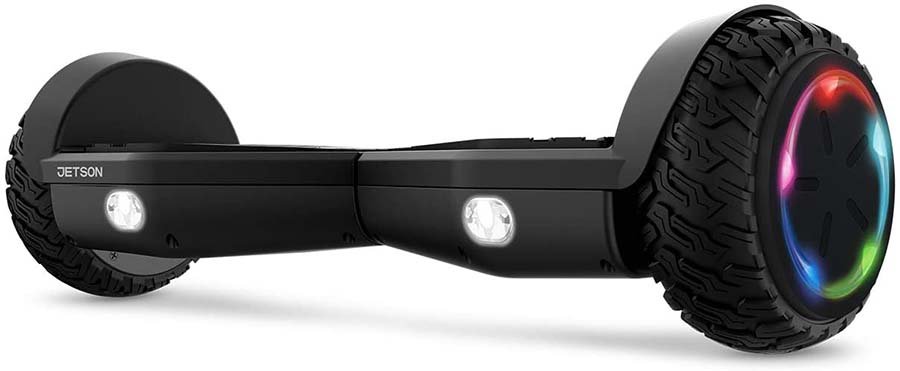 Monthly Revenue: $1,229,392
Units Sold in a Month: 8,782
The Jetson Spin is one of the cheapest "all-terrain" hoverboards ever made for kids (the quotation marks are because it only has 6.5″ wheels).
The self-balancing ride has a lot going for it, including a range of up to 7 miles. That's why the company makes an average of $1,229,392 from 8,782 hoverboard sales each month.
To its credit, it's a pretty awesome hoverboard for the price. It has front-facing lights, color LEDs on the wheels, and anti-slip material on the deck. It also features a stylish build that belies its sub-$100 price tag.
---
#6 – TPS Power Sports Luminescent Infinity Wheel Hoverboard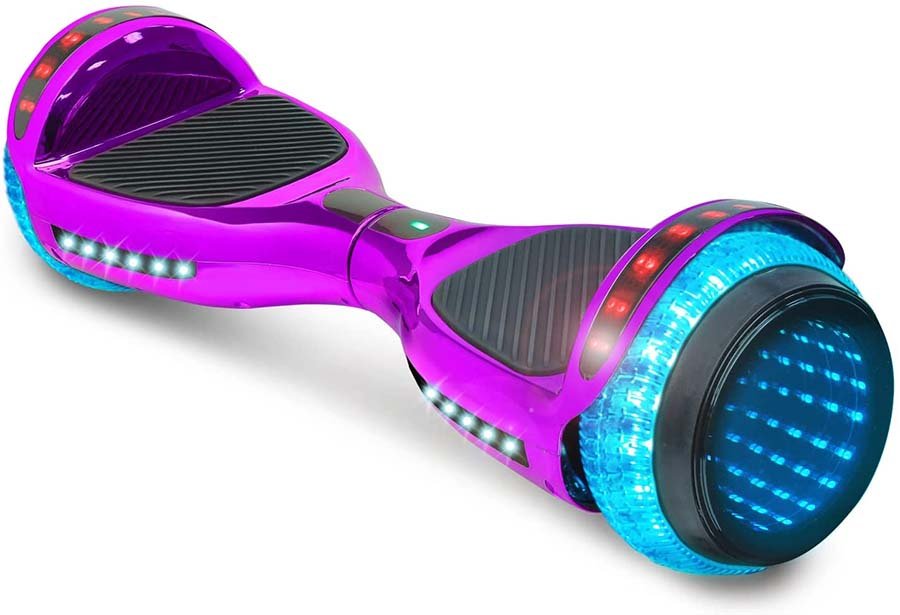 Monthly Revenue: $1,380,690
Units Sold in a Month: 9,267
This is dual-motor hoverboard from TPS boasts a striking luminescent design that's undoubtedly played a part in the sale of around 9,267 units (worth $1,380,690) per month.
It has a weight capacity of 200 pounds and a ride time of 30 minutes per charge. These specs put it well in the kids' section, where it is a popular ride for casual beginners.
It is a kids' scooter with quite some flair, even with its limited specs. Aside from its vibrant color, it is adorned by several LED lights and features a string of front-facing lights for illumination.
---
#5 – LIEAGLE Hoverboard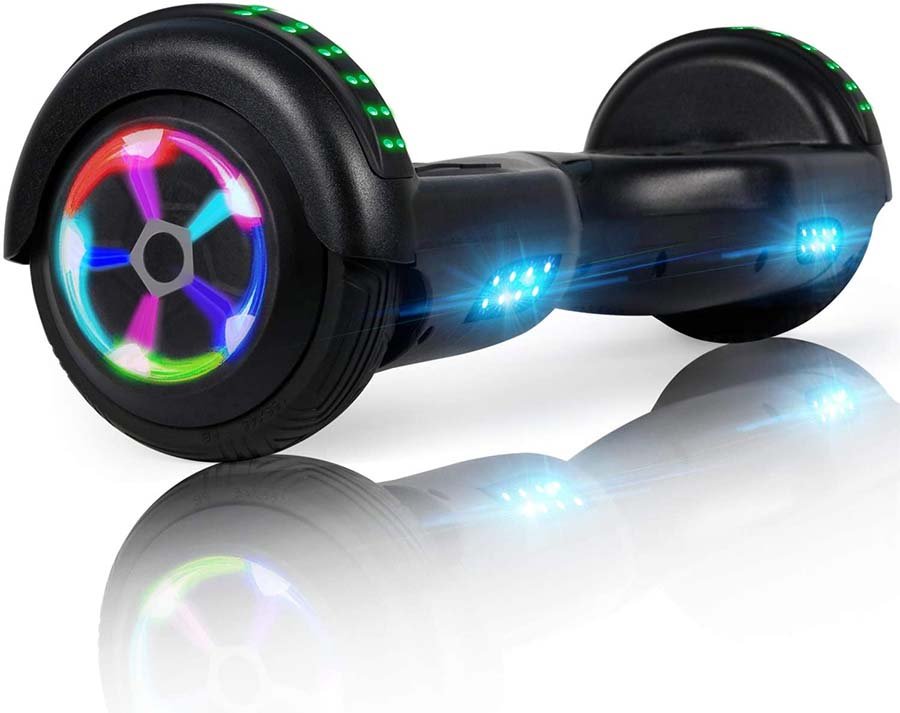 Monthly Revenue: $1,534,547
Units Sold in a Month: 10,231
LIEAGLE's visually striking active balance hoverboard earns the company an average monthly revenue of $1,534,547, equal to more than ten thousand sales.
Designed to meet the demand of their young clients, this hoverboard is flashy and futuristic. Its flat deck gives the 6.5″ wheels more clearance and a linear form that makes it unique.
It is equipped with dual motors, wireless speakers, and anti-slip padding and can make smooth 180-degree turns even with relatively new riders. Though it's said to be for both adults and kids, it has a weight limit of 200 pounds, so it's not for everyone.
---
#4 – XPRIT 8.5" All Terrain Off-Road Hoverboard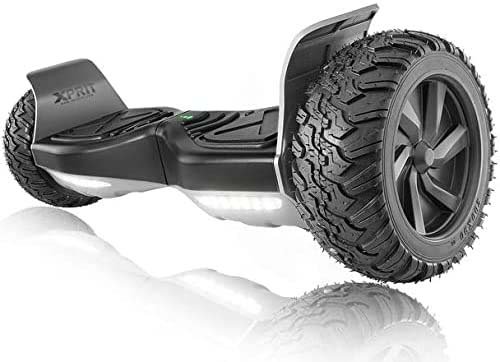 Monthly Revenue: $1,632,859
Units Sold in a Month: 6,805
At just over $200, this 8.5″ XPIRIT is one of the cheapest real all-terrain hoverboards in the market.
It has large and rugged 8.5″ wheels that can roll over reasonably large obstacles. It's also stronger (can support up to 264 pounds) and heavier (weighs 25 pounds) than most entry-level rides.
XPIRIT sells an average of 6,805 units of this scooter every month, raising $1,632,859 in revenue. It makes sense for the numbers to be high since this is a well-made hoverboard and one of the few entry-level options that are suitable for teens.
Its rugged build includes curved fenders, which protect the embedded wireless speakers from dirt and mud.
---
#3 – HOVERSTAR Hoverboard 2.0
Monthly Revenue: $1,640,235
Units Sold in a Month: 12,715
The colorful HOVERSTAR 2.0 sells like hot cakes mainly due to the wide variety of color options in which it is available. It's especially appealing to older kids and teenagers.
The impressive visual design (as well as the hoverboard's other features) has pushed the sales to 12,715 units per month, generating at least $1,640,235 in revenue.
This best-seller has its niche and has been successfully designed to satisfy its target audience. It features wireless speakers and flashing LED lights, and it can reach top speeds of 6 MPH. Older teens should beware that it can only carry up to 165 pounds.
---
#2 – Hover-1 Helix Electric Hoverboard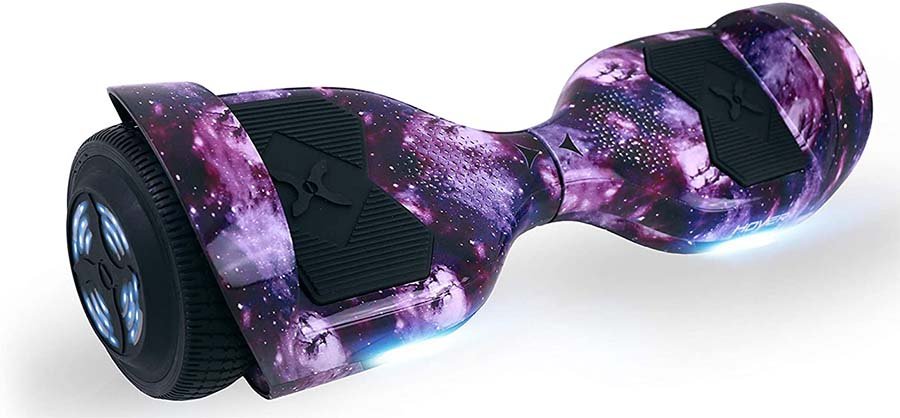 Monthly Revenue: $1,723,530
Units Sold in a Month: 7,870
The Hover-1 is a beautiful 7 MPH hoverboard with a maximum weight capacity of 160 pounds. It weighs over 17 pounds and features a stunning curved body that earns its Helix brand name.
This hoverboard has different rider modes to suit beginners and experts alike. As a result, it is widely purchased, and now, the company sells 7,870 units a month to generate $1,723,530 in revenue.
Its battery charges in six hours and provides a reasonable ride time. It's also quite powerful, especially since it features two 200W motors.
It also has a unique portable design. That could explain why many people choose it as their preferred micro-mobility device, even if it only has 4 miles of range.
---
And by far the most popular hoverboard is…
#1 – SISIGAD Hoverboard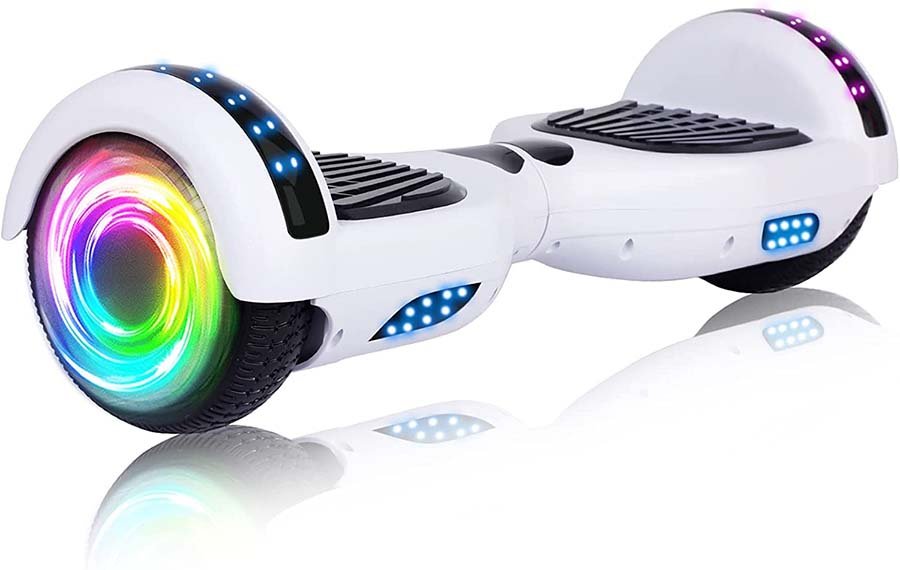 Monthly Revenue: $6,538,471
Units Sold in a Month: 40,868
The SISIGAD A001 hoverboard is objectively one of the finest entry-level rides available today. Its sales numbers trump those of all other similarly priced options, and it's clear why.
The A001 weighs only 15 pounds but can support up to 200 pounds. Its 6.5″ wheels offer a smooth ride on paved and smooth surfaces, but not so much on grass and gravel.
Even so, over 40,000 of these leave the warehouse every month, accumulating an impressive revenue of over $6,5 million. It equips first-time riders with anti-slip foot pads for enhanced control, Bluetooth speakers, and a multitude of LEDs, including some on-the-wheel hubs.
As attractive as it is, it's an easy hoverboard to ride, and the fact that it's the preferred choice for most kids and learners speaks volumes of its build quality.
---
Amazon Best-Selling Hoverboards Chart
Conclusions
Although there are hundreds of brands out there, only a few seem to have locked down their target market and are now making a killing from it.
The one thing they all have in common is that they lack any fancy features that might make learning to ride confusing. That makes them more accessible to people, especially children, and it's partially why these brands record such impressive sales.