Electric Wheelers is reader-supported. Although we independently research and test products, we may receive a commission on purchases made from our chosen links.
Have you done your research about e-scooters but couldn't figure out how much an electric scooter costs? How to find the best scooter that fits your budget?
In this article, we will go in-depth on the following topics:
the different price ranges per scooter category;
the features that determine the cost of the scooter;
other costs that you should consider before purchasing an e-scooter;
recommendations from the best of the best on certain e-scooter categories from trusted manufacturers.
Let's get started!
What is the Average Cost of an Electric Scooter?
Electric scooter prices may vary depending on different factors. Factors such as build quality, type of motor, battery range, electronics and software, rider-specific builds, and other additional features.
Here's what to expect on price ranges of the following categories:
| | | | |
| --- | --- | --- | --- |
| | Entry-Level | Mid-Range | High-End |
| Kids' E-Scooter | $60-$150 | $150-$300 | $300+ |
| City Commuter E-Scooter | $250-$500 | $500-$1,200 | $1,200+ |
| Off-Road E-Scooter | $1,000-$1,500 | $1,500-$2,500 | $2,500+ |
Related: How Much is an Electric Skateboard?
What Determines the Price of an Electric Scooter?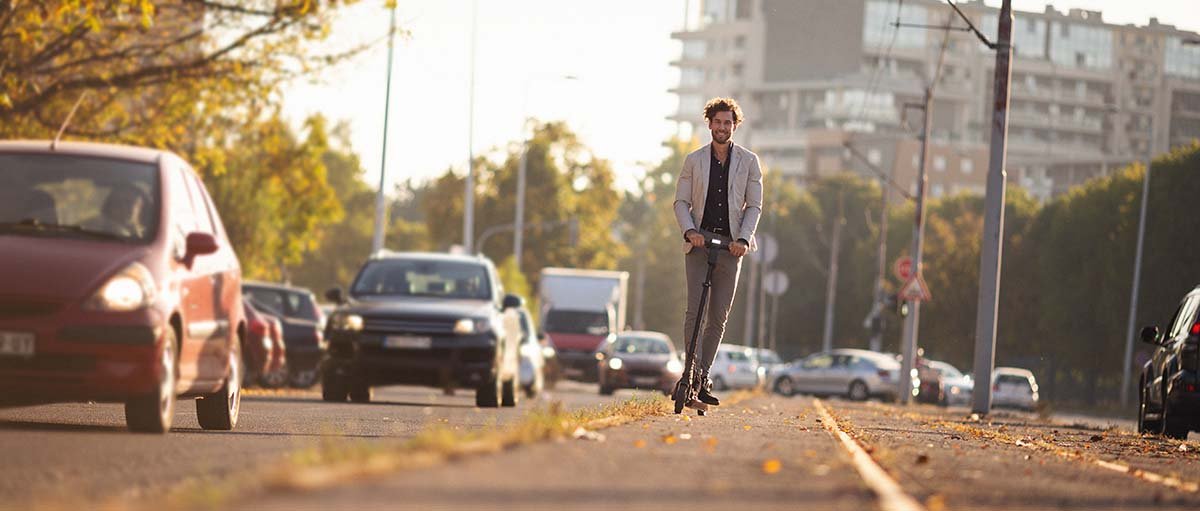 As we identified the determinants of price in a scooter, we will take a closer look into why these factors affect the cost of a particular scooter.
Motor
An electric motor is defined as a device used to convert electrical energy to mechanical energy. It is the main influence that sets motion to your appliances such as vacuum cleaners, dishwashers, computers, machine tools, and even electric vehicles, much like an engine to a regular car.
Like an engine to a car, the performance of your scooter will depend on how powerful your motor is.
The way you can identify the motor's power is through its watt rating. It also tells you how much energy the motor can handle continuously.
A standard, less expensive scooter will normally have around 250-700 watt motor, which will have a maximum speed of 25mph – 35mph.
While heavy-duty, expensive scooters will have motors that reach more than 1,500 watts, with a top speed of over 50mph. Keep in mind that top speed also varies from rider's weight, scooter's body weight, and incline and decline of terrain.
There are also two types of motors used for electric scooters:
Brushed Direct Current (BDC) motors
Brushless Direct Current (BLDC) or EC motors.
BDC motors are basically an older form of electric motor that uses brushes to drag along the inside of a motor to power different coils. This causes the brushes to wear down quickly and can cause the voltage to behave indefinitely.
While BLDC motors are a modern type of motor which have digital switching circuitry that alternately powers different coil phases. Which in turn makes the motor run quieter and less likely to overheat.
Although both BDC and BLDC motors are still being offered in today's market, you might want to keep in mind what the difference is between the two.
Battery & Range
Most electric scooters use Lithium-Ion (Li-ion) batteries as the main source of energy to power the electric motors. They have voltages starting from 24 V (volts) all the way up to 120 V.
The battery acts the same way as a fuel tank to a regular engine.
On average, the batteries have capacities between 150 Wh (watt-hour) and 750 Wh. However expensive scooters have much more since they will not only power the high watt motor, but will allow the scooter to travel more distance, as well as power other features in the scooter that we will discuss later on.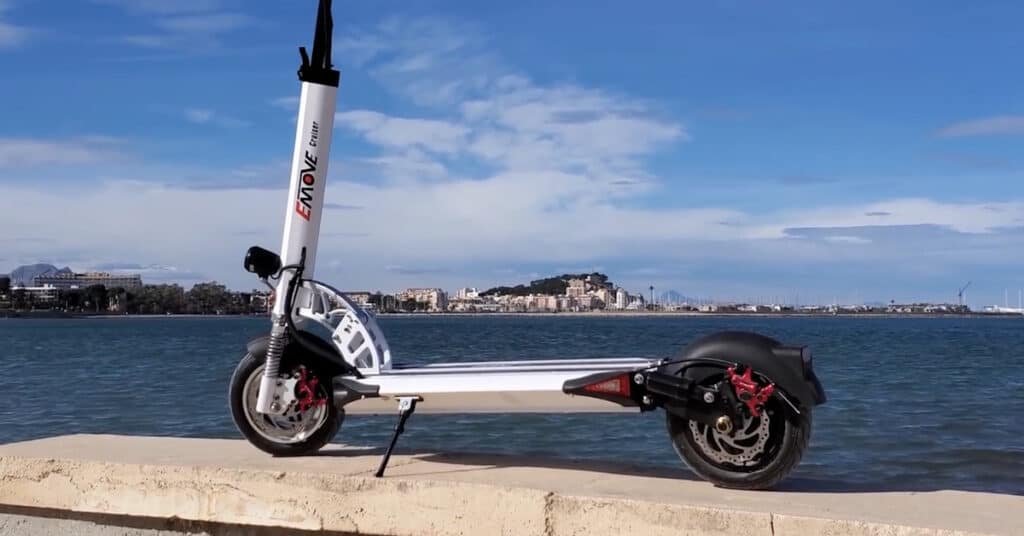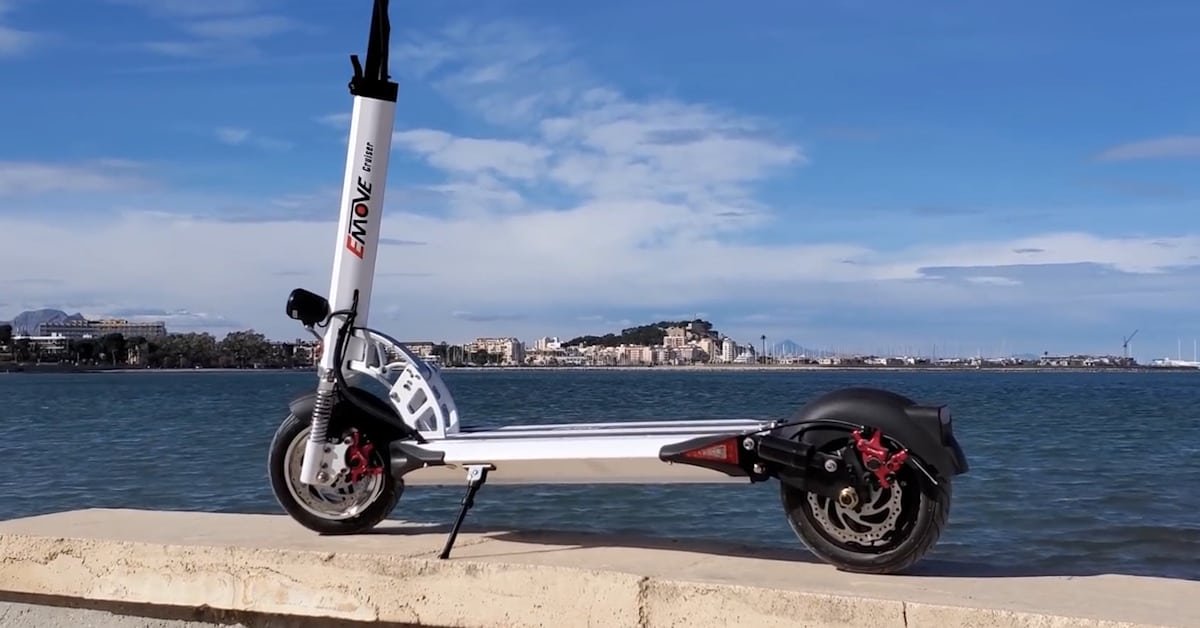 So how does this affect range? Well, in essence, having a battery with a larger capacity (watt-hours), is like having a larger fuel tank. It will allow more riding time, thus lengthening the travel distance.
The Quality of the Brakes
Electric scooters can be fitted with different types of brakes. Although stopping is one of the most essential parts of an e-scooter, not every brake system is equally efficient.
Fully hydraulic disc brakes provide the best stopping power. At the same time, these kinds of brakes are the most expensive. So, most high-end e-scooters mostly have hydraulic brakes on both wheels.
Cheaper scooters mostly have mechanical disc brakes or drum brakes.
Build Quality
What would you consider a good quality build in a scooter?
First, you need to consider its weight. In some scenarios, you are permitted to operate the e-scooter and will require you to carry it.
Frames that are made from aluminum alloy or carbon fiber, help reduce the overall weight. Although a bit expensive compared to a standard steel body, having a light scooter will definitely help you in your travels, as well as your back.
Another thing to consider is how sturdy the scooter is. It should not only support your weight, but it should sustain minor impacts at high speeds.
Lastly, there should not be any exposed wires as this will lead to corrosion on your battery cells and other major components. A good indicator of a quality e-scooter is having the wires tucked in or hidden in the stem and the step.
Electronics and Software
Having added electronics such as a smart infotainment display may increase the value of the e-scooter. These key elements will help you understand it better and will help prolong its lifespan.
Important information such as battery reading and temperature are standard and necessary, but you will never know if you need other information reading such as torque distribution, tire pressure, brake strength, and other key performance metrics.
Additional Features
A good electric scooter can have lots of additional features such as:
headlights,
front and rear handbrakes,
shock absorbers,
mini compartments,
turn signals,
or even a detachable seat.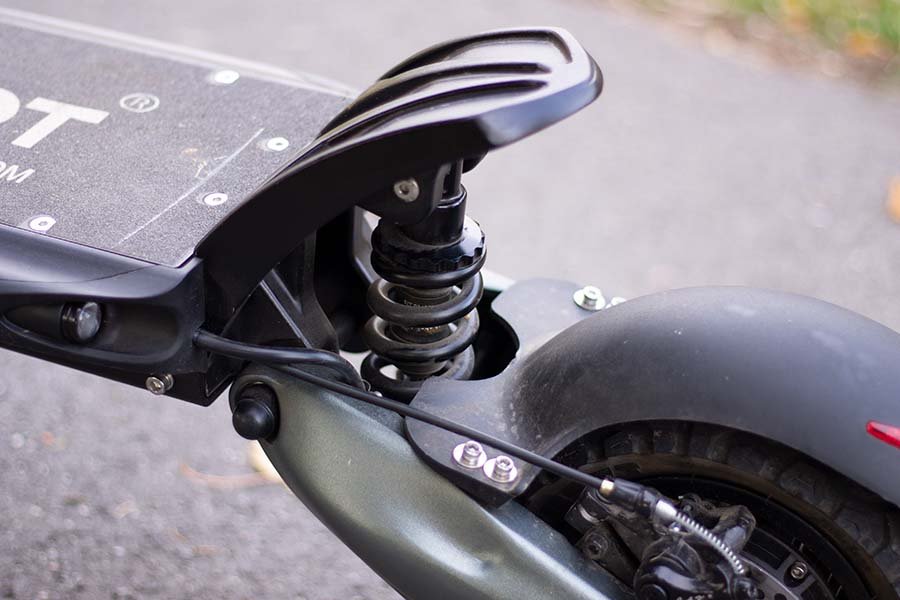 All these features could come at a cost, however, this will make your riding experience more safe and enjoyable. These features are equally important if you wanted to ride long distances without the worry of the scooter breaking down or having too much stress on the body.
Most Expensive Electric Scooters
Here are some of the top-of-the-line electric scooters currently in the market.
These electric scooters have all remarkable performance and reliability. These scooters have dual motors, a great battery life, and are suitable for all kinds of terrain.
As of writing, they may not be the most expensive since brands usually update their lineup daily. But you can be sure that these electric scooters are from trusted manufacturers that have top-of-the-top build quality.
Dualtron X2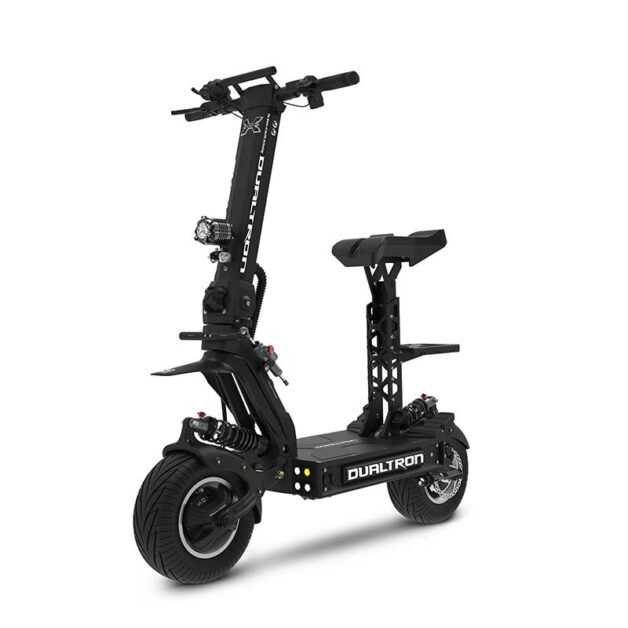 Dualtron X2 manufactured by Minimotors is an absolute beast.
It features an 8,300-watt BLDC dual hub motor that will propel you to a maximum speed of 55 mph (may vary due to riders' weight, road conditions, state of charge, and ambient temperature).
It also holds a 3,024 Wh – LG 3500 cells main pack to just power the scooter, and a secondary 192 Wh stem battery for lighting and accessories. With a fast-charging capability that will fully charge the main pack in 8 hours, and 3.5 hours for the stem battery.
It also features hydraulic brakes with ABS standard and 160mm disks. The scooter weight is only 145 lbs that were made possible due to the frame and handle made from aviation-grade 6082-t6 aluminum alloy, while the shaft is made from scm440 steel and plastic covers.
Nami Burn-E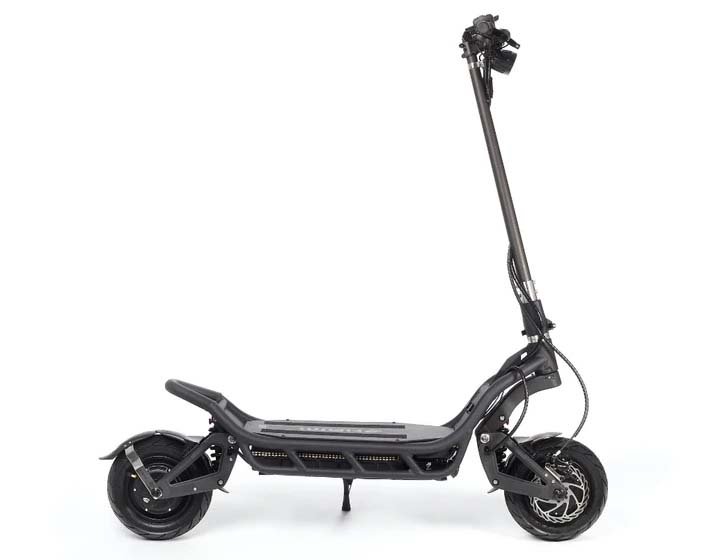 Nami Burn-E is a technologically advanced e-scooter that boasts heady-duty features that will blow your mind.
It features a dual 1,500-watt base motor (8400-watt peak power) that has a top speed of 60 mph.
It carries 2304 Wh – LG, Samsung, or Panasonic cells, that can be fully charged in 3-4 hours with an optional fast charger.
The main highlight of this scooter is its amazing suspension that garnered to have the best ride quality. This is done by the hydraulic shocks with a combination of thick 11″ tires that will let you glide in all types of road conditions.
The frame is built from hand-welded aluminum, with a carbon fiber steering column and polished stainless steel parts, to maintain its rigidity.
It also has a smart display system that provides important info such as the remaining range, controller temperature, and even G force.
Kaabo Wolf King GT Pro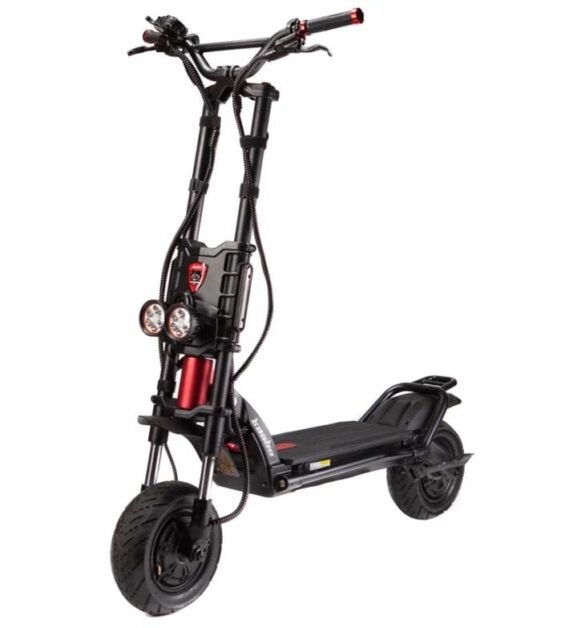 The Wolf King Pro is one of the fastest electric scooters with extreme built quality.
Wolk King GT Pro features key elements similar to a regular dirt bike.
Its power is generated from the dual 2,000-watt base BLDC motor (7,200-watt peak power), which will push it up to 62 mph.
A unique and very distinct feature of the Wolf King GT Pro is its telescopic-type hydraulic shocks in the front that holds a dual-LED headlight setup. The stiff rear spring suspension allows a smooth and stable ride regardless of any terrain.
It also features a smart hydraulic brake system that recuperates energy and recharges your battery. Speaking of the battery, the Wolf King GT Pro uses a 35Ah LG or Samsung Li-On pack that will let you travel up to 90 miles.
Most Affordable Electric Scooters
The following scooters are not just affordable but are very popular right now in the market.
Though not as rugged and heavy-duty compared to the list above, they have the essential features that will get you through the day!
And since all of them are lightweight, they are ideal for cross travel like if you will be using them before or after riding a train or a bus.
Hiboy S2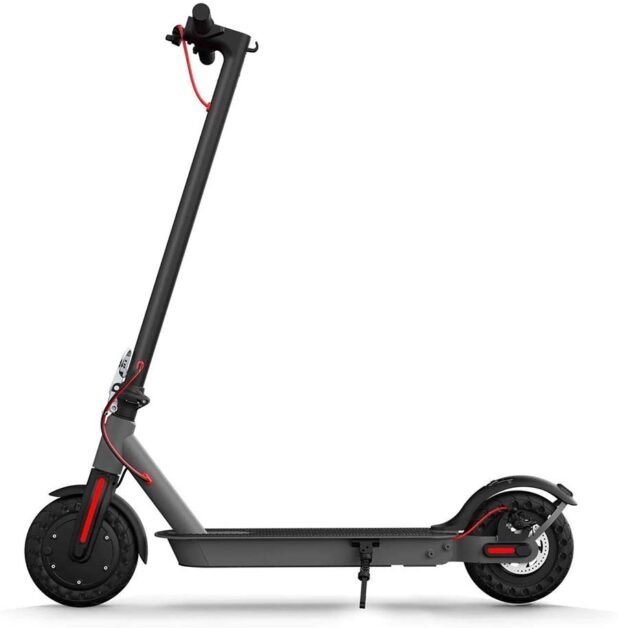 Hiboy S2 is an ergonomic and practical scooter from Hiboy.
It features a lightweight body that is only 31.9 lbs, that is capable of carrying a max load of 220 lbs.
It also features a 350-watt motor that will give you a top speed of 18.6 mph.
A 7.5 Ah Li-ion battery will give you 17 miles of travel distance before depletion. The charging time is just 5 hours.
It also has other important features such as:
E-braking and disc braking systems
Dual rear suspension
LED headlights, taillights, and sidelights
Water-resistant rating of IP45.
Related: Hiboy S2 Full Review
Xiaomi Mi M365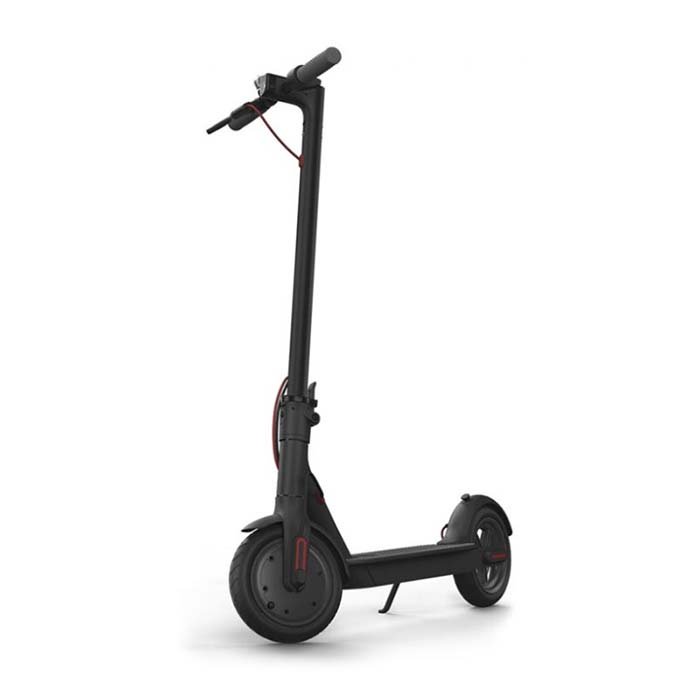 Xiaomi Mi M365 is one of the most popular e-scooter in the market.
It features an ultra-lightweight body of only 27.5 lbs. Even with heavy inflatable tires, this was achieved through its aerospace-grade aluminum frame, which is also very durable and sturdy.
It can go at a maximum speed of 15.5 mph with a travel distance of 18.6 miles before the battery runs out. Its battery is a 30 V 18.7 Ah Li-ion, that can be fully charged from zero to 100% in just 5 hours.
It also has other safety features such as:
Short circuit protection
Overcharge, and over-discharge battery protection
4 LED lights
Regenerative disc brakes
IP54 water-resistance rating.
Related: Xiaomi Mi M365 Full Review
Turboant X7 Pro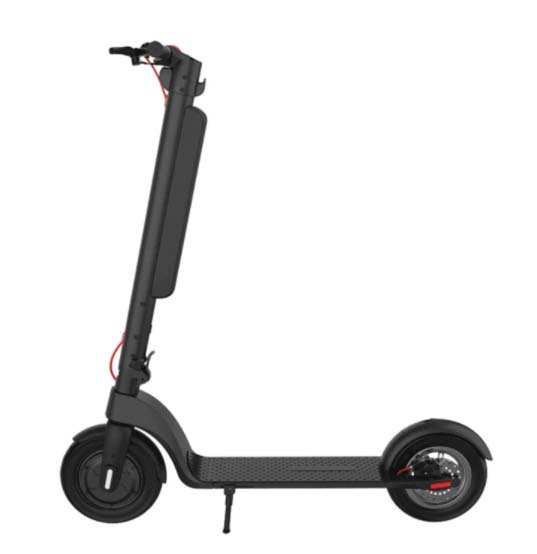 TurboAnt X7 Pro is ideal for long-distance commutes.
It features a combination of a 350-watt motor and 360 Wh battery that produces an amazing range of 30 miles. The scooter is capable of a maximum speed of 20 mph, which is sufficient for your daily commutes.
X7 Pro is also very lightweight at only 33 lbs which is light enough to carry and storage.
Another unique feature is that the battery pack is detachable, which means that you may carry a spare battery in cases you need one, or you can charge your battery separately from your scooter. It will charge in only 6 hours using a fast charger.
Other important features are:
LED lighting system
Electronic throttle
Disc and foot brakes
10-inch tubed pneumatic tires
Foldable stem
IPX4 water-resistance rating.
Related: Turboant X7 Pro Full Review
Hidden Costs of an Electric Scooter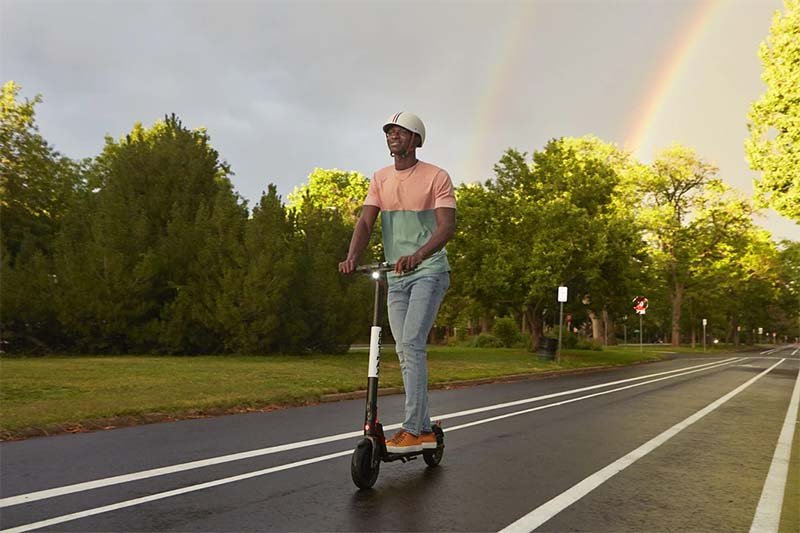 Like purchasing a car or other motor vehicle, external costs such as maintenance, safety equipment, and fuel consumption should always come to mind.
Let's further explore these types of hidden costs and why are they vital for your e-scooter life!
Maintenance & Repair
It is essential for you to have cleaning and protection products like a microfiber towel, a cleaning solution, and a UV protectant wax.
Even though your scooter might have a high IP rating, you should always wipe down or remove dirt and moisture as soon as possible as this will lead to corrosion on electronic parts and the battery.
If washing is needed, please refer to the owner's manual of specific e-scooters for proper washing treatments. This is to avoid moisture getting inside electronic parts that will lead to possible malfunction.
You should also acquire a tire pressure gauge to regularly check your tire pressure. A tire that is not in optimal pressure will lead to poor performance and higher battery consumption.
Also, components that are subject to wear such as the tires and brake pads need to be replaced over some time. Lesser tire groves mean less grip on the road which will result in possible slipping, especially in wet asphalt.
Safety Gear
Helmets are always a must!
In some cities, it is mandatory for a person to wear a helmet when riding any type of scooter. Although an expensive helmet is not a must, the important thing to consider is that it should be fairly secured in your head, and has great ventilation.
For beginners, it is recommended to have elbow and kneepads for added protection. Anything that you ride that reaches speeds above 15 mph will give you peace of mind knowing you have safety gear on.
Electricity Costs
A great example would be the most popular Xiaomi Mi M365, which costs around0 $0.04 cents to fully charge (cost is based on 15c/kWh). On a yearly average for a daily user, you are looking at $3.22.
What is the Value of an Electric Scooter?
When deciding whether to buy an electric scooter or not, try to think about how much value it would give you. Here are some questions you can ask yourself:
How often do you use the electric scooter?
Can 1 electric scooter be used by many family members?
Can you or your child spend more time outside?
Can you save money from buying fuel or a bus ticket?
Conclusion – Are Electric Scooters Worth It?
The short answer is yes!
E-scooters are a great way to start transitioning to a more eco-friendly environment. It is also good for time management as it lessens the commuting time between your home and workplace.
It will also save you a lot of money compared to riding a 4-wheel vehicle or using paid transport services like Uber.
Other than replaceable parts like tires and batteries, every component of the scooter will still be usable and relevant for the next 10 years, making it very efficient for long-term use.