Have you ever wondered what are the best-selling electric scooters on Amazon? Which models are most popular?
Since there are so many different electric scooter models available, it is very difficult to make the right choice. Would it be much easier if you know what are the most popular choices of others?
Well, look no further. We made the research and listed all electric scooters on Amazon by revenue.
Electric Wheelers is reader-supported. Although we independently research and test products, we may receive a commission on purchases made from our chosen links. Read more…
Where Did We Get Data?
We used the tool called Helium 10. It's a Chrome extension that is built for professional Amazon sellers. When making a search on Amazon, this extension shows us:
How many times do people make the same search every month
What is the monthly revenue of each item in the search result
How many units of each item in the search result are sold every month
And lots of other Amazon-specific data
For us, electric scooter enthusiasts, it was very interesting to see those numbers. And it is a pleasure to share those numbers with you.
What's the Search Volume for "Electric Scooter" on Amazon?
As you can see the search volume is quite seasonal. The screenshot above is made in October of 2022 and over 400,000 searches have been made for "electric scooter".
Related: Best-Selling Hoverboards on Amazon
However, the peak has always been right before Christmas. It seems that lots of kids and adults are wishing for an electric scooter from Santa.
Alright, let's get to the real numbers now!
Top 10 Best-Selling Electric Scooters on Amazon
#10 – Segway Ninebot F-Series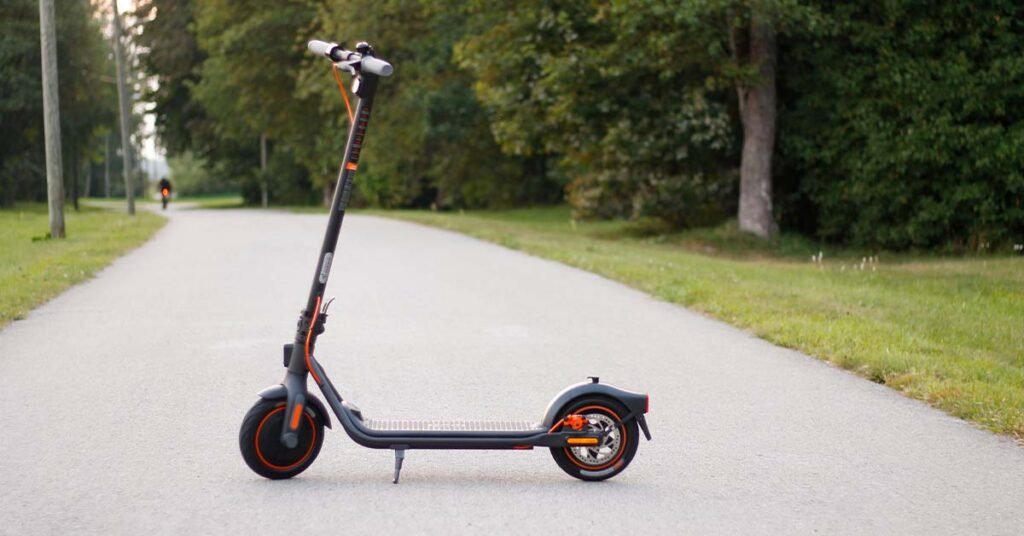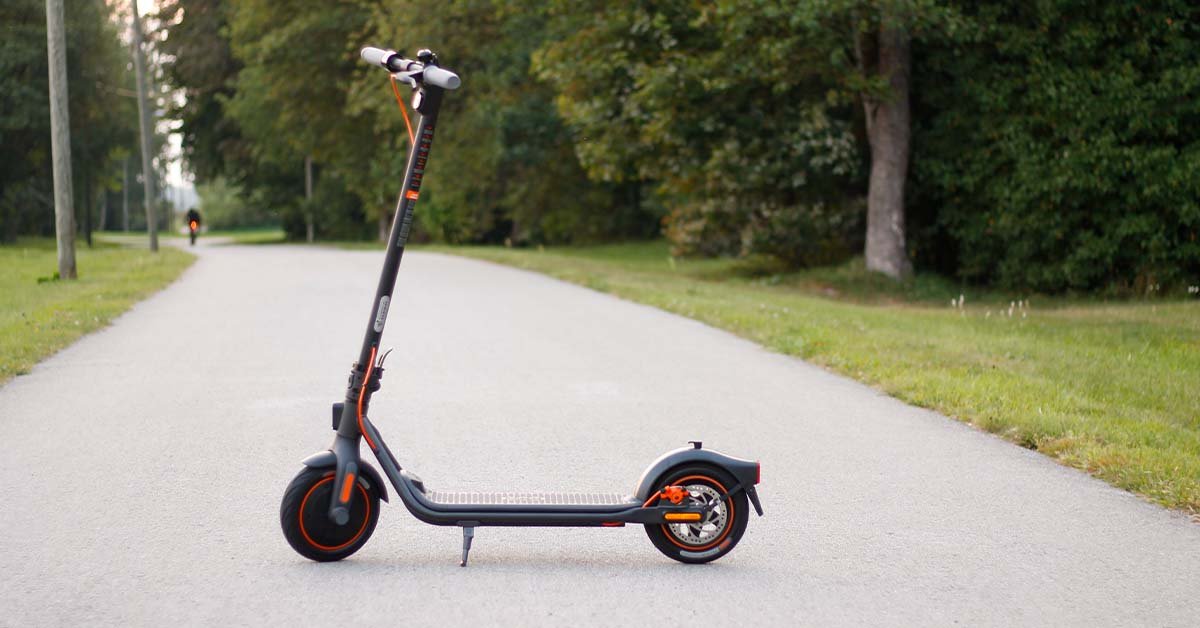 Monthly Revenue: $229,994
Units Sold in a Month: 575
There are 3 different kickscooters in F-series: F25, F30, and F40. Each model has slight differences.
However, the biggest difference is in battery size. While the F25 has a battery of 183Wh, the F40 has a battery of 367Wh. The F40 has a maximum mileage of about 25 miles. So you can choose the right model for you with enough range.
Ninebot F-series electric scooters come with big 10-inch tires that provide a good ride experience in the urban environment.
The scooter can speed up to 18.6 mph and can even climb hills up to 20%. It can accommodate riders of up to 220 pounds.
Also, it has an IP54 rating, which means that it's water-resistant when sprayed with water from any direction.
#9 – Wheelspeed WS1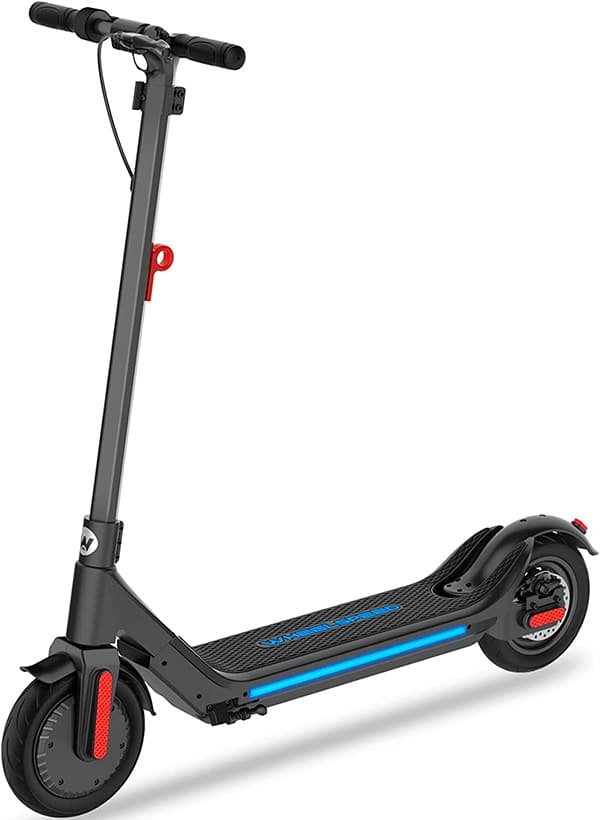 Monthly Revenue: $250,795
Units Sold in a Month: 418
To most, Wheelspeed is a fairly unknown brand. However, somehow it's quite popular on Amazon.
Under the same listing, there are 2 different versions of the scooter – a standard and a Pro.
The standard model has a 350W motor, while the Pro version has a motor of 400 Watts. The former is capable of going up to 15 mph and the latter up to 19 mph.
The scooter has a quite good battery. The standard model has a maximum range of 25 miles and the Pro model can go up to 40 miles.
The scooter is meant for an urban environment and thanks to the 10-inch tires, it provides an adequate ride experience.
#8 – Razor Power Core E90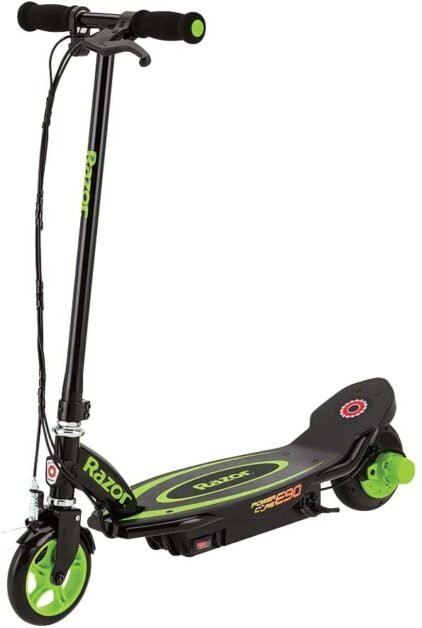 Monthly Revenue: $290,124
Units Sold in a Month: 1,791
The Razor Power Core E90 is a kids' electric scooter.
It has a 10 mph top speed, can run for 80 minutes on a full battery, and has a 120-pound carrying capacity.
The scooter is designed for kids aged 8 or older and has a high-torque, kickstart hub motor that's designed for efficiency and minimal maintenance.
The scooter isn't waterproof, and thus, it will be a good idea to ensure that you store it safely in a dry location to prevent damage to the electronic circuits. It also has a light and durable steel frame, a push-button throttle, and increased torque for better performance.
#7 – Aovo Pro ES80
Monthly Revenue: $329,506
Units Sold in a Month: 1,182
Since the Aovo Pro ES80 looks exactly like Xiaomi M365, many say it's "another Xiaomi clone". But Xiaomi M365 has been one of the best cheap electric scooters for a long time, so it's no wonder other companies try to clone it.
Anyway, Aovo is also a Chinese brand. ES80 comes with a 350W hub motor and a 378Wh battery. It can go up to 19 mph and the maximum range is up to 20 miles.
For quite a cheap price tag, the scooter has a double braking system with ABS. Also, you can customize and lock the scooter through the app.
One of the disadvantages of this scooter is the tires. It has 8.5-inch solid tires, that won't provide good ride quality if the terrain is not super smooth.
#6 – YYD Robo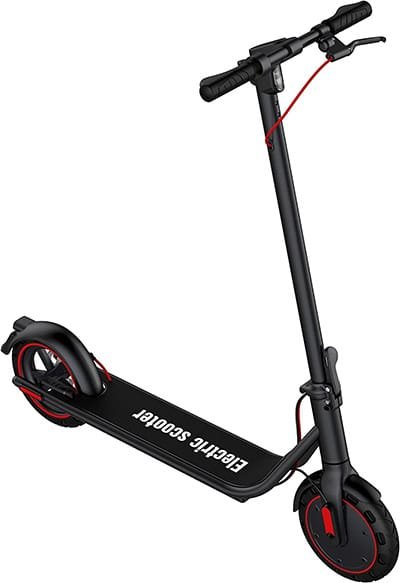 Monthly Revenue: $344,791
Units Sold in a Month: 862
To be honest, YYD is also a completely unknown brand for us. However, that hasn't stopped them from selling over 800 electric kick scooters in the past month.
YYD Robo is a lightweight and portable scooter for beginner riders. It has a 350-watt motor, which can speed up to 19 mph.
The battery is very slim and fits under the deck. It can provide a range of up to 17 miles.
Since the scooter has 8.5″ solid tires, you can ride with it only on smooth asphalt.
#5 – Gotrax XR Ultra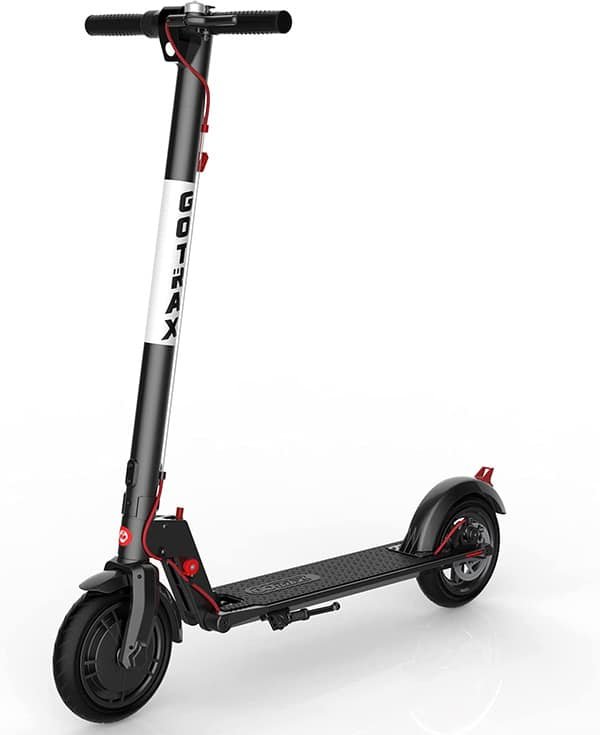 Monthly Revenue: $421,640
Units Sold in a Month: 937
Gotrax has been one of the most popular scooter brands on Amazon for years.
Although it's more expensive, the XR Ultra looks very similar to another Gotrax scooter – GXL V2. But still, the XR Ultra has some advantages over the cheaper brother.
The scooter has a bigger motor (300W) and provides a longer range. The maximum travel range of XR Ultra is about 18 miles. The motor is quiet and can speed up to 15.5 mph.
While GXL has only a rear brake, the XR Ultra has a front brake as well. By the way, the braking system features an electronic ABS for safer stopping.
#4 – Segway Ninebot Zing Series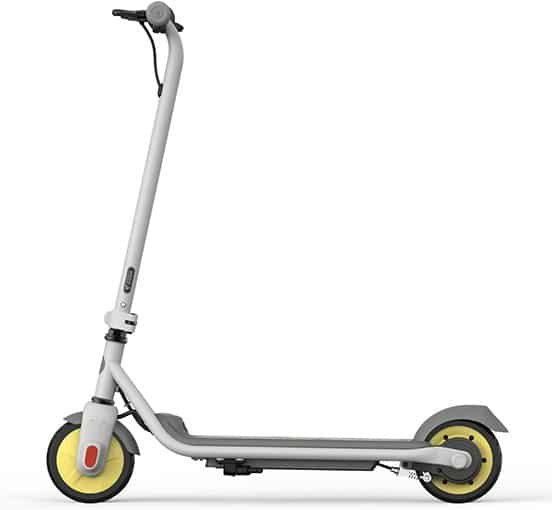 Monthly Revenue: $440,377
Units Sold in a Month: 2,202
Segway Ninebot Zing Series is meant for children aged 6-14. There are different scooters in the selection, all of which are suitable for children of different heights.
Scooters are built with safety in mind. They are not too powerful, but at the same time provide enough thrill for the kids. Also, to reduce accidents, the motor won't start until the speed reaches 1.9 mph.
The frame of the scooter is made from durable steel. So it can last until your kid outgrows from it.
#3 – Razor E100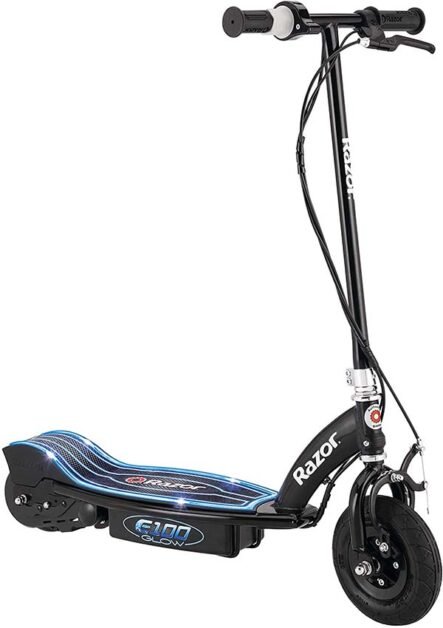 Monthly Revenue: $548,192
Units Sold in a Month: 3,704
The Razor E100 has a 10mph top speed and can provide a maximum of 40 minutes of playtime, which translates to an 8-mile maximum range.
The scooter has a quiet 100W motor that has high torque. It takes 12 hours to recharge, has a 120-pound carrying capacity, and is appropriate for children aged 13 and over.
The E100 has two 12V lead-acid rechargeable batteries and features a durable and reliable all-steel frame.
Other features that Razor E100 comes with include:
hand-operated rear brake
Adjustable handlebar
and 8-inch pneumatic tires
#2 – Gotrax GXL V2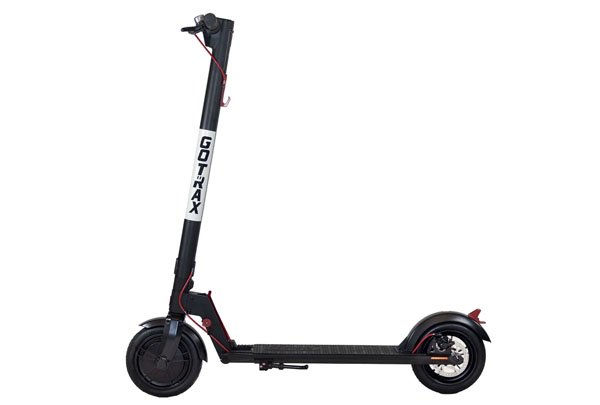 Monthly Revenue: $1,100,451
Units Sold in a Month: 2,896
The Gotrax GXL V2 is the second best-selling electric scooter on Amazon.
The V2 has everything a rider needs at a very competitive price. It has a decent top speed, a sturdy build, relatively great rider comfort, and excellent performance.
Related: Gotrax GXL V2 Full Review
Gotrax scooter also has an LED panel that displays the scooter's information like the battery level, riding mode, etc.
This scooter is perfect for beginners and experienced e-scooter riders, has a dual braking system, and takes only three to four hours to charge.
A simple folding mechanism, which (when combined with its weight) makes it also highly portable.
Top speed: 15.5 mph
Range: 12 miles
Weight: 26.4 lbs
And the winner is…
#1 – Hiboy S2 Pro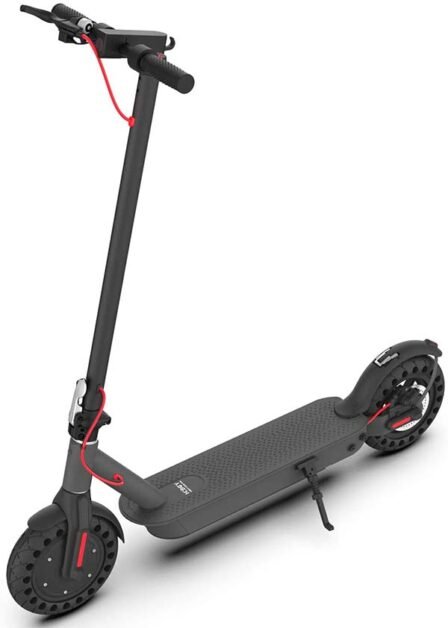 Monthly Revenue: $1,135,729
Units Sold in a Month: 2,065
The Hiboy S2 Pro has a powerful 500W motor that can speed up to 19mph. The battery can provide up to a 25-mile range.
Related: Hiboy S2 Full Review
The scooter also has 10-inch solid tires that complement its rear double shock absorbers. Although the tires are flat-resistant, the scooter is meant for only urban terrains.
It also has an IP54 rating that protects the interior circuitry from dust and water sprays from any angle.
The S2 Pro has a 220 pounds carrying capacity and is perfect for first-time as well as seasoned riders.
Additionally, the scooter has the option to attach a seat.
Amazon Best-Selling Electric Scooters Chart
In this article, we ranked the scooters based on the revenue in one month. However, if we would have listed the best-selling scooters in terms of the number of sales, the order would have been slightly different.
In the image below, you can see Amazon's best-selling scooters in terms of most sales in one month: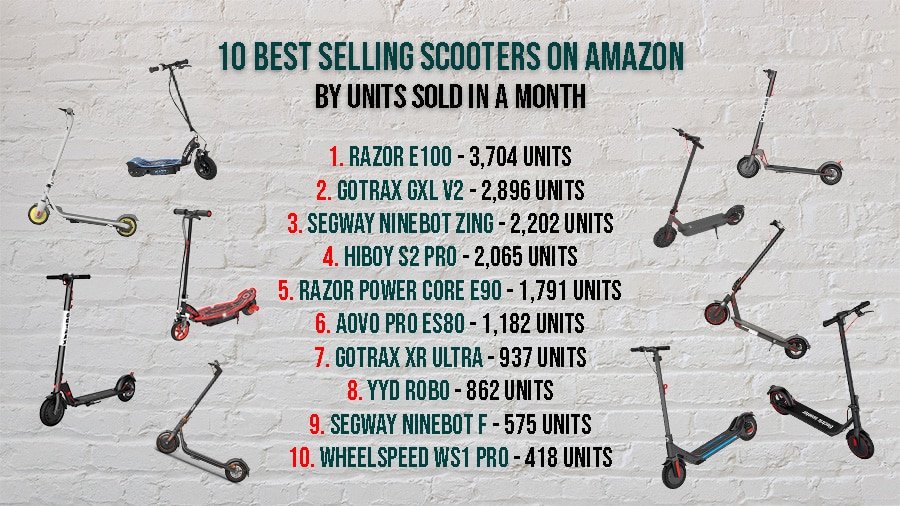 Conclusion
Although there are so many different electric scooter brands available, it seems that people prefer highly trusted and known brands. Razor, Gotrax, and Segway are all very well-known electric scooter manufacturers.
Ultimately, selecting the right scooter depends on your personal preference and budget.
However, this list containing best-selling electric scooters on Amazon is meant to provide you with some insight into which electric scooter models are most preferred among riders.
Have fun riding!