The market is full of different electric scooter models. Electric scooter range can vary from a couple of miles to almost a hundred miles. The question is, which electric scooters are meant for long-range commutes?
Electric scooters are far more portable than cars and offer better performance than bicycles. These days these battery-powered scooters can travel a vast distance on a single charge.
An electric scooter can take you tens of miles and when commuting in and around a city, mileage is important. As we look forward to a more sustainable future, electric scooters can solve traffic woes.
In the section below, we shall take a look at some popular models and determine which one is the best.
Electric Wheelers is reader-supported. Although we independently research and test products, we may receive a commission on purchases made from our chosen links.
Best Long-Range Electric Scooters
EMOVE Cruiser
One of the best electric scooter for long-distance commutes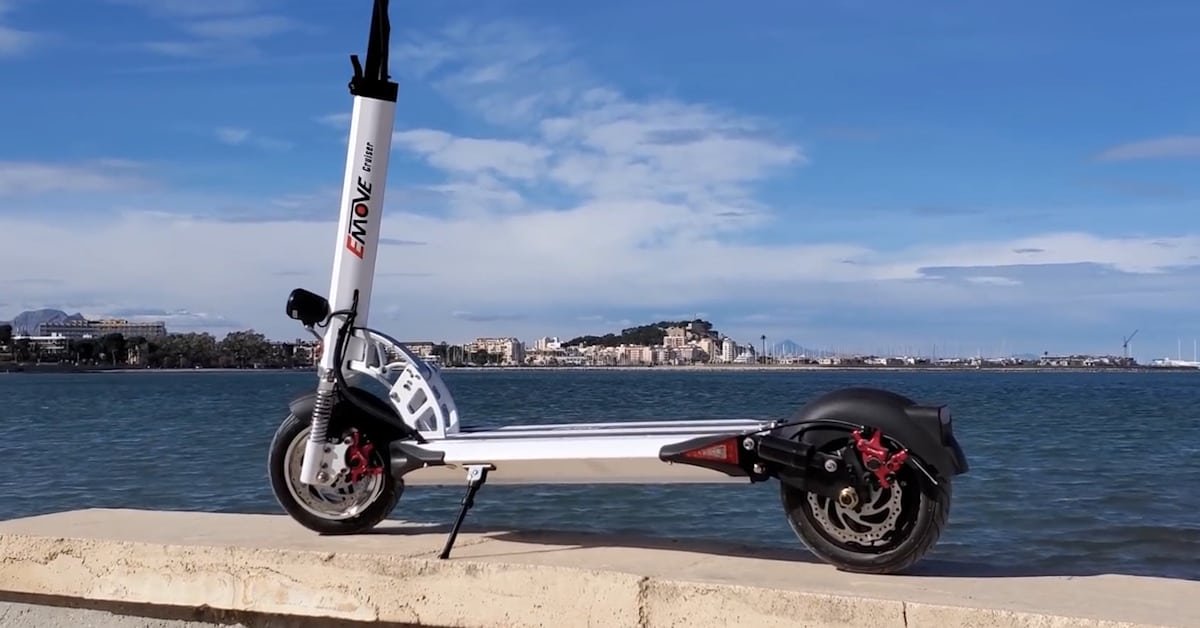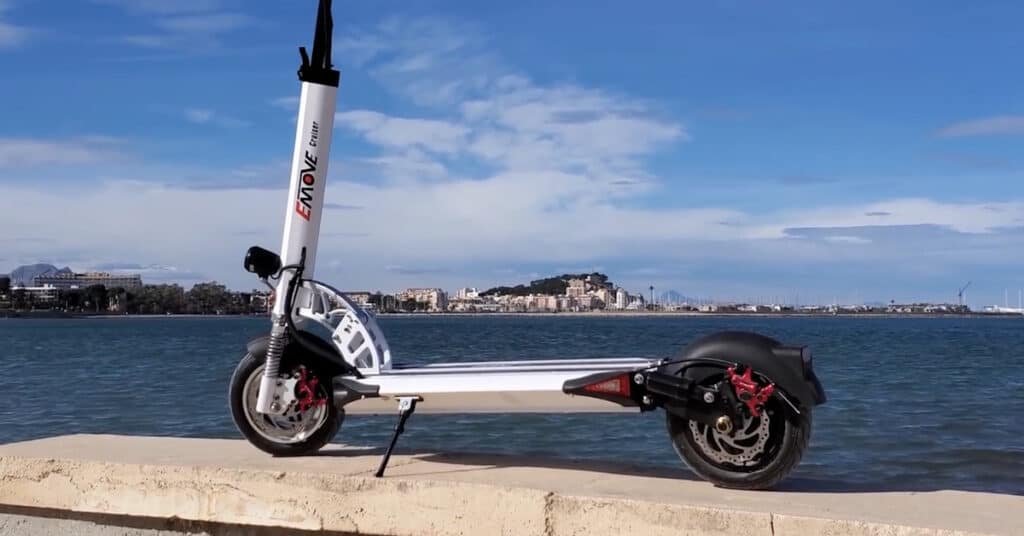 MSRP $1,499 Voromotors
Perhaps the most commuter-friendly scooter on the list, the EMOVE Cruiser comes with virtually no drawbacks.
It has a good top speed, so you won't feel sluggish. It comes with a range of 60 miles, which is one of the longest of any long-range electric scooter.
Related: Full Review of EMOVE Cruiser
Emove Cruiser has an IPX6 water resistance so you can even zip around the city in the rain.
The EMOVE Cruiser is remarkably well built, making even the longest of commutes seem comfortable.
The scooter is loaded with additional features. From a hefty LG battery to a keyed ignition; the EMOVE Cruiser is built to last. It also has disc brakes that are semi-hydraulic and tubeless pneumatic tires for a comfortable journey.
Key Specs of EMOVE Cruiser
Range:

62 miles

Weight:

52 lbs

Top Speed:

25 mph

Max Load Capacity:

352 lbs
TurboAnt V8
Perfect e-scooter for the rider who wants a longer range in a budget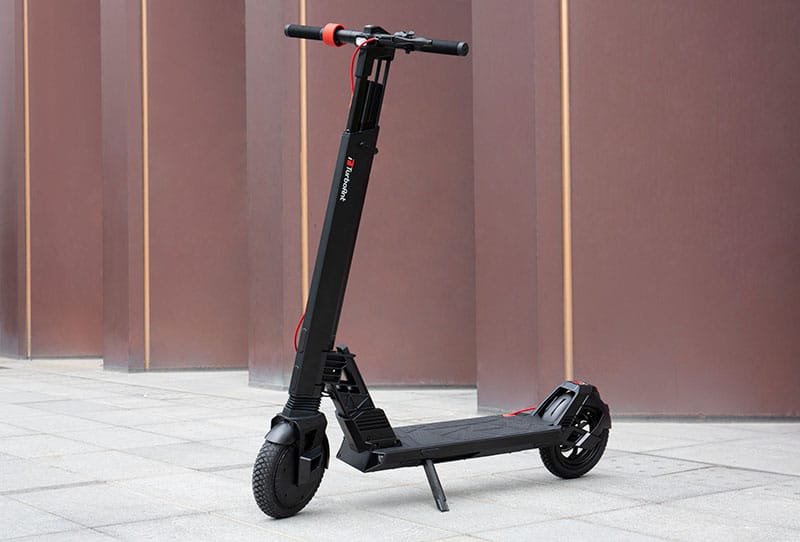 MSRP $800 TurboAnt
If you are looking for decent ride quality and solid range while being on a budget, TurboAnt V8 is your scooter.
TurboAnt V8 is one of the few electric scooters in its price range that comes with a rear spring suspension. Accompanied with large tubed pneumatic tires, it has much better ride quality than many of its competitors.
Another unique feature of this electric kick scooter is its dual batteries. TurboAnt V8 has a built-in battery in the deck and a removable battery inside of the stem.
Related: TurboAnt V8 Full Review
Those two batteries combine a total of 720Wh of energy capacity, which is enough for a 50-mile range.
While you may be able to get other scooters a bit faster at the same price bracket, the TurboAnt V8 is no slouch either. It has a top speed of 20 mph, which is sufficient for most city commutes.
Key Specs of TurboAnt V8
Range:

50 miles

Weight:

48 lbs

Top Speed:

20 mph

Max Load Capacity:

275 lbs
Segway Ninebot Max
Best long-range electric scooters with this price tag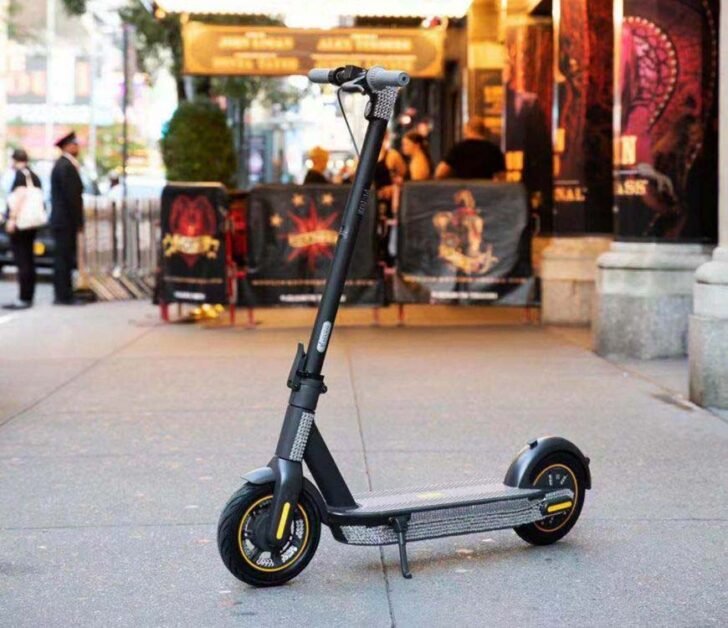 MSRP $950 Amazon
One of the few scooters under a thousand dollars on this list, the Segway Ninebot Max is also very popular.
While it may not come with eye-popping speeds and ranges, the Ninebot Max punches way above its weight. It weighs only 42 pounds (19 kgs), has a modest top speed of 19mph, and can go 40 miles on a single charge.
The scooter also comes with an IPX5 rating and is safe to ride in the rain.
Related: Full Review of Segway Ninebot MAX
The construction of the scooter is its standout quality. The scooter looks and feels like it is made up of a single piece of metal. It does not wobble and all the parts fit in extremely well. It also has a slip-proof rubberized deck.
This long-distance electric scooter is one of the best in its class and is well worth the money.
Key Specs of Ninebot MAX
Range:

40 miles

Weight:

42 lb

Top Speed:

19 mph

Max Load Capacity:

220 lb
Minimotors Dualtron X2
An electric scooter that gives you the ultimate performance
MSRP $6,490 Voro Motors
If you want something that screams extreme, the Dualtron X2 should be your choice.
It is a monstrous machine, weighing a whopping 145 lbs. The scooter from Minimotors also has a ridiculous top speed of 55 mph.
It comes with a coil-over-hydraulic suspension, for ultimate performance. You can buy a detachable seat too! It would make Dualtron X2 one of the best long-range scooters with a seat.
It also comes with a humongous battery pack, a 3,024 watt-hour battery that gives a range of over 90 miles.
The scooter is only geared towards performance. It features fully hydraulic disc brakes, and 13-inch wheels which have a width of 5 inches. It comes with a steering damper to help tighten up the steering at high speeds.
Combined with the detachable seat, the Dualtron X2 is more of a rocket than an electric scooter. It has a huge deck to give you more space for your legs and bags.
While the scooter is built for performance, portability and ease of riding aren't its strong suits.
Key Specs of Dualtron X2
Range:

90 miles

Weight:

145 lbs

Top Speed:

55 mph

Max Load Capacity:

265 lbs
Kaabo Mantis PRO
One of the best long-range electric scooters for adults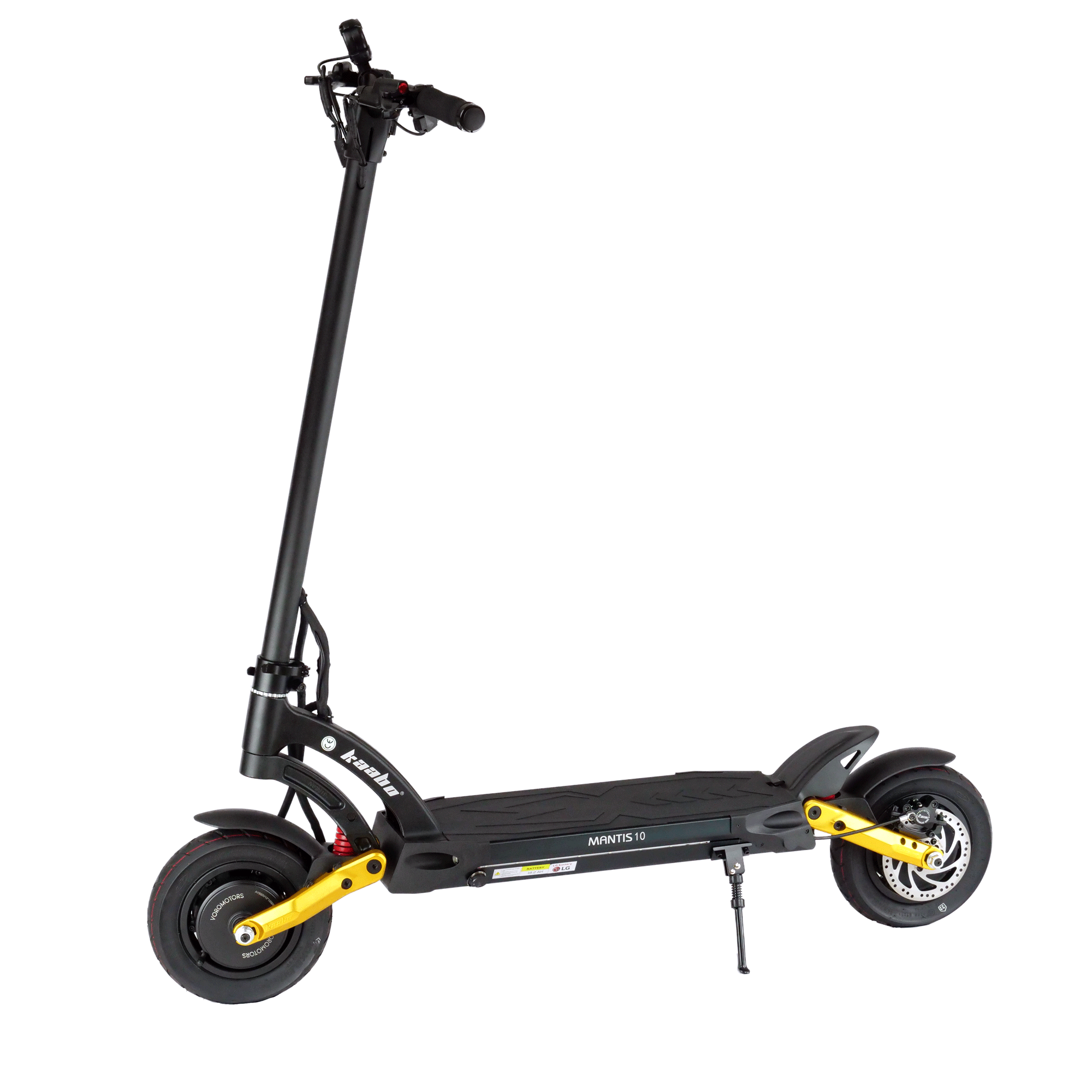 MSRP $2,299 Voro Motors
With dual 1000-watt motors, agile steering, solid build quality, and a good braking system, the Kaabo Mantis packs a solid punch for an electric scooter. It also comes with a decent range of 40 miles, enough for your everyday commute.
When it comes to speed, the Mantis is no slouch. It has a top speed of nearly 40 mph and takes around 11 seconds to reach its top speed.
The scooter also has some of the best pneumatic tires and a sturdy suspension system.
Related: Full Review of Kaabo Mantis
The scooter also comes with a patented bomb-proof folding system mechanism for easier folding. Thanks to this folding system, Mantis is very portable. You can easily haul it at the back of your car.
Perhaps the most astounding feature is its price. It undersells virtually every other scooter on the market, with the most holistic feature set.
Key Specs of Kaabo Mantis PRO
Range:

40 miles

Weight:

65 lbs

Top Speed:

40 mph

Max Load Capacity:

330 lbs
Vsett 10+
Long-distance electric scooter with great performance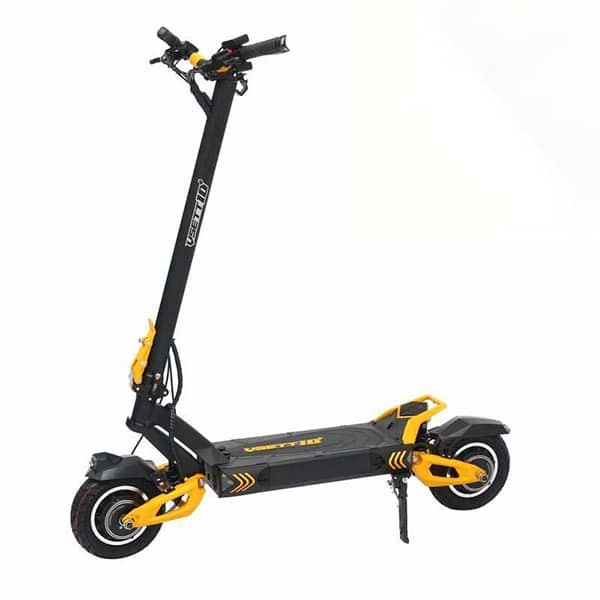 MSRP 2,159 REV Rides
Dual motors, disc brakes, and a great suspension system make the Vsett 10+ a beast in all terrains.
The standout feature of the Vsett 10+ is its superb suspension. It ensures that your riding experience is smooth and you do not feel the jolts on the roads. Big 10-inch tires increase the ride quality even more.
The scooter also features a huge deck, so you can accommodate your feet safely. The Vsett 10+ is well priced. It does not break your bank while offering you the best in class performance.
The scooter comes with a big battery pack that gives you a range of up to 64 miles. The Vsett 10+ also has great top speed. It can even go up to 50 mph.
Also, it has fully hydraulic disc brakes, and a welded stem for easier control.
It does, however, weigh 80 lbs making it a hefty scooter and reducing its portability.
Key Specs of Vsett 10+
Range:

36-64 miles

Weight:

79 lbs

Top Speed:

50 mph

Max Load Capacity:

285 lbs
Apollo Phantom
One of the fastest long-distance scooters in this price range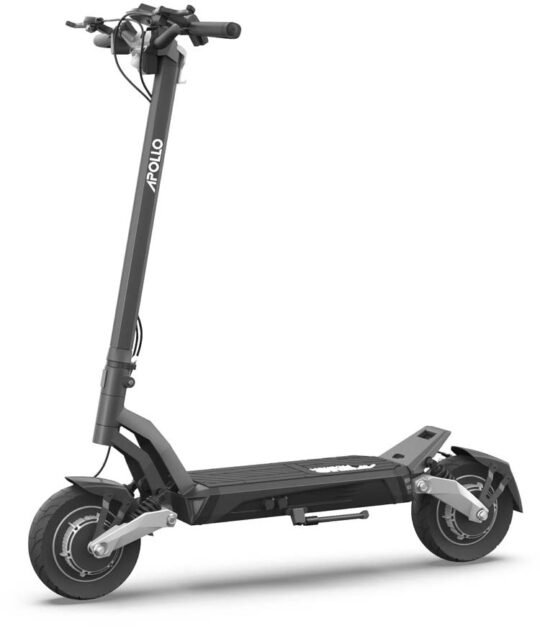 MSRP from $1,999 Apollo Scooters
When Apollo Scooters built the Apollo Phantom, the theme was performance.
This electric scooter comes with a fantastic ride and perhaps the best acceleration in its class. It has a fully aluminum build for sturdiness. The Apollo Phantom also comes with twin motors for direct power delivery.
Related: Full Review of Apollo Phantom
When we talk of the Apollo Phantom, we have to talk numbers. This scooter reaches 20 mph in a whopping 2.6 seconds and has a top speed of 38 mph.
Apollo Phantom is probably the fastest scooter in the price range.
The scooter has an excellent 2,400W power system that will last for up to 40 miles.
The Phantom also has perhaps the best braking system on any electric scooter. It comes to a halt from a speed of 15 mph to zero in just 3 meters! The hydraulic braking system is just ridiculously good.
The Phantom also has a quality dual spring suspension and 10-inch tires that give a very smooth ride.
Key Specs of Apollo Phantom
Max Range:

40 miles

Weight:

77 lbs

Top Speed:

38 mph

Max Load Capacity:

300 lbs
Xiaomi M365 PRO
Entry-level electric scooter with a decent range
MSRP $800 Amazon
The entry-level Xiaomi Mi M365 Pro is perhaps the best introductory scooter for anyone. The Pro adds to the features of the M365.
It has a range of 27 miles, a top speed of 16 mph, and weighs just 31 lbs. This electric scooter is extremely portable and folds neatly into a 19x43x17 inches dimensional object. It comes with a regenerative and mechanical disc brake for optimal braking.
Related: Full Review of Xiaomi M365 PRO
It is a very agile and nimble scooter. The pneumatic tires make up for the lack of an actual suspension system. It also has a wide rubberized deck for more storage space. It also comes with an IP54 rating for protection against splashes and the occasional rain.
The Xiaomi Mi M365 Pro is a mass-produced scooter and each machine is well made. Although despite its many advantages, this is not a scooter that can handle years of usage and abuse.
Key Specs of M365 PRO
Range:

27 miles

Weight:

31 lb

Top Speed:

16 mph

Max Load Capacity:

220 lb
Qiewa Q1Hummer
A performance-oriented electric scooter that can achieve amazing drive distance
MSRP $1,379 Qiewa Scooter
A scooter that weighs only 59 lbs and can carry up to 540 lbs? The Qiewa Q1 Hummer is a force to be reckoned with.
This scooter also has another ace up its sleeve, a whopping 68-mile range. The scooter does all this on the back of an 800W motor, which is lesser than most single motors on our list. It also has 10-inch wheels and comes with dual-shock absorbers for a smooth ride.
Related: Full Review of Qiewa Q1Hummer
It is a very performance-oriented electric scooter and it is not meant for the casual user. The scooter has a top speed of 37mph. It is also IP65 rated, which means that it can be used in the rain.
Perhaps the only drawbacks are the small deck.
Key Specs of Q1Hummer
Range:

68 miles

Weight:

59 lbs

Top Speed:

37 mph

Max Load Capacity:

540 lbs
---
How to Increase the Range of Electric Scooters?
While the range of each electric scooter is entirely dependent on its battery pack, you can still implement some practices to increase longevity.
A good system of usage allows you to extend the battery life on your scooter by minutes. Although it may not seem like a lot, it may be very crucial in emergencies. Here are some ways to extend the range of electric scooters.
Inflate tires
This practice is important even when we are driving gas-powered vehicles and it extends to electric scooters as well.
Quite simply when your tires are deflated they are not able to give you the performance and maintain rigidity. Keeping track of the tire pressure can help extend the battery life in the long run.
More importantly, maintaining a healthy tire pressure helps you run the scooter more efficiently and thus keeping the battery itself healthy.
Regenerative braking
While there are many conceptions around the utility of regenerative braking, its effectiveness cannot be understated.
A regenerative brake uses a charging circuit on a DC motor to feed your battery with electrons. This helps extend the battery life and feedback more energy back into the motors.
While this practice may not exactly be very efficient, it does help conserve energy and add valuable minutes to your electric scooter's battery life.
Reduce weight
This is a very simple practice; carry less weight for longer battery life.
The reason is simple, the more weight you put on the scooter the more the engine has to work to deliver the same performance.
You should carry lighter loads, smaller backpacks, and no extra passengers to extend the battery life of the scooter.
Do not drain the battery completely
A full drain and charge mean a cycle is completed and doing this only reduces the number of charging cycles the battery has.
Once you fully drain a battery you will also have to charge from the start. Conversely, you should not leave your scooter plugged in for a long period. Doing this diminishes the battery life. 
Adding extra batteries
Replacing the battery and carrying extra batteries is the way to go if you want maximum battery life. However, this is not cost-effective at all. Batteries are by far the costliest components of a scooter and replacement can cost upwards of 150 dollars.
If your sole aim is to increase the battery life of the scooter, then replacing them frequently and carrying extras is the ideal practice.
---
Conclusion
In a world where commuting is necessary and where the roads are getting congested by the minute, a long-distance electric scooter can be quite the problem solver.
While there are a plethora of options in the market, our list contains some of the best long-range electric scooters available.
We live in an age where new technologies are adopted with open arms and electric scooters are next in line.