Minimotors is famous for its dual-motor electric scooters. However, Dualtron Mini is their first electric scooter with a single motor. You can consider it as their entry-level scooter.
In this Dualtron Mini review, we are taking a closer look at this compact e-scooter. Is it really as "mini" and compact as the name suggest? Does it have enough range for convenient commuting? Let's find out!
Electric Wheelers is reader-supported. Although we independently research and test products, we may receive a commission on purchases made from our chosen links. Read more…
Dualtron Mini Overview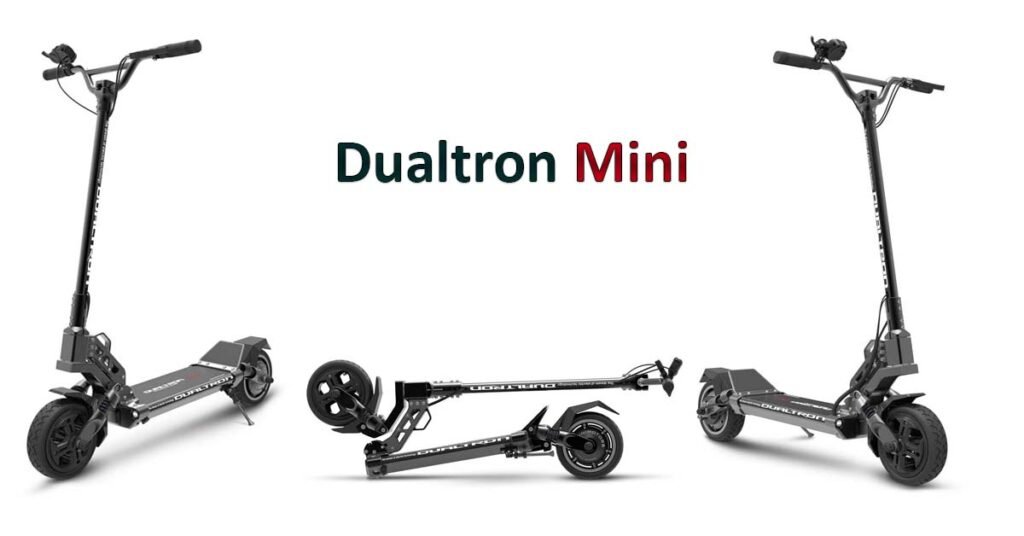 MSRP: $1,499 Voro Motors
To Whom?
The Dualtron Mini is a commuter scooter. It can fit a wide variety of riders.
Although it's an entry-level scooter in Dualtron's line-up, it's not some cheap Chinese product. It has quality components that will last.
If you are looking for a premium scooter for your urban commutes, Dualtron Mini is a quite reasonable option.
Dualtron Mini Specs
| | |
| --- | --- |
| Motor | 1,450W rear hub motor |
| Max Speed | 32 mph |
| Battery | 52V 17.5Ah (910 Wh) |
| Max Range | 34 miles |
| Recharge Time | 10 hours |
| Brakes | Rear drum brake + ABS |
| Suspension | Dual springs in front and rear |
| Weight | 48 lbs |
| Weight Capacity | 220 lbs |
| Tires | 9″ x 2″ pneumatic tires |
| Lights | Double headlights, brake light, deck and stem lighting |
| Hill Grade | 20 degrees |
| Dimensions | 48″ x 24″ x 43″ |
| Folded Dimension | 48″ x 24″ x 15″ |
| IP Rating | – |
Pros
Efficient battery + long range
Dual suspensions
Good stopping power
Good value for money
Cons
No IP rating
Noisy kickstand when riding
Heavier than expected
Long charging time
Dualtron Mini Performance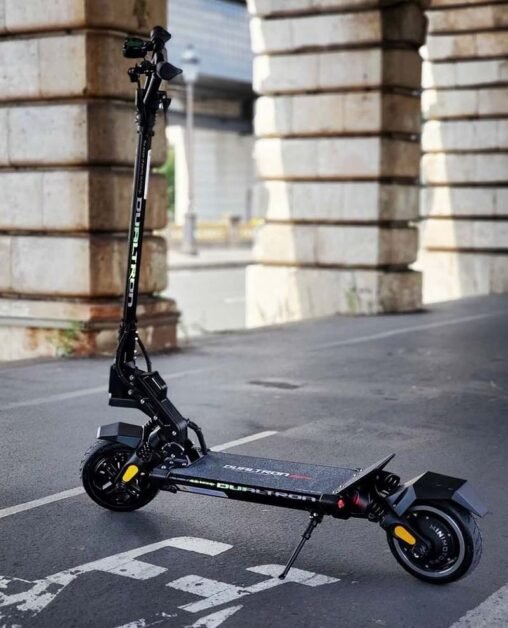 Speed and Acceleration
Dualtron Mini is powered by a rear hub motor, which has 1,450 watts in it. The maximum speed is about 30 mph.
There are 3 different speed modes:
Level 1 – Speed is limited to about 10 mph.
Level 2 – Speed is limited to about 20 mph.
Level 3 – Maximum speed mode (32 mph).
Acceleration is rather good. It's not ultra sharp but nice and smooth. By the way, you can change the initial take-off speed from the display.
Also, you can choose between kick start or zero start mode.
In the acceleration test with a 175 lb rider, it took 6.14 seconds to cross 100 feet distance. It is slightly better than similar single-motor scooters like Emove Cruiser or Zero X9.
Does Dualtron Mini have cruise control?
Yes, Dualtron Mini has cruise control. Just keep the constant speed for a while to engage the cruise control. There is a small indicating light on top of the speed.
Hill Climbing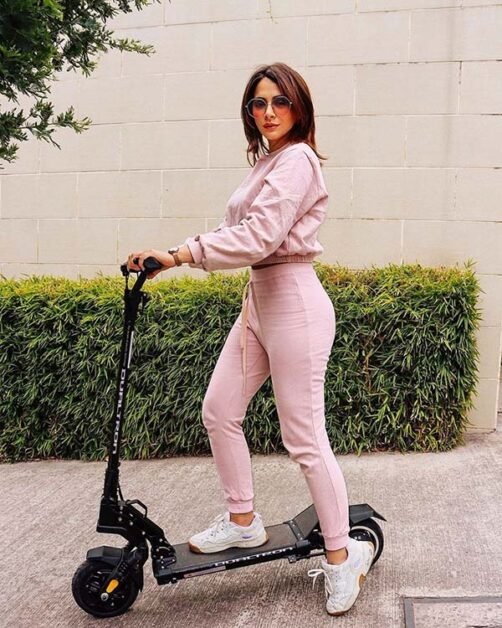 Since the overall performance has been above average, I thought Dualtron Mini can easily climb some steep hills too. Actually, it can but the result was a little bit worse than expected.
On a slope of about 12 degrees, the motor starts groaning. On speed mode 3, the speed dropped to as low as 12 mph on a 12-degree hill. Normally, the top speed in level 3 is about 30 mph.
So, Dualtron Mini can climb quite steep hills but it just takes some time.
Battery and Range
The battery is located inside the deck. Compared to other "entry-level" scooters, the battery is relatively large.
The 52V 17.5Ah LG battery contains 910 Wh of energy capacity. It's enough to provide a maximum range of 34 miles (54.7 km).
Those range numbers are usually a bit off because it depends a lot on the terrain and the weight of the rider. However, when riding in speed mode 2, it's quite realistic to ride about 30 miles.
In a range test with 175 lbs rider, where the scooter was only in speed mode 3, Dualtron Mini managed to cover about 25 miles. I think it's nothing to complain about.
If the battery runs completely empty, it would take about 10 hours to recharge.
Brakes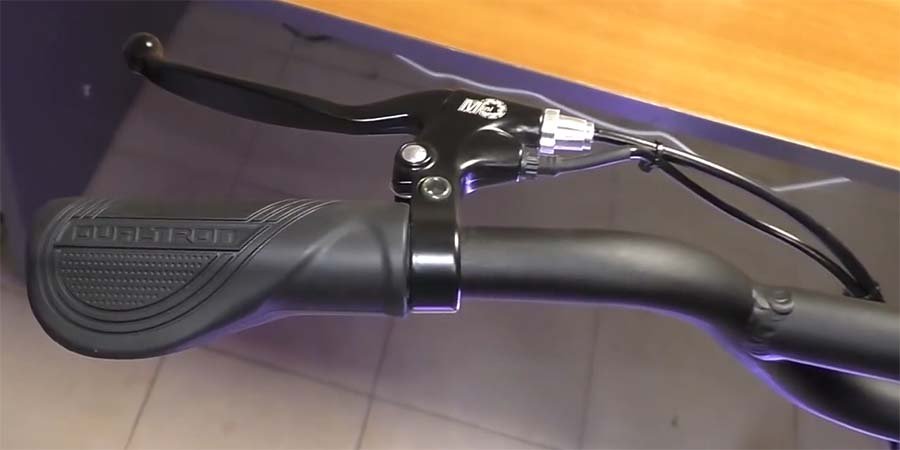 Dualtron Mini comes with a simple yet reliable rear drum brake. You can easily adjust the braking force. Also, there is an anti-lock braking system (ABS) inside the brakes, which gives you extra safety.
Brakes are quite efficient. In addition to drum brakes, there is also e-braking. There is plenty of stopping power. Compared to other similar scooters, the Dualtron Mini has much better brakes.
Suspensions
There are dual spring shocks at the front and also at the rear. They are quite firm. Definitely not soft.
They provide enough absorption to handle some occasional bumps. Riding on grass is also doable.
However, it's not an off-roading machine.
Dualtron Mini Design and Features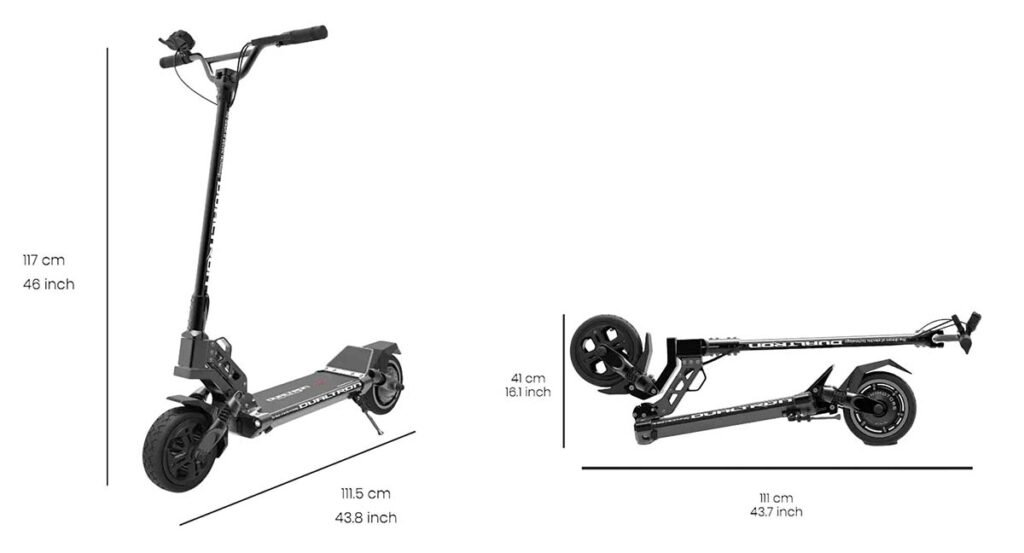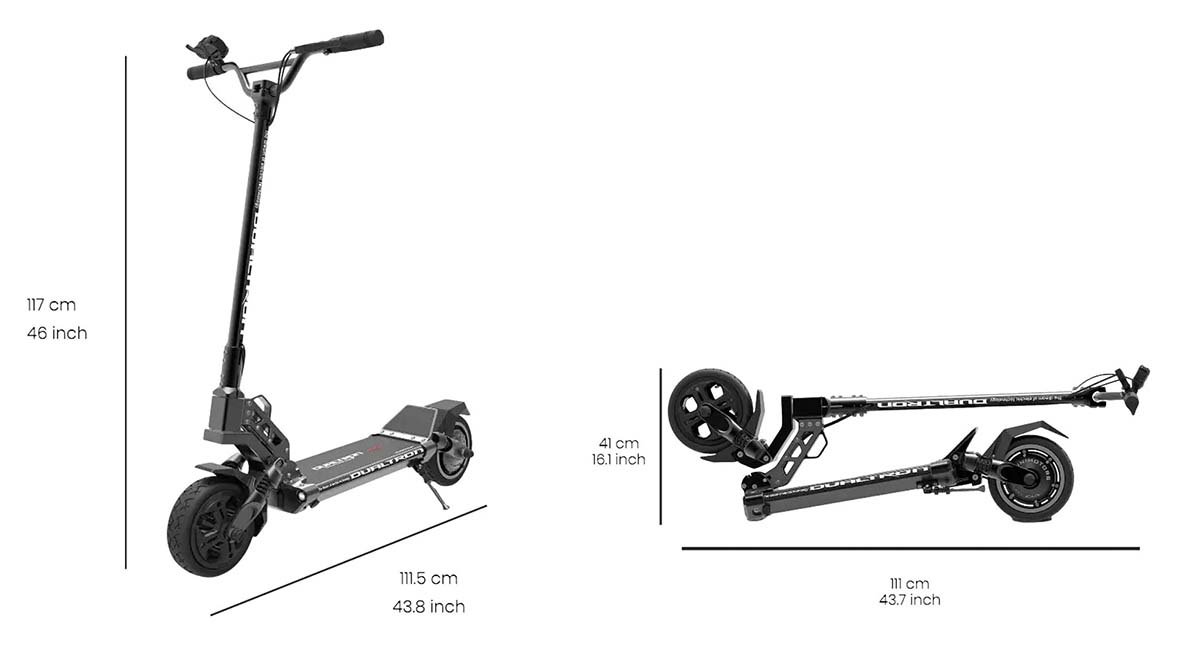 Build Quality
The frame of Dualtron Mini is made from strong aviation-grade aluminum alloy. The shaft is made from steel and the covers are from plastic. Everything feels solid and sturdy.
The scooter is strong enough to support the rider of 220 pounds.
You may hear a jingling noise when riding. It's most likely the lever on the folding mechanism. You can just tension the bolt on the side of it and it fixes the problem.
Also, the kickstand can make a similar noise when riding.
The handlebar height is 40″ from the deck and the position is fixed. You can't make it shorter or longer.
The overall build quality seems very good.
Is Dualtron Mini Waterproof?
Dualtron Mini does not have any official water resistance. It probably won't stop working after seeing a few drops of water but you should definitely not ride with it while raining.
The scooter has many components that don't like water – the battery, controller, display.
The display can be extra sensitive to any moisture. Some even recommend always keeping a spare zip lock baggie to protect the EY3 display even from the lightest drizzle.
Portability
Although the scooter has "Mini" in its name, it is not very lightweight. It weighs almost 50 pounds. It's mini only compared with other Dualtron scooters.
Since the deck of Dualtron Mini is short, it should fit in most of the trunks.
Folding Mechanism
The folding mechanism is very robust.
The folding of the scooter is fairly easy. You just have to release the pin and pull the lever. If you fold the scooter up you hear the click. So you don't have to worry about something getting loose when carrying it.
Since the handlebars are not collapsible, you can't reduce the width of the scooter.
Dualtron Mini dimensions:
Unfolded – 48″ x 24″ x 43″
Folded – 48″ x 24″ x 15″
To fold the scooter back up you have to pull the same lever. Again you hear the clicking sound when the scooter is completely unfolded.
Wheels and Tires
It has 9″ x 2″ pneumatic tires. Pneumatic tires might get some occasional flats but combined with suspensions, they provide good ride quality.
There are separating rims, so it is quite easy to change tires in the case of flats. The same system applies to the rear wheel as well.
Deck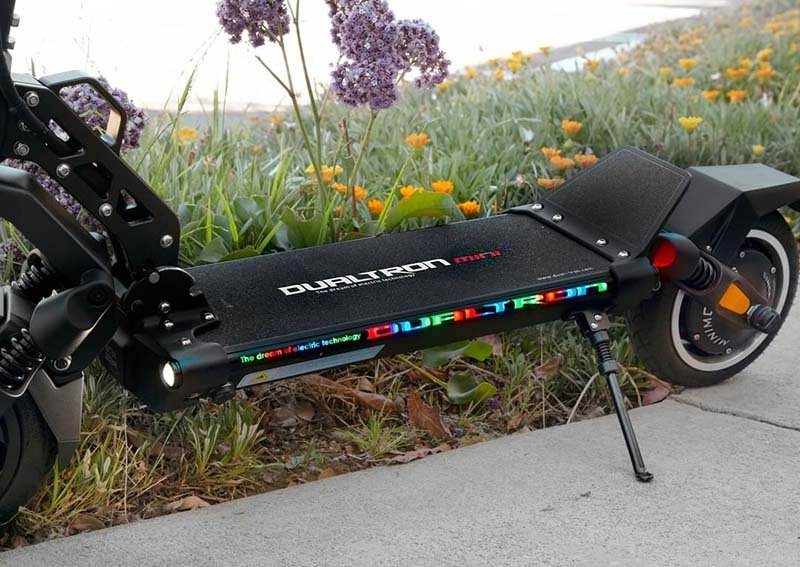 The deck of Dualtron Mini is wide but short. The dimensions of the deck are 17 x 7 inches. Some say that the deck is too short but in my opinion, it is something you can get used to.
The surface of the deck has enough grip. Additionally, there is a nice footrest at the back, so it's comfortable to balance yourself on the scooter.
Cockpit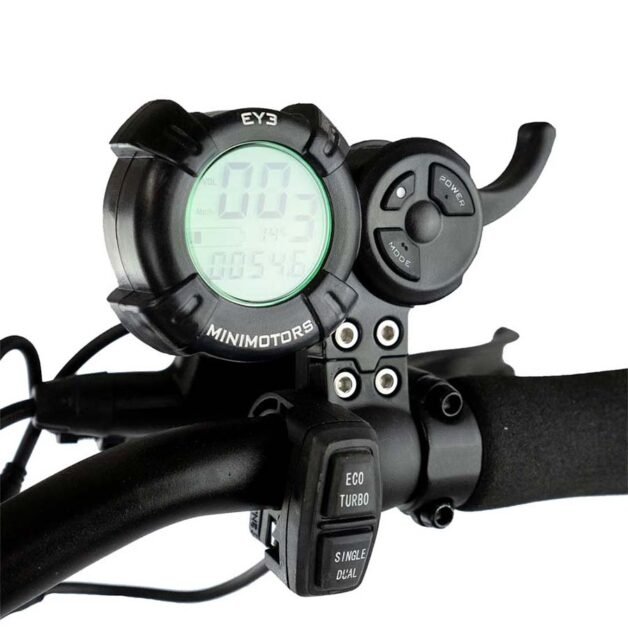 On the left side of the handlebar, you can find a 4-finger brake lever. It feels comfortable.
On the right side, there is an EYE display with an index finger throttle.
It's a matter of personal preference but for me, it would be much more intuitive if the throttle is activated by a thumb. Some users have said that the reach of the throttle is quite far.
The display itself is excellent. You can read from it clearly no matter if it's a day or night. You can check the speed, range, current riding mode, and battery percentage from the display.
Lights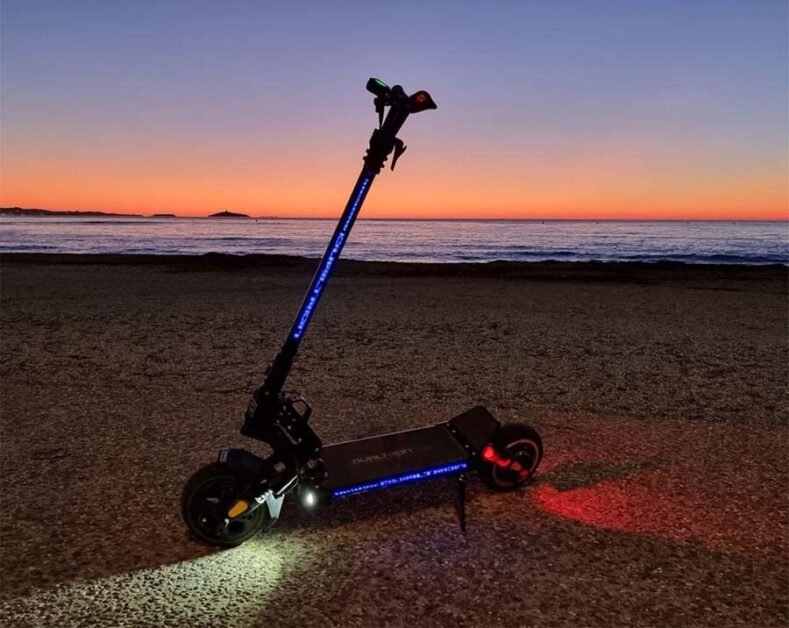 When you power on the scooter, lots of LED lights start to up the deck and stem, which makes Dualtron Mini very cool. You can change the lighting pattern of the stem and the deck to your own liking.
Besides looking cool, those lights keep you safe when riding in the dark.
The scooter also has a brake light feature. The brake light flashes even when other lights are turned off. Also, there are double front headlights.
Ride Quality
Riding with Dualtron Mini is enjoyable. It has a nice top speed. The acceleration curve is smooth. There's nothing to complain about.
Although the scooter is meant to ride on a paved road, it is quite forgiving on some light trails as well.
Suspensions do their work quite well. You can easily ride with it on the grass or do some light off-roading.
Comparisons
Dualtron Mini vs Emove Cruiser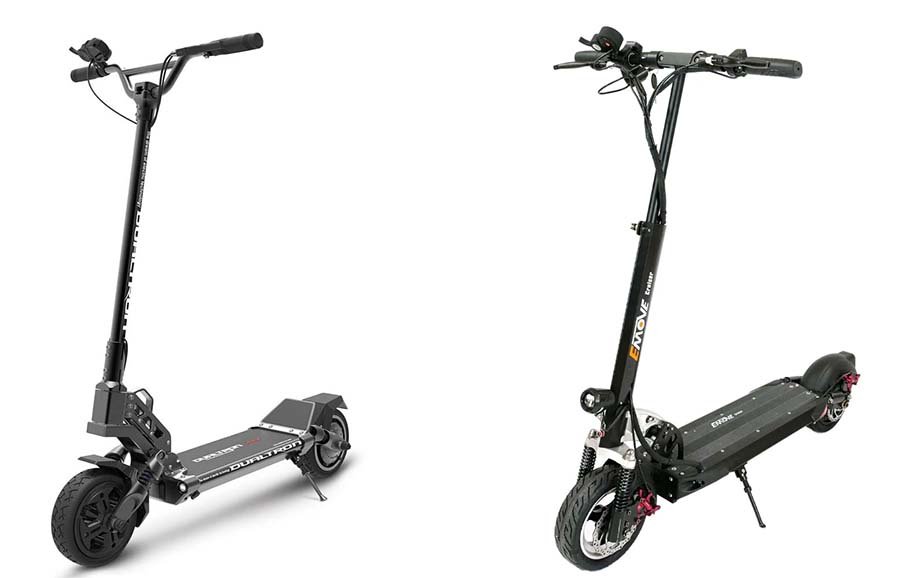 Those two scooters are in a very similar price range. However, they are quite different.
One of the biggest downsides of Dualtron Mini is that it has no IP rating. Emove Cruiser on the other hand has an IPX6 rating. The Cruiser is famous for its nearly waterproof design.
Also, Emove Cruiser has a bigger battery, which provides much more range. At the same time, Dualtron has a much more powerful motor, which should provide better acceleration and top speed.
Anyway, you shouldn't go much wrong with either of them. See the discussion on Reddit.
| | | |
| --- | --- | --- |
| Dualtron Mini | | Emove Cruiser |
| 1,450W | Motor | 1,000W |
| 32 mph | Max Speed | 30 mph |
| 52V 17.5Ah | Battery | 52V 30Ah |
| 34 miles | Max Range | 62 miles |
| Rear drum brake + ABS | Brakes | XTECH Hybrid hydraulic |
| 48 lbs | Weight | 52 lbs |
| 220 lbs | Weight Capacity | 352 lbs |
| 9″ pneumatic tires | Tires | 10″ pneumatic tires |
| – | IP Rating | IPX6 |
| $1,499 | Price | $1,399 |
Dualtron Mini vs Apollo Ghost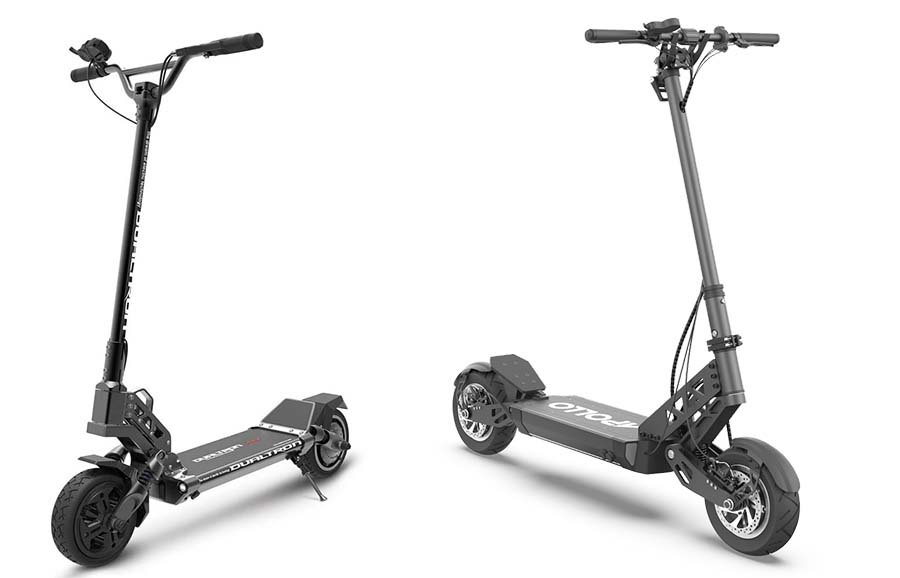 The biggest difference here is that one is with a single motor, while the other has dual motors.
Although the total wattage is similar, scooters with dual motors tend to be with much sharper acceleration. Also, dual-motor scooters are much better at climbing hills.
The existence of the water-resistance rating is definitely an advantage of Apollo Ghost. Also, it has better mileage.
However, Dualtron Mini is known for its compact design and is much more lightweight.
| | | |
| --- | --- | --- |
| Dualtron Mini | | Apollo Ghost |
| 1,450W | Motor | 2 x 800W |
| 32 mph | Max Speed | 34 mph |
| 52V 17.5Ah | Battery | 52V 18.2Ah |
| 34 miles | Max Range | 39 miles |
| Rear drum brake + ABS | Brakes | Hydraulic/Mechanical Disc + Electric Brake |
| 48 lbs | Weight | 64 lbs |
| 220 lbs | Weight Capacity | 300 lbs |
| 9″ pneumatic tires | Tires | 10″ pneumatic |
| – | IP Rating | IP54 |
| $1,499 | Price | $1,599 |
Dualtron Mini Review Conclusions
Dualtron Mini is the first single-motor electric scooter in Dualtron's range. That doesn't mean it has low quality.
You can see it's a quality product right after unboxing it. It has good build quality, durable components, and great performance.
Dualtron Mini is for people who want premium quality without breaking the bank. It's something that makes your everyday commutes much more enjoyable.