Welcome, electric scooter enthusiasts and curious readers! Today, we dive deep into the world of Varla's latest offering, the Eagle One V2.0.
If you've been on the hunt for a comprehensive review that covers every nook and cranny of this upgraded beast, you're in the right place. This review promises insights that will help you make an informed decision.
So, strap in and read along as we embark on this electrifying journey.
Electric Wheelers is reader-supported. Although we independently research and test products, we may receive a commission on purchases made from our chosen links. Read more…
Varla Eagle One V2.0 Review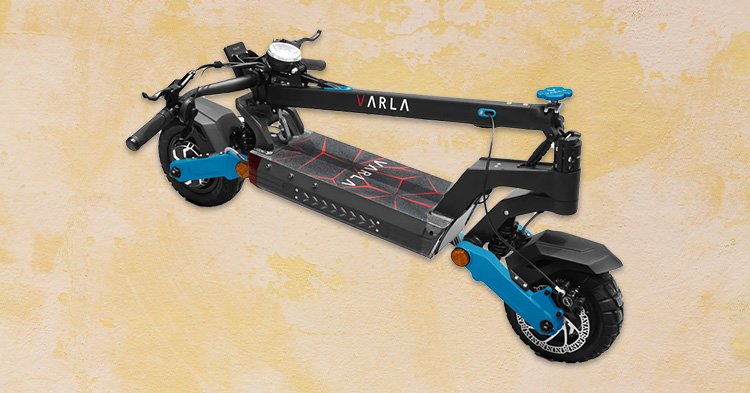 2 x 1000W Motors | 40mph Top Speed | 1082 Wh Battery | 42-Mile Range | 330 lbs Max Load
The Varla Eagle One V2.0 is not just another electric scooter; it's a testament to how a Varla brand can take feedback, innovate, and produce a machine that's better in almost every conceivable way.
Built for both the urban jungle and off-road adventures, this scooter is designed for those who demand performance without compromising on style or safety. Whether you're commuting through city streets or exploring rugged trails, the Eagle One V2.0 promises a ride that's smooth, powerful, and exhilarating.
Varla Eagle One V2.0 Performance
Dual Motors
The Varla Eagle One V2.0 is powered by dual 1000W motors, providing a combined output of 2000W. This impressive power allows the scooter to reach a top speed of up to 40 mph, making it one of the fastest electric scooters in its class.
The dual motors offer different power levels, enabling riders to choose between Eco mode for energy conservation and Turbo mode for maximum acceleration.
When in Turbo mode, riders can experience rapid acceleration, allowing them to reach top speeds in a matter of seconds.
The dual motors not only provide speed but also ensure a smooth and consistent ride, even on uneven terrains.
Related: Best Dual Motor Electric Scooters
Hill Climbing Ability
The Varla Eagle One V2.0's hill-climbing prowess is nothing short of impressive. With its dual motors, it can tackle a wide range of inclines with ease.
The scooter can effortlessly handle gradients of up to 30%. This means that even steep urban hills or rugged off-road inclines won't pose a challenge.
One of the challenges with many electric scooters is the loss of power on inclines. However, the Eagle One V2.0 maintains consistent power delivery, ensuring that the speed doesn't drop significantly even on steep slopes.
Bigger Battery and Longer Range
The Varla Eagle One V2.0 boasts a significant upgrade in its battery department, ensuring riders can travel longer distances without the constant worry of running out of juice.
The V2.0 is equipped with a more substantial battery, providing a higher capacity (52V/20.8Ah) compared to its predecessor (52V/18.2Ah). With the enhanced battery, the Eagle One V2.0 offers an impressive range of up to 42 miles.
A bigger battery doesn't just mean a longer range; it also ensures consistent power delivery, especially when tackling challenging terrains or when the scooter is operating at higher speeds. Riders can expect a steady performance throughout the battery's life cycle.
Despite its larger capacity, it offers a reasonable charging time. However, if the battery gets completely empty, it takes up to 10 hours to get it recharged. But since the battery has 2 charging points, you can reduce the charging time to 5-6 hours with two chargers.
Hydraulic Brakes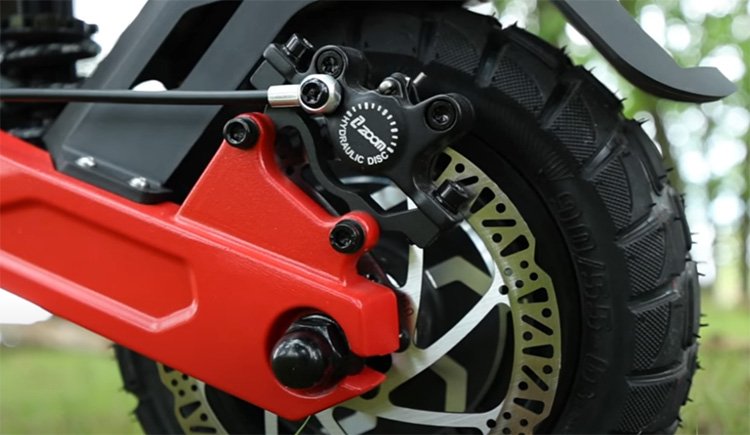 Safety and control are paramount when it comes to electric scooters, especially those designed for high speeds and challenging terrains. The Varla Eagle One V2.0 recognizes this and equips its scooter with advanced hydraulic brakes.
Hydraulic brakes are known for their exceptional stopping power. They use a fluid (usually brake fluid) to transfer force from the brake lever to the brake pads, ensuring a smooth and powerful braking action. This means that riders can confidently navigate at high speeds, knowing they can come to a quick and safe stop when needed.
Varla Eagle One Design and Features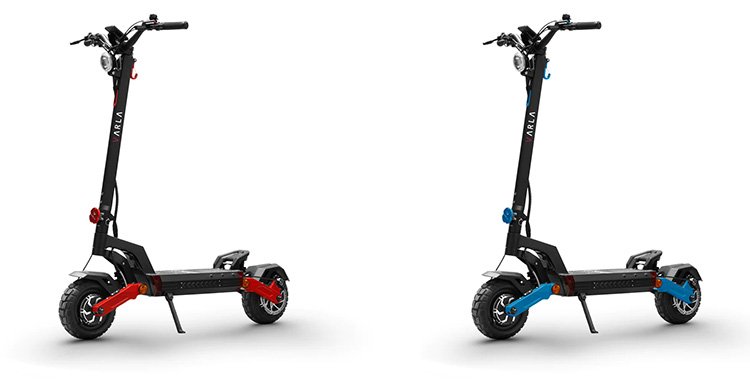 Deck and Frame
The frame of the Eagle One V2.0 is constructed using high-quality aerospace-grade aluminum. This material is known for its strength-to-weight ratio, ensuring that the scooter remains lightweight without compromising on durability.
Thanks to the strong materials used, the V2.0 boasts an impressive payload capacity, accommodating riders weighing up to 330 pounds (150 kg). This makes it suitable for a wide range of users, from lightweight riders to those on the heavier side.
The deck of the Eagle One V2.0 is spacious, allowing riders to comfortably place their feet. This ample space ensures stability, especially during high-speed rides or when navigating challenging terrains.
Additionally, the deck is equipped with a high-grip surface. This textured grip ensures that riders' feet remain firmly in place, preventing slips and providing added safety.
Dual Suspensions
The primary function of suspensions is to absorb shocks and bumps from uneven terrains. With dual suspensions in place, the Varla Eagle One V2.0 ensures that riders experience minimal jolts, even when navigating rough or off-road terrains. This means less strain on the rider's body and a smoother overall ride.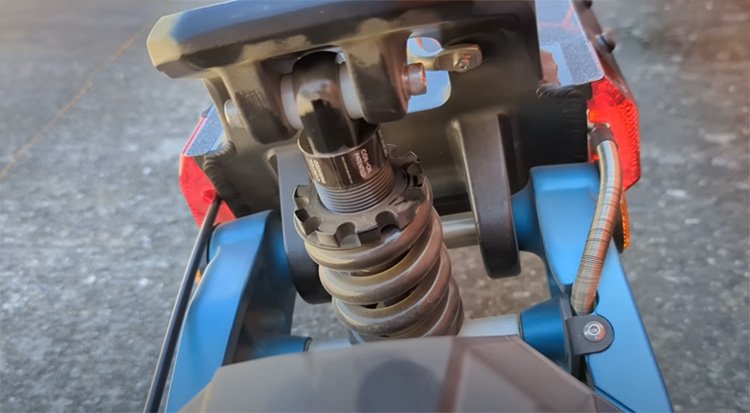 One of the standout features of the Eagle One V2.0's dual suspensions is their adaptability. Whether you're cruising on city streets, riding on gravel paths, or exploring off-road trails, the suspensions adjust accordingly, ensuring optimal ride quality across different terrains.
Wheels and Tires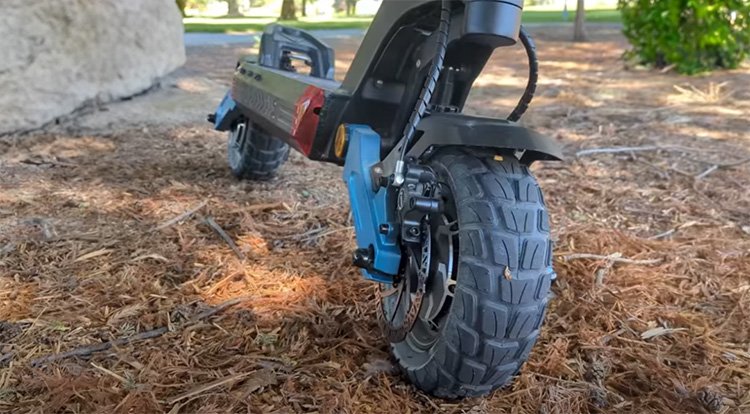 The Eagle One V2.0 features large 10-inch pneumatic tires. This size is optimal for maintaining stability, especially at higher speeds, and ensures that the scooter can comfortably handle various terrains.
The tires come with a versatile tread pattern that's suitable for both urban and off-road environments. This design provides excellent traction, reducing the chances of slipping on wet surfaces or loose gravel.
Wide Handlebar
The Varla Eagle One V2.0 boasts a handlebar that's notably wider than its predecessors, enhancing the rider's control and stability, especially during high-speed rides. This design choice not only provides a more comfortable grip but also ensures better maneuverability in various terrains.

On this expansive handlebar, riders will find an intuitive display that provides essential ride statistics, buttons for power and mode selection, and easy-to-reach brake levers.
The layout is ergonomic, ensuring that riders can access all controls without having to shift their grip, making for a safer and more enjoyable ride.
Portability
The Varla Eagle One V2.0 does present some challenges in the portability department.
Weighing in at a substantial weight, it's not the lightest scooter on the market. This heft is a testament to its robust construction and advanced features, but it does mean that carrying it up flights of stairs or long distances can be a workout.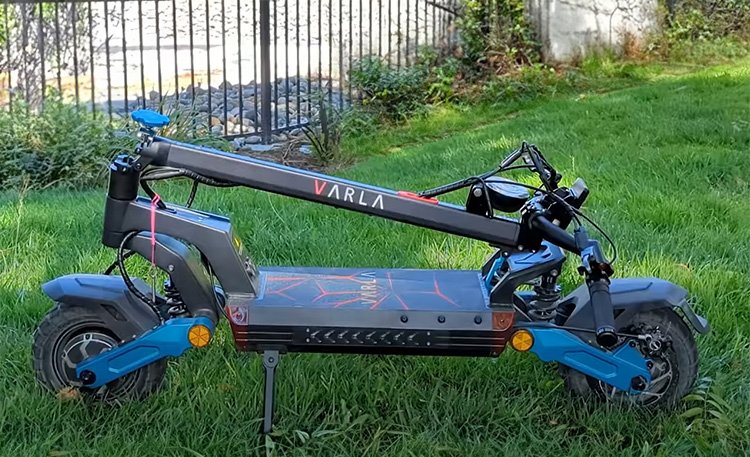 However, its foldable design ensures that it can fit into most car trunks, making it convenient for those weekend getaways or trips to the park.
If you're considering this scooter for daily commuting, it's worth noting its weight and thinking about any carrying or storage challenges you might face.
Lights
The Varla Eagle One V2.0 doesn't skimp on visibility. Equipped with bright front and rear lights, it ensures riders are seen during nighttime adventures or those early morning commutes.

The front lights illuminate the path ahead, providing clarity in low-light conditions, while the rear lights enhance safety by signaling to vehicles and pedestrians behind.
Additionally, the side reflectors give an added layer of visibility, ensuring that riders are noticeable from multiple angles. For those who prioritize safety and visibility, the lighting system on the Eagle One V2.0 is a significant plus.
Eagle One vs Eagle One V2.0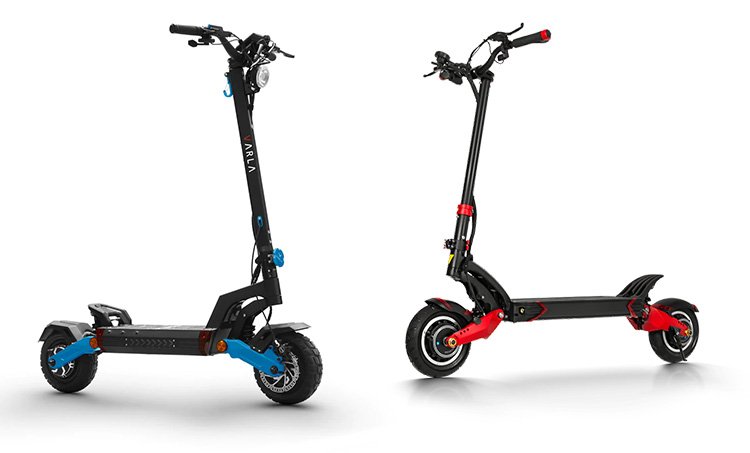 | | | |
| --- | --- | --- |
| Eagle One | | Eagle One V2.0 |
| 2 x 1000W | Motor | 2 x 1000W |
| 52V 18.2Ah (946 Wh) | Battery | 52V 20.8 Ah (1082 Wh) |
| 8-9h (1 charger) / 4-5h (2 chargers) | Recharge Time | 9-10h (1 charger) / 5-6h (2 chargers) |
| 40 mph | Max Speed | 40 mph |
| 40 miles | Max Range | 42 miles |
| 30 degrees | Hill Grade | 30 degrees |
| Dual hydraulic + ABS | Brakes | Dual hydraulic |
| Dual shock absorption | Suspension | Dual shock absorption |
| 77 lbs | Weight | 82 lbs |
| 330 lbs | Weight Capacity | 330 lbs |
| 10 x 3 pneumatic | Tires | 10 x 3.5 pneumatic tubeless |
| Front and Rear LED | Lights | Front and Rear LED + ambient lights |
| 4'5″-6'11" | Recommended Height | 4'5″-6'11" |
| 50.4″ x 25.5″ x 51.2″ | Dimensions | 49.2″ x 27.95″ x 51.97″ |
| 50.4″ x 25.5″ x 20.1″ | Folded Dimensions | 49.2″ x 27.95″ x 23.62″ |
| LCD | Display | 3.5-inch LCD |
| IP54 | IP-Rating | IP54 |
The transition from the Eagle One to its successor, the Eagle One V2.0, showcases Varla's commitment to innovation and improvement.
The V2.0 boasts a more robust battery, ensuring longer rides and fewer charging interruptions. Its wider handlebar offers enhanced control, and the improved lighting system prioritizes rider safety. Additionally, design tweaks in the frame and deck provide better durability and comfort.
While the original Eagle One set a high standard, the V2.0 elevates the riding experience, making it a worthy upgrade for enthusiasts and a compelling choice for newcomers.
Varla Eagle One Review Conclusions
The Varla Eagle One V2.0 is a testament to the brand's dedication to refining and elevating the electric scooter experience. With its powerful performance, thoughtful design enhancements, and a suite of features tailored for both urban and off-road adventures, it stands out as a top-tier choice in its category.
Whether you're upgrading from the original Eagle One or venturing into the world of electric scooters for the first time, the V2.0 promises a ride that's both exhilarating and reliable. It's a blend of innovation and practicality, making it a must-consider for any enthusiast.