Electric Wheelers is reader-supported. Although we independently research and test products, we may receive a commission on purchases made from our chosen links. Read more…
You would be forgiven for thinking that Apollo Air is a high-performance electric scooter. Even though it is a low-maintenance, entry-level scooter with a feature set that would make any beginner happy, its sporty, good looks tell a different story.
With its excellent build and exceptional ride quality, the Apollo Air leaves little, if anything, to be desired, at least as an introduction to electric scooters.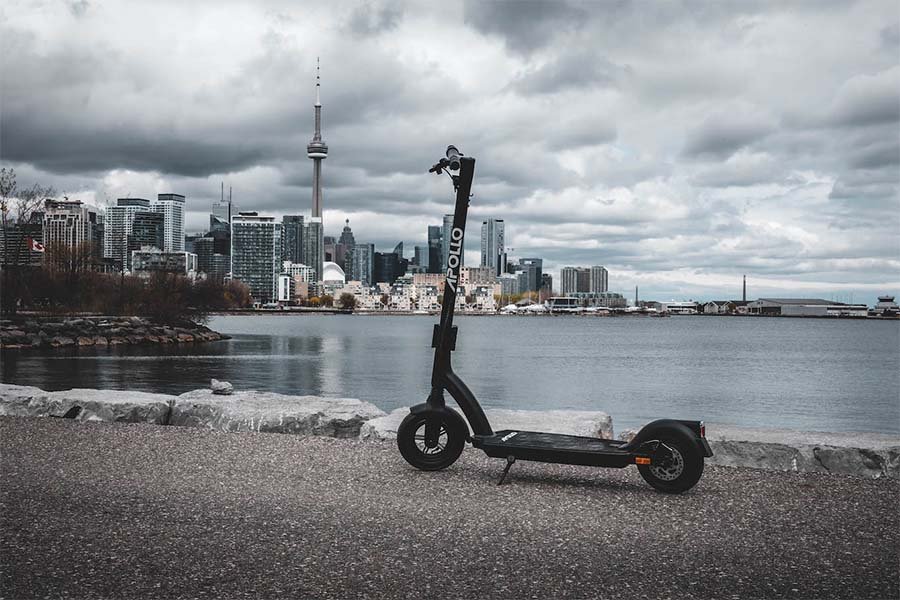 MSRP: From $649
Apollo Scooters
Overview
Who is it for?
There's no question that the Apollo Air is an excellent scooter for beginners under 220 pounds.
It has one of the cleanest cockpits you'll ever see. Even first-time riders can get the hang of it pretty quickly. Its simplicity extends to how well it handles different riding conditions, which is aided by its exceptional ride stability. That kind of beginner-friendly operation inspires confidence and makes for a fun, first-time riding experience.
Apollo Air / Apollo Air Pro Full Specs
| | | |
| --- | --- | --- |
| Apollo Air | Model | Apollo Air Pro |
| 250W | Motor | 350W |
| 15 mph | Top Speed | 18 mph |
| 36V 7.6Ah (274Wh) | Battery | 36V 10.4Ah (374Wh) |
| 12 miles | Range | 18 miles |
| Rear Disc | Brakes | Front Drum |
| Front Single Spring | Suspension | Front Dual Spring Fork |
| 10″ (front), 8.5″ (rear) | Tires | 10″ (front & rear) |
| 35 lbs | Weight | 38.5 lbs |
| 220 lbs | Max Payload | 220 lbs |
| IP54 | IP Rating | IP54 |
Pros
Easy handling and great stability
Suitable for beginners
Easier tire changing thanks to rear split rim
Cons
Dim display
Brake on only one wheel
Performance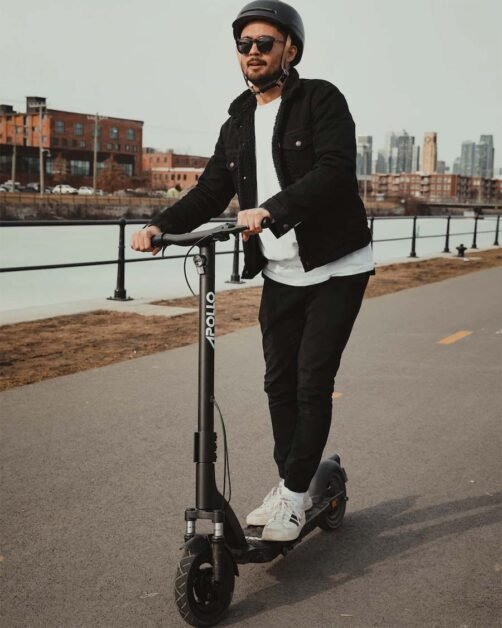 Speed & Acceleration
The top speed of the Apollo Air ranges from 13 MPH – 15 MPH, depending on rider weight. On the Apollo Air Pro, the speed tops out at a much higher 18 MPH – 21 MPH.
There's also a significant difference in acceleration. The base model goes from 0 – 15 MPH in a tame 7.1 seconds, but the Air Pro can reach the same speeds in 6 seconds.
Both electric scooters have plenty of juice for everyday commuting. If you're an absolute beginner, you won't be missing too much if you go for the cheaper and slightly slower Apollo Air.
Hill Climbing
Hill climbing is not one of Apollo Air's strong suits. You can ride uphill on gentle slopes (4 – 6% grade) without losing speed, but climbing up steeper hills will be a slow and dreary affair.
For example, it takes about 33 seconds to crawl up a 60-meter slope with a 10% grade while carrying a 163-pound rider. It will get to the top, for sure, but at a sluggish 4 MPH.
Battery & Range
With its incredibly efficient build, it's no surprise that the Apollo Air has a better range than expected.
The single-motor scooter can attain 14 miles on a single charge, which is two miles more than what the manufacturer suggests on paper (12 miles). Its 36V 7.6Ah battery is predictably smaller than the Pro's 10.4Ah battery cells, which delivers a range of at least 18 miles on a single charge.
Brakes
Both brakes on the Apollo Air are found on the rear wheel. It features primary disc brakes plus a backup regenerative brake, which slows down the motor using electric current while recharging the battery (thus the term "regenerative").
This combo gives you an emergency braking distance of 5.3 meters—not the fastest or safest, but decent enough. A more significant concern is that braking feels a bit too abrupt, so the Apollo Air doesn't stop as smoothly as you'd want it to.
Blame that on the regen brake, which is tuned to be too strong, and unfortunately, the lack of performance settings (p-settings) on the base model means you can't tweak it to be gentler.
Nevertheless, you never feel like you're about to get tossed off the scooter. If you really care about stopping power, the Apollo Air Pro is a safer option. It has a dual braking configuration featuring a front drum brake in addition to the rear disc and regen brakes combo. That gives it a shorter braking distance (about 35% shorter) than the base model.
Design and Features
Build Quality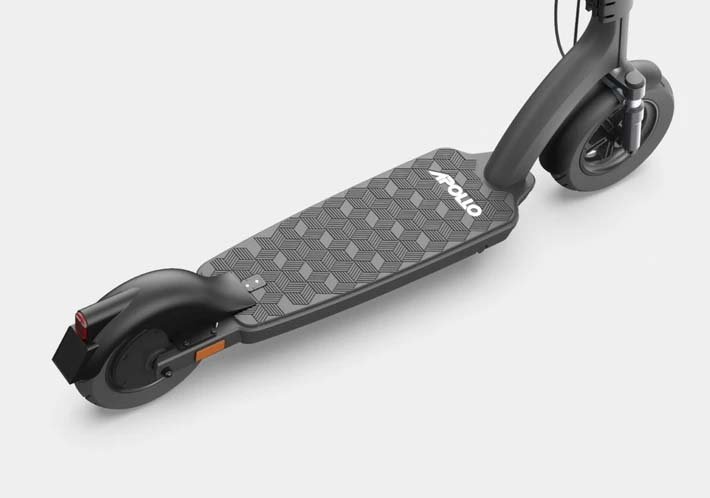 Wherever you're riding the Apollo Air, it feels durable and well-built. It looks and feels like a performance-level scooter, with a design that belies its entry-level status.
Dual fenders, pneumatic tires, and racing-style handlebars are not features to sneeze at, especially at this price point. There is a certain sportiness that it achieves with its all-black, angular design, which immediately suggests that it is a fast, fun scooter.
It's not all skin-deep either. With progressive profile tires (a larger front tire and a smaller rear tire), the Apollo Air is capable of impressive movement, whether you're making turns at speed or flying down a straightaway.
It feels more solid than your average entry-level scooter. Such build quality can be more forgiving to beginners, and you can get your bumps and falls out of the way without worrying about permanent damage.
Is Apollo Air Waterproof?
The Apollo Air is fairly weatherproof, and you have two things to thank for that. First, it has great fenders. They do a fantastic job of keeping the deck bone-dry when you ride on wet surfaces.
Second, it has an IP54 rating, and a quick look at its insides suggests that this is more than just a marketing gimmick. The bottom cover and the inner cover completely overlap, and the motor is high up against the deck, where it is perfectly safe from accidental leaks and splashes.
The connectors inside the deck have heat shrink wrap all around them, and even though they're not precisely waterproof, that is sufficient protection for everyday use.
Last and certainly not least, the display is a trooper that can survive a little rain every now and then. As long as you don't submerge the Air, it is a perfectly water-resistant electric scooter.
Ride Quality
If you had to choose a scooter based on the merit of ride quality alone, you'd be hard-pressed to find anything smoother or stabler than the Apollo Air at this price point.
Coupled with decent spring suspension, its progressive tire setup gives beginners the confidence to carve around obstacles and hit corners at full throttle. You would not be that bold on most entry-level scooters.
As with all other Apollo scooters, the single motor is whisper quiet whether you're on walk mode (4 MPH max speed) or sport mode (15 MPH max speed), and it's nice that you can sneak up almost without giving away any sound.
Wheels, Tires & Suspension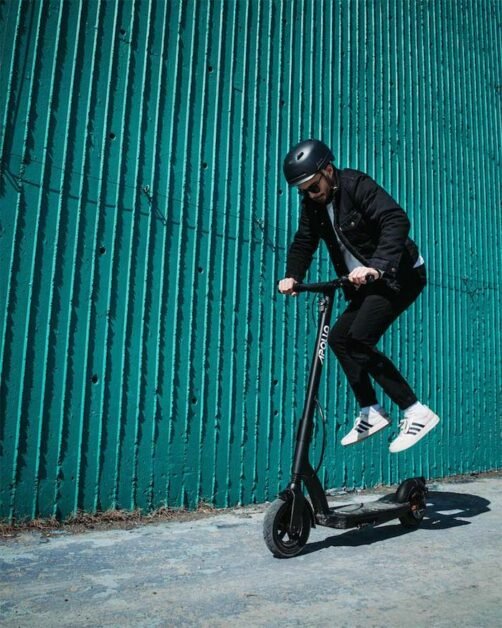 The feature that contributes the most to the Air's exceptional ride quality is the tires. The pneumatic road tires provide extra cushioning against minor bumps and potholes, making them crucial to the scooter's butter-smooth performance.
They also make the scooter more stable because they have a much larger contact patch (area of the tire that touches the ground) than most scooters in this category do. Wider tires provide significantly more ride stability, and you'll feel it when leaning into corners or tearing down straight lines at speed.
The wheels can get flats since they're air-filled, but the rear tire is mounted on a split rim. That makes it easier to change since you don't have to remove it to get to the inner tube.
The front suspension is adequate for small bumps but bottoms out when you encounter medium bumps. It makes quite the racket, although it's more of an annoyance than a cause for concern.
Portability
You wouldn't exactly call the Air ultra-portable, but at an airy 35 pounds, it's not going to be difficult to carry up a flight of stairs or lift into a trunk.
It does have a folding stem, but not folding handlebars as some scooters in this class do. However, it measures 47x22x20 inches when folded, so it won't be problematic to commute with or store out of sight. The best place to hold it when folded is around where the cables enter the stem.
Folding Mechanism
The Air's folding mechanism is a simple hook-and-ring configuration that lets you fold and unfold the scooter in less than ten seconds. The hook is well-designed and folds into a magnetized cavity to become flush with the stem. It hooks through a flip-up ring on the deck, which is the anchor point. When not in use, the ring blends in nicely with the deck.
Lights
Out of the box, the Apollo Air has a high-mounted headlight, a fender-mounted taillight (responds to braking), and orange reflectors on either side of the rear wheel.
The headlight is sufficient, but you'll need something brighter and more focused if you intend to do a lot of night traveling. However, it's nice that the light's angle is adjustable to suit your needs.
Cockpit
The Air offers a clean and uncluttered cockpit with controls that are perfect for first-time riders. On the left side of the handlebars, there is a brake lever for stopping, and on the right, a thumb throttle for accelerating.
The display sits right at the center, and though it could be brighter, it's not bad for the price.
You can perform both actions without taking your hands off the scooter. The brake lever requires a bit of effort to pull down, but the thumb throttle is ergonomically placed and intuitively responsive. Handgrips are comfortable and look as great as they feel.
Display Controls
The display of Apollo Air is actually very intuitive. But there is only one button. How can I chance those different settings you might ask?
Here is the map to alter different settings on Apollo Air (Pro):
Long Press (3 seconds) – Power on/off
Short Press – Change the speed mode

Level 1 (no colour) – top speed 4 mph
Level 2 (green) – top speed 11 mph
Level 3 (red) – top speed 16 mph

2 Successive Short Presses – Lights on/off
3 Successive Short Presses – Activate/deactivate #Cruise mode"
8 Successive Short Presses – Access P-settings

P1 – cruise control on/off
P2 – change speed unit (mph/kph)
P3 – activate/deactivate "kick to start mode"
For cycling through the settings, you have to press the brake lever.
For changing the actual value, press the throttle.
Comparisons
Apollo Air vs Apollo Air Pro: Which One to Choose?
Does it make sense to spend an extra $200 on the Apollo Air Pro?
The Pro variant weighs exactly the same as the base model, but it offers:
more extended range (18 miles)
higher top speed (up to 21 MPH)
more braking power in the form of dual mechanical brakes (it sports a drum brake up front).
The Pro is also marginally better at hill-climbing thanks to its 350W motor, which is 100W more than the Air.
Build quality is pretty much the same save for the tire configuration. The Pro has 10-inch pneumatic tires upfront and in the rear, while the Air's rear tire measures 8.5 inches.
The Pro's front dual spring may perform better against medium bumps and potholes, but they both lack any form of rear suspension. Each scooter also has the same waterproof rating.
Apollo Air vs Segway Ninebot MAX vs Xiaomi Mi M365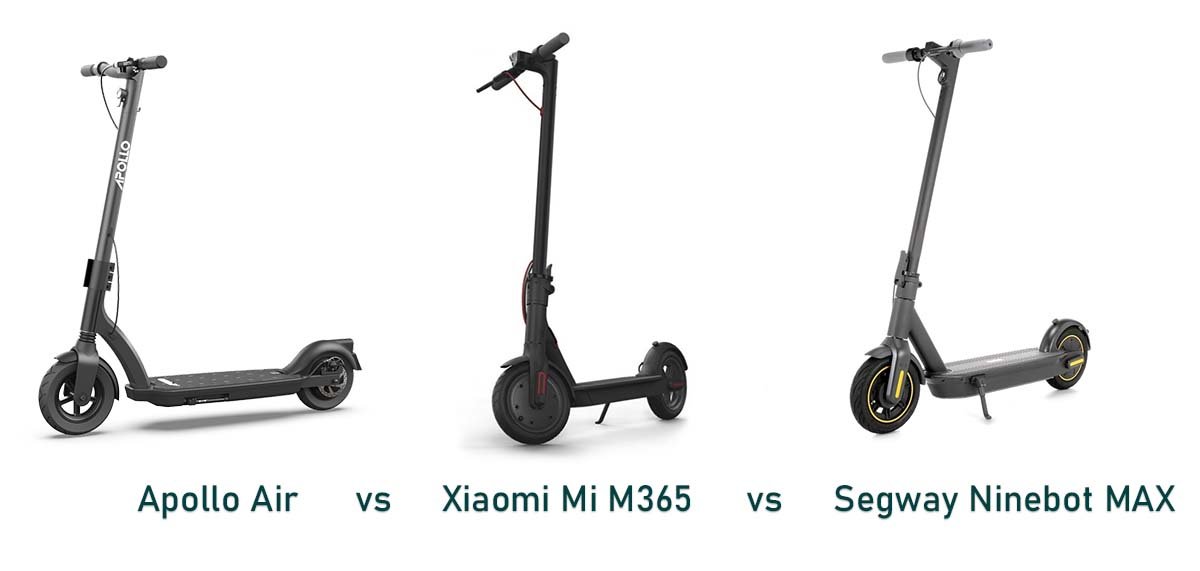 The Apollo Air is cheaper than both the Segway MAX and the Xiaomi Mi M365, but not so much that you'd categorize them in different price tiers.
The M365 is the "undisputed king of scooters," if the stellar reviews around it are anything to go by. Although it sports a similar single 250W motor configuration, it's markedly more powerful because it has a peak power output of 500W, giving it quicker acceleration (0 – 15 MPH in 6.3 seconds), faster top speeds (18 MPH), and better hill-climbing ability than the Apollo Air.
The Ninebot MAX is a kick-start scooter that lacks the zero-start ability of its peers, so in that respect, the Air and the M365 are better options. However, it is beefier and has a much better range (28 miles) than either of the two scooters, so it is the better long-distance micro-mobility device.
For a few extra hundreds, you can go either way, but that's not to discredit the nearly flawless Air, whose performances cannot be rivaled by any other scooter that costs less than $600.
Conclusion – Is Apollo Air Worth It?
The Apollo Air might be the perfect entry-level scooter if the price is your biggest consideration. Blow for blow, it outperforms nearly all the other offerings in this overcrowded price range and offers infallible build quality to assure you that it's not just any other cheap electric scooter.
Apollo outshines its competitors with exceptional ride quality, and it's a marvel that they can achieve that for riders with a small budget.
If you need a budget commuting device that will comfortably get you from point A to B and back, all the while keeping you comfortable and looking stylish, then the Apollo Air is the best you can hope for.