Black Friday takes place on the first Friday after Thanksgiving. It's a big shopping holiday, where lots of companies make huge sales and deals.
Since electric bikes are generally expensive gadgets, Black Friday provides great opportunities to get yourself a new e-bike much cheaper.
The research by Adobe reveals that the biggest discounts for electronics and sporting goods are in November.
In this article, we bring you the best Black Friday deals on e-bikes we managed to find.
Electric Wheelers is reader-supported. Although we independently research and test products, we may receive a commission on purchases made from our chosen links. Read more…
TOP 10 E-Bike Black Friday Deals
Wing Bikes – Up to $700 Off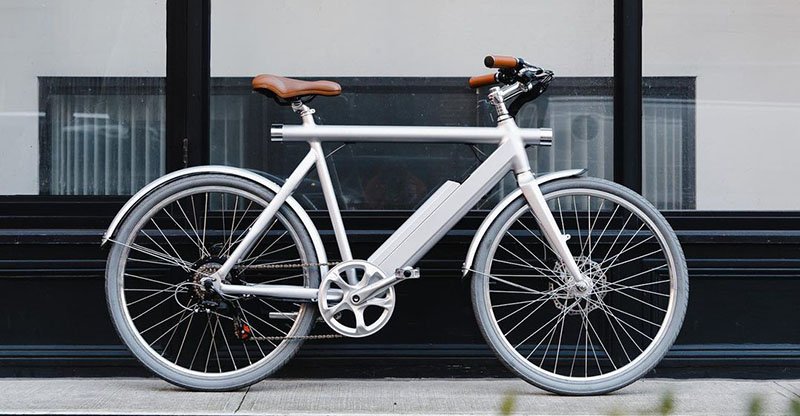 Wing Bikes were founded in 2017 in New York and they are famous for their unique frame design. Their electric bikes are made for everyday commuting.
They have in their selection a city bike, an all-terrain fat bike, and a city bike with a step-through frame.
Some specialties of Wing bikes are:
Alarm system
Customizable design
Removable battery
During Black Friday of 2022, Wing Bikes are having the biggest sale in the company's history.
Wing Bikes Black Friday offers:
Up to 40% off of all bikes
Free throttle + fenders ($120 value)
Free shipping
Vanpowers – Up to $650 Off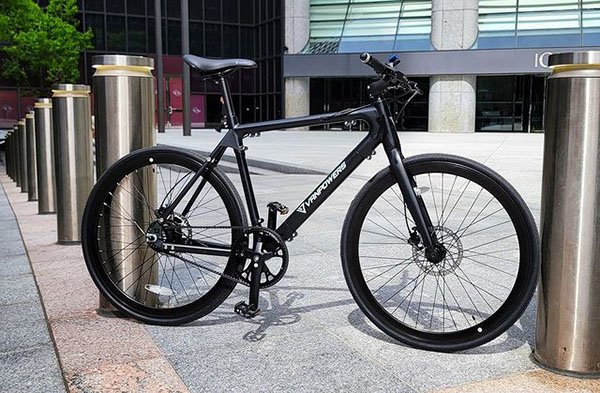 Vanpowers is the youngest e-bike brand on our list. The company was founded in 2022. So it's the first Black Friday they can take part in.
There are 4 different electric bikes in the Vanpowers selection:
City Vanture
Manidae
Commuter
Seine
Each bike has its own qualities and purpose. There's a model for commuting, off-roading, and for just cruising around.
You can get up to $650 off of Vanpoers Manidae. But they have very generous offers on other models as well. For example, you can get Vanpowers Seine, which has a mid-drive motor, for just $2,449 (saving $550).
In addition to cheaper price tags, they give free accessories for some of the bikes.
Himiway – Up to $600 Off
Like many other e-bike brands on this list, Himiway is also having the biggest sale in its history.
Although -15% doesn't seem like a lot, it actually is. A normal price for Himiway Cobra Pro is $4,000. If we take off 15%, it means you could get the bike during Black Friday for just $3,400. It's quite a big sale.
Himiway has a very wide range of different e-bikes. You can choose between city cruisers, mountain bikes, and cargo bikes. They even have a moped-style e-bike in their selection.
So, you should definitely check out the Himiway Black Friday sale.
Velowave – Up to $450 Off + Free Accessories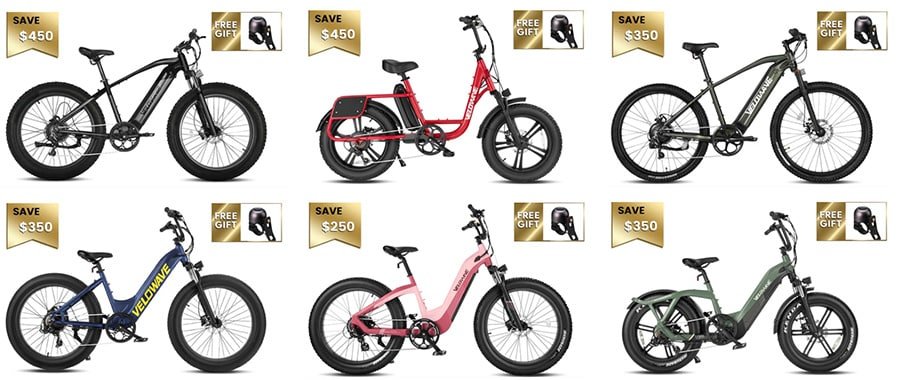 It has been a very fruitful year for Velowave. They have launched several new e-bikes and now have 6 great e-bikes in their line-up.
On Black Friday of 2022, they offer huge discounts of up to $450.
Velowave already was one of the most affordable e-bike brands in the United States. Now, if you take advantage of this sale, you can get a Velowave electric bike for a total bargain.
Engwe Bikes – Up to $250 Off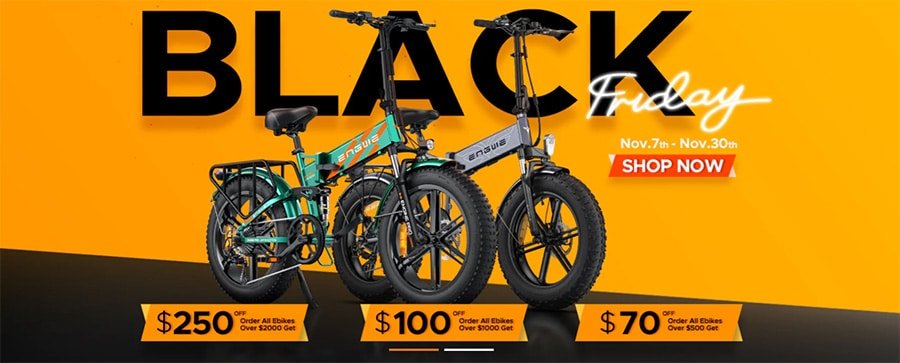 Engwe manufactures affordable fat tire folding electric bikes. These kinds of bikes are very practical because you can store them in small spaces and you can easily fit the bike into the trunk of your car.
In recent years, Engwe electric bikes have become extremely popular. One of their main advantages over the others is a very competitive price tag.
That being said, Engwe still participates in Black Friday sales and brings the price down even more. The maximum discount you can get is $250.
Fiido – $200 Off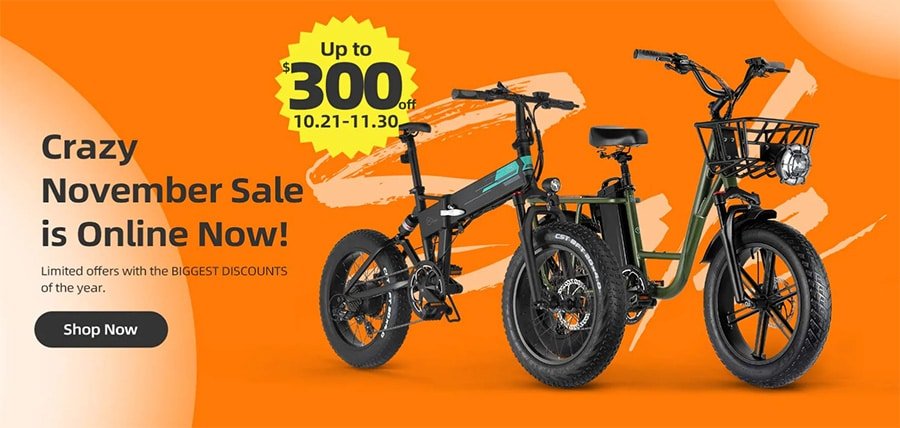 Fiido is an e-mobility brand that was established in 2016. Since then, they have launched several electric bikes as well as electric scooters.
Most of their electric bikes have small wheels and foldable frames. Despite some models having wheels as small as 14 inches, all their bikes are meant for adults.
Like many others, Fiido is also having the biggest sale of the year in November.
Use a chance and get yourself a Fiido electric bike with an extra cheap price tag.
Rad Power Bikes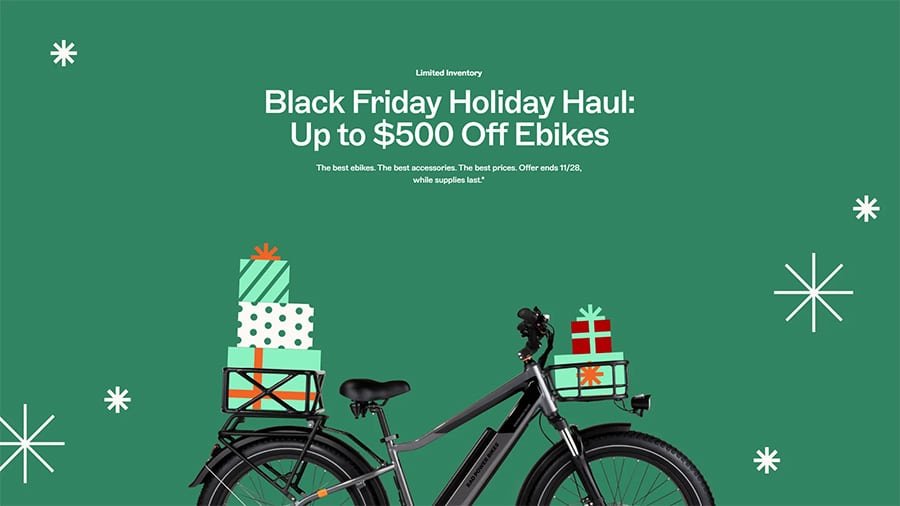 Rad Power Bikes have become one of the most popular e-bike brands in the USA.
They have a very wide selection of different types of electric bikes:
Off-road
Cargo and utility
City and commuter
Folding
Step-through
On Black Friday 2022, Rad Power Bikes has huge discounts on their US and EU sites.
For example, you can get RadRover 6 for $500 cheaper than the normal price. Plus, there are smaller discounts for other e-bikes as well.
In addition to the discounted e-bikes, they have up to 60% sales on e-bike accessories.
Lectric E-Bikes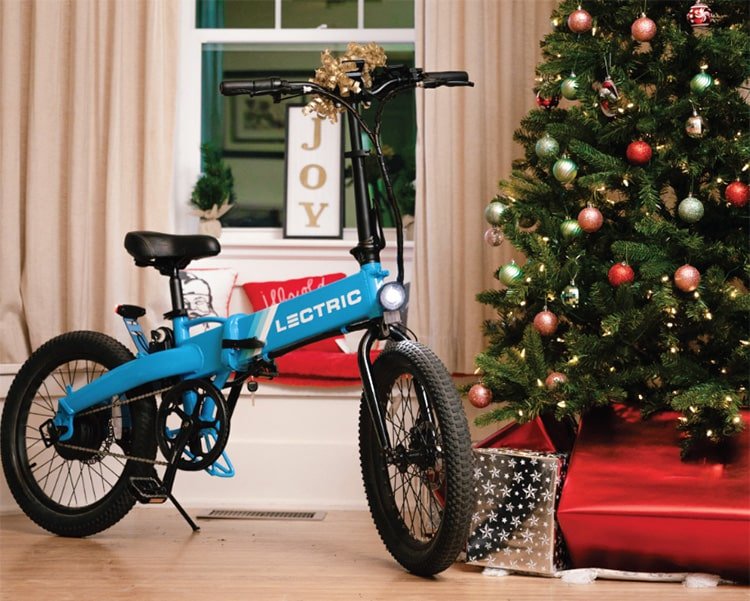 Lectric is very popular in the USA. They make folding electric bikes with 20″ wheels for adults.
Just recently they introduced an all-new Lectric XP 3.0 e-bike. The new model has 1,000W peak power, while the last version had just 850W. Also, the rear rack of the new bike can hold 100 lbs more weight than the rack of the last bike.
For Black Friday, Lectric provides solid discounts for their e-bikes. In addition to that, if you buy a new XP 3.0 e-bike, they include free accessories with a value of $277.
Juiced Bikes
Juiced Bikes is a California-based company that produces high-performance and innovative e-bikes. All Juiced e-bikes have big 52V batteries in them that provide a great range.
They have a very interesting selection of e-bikes including:
Fat-tire e-bike
Commuter
Scrambler e-bike
Moped-style bike
and more.
All Juiced bikes have got decent discounts for Black Friday.
Rambo Electric Bikes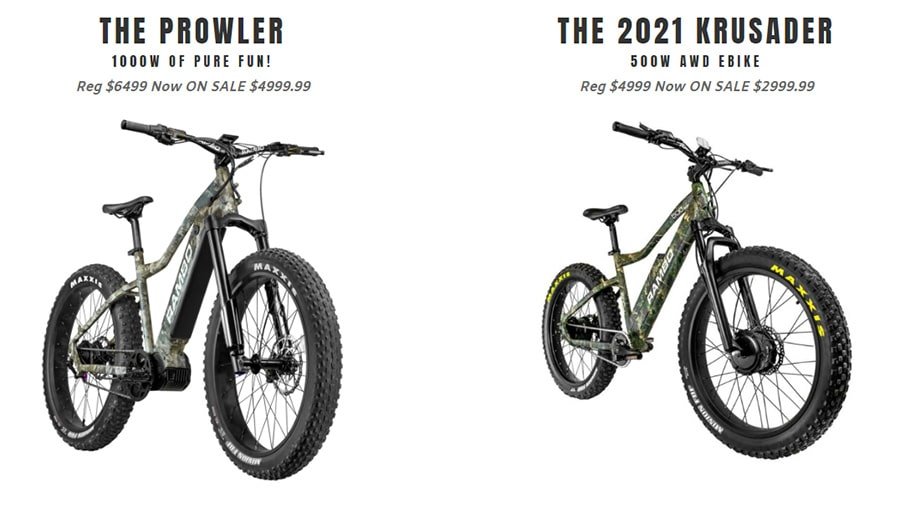 Rambo Electric Bikes are no ordinary bikes. They mostly provide ultimate machines for hunters.
Hunting electric bikes are becoming more and more popular because they are silent and you can access places that cannot be reached by car or ATV.
But the truth is, these kinds of e-bikes are very expensive. So Black Friday is the best time of the year to yourself a hunting e-bike with a more reasonable price.
There are multiple e-bikes on sale now. Also, you can get various e-bike accessories like carts and bike hitch haulers at an exceptional discount.
Where Else to Find Good Black Friday E-Bike Sales?
Basically, every respectable online shop has some kind of Black Friday sales in November. Just the size of the discounts is different.
If you don't want to go through all the web pages by yourself, then this kind of article is very helpful.
However, you can also seek huge discounts from big online supermarkets. Here are some examples:
When are Black Friday and Cyber Monday 2022?
In 2022, Black Friday takes place on the 25th of November. Cyber Monday takes place on the following Monday, which is the 28th of November.
Usually, these two dates mark the time when people start preparing for Christmas. A lot of Christmas presents are bought on Black Friday or Cyber Monday.
When do Black Friday E-Bike Deals Begin?
Often companies offer special deals for a longer period than just this one Friday. Some shops start their sales at the beginning of November. Sometimes, it's very common that Black Friday sales start with Thanksgiving.
It's a big shopping holiday and businesses want to prolong it as much as possible.
Best of luck with finding the best deals on electric bikes!