Electric Wheelers is reader-supported. Although we independently research and test products, we may receive a commission on purchases made from our chosen links. Read more…
The Apollo City offers standout quality in a price tier crowded with mass-produced scooters that look good but lack the durability to back it up. It's not flashy, yet it possesses a lively mix of elegance and practicality that doesn't match its inexplicably small price tag.
A class above the Air, but just below Apollo's most powerful single-motor scooter, the Explore, the Apollo City is the proverbial third bowl of porridge—a single-motor electric scooter with just the correct number of features for urban commuting crammed into one of the lightest and most affordable packages Apollo has to offer.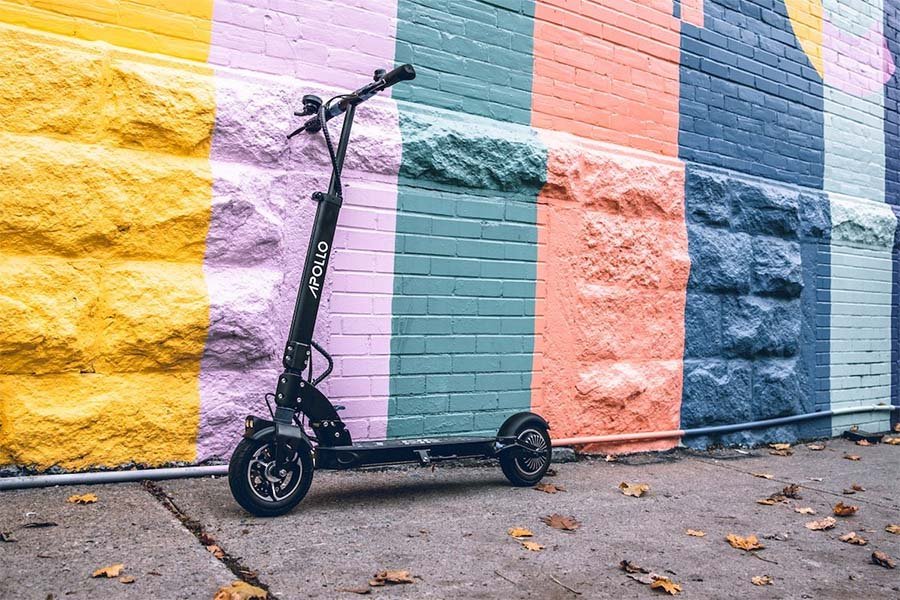 MSRP: $1,099 Apollo Scooters
Overview
Apollo City – Who is it for?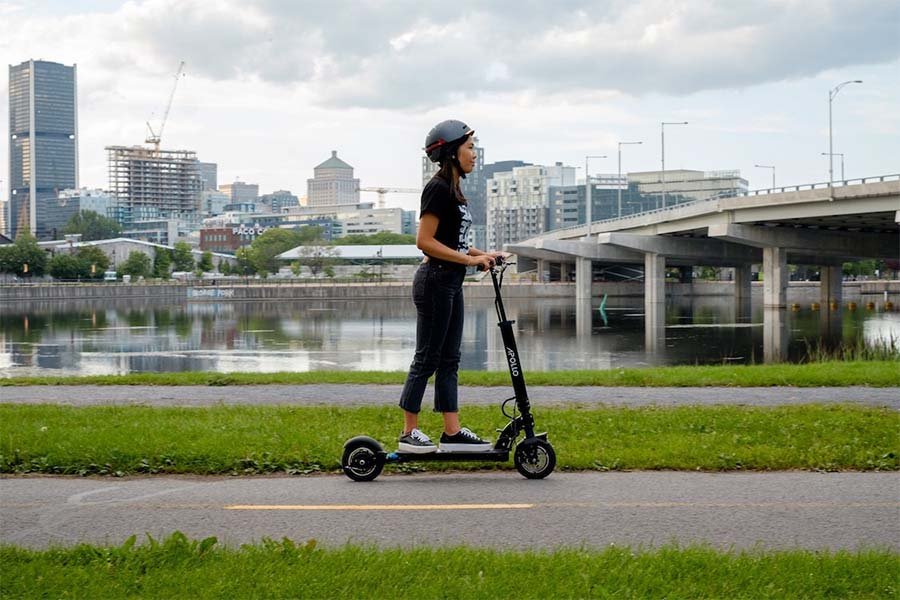 As its name suggests, the City is a scooter that is tuned for on-road, urban commuting. But thanks to excellent Apollo craftsmanship, it's not too delicate for the occasional excursion on dirt trails.
Buy it because you need an urban commuting machine with the speed, range, and portability to go anywhere you need it to, but keep in mind that it's not shy about venturing onto roughly textured roads every so often.
Apollo City Full Specs
| | |
| --- | --- |
| Motor | 600W |
| Battery | 48V 13.2Ah (633Wh) Dynavolt |
| Recharge Time | 8 hours |
| Max Speed | 25 mph |
| Max Range | 28 miles |
| Brakes | Front Mechanical Disc, Rear Drum + Automatic Regenerative Brake |
| Suspension | Front & Rear Spring |
| Weight | 39 lbs |
| Weight Capacity | 265 lbs |
| Tires | 8.5″ Pneumatic |
| Lights | Fender Mounted Front and Rear Lights + Under-Deck Lighting |
| Dimensions | 44″ x 21.5″ x 42″ |
| Folded Dimension | 44″ x 9″ x 15″ |
| Display | LED with Mode Controls + Riding Stats |
| IP Rating | IP54 |
Pros
Good price/quality ratio
Water-resistance
Great comfort for city commuting
Reliable braking system
Compact and quite portable
Cons
Mediocre lighting for night riding
Loose handlebar mechanism
Uncomfortable finger throttle (can be changed to thumb throttle)
Performance
Speed & Acceleration
Driven by a high-efficiency 600W brushless motor with a peak output of 800W, the City has a top speed of 29 MPH, yet again defying Apollo's claimed top speed of around 25 MPH.
In the same spirit, it manages to exceed expectations when accelerating, clocking speeds of 15 MPH in just 4.3 seconds. That makes it a second faster than the slightly more expensive Ninebot Max, and on the highway, it breezes past cyclists and some cars with remarkable torque.
It does need some runway to reach its top speed, but once it gets there, the Apollo City has few two-wheeled electric rivals on the road. It is about as fast as a commuter could demand of an electric scooter, and the chances are good that you'll not need to throttle it all the way on your day-to-day commute.
Hill Climbing
The Apollo City is no pushover when it comes to scaling inclines. It goes up a 60-meter, 10% grade incline at a comfortable 10 MPH while carrying a rider weighing 163 pounds, getting to the top in just under 14 seconds.
The single-hub BLDC motor has just enough torque to ferry you up 15 % grade inclines without losing speed. It's unlikely that you'll need more of that to get around the city.
Battery & Range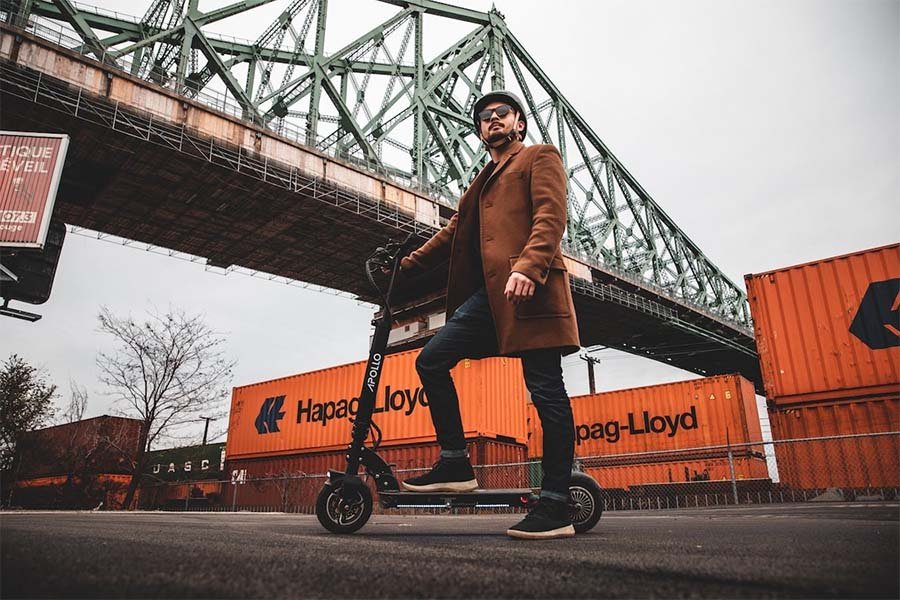 The Apollo City gets its juice from a 13.2aH lithium-ion Dynavolt battery that produces 634 watt-hours of power. On a full charge and under realistic commuting conditions, you can eke out a sufficient 18 – 22 miles of range, which translates to a 10-mile round trip.
Of course, this all depends on your weight, your riding style, the hills you climb, the stops you make, and the power settings you choose. Nevertheless, there is plenty of battery power for worry-free commuting, taking into account different riding conditions and your preferred power preferences.
Charging
Recharging the Apollo City, even with the standard charger, is a rapid affair. Eight hours is all you need to get it from the dead to full, and it's unlikely that you'll be doing that often since a full day's commuting can leave you with 25 – 50% of juice.
But if you're a heavy user and you need to fill it up faster, Apollo's high-speed charger can top up the battery in just under four hours.
Brakes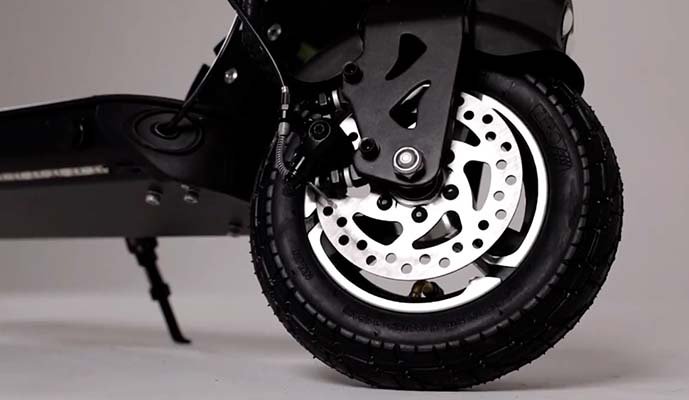 Three independent brakes make the City one of the safest scooters on the road and the best in its price class. Riders can rely on the rear-wheel drum brake, the front-wheel disc brake, and an automatic regenerative brake when they need to stop quickly and safely.
The strength of the regen brake is configurable via the LCD on the throttle. You'll find that it is reliable enough to save your mechanical brakes from wear and tear and keep your battery levels up on your daily commute.
Suspension
The suspension on Apollo City is pretty good. The springs in both front and rear wheels have just the right amount of stiffness to make the ride comfortable, even if you're pushing its 265-pound weight limit.
However, unlike the suspension on the crazy-fast Apollo Ghost, these springs are supple enough to provide above-average shock absorption. You won't glide over bumps and potholes like they're nothing, but it is a system that will make most of your trips on roughly textured roads feel comfortable, not just tolerable.
Design and Features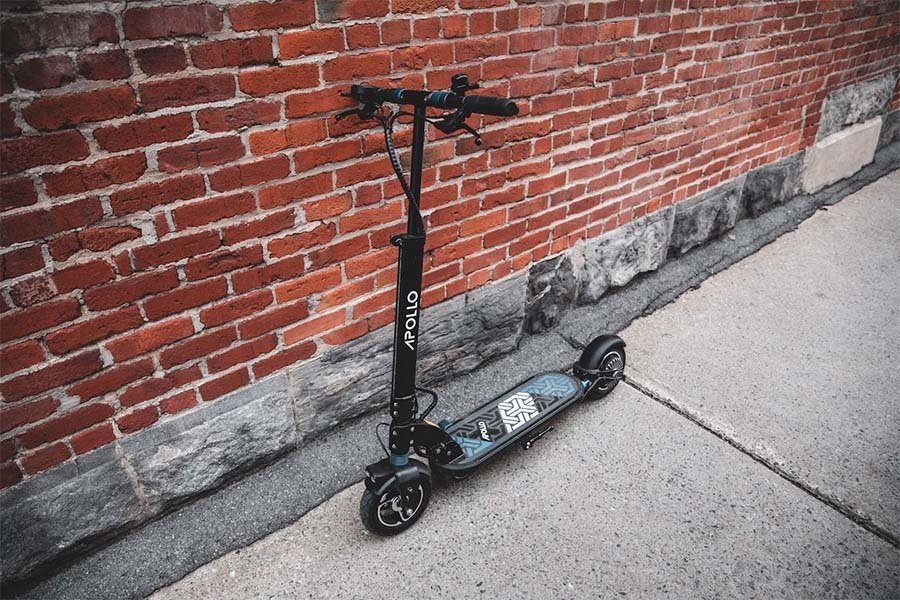 Build Quality
Fans of Apollo scooters have high standards when it comes to the build quality, and it's unlikely that the City will disappoint anyone.
The brakes and the suspension work noiselessly, and only a slight whir emanates from the motor when you put it through its paces. The City is stealthy, and everything about it feels solid and well thought out.
Its forged-aluminum body weighs only 39 pounds and is sturdy enough for bike lanes, streets, and sidewalks, plus some light off-roading. The dual springs in the rear wheel are a necessity for serious commuting, so it's nice that Apollo didn't overlook that.
More importantly, you can tell that the rigorous quality control checks conducted by Apollo serve a crucial purpose. The way that the moving parts of the City combine with its solid yet lightweight construction to deliver smooth riding is like poetry in motion.
Is Apollo City Waterproof?
The City is equipped with IP54 water resistance, so its head and shoulders are above most commuter scooters in its class. It has enough protection to withstand riding in light rain and over shallow puddles.
It is by no means a performance scooter, so don't treat it like one. Keep exposure to dirt and water at a minimum, but don't be too scared to ride in wet conditions as it is perfectly capable of it.
Ride Quality
The City offers a very comfortable ride thanks to the combination of its large pneumatic tires and spring suspension. However, ride quality is also drastically improved by the size of its deck. It is more spacious than most, and even taller riders will find it adequate for various riding stances.
Ride quality on smooth roads is nothing short of perfect. You'll certainly notice the rougher roads, but not enough to be bothered by the trip. In other words, the Apollo City doesn't skimp when it comes to riding quality. It's surprisingly adept at providing a cushy ride on different terrains.
Wheels & Tires
The 8.5-inch tires provide ample grip on the road. You can't say the same about solid (tubeless) tires, which usually don't deform over the road as easily.
The City's tires perform excellently in all conditions, plus they dramatically improve traction. The best part about pneumatic tires is the added shock absorption—not that the City needs it—that improves ride quality.
Deck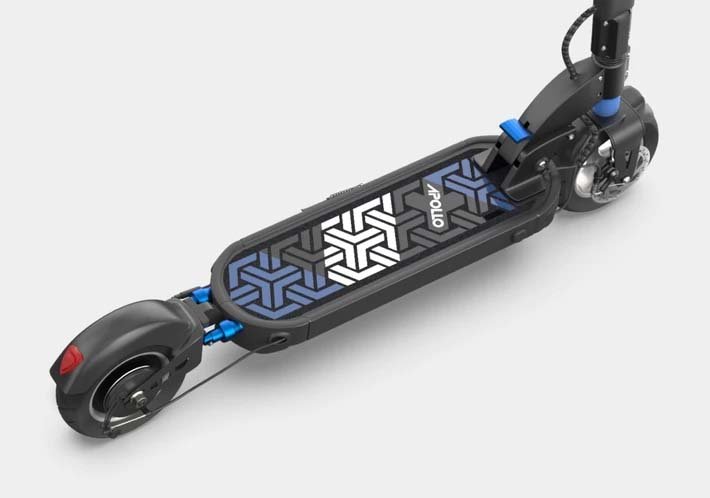 At 20.5 inches by 7.5 inches, the deck of the Apollo City is one of the largest in its weight class, only slightly shorter than that of the EMOVE Touring.
Aside from its size, you'll love it for its stunning aesthetics and grippy design. It rides 4.5 inches off the ground. That's plenty of clearance to escape curb scrapes, but not too high to impede manual kicking if the battery dies out on you.
Portability
It's impressive how the Apollo City manages to be so portable despite its impressive top speed and range. You have an efficient triple folding mechanism to thank for its compact size when folded. Furthermore, at 39 pounds, it's not too heavy for walking upstairs with or carrying onto the bus or subway.
It's an unspoken rule that urban commuters must be portable, especially since there's not a lot of space in the city. The Apollo City gives you the luxury of owning a full-sized electric scooter without the hassle of dealing with unwieldy sizes.
Folding Mechanism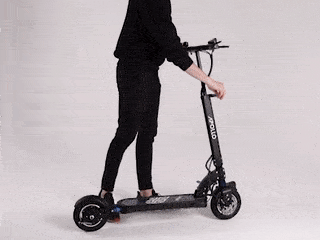 The City's triple folding mechanism includes the telescoping stem that also folds and folding handlebars. It folds down to a compact 44 inches by 9 inches by 3.5 inches, a package that most commuters would gladly lug around for the performance alone.
The folding handlebars use a screw-type mechanism, and that's both good and bad news. On the upside, it's far more stable when locked in place. Unfortunately, it's not uncommon to see the screws loosening, especially on long rides. It's annoying, but not cause for concern.
Lights

The City has ample lighting in the form of front and rear lights (fender-mounted), plus under-deck lights that light it up wonderfully at night. You'll still need high-mounted lights for better visibility at night.
Cockpit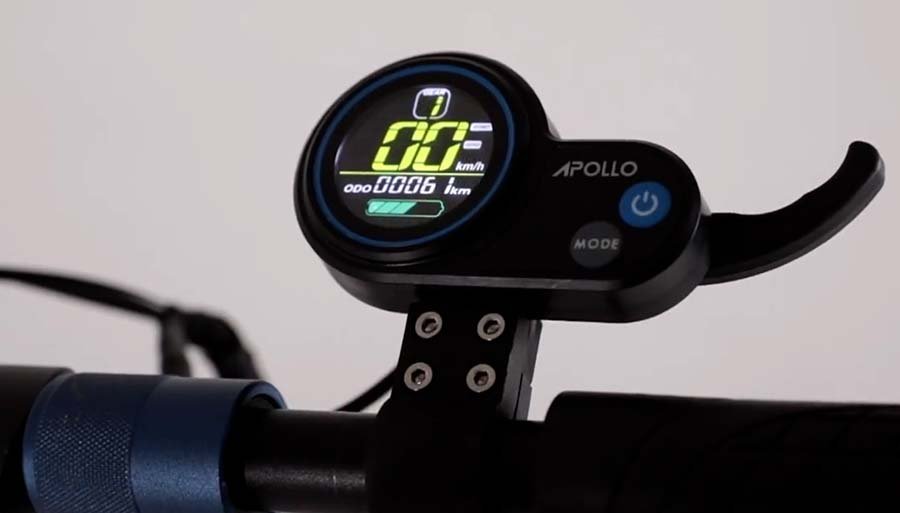 There's nothing particularly new about the City's cockpit as it sports the familiar QS-S4-style trigger throttle with an LCD display, brake levers, and a horn.
Apollo has also developed a plug-and-play thumb throttle attachment to replace the less ergonomic finger throttle, much to riders' delight. The handlebars have comfortable rubber grips, and aside from that, there's not much else to look at.
Conclusion
You probably won't be turning too many heads when riding the Apollo City, but it's not designed for that anyway.
It checks all the boxes when it comes to the needs of the discerning urban commuter. Ample torque for hill-climbing, comfortable ride quality, decent range, and a reliable build make it quite the steal at its current price, especially for low-budget riders that aren't looking for more than the bare minimum.