Electric Wheelers is reader-supported. Although we independently research and test products, we may receive a commission on purchases made from our chosen links. Read more…
With a top speed of 38 MPH, the Apollo Ghost is one of the fastest electric scooters under $2,000.
Dual motor electric scooters don't usually come this cheap, especially when they're packing the type of rider-friendly features and portability that the Ghost comes with. It's hard to doubt that this electric scooter is, indeed, the best value for money in its class.
MSRP: $1,599
Apollo Scooters
Overview
Apollo Ghost – Who is it for?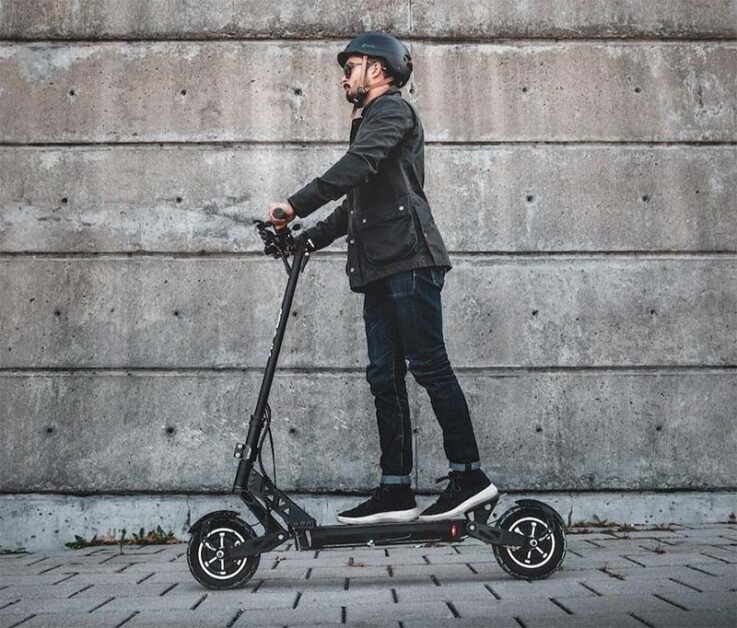 The Apollo Ghost is an excellent street scooter with a good balance of features and a maximum rider capacity of about 310 pounds.
It is the ideal electric scooter for the rider who wants to own a performance-level scooter without breaking the bank. It may also suit the daily commuter looking for power, range, and a reliable build in a budget-friendly package.
Apollo Ghost Full Specs
| | |
| --- | --- |
| Motor | 2×800W Brushless Dual-Drive |
| Battery | 52V 18.2Ah (946Wh) Dynavolt |
| Recharge Time | 12 hours (6 hours with fast charger) |
| Max Speed | 34 mph |
| Max Range | 39 miles |
| Brakes | Hydraulic/Mechanical Disc + Electric Regenerative Braking |
| Suspension | Front & Rear Spring |
| Weight | 64 lbs |
| Weight Capacity | 300 lbs |
| Tires | 10″ Pneumatic |
| Lights | Dual Front Lights, Dual Back Lights + Braking Alert, Deck Lights |
| Dimensions | 50.5″ x 27″ x 50″ |
| Folded Dimension | 50″ x 9.3″ x 21″ |
| Display | QS-S4 LED Display + Throttle |
| IP Rating | IP54 |
Pros
Great top speed and sharp acceleration
Long range
Solid suspensions
Water-resistant
Cons
The display is little bit too dim under direct sunlight.
Fast charger not included
Quite heavy
Performance
Speed & Acceleration
The Ghost leaves its competition in the dust with a tested top speed of 34 MPH. You have its dual 800W (1,600W nominal output) brushless motors to thank for that, and also for the soul-lurching acceleration for which it has gained its speedster reputation.
Going from 0 – 15 MPH will only take you 3.1 seconds, and it always takes off with a bit of front-wheel spin whenever you launch from a dead stop. This raucous accelerating power demands your full attention each time you operate the throttle, especially when the scooter is in its highest performance mode.
Aside from engaging the dual motors, you can also enable turbo and crank up the P8 setting to 100 if you want to experience the raw take-off power of this street scooter. Keep in mind that the dual motors have a combined peak output of 2,000W, so the exhilarating power may feel a little intimidating if you're not used to performance scooters.
However, for seasoned riders, the battle to harness it is part of the reason why the Ghost is such a fun ride.
Hill Climbing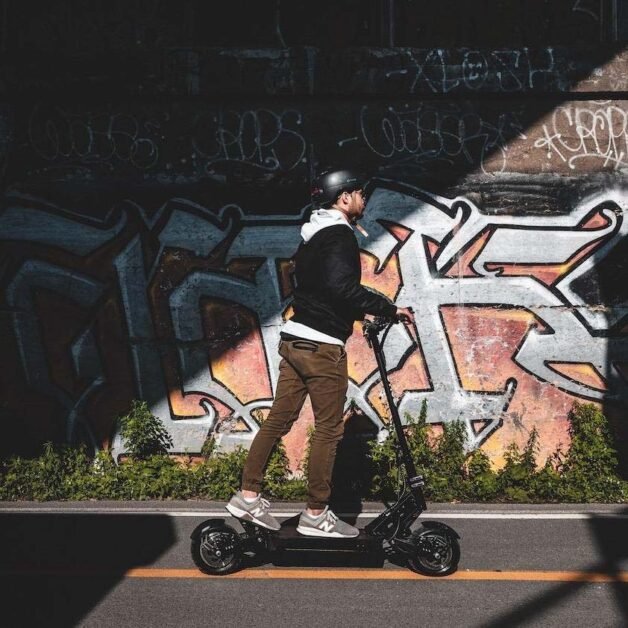 The Ghost doesn't struggle to climb hills; it just rides over them as if they're flats. Its performance on inclines is impressive, to say the least, and it can whiz up a 60-meter, 10% incline in just 5.3 seconds.
With the mountains of torque its dual motors provide at peak output, it's no surprise that this electric scooter is a hill-climbing monster that gains speed steadily even when going up scary-looking slopes.
Battery & Range
Powering the Apollo Ghost is a lithium-ion 52V 18.2Ah Dynavolt cell with a capacity of 946 Watt-hours. This ample capacity gives you a variety of ranges depending on the power settings you use when riding the scooter.
At the highest speed settings, you can get 20.3 miles on a single charge.
Commuting on a daily basis might require more balanced settings, which will give you up to 27.3 miles of range for a comfortable 13-mile round trip.
But, if you're all about getting the most out of every full charge, the lowest power settings will allow you to ride the Ghost for up to 32.2 miles before drying out the battery.
Charging
The Ghost comes with a standard charger that takes about 12 hours to fill up the battery from dead. However, daily commuters can halve that charging time in two ways.
They can either opt for a fast charger (any 4 – 5 AMP charger that's compatible with Apollo scooters) to get around 6 hours of charge time, or they can take advantage of the scooter's excellent design by using a dual charger.
The Apollo Ghost has two charging ports built into the deck so that you can recharge faster if you use the scooter daily.
Brakes
The Apollo Ghost features dual cable-operated mechanical or hydraulic disc brakes that offer the best braking in this class. With a braking distance of 3.2 meters from 15 MPH, they are as reliable as they come when it comes to stopping power.
It's a little dramatic to bring the scooter to an emergency stop as the front wheel locks up and the rear wheel takes into the air and swings to the side. Nevertheless, the sensitive brake levers require less pressure to slow down, so you'll hardly need to use all the braking power at your disposal.
Suspensions
The dual spring suspension on the Ghost is adequate, but many riders feel like they could use a little more damping.
The good news is that you can easily adjust them for spring preload, but the bad news is that the only changes you'll be able to make are choosing where the spring tops out. In other words, suspension adjustments have very little, if any, impact on ride quality.
Design and Features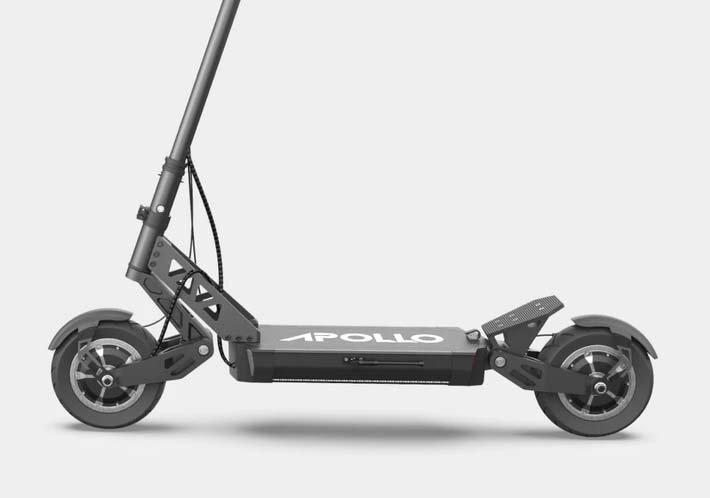 Build Quality
Forged aluminum construction keeps the Ghost light and stiff, but what steals the show is the skeletal design that lets you see through the scooter's neck, handlebars, the fender supports, and swingarm.
The fenders seem to float just above the tires, but their mounting is solid, so don't expect any rattling or wiggling. The front fender doesn't do a great job at keeping water off the deck, so most of the waterproofing is left to the suspension.
Nevertheless, it's hard not to marvel at the lean, mean outline of the Ghost, which looks every bit like a premium scooter, courtesy of its wheel-mounted fenders, massive air-filled tires, spacious deck, and folding arms and handlebars.
Is Apollo Ghost Waterproof?
Like all other Apollo scooters, the Ghost has an IP54 waterproof rating, which makes it capable of handling a little dirt and water. But, don't take this as permission to ride over extremely wet terrain or submerge the deck.
Apollo doesn't guarantee against water damage because they can't certify that users won't exceed the recommended water-resistance level.
Ride Quality
With a deck that's 5.5 inches off the ground, getting onto the Ghost and kicking off will feel like you're riding on a cushion of air. But oddly enough, the Ghost doesn't share the same ride quality as the Explore or even the much cheaper Air.
The reason is that its handling is adequate, but it doesn't give you the stellar, user-friendly controllability you'd expect from an Apollo scooter. That means you have to be alert when descending downhill, particularly where there are corners involved.
It's easy to pinpoint why it's not as smooth a ride as anticipated: the Ghost is a point-blank speed machine. Forget about easing you into its top speeds; the scooter piles on all the torque it's got from the moment you pull the throttle.
The B-class suspension also affects your comfort when launching off small bumps, and if you're not capable of handling the scooter at speed, those little wiggles that follow your landing can steal your balance.
Wheels & Tires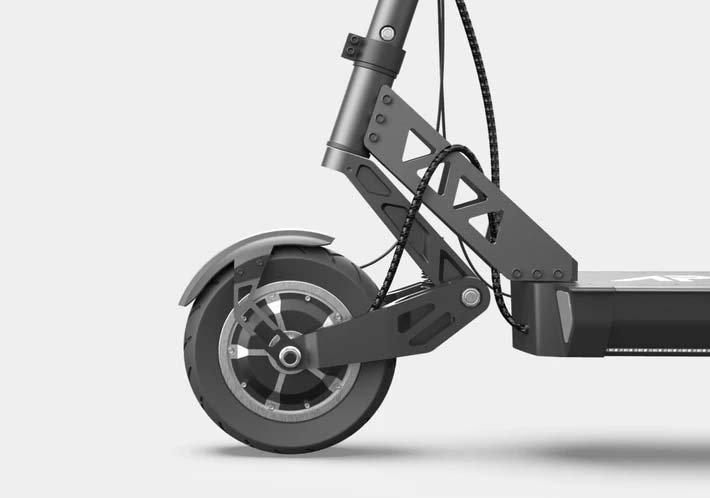 Both the front and rear tires of the Apollo Ghost are 10-inch pneumatics, which provides some additional damping to help out the substandard suspension.
Since you should always expect flats when it comes to air-filled tires, it's nice that they're both mounted on split rims, which allow you to change their inner tubes quickly and conveniently.
Deck
The deck measures an ample 18.2 inches by 9 inches and includes a grooved footrest near the back fender to facilitate a wider forward stance.
However, its anodized aluminum surface feels a bit too slippery, and it's odd that Apollo hasn't used the copious amount of grip tape they usually do on the Ghost's deck. Luckily, you can remedy this on your own with a bit of extra grip tape.
Portability
Dual motor electric scooters don't have a reputation for being small and compact, and at 66.1 pounds, neither is the Ghost.
Nevertheless, it still has the best portability in its class, and most of that comes from its folding handlebars and a stem that folds and locks in place.
Its folded dimensions are a reasonable 51 inches by 15 inches, so it's not too bulky to commute with or store in a large trunk.
Folding Mechanism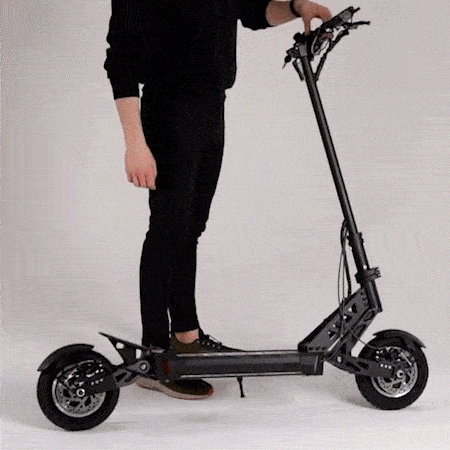 The Ghost's folding mechanism features a collar with two swing arms that latch around the stem to secure it. They unlatch with a little fiddling when it's time to fold it.
It's a design that ubiquitous with most performance scooters. The handlebars also fold inwards from the middle, thanks to a rotating coupler.
Lights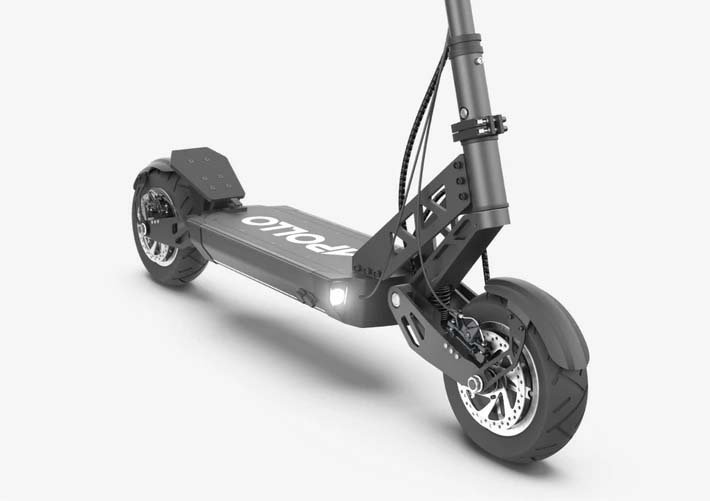 One of the features you'll immediately notice on the Ghost is its lights.
It has a variety of them, including headlights with an opaque diffuser (makes them brighter), brake-responsive rear lights, and gorgeous sapphire-blue under-deck lights.
Even so, you will need a high-mounted headlight plus a rear light (on your backpack or the back fender) to make night riding safer.
Cockpit
The Ghost's cockpit is an assortment of performance-level features, including flat-palm handgrips with flared outer edges for long-term hand comfort.
Other than those, it resembles most dual motor scooters (with the exception of the folding handlebars). On the right is a standard QS-S4 display/trigger throttle combo with Single/Dual and Eco/Turbo Buttons. On the left, you'll find a key-start ignition, a voltmeter, and a bell.
Here is the video of how to access Apollo Ghost's P-settings and what you can change there:
Comparisons
Apollo Ghost vs Phantom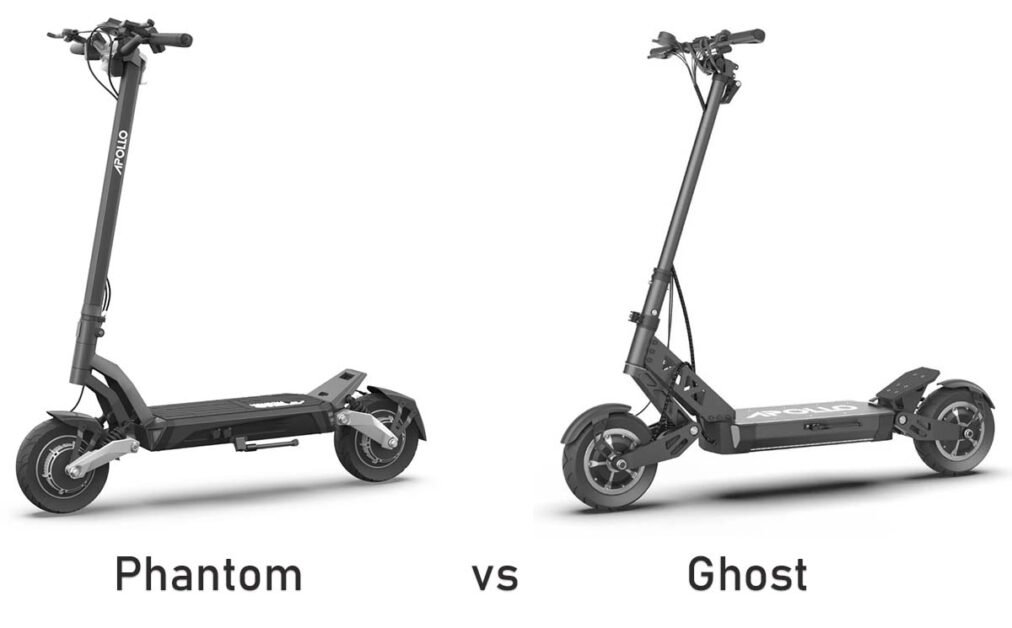 The Phantom costs about $500 more than the Ghost, so it's decidedly the better of the two electric scooters, at least on paper.
At 70.56 pounds, it weighs slightly more than its cheaper sibling, but it also equips riders with a much better feature set, not to mention superior ride quality.
It affords riders a top speed o 39 MPH and a maximum range of around 28 miles, plus a speedy acceleration of 2.5 seconds (0 – 15 MPH).
When it comes to ride quality, the Phantom is by far more superior, with quad spring suspension, an ergonomic thumb throttle, and a well-designed cockpit. Some argue that this alone makes it worth the extra cash, even though the two scooters provide an almost a similar level of performance.
Apollo Ghost vs Mantis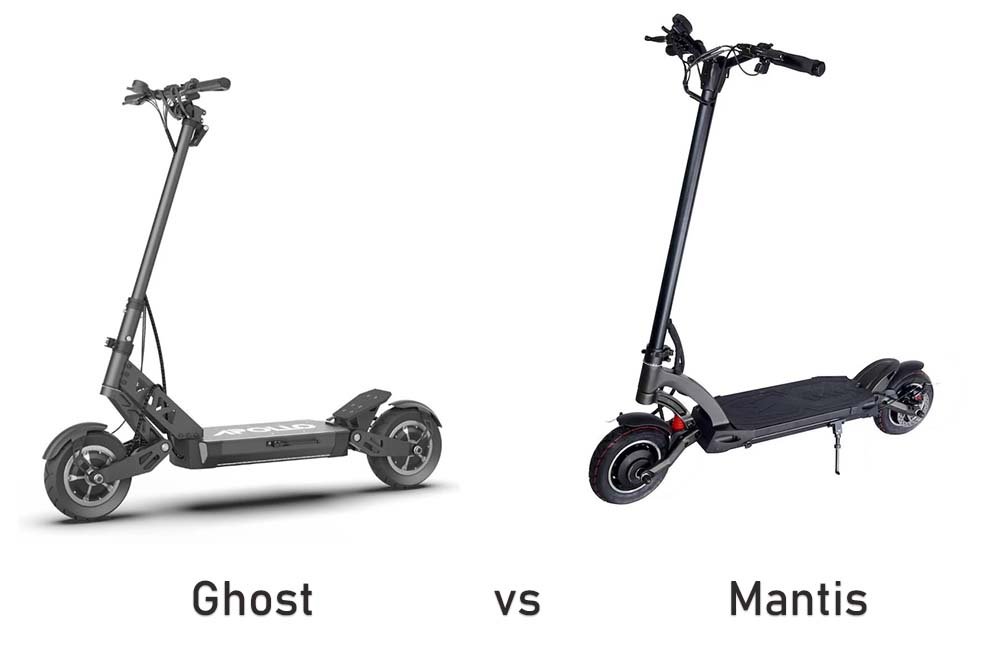 Kaabo Mantis is the Ghost's closest competitor, bringing to the table an incredible build, nimble controllability, semi-hydraulic brakes, and twin 1,000W motors for punchy acceleration and hill-climbing.
They share the same 38 MPH top speed, as well as a similar range (33 miles). The Mantis lacks any form of water resistance, even though it is more or less just as portable as the Ghost (weighs 61 pounds).
As it takes 2.5 seconds to get to 15 MPH, the Ghost manages to edge it out when it comes to raw power.
The Mantis is also notorious for laggy acceleration and slower hill-climbing, something that makes the Ghost the clear winner in terms of power and raw hill-climbing ability.
Customer Reviews
Apollo Ghost has a customer review rating of 4.8 out of 192+ reviews
Conclusion – Should I Buy Apollo Ghost?
The Apollo Ghost is as good as you can expect of any scooter under $2,000. It packs quite the feature set, including folding handlebars, under-deck lights, and dual mechanical brakes, for its relatively small price tag.
Ghost scooter is one of the fastest scooters in the market, bar none. It also serves up a decent range, and although its ride quality could be better, there's nothing to complain about when it comes to build quality. In a lot of ways, the Apollo Ghost is the ultimate budget performance scooter in the market.