Apollo Phantom is the flagship model of Canadian electric scooter manufacturer Apollo Scooters.
Apollo is an innovative company that's all about helping commuters understand that they don't have to make any compromises. The company's innovators comprehend that a considerable percentage of daily travel happens within proximity to our homes.
As a result, they've developed high-quality e-scooters that are better, environmentally friendly, and convenient. The Apollo Phantom Scooter is Apollo's revolution meant to turn the market on its head.
MSRP: $2,099
Apolloscooters.co
Table of Contents
Overview
Apollo Phantom is the company's highest-quality electric scooter. For this reason, the company designed the e-scooter to be better, more, and different, all wrapped in one reliable package. The Apollo Phantom Scooter has dual motors and a design that has several advantages. They include:
Best weight distribution
Excellent stability
Fast acceleration
Easier to handle in slippery or wet surfaces
Great at handling turns
The dual motors provide enough torque (power) for hill climbs
To Whom?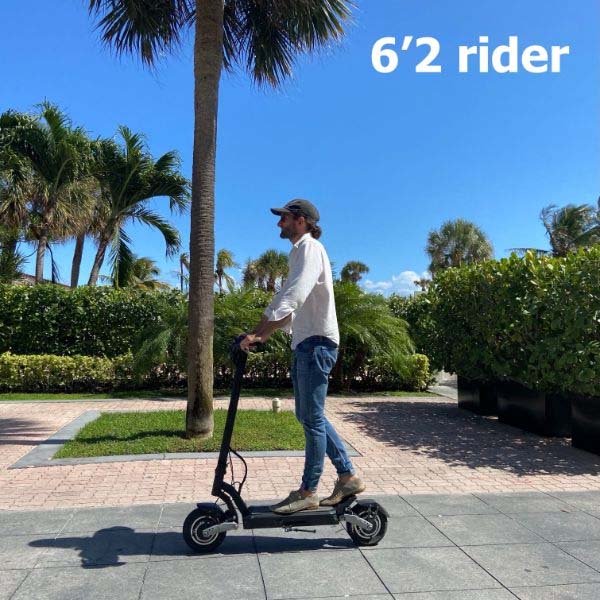 The Apollo Phantom scooter's frame is 51″ high, 27″ wide, and 49″ long with a deck that measures 8.5″ by 20″ long. The Scooter has a 77-pound frame and can handle a 300-pound maximum load. Coupled with the 41″ handlebar height and you've got yourself a massive beast that can fit most riders comfortably.
However, the Phantom scooter is not the fastest electric scooter. Also, it is not the best choice for muddy off-roading. Although, if you are looking for a beginner scooter, this might be too powerful. So, it is somewhere in the middle, which can fit most riders.
The Phantom can comfortably tackle 25-degree inclines allowing the rider to overcome rough terrains and minor hills. However, one still does have to consider various factors, including the rider's weight, battery life, etc. That said, this Apollo scooter does provide far better results than its competitors.
Apollo Phantom Full Specs
| | |
| --- | --- |
| Motor | 2×1,200W Brushless Dual-Drive |
| Battery | 52V 23.4Ah (1,216Wh) Dynavolt |
| Recharge Time | 12 hours (6 hours with fast charger) |
| Max Speed | 38 mph |
| Max Range | 40 miles |
| Brakes | Hydraulic/Mechanical Disc + Electric Regenerative Braking |
| Suspension | Front & Rear Dual-Spring |
| Weight | 77 lbs |
| Weight Capacity | 300 lbs |
| Tires | 10″ x 3.25″ Pneumatic Hybrid |
| Lights | Headlights, Rear Turning Signals, Footrest Lights |
| Dimensions | 51″ x 27″ x 49″ |
| Folded Dimension | 21″ x 27″ x 49″ |
| Display | Advanced HEX Display |
| IP Rating | IP54 |
Pros
Powerful Dual-Motors
Quadruple Spring Suspensions
Good Hill Climbing Ability
Beautiful Design
Bright Lighting
Next Generation HEX Display
IP54 Water-Resistant
High Weight Capacity
Cons
No Front Turning Lights
Hard to Read the Display Under Direct Sunlight
No Front Turning Lights
Quite Heavy
Performance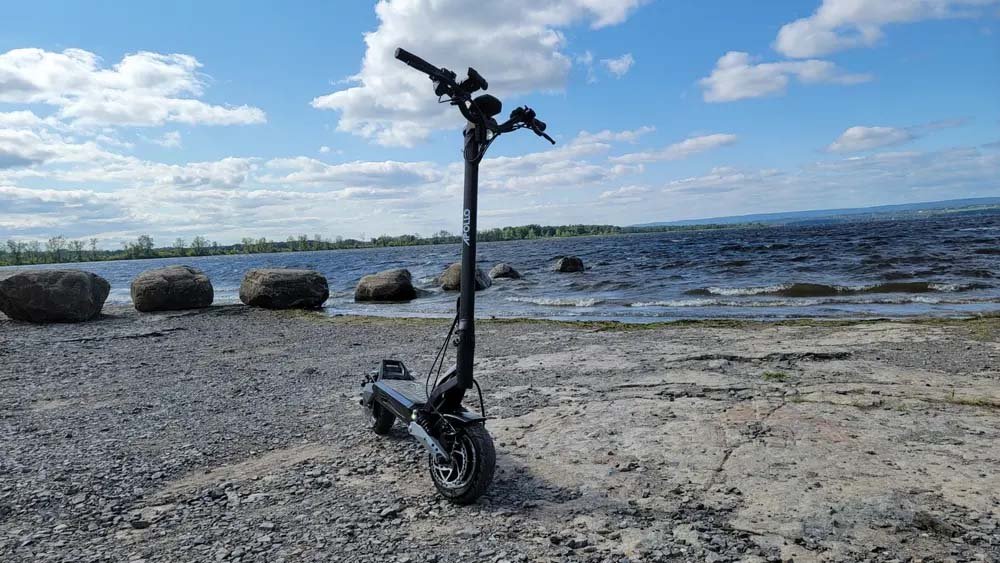 Speed & Acceleration
The Apollo Phantom is an insanely powerful scooter with powerful dual motors that provide all the raw power you need to move around. The combined peak pushes the Apollo electric scooter to 38mph to speed, which is a hell of a lot.
Nevertheless, this doesn't mean that it is the fastest. Other scooters are way quicker, but one thing that places the Phantom above the rest is its torque. The dual-motor feature comes in handy during accelerations.
The Apollo Phantom has pretty quick acceleration and can reach 15mph in 2.5s and 25mph in 5.6s. The Apollo Phantom has strong but manageable acceleration, and though it isn't the best amongst its peers, the Apollo Phantom does come real close, and you're sure to get a thrill from its pacey race.
Hill Climbing
The Phantom is reliable in hill climbs because of torque and peak output thanks to its dual motors. As mentioned before, the Phantom can scale 25-degree hill climbs, which is probably steeper than you'd need. If you need a visual representation, think about Filbert Street, San Francisco, which measures 17.5 degrees, and you wouldn't have come close to what the Phantom can handle.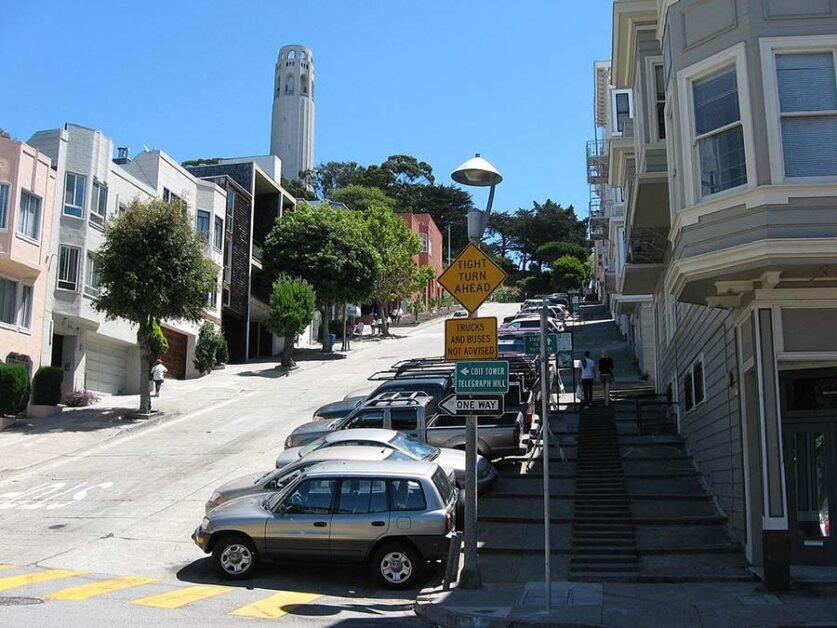 Battery & Range
The Phantom features a 52V advanced 23.4Ah Dynavolt battery with one of the industry's seamless blends of energy and power. The battery is quite powerful, so the battery of choice in most electric motorcycles and electric bikes.
The Apollo Phantom can cover a 40-mile range (conservative mode) on a full charge, as cited by the manufacturer, and a 25-mile range on full power. That said, it would be good to reduce your expectation by 70% as a rule of thumb.
The scooter's HEX display provides you with an estimation of how far you can expect to go depending on the amount of power you have left depending on your riding profile.
Charging
Unfortunately, the Phantom's battery takes a super long time to charge (about 12 hours). However, you could cut this time by nearly a half by using the dual charger system or upgrading to a fast charger sold separately.
Take caution and avoid overusing the fast charge since it could affect the battery's longevity. The company claims that the battery has 500 charge cycles giving it an extended life compared to generic Li-Ion batteries.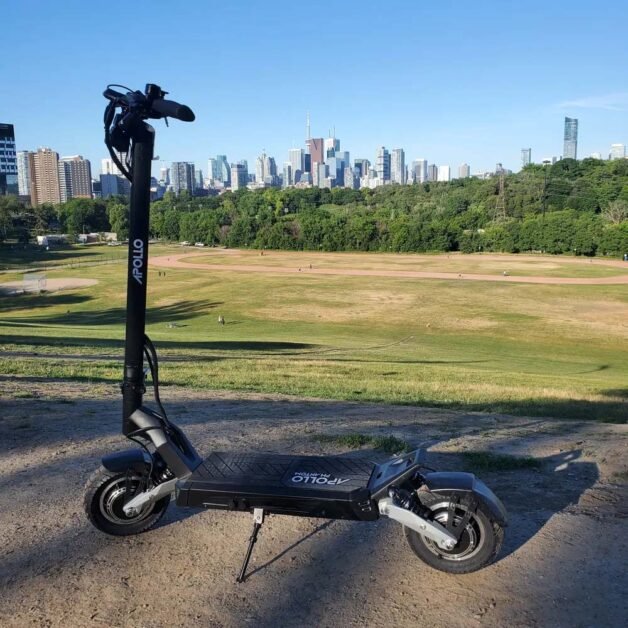 Brakes
The Apollo Phantom has variations of both hydraulic and mechanical brakes. The first variation comes equipped with a regenerative brake and dual mechanical disc brakes.
The brakes can be customized in the P-settings and adjust braking strengths of between 0 and 3, with 3 being the strongest. The Phantom's disc size measures 160mm compared to its competitors' 140mm, giving it much more braking power.
The other alternative includes regenerative brakes and the hydraulic braking system, which produces more responsive results than the mechanical braking system. Plus, its braking system is designed to recharge the battery as soon as you apply the brakes, which is a win-win.
Suspensions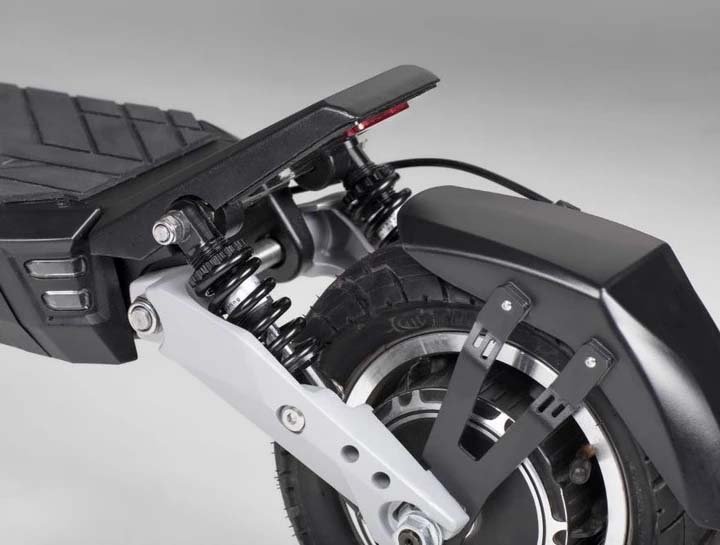 Any old scooter could claim to have suspension, and while few scooters today have a spring suspension system, the Phantom beats them all.
The Apollo Phantom has a downward angled, 45degree, quadruple suspension (spring) system. The quadruple suspension system delivers a smooth ride that minimizes all vibrations to your ankles, knees, and wrists.
The Apollo also has a rubber bushing found at the base of the springs that absorbs any extra bouncing motions helping make the ride as smooth as possible. Doing this ensures that you don't get any painful sores and have an excellent riding experience.
Design and Features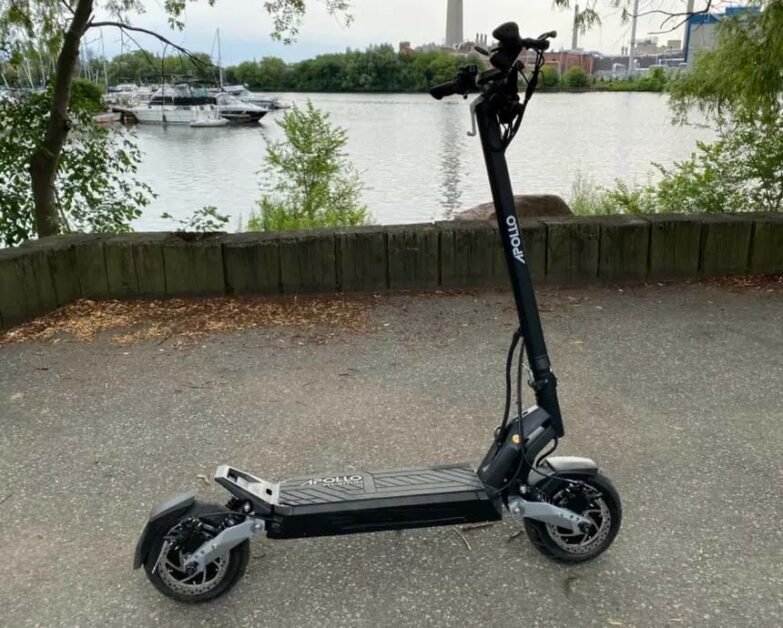 Build Quality
The Apollo Phantom electric scooter is powerful, sleek, and stylish, making it the ultimate choice for city life. The two-wheeled scooter has two 10″ air-filled tires and an aluminum frame. It is painted in daring matte colors complemented by silver accents that make it stand out on any urban road.
The scooter's aluminum alloy frame is quite sturdy and can handle various twists and turns, and it has a tremendous folding mechanism that's reliable and easy to use. The Phantom also features a spacious deck that makes it easier for riders to stand and balance with a rubberized surface that increases grip and boosts stability when riding.
Is Apollo Phantom Waterproof?
The Apollo Phantom isn't waterproof; however, it can withstand water from all angles. Therefore, it wouldn't be a great idea to submerge it in water. Its IP54 rating means that it can withstand light showers and water droplets without issue. Ensure that you dry it off as soon as you get to the shelter to avoid damaging its electrical components.
Wheels & Tires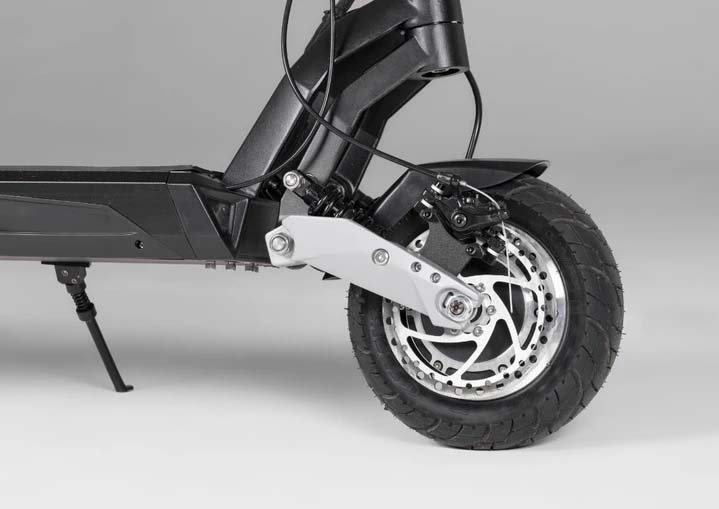 The Apollo Phantom's wheels are 10″ tall and 3.25″ wide, providing riders with a wide contact patch, which increases their stability. The bigger wheel width doesn't affect your steering. Instead, it presents you with the opportunity to ride your scooter across various terrains, including loose forest trails and smooth urban roads.
Deck
The Apollo Phantom's deck measures 8.5″ by 20″, providing enough space for riders to comfortably place their feet. Additionally, the Phantom also features an angled kickplate that helps riders get comfortable. When combined with the deck, the kickplate provides new stances that riders can choose. The deck is also covered with a textured silicon material that provides extra grip.
Portability
Based on its weight, the Apollo Phantom scooter cannot precisely be categorized as portable. However, you could fold it and transport it wherever you need to go. The scooter has an easy-to-use and sturdy folding mechanism, but you should note that it doesn't feature foldable handlebars.
However, this is great since it makes the handlebars extra strong as they are made from a single piece of metal. This feature could prove helpful when doing tricks or riding on rough terrains. In addition, the Phantom locks securely into place when unfolded, ensuring that you don't experience any mishaps when ridding.
Folding Mechanism
The folding mechanism features a claw-like hook that pulls the stem and pins it into place. You'll notice a plastic collar that latches around the folding handle.
The locking mechanism also features a grenade pin-like safety mechanism that goes through the stem forcing it to stay in place. Pull out the safety pin and twist the latch around, pull down the folding handle, and hook the latch at the back of the handlebars to the footplate's cutout to lock the scooter into place.
Lights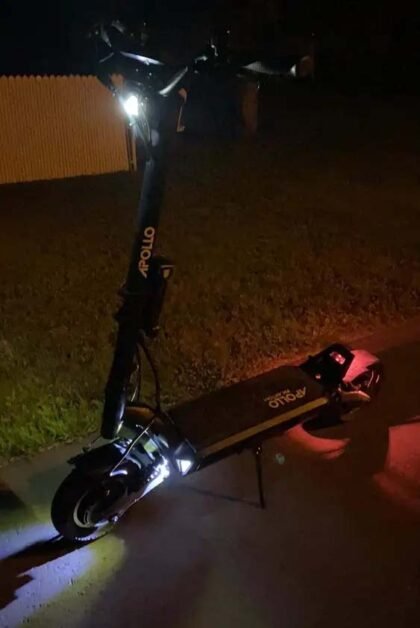 The Apollo Phantom features a 1000 lumen headlight that produces intense light, which serves to illuminate your path even in the darkest alleyway.
The scooter also features a dedicated brake light, four-deck lights (with two at the front and another two at the back), and integrated rear turn signals operated from the handlebar.
Cockpit
The Apollo Phantom has a redesigned handlebar that provides a streamlined and focused user experience. Apollo has replaced the trigger-style controls with button pads and a thumb-controlled throttle. The scooter features brake levers on each side of the handlebar, with the left operating the rear brakes and the right running the front brakes.
Buttons to the right of the Phantom's handlebar are used to select the mode, integrated power, and p-setting. You can use the buttons to the left to control the headlights, turn signals, sport mode, and the bell switch.
New Display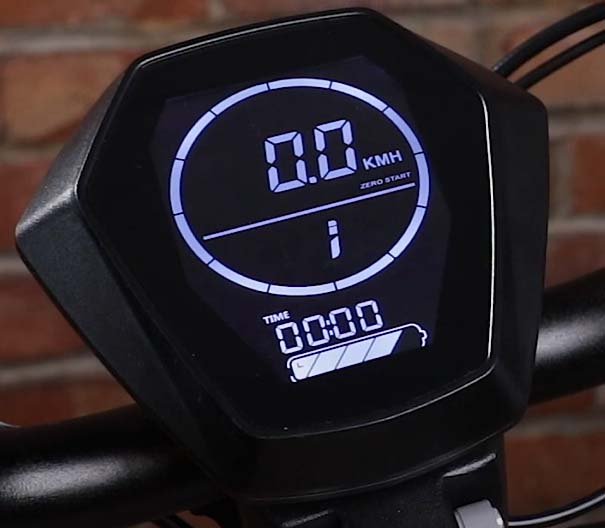 The Phantom features an angular HEX display panel that gives it the NEXT-gen status. The HEX display shows various information like the kick-to-start function, turn signal arrow, and battery voltage. It also provides other information like the light status, cruise control, trip mileage, and speed display.
P-Settings
To access P-settings, the scooter must be turned on. Click and hold the Up and Down arrow for about 2 seconds to enter the P-settings. Screen changes and P00 appears. To cycle through settings, press the M button. Use Up and Down arrows to change the values of the current setting.
| | |
| --- | --- |
| P1 | LCD brightness |
| P2 | Units km/mi |
| P3 | Battery Voltage |
| P4 | Scooter Shut-off Time: minutes before the scooter shuts off with no activity. |
| P5 | Unused |
| P6 | Wheel Diameter |
| P7 | # of magnets on the motor, set to 30 |
| P8 | Power Level in speed units, 0 to 100% |
| P9 | Start Method. 0 for zero start, 1 for a kick start. |
| P10 | Unused |
| P11 | Electronic braking strength. 0(off) – 5 (high). Default 1, Recommendation 2-3 |
| P12 | Acceleration. 1(low) – 5 (high). Default 3 |
| P13-15 | Unused |
| P16 | Lifetime odometer reset (only up to 100km) |
| P17 | Cruise Control. 0 off, 1 on. |
| P18-20 | Unused |
Apollo Phantom vs Ghost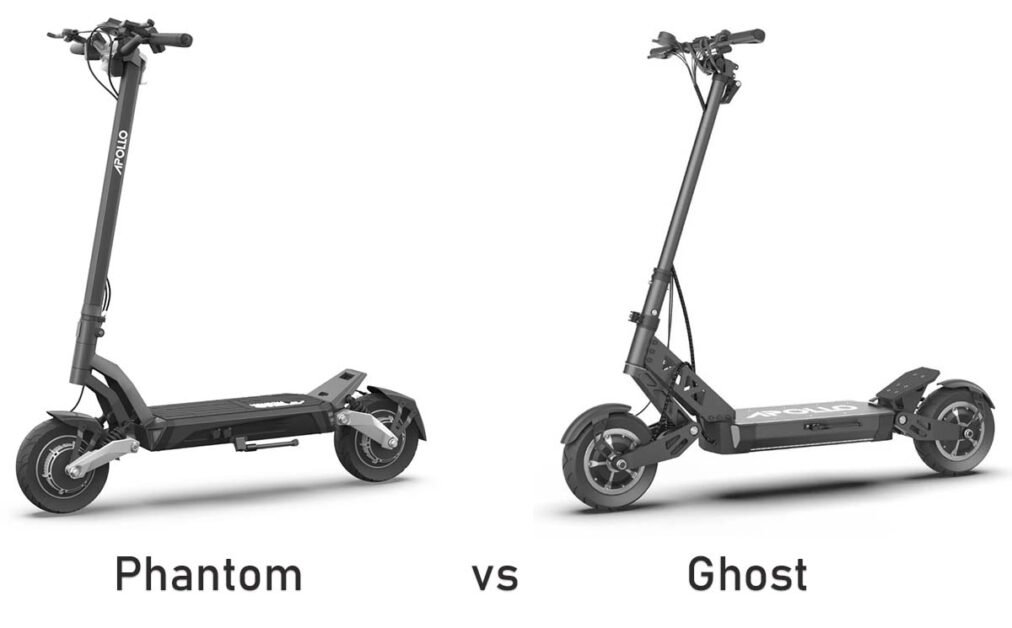 Phantom and Ghost are both dual-motor electric scooters. The Apollo Ghost is less expensive than the Phantom. However, the Phantom provides better results. Plus, the Phantom has a much better design.
The Apollo Phantom bests the Ghost in almost everything, i.e., the range, speed, acceleration, and even overall design. Thus, it would be understandable to note that while the Ghost tries so well to catch up, it's not precisely as good as the Phantom.
Customer Reviews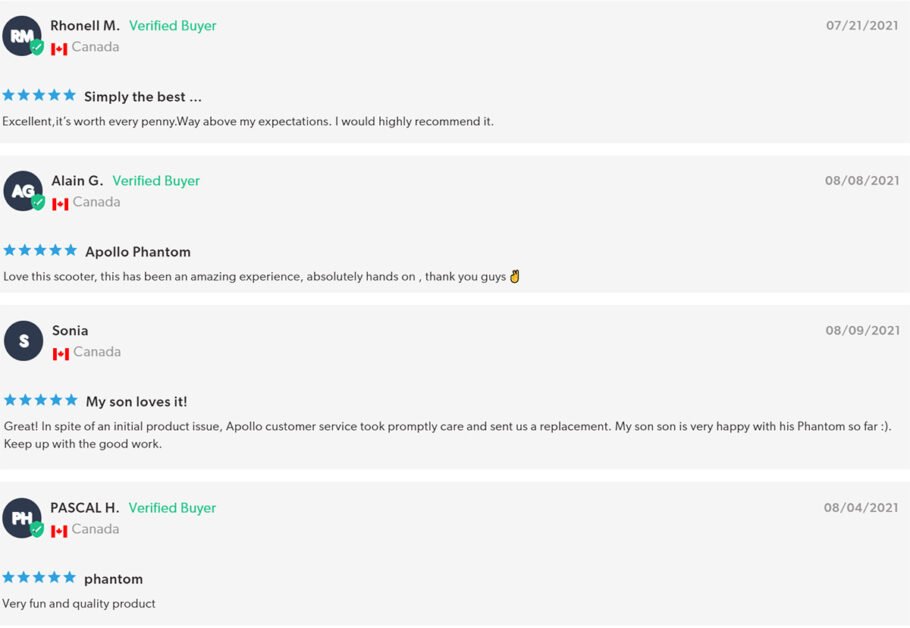 Conclusion – Is Apollo Phantom Worth It?
The Apollo Phantom is the most reliable scooter that you could find in the market. The Phantom is fast, reliable, durable, and has a great design with all the features you would ever need. In addition, the scooter is made from high-quality materials that can withstand various terrains.
It also has an excellent braking system, is easy to maintain, and is safe to ride. If you are looking for the best scooter in the market, which wouldn't break the bank, then the Apollo Phantom should undoubtedly be your very first choice.